Reports of sexual assault on public transport - on the way to work, on the way back home, late at night, all of it - are rising. It doesn't really follow, then, that the specialist police unit launched specifically to deal with sex crimes across the UK's trains, tubes and buses, will be disbanded according to papers seen by The Evening Standard. The news comes just weeks after unions agreed to introduce the Night Tube to London.
The unit, which deployed plain-clothes officers to observe suspicious behaviour and then handle sex crime cases, will be scrapped by the British Transport Police [BTP] as part of a structural review. An internal BTP document says that officers concerned will be found alternative roles, or returned to uniformed posts. It is part of a wider review of the structure of the BTP, which could see some staff made redundant.
A spokesperson told The Evening Standard: 'Under the new operating model, sexual offences will be investigated by any of the 269 officers dedicated to crime nationally.'
However, the dedicated team looking specifically at sex crimes was doing a pretty good job. At least according to the BTP. Each time higher levels of reported crime on the UK's transport networks are revealed, BTP have talked up Project Guardian or its replacement, the Report It To Stop It campaign, which encourages victims of sex crimes to text a number with any info about someone who might have shown unwanted sexual behaviour.
After a Freedom of Information Act request, The Debrief learned that reports of sexual assaults alleged to have happened on the Tube are rising. In 2005, 315 sex crimes were reported, and by 2015 that had shot up to 806, an increase of 256%. At the time, a BTP spokesperson told The Debrief: 'The chances of becoming a victim of an offence are minimal, especially when you consider that millions of passenger journeys [are] made on the Underground each day'.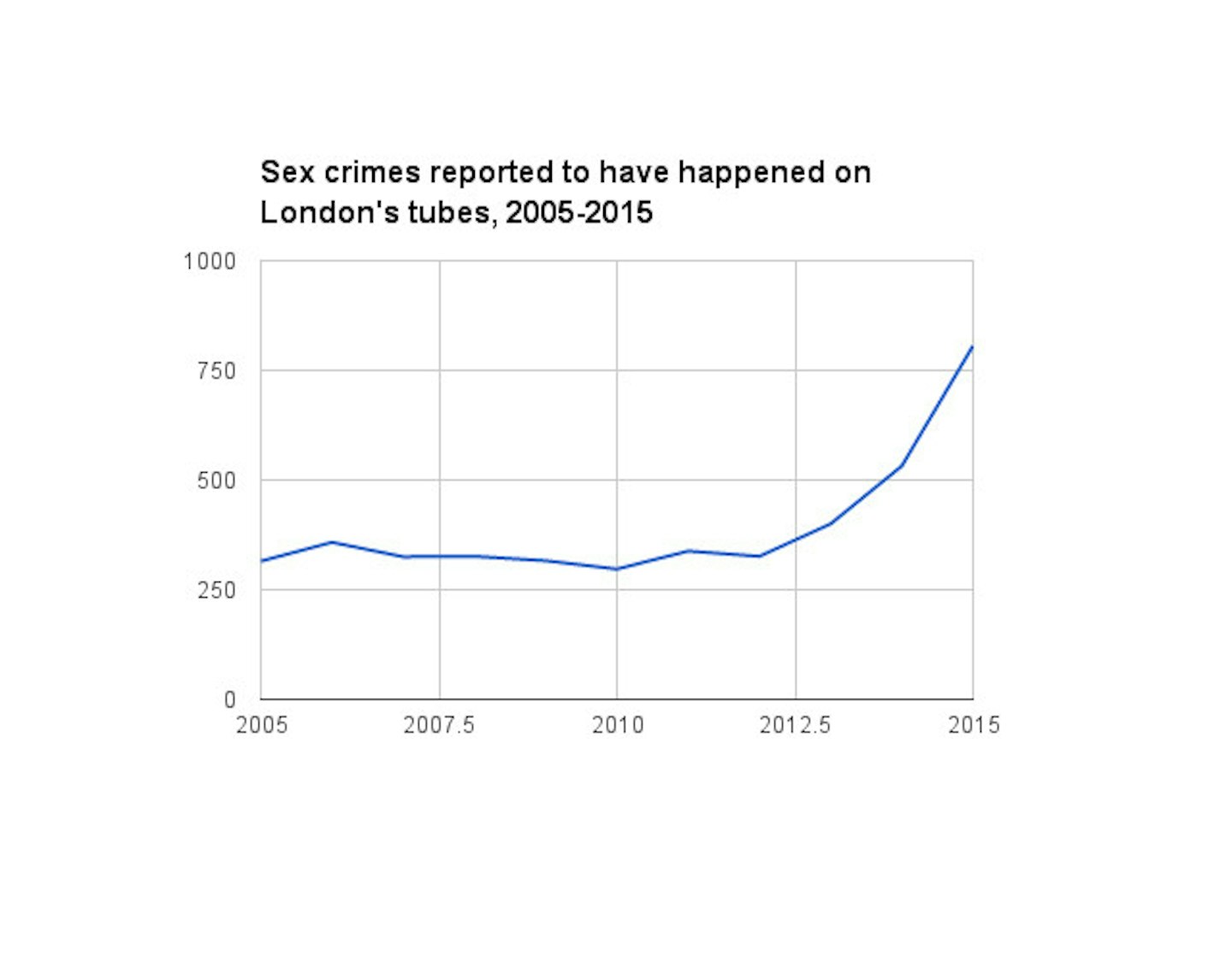 'Significant work has taken place to encourage reporting of sexual offences on trains and tubes under the successful Report it to Stop it campaign, which has increased peoples' confidence to report offences to police.'
And in August 2015, when it was found that the number of reported sex crimes had risen year-on-year across train networks and in stations by 25%, the force explained this increase was due to the Report It To Stop It campaign, according to the BBC.
The Report It To Stop It campaign was delivered by Project Guardian, who had been working with women's groups and anti-harassment and violence advocates the End Violence Against Women Coalition (EVAW), Hollaback London and Everyday Sexism to get more victims of sex crimes to report incidences of unwanted sexual behaviour or touching. None of these groups had been consulted on the changes being made by the BTP.
Sarah Green, of EVAW, told The Evening Standard: 'We need to hear from BTP's chief constable, and from the Department for Transport and the Home Office, as to whether such plans have been consulted on and what the intention is to ensure our national railways police force is able to respond to and ultimately to deter sexual offences.'
The British Transport Police has since released a statement on Twitter, reading: 'Tackling all forms of unwanted sexual behavior on public transport is, and always will be a priority for us…That's why we're ensuring that the significant skills and experience of the existing dedicated Sexual Offense Unit based in London, become best practice at a national level, providing more resources and a consistent and more effective approach to tackling these offences.'
As part of the structural review, another team to be disbanded is the one specifically trained to handle reports of assaults against TfL workers, meaning that the only two remaining specialist teams at BTP will be the ones covering passengers' property and bikes.
You might also be interested in:
Sexual Assault On Trains Is A Fact Of Life: Will This Video Stop It?
Number Of Women Reporting Sexual Assaults On Tubes Reaches Five-Year High
Follow Sophie on Twitter @sophwilkinson
This article originally appeared on The Debrief.