So, you know that plastic cup thingy that you stick into your vajayjay during your period to 'collect' all your menstrual blood? Yup, the menstrual cup. Did you know there's more than one brand? Did you know there are, like, a zillion of them? OK, maybe not that many, but there are at least 20.
To help you pick the right version, we took an in-depth look at two of the most popular brands of menstrual cup, the Mooncup and the Diva Cup and give you the lowdown.
Mooncup vs Diva Cup: It's On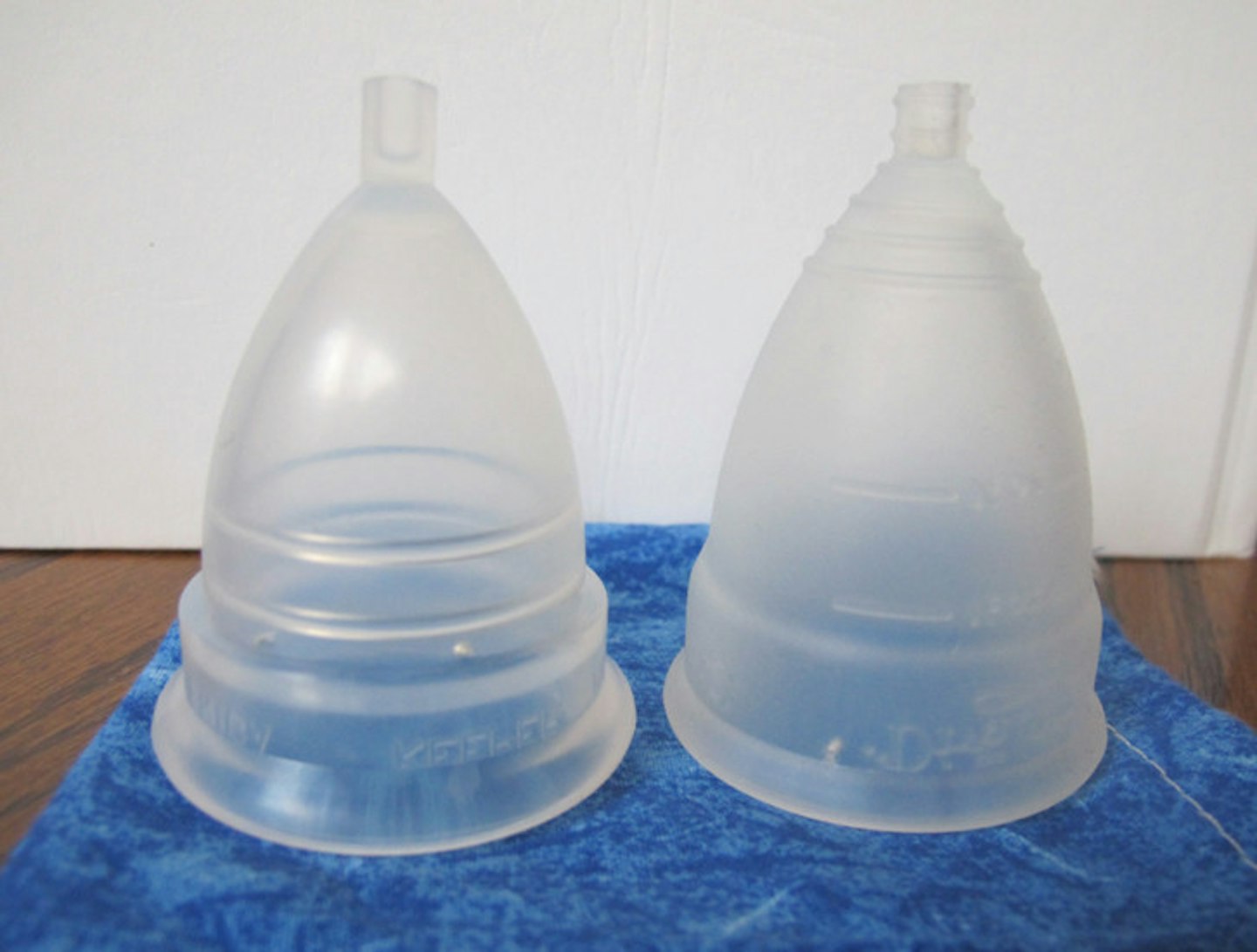 The Mooncup (left) and the Diva Cup via Her Green Life
Mooncup vs Diva Cup: Material
Both Mooncup and Diva Cup are made from soft medical grade silicone. The Diva Cup marketing specifies that theirs is a natural un-pigmented soft medical grade silicone that softens with body heat, whereas Mooncup one is latex-free, hypoallergenic and contains no dyes, BPA, phthalates, plastic, bleaches or toxins.
Mooncup vs Diva Cup: Price
Mooncup has a clear recommended retail price of £19.99 on their site, whereas Diva Cup shares a list of stockists whose prices range from £20-25. However, Diva Cup frequently post discounts and sales and giveaways on their
(https://twitter.com/TheDivaCup) pages. Both, however, can be found cheaper on Amazon.
Mooncup vs Diva Cup: Capacity
Diva Cup holds one full ounce of menstrual flow (30 ml). Mooncup's size B holds slightly less at 29.3ml and size A even less at 28.8ml.
The slightly bigger Diva Cup featured on the left vs Mooncup (right) via Mamamoose Contests
Mooncup vs Diva Cup: How Long Can It Be Left In?
Diva Cup says that you can leave it in for a maximum of 10 to 12 hours whereas Mooncup advises changing it every 4 to 8 hours.
Mooncup vs Diva Cup: Lifespan
Diva Cup gives a general guideline of replacing it once a year and Mooncup says that as long as you look after it correctly according to the care guidelines on their site, it can last you for 'years and years'. However, it's up to you when you feel it is necessary to dispose and replace it with a new one.
Obviously, each site has nothing but the best to say about their own cup so we went straight to trusty YouTube for unbiased reviews and found these two die-hard fans of Mooncup and Diva Cup.
By far, though, the most thorough review of all the different menstrual cups was by British teenager, Bree, who at 16 knows more about the female anatomy than most 30-year-olds.
Here's what Bree taught us.
Mooncup
Pros
•More flexible and slightly thinner for maximum comfort
• Smaller/shorter in height and diameter which is better for a low cervix
• After folding, it pops back open more easily
Cons
• The stem is smooth, so it can be harder to remove
• It has a thicker, harder rim so might not suitable for people with bladder issues
• More suction holes to clean (six as opposed to Diva Cup's four)
Diva Cup
Pros
• It has ridges that aid in its removal
• Slightly larger so holds more... stuff
• They frequently post discount codes, sales and giveaways on their Facebook and Twitter
Cons
• Their environmental message is slightly contradicted by the unnecessary amount of plastic and cardboard packaging
• Slightly taller and longer so not good for a smaller cervix
• The stem may uncomfortably poke out so most people tend to use it inside out
WARNING: Disgustingness ahead; those with sensitive stomachs are advised to scroll down to the next sub-heading.
We found a few Diva Cup horror stories; we didn't find any for the Mooncup but since both cups are so similar, it seems highly possible that these rarities could happen with either cup:
• Exacerbated bacterial vaginosis and foul odour
• It flipped upside down when inside and leaked everywhere resembling a crime scene
• No idea how, but this one managed to make herself bleed. More than necessary.
Mooncup vs Diva Cup: Closing Arguments
Having scoped the net perusing period blogs and forums, the general consensus is that the best cup for you depends on your body type... or rather, the size of your inner lady part.
Diva Cup is a tad longer so is not advised for ladies with a low cervix, but apparently, turning it inside out solves this problem. This can make the Diva Cup a bit more difficult to remove though because the handy removal grips would now be on the inside.
Mooncup, on the other hand, may not be suitable for girls with sensitive bladders as its rim is slightly larger and harder.
However, racking up the points, Mooncup has this awesome rap battle video...
Mooncup vs Diva Cup: The Final Verdict
Given the lack of rap battle video on Diva Cup's part, it's pretty obvious we have a clear winner here. Well done, Mooncup!
But if, let's say, your menstrual comfort isn't swayed by a cool rap-off, then the best thing would probably be to find the shape/depth of your vagina and how low/high your cervix is before deciding on the best cup for you.
In case you need to be convinced about menstrual cups (or to make sure that these devil artefacts are definitely not for you), see our article on everything you need to know about menstrual cups.
Also, check out this informative video on how to shove it in, keep it in, take it out and save the planet.
Like this? you may also be interested in:
The 5-Day Morning-After Pill Will Now Be Available To Under-16s
Follow Kat on Twitter @SuperKaterina
This article originally appeared on The Debrief.