In my opinion porn is art, and art can be a powerful thing. It can change minds, capture hearts, and if it's truly persuasive art may even topple governments. But can it prevent pocket-sized megalomaniac Donald Trump from becoming President of the United States?
I went on the hunt for presidential candidate porn, to see what contribution this genre of entertainment could make to political satire. Sadly, most of the presidential candidate porn I found featured either Hillary or Donald – Bernie and The Rest Of Them are drastically underrepresented, so think of this like an orgy. We invited Bernie and Ted out of politeness, so we'll have to fluff them before we get to the main event.
Bernie Sanders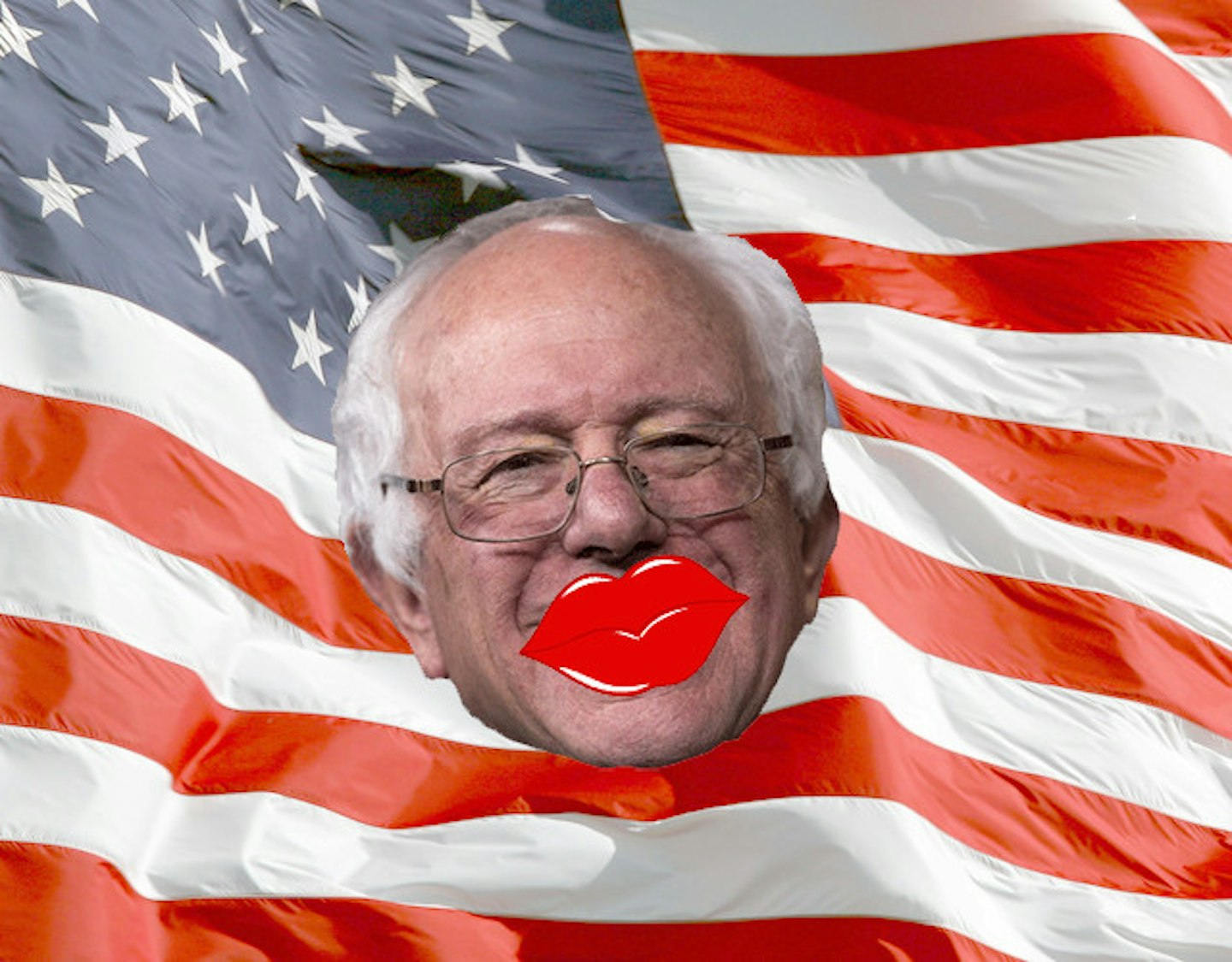 The closest Bernie gets to his own porn parody is a brief cameo during some Vladimir Putin/Donald Trump slashfic. However, after a bit of digging I eventually found a couple of Bernie Sanders videos on PornHub...
Sounds like something kinky, perhaps a pastiche of Kink.com's 'public disgrace' series? No. It's just a short clip of Bernie making a weak joke about the Republican nominees. Essentially Bernie Sanders PornHub videos are the same videos you'd find on YouTube, it's just that this time his political points are upstaged by a girl in an autoplay advert who is vigorously fingering her arse.
Satire rating? 6/10 for effort
Wankability? 0/10
Incidentally, if you're curious (as I am) about the intersection between political campaigning and porn, PornHub has released some stats which show that 73% of PornHub-loving democrats favour Bernie.
Ted Cruz
Believe it or not, Ted hasn't inspired much porn either. Either that or the real filth has been buried beneath the stories of porn actress Amy Lindsay, who starred in one of his campaigning videos. Cruz fired her when he found out that she'd had a job he didn't approve of, because politicians hate sex and cannot ever be associated with it.
Hillary Clinton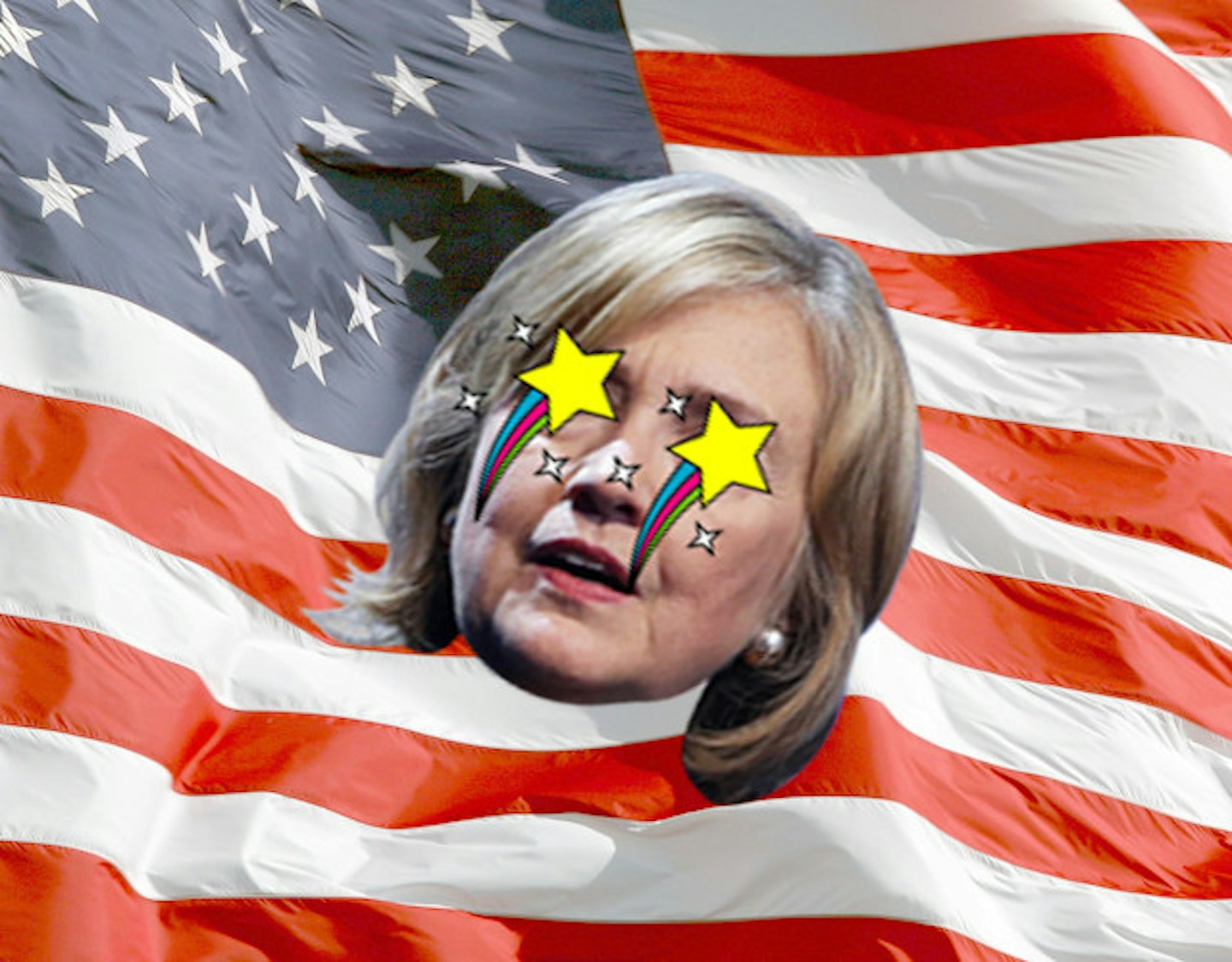 I feel more skeezy looking for Hillary Clinton porn than I do for the other candidates. Perhaps because female politicians are routinely subjected to sexually aggressive threats. Or maybe I'm a Mean Old Reverse Sexist. You decide.
One of the first videos I discovered was a twenty-second shot of a guy jizzing all over a photo of Hillary's face. It's called 'tribute' and I can't tell if it's in earnest. On one hand, he manages to spunk in quite impressive quantities, which demonstrates a certain enthusiasm. However if he was a genuine Hillary supporter surely he'd have gone to the trouble of spelling her name with the correct number of 'L's?
Satire rating? Either an 8 or a 2, depending on whether he's serious.
Wankability? 2 either way: much as I love watching a guy beat one out, it's tricky to enjoy it if you suspect him of wanking sarcastically.
Hillary Clinton gets out the black vote
Porn has a huge racism problem, so is it surprising that this exists? No. Is it good that this exists? Also no.
Still, credit to the performers, who are all pretty damn good. Even the cheesy porn set-up, where the guys sit round a table advising Hillary on strategy, is passably acted and has a couple of references to genuine political issues including employment and racist police.
Then all but two of the guys leave the room, and Hillary gets banged on the table. Bit of spitroasting, facial cum shot: standard porn formula. Personal highlight? About four minutes in one of the guys smacks her bum and she exclaims "ooh! Upswing!"
Satire rating? 0/10. If I had to guess, I'd say the person who made this actually quite likes Hillary Clinton. Which makes you wonder if they genuinely believed that seeing a Hillary-lookalike in a low-budget spitroast would convince undecided democrats to give her their votes.
Wankability? 9/10. Like I say, it's a pretty good video. There's a SFW trailer here if you'd like a taster.
If you're tired of traditional porn and instead yearning for a terrifying 20-second nightmare, then this is the video for you. It's a low-quality clip from an old porn film with Hillary's face superimposed over someone else's. She gives a speech while getting head from another woman, who is in turn humping a man. The face swap thing is a clever trick of the camera, but as I reach for the bottle this article has driven me to, I do wonder why anyone would bother.
Satire rating? 2/10
Wankability? 0/10. It's simply far too short.
Donald Trump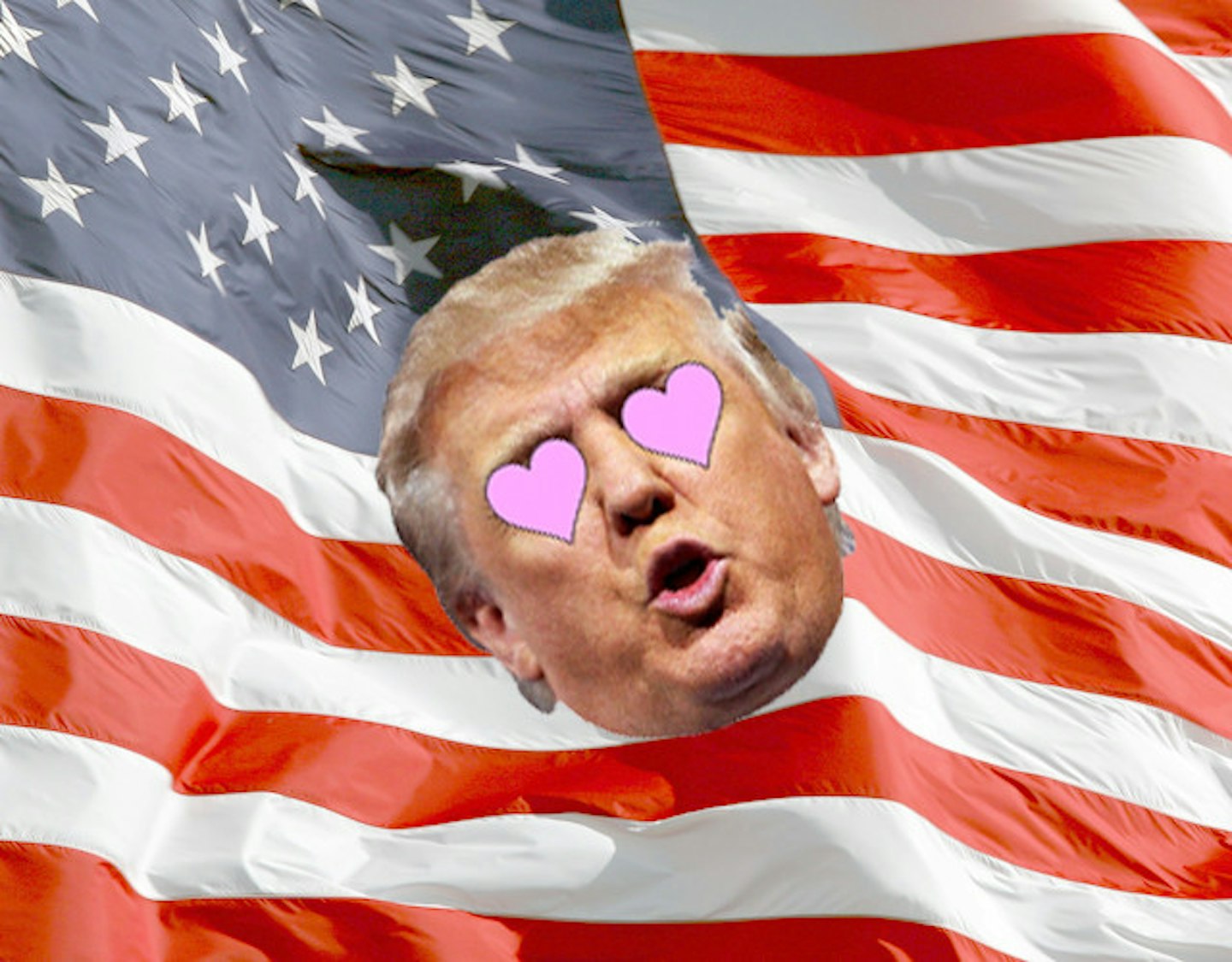 Don't you dare click away now - you knew where this was going, and in fact most of you probably scrolled right down because you were morbidly curious about whether anyone had made porn about the most hateful man alive on the planet today. Well, they have. Trump has inspired not only terrifying/hilarious erotica and an actual honest-to-god sex doll, he also has a parody porn film.
Is it just a cheap joke? Or is this kind of mockery actually piercing satire? Could the right porn parody of Donald Trump keep this scrote-faced hatemonger out of the White House?
I'd have to say 'no.' Then 'no' again, but this time I'd howl it desperately at a blackening sky, before I am drowned out by the thunder which heralds the end of days.
Let's get this over with.
This homemade offering, by user 'hardurbate' on PornHub, is very simple: he's juxtaposed a video of a woman touching her sex parts with a video of Donald flapping his hateful mouth.
Satire rating? 0/10.
Wankability? 0/10, but it's supposed to be – the challenge is to pleasure yourself while Trump is on screen. Like simultaneously patting your head and rubbing your tummy, or enjoying an ice-cream while you stare at someone who's kicking a puppy to death.
This film, starring Dick Chibbles (Trump) and Trinity St Clair (Ms Moderator) is the most high-budget, well-acted Donald Trump porn parody I've found. Which is a very weird thing to say - like congratulating someone on how well they have polished a turd. Good points? It does have a go at satire before the humping begins: Trump says some ridiculous things ("Let's have sex... while I whisper racist comments into your ear.") and Ms Moderator tackles him on racism, sexism, and the searing hatred with which he will eventually destroy humanity.
If you want to skip straight to the action, head to around the 7 minute mark, but I warn you: this is ultimately a video of two professional sexers having sex, so you are likely to become aroused. Are you comfortable with this? Really and truly? When the four horsemen of the apocalypse ride down your street and usher in the end times, will you look back on your life with pride or will you, like me, beg for the chance to turn back the clock and un-watch a Donald Trump porn parody?
Satire rating? 4/10. They've done their best to make Chibbles look like Trump, but given that Trump himself looks like a scrotum that's been marinaded in Sunny Delight, all they really needed on top of that was a passable wig and a bucket load of hate speech.
Wankability? 7/10. Do you know what? Sod it. We're all going to die. I mean it – in five years time we will be huddled in the fallout shelters we've had to hurriedly build sometime in 2018, when 'The Donald' declares war on Scotland or something. As we cling desperately to each other for warmth, you will remember where you were when you saw a Donald Trump porn parody. And a spark in your brain will remind you that the sex the actors had was actually a little bit hot. And although your insides burn with shame, by the dying light of humanity's last hope you will think 'sod it. I'm doing it. I will milk the final drops of joy from my life before we're all annihilated.' You will rub yourself off to the memory of "Donald Tramp: the porn parody" as you weep for the memory of what civilisation once was. The bombs will fall around you, the sky will burn with a deadly fire, and you will know that there never was a God.
**Like this? Then you might also be interested in: **
Adolf Hitler Was Into That Weird Sex Move That's Too Much Even For You
'Nothing Helps My Anxiety Quite Like BDSM: It's Like Mindfullness Plus One'
Follow Girl on the Net on Twitter @girlonthenet
Girl on the Net's new book - How A Bad Girl Fell In Love - is out now via Blink Publishing RRP £8.99. It is guaranteed to contain no Donald Trump sex.
This article originally appeared on The Debrief.