It was mid-March, early on in the pandemic, when the Kardashian-West household in the Hidden Hills of Los Angeles was hit by coronavirus. It was at the same time as 'Tom Hanks and Rita Wilson announced that they had Covid', explains Kim, first lady of the house. Kim's husband, the hip-hop/fashion powerhouse Kanye West, had contracted the virus.
'Kanye had it way at the beginning, when nobody really knew what was going on,' she says. 'It was so scary and unknown. I had my four babies and no one else in the house to help.' The Kardashian-Wests have four children ,seven,Saint,four,Chicago, two, and 17-month-old Psalm. 'I had to go and change Kanye's sheets and help him get out of bed when he wasn't feeling good. It was a challenge because it was so unknown. Changing his sheets with gloves and a face shield was really a scary time.'
READ MORE: Kim Kardashian West: 'Life Becomes A Little Bit Less About You Than It Used To Be'
Nonetheless, Kim has reconciled her feelings towards the pandemic. If the Kardashian clan has taught us anything about 21st-century womanhood, it is how to remain poised and on point amid moments of global madness. 'I'm the type of person that respects the process,' she says, 'that respects what's going on in the world.' Kim will turn 40 this month, on 21 October. She'll hit the milestone as a global brand within a global megabrand, the most instantly recognisable member of a family whose name has accrued the red hot familiarity of the Jacksons, Kennedys, even of McDonald's. 'Maybe our planet needed a break,' she says. 'Maybe we all needed a break. Maybe this was the reset? I try to look at it that way.'
Kim says her maternal instinct kicked straight in with both the pandemic and the Black Lives Matter protests. She lets the kids lead the conversations at home in order to gauge how much they've picked up from the news. 'I am very open and honest with them. I don't want to give them too much information that they won't fully understand and that will give them anxiety. But they obviously sense that there is something going on. You have to keep it together and not be scared yourself. As a parent, your number one goal is to make sure your children feel safe and secure.'
We are speaking over a transatlantic phone line. There is something in the down-home timbre of Kim's speaking voice that feels so familiar that the conversation quickly takes on a soothing tone. Her manner is warm and appropriately sisterly. At several points, it feels a little like bumping into an old friend doing their grocery shopping at an elite Malibu deli. Being next-level famous and genial to chat with is her most immediately apparent skill-set.
We talk two days after the announcement of the end of her family reality vehicle, Keeping Up With The Kardashians, the show that sent Kim and her sisters into orbit. The late blockbuster novelist Jackie Collins once told me, 'They're just like you and me, but with better place settings,' neatly crystallising the kindred appeal of the show. The next season will be their farewell. They haven't yet filmed their last to-camera interviews ('Can you imagine? I'm going to be crying the whole time') but Kim has already asked to keep her personalised microphone pack as a memento. 'Whoever thought we'd miss getting mic'd?'
The day the announcement went out brought high drama for Kim. 'It was the most emotional day,' she says, with a slight waver to her voice. 'The tears. I mean, I hink I was crying all weekend. I'll probably get emotional now on the phone.' She pauses. 'It was just a really emotional decision.' While they looked at the many outpourings of love for the end of the show online, sister Khloé reminded them all, 'It's not like we're dead.' Kim recalls, 'She said to us, "We're still here."'
The memories have been flooding back. Kim remembers their long-term lighting guy, Landon, sent her a card with a keychain attached one Christmas. 'I kept it. Because he said, "Thank you, because of you I was able to buy my first home."'
So, why now? 'This was a dream of all of ours,' she says. 'We never imagined we would get on to season two. Now we're on 20. Sometimes we just need a break. It's really simple. We just need a minute to regroup. You know, we haven't had a break for 14 years. We've gone in filming a season, then a spin-off, and I think there's no other way to say it other than, we just live such big lives. And we have kids now. And they need us. There's so much going on that, even just for a minute, we need a break.'
For the final season, which will have added episodes and a grand finale, we should expect to see another dimension to the Kardashians, just as we have ourselves during lockdown. 'If anything, it'll be really interesting to see what all of us were doing during the pandemic. We were so scared and cautious and we shared every moment of that. Having to be with four kids and not have their friends or their routines and no help. It was a very different side of us that I don't think anyone's really seen.'
The season will begin with footage they filmed themselves on iPhones. Filming is now cautiously back up and running. 'Now the production can happen, in a very careful way, but the end of the season goes back into a little bit of normalcy. We want to fully live this out.'
Between nursing an ill husband, looking after four kids and filming the final season
of her reality show, Kim has kept her academic and mogul head afloat. In early July, she agreed to sell a 20% stake in her phenomenally successful grooming brand, KKW Beauty, to the global cosmetics giant, Coty. 'KKW Beauty and KKW Fragrance has a team of seven people,' she notes. 'It's been us coming up with every campaign, our model shoots, our socials, our everything. And I love a small group of really strong, super-diverse, super-powerful women. But it's a small group. I'm excited to have a partner who can help us with the infrastructure, to make us super-international.'
KKW Beauty is just one of the gentle reminders of how Kim and co have changed the physical landscape over the last 14 years. Before KUWTK, contouring was still something artists did on a palette. The sisters effortlessly transferred it to the face.
Kim's global business empire will only grow as the show draws to a close. This month she'll launch her shapewear and loungewear brand, Skims, in the UK, debuting on a British shop floor at Selfridges a year after US sales smashed it out of the park. 'Yeah, well,' she says, buoyed by her own business savvy. 'I've always worn shapewear and I really wanted to start a shapewear line.'
The loungewear could not really be any more apt for the moment it's arriving. 'I guess perfect timing, right?' Every cloud? 'It's been super-cosy and amazing for times like this, in quarantine. When you still want to look and feel good, when you don't want to dress up and still look cute.' The way she pronounces cute ('cewt!') is a further reminder of how the Kardashians actually changed the way America speaks.
Behind the business brain, she says there is further motivation for Skims. 'I have worn shapewear for years and years. But there was always something I felt was wrong with what was out there. Especially the shade range. I couldn't even find my colour tone in shapewear.' She would buy pieces and dye them with teabags in the kitchen sink. 'I thought, wow, if I can't find a shade colour, think of all the women out there who couldn't find their colour either. I found something I felt was missing in the market place and made sure we filled it.'
The US advertising for Skims has featured women straight from Kim's digital Rolodex, including brilliant Queen And Slim actor Jodie Turner Smith and pardoned former federal prisoner turned law-reform activist Alice-Marie Johnson. Diversity casting for ads, Kim says, 'wasn't even a question. That was what we had to do. That was why I invented the brand. It was why I created shapewear, so that my friends and every women out there has
SHOP: The Best Bodywear To Buy From SKIMS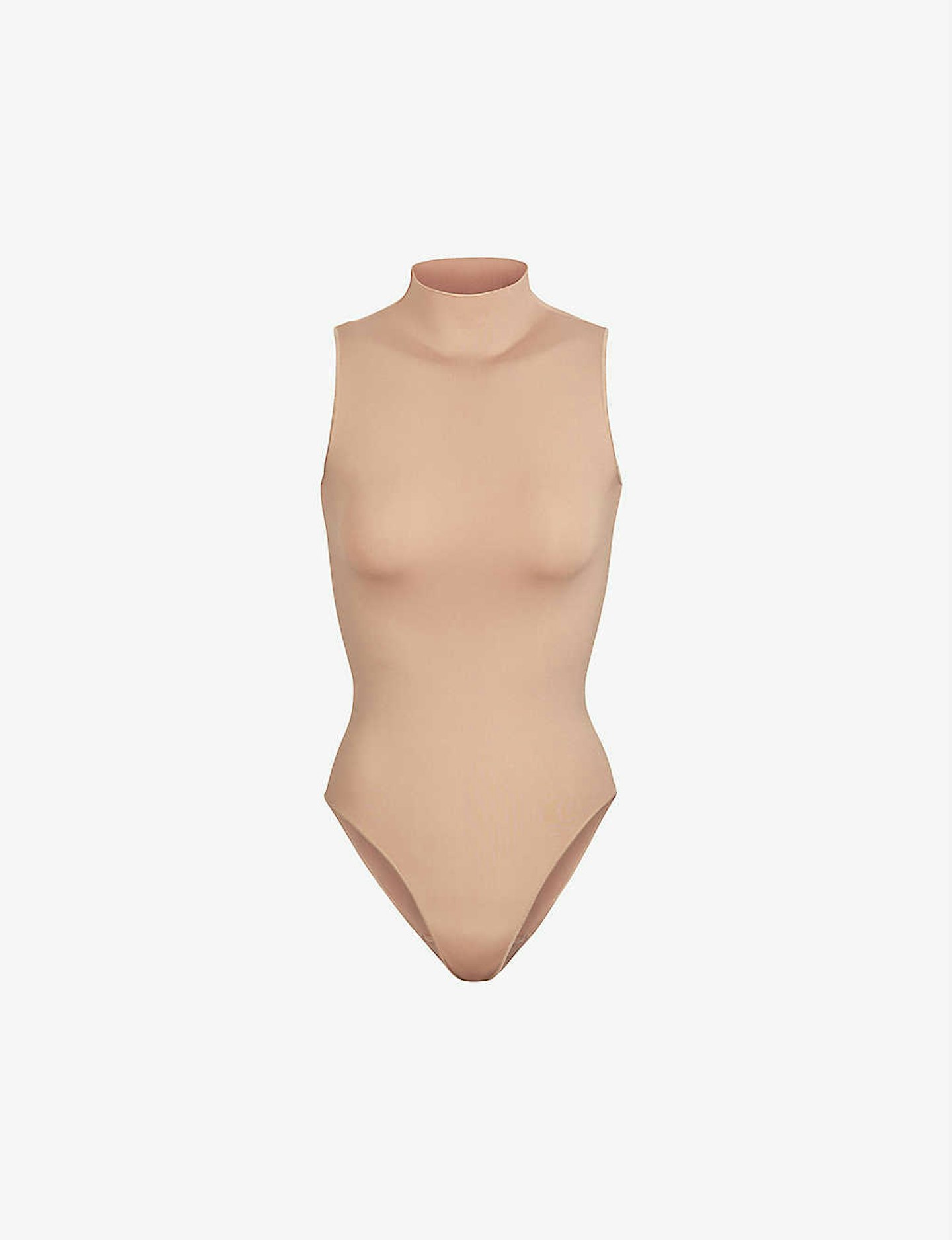 1 of 13
SKIMS, Essential Mock Neck Stretch-Woven Body, £78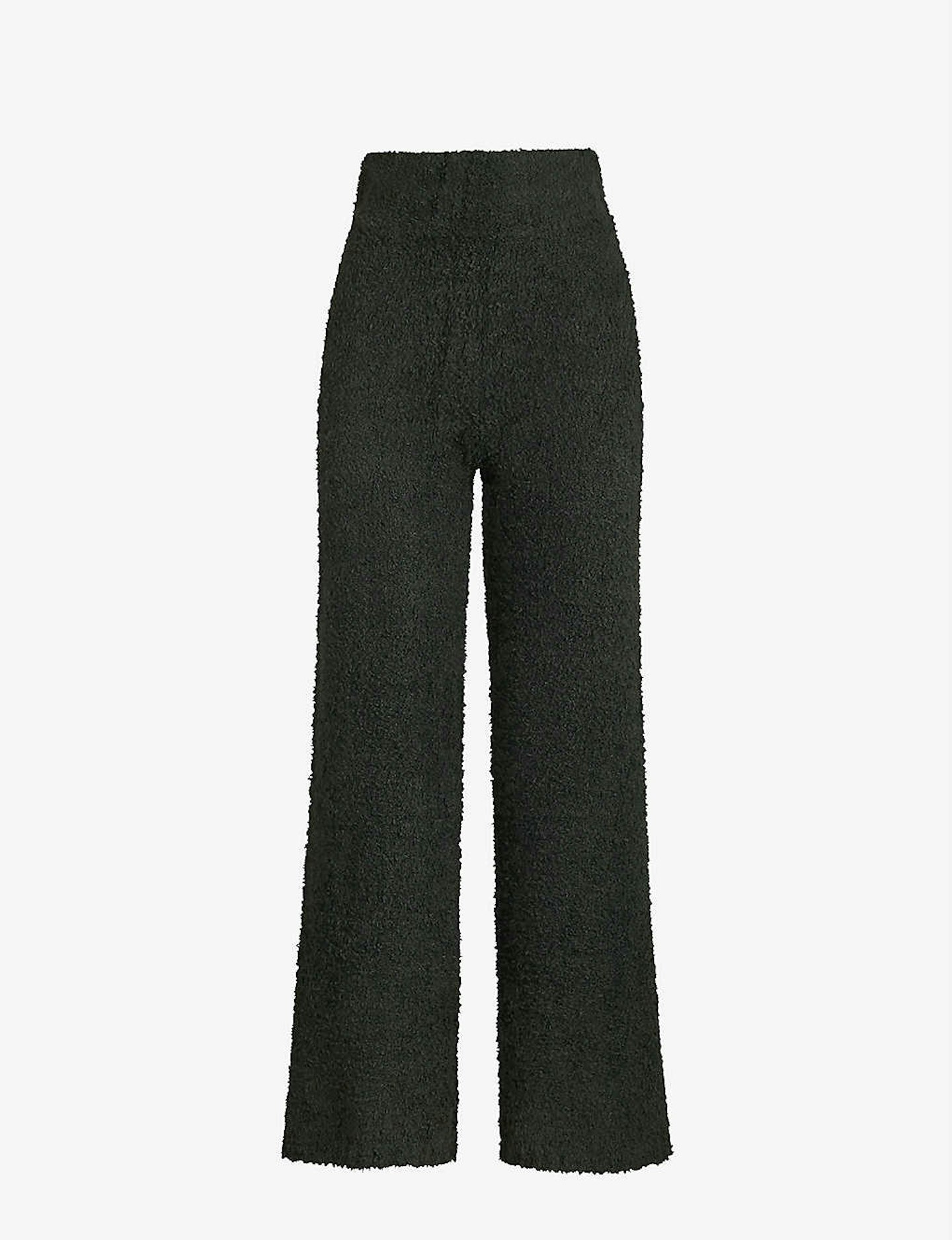 2 of 13
SKIMS, Cozy Boucle Trousers, £90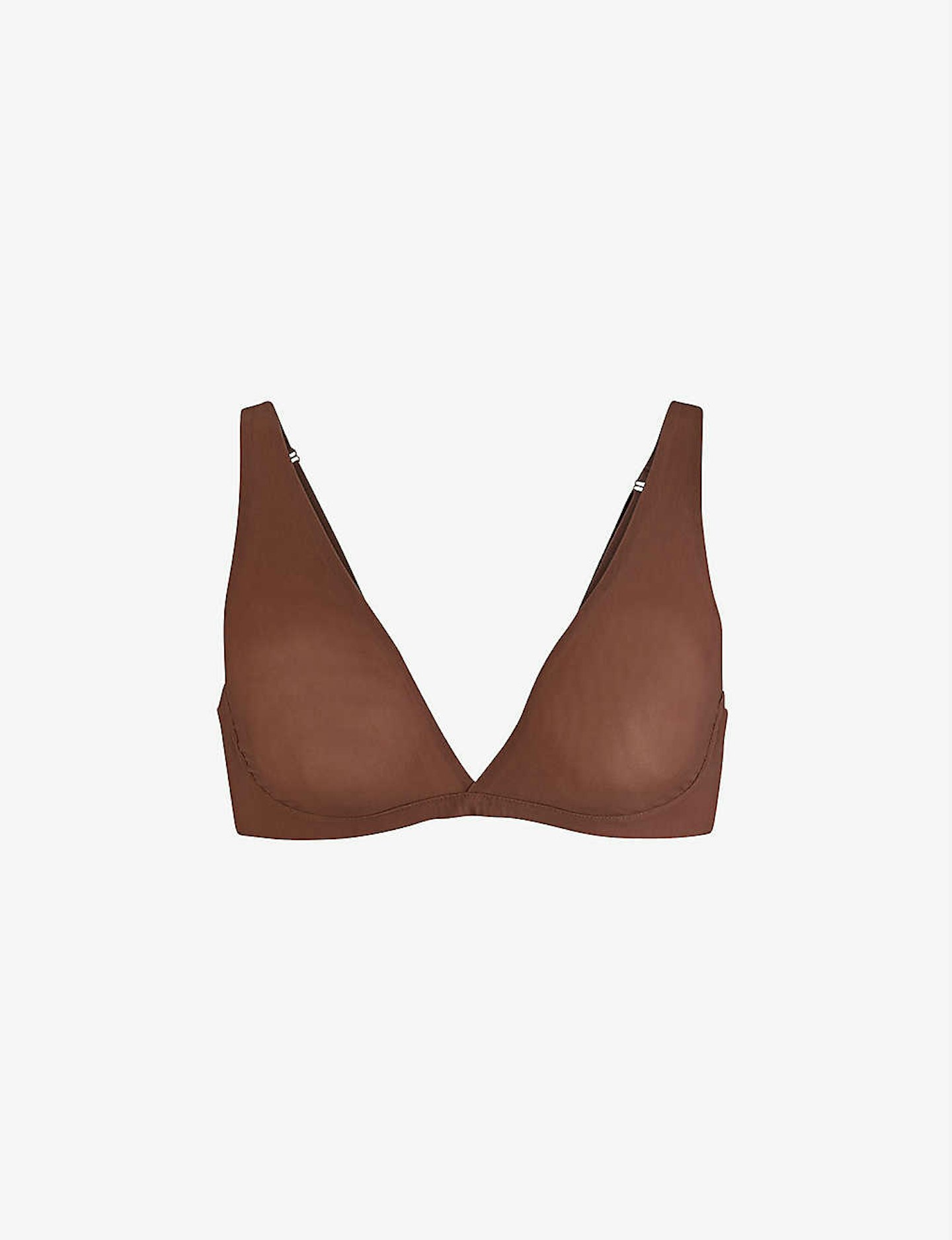 3 of 13
SKIMS, Naked Plunge Stretch-Mesh Bra, £78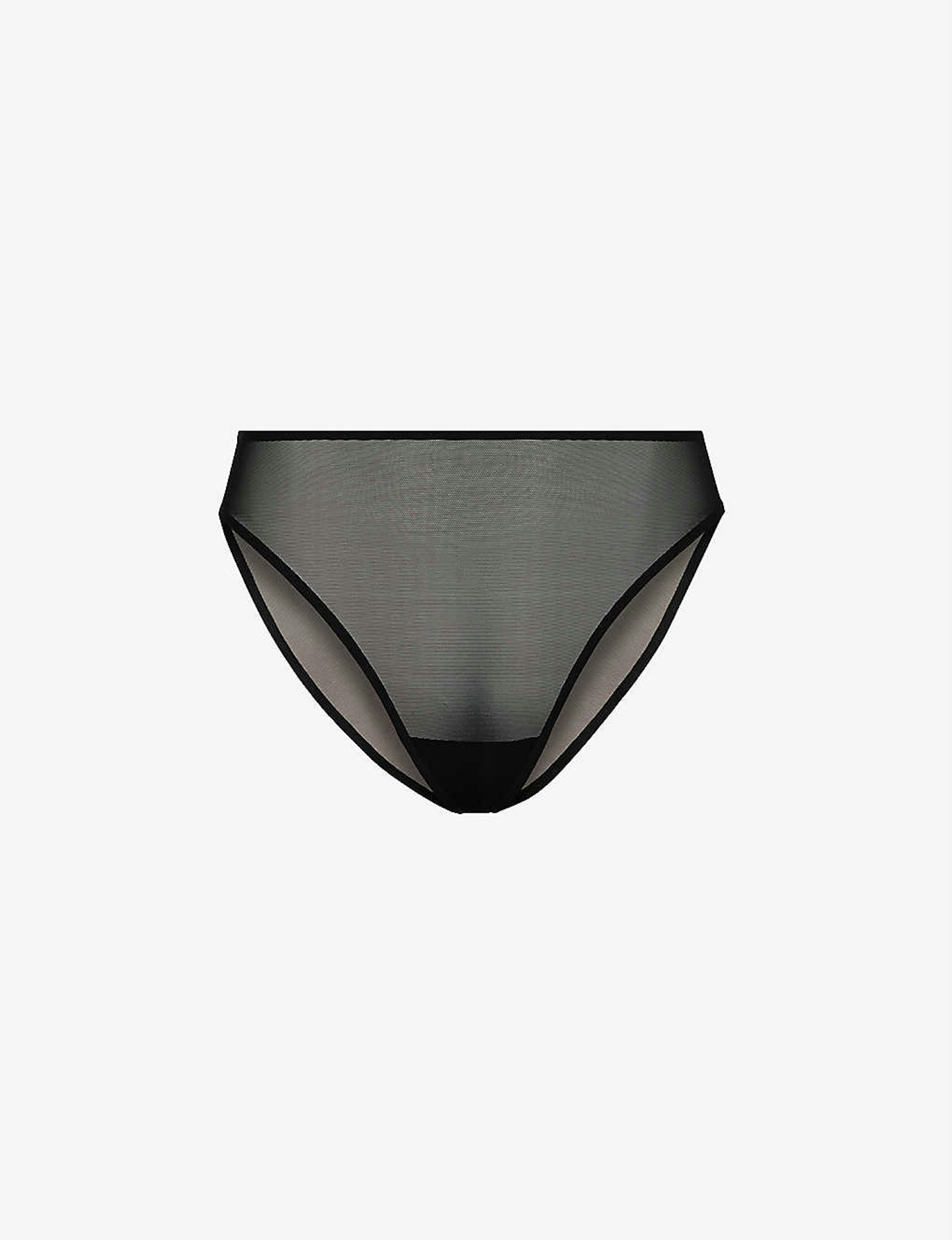 4 of 13
SKIMS, High-Cut Stretch-Jersey Mesh Bikini Briefs, £23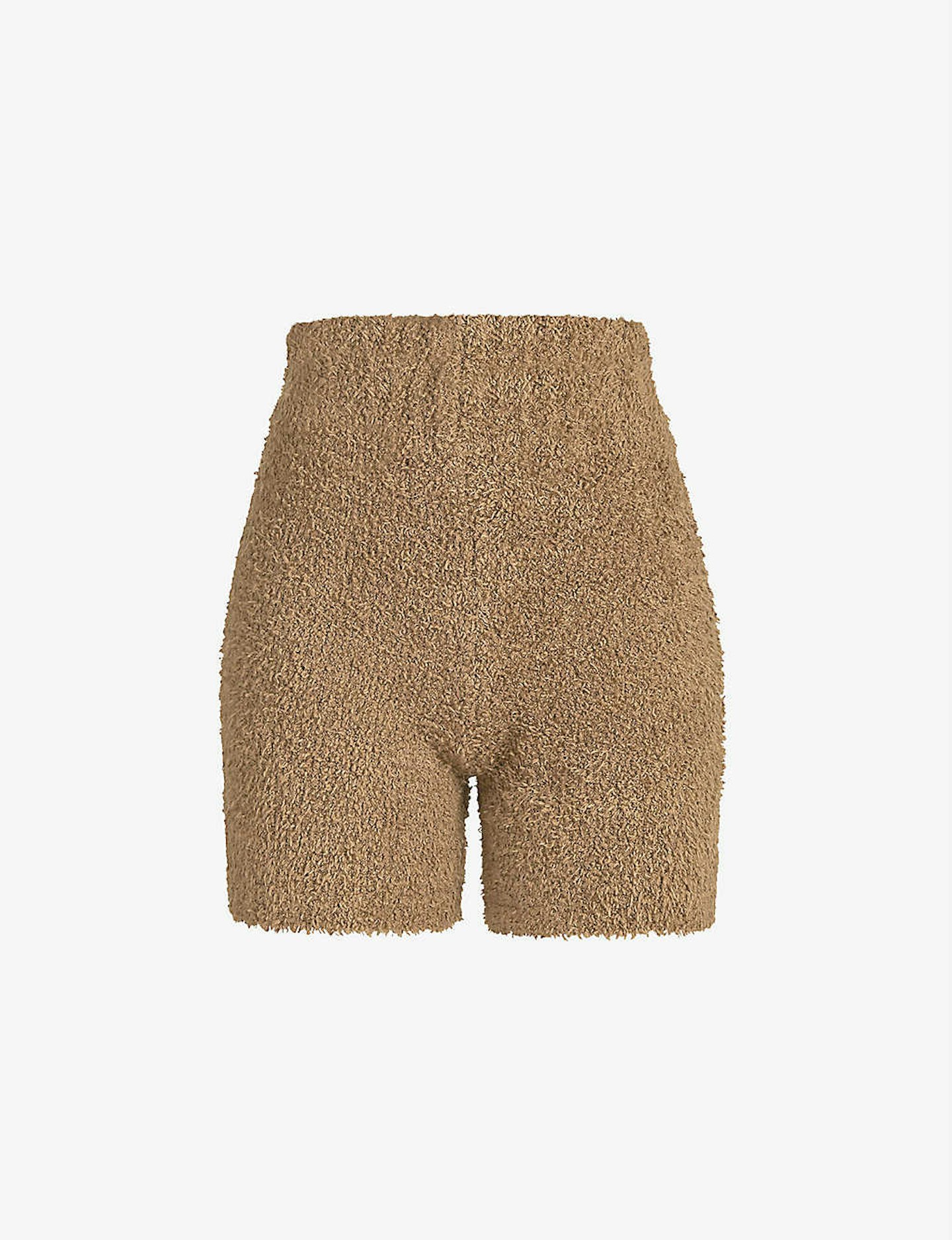 5 of 13
SKIMS, Cozy Boucle Knitted Shorts, £68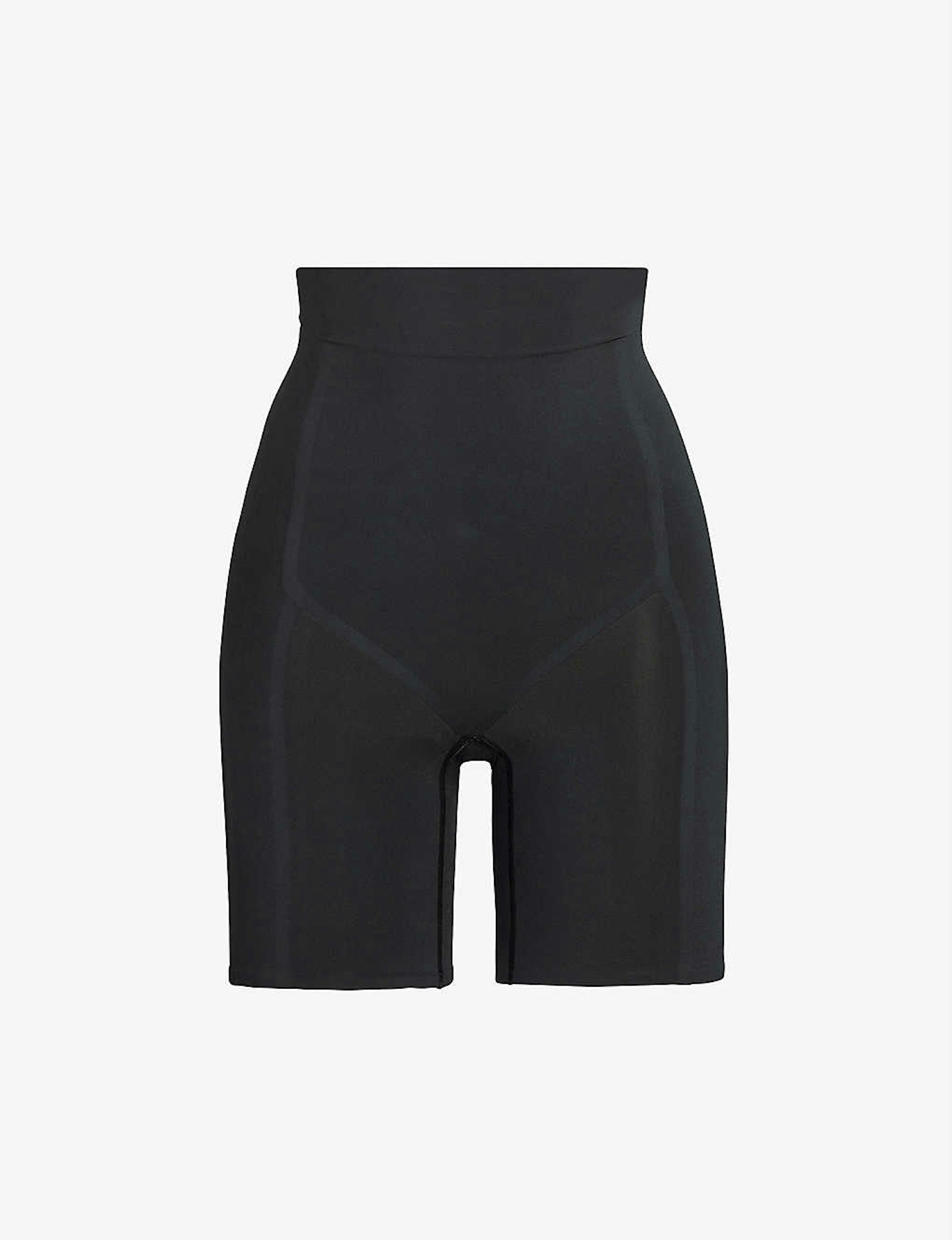 6 of 13
SKIMS, Contour Bonded High-Rise Stretch-Woven Shorts, £106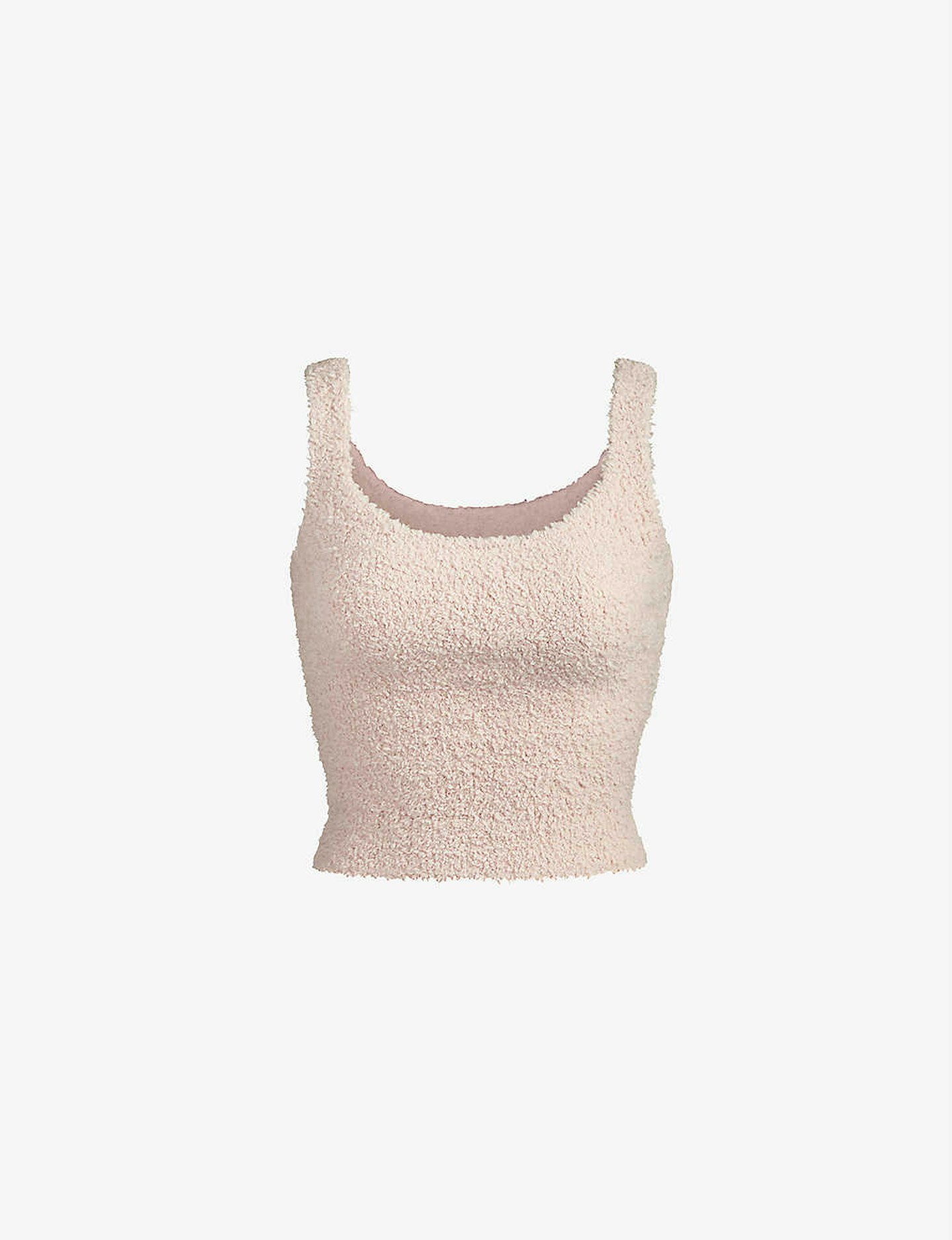 7 of 13
SKIMS, Cozy Stretch-Knitted Top, £61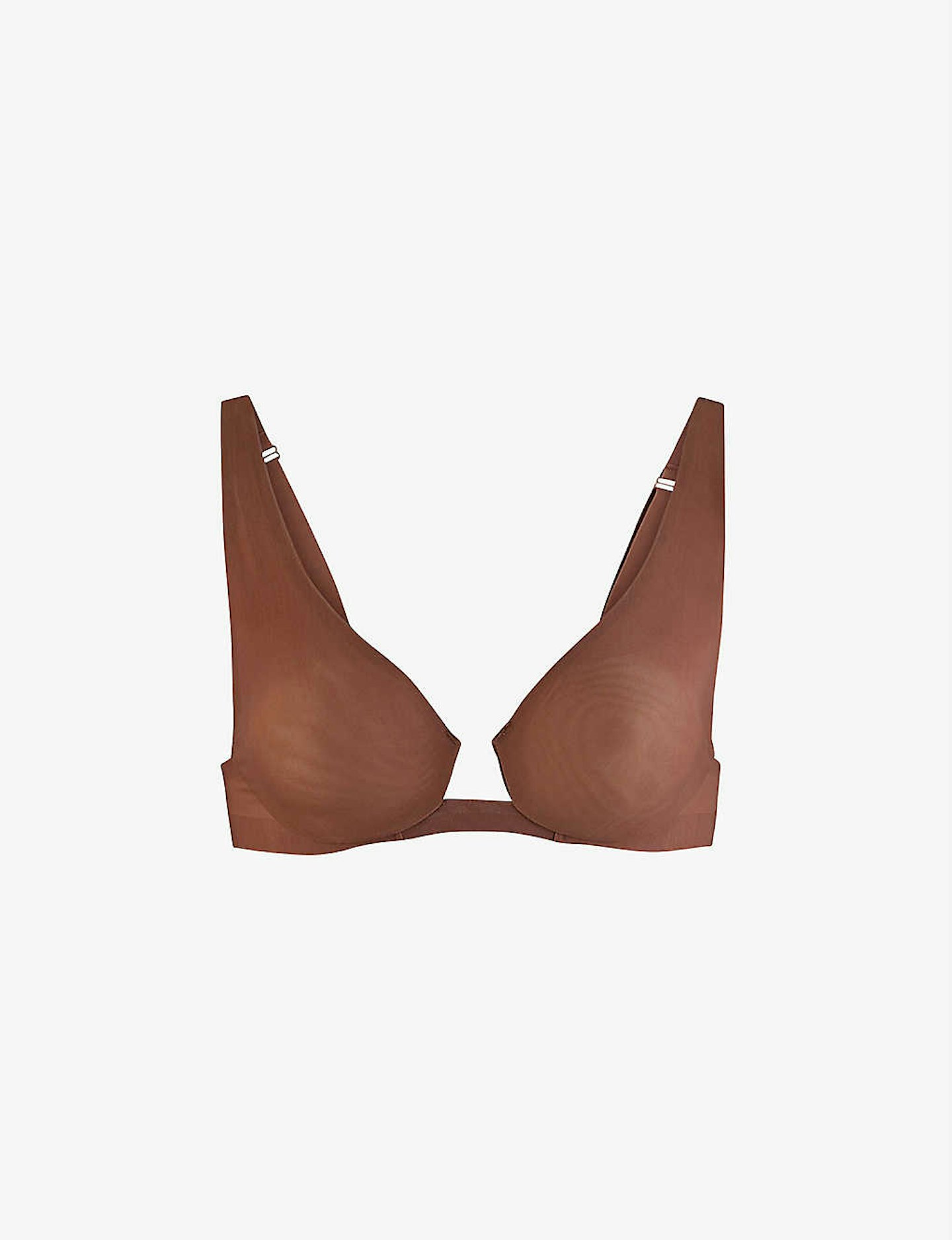 8 of 13
SKIMS, Naked Padded Stretch-Woven Plunge Bra, £83
9 of 13
SKIMS, Sculpting Super High-Rise Stretch Woven Briefs, £39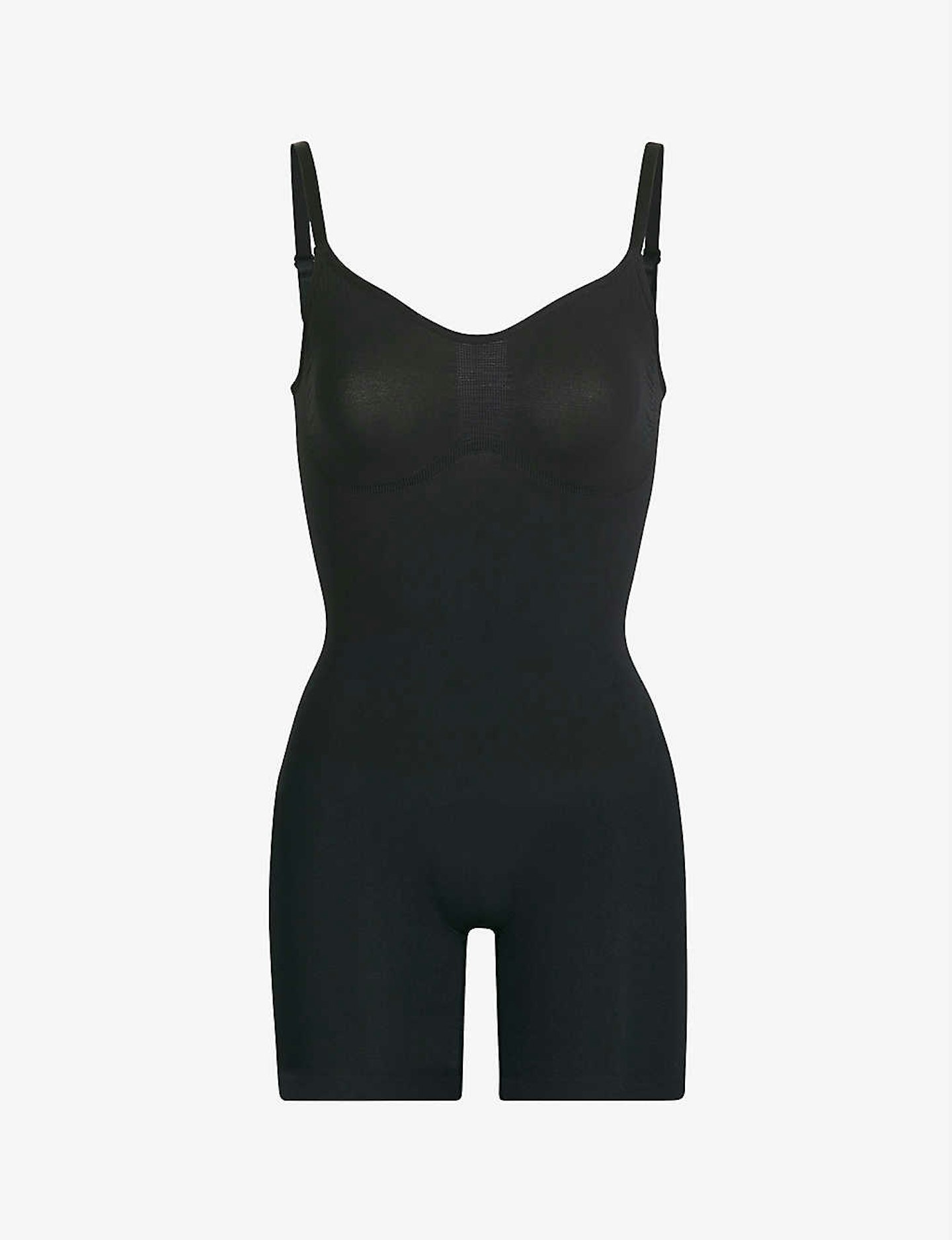 10 of 13
SKIMS, Sculpting V-Neck Stretch-Woven Body, £74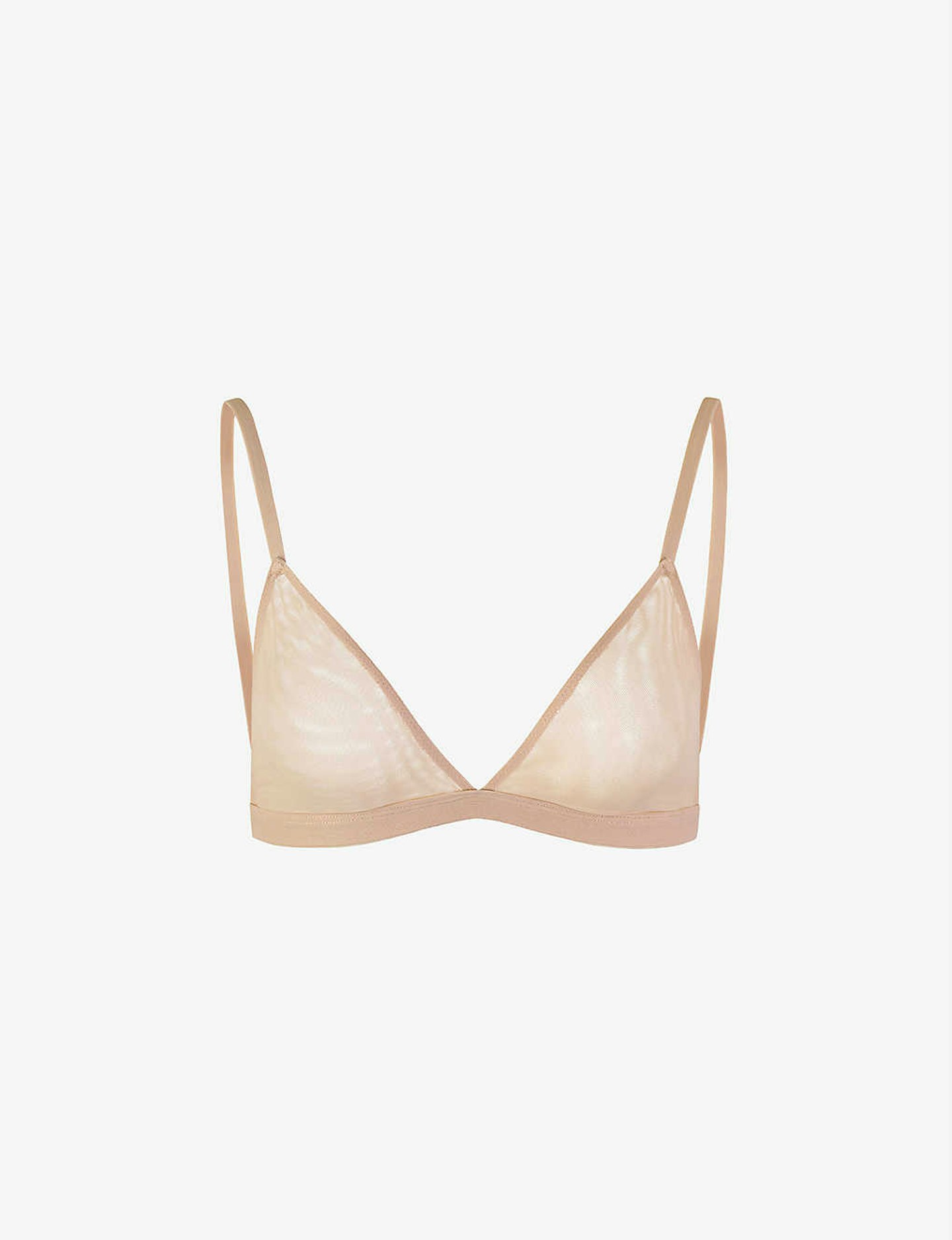 11 of 13
SKIMS, Triangle Stretch-Mesh Bra, £38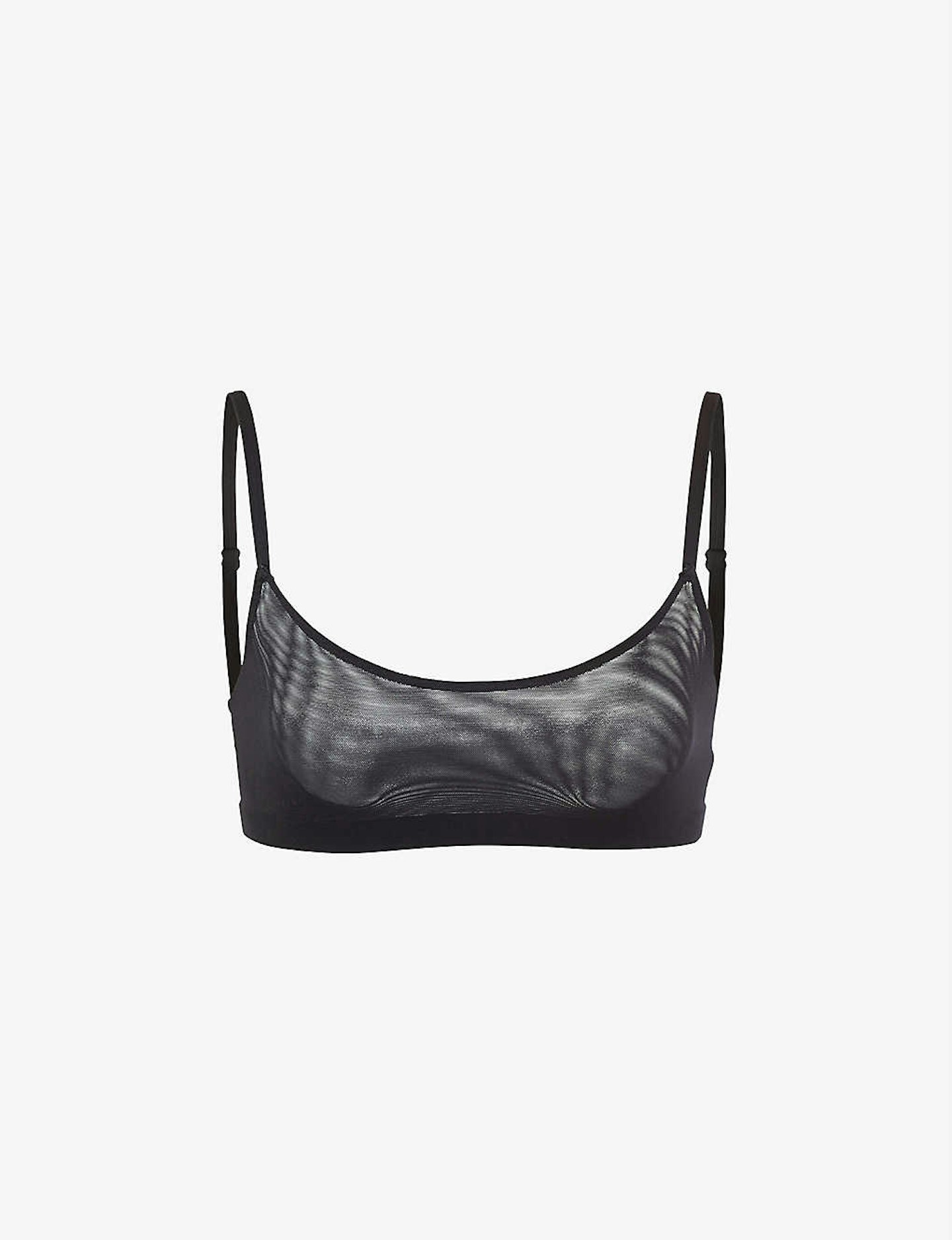 12 of 13
SKIMS, Scoop-Neck Stretch-Jersey Bralette, £38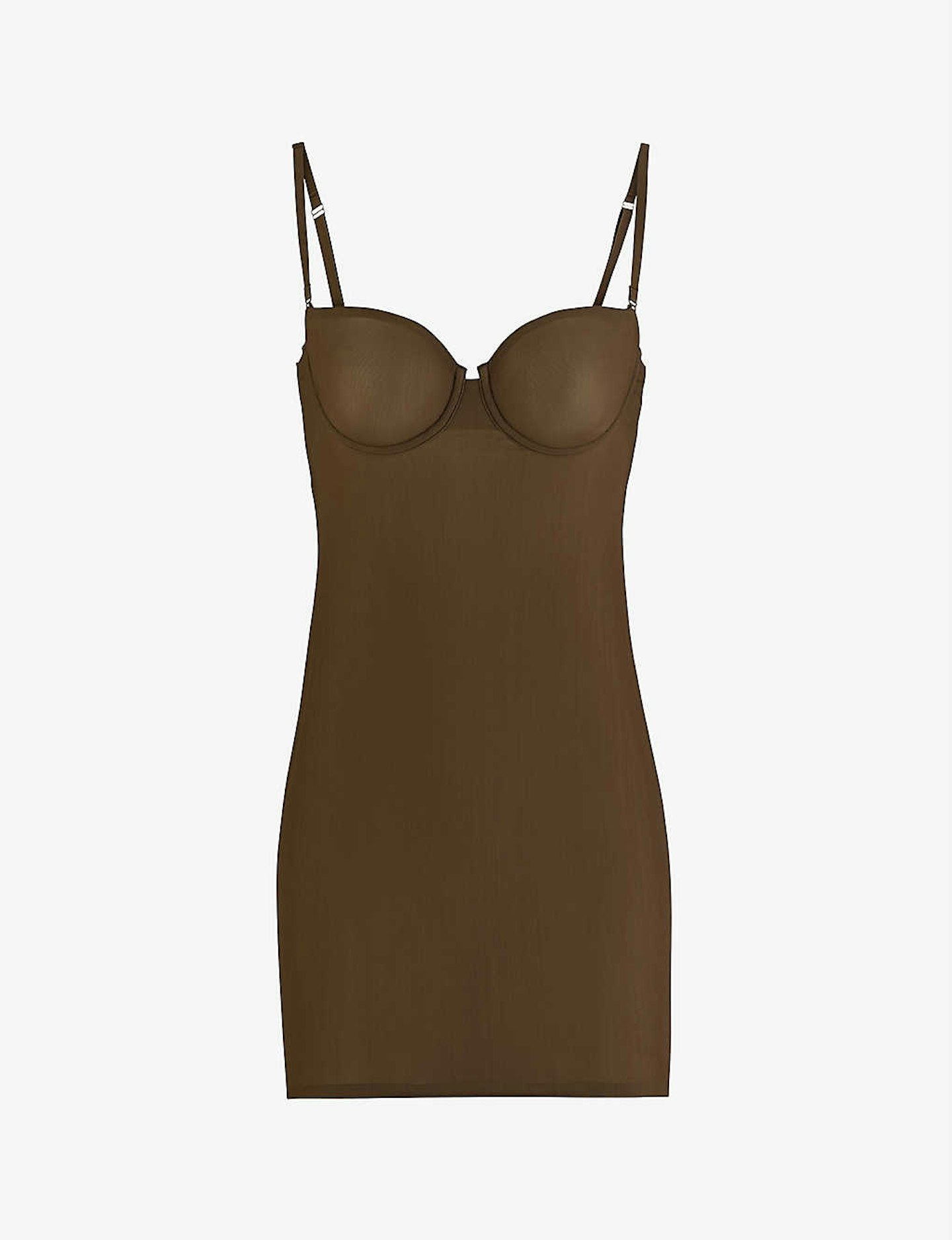 13 of 13
SKIMS, Naked Convertible Stretch-Woven Minidress, £115
undergarments that are representative. It wasn't even a thought when we were casting, "Oh, we have to be strategic and make it this way." It wasn't an option. This is just what this brand is.'
Alice-Marie's casting ties in with perhaps the most unlikely aspect yet of Kim's professional portfolio – her move into the law. She is two years into her legal training and says she was writing an essay just before our call. Later, she will have a five-hour Zoom call with her law professor. 'I know, right?' she says, laughing. 'Torturous.'
In the 14 years of the Kardashians on TV, when they've put sisters who love one another front and centre of the global media dialogue, it's easy to forget that Kim and her family first felt the glare of the Hollywood spotlight in the midst of the biggest US court case of the last half- century. During the OJ Simpson trial, Kim, Kourtney, Khloé and brother Rob would dutifully sit in court and watch their mother testify for the prosecution, in support of her late best friend Nicole Simpson, while their father Robert was an attorney working on Simpson's defence.
Robert died in 2003, aged 59, and Kim says her legal work brings back fond childhood memories of her father. 'I saw my dad do what he did,' she says, 'and I used to always be looking through his stuff, trying to go through his cases on the weekend, when my sisters were trying to party and have fun and couldn't even understand why I wanted to.' There was a secret room, behind a panelled wall in his study in the Bel Air family home, where Robert would log evidence samples. 'He'd keep all of his evidence books back there. I was just so intrigued and so nosy.'
Sometimes, she can feel her father on her shoulder while stepping into her new, personally uncharted, territory. 'He once said to me, "I think you'd be great at it. But I also think that it's super-stressful and exhausting. So, if you want a stress-free life, maybe don't follow through with law school."' She laughs at the irony of how things turned out. 'He would've loved it so much, though. He would've been my study partner.'
Perhaps mindful of this, Kim is not so bothered about having to cancel the big 40th birthday party she'd been planning. 'I'm not someone who gets nervous about getting older. I obviously do what I can to try and feel as youthful or to look a certain way. But I'm proud that my kids get me here another year. I always think about that. Particularly losing your dad or a parent or someone close to you at a young age.'
FYI, the party sounds like it would've been amazing. 'I had the best plan,' she says. 'It was going to be called Wild, Wild Miss West's 40th Birthday. I had Manfred Thierry Mugler make me a metal costume. Like, a cowgirl costume.'
Woah.
'Right! I have it and it is insane. We did virtual fittings. I don't even want to waste it on a party for myself with five people. I want it to be something. So, I'm thinking, maybe next year. I can have it on my 41st. We can still call it my 40th, right?'
Skims is available now at Selfridges London, Manchester, Birmingham and selfridges.com.
Don't forget, you can watch the new season of Keeping Up With Kardashians - plus every old episode -on Hayu now.
Photographs: Vanessa Beecroft
Hair: Chris Appleton
Make-up: Ariel Tejada