Best For: Stylish interiors, chic drinks, delicious food, oh and shopping.
We used to struggle with where to stay during our NYC pit stops. After all, Manhattan hotels are famous for being gloriously expensive, excessively noisy and rather dark. Not ideal when you've got jetlag, a tight wallet and important meetings that require an error-free makeup application.
Standing solidly on the corner of Howard and Lafayette however, 11 Howard has solved the issue. Deliciously near many of our favourite eateries (Butcher's Daughter, L'Esquina, Egg Shop, Lovely Days, Fat Radish and Sant Ambrose) and a mere sniff from in-demand stores like Reformation, Opening Ceremony and the brilliant boutiques of Elizabeth Street, you'll find yourself perfectly placed to explore some of New York's finest.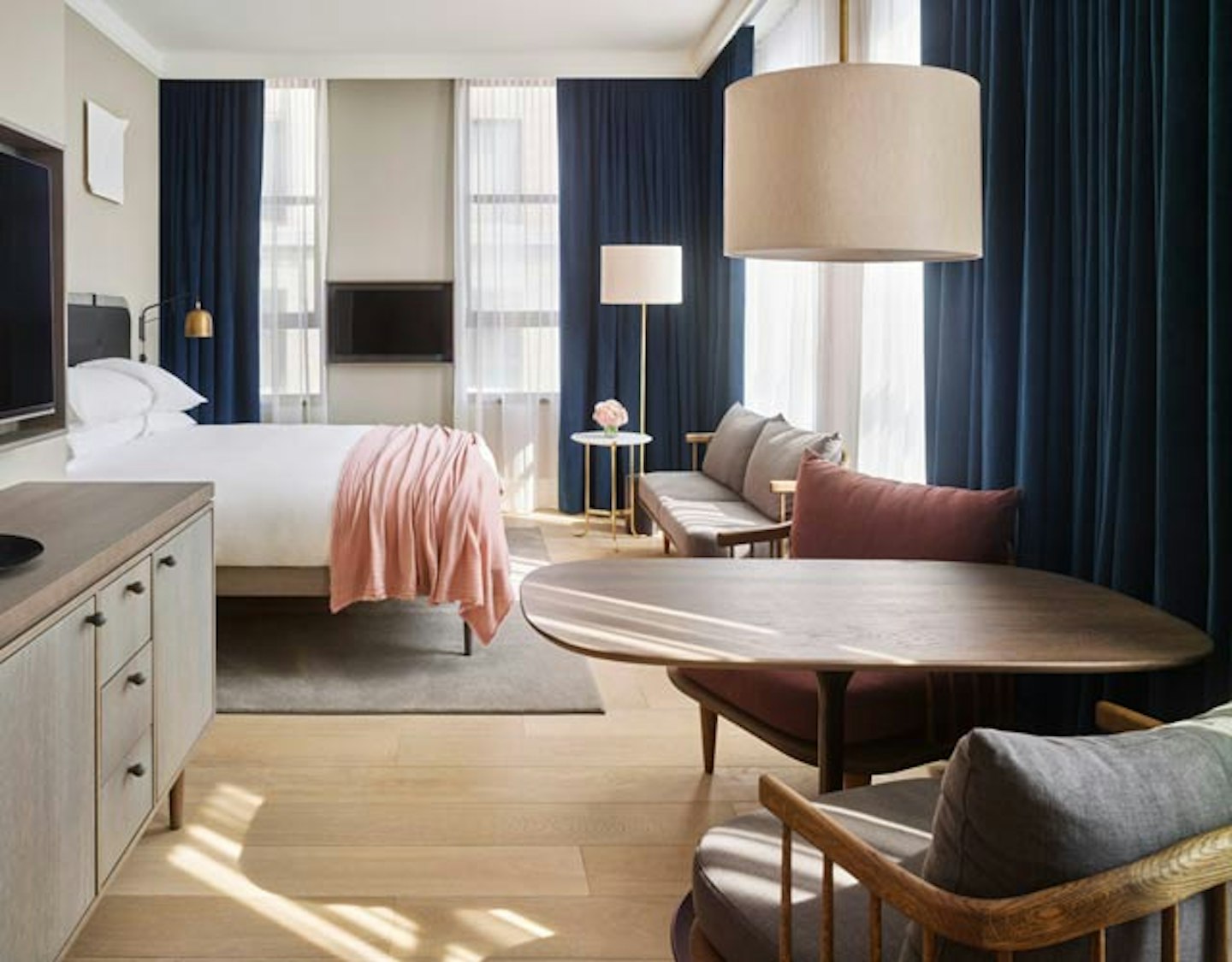 Inside is all minimal, modern Danish design – There's a lobby - but not as you know it – a room empty save for a spiral staircase (leading to the super-cool Blonde bar and a cosy library where the city's creatives meet and hang) and a cluster of charming staff. The rooms are pretty great too - small but perfectly formed, they are bright, cosy and welcoming - exactly the kind of place you want to collapse after a long and tiring day. Sheer white curtains waft, bed linen is well - linen, French and delicate rose in hue, while the marble and brass sinks make for plentiful photo opportunities. Oh and it's very clean and quiet.
Insider Tip: Don't leave without enjoying a drink at The Blonde and do order the avocado on toast for breakfast in the library – it's quite possibly the best we've tried. We couldn't get a spot at the acclaimed CouCou restaurant, but are assured by local friends that it's brilliant. Nestling just off the lobby the kitchen is led by chef and restaurateur Daniel Rose and is seriously popular, so don't forget to book in advance.
The Lowdown: The 11 Howard is priced from approx. £255 per room, based on two sharing, we booked on www.booking.com.
MORE TRAVEL