Things are heating up in the run-up to the US Presidential election as both Republican and Democratic candidates make the case for why they should be elected to represent their party. Seven candidates are travelling across the states to fight it out with each other for the chance to hold the most powerful post in the entire world. No pressure then.
Thursday night saw the Republican candidates take to the stage in Charleston, South Carolina to debate their policies and win some serious votes. As per, the world's eyes and ears were preoccupied with one man and one man only – Donald Trump.
The event was hosted by Fox Business Network and broadcasted to the world – the perfect platform for Trump (currently front-runner in the polls) to be as offensive and absurd as possible. He didn't disappoint.
Here are the best/worst 'Trumpisms' to emerge from the debate, brought to you in the only form appropriate – Gifs, obviously.
He told fellow candidate, Ted Cruz, that he could never be president because he's from Canada. Ted Cruz responded by pointing out the fact that Trump's mother was actually born in Scotland.
His hands did the talking
Not the guns, apparently…
Donald's a family man, guys. If he becomes president of the United States of America, his business will go straight into the hands of his dear ex-model daughter, Ivanka. Who's already worth $150 million.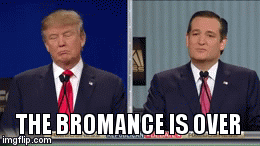 Ted Cruz is officially off his Christmas list.
When asked whether he stood by his suggestion to 'ban all muslims', he stuck to his (extremely offensive) line.
Despite his trash talk and xenophobic jibes, he's still, depressingly, the people's favourite.
According to CNN, the debate was Donald Trump's 'best performance of the campaign' and he still comes out top in the national polls. Why? The Boston Globe puts his success with white, working class Americans down to the remaining sting of the last recession – they see Trump as a way out of the financial slump.
Another reason behind the madness is the sheer amount of Republican presidency candidates that the American people have to choose from. There's 11, to be precise.
Take solace that the idea that 'everyone loves Trump' might not actually be true. It's more likely that most people haven't made up their minds.
Like this? Then You Might Also Be Interested In:
Donald Trump Is A Prick But What On Earth Is Going To Stop Him?
Parliament Will Debate Whether To Ban Donald Trump From The UK
Follow Eve On Twitter: @EvieSimm
This article originally appeared on The Debrief.