Matthew Doyle from Croydon, also known as the butt of yesterday's internet jokes, has been arrested for 'inciting racial hate'.
As you well remember, on Wednesday morning he took to Twitter to document a his 'encounter' with a Muslim woman, challenging her to 'explain Brussels'. A woman minding her own business in Croydon. A woman nothing to do with Tuesday's terror attacks.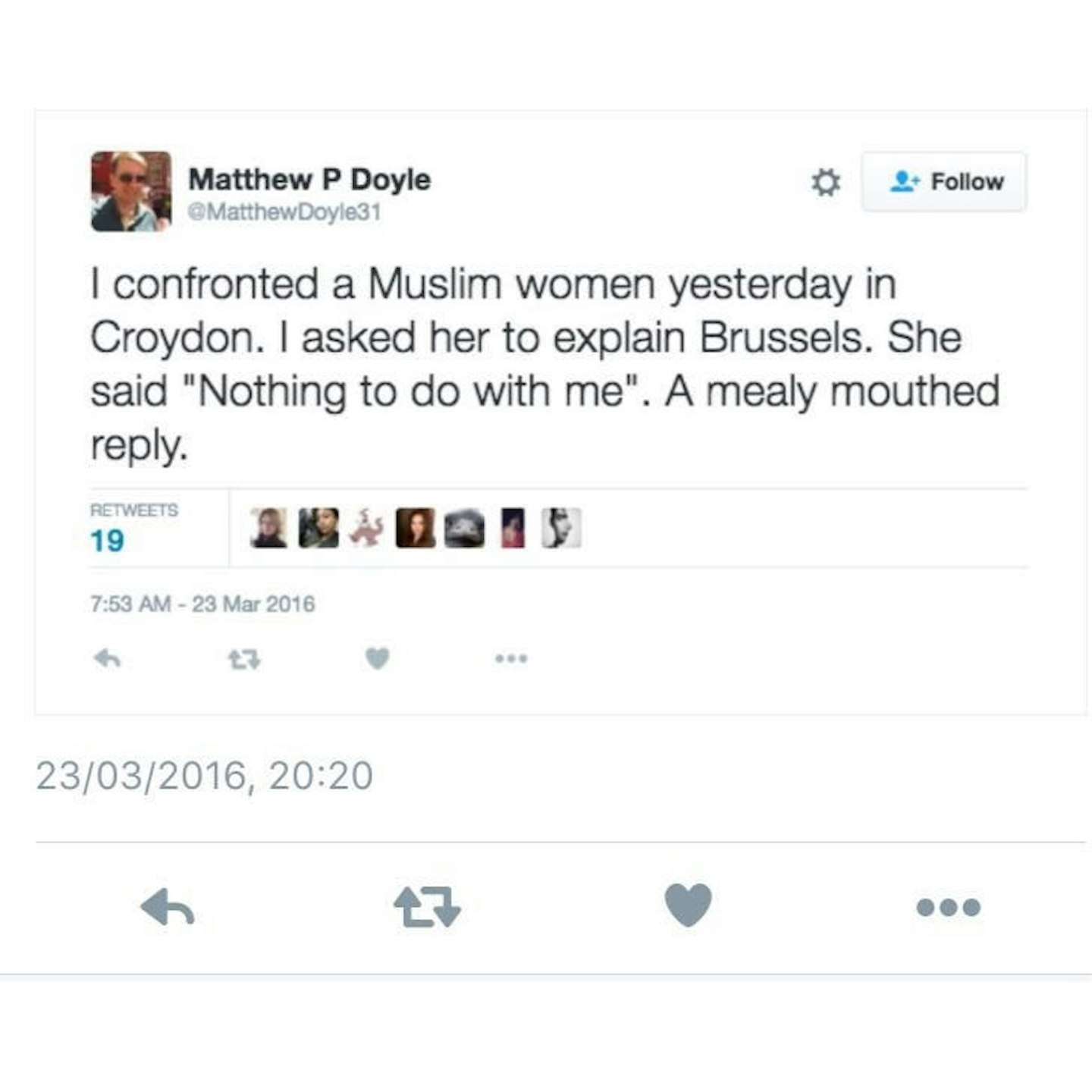 This tweet has since been removed, following huge backlash from the media and other Twitter users. People sent mocking tweets asking him to explain Dunblane and slavery. And then there were also these:
Following Matthew's original tweet he was asked by Huffington Post UK if he would approach a Jewish man and ask about Israel and Palenstine and he replied: 'Absoultely not'. He justified his questioning: 'She was wearing a flag. If I was walking down the street wearing a jacket emblazoned with a Union Jack then I would be open to some abuse.'
Further tweets from Doyle refer to Muslims as 'towelheads'. He also tweeted his support for Donald Trump and UKIP.
As if his first tweets were not enough, Doyle then asked Twitter followers to contact his 'PR' team, and tagged successful female journalists -Caroline Crampton of the New Statesmen and Kimberley Leonard of Sky News. His sexist comments about their bodies speak for themselves.
On Wednesday evening the Metropolitan Police tweeted that a suspect had been arrested for 'inciting racial hatred on Twitter'.
Inciting racial hatred is defined under the Racial and Religious Hatred Act 2006 as 'hatred against a group of persons defined by reference to religious belief.' It also states 'A person who uses threatening words or behaviour, or displays any written material which is threatening, is guilty of an offence if he intends thereby to stir up religious hatred.'
The worst bit? This dude actually works in PR and refers to himself as a 'feminist' in his bio.
**Like this? Then you may also be interested in: **
Make Renting Fair: Why We're Calling For The End Of Letting Agent Fees
** Follow Zoe on Twitter @zocassell**
This article originally appeared on The Debrief.