Charlotte Colbert is undoubtedly a champion of female empowerment through her art – from her uterus-shaped headboard and bathtub lined with silicone breasts to her direction of psychological horror She Will, which channels female rage.
But how did she start out? Charlotte's journey into becoming a critically-acclaimed artist across film, installation and sculpture began with wanting to tell stories.
'I guess I really wanted to get into film, but I didn't really know how,' she tells Grazia. 'So I did what most people do… script reading and production assistant jobs, all that kind of thing. I started writing stories for people.'
Charlotte's experience of writing then led to an exhibition about an all-too-relatable subject matter, inspired by the inner turmoil that can ensue from solitary writing. It was described as 'a study of madness and the fragility of existence, reality and belonging'.
She explains: 'I did a series of photographs about the insanity of sitting down writing and how everything morphs and becomes crazy – you start talking to your door handle! It was called A Day At Home – and a gallery picked it up.'
What followed was a career straddling different facets of the art and creative world, from constructing sculptures made from layered TV screens, to producing a biopic centred around Spanish artist Salvador Dalí, starring Suki Waterhouse and Ezra Miller.
Now, Charlotte is taking us down a new rabbit hole with her latest art show, Dreamland Sirens, which will run during Frieze London from 11 to 21 October. The project is inspired by her fascination with both fairytales, particularly Alice In Wonderland. Visitors will step through the looking glass, with installations drawing on the energy of the Queen of Hearts and a celebration of femininity. The show's namesake piece, Dreamland Sirens, is a sculpture of an eye – inspired by the room of tears in Lewis Carroll's classic story.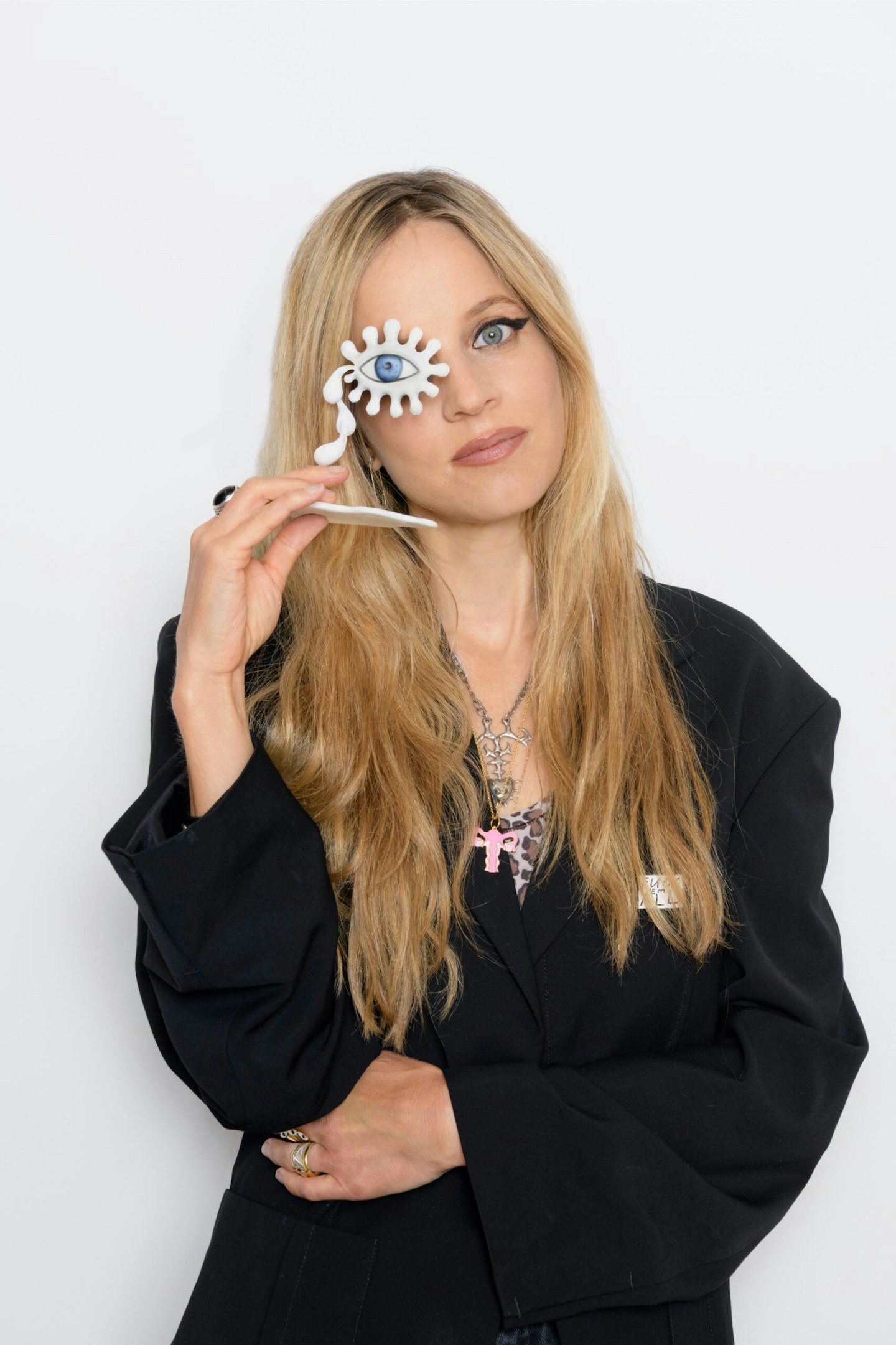 'The show is very much a rabbit hole, with the portal being the eyeball that takes us on a journey into the mind,' Charlotte explains. The show is meant to make us ask what utopias we'd build for ourselves if we ditched all pre-conceived ideas, like patriarchy for instance.
She believes that we're living in the dystopias produced by (mostly male) thinkers in the 60s, 70s, 80s and even 90s. 'I feel like we're screwed if we can't imagine a utopia for our futures,' she says, adding that we have the opportunity to come up with new ideas when it comes to what we want our future and society to look like – and this can include 'redefining and rethinking' patriarchal norms and ways of living. For Charlotte, it all begins with a journey through the looking glass to a different, pre-patriarchal perspective.
Of course, she's worked with some incredible women on Dreamland Sirens, including composer Isobel Waller Bridge (sister of Fleabag star Phoebe Waller Bridge). The duo have created a 'siren-like' sound collaboration that will be played through 'mermaid-shaped speakers'. Electronic sounds, whispers and siren singing will beckon visitors through a 'mini narrative'. Charlotte describes Isobel herself as 'magical' and 'nearly a fairy, like an airborne creature'. 'She's dreamy, magical and floaty – [working with her] was really interesting.' The sound collaboration will also be released on limited edition vinyl, with profits supporting the End Violence Against Women coalition.
This is a cause close to Charlotte's heart: 'Since the Time's Up movement, there's been a little bit more funding that's gone towards womens' and girls' causes,' she says. 'Prior to that, there was probably more support for garden lettuce slugs, do you know what I mean? It's crazy.' She describes the work of grassroots organisations fighting for women and girls as 'relentless and heroic'.
Prior to the Time's Up movement, there was probably more support for garden lettuce slugs than womens' and girls' causes.
Activist Lily Cole is set to model some of Charlotte's wearable art pieces as part of an exciting collaboration for Dreamland Sirens. The duo have previously collaborated, with their first project together being Mother and Child, a moving-image sculpture of Lily breastfeeding her daughter. This was inspired by a poem Lily wrote about her embarrassment and shame at breastfeeding in public. 'She kept getting kicked out of different places,' Charlotte explains, adding that they had children at similar times and bonded through motherhood.
Charlotte is excited to check out the rest of Frieze London, not least her friend José Parlà's exhibition Phosphene, which is partially inspired by his near-death experience with Covid. She recently worked with José on a project with artistic platform Istanbul 74, reimagining flags of the future. One flag had an emoji emblazoned on it, another a pole dancer. She describes these utopian flags as 'quite a beautiful idea of invention'.
As well as upcoming film projects, when it comes to new inspirations for her art Charlotte is interested in exploring artificial intelligence and 'how humanity stretches its definition if itself' due to technology. She finds the idea of moving away from completely human-derived dreams and narratives 'really interesting'. Through her creations, she'd love to look into how we could use AI 'in a way that's super beneficial, rather than completely crushing'.
Sounds like a perfectly future-facing rabbit hole to fall down next.
Charlotte Colbert's new show Dreamland Sirens runs during Frieze London, 11-21 October at Fitzrovia Chapel, charlottecolbert.com