As we walked out of my 12-week scan, shaking and lightheaded, I turned to my partner and said 'But, you know, that whole screen could just be a video; the same video they show to everyone. We'd never know'.
Before getting pregnant I was in the extremely lucky position of having no long-term or ongoing illnesses: physical or mental. Being pregnant threw me into such deep whirlpools of anxiety that, more than once, I genuinely wondered if I was pregnant at all. With a kind of uneasy thrill, I read about Queen Mary's 'phantom pregnancy' of 1555 and wondered if I, too, had conjured this sickness, this thickening around the middle, this halt in my periods through hormonal changes, maternal longing and unchecked delusion alone. I did three pregnancy tests, went for all the right scans and yet, until my tiny purple son pushed out into the bathing pool of an East London birth centre, there was still a part of me that wondered if I was having a baby at all.
So it was with a strange mix of horror, distaste, sympathy and fatigue that I learned of the 'Meghan Moonbump' theories circulating on the internet. In particularly dank and unpleasant corners of YouTube, Reddit and the like, anonymous strangers have built videos, threads and illustrated essays expanding on the crackpot theory that Meghan Markle is, in fact, not pregnant, but wearing a strap on rubber belly, has employed a surrogate, or is otherwise 'faking' it. In fact, global searches for 'Meghan Markle fake pregnancy' are up 1650% in the last 90 days. and 'Meghan Markle fake bump' is up 4400%.
There are two parts to this strange phenomenon; firstly, Meghan Markle is a woman of colour, secondly she is a member of the royal family. The first part is significant. In every illustration in almost every single pregnancy and birth book, on every pregnancy test box, in all our tampon, nappy and breastpump adverts, on every online online advice column, at every NCT class and in every medical diagram, the woman and her baby we are exposed to is white. In Britain we simply are not publicly familiar with what pregnancy, birth and newborns look like for women of colour. It is a silence, created by capitalism, convention and unconscious bias.
When similar rumours centred around Beyonce or Serena Williams it was, outright racism and loony online conspiracies-aside, perhaps the result of people simply not knowing what a pregnant woman of colour, the birth of a baby of colour, will look and be like. This becomes dangerous when, as we've seen in the recent UK Confidential Enquiry into Maternal Deaths, the chances of death for black women in childbirth (1 in 2,500) is five times higher than that of white women. As Dr Ria Clarke told the Pregnant Then Screwed conference, while this is in part because black and Asian women are more likely to be affected by social and economic problems, "We need to talk about the fact black women may not feel that they will be taken seriously, which might make them less likely to disclose how they are feeling." The National Health Service is one of the only, truly universal services in the UK; used and staffed by a huge range of people. It has been intentionally underfunded for a decade by this government, creating a shortfall of 107,743 personnel in England, with 3,000 midwives leaving every year and health visitor services being either eliminated or privatised as a result. But even so, implicit bias must, argues Clarke, still be actively challenged with an anti-racist stance and training.
The second part is just as important. As an actress-turned-princess, Meghan Markle is, by definition, enigmatic. Most people will never meet her, she lives behind a wall of security and royal protocol, she is forced by her position to be as distant, unknowable and neutral as any high profile diplomatic figure or head of state. She is, therefore, a vacuum into which we can pour our every fear, hope, theory and trauma. It doesn't take a huge amount of psychological insight to suggest that those people claiming she's faking symptoms and waddling around beneath a giant inflatable belly are, consciously or unconsciously, deeply unsettled and uncertain about their own bodies, fertility, status, intentions and actions. To snipe, criticise, doubt and attack a stranger during one of the most intimate and precarious periods of her life, says far more about you, the slanderer, than her, the victim.
Read more: Harry and Meghan's relationship timeline
Prince Harry and Meghan Markle relationship timeline - Grazia
1 of 17
July 2016: Meghan And Harry Meet
So when did the future Duke and Duchess of Sussex meet? Prince Harry and Meghan Markle were introduced by a mutual friend in July 2016, originally thought to be Markus Anderson (also the director of Soho house) but who was later confirmed to be Violet von Westenholz. Meghan said in an interview that before she met the Harry she didn't know much about him 'the only thing that I had asked [our mutual friend] was, 'Well is he nice?'. According to Harry he knew Meghan was The One from 'the very first time we met.' after only two dates Harry asked Meghan to accompany him on a trip to Botswana.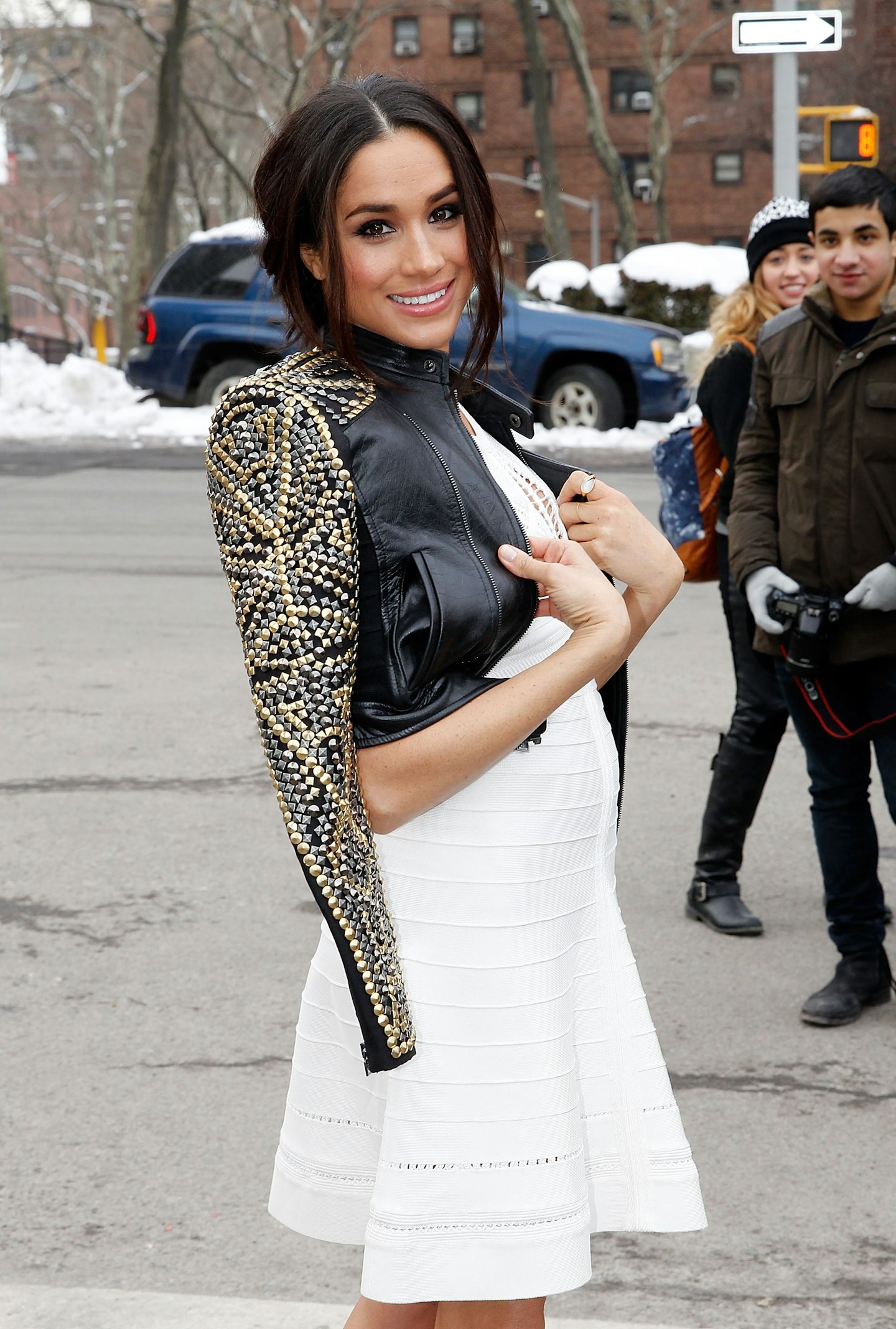 2 of 17
October - November 2016: Kensington Palace's Statement
In October 2016 that the Express became the first newspaper to publish news that Prince Harry had a new girlfriend. However just a month later, Kensington Palace released a statement condemning the 'wave of abuse and harassment' faced by Meghan. The unprecedented statement, which referred to Meghan as Harry's girlfriend for the first time, emphasized that Prince Harry was 'worried about Ms. Markle's safety and is deeply disappointed that he has not been able to protect her.' It continued 'It is not right that a few months into a relationship with him that Ms. Markle should be subjected to such a storm.' The palace were also forced to address speculation that Prince William was unhappy with Harry for confirming the relationship too soon, stating 'The Duke of Cambridge absolutely understands the situation concerning privacy and supports the need for Prince Harry to support those closest to him.'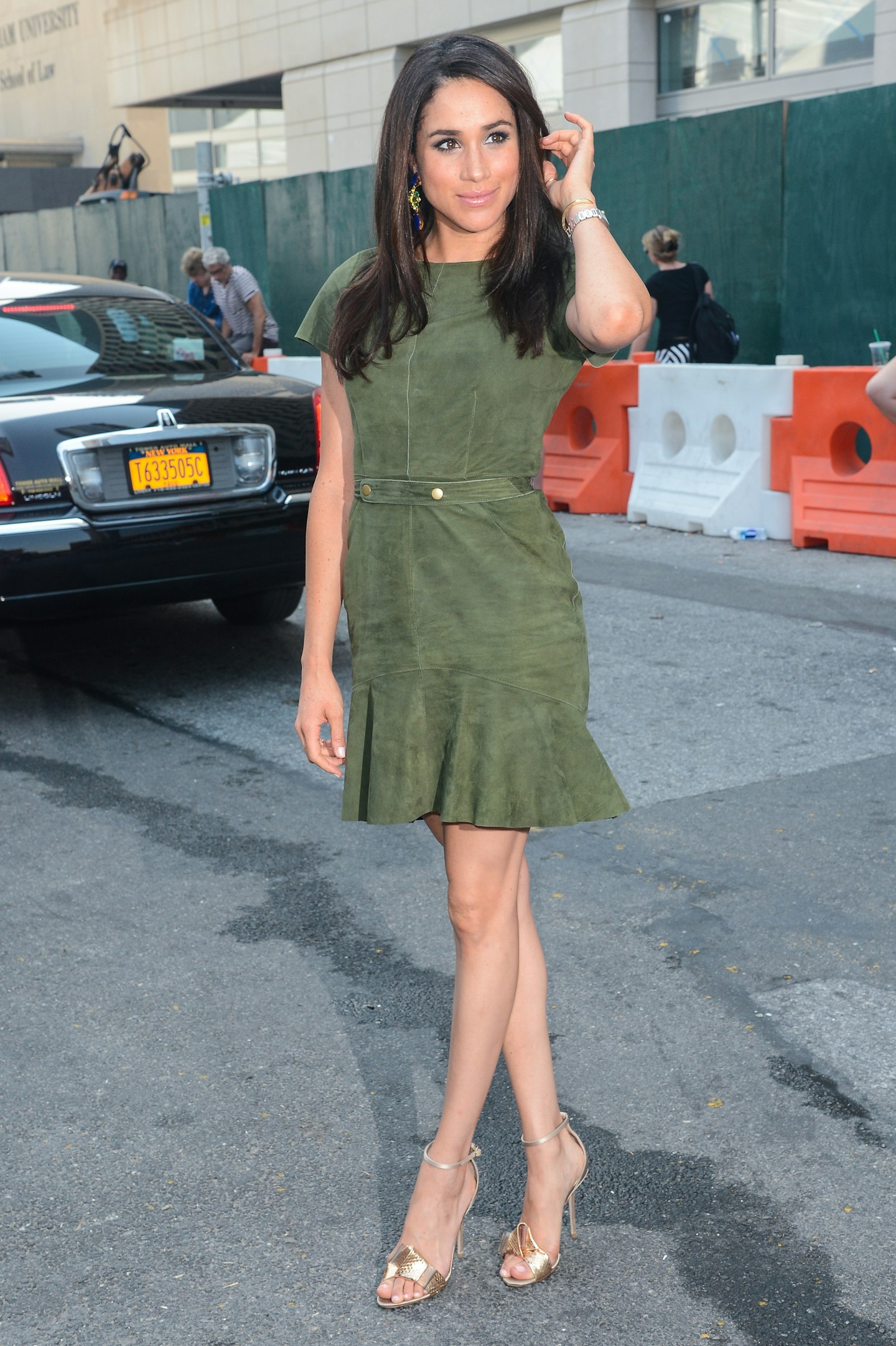 3 of 17
December - February 2017: Things Get More Serious
Early in December 2017 Meghan was confirmed as the most Googled actress of 2016. In the same month, the couple were photographed together for the first time in London, shopping for a Christmas tree at the Pines and Needles store and attending a performance of The Curious Incident of the Dog in the Night-Time. By January 2017 a source told US weekly that Harry had introduced Meghan to Kate and Prince Charlotte and that the 'meeting went well'. Meanwhile a source told The Sun that Meghan had 'virtually moved in' with Prince Harry to his cottage on the Kensington Palace estate.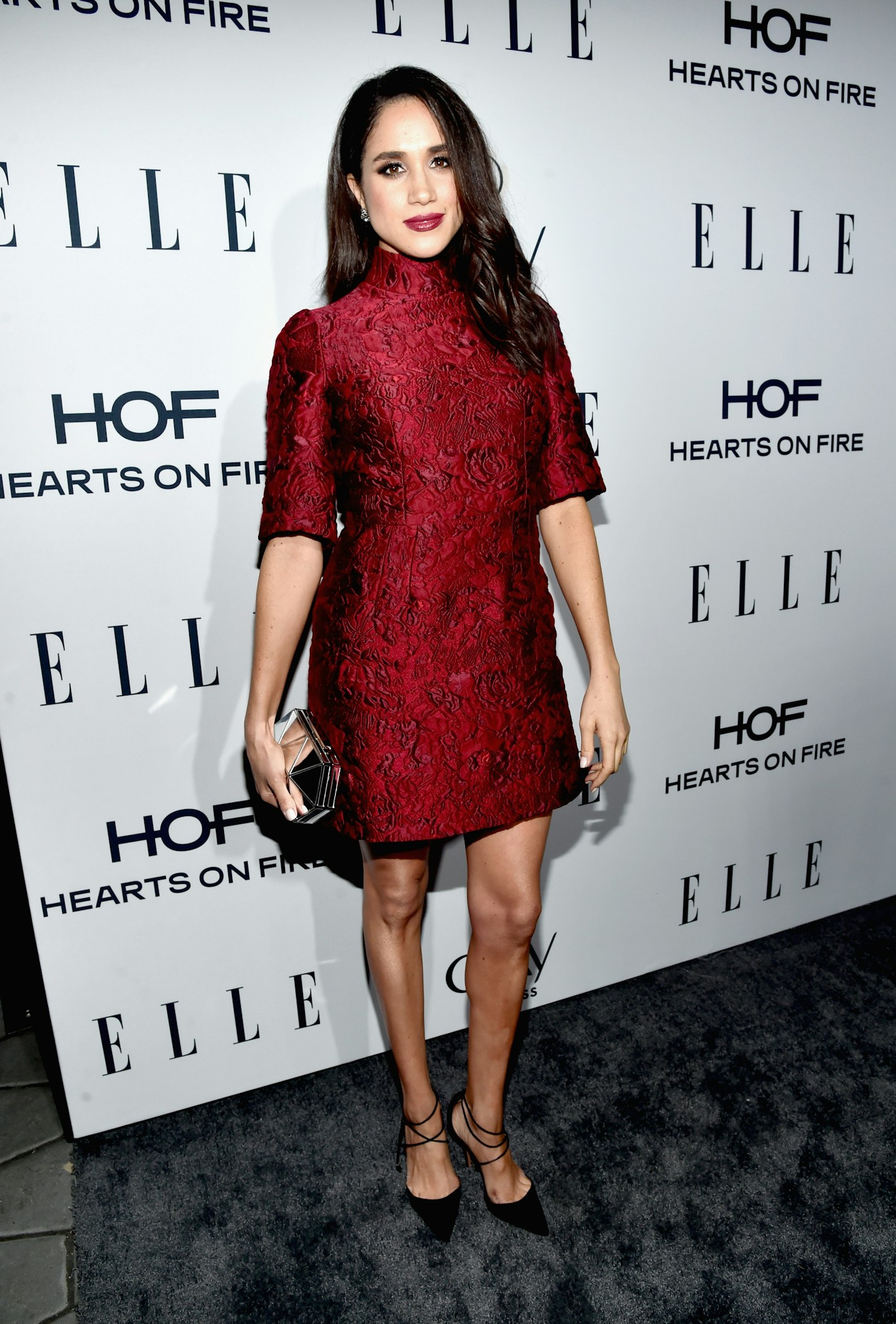 4 of 17
March - May 2017: Meghan Attends Weddings With Harry
By March things were openly getting pretty serious between the two: Meghan accompanied Harry to Jamaica for a wedding for the first time (his friend's Tom 'Skippy' Inskip to Lara Hughes-Young). On April the 7th Meghan announced that she was closing down her lifestyle blog The Tig writing 'What began as a passion project (my little engine that could) evolved into an amazing community of inspiration, support, fun and frivolity. You've made my days brighter and filled this experience with so much joy.' In May, Meghan and Harry attended their first public event together at the Polo in Coworth Park (where they also engaged in some PDA). Later in May Prince Harry was seen driving Meghan to the reception of Pippa Middleton and James Matthew's wedding.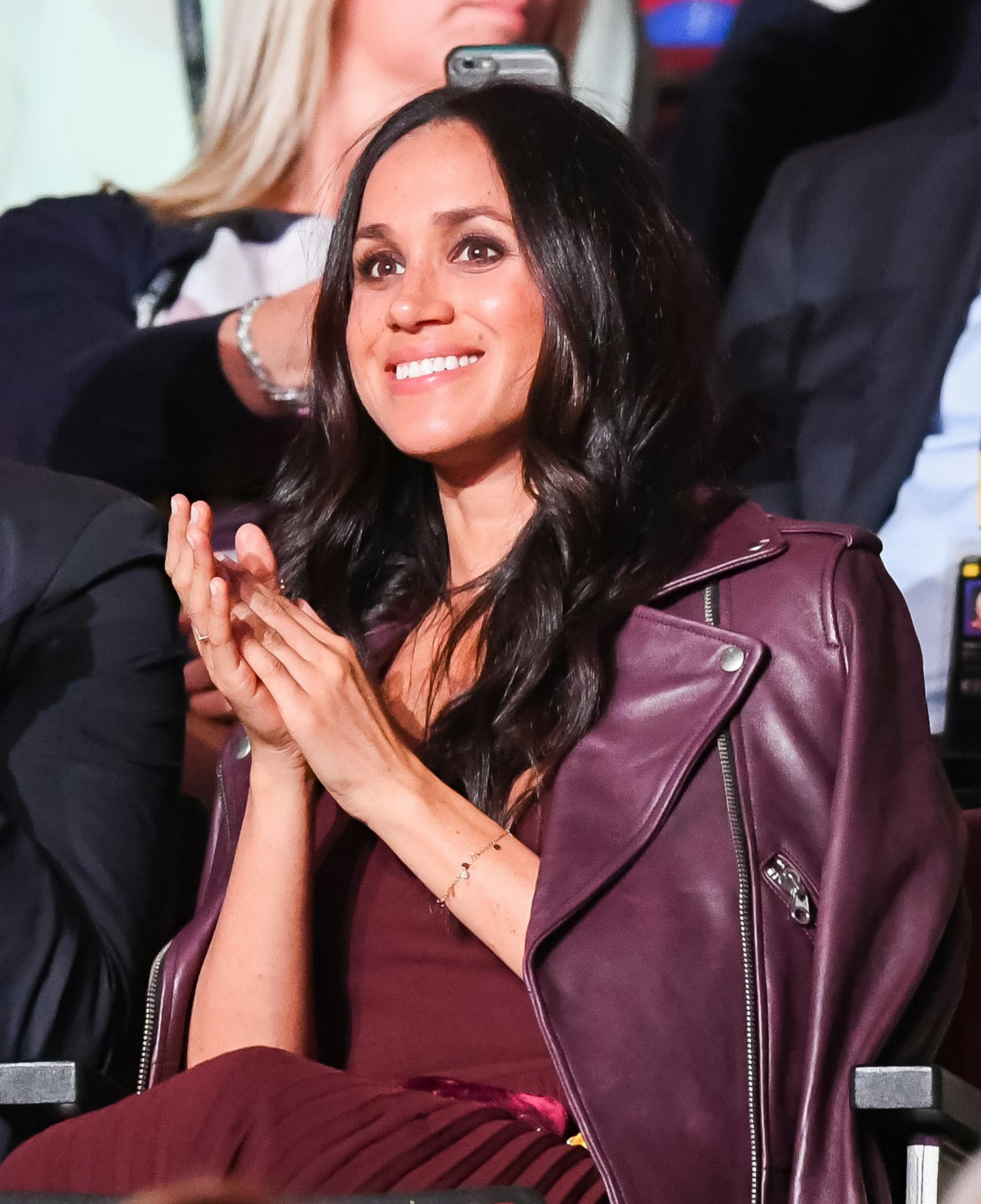 5 of 17
September 2017: The First Official Public Appearance
Welcome to Meghan the style Icon: at the opening of Prince Harry's Invictus Games in September Meghan wore a maroon midi dress with a pleated chiffon skirt by one of her favourite Canadian brands, Aritzia with a burgundy biker jacket by Mackage. The next day the couple were photographed sitting together at the wheelchair tennis and 'broke with royal protocol' by holding hands and kissing at the closing ceremony. On the 5th of September In an interview with Vanity Fair, Meghan stated: 'We're a couple. We're in love. I'm sure there will be a time when we will have to come forward and present ourselves and have stories to tell, but I hope what people understand is that this is our time.'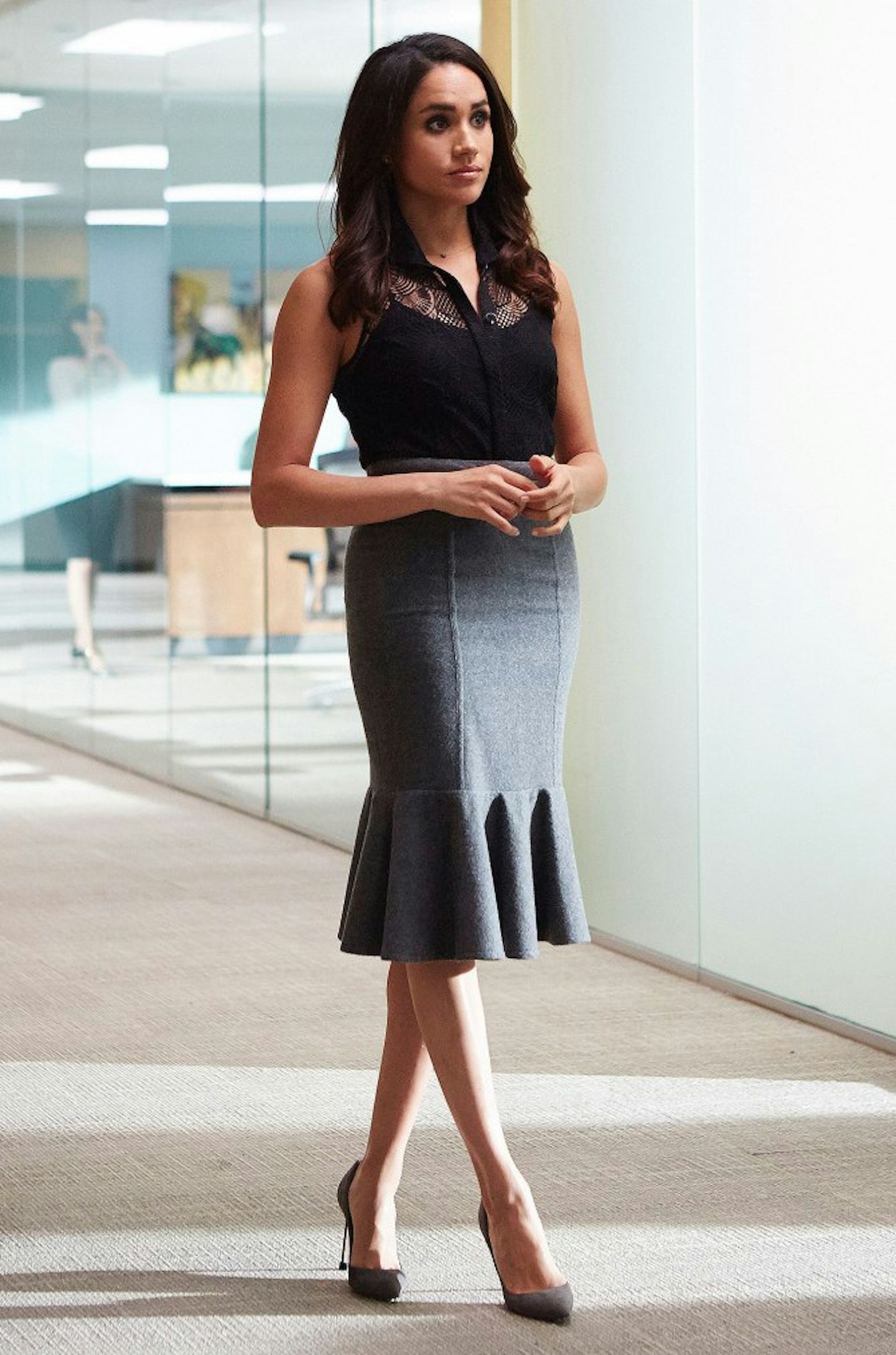 6 of 17
September-November 2017: Meghan Leaves Behind Rachel Zane
Late 2017 we saw the end of everyone's favourite legal powerhouse Rachel Zane (sob). In November 2017, shortly after Meghan met the Queen, the actress was reported to be leaving her role in Suits after seven seasons.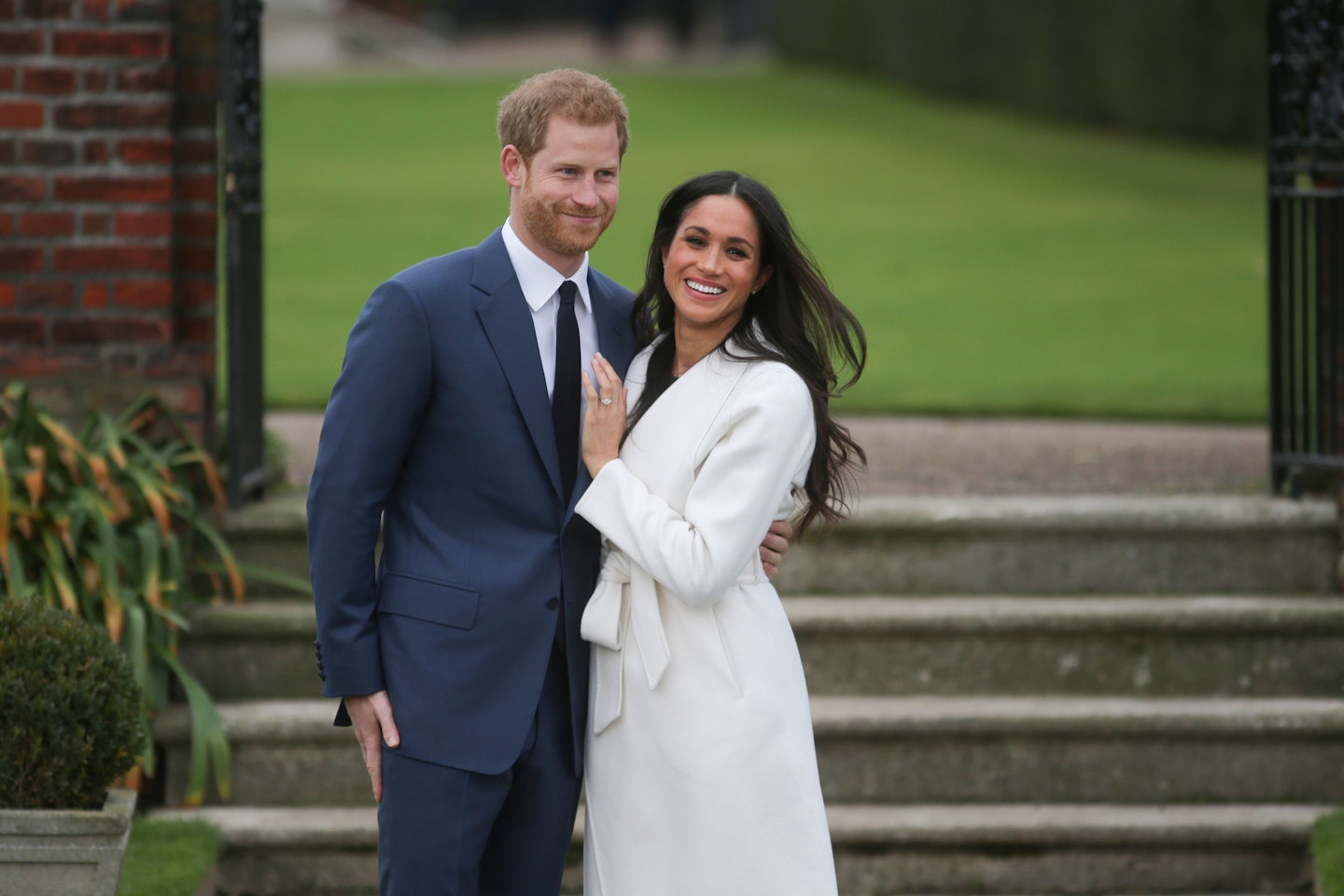 7 of 17
November 2017: The Engagement
After months of speculation, Prince Charles announced the engagement of his younger son Prince Harry and Meghan Markle after 15 months of dating On November 27th 2017 . The engagement ring, said to be designed by Harry, is made of two stones that belonged to Princess Diana. The couple later appeared at a photocall, with Markle wearing a white dress coat by Canadian brand Line The Label (whose website subsequently crashed). When asked by waiting photographers if the proposal was romantic, Harry joked 'of course!' Speaking about his late mother, Princess Diana, Harry said 'I think they'd be thick as thieves. She would be over the moon, jumping up and down, so excited for me... It's days like today when I really miss having her around and miss being able to share the happy news. With the ring, I'm sure she's with us, jumping up and down somewhere else.' it was announced that the wedding would take place on May the 19th, 2018.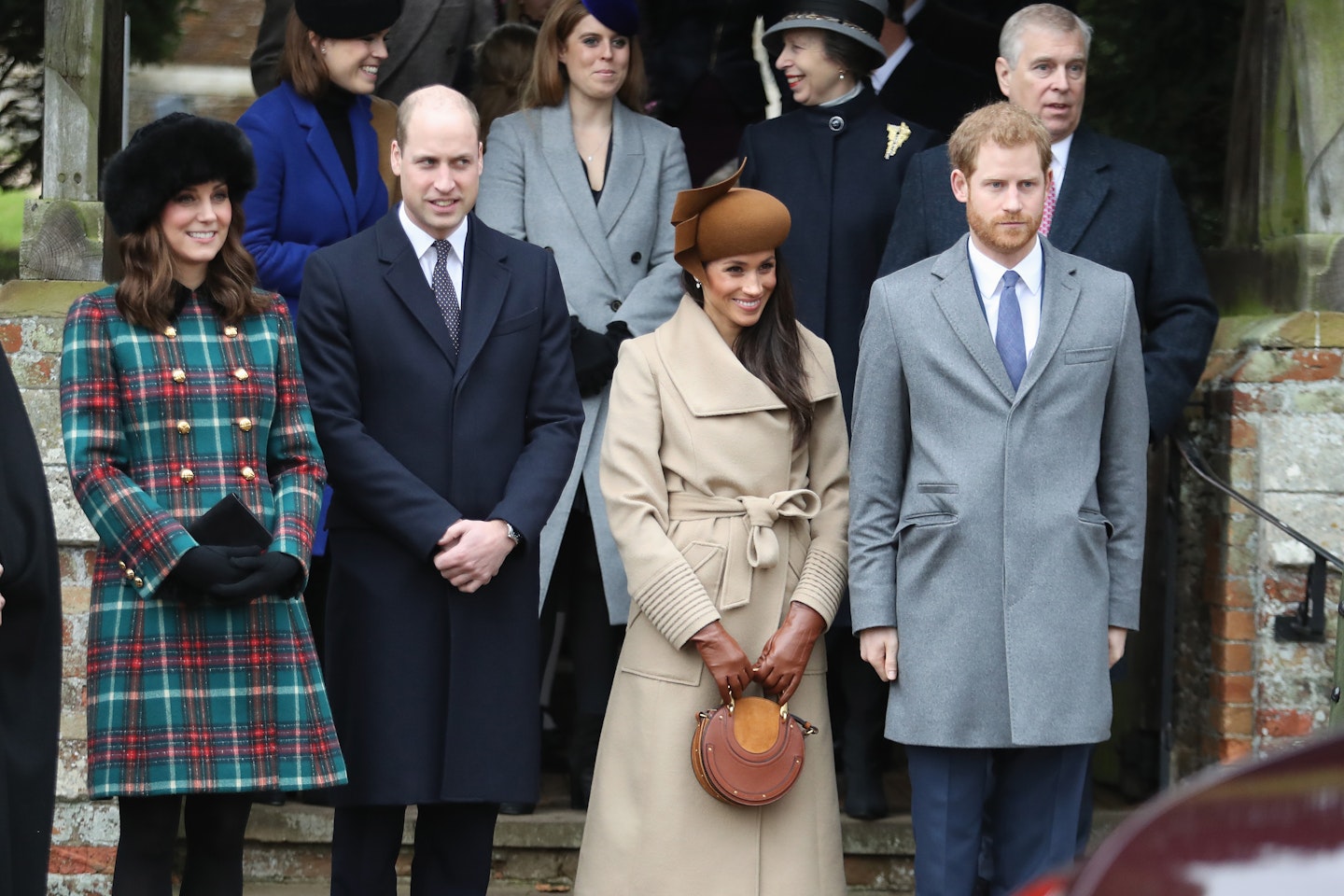 8 of 17
December 2017: The Fab Four
In December 2017 Meghan, Harry, Kate and William were photographed together attending the Christmas service at Sandringham. Pictures of the two couples earned them the title 'The Fab Four'. Meanwhile in the following months Meghan earned a reputation for breaking royal protocol on official visits by hugging fans of the couple and kissing them on the cheek.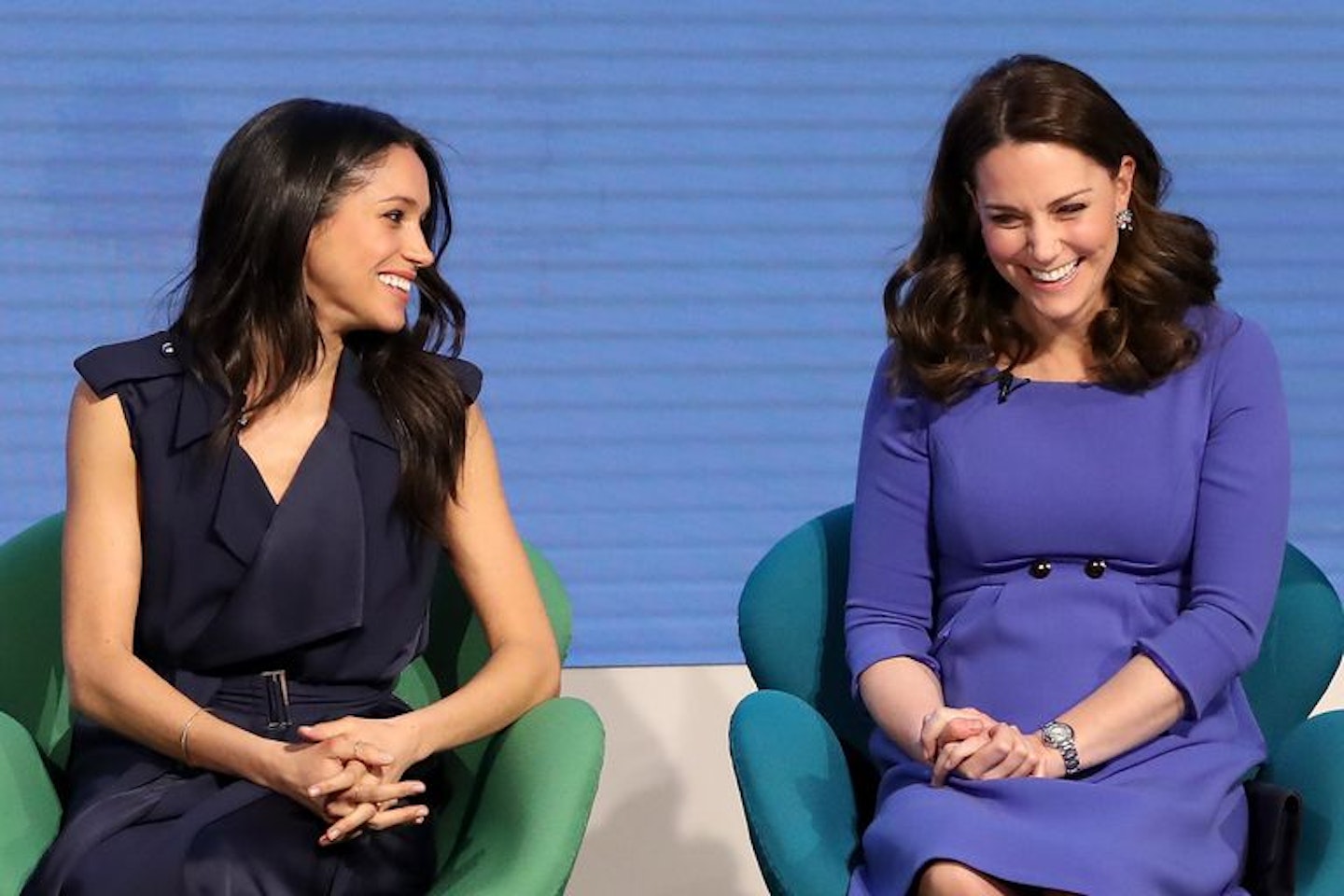 9 of 17
February 2018: Kate And Meghan Appear In Public Together
In February 2018, Kate Middleton and Meghan Markle had their first royal engagement together for the Royal Foundation Forum with Prince Harry and Prince William. Harry stated of the two couples 'We have different opinions and they work really well [together]. Working as family does have its challenges; of course it does. The fact that everybody is laughing shows they know exactly what's it like… But we are stuck together for the rest of our lives.'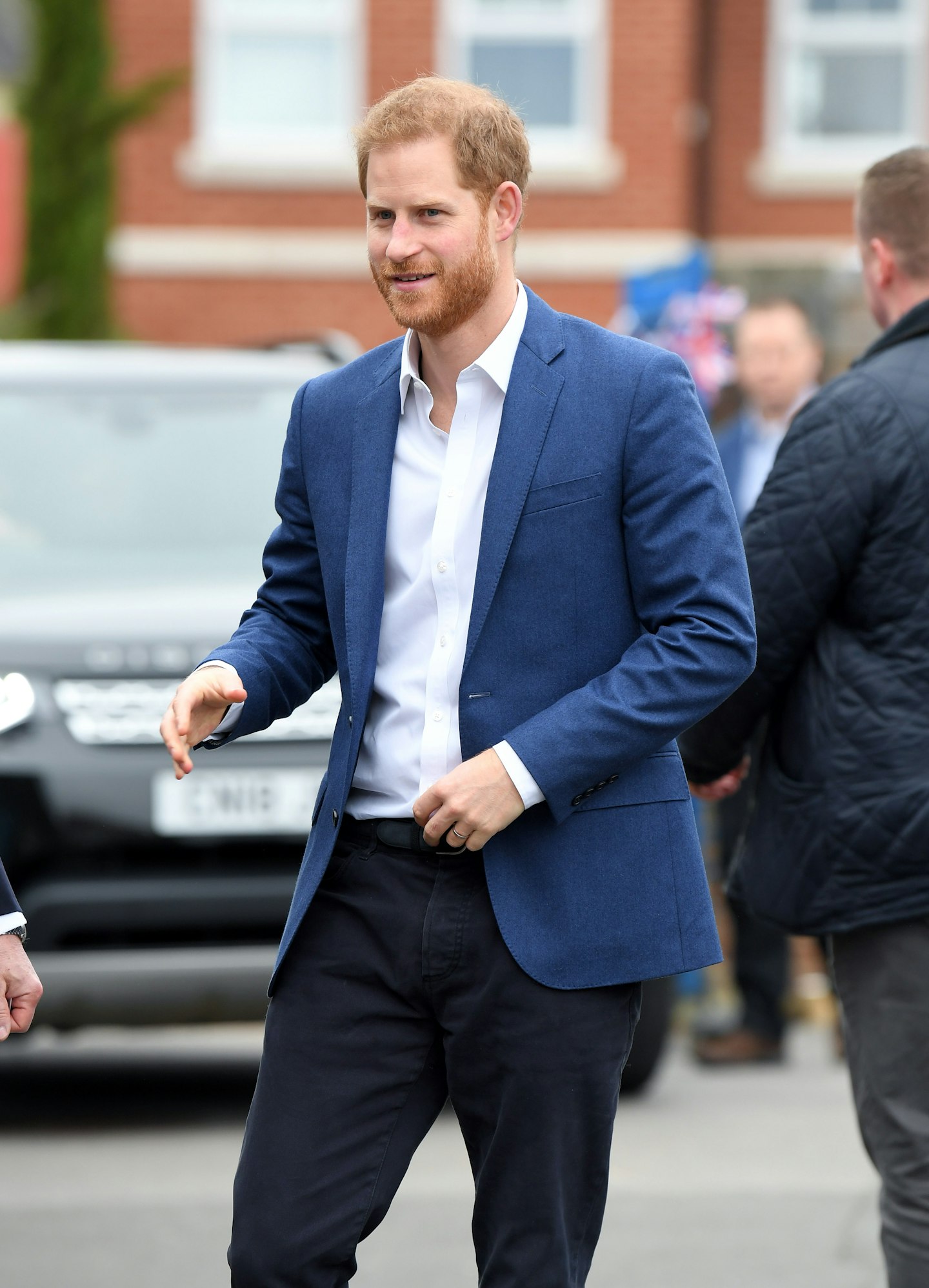 10 of 17
May 2018: The Lead Up To The Wedding
In the lead-up to the wedding it was confirmed 2,640 people would be invited to the grounds of Windsor Palace to watch the royal wedding. Photos of Meghan and Harry's wedding invitations were released, bearing Harry's legal name 'Henry'. Meghan and Harry made a number of public appearances together including to the Invictus game tryouts in April and attend the Queen's birthday at the Royal Albert Hall. Meghan's final episode of Suits is also aired, marking the official end of her acting career.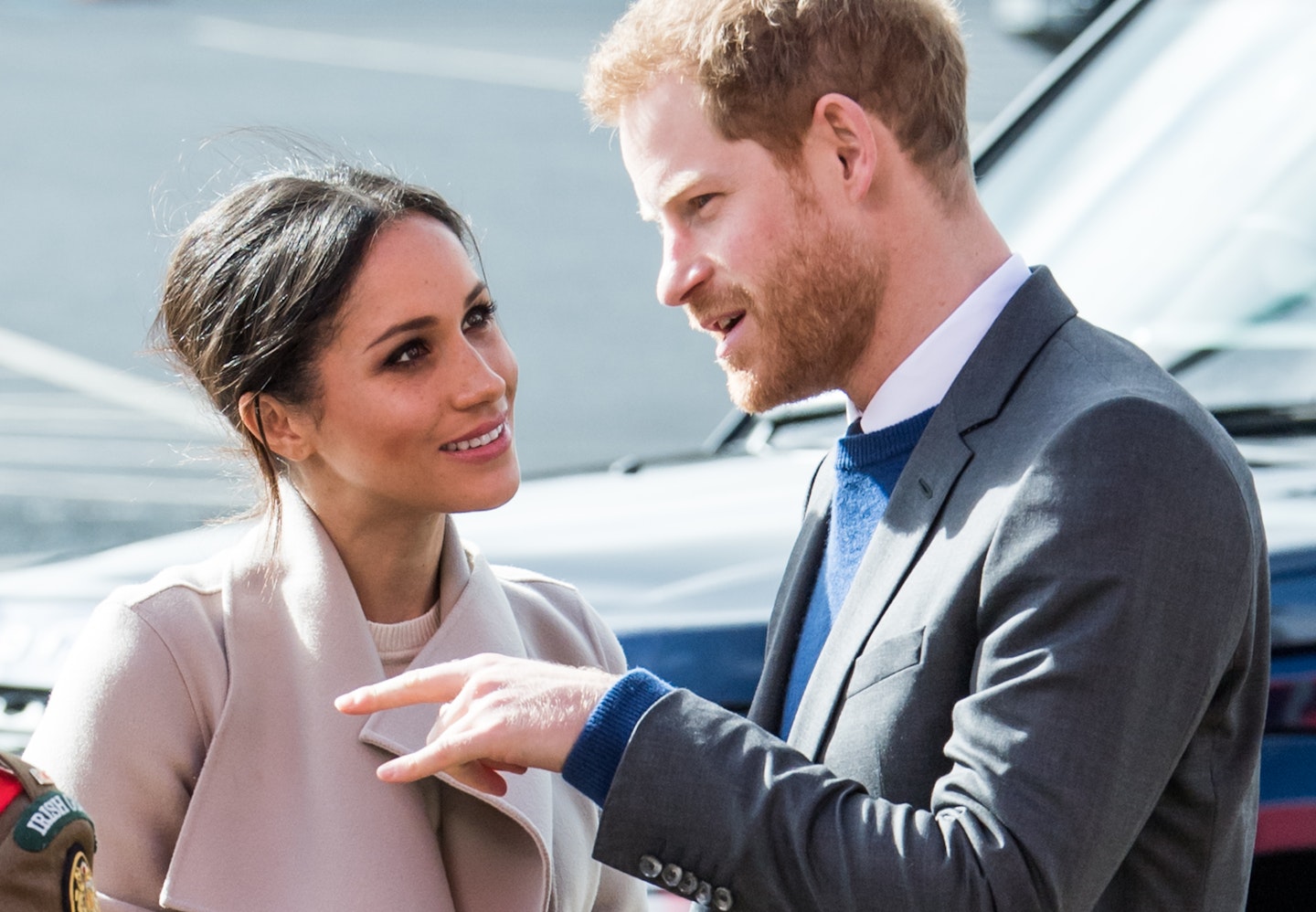 11 of 17
May 2018: Meghan's Family Drama Begins
On May the 14th, three days before the wedding Meghan's father, Thomas Markle sr. who was confirmed to walk Meghan down the aisle pulled out, following an embarrassing incident in which he staged paid paparazzi photos. Thomas Markle later suffered a heart attack, and his son Thomas Markle Jr. penned an unflattering open letter to Harry criticizing Meghan and encouraging him to pull out of the wedding. The day before the wedding, Kensington Palace announced Prince Charles would walk Meghan down the aisle, stating 'The Prince of Wales is pleased to be able to welcome Ms. Markle to The Royal Family in this way.'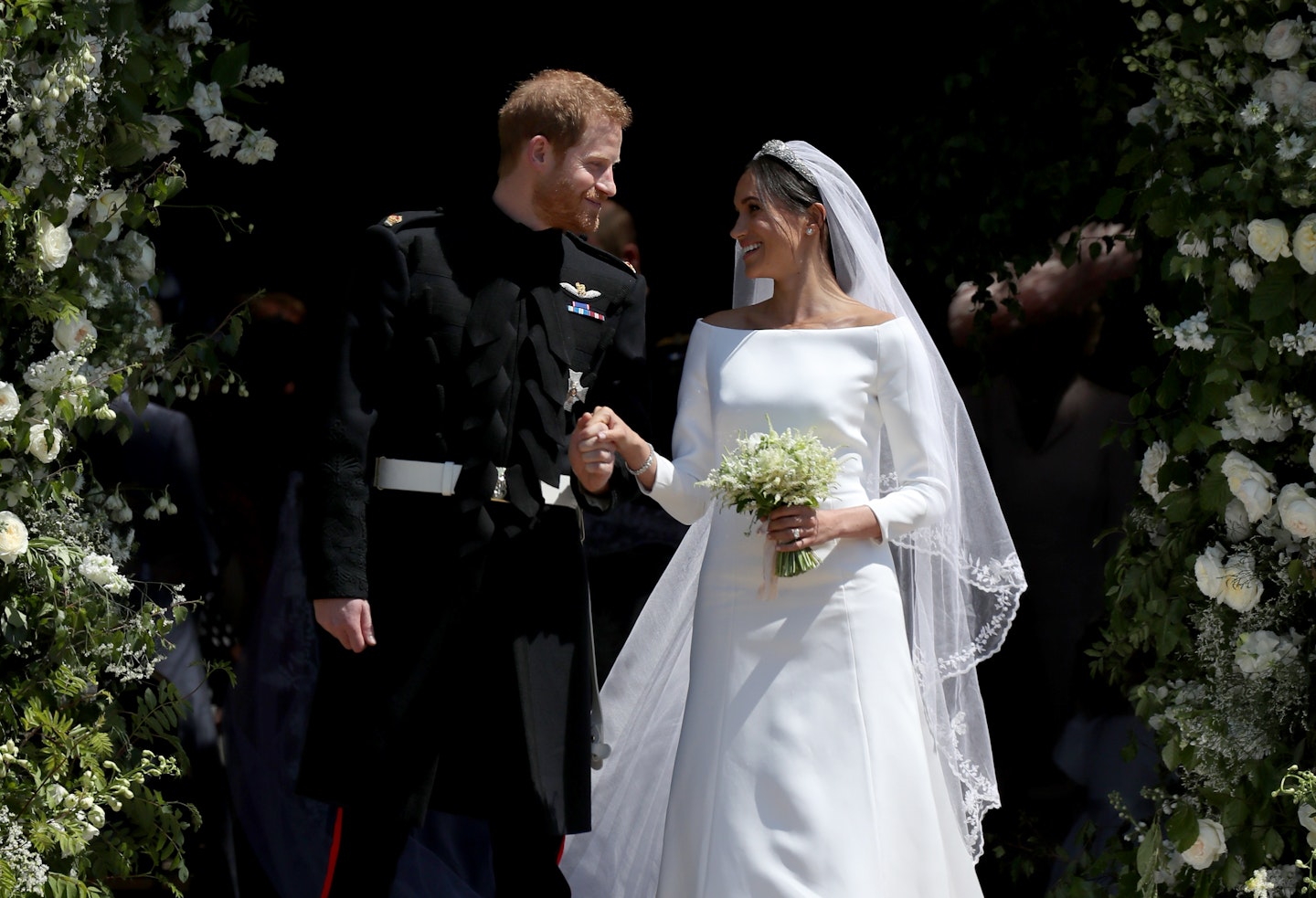 12 of 17
May 2018: The Royal Wedding
Meghan and Harry wed on the 19th of May for a combined audience of 11.5 million people who tuned in to watch the ceremony. Meghan's gown was made by Clare Waight Keller, artistic director of the fashion house Givenchy which she later changed for a silk crepe dress by Stella McCartney. Her mother Doria Ragland attended the ceremony along with a host of celebrities including Meghan's former Suits cast and her close friends, George and Amal Clooney.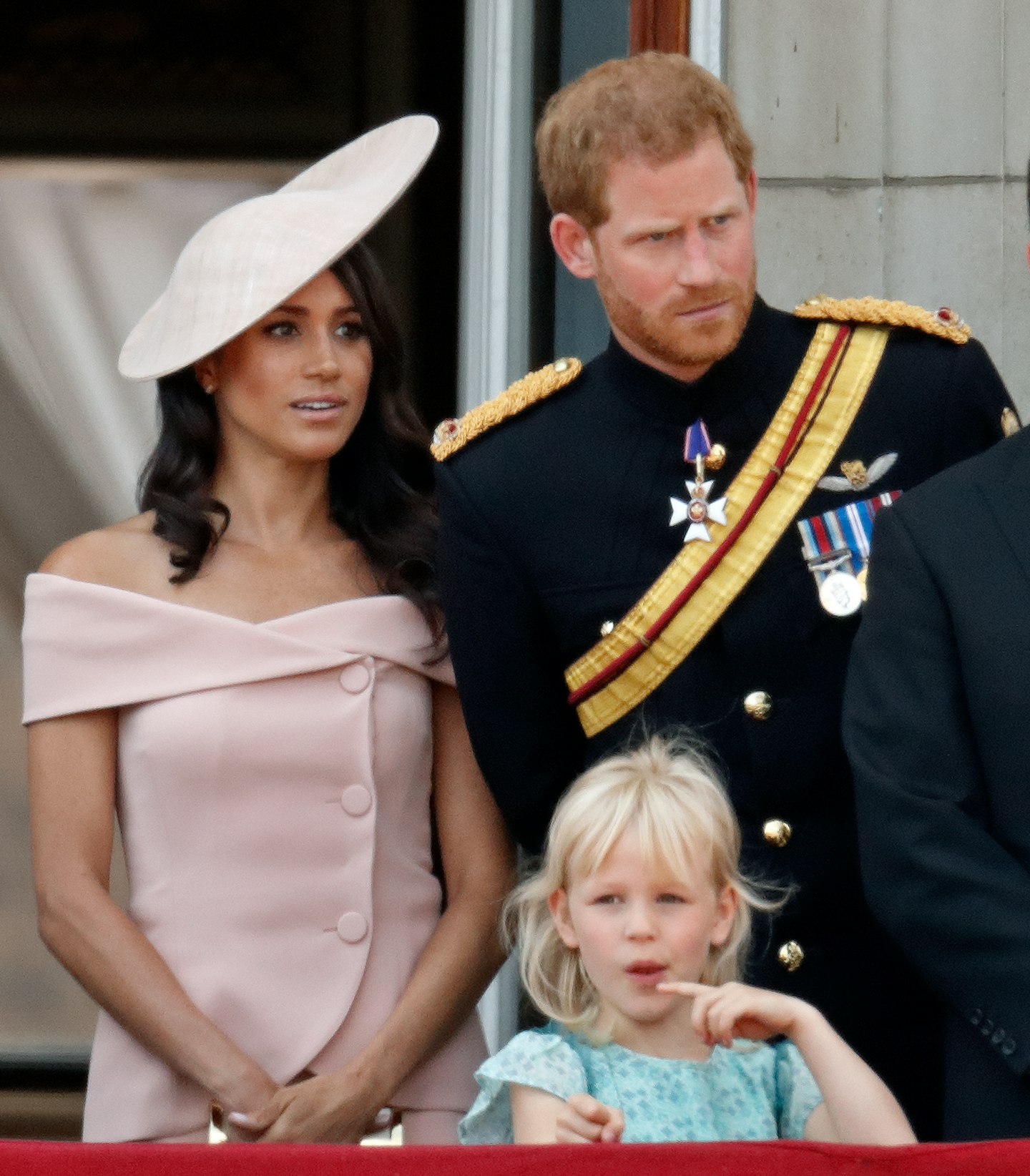 13 of 17
May - October 2018: Married Life
Throughout May of 2018 Harry and Meghan made their first official appearances as the Duke and Duchess of Sussex. For her inaugural attendance to the Trooping of the Colour Meghan wore an off-the-shoulder dress, reportedly breaking royal protocal. In the following months the newlyweds made a number of public appearances including to Ireland to meet the country's officials. They also took a rumoured trip to visit George and Amal Clooney in Lake Como.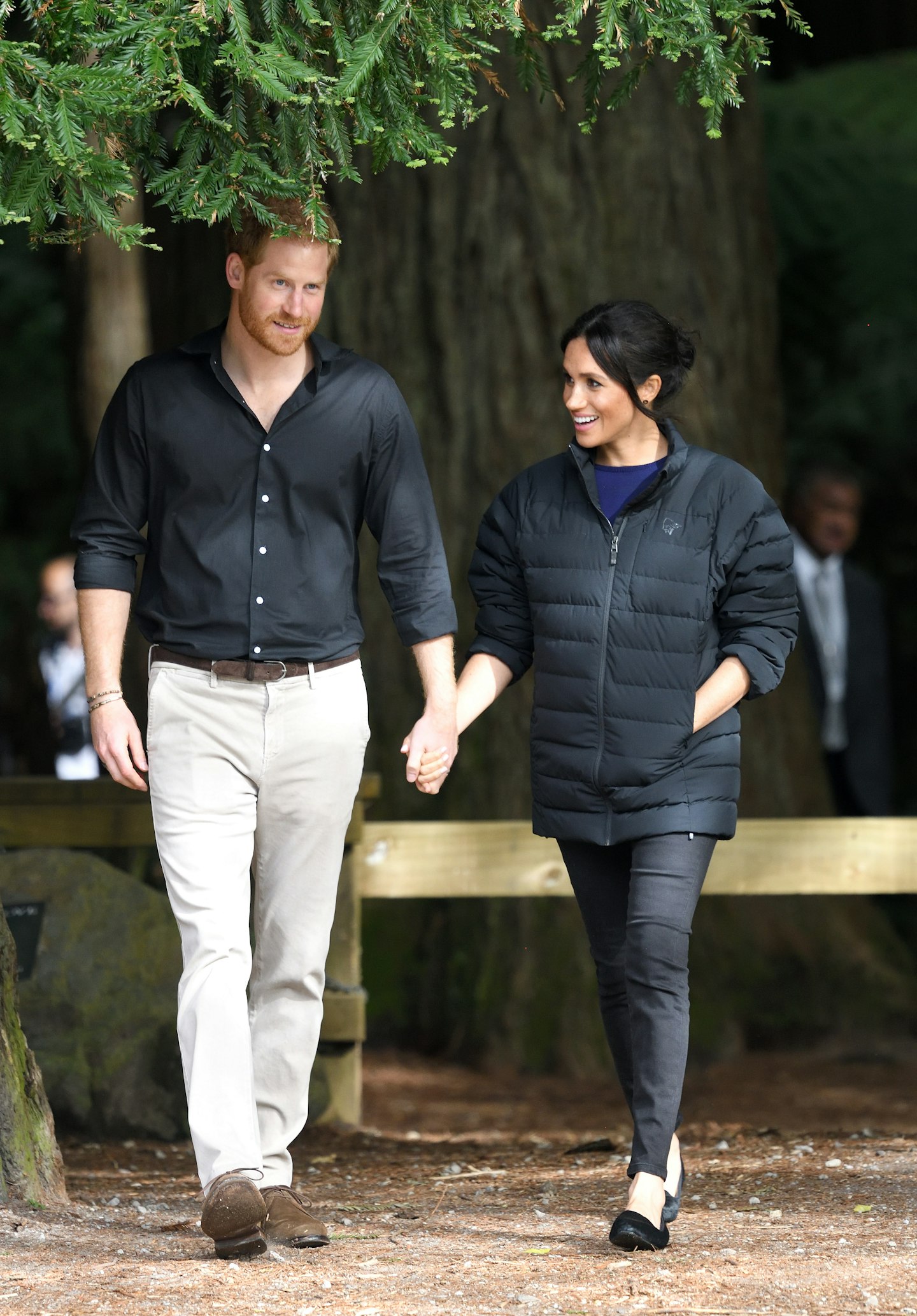 14 of 17
October 2018: The Royal Baby Announcement
Speculation began during Princess Eugenie's wedding that Meghan was pregnant owing to her loose coat. The rumours were confirmed when Kensington Palace announced on the 15th of October 2018 that the Duke and Duchess of Sussex were expecting a child. The announcement also coincided with the first day of the Duke and Duchess of Sussex's official tour.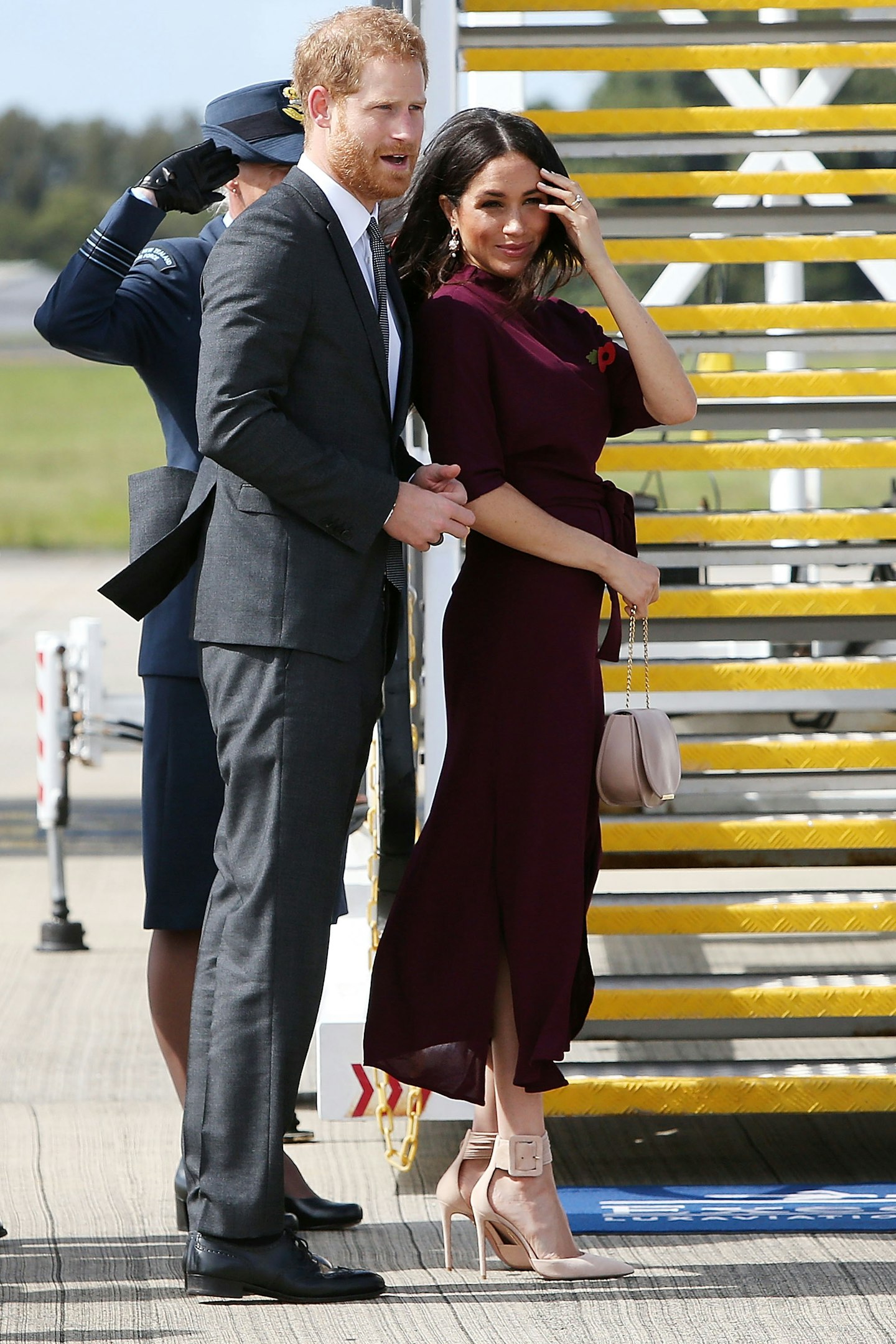 15 of 17
October 2018: Meghan And Harry's First Royal Tour
In October Meghan and Harry departed for their 16-day Autumn royal tour visiting Australia, Tonga, Fiji and New Zealand (obviously featuring some serious style moments from the newly-appointed Duchess of Sussex/Style). By November, sources were telling news outlets that the couple were preparing to move to Frogmore cottage in Windsor in 2019. The couple spent the anniversary of their engagement, November the 27th apart, due to Harry being in Zambia.
16 of 17
November 2018 - Present: Feud Rumours
As Meghan and Harry embarked on life as newlyweds there was less plainsailing, as controversy continued to follow closely on their heels. Meghan's family have continued to be the subject of unflattering media headlines and Thomas Markle gave interviews to the media about his distanced relationship with his daughter. Meanwhile Samantha Markle (Meghan's half sister, who also claims to be penning a book about the Duchess) was put on a fixated persons list after showing up at Kensington palace in January. Rumours of a froideur between Meghan and Kate were sparked shortly after Meghan and Harry's nuptials by reports that Meghan reduced Kate 'to tears' during challenging dress fittings with Princess Charlotte. In February, Thomas Markle leaks a handwritten letter from Meghan to the media in response to friends of the Duchess defending her in an interview and following numerous staff changes, rumours arise that Meghan and Harry's staff refer to Meghan by the nickname 'The difficult Duchess'.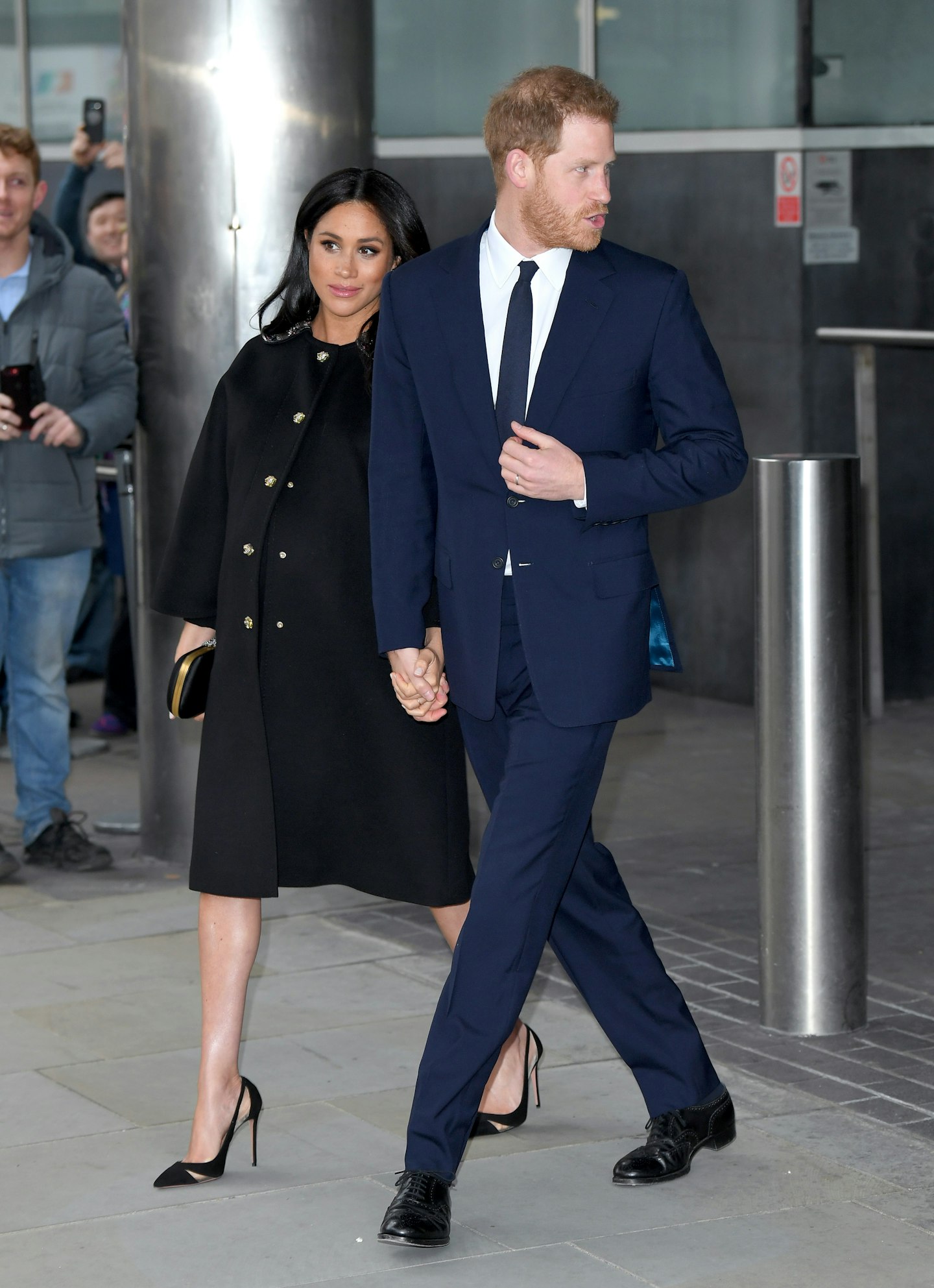 17 of 17
March 2019: The Royal Households Split
In March 2019 it was confirmed that the Sussex and Cambridge's 'royal households' will split, meaning the couples will no longer share staff. Royal spokespersons confirm that Kate and William's staff team will stay in Kensington Palace while Meghan and Harry's staff will be based in Buckingham Palace, reflecting the location of their new residence of Frogmore cottage in Windsor. Representatives are quick to confirm this is a planned move, and not due to rumors of growing tensions between the couples.
Fascination with royal pregnancy, birth and babies is, of course, nothing new. According to Ingrid Seward, the editor of Majesty magazine and the author of Royal Children, "Historically, people have been fascinated by royal children and want to know every detail". Until the birth of Prince Charles in 1948, the Home Secretary would be present at royal births in order to make them an 'official' part of state business. When Queen Victoria used chloroform during her birth of Prince Leopold in 1853, the popularity of pain relief or 'chloroform a la reine' quickly spread. It is said that, way back in the 1600s, the fact that Louis XIV's wives and mistresses gave birth lying down, in order that the king could see the delivery, kick-started a fashion for prostate births that has continued to this day (despite the fact that there are several more comfortable birthing positions; ones that use gravity, rather than fight against it). For as long as there have been monarchies, there have been politicians, doctors, scandal-mongers and members of the public who have invested an unhealthy interest and sense of ownership in that pregnancy. The difference is that today, royal woman are expected, just hours after going through the single most significant physical, psychological and emotional transformation I have ever known, to stand on the steps outside the Lindo Wingwith a perfect blowdry and a newborn wrapped in fine wool, to have their photo taken. It may not be quite the same as having your bloody post-coital sheets inspected after the wedding night, but to me that public invasion into a private moment feels just as barbaric. "I couldn't believe it when I went to The Lindo Wing after Prince George was born," says Seward, "it was like a circus! The photoshoot goes back a long way; Princess Anne did it, as EVERY ROYAL who had a baby at the Lindo Wing, which they all did because that's where the Queen's serving gynaecologist was always based. But this speed and volume was, I suppose, perpetuated by Diana and she certainly suffered afterwards; she had post-natal depression."
A post-natal feeding frenzy is one thing, but to go to the effort of creating, editing and posting a video whipping up cynicism and hatred about a woman during the very time when she probably feels at her most vulnerable, is something else. "I've seen those videos. They're very odd aren't they?" says Seward. "Royal women have traditionally always rather hidden their pregnancies, rather than say 'look at me I'm pregnant.' That changed with Diana and Fergie, but the modern look of Meghan showing her pregnancy so obviously might be another thing that's inspired these stories. But, also, all these rumours swirl around Meghan because she's a typical LA girl; an actress. In Los Angeles - I know, because I lived there - everybody reinvents themselves. And so Meghan is just doing what comes normally to her. But it's such a tempting thing to speculate about someone who is essentially a stranger to us and appears to be a perfect specimen of whatever it is she's wanting to be at that moment. Also, remember, Harry was our favourite Prince. He was absolutely the most popular member of the royal family and people do feel a bit cheated that they don't have the kind of access they might have expected, or had to him before. It all seems to be very secretive now. I'd liken it to Paul McCartney, when he married Linda - everybody hated her. For a real icon, like Harry was, it would have been difficult for whoever he married."
From the moment I held that damp, double-lined pregnancy test in my hand, to the moment I picked my baby up from the water between my knees, I felt a sort of wolfish desire for privacy, comfort and love like I had never known. I told almost nobody I was pregnant until I had seen the baby doing somersaults across my uterus; the idea of posting a photo of my newborn son to social media felt sour and threatening; for the first two weeks after birth I had no visitors at all except our mothers and my midwives. Every woman experiences every pregnancy and birth entirely uniquely. Nobody has the right to criticise her. But one thing that ties us all together, in the most incredible web of resilience, courage and vulnerability, is that our bodies have performed a kind of miracle. Whether or not you carry your baby to full term, however you deliver them into the world, the fact that you created even just a spark of life in your own body, is nothing short of incredible. In the face of so much - sure, I'll say it - majesty, some smattering of online bullshit about rubber bellies seems rather pathetic, doesn't it?