Izzy lost her 23-year-old brother Harrison to suicide last year while he was training to be a teacher at Manchester Metropolitan University: 'He was his sarcastic, funny, passionate, kind of ranty self and we had absolutely no idea what was going on with him,' she says of the last time she saw him.
'Even leading up to Harrison passing he was very much the same whenever we FaceTimed him and we spoke on the phone [...] you wouldn't have any idea what was actually going on behind his smile,' she continues. 'He looked very happy, content, exactly the same person that we'd always known. We had no idea.'
The story is similar for Georgie, whose 49-year-old dad Paul died by suicide in 2015: 'There were no signs to say that four weeks later he would go on to take his own life,' she says. 'Deep down inside he was trying to fight the darkness that was descending upon him and desperately trying to hide from the world how he was really feeling…He was doing a very good job.'
There is a societal misconception of how suicidal people are meant to look. A quick Google image search will show you people with their heads in their hands, crying in a dark room. But Campaign Against Living MiserablyCEO Simon Gunning says this is far from the reality and there may be no outwards indicators: 'A lot of organisations talk about spotting the signs [to] give people an ability to prevent suicide by understanding it's imminence,' he says. 'But the insight we found with our clinical advisors is that so often there aren't signs…Suicide can affect anybody…People on the face of it are enjoying life.'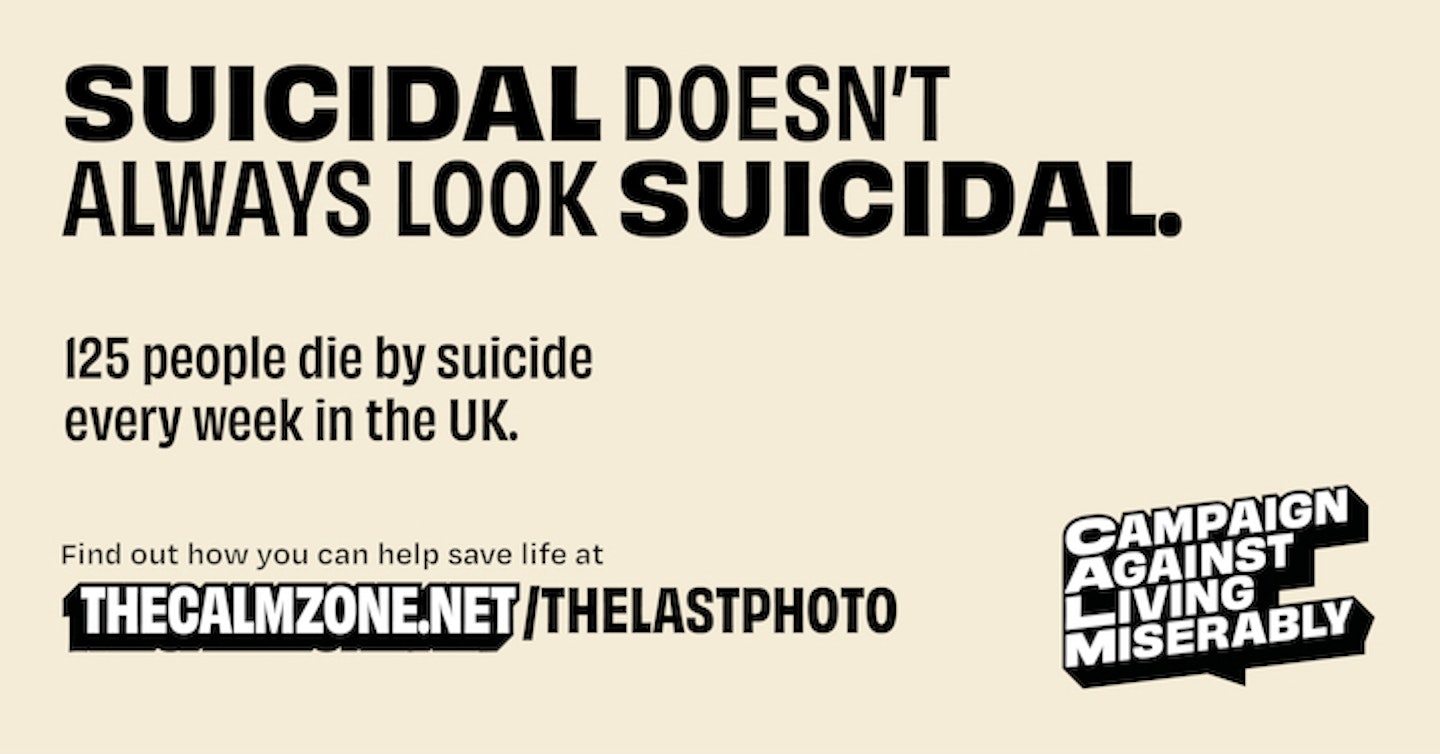 To challenge the public's preconceptions of how a suicidal person might look and to get the public talking about the issue, CALM has launched a new project called Last Photo, where 50 families (including Izzy and Georgie's) have shared a photo of their loved one smiling just days before their suicide took place.
'My dad on the outside to a lot of people was very happy and very content with life,' says Ella, who has also shared a photo of her late father David as part of the exhibition now displayed on London's South Bank. 'It sounds like such a typical thing to say but he was so bubbly and outgoing. I think maybe looking back now everything wasn't as it seemed. I think he was fighting a lot of battles internally that we couldn't see.'
Currently, 125 people die by suicide every week in the UK and CALM's campaign research undertaken by YouGov demonstrates just how difficult it is to notice those around you are struggling, with 61% of people saying they would find it hard to identify suicidal feelings in those around them. Meanwhile, 51% of people don't feel confident helping someone with suicidal thoughts if they do open up.
'So many times, when we talk about somebody who took their own life, the people that are left behind will say that it came out of the blue,' says Gunning. 'It was a complete shock. Quite often the person seemed to be fine. this happens again and again and again.
'Talking to people about suicide is a key objective of this campaign,' he continues. 'Every suicide effects more than 140 people—it's a massive impact on society… We have to talk about it.
'It's like there's a tumour and we're not going to the doctor we're just ignoring it,' he adds. 'We're thinking "if I don't look at it, it won't get any worse". And the truth of it is, if we do look at it and talk about it, it will get better. We will be able to prevent suicide by talking about suicide.'
CALM's The Last Photo exhibition is on display outside at London's Southbank from 22 June. You can scan the QR code beneath each photo to learn more about each life lost and to read resources on how to help those around you who may be struggling. thecalmzone.net
CALM's helpline and live chat are open from 5pm to midnight every day. You can also call Samaritans free on 116 123 or email jo@samaritans.org for support.