We all have fond memories of Fireworks' Night celebrations from our childhood. Finding a bonfire with our families, donning our gloves to play with sparklers, and watching the sky light up with rockets and blasts of colour is a bit of a nostalgia fest.
In recent years, many displays have started charging (to watch the sky? Rude.) But there are still options if you fancy a night staring at the stars without spending a fortune. Needless to say, though: do stay safe, wrap up warm, and be mindful if you have pets worrying at home.
1. Blackheath Fireworks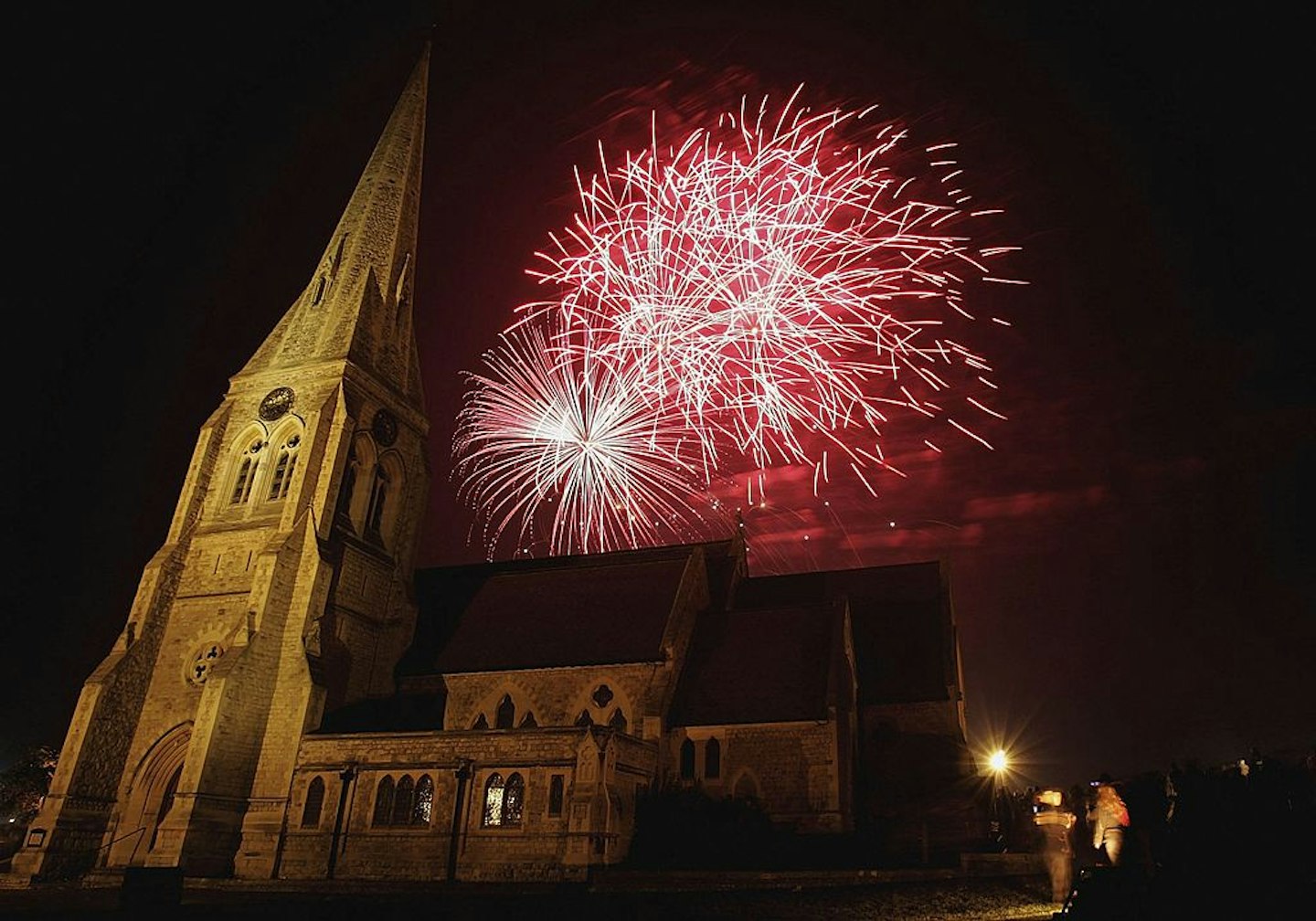 A staple 'once in your London life' necessity that anyone new to the South East London area must do. Blackheath's fireworks are massive and still free probably on account of the fact that trying to ticket an event that takes place on a huge open space of grass would be nigh on impossible. There are rides, food and a zillion children. Abandon public transport and walk up from Greenwich. It'll take you half an hour but it definitely beats the alternative of queuing for a hot and sweaty bus with a bunch of crying children.
Blackheath Fireworks, 2nd November. Food and bar from 5pm. Fireworks from 8pm.
2. Victoria Park Fireworks
The good thing about this one is that there's a million ways, buses and trains to choose from when leaving and arriving meaning the queues (hopefully) won't be too horrible. We'd walk to Bethnal Green station but there's also Cambridge Heath, London Fields, Hackney Wick and Homerton. And about a zillion pubs in the vicinity to tide you over until the crowds go down.
Victoria Park Fireworks, 3rd November, 6pm.
3. Wembley Park
The Brent fireworks moved to Wembley Park a few years ago, decamping to Arena Square next to Wembley Stadium and they promise there's going to be street food, performers and fireworks set to a pretty good soundtrack. There's not many options for escaping afterwards - you're looking at Wembley Park and Wembley Stadium.
Brent Fireworks, 10th November, 5pm
4. Corams Field Fireworks
You might need to leave work early on Friday to catch this centrally-located one, but seeing as it's Friday, unless your boss is a total Bonfire Night Scrooge (or actually is Guy Fawkes) you should be able to manage this with a well timed bout of 'flu'. Expect a lot of kids, but also a fairground.
Corams Field Fireworks, 1st November, 3.30pm
5. Southwark Park
This one's free, but you' may still need a ticket. Gates open at 5PM and you have to be in place ready and watching by 6:30PM. Honestly, you'd think they'd had some trouble in the past with crowd control or something considering the rigamarole you've got to go through to just get in to this event. Nevertheless, it's bound to be good, and it's one of the biggest in the capital so if you can get organised, get yourself there.
Southwark Park Fireworks, 5th November, 5pm
6. Newham Fireworks
Head to Royal Docks for a music-lead fire display at Silvertown Quays. The evening, which will include tunes from Heart FM and DJ Roberto, will be celebrating the 50th anniversary of Apollo 11. Don't miss the 'electrical wizardry' performance from Lords of Lightning.
2nd November, 5.30pm
Like this? Then you might also be interested in:
Bulletproof Coffee: An Idiot's Guide To What It Is And What To Do With It
Follow Jess on Twitter @Jess_Commons
This article originally appeared on The Debrief.