The family of Nadia El-Nakla, the wife of Scotland's first minister, Humza Yousaf, had been in Gaza barely a week when Hamas launched a deadly attack on Israel on 7 October. As Israel retaliates, and the situation grows more dire by the day, Nadia tells Grazia why she fears for her family - and the millions of civilians in danger**.**
Just over a week ago, my mum and dad travelled to Gaza to visit my 92-year-old gran, my brother and his young children. I was supposed to go too – as my gran is unwell and I had a feeling this might be the last time I'd get to see her - but diaries didn't match up. I've not seen her in seven years because travel to and from the Gaza Strip is near impossible.
My parents were planning on staying until 8 November and reached Gaza via the Egyptian Rafah border, travelling with a professional travel company who take you through checkpoints. They arrived safely in Deir al-Balah, which is where we've had a family home since I was a child.
When they left last week, I wasn't worried. It didn't occur to me that a week later they would be in grave danger, with food and water running out, no electricity, or that we'd be having patchy WhatsApp calls about who to contact if their house is bombed and we don't hear from them.
They had only been there a week when violence erupted on Saturday. They've described the situation in Deir al-Balah as terrifying - I'm constantly checking in with them, following news and Instagram for up-to-date information, but electricity has been cut following the Israeli airstrikes, so we're finding it harder and harder to know what's going on.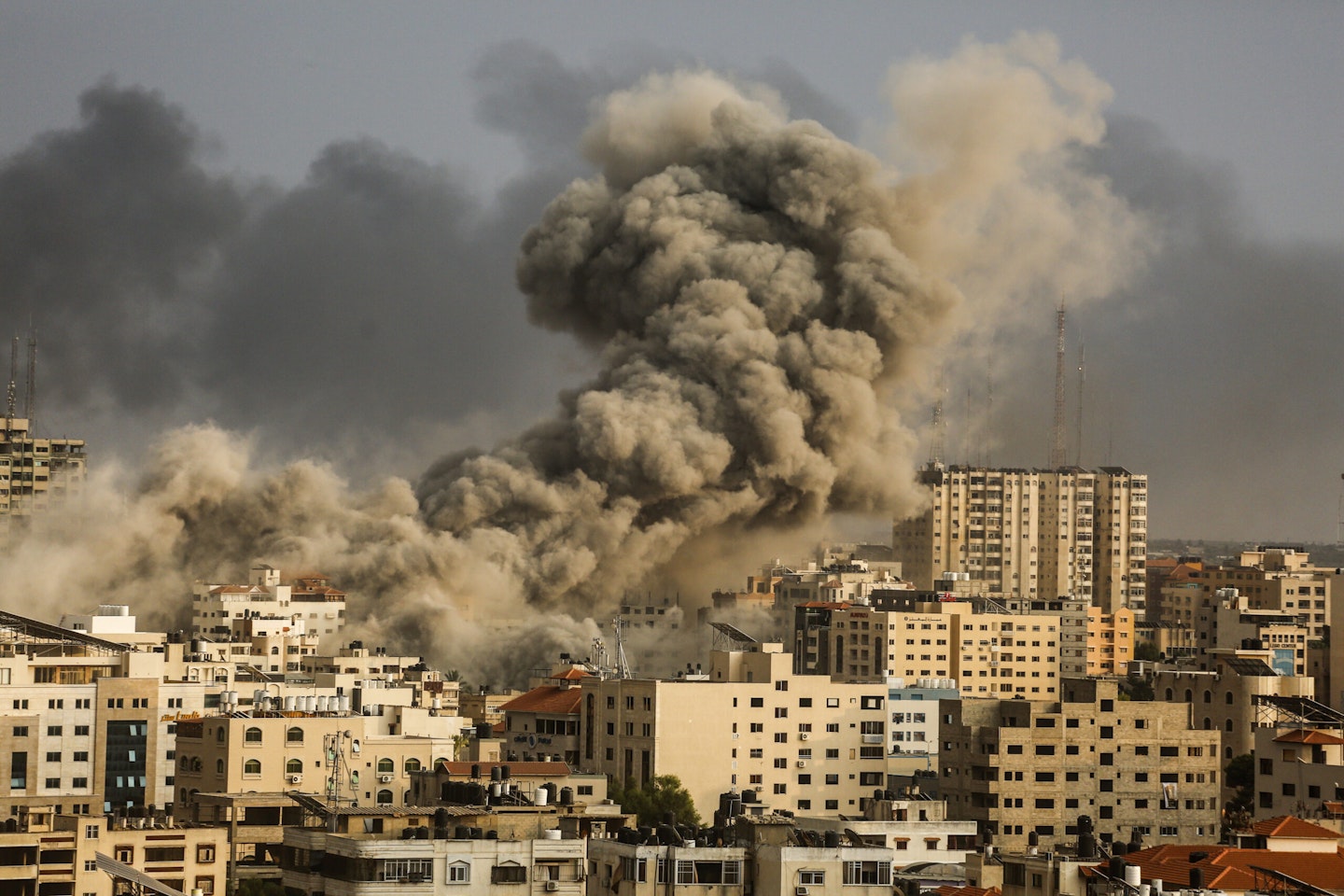 Ever since last Saturday, there's been a continual bombardment and it's escalating from missiles to warfare from the sea, and now land. My mum says if there's a 10-minute break she hopes it's a ceasefire, but then the bombings start again. She hasn't slept for days. She says every part of her body aches because she's in a continual state of tension; her jaw is gripped, and every muscle is tense. She has told me that she feels constantly that she's about to die.
There are no shelters in Gaza, so my family is just at home, on the ground floor where it's safer. They're keeping the glass windows open, because if you don't then the pressure from nearby bombs will make them explode. They have a bag packed. They've written down all of our phone numbers on paper so that if their things are destroyed they have ways of reaching us. We have all their neighbours' numbers and contacts, so we can ask someone to update us if we don't hear from them. It feels surreal to plan for disaster like this but we've got no choice. We are now planning for the worst.
I'm terrified, and I feel awful being terrified, because I'm safe here in Scotland and I can't imagine how they feel. There's nothing to be happy about except for the fact that, at the moment, they are still alive.
I'm scared when I hear language such as the 'obliteration of Gaza' and 'turning Gaza to rubble'. My mind spirals. What does that mean for my family? What does that mean for the more than two million civilians who live in the Gaza Strip?
We had a glimmer of hope the other day when the Foreign Office advised them to make their way to the border between Gaza and Egypt. They said it would be open from 10am to 4pm. My parents were packed and ready to leave when we heard that the border had just been bombed. Thankfully they weren't there. Now that border is closed, Gaza is being called a 'closed military zone' and there's no way out.