I was staying at a hotel in Tel Aviv when I heard the first siren. It was early in the morning on 7 October and I was over from LA, where I'm based, to visit my daughter and extended family. We were ushered to the hotel's stairwell, which doubles as their bomb shelter. After the second siren, news spread that something was happening in the south of Israel.
I quickly called my sister-in-law and asked if she knew anything. She told me the most devastating news a person can hear. My niece, her husband, and their youngest daughter, a toddler, had been killed, she said. I was frozen in shock. They had been living in a kibbutz called Kfar Aza, a peaceful community on the border of Gaza. It was days before we found out that their three-year-old, Abigail, had not actually been killed, but taken hostage by Hamas.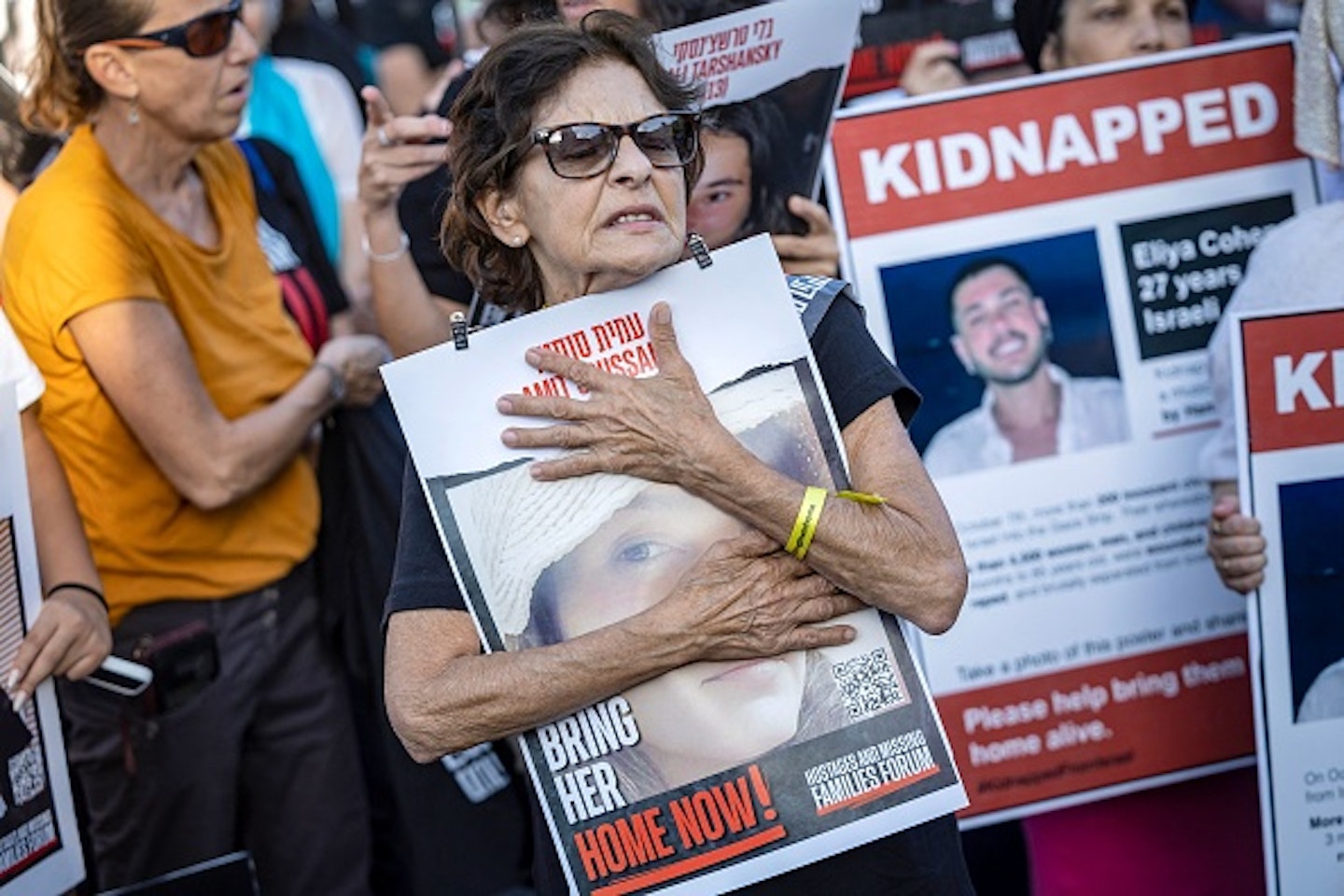 Finding out news was slow, we were learning everything through Abigail's six-year-old sister and 10-year-old brother, who witnessed Hamas come into their home and kill their mother. They ran outside to find their father, who was holding Abigail, and all fled together to seek refuge. As they were running, Hamas terrorists killed their father. The older children ran back to the house and locked themselves in a closet, hiding for 12 hours until they were rescued and taken to relatives in a bomb shelter.
We later discovered that Abigail had somehow managed to find her way to
a neighbour's house. But then Hamas terrorists reached them, and kidnapped Abigail as well as the mother in the house and her three children. We're yet to hear anything about where Abigail is, the conditions she's living in or when she may be released. It's absolutely unbearable.
A confirmed 222 hostages were taken that day, citizens of 30 different nations. [When Grazia went to press, four hostages had been released.] Abigail is an Israeli hostage, Abigail Mor Edan, an American citizen [she and her family have dual American-Israeli citizenship], and I know US diplomats are doing all they can to negotiate a release, but they're not able to give us any specific details. It's an agonising process that makes our entire family feel helpless.
To lose my niece and her husband, to know there's a little girl who is alone somewhere, there is no pain like it. Abigail is such a beautiful child, very smart and independent. Her wonderful mother was a thoughtful, intelligent woman and she had raised these three incredible children.
I left Israel afterwards and returned to LA, where my family insisted I would be better placed to help, and spend every day praying for Abigail's return. We have to believe in heart and humanity at this point, that all the hostages will come home. Abigail is three, and while she no longer has parents, she has a huge extended family full of love: grandparents who cherish her and her siblings. When she's returned to us, she'll stay with them.
All I want to do is hug that little girl and tell her she is loved and that her older siblings are desperate for her return. They're devastated and in shock, they've lost everything in one breath – but they hold out hope that Abigail will be back with them soon. We all do.
READ MORE: Inside Gaza: 'Midwives Are Having To Deliver Babies Over The Phone'