Death, cancer, mental health issues and a boyfriend who 'experiences homosexuality' – these are all possible consequences of an abortion, according to training materials produced by a US religious right group, Heartbeat International, that funds and produces trainings for anti-abortion activists across the world.
I know this because I recently enrolled in two of Heartbeat's online courses as part of openDemocracy's special investigation into misinformation targeting pregnant women around the world through 'crisis pregnancy centres' that are affiliated with the US group. It was a disturbing and often distressing assignment.
These centres aim to reach women considering abortions, and stop them from making that choice. It's not known whether staff at the specific centres investigated by openDemocracy have taken Heartbeat courses, but they have been advertised to its affiliates which exist around the world and which get discounts on most of them.
The trainings I took were short but they were difficult to sit through. They barraged me with incorrect, misleading, controversial or confusing claims about abortion's impacts on women's physical and mental health. They also taught me how to discourage and delay women from accessing abortions and even emergency contraception.
I was taught, for example, that women who have abortions have higher risks of developing cancer if they have an abortion (a claim for which most experts say there is no credible evidence). The American Cancer Society, for example, says 'the scientific evidence does not support' any link between abortion and cancer risks.
These courses could have seemed absurd if they weren't so serious – and part of a global infrastructure of organised opposition against reproductive rights.
In some cases, the trainers acknowledged a lack of evidence but made bold claims regardless. For example, they cited 'rather limited' research on how abortion affects men – but claimed these can include 'random acts of violence'. In other cases they relied heavily on anecdotes and vague references to unspecified 'studies'.
These courses could have seemed absurd if they weren't so serious – and part of a global infrastructure of organised opposition against reproductive rights. Heartbeat, the US group that produced them, says its 'presence is felt on every inhabited continent' with hundreds of affiliate groups in countries worldwide.
A global misinformation network
Heartbeat was set up in 1971as Alternatives To Abortion in the run-up to the landmark Roe v. Wade Supreme Court ruling that legalised abortion in the US.
Today it has affiliates around the world that Heartbeat told openDemocracy 'must adhere to basic principles that affirm alternatives to abortion and ensure non-discrimination, but all other matters of policy and management remain under the direction of the centres' local leadership allowing for autonomy'.
In the UK, there are also hundreds of crisis pregnancy centres though only one – in Northern Ireland – appears to be in Heartbeat's network of affiliates. It's not known, though not unlikely, that some staff at these centres have taken Heartbeat trainings. The US group's 'academy' has hundreds of short courses online.
In 2014 the sexual health organisation Brook published a report that looked into dozens of UK crisis pregnancy centres and also found 'unacceptably biased and misleading information' in them including about abortion's mental and physical health impacts, as well as 'inappropriate language and emotional manipulation'.
One of the Heartbeat webinars I took, 'Abortion Basics', said it was 'designed to help volunteers and staff members feel confident in discussing the option of abortion accurately and relationally with clients'. But it included several incorrect and controversial claims – including that abortion can 'result in cancer down the road'.
Eric Jauniaux, senior lecturer in Obstetrics and Gynaecology at University College London and University College Hospital, later told openDemocracy that these claimed cancer risks are a mainstay of anti-abortion campaigners and are false but 'like a boomerang'. Despite numerous studies showing no such link, 'still it comes back'.
After a woman has an abortion, the trainer said, her partner can 'experience homosexuality'.
Abortion can also have 'major ramifications' on future pregnancies, claimed the webinar (which appears to have been recently taken down from its online academy website), including increased risks of ectopic pregnancies, and 'reduced fertility'.
Again, these claims are not supported by the mainstream medical community and have been refuted by health agencies including the NHS. In the US, a recent review of medical studies also found that the frequency of ectopic pregnancy after a medical abortion (0.02%) is much lower than in all pregnancies (1–2%).
Other claims were more original. For example: After a woman has an abortion, the trainer said, her partner can 'experience homosexuality'. It's not clear in the webinar where she got this from. But most medical experts agree that nothing can 'cause' homosexuality; gay people are born gay. (And, being gay isn't a bad thing either.)
Early on, the trainer cast doubt on other sources of information, saying official figures on abortion are not 'reliable'. Negative mental health impacts, she later added, are also 'compounded because the mental health professionals and the medical community in general actually deny the existence of post abortion syndrome.'
Indeed, reputable research has debunked the existence of such a syndrome. The NHS says a woman who ends an unplanned pregnancy is 'no more likely to experience mental health problems' than if she continues it. Recent evidencepublished by the American Medical Association's journal meanwhile shows that women who are denied abortions have worse mental health than those who are not.
Dangerous delay tactics
The second webinar I followed, called 'Talking About Abortion', said it was based on the experience of Heartbeat affiliates. 'For the purpose of this presentation, I will be speaking as if I am speaking to the client', said the trainer at the beginning.
The first thing to do, she explained, is offer a woman considering an abortion a pregnancy test and an ultrasound. Then, you can warn her against making a decision 'too quickly'. The trainer re-emphasises this advice later, saying: 'Get the caller to slow down and really think… Build a relationship with her and gain her trust.'
She then asks her hypothetical caller (who we never hear from) if she knows about possible physical complications – and makes several confusing statements, such as: 'Statistically most abortions do not cause physical injury. However, statistically the chances of your getting pregnant might not have been great either.'
'More women are dying from legal abortion than we realised, because most abortion related deaths are not reported as such,' the trainer continued, dialing up the fear and suggesting the caller's life could be on the line, including with increased suicide risks.
What she did not say is that childbirth has a higher mortality rate than abortion in the US. Recent studies also have discredited claimed links between abortion and suicide, finding that such risks are 'not attributable to the abortion' itself.
When it came time to describe surgical abortions, unlike in the first webinar I followed, this trainer used more neutral terms like 'the foetus' instead of 'the baby'.
She also correctly stated that 'You and only you will be asked to sign a consent form at the abortion clinic.' (Though at some Heartbeat affiliates globally, undercover reporters in openDemocracy's investigation were told otherwise. Staff at one in Mexico City, for example, told a reporter she needed their partner's or a relative's consent).
If a woman asks about emergency contraception, the trainer also suggests a pregnancy test to 'let you know if you might have conceived more than 7-10 days ago'.
However, she also notes that you have to take emergency contraception within 72-120 (3-5 days) hours of intercourse. If someone followed her advice, and waited to take a pregnancy test, they would miss their chance to take emergency contraception.
If they listened to some of the other things the trainer said, they might end up with another unwanted pregnancy. For example, the webinar claimed that 'Condoms do not do a good job at preventing pregnancy.'
However, in this case, even the details the trainer provided undermined this conclusion; she said 'the pregnancy rate for condom use is [only] 3%'. Needless to say, a 97% success rate would mean condoms actually are doing a pretty good job.
It's harassment and lies
In response to openDemocracy's questions, Heartbeat said: 'We stand by our training and by our values… Our clients have the right to choose an abortion and they also have the right to know more fully what may be at stake in their decision.' They added that 'a recent survey of pregnancy help centre clients revealed a 99% satisfaction score'.
But the emphasis on delaying women's decisions in the training I took is dangerous, Mara Clarke, from the UK charity Abortion Support Network, told me. 'As soon as someone decides they want an abortion, they are up against the clock,' she explained. Delaying decisions could force women to endure more invasive procedures.
'These groups are violating the core medical ethic of "first treat the wellbeing of the patient",' believes University of Toronto human rights law professor Rebecca Cook. 'In delaying access to necessary medical care that only women need, these practices discriminate against women in the exercise of their right to health.'
Such false information' and 'baseless scaremongering' are a 'mainstay of the anti-abortion movement across the world', added Rachael Clarke, public affairs and advocacy manager at the British Pregnancy Advisory Service.
Gillian Kane, senior policy and advocacy manager at Ipas, a global abortion rights organisation, also condemned anti-abortion 'disinformation campaigns' which she called 'manipulative, but most of all, harmful to women's health and rights'.
The webinars I took made numerous references to unspecified 'studies' and 'research' and suggested that crisis pregnancy centres tell women: 'We are concerned about your health and safety,' presenting their services as focused on giving women information.
But over the course of these trainings, a clear message was delivered: that every abortion is terrible, dangerous, and potentially-life threatening, and that we should do whatever it takes to stop women from making this choice.
For women, following the advice in these trainings could cause them to miss their chance to access emergency contraception or a medical abortion, and be left with fewer, graver options: later-term procedures or continuing an unwanted pregnancy.
'It's harassment and lies,' argues Clarke at the Abortion Support Network. 'If you can't win your fight fair, then I don't think you deserve to win it.'
Read More: The Reality of America's Abortion Laws
9 Potential Realities Of Americau2019s "Abortion Ban" Laws That Will Horrify You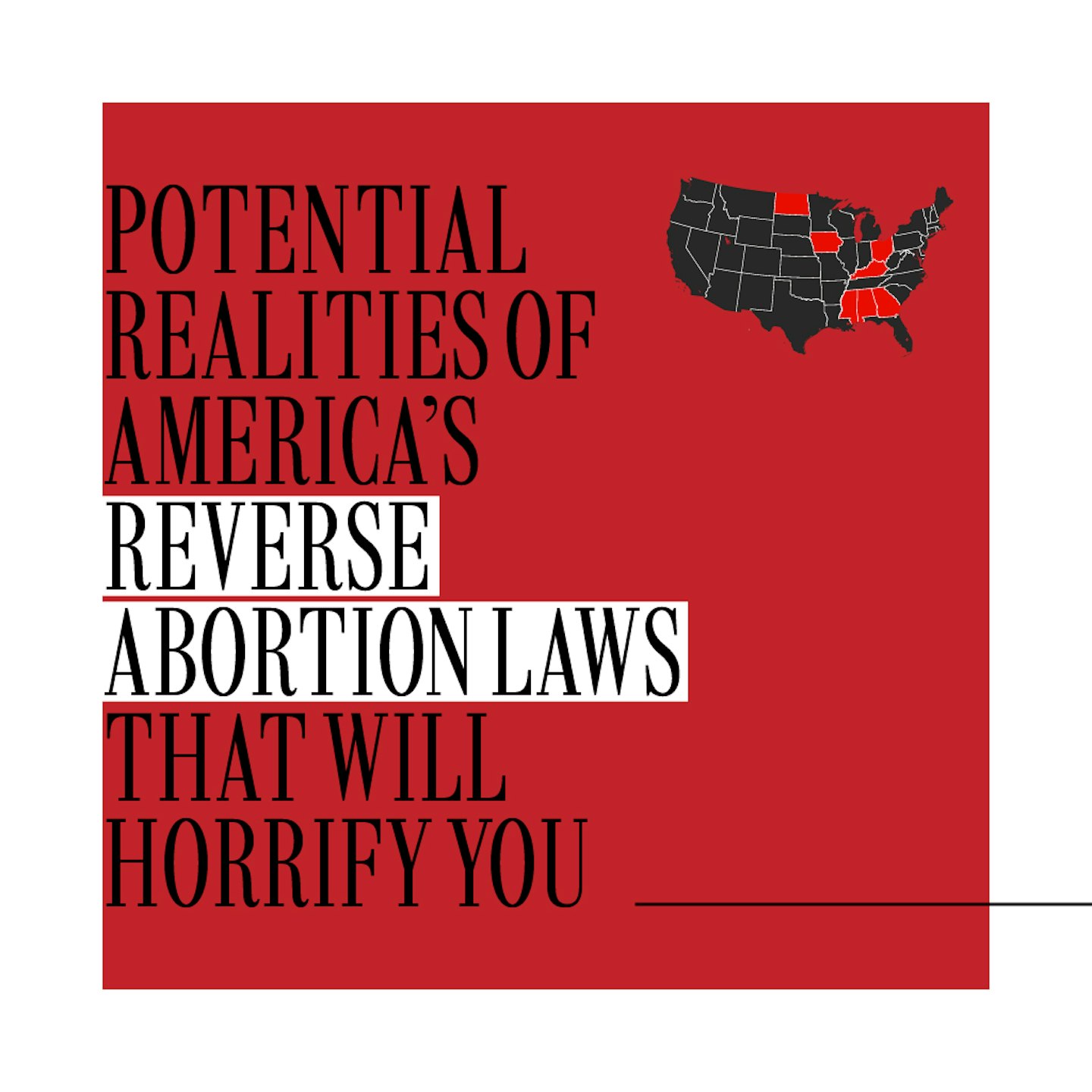 1 of 10
Multiple states in America are signing bills to render abortion illegal at six weeks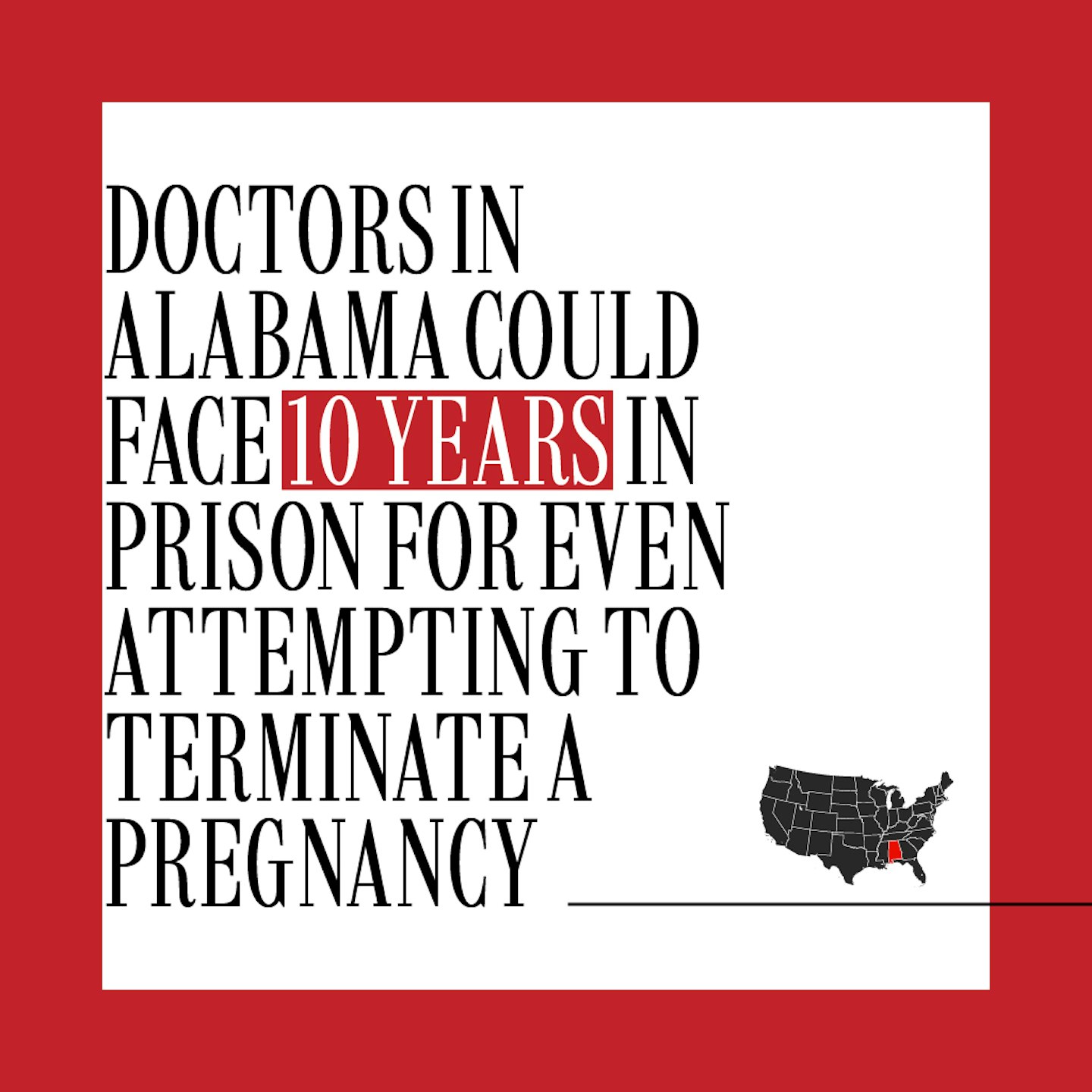 2 of 10
Multiple states in America are signing bills to render abortion illegal at six weeks
Governor Kay Ivey signed into a law, a controversial abortion bill that could punish doctors who perform abortions with life in prison. Under the bill, doctors could face 10 years in prison for even attempting to terminate a pregnancy.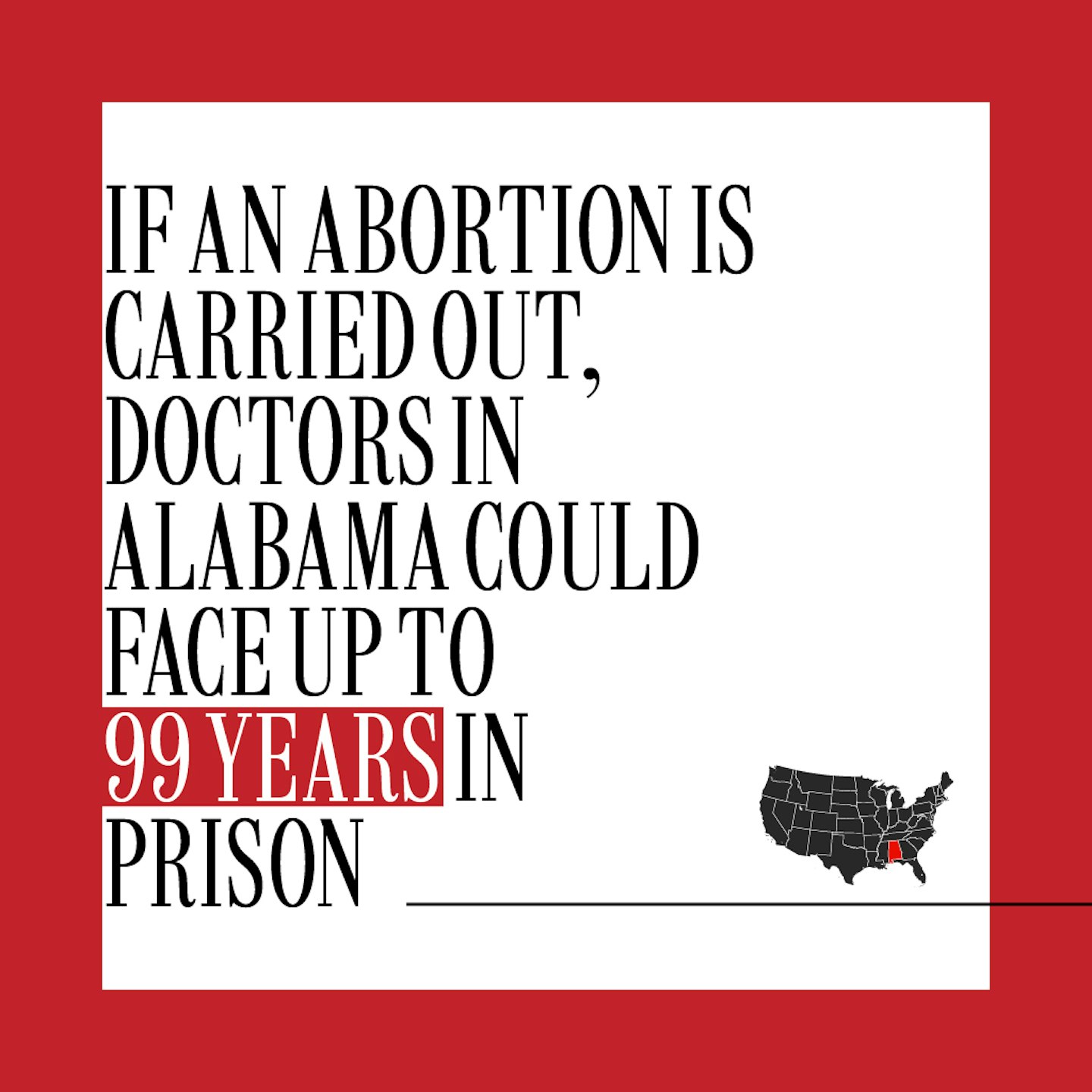 3 of 10
Multiple states in America are signing bills to render abortion illegal at six weeks
Doctors in the same state who go ahead and complete the termination of a pregnancy, could be facing a life sentence. The act is legislated as a "Class A Felony" – others in the same category include first-degree murder, first-degree kidnapping and first-degree rape. For context, second degree rape – having sex with a minor or with someone who is incapable of consent due to mental disability or incapacity is a much lesser sentence of no more than 20 years in prison. Sexual abuse and incest is punishable by up to ten years in prison.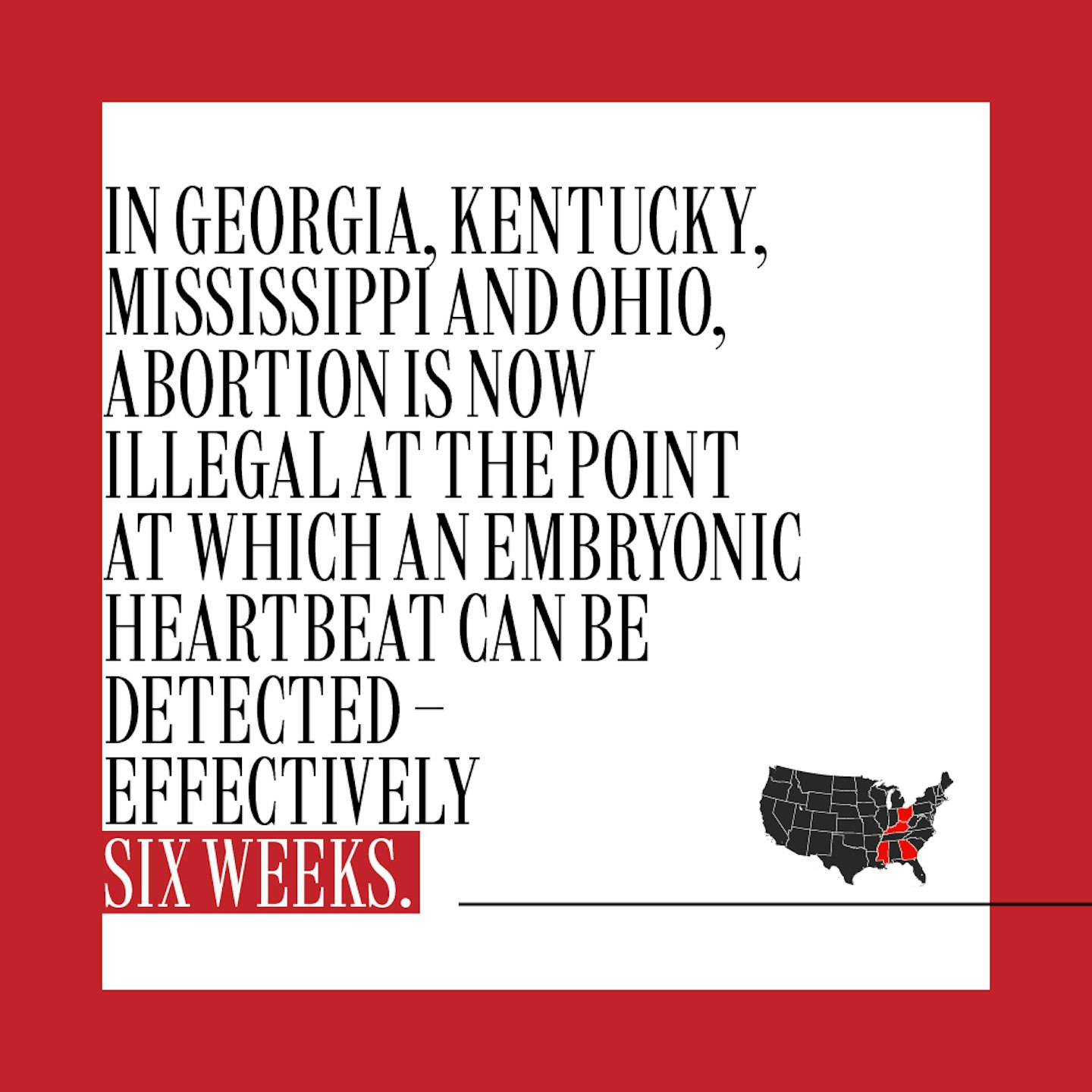 4 of 10
Multiple states in America are signing bills to render abortion illegal at six weeks
This is often a point at which a woman will not yet realise she is pregnant – especially if she has an irregular cycle or has taken the contraceptive or morning after pill and attributes a missed period to that. The number of weeks a woman is pregnant is calculated from the first day of her last period – though, conception usually takes place around two weeks after that when an egg is released. So for the first two weeks of pregnancy we're not really pregnant at all. Week five is the time that a woman will likely realise her period is late and, consequently, that she is pregnant. This leaves one week, if she is lucky, to procure an abortion.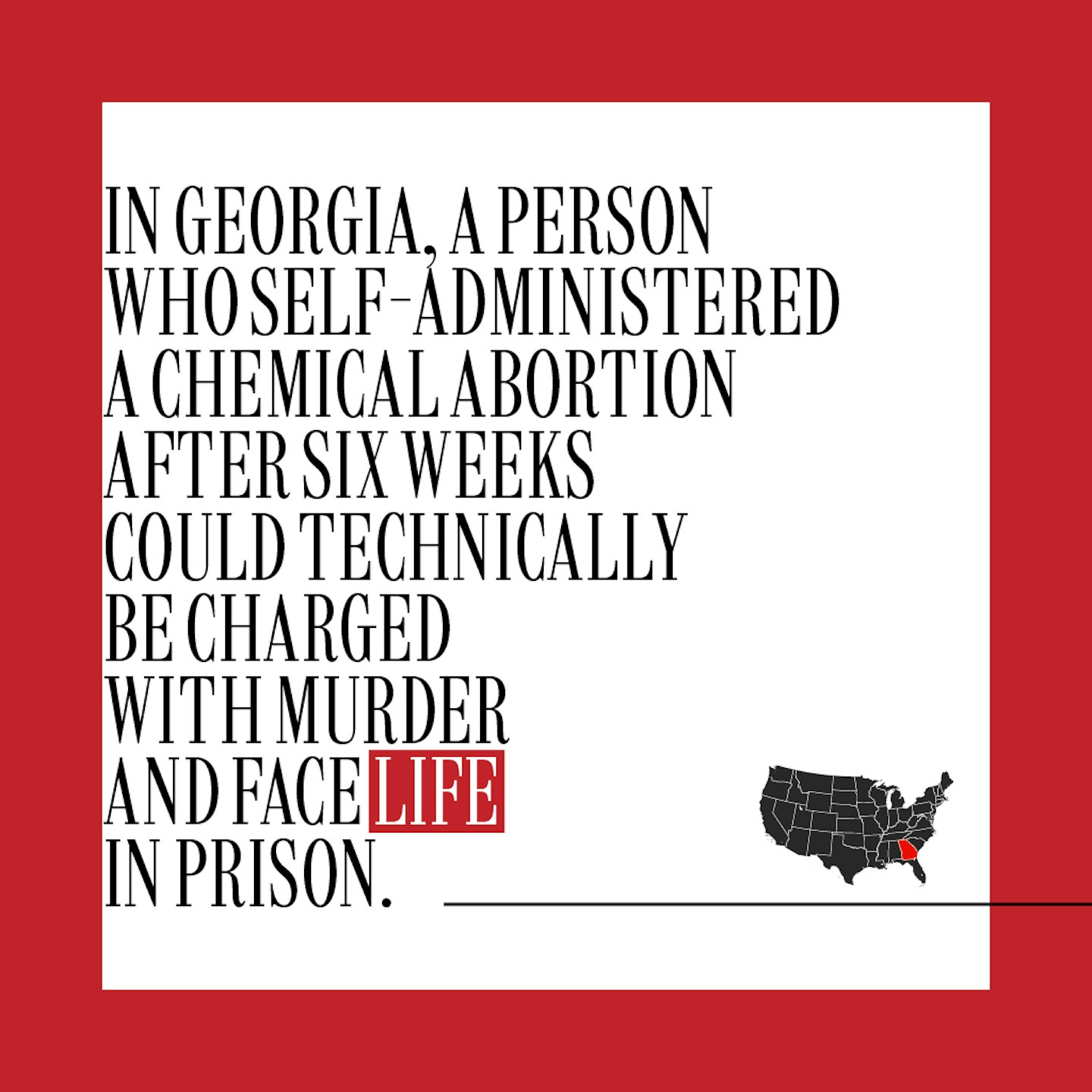 5 of 10
Multiple states in America are signing bills to render abortion illegal at six weeks
The law in Georgia goes one step further than some of the other states that have imposed a six-week time limit on abortions, and considers fetus to be a "natural person", requiring full legal recognition, from the point of conception. Although the intention of the law as it is written, may not to be to punish women who are pregnant, as a worst-case scenario, women could find themselves criminally liable for carrying out their own abortion. Many have pointed out that further difficulties may arise when ascertaining whether a person has miscarried or aborted a pregnancy – sometimes the same drugs used to perform a termination are used during miscarriage to help the process. Laws similar to this have, in the past, led to gravely unjust and horrifying consequences for women. For instance in El Salvador, a country that still bans abortion outright, where women have been wrongly jailed after suffering miscarriages. Three women accused of having abortions and convicted of aggravated homicide were freed just this year, in March, after having served up to 11 years in prison.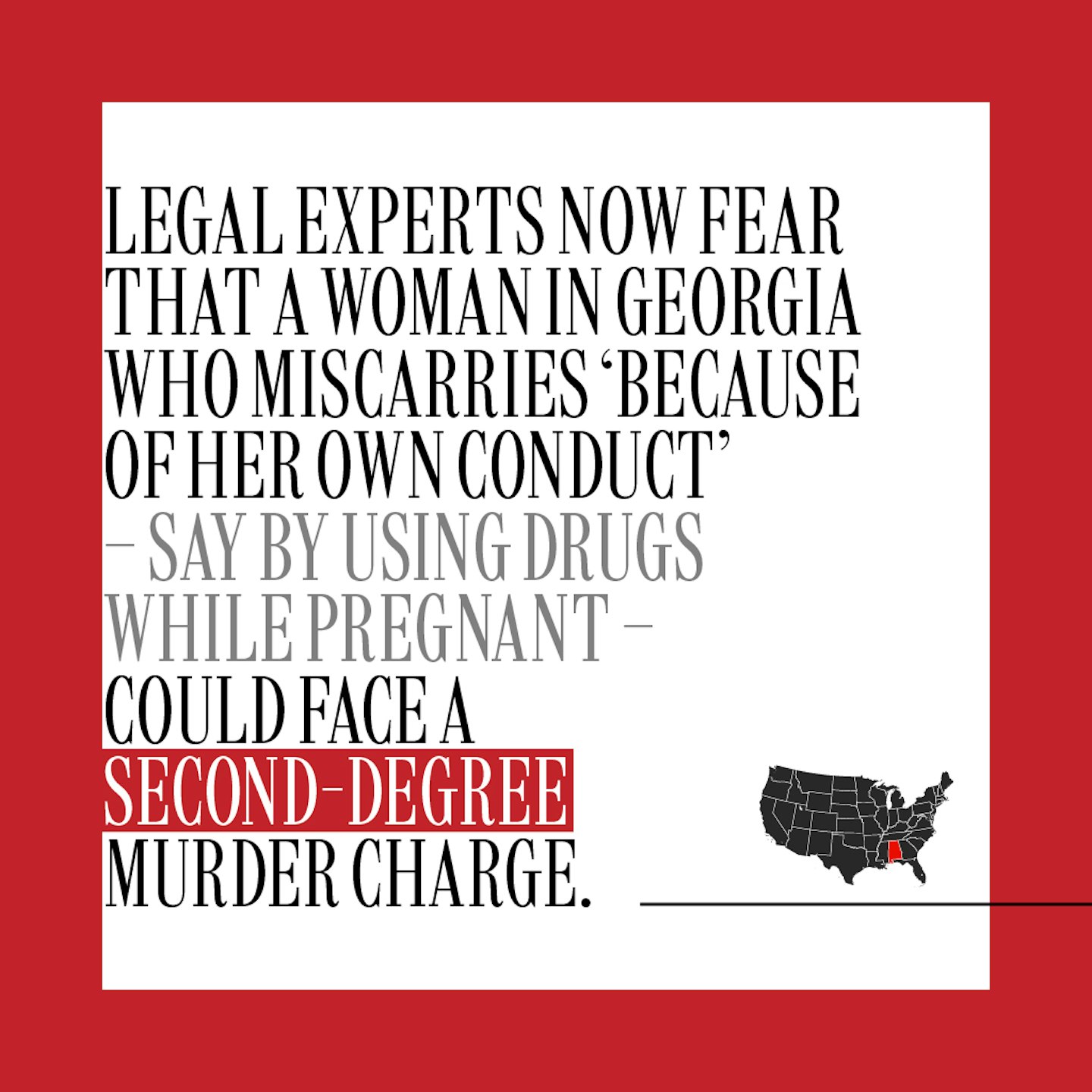 6 of 10
Multiple states in America are signing bills to render abortion illegal at six weeks
Again, this may not be the primary intention of the law, but legal journalist Mark Joseph Stern writes for Slate that, 'A woman who miscarries because of her own conduct – say using drugs while pregnant – would be liable for second degree murder, punishable by 10-30 years imprisonment.'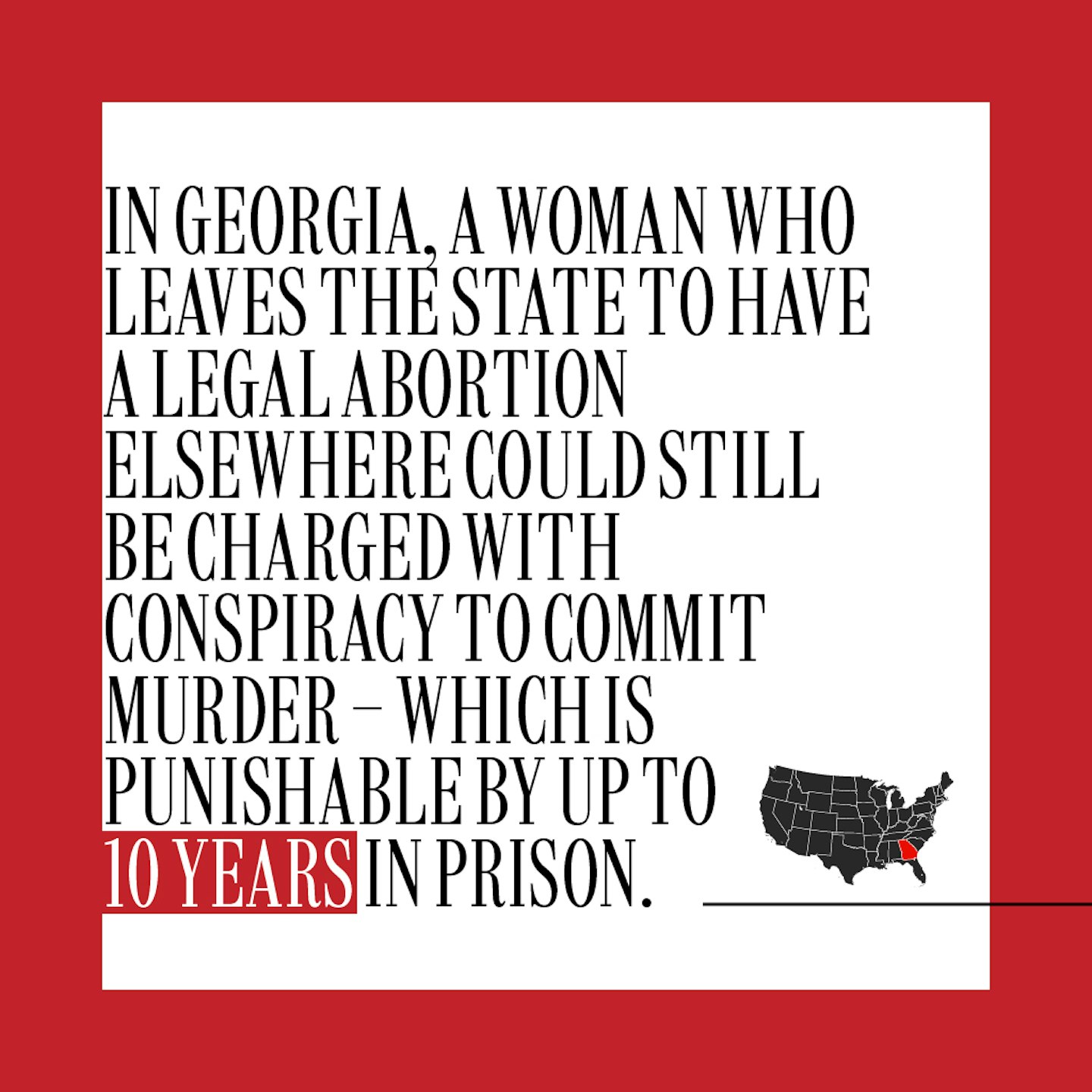 7 of 10
Multiple states in America are signing bills to render abortion illegal at six weeks
Again, this is because lawmakers have voted to give foetuses 'full legal recognition' under Georgia law – making the abortion illegal even if it takes place out of state.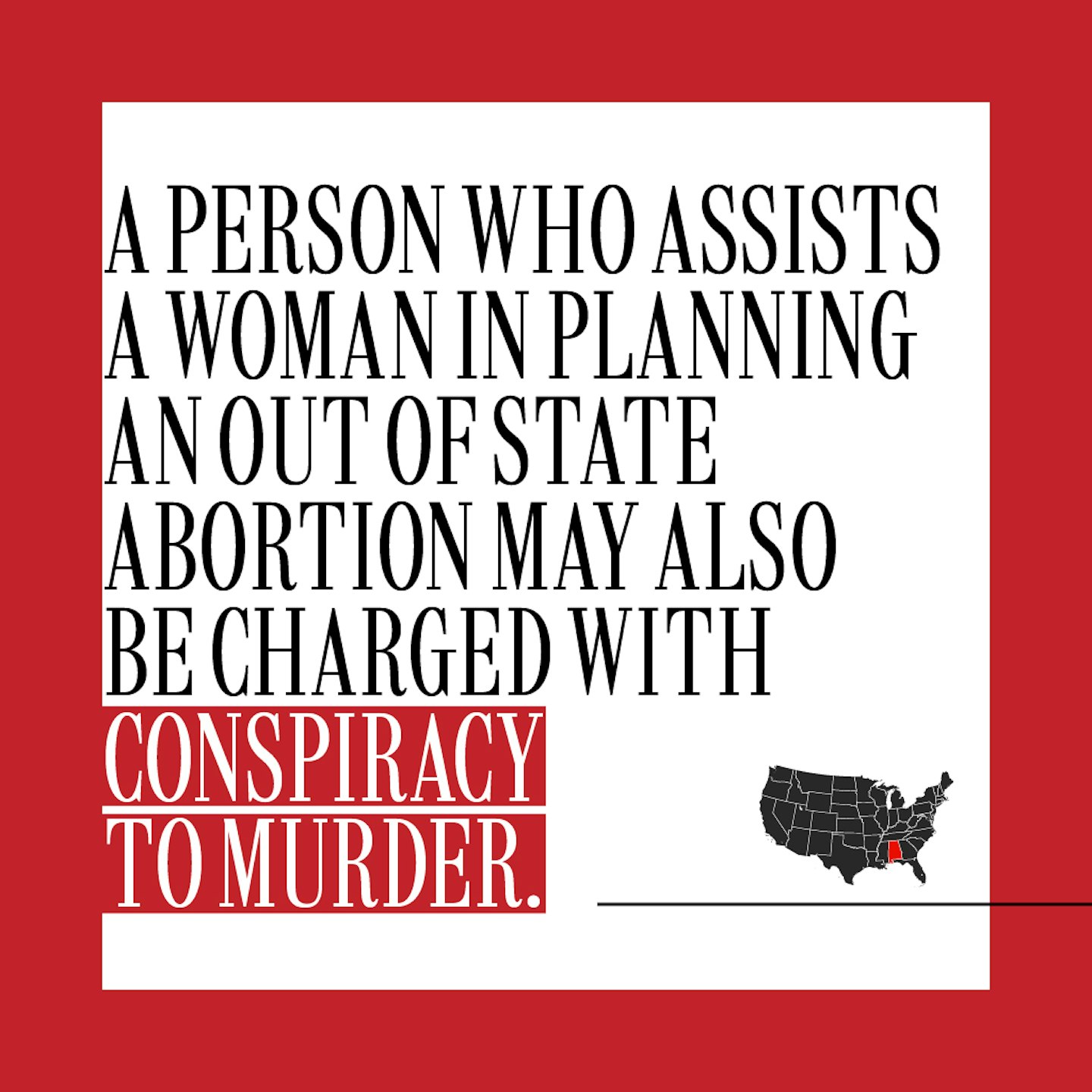 8 of 10
Multiple states in America are signing bills to render abortion illegal at six weeks
This could even be true of someone who simply drives another person to a clinic to procure a termination.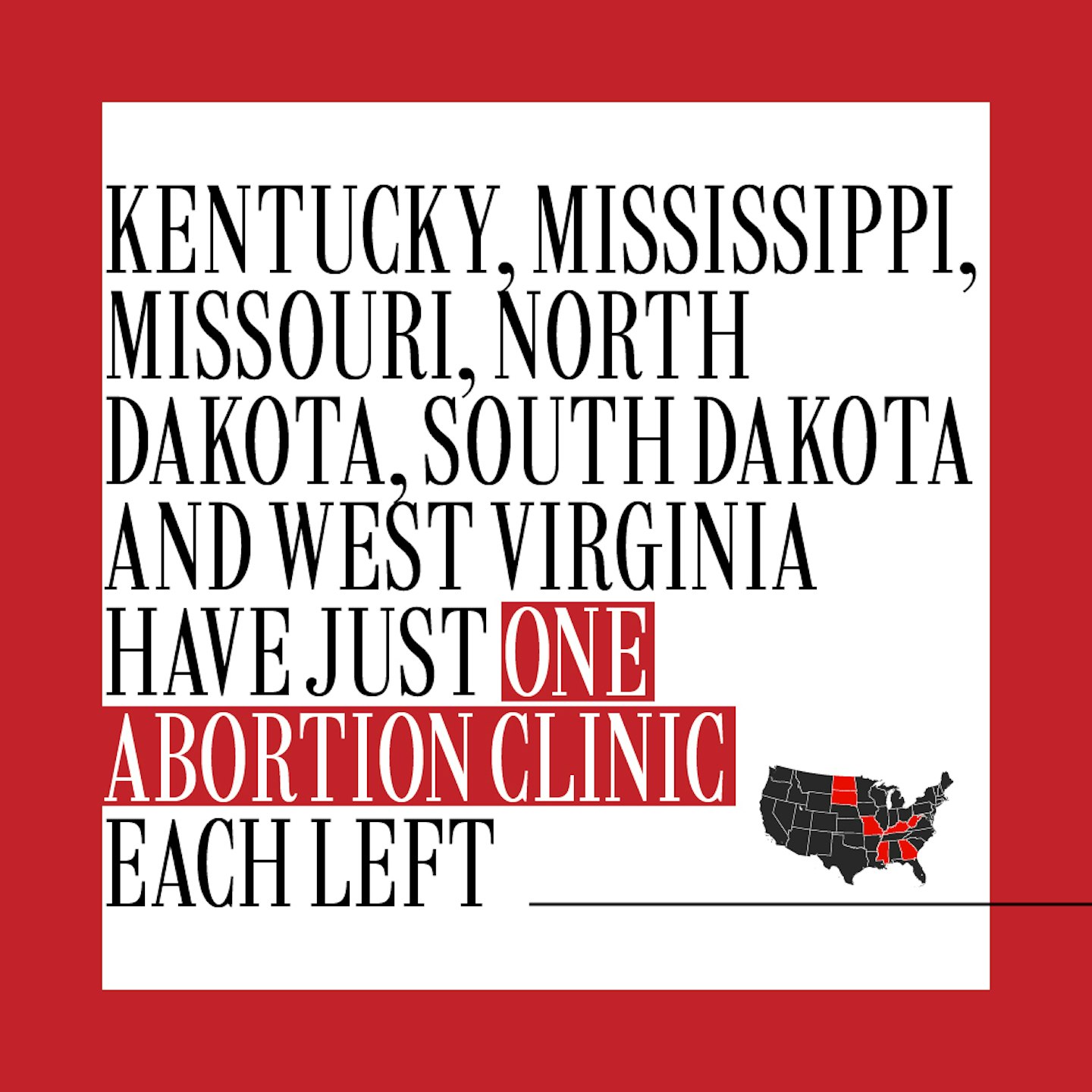 9 of 10
Multiple states in America are signing bills to render abortion illegal at six weeks
There are also currently three abortion clinics in Alabama. In the 1990s there were more than 20.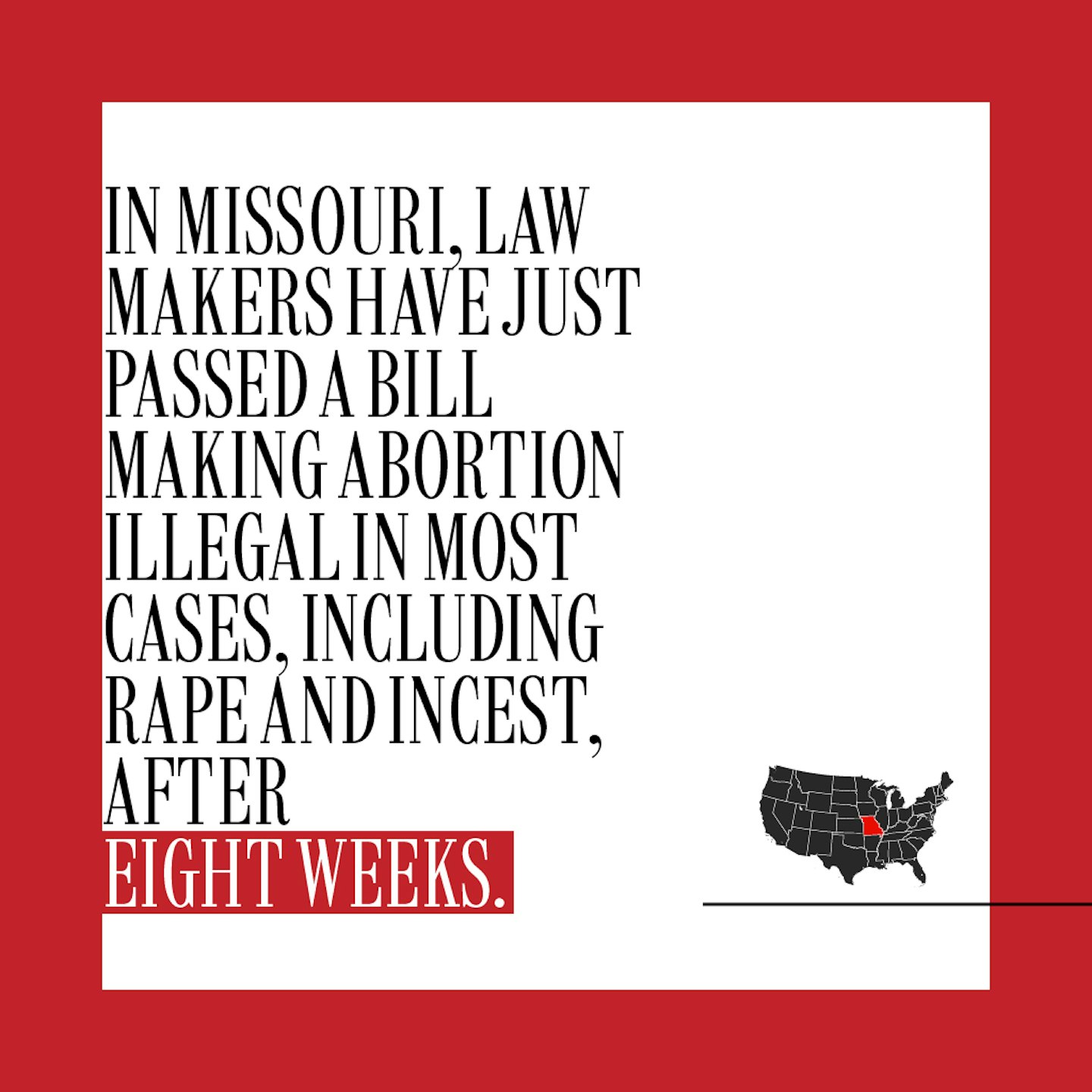 10 of 10
Multiple states in America are signing bills to render abortion illegal at six weeks
Louisiana looks set to follow suit with a similar bill.