The magic of Christmas is in the air…and on the telly.
What could be more Christmassy than snuggling up on the sofa with your loved ones to watch a superb new series or a festive film? It's practically a tradition.
The tree is twinkling, and the fire is on, so grab the mince pies and hot chocolate, because Disney+ has this season's entertainment all wrapped up.
For just £7.99 a month, Disney+ brings you the ultimate selection of unmissable series and movies.
From Christmas classics and family films to action-packed blockbusters, festive rom-coms and brilliant Boxing Day boxsets, to the shows, that everybody is talking about - Disney+ is entertaining everyone this Christmas.
Here's what we'll be watching …
Festive Favourites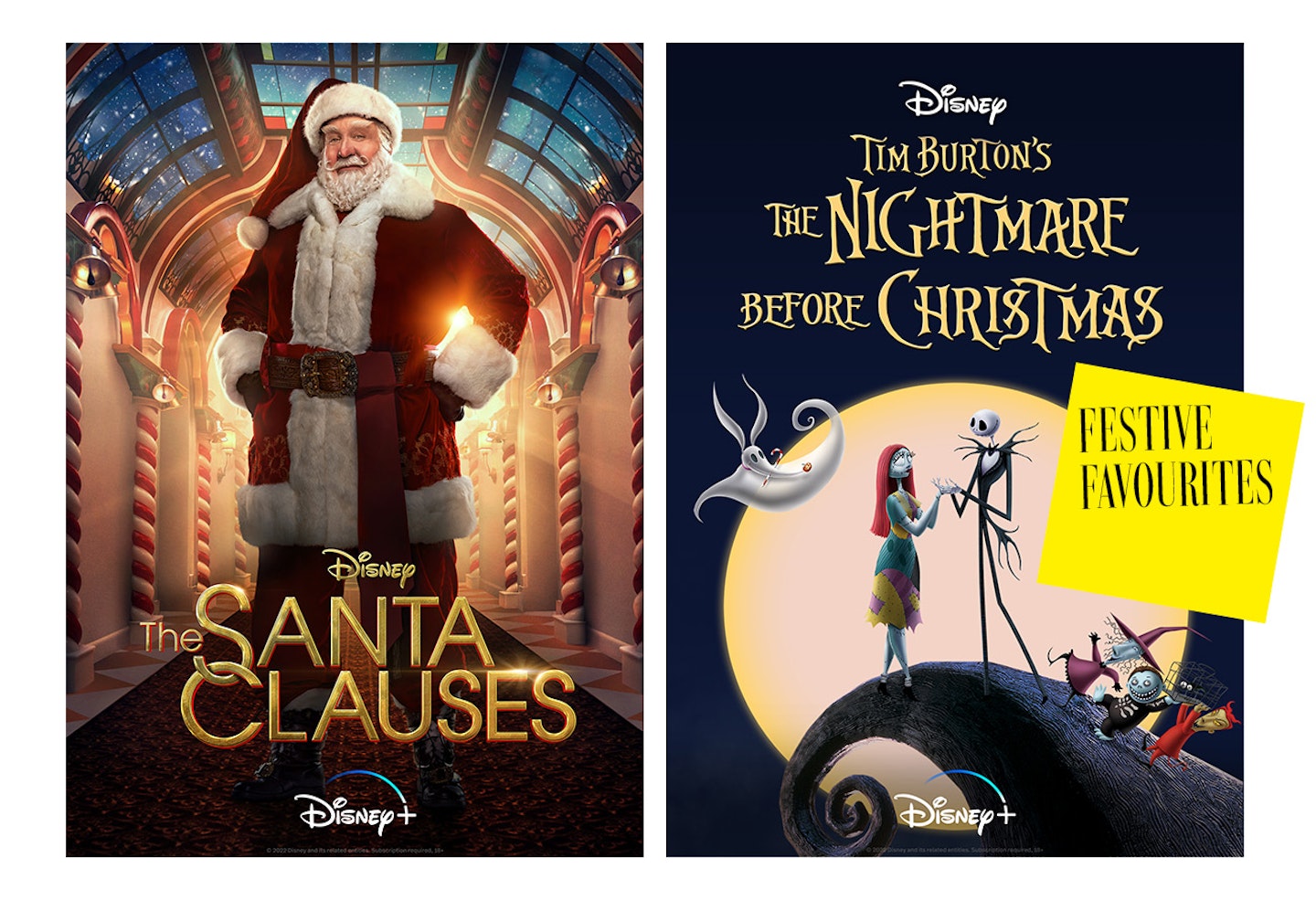 The Santa Clauses
Scott Calvin is back in this new, original series. After being Santa Claus for nearly thirty years, Scott is as jolly as ever! But as Christmas declines in popularity, so does his Santa magic. Scott struggles to keep up with the demands of the job, as well as being there for his family. Upon discovering there is a way to retire from his post, Scott considers stepping down as Santa Claus and finding a worthy successor so that he can become a better father and husband. The Santa Clauses is a must-see series for everyone this festive season. Now streaming, only on Disney+.
Tim Burton's - The Nightmare Before Christmas
Enter an extraordinary world filled with magic and wonder, where every holiday has its own special land. This is the heartfelt tale of Jack Skellington, the Pumpkin King of Halloween Town and all things that go bump in the night. Bored with the same old tricks or treats, he yearns for something more, and soon stumbles upon the glorious magic of Christmas Town. When Jack decides to bring this joyful holiday back to Halloween Town, his dream to fill Santa's shoes unravels, and it's up to Sally, the rag doll who loves him, to stitch things together again. Now streaming on Disney+.
Boxing Day Boxsets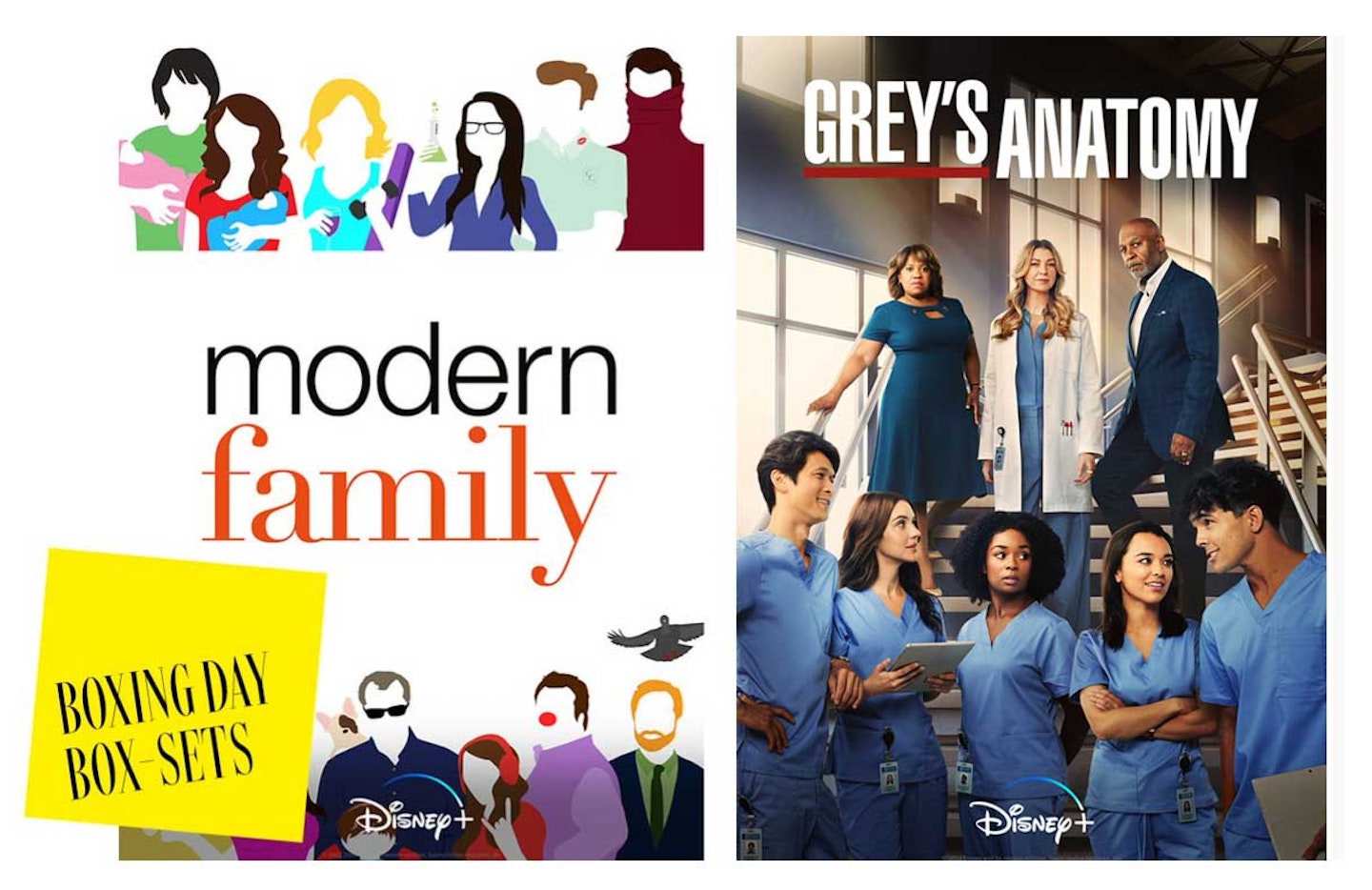 Grey's Anatomy
Grey's Anatomy is back! With a Golden Globe for Best Drama Television Series and nominated for multiple Emmys, including Outstanding Drama Series, Grey's Anatomy is high-intensity medical drama at its best.  Now in its 19th season, follow Meredith Grey and the team at Grey Sloan Memorial as they face life-or-death decisions and discover that neither medicine nor relationships can be defined in black and white. Disney+ is the new home of Greys Anatomy. Stream the latest season and all previous seasons only on Disney+.
Modern Family
Modern Family is the award-winning comedy series that views three different families through the lens of a documentary film maker and his crew. Jay Pritchett (Ed O'Neill) is the patriarch of this complicated, messy, and loving modern family. Starring Ed O'Neill, Sofia Vergara, Julie Bowen, Jesse Tyler Ferguson and Eric Stonestreet. Throughout its impressive run Modern Family has been nominated for a staggering 85 Emmy Awards and won 22, including five for Outstanding Comedy Series. The series was also honoured with a Golden Globe Award and numerous Screen Actors Guild Awards too. Stream seasons 1 to 9 now on Disney+.
Action-Packed Blockbusters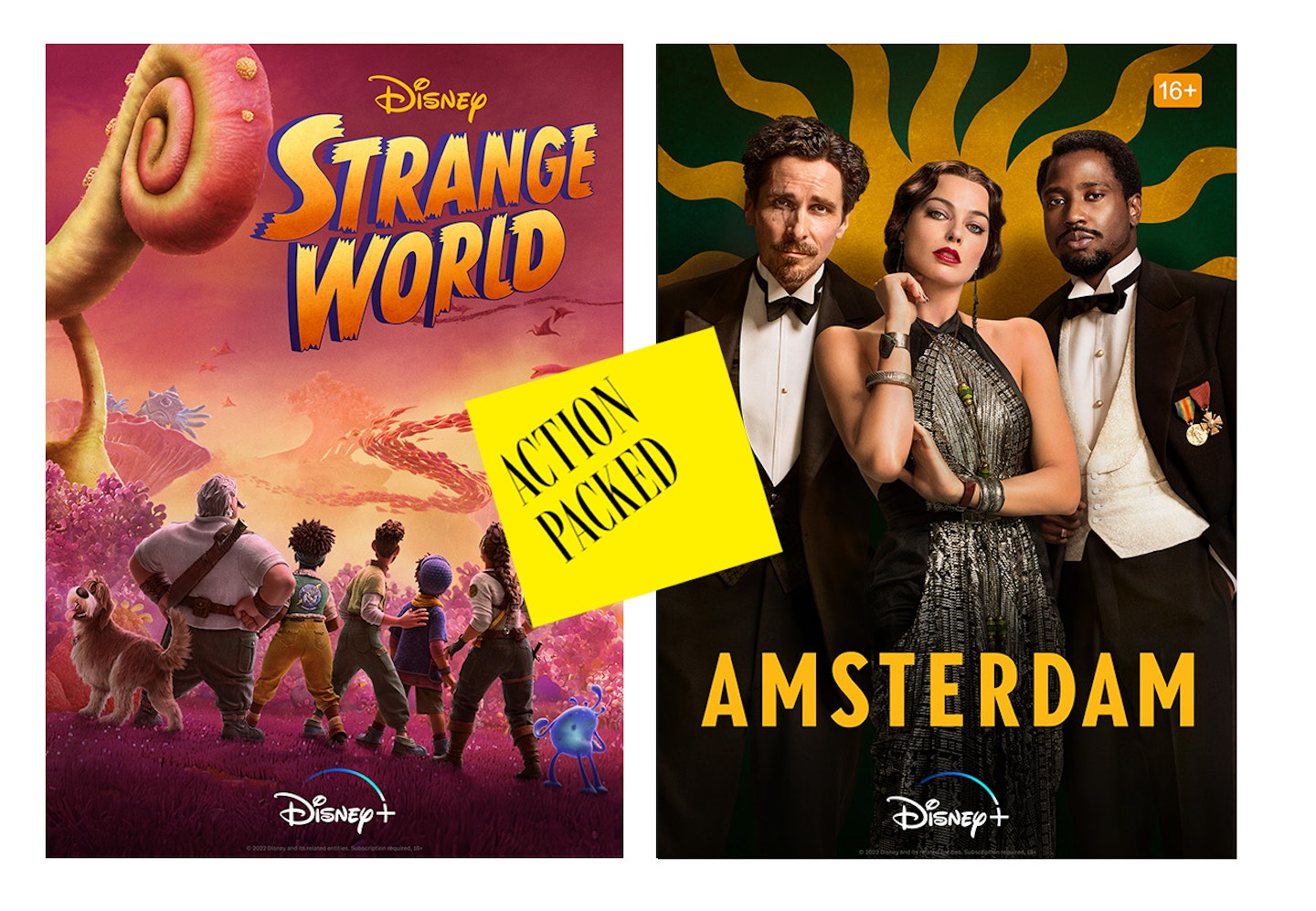 Strange World
The original action-adventure journeys deep into an uncharted and treacherous land where fantastical creatures await the legendary Clades, a family of explorers whose differences threaten to topple their latest, and by far most crucial mission. According to director Don Hall, Strange World is a nod to pulp magazines - popular fiction from the first half of the 20th century that was printed on inexpensive wood pulp paper. "I loved reading the old issues of pulps growing up," says Don. "They were big adventures in which a group of explorers might discover a hidden world or ancient creatures. They've been a huge inspiration for Strange World." Strange World is the must-see action-adventure film of the festive season. Streaming December on Disney+.
Amsterdam
A fascinating and richly intricate tale that brilliantly weaves historical fact with fiction for a timely, cinematic experience, 20th Century Studios' and New Regency's original crime epic about three close friends who find themselves at the centre of one of the most shocking secret plots in American history.
The cast is stellar. Amsterdam stars Academy Award winner Christian Bale, two-time Oscar® nominee Margot Robbie, Mike Mysers, Rami Malek, Robert De Niro, Taylor Swift, and loads more! This is the perfect film to stick on to brighten up the 'what day is it?' slump between Christmas and New Years! Stream now on Disney+.
Grazia Favourites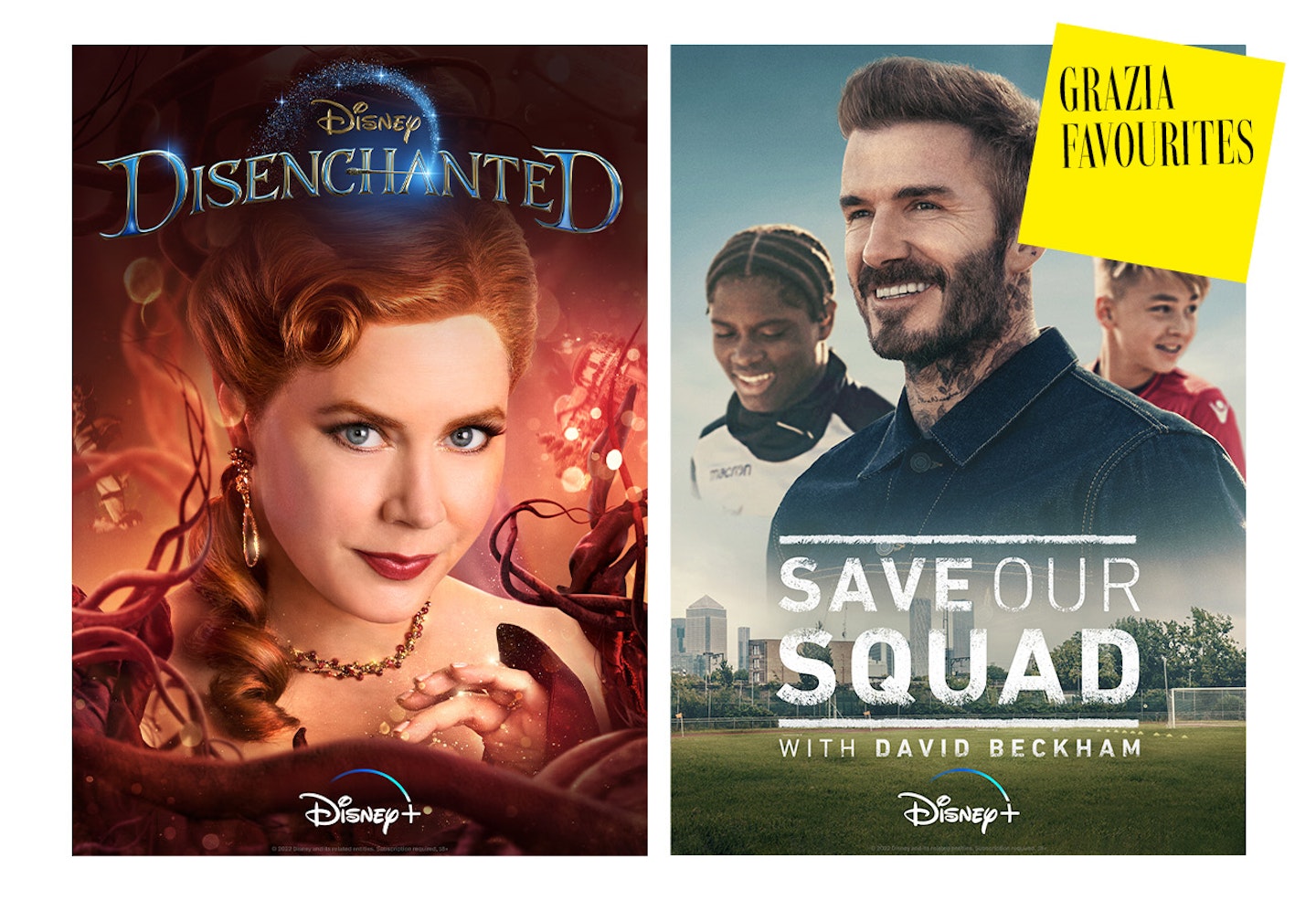 David Beckham: Save Our Squad
Save Our Squad is a new and exclusive must-see original series to Disney+. This heart-warming series sees David Beckham return to his East London roots to mentor Westward Boys, a young, grassroots team who are at the bottom of their league, facing relegation. However, this isn't just any league…this is the same league that David played in as a young boy. Working with the head coaches, he'll try to turn the team's fortunes around. All episodes now streaming, exclusively on Disney+.
Disenchanted
The long-awaited Enchanted sequel, Disenchanted, is now streaming on Disney+. This fresh twist on a familiar storyline, with eye-catching dance and musical numbers, and a brand-new villain. It has been 15 years since Giselle (Amy Adams) and Robert (Patrick Dempsey) wed, but Giselle has grown disillusioned with life in the city, so they move their growing family to the sleepy suburban community of Monroeville in search of a more fairy tale life. Unfortunately, it isn't the quick fix she had hoped for. Suburbia has a whole new set of rules and a local queen bee, Malvina Monroe (Maya Rudolph), who makes Giselle feel more out of place than ever. Frustrated that her happily ever after hasn't been so easy to find, she turns to the magic of Andalasia for help, accidentally transforming the entire town into a real-life fairy tale and placing her family's future happiness in jeopardy. Now, Giselle is in a race against time to reverse the spell and determine what happily ever after truly means to her and her family. Stream this new original movie exclusively on Disney+.
This is Christmas on Disney+
From the latest blockbusters to new, original series, Disney+ has must-see entertainment for everyone this Christmas, and all for just £7.99 a month.
Get ready to get festive - get Disney+ here.