Whether or not you're big on working out, protein is a must when it comes to a balanced diet, so a high protein breakfast is an easy way of making sure that you're getting everything that you need first thing in the morning. But what are the best high protein breakfasts and why is protein so important to start the day with?
Well, we need protein to keep our blood sugar in balance (which keeps you feeling full for longer) and for the growth and repair of our bodies – we're not just talking muscles either, but also eyes, skin and hair - as well as improving your immune system and serotonin levels, so why wouldn't you make sure that you're starting your day right with a high protein breakfast?
Of course, with little time in the mornings breakfast can often be one of those meals where you feel the least inspired, so we chatted to Natural Chef Adria Wu and founder of Maple & Co – who you may know from Channel 4's Five Star Kitchen: Britain's Next Great Chef – about how we can improve our protein intake in the morning.
Here are the best high protein breakfasts...
Let's start with a breakfast staple: eggs. How much protein is in an egg? Lots - at least 6g per egg! So if you've got a bit of time in the morning, why not try Adria's poached egg recipe below? It also includes smoked mackerel (16.2g of protein per fillet) and so is an incredibly high protein breakfast all in all.
How to make smoked mackerel and poached eggs
8 Eggs
60g Baby spinach
400g Smoked mackerel
1 tablespoon Chives
2 Lemons, zest and wedges
Sea salt and black pepper to taste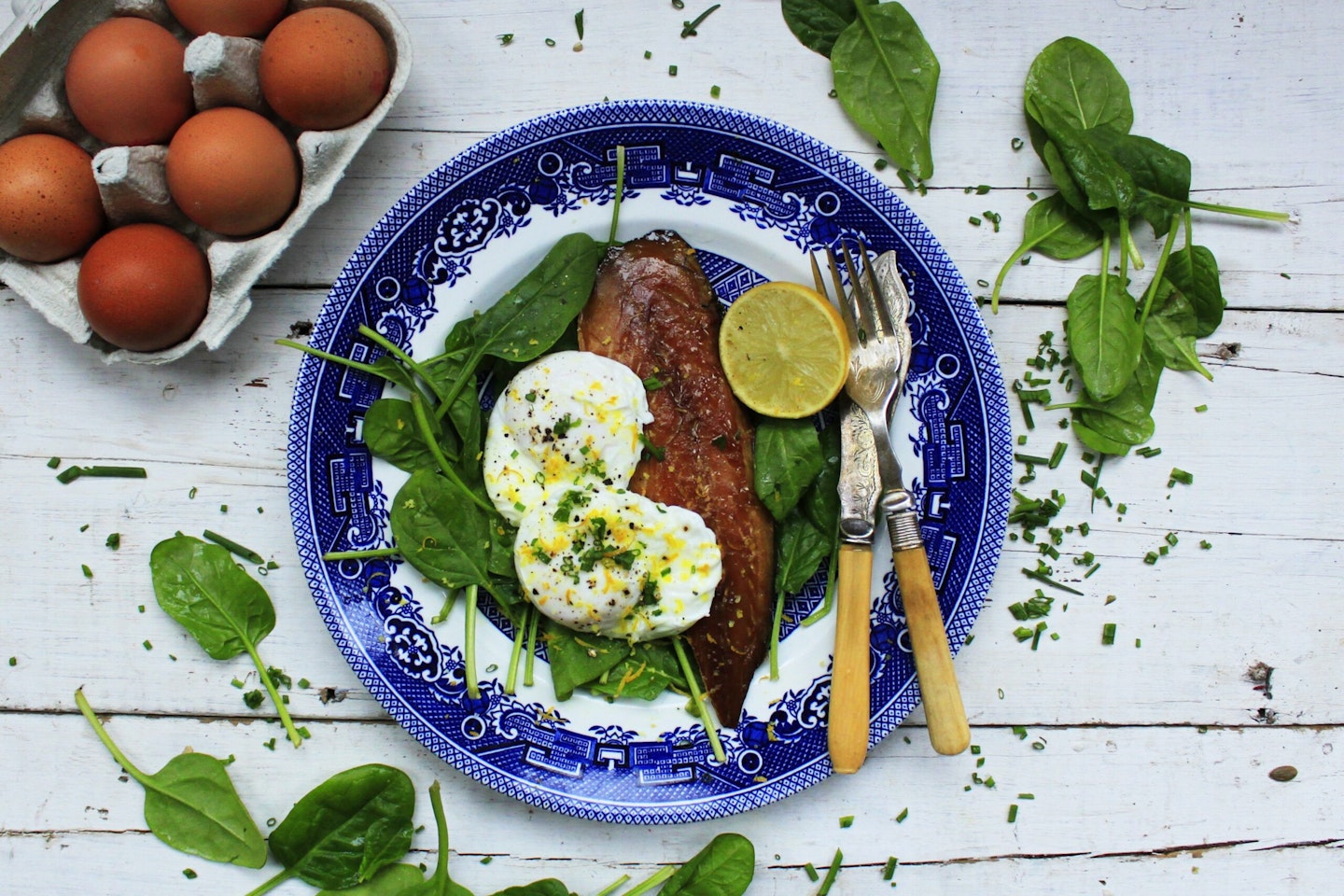 Poach your eggs in gently boiling water (bubbles should look like champagne). Slowly swirl the water and gently drop the egg in the centre as close to the water as possible (chef's tips: use a mug or small cup to drop egg, use very fresh eggs and deep pan of water). Poach for 3 mins. Remove with slotted spoon and pat dry with kitchen towel.
Wash and dry spinach and finely chop chives. Serve dish with a bed of spinach, mackerel and poached egg on top.  Season with sea salt and pepper. Then garnish with chives, lemon zest and wedge.
Add fish to your breakfast dishes for extra protein
As Adria suggested, you can maximise the protein in your breakfast by pairing eggs with any smoked fish. She suggests using the SMASH acronym to remember which fish are especially high in protein: Sardines, Mackerel, Anchovies, Salmon and Herring.
Not only are fish high in protein, they are also high in omega-3 and vitamin D, giving you extra energy throughout the day. Think it might be too early for fish? Think again. Adria suggests squeezing some fresh lemon over the top to take the edge off.
How to make high protein breakfast pancakes
For a more fun start to the morning, pancakes are always a joy. Adria has given us an incredible recipe for delicious three ingredient pancakes which she makes everyday for her children, a simple option for the morning that you can boost with protein by adding a scoop of protein powder (try something like Optimum Nutrition) which often acts as a natural baking powder too - so bare in mind with protein powder added they'll be big, fluffy American pancakes as opposed to a thin crepe.
How to make 3 ingredient pancakes
1 Ripe banana, mashed
1 egg
1 tbsp Coconut oil (or butter)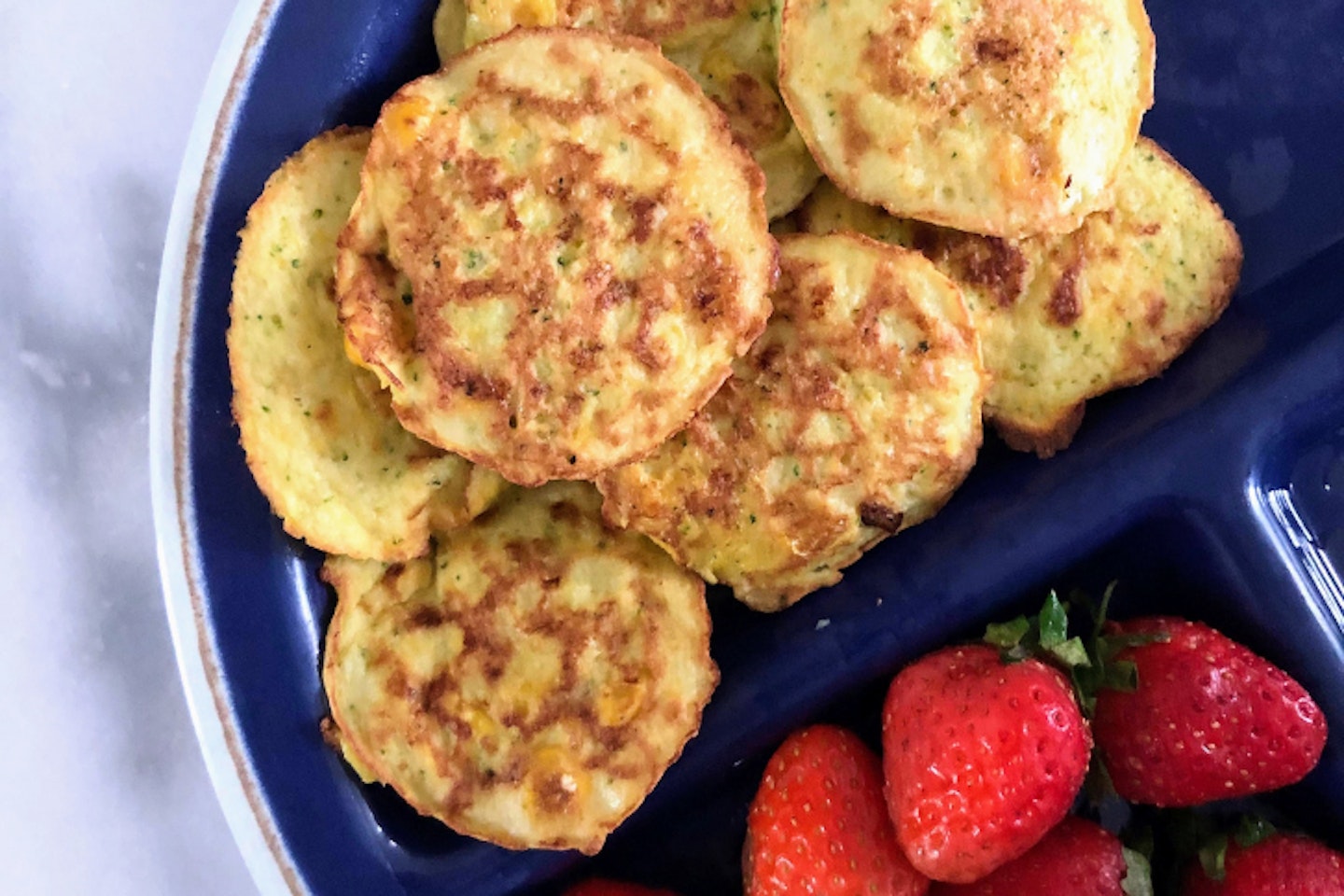 Mix the mashed banana and egg until even using a fork. Meanwhile, warm a large non-stick pan with oil to medium-high heat. Spoon one very large tablespoon of batter onto pan and cook for 3 minutes until golden on the bottom, then flip and cook the other side for another 2 mins. Serve with your favourite toppings.
Plant-based? Here's some vegan high protein breakfast ideas
Plants are a great source of protein, plus they contain fibre, prebiotics and phytonutrients – three things which help protect us against chronic illness. Legumes are largely defined as members of the bean family so things like lentils, peas, broad beans, chickpeas, soybeans etc.
A legume dip like hummus can make for a great high protein breakfast. Grab a pot and some seeded crackers for an easy, on-the-go high protein breakfast. Then there's nuts and seeds, which can always be added on top of or at the side of your breakfast for extra protein. Whatever form you eat them in - be it nut butter on toast or adding chia seeds or hempseeds to your smoothie – nuts and seeds are incredibly high in protein.
Adria is also quick to wax lyrical about tofu as a great source of protein and has a delicious recipe for Turkish Vegan Tofu Scramble. In her opinion, the spicier the better!
How to make Turkish vegan tofu scramble
1 Red pepper, diced
1 Red onion, finely diced
1 tbsp Olive oil
1 tbsp Tomato paste
½ tsp Paprika
½ tsp Chilli flakes
400g Can of chopped tomatoes
1/2 tsp Oregano
1/2 tsp Sea salt
300g Tofu
Fresh ground black pepper
2-4 slices Seeded bread
Parsley, to garnish
Prepare red onion and peppers by washing and cutting.
In a saucepan over a medium high heat add oil and, when hot, add onion.  Cook for approximately 2 minutes. Then cook peppers for another 8 mins.
Lower the heat and add tomato paste, paprika and chilis for 1-2 mins, then add the chopped tomatoes, oregano and salt and cook for 15-20 minutes simmering and stirring until peppers are soft.
Open the tofu and drain the water.  Place block of tofu over the pan. Gently break into pieces. Cook the tofu gently folding, until it is warmed through.  Add more salt to taste.
Meanwhile, toast bread and cut into trianglur halves.
Serve scramble in bowl with bread on the side. Top with the chopped parsley and drizzle with olive oil.
Finally, use seeded breads for extra protein!
We're not talking breads with seeds on, we're talking breads made from seeds like the brand Seedful. Apparently two slices of this contains 25% of your recommended daily allowance of protein. Treat it like a normal piece of toast and add your favourite toppings be they savoury or sweet.