With the arrival of summer, our love affair with peonies is rekindled. Blooming for only a few short weeks between April and June, they are one of the UK's favourite flowers. Adored by an entire nation (including the King himself), you only need to search #peony on Instagram to find over three million posts.
So, why do we fall so hard for this particular flower?
There was only one person to ask - Freddie.
Freddie Garland founded Freddie's Flowers in 2014. He grew up in a flower shop (his mum and dad were both florists) where his passion for all things horticultural bloomed. Though it was during his time working for a company delivering veg boxes that inspiration struck. His idea - to deliver flowers to doorsteps through a subscription service. The start was slow…as slow, in fact, as a milk float – which so happened to be Freddie's first delivery vehicle. But the business blossomed and grew and today a fleet is on standby to bring beautiful bouquets to everyone. And yes, his surname is really Garland.
According to Freddie, seasonality makes peonies the celebratory bloom of summer. With their big billowy heads, frou-frou petals and succulent deep green leaves they seem to capture the essence and opulence of summer's full bloom, where nature is at her peak. They appear at the time of year when colour, beauty and abundance is all around.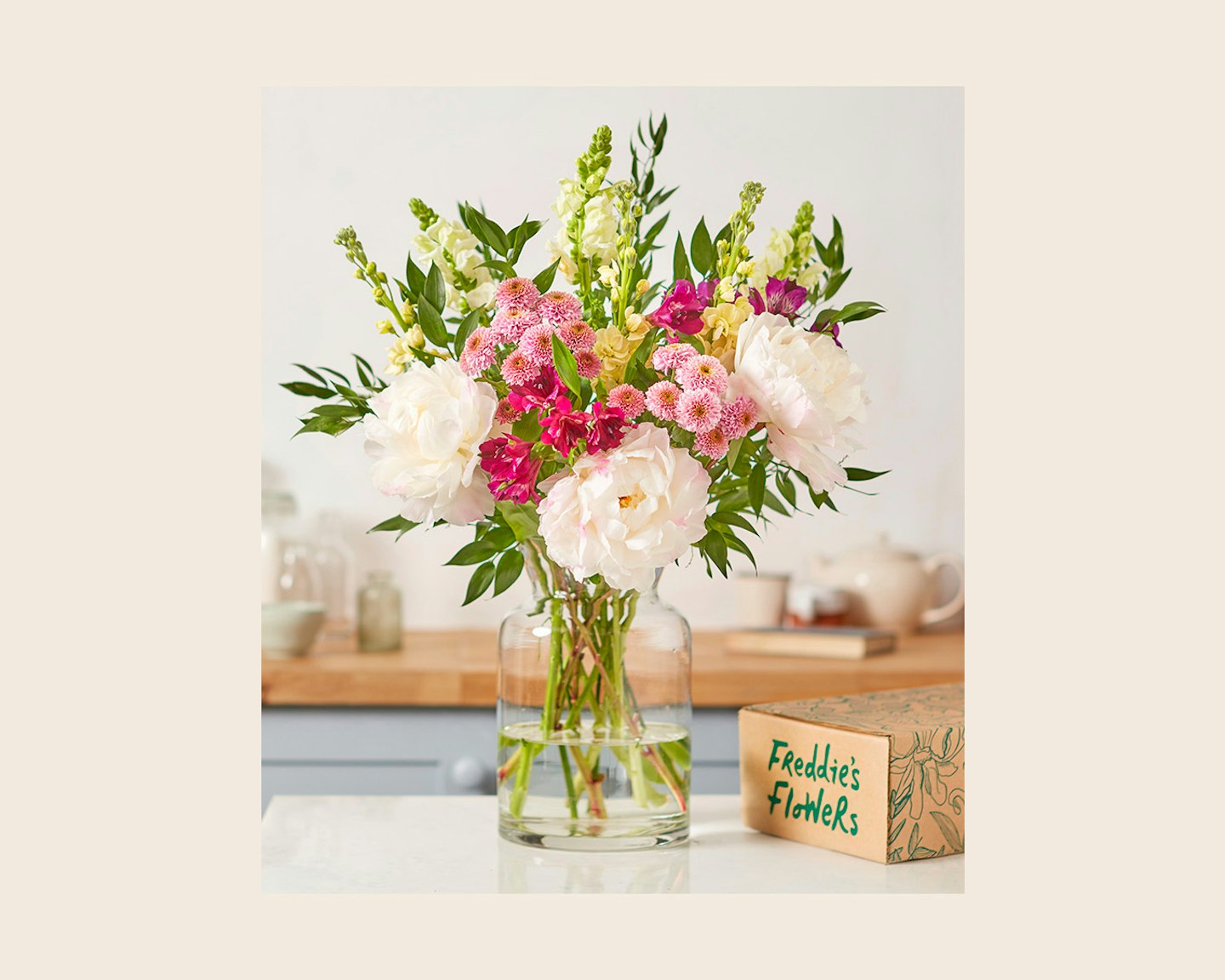 With incredibly impressive large, ruffled flowers, paper-like petals and dreamy shades of pinks, reds, oranges, yellows, and whites, they make a bold statement but in a soft way. Peonies symbolise love, happiness, wealth, and beauty - they are often given to express good luck, best wishes and joy.
Truly, Freddie understands flower power. The way an arrangement can express so many things - love, sympathy, friendship. How a thoughtfully placed floral display can transform a room and create a focal point, or a simple vase of fresh stems can bring a smile and lift the mood. The vision was to brighten lives. At Freddie's Flowers, curated seasonal stems are cut at just the right time to burst from the bud and bloom in your vase at home, filling it with beauty, scent and so much more…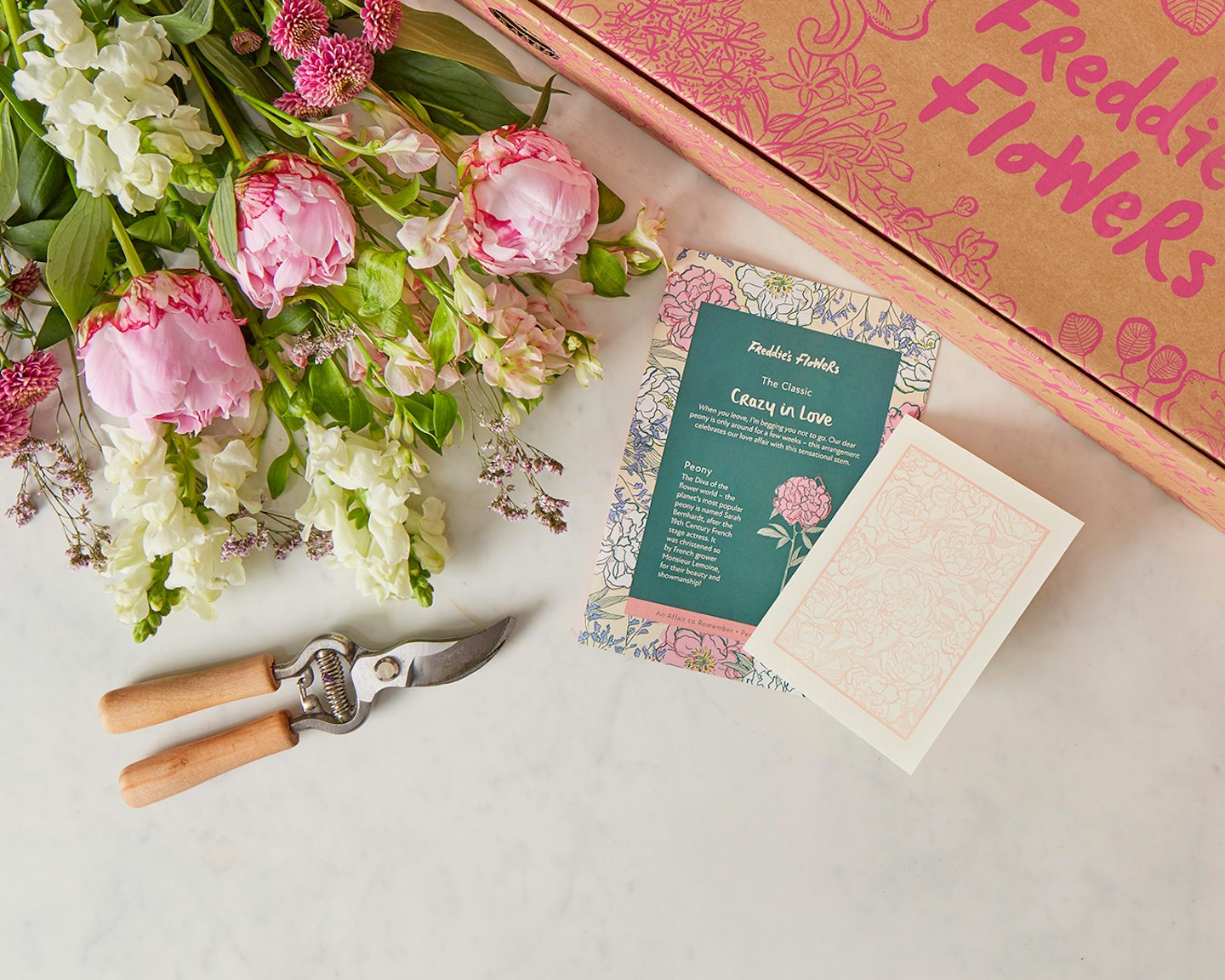 The tragedy that British peonies only ever bloom for just a matter of weeks is perhaps another reason peony season is such a grand occasion in the flower world, with their scarcity making any real flower fan determined to truly make the most of them.
At Freddie's Flowers, every peony is grown right here in the UK. They are proud to be the first international flower delivery company to be certified B Corp, for having met rigorous social and environmental standards, which represent their commitment to goals outside of shareholder profit. This artisan flower delivery service also has strong socially and environmentally responsible practices too, including a 'grow to order' supply model, electric vehicle and bike delivery, recyclable and biodegradable packaging and 100% renewable energy supplies to their office and warehouse.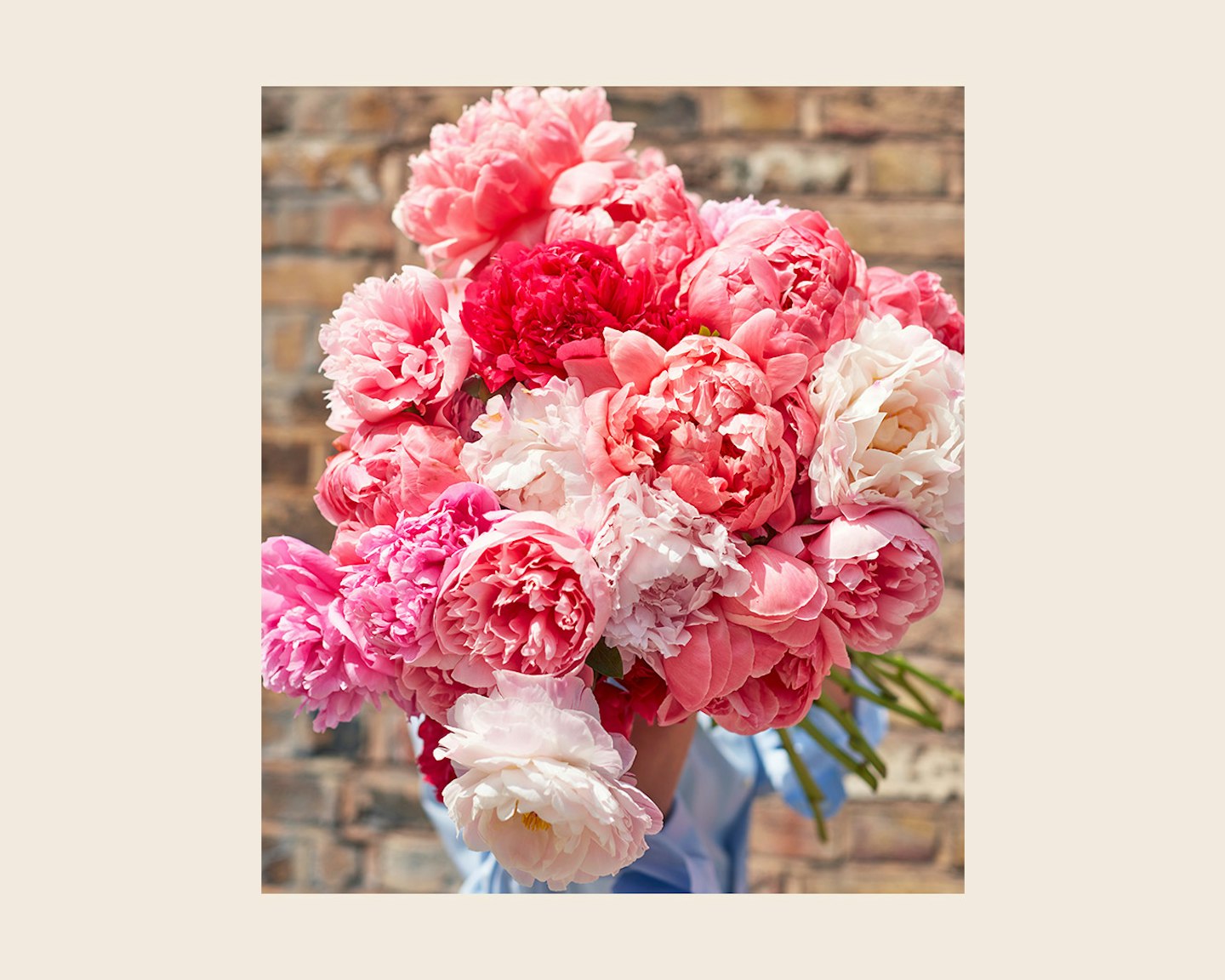 To mark the month of June, Freddie's Flowers are making sure peony season is an affair to remember before our favourite flower leaves for another year. They will be celebrating, savouring, and enjoying every moment of the shoyu ('most beautiful' flower) and you can join them with a subscription.
As peonies are only in bloom for a month, they are being delivered in subscription boxes from the 5th-30th June. Peony arrangements are also available as gifts and can be ordered for next day delivery up until 8pm the night before.
Freddie's Flowers are certainly ready to make peony season an affair to remember.
Shop Freddie's Flowers here.