Are you ready for a summer of love? So are we, and with Love Island 2021 back in a matter of weeks, Hot Girl Summer is really starting to heat up.
It's still too early to know who will be heading into the villa, but what we do know is that more people than ever applied to take part in season seven. When the 2020 series was cancelled, host Laura Whitmore tweeted: "Like with a lot of things because of restrictions with travel, social distancing and unable to plan ahead, Love Island is postponed until 2021. Great news is that there have been more applications than any other series! Next year is going to be BIG. Stay safe."
Throughout the series, many questions have been asked about various aspects of the show, from production secretsto whether or not contestants really get it on with each other(spoiler alert: they do). But one question remains unanswered: how do the contestants constantly have new clothes to wear throughout their time on the show?
Well, we now know the answer for the upcoming series. Fast fashion retailer ISAWITFIRST will be giving the new, single Islanders a whole new wardrobe and once again the viewers will be able to shop the looks directly from the Love Island app. The Manchester-based brand has announced that it has once again coupled up to become the Official Fashion & Sunglasses Partner of Love Island for 2021, following the hugely successful partnerships in 2019 and 2020.
As the official fashion partner of the show, ISAWITFIRST will be providing both male and female Islanders with a whole new wardrobe, which means they don't even have to think about what to pack – it's all taken care of. Leanne Holmes, brand director, said: 'The Love Island partnership has proven to be a fantastic opportunity for us to gain direct access to our target audience. The Love Island live TV show, app and associated social media, allows us to make on-trend looks accessible to everyone, as we showcase what's been worn in the show with an option to purchase.'
While that answers the question of what the Love Island contestants will be wearing, it doesn't do anything to help the impact of fast fashion on the environment, which we all know to be devastating. In fact, it's only encouraging viewers to shop more than ever, buying inexpensive clothes which are turned around at record speed. As Holmes said: 'Our audience can see a look on the show and make it theirs the very next day.'
Let's just hope that those keen to recreate the Islanders' outfits remember that the future of our planet depends on us all adopting more sustainable habits, particularly when it comes to our fashion consumption.
SHOP: The Best Sustainable Brands To Add To Your Wardrobe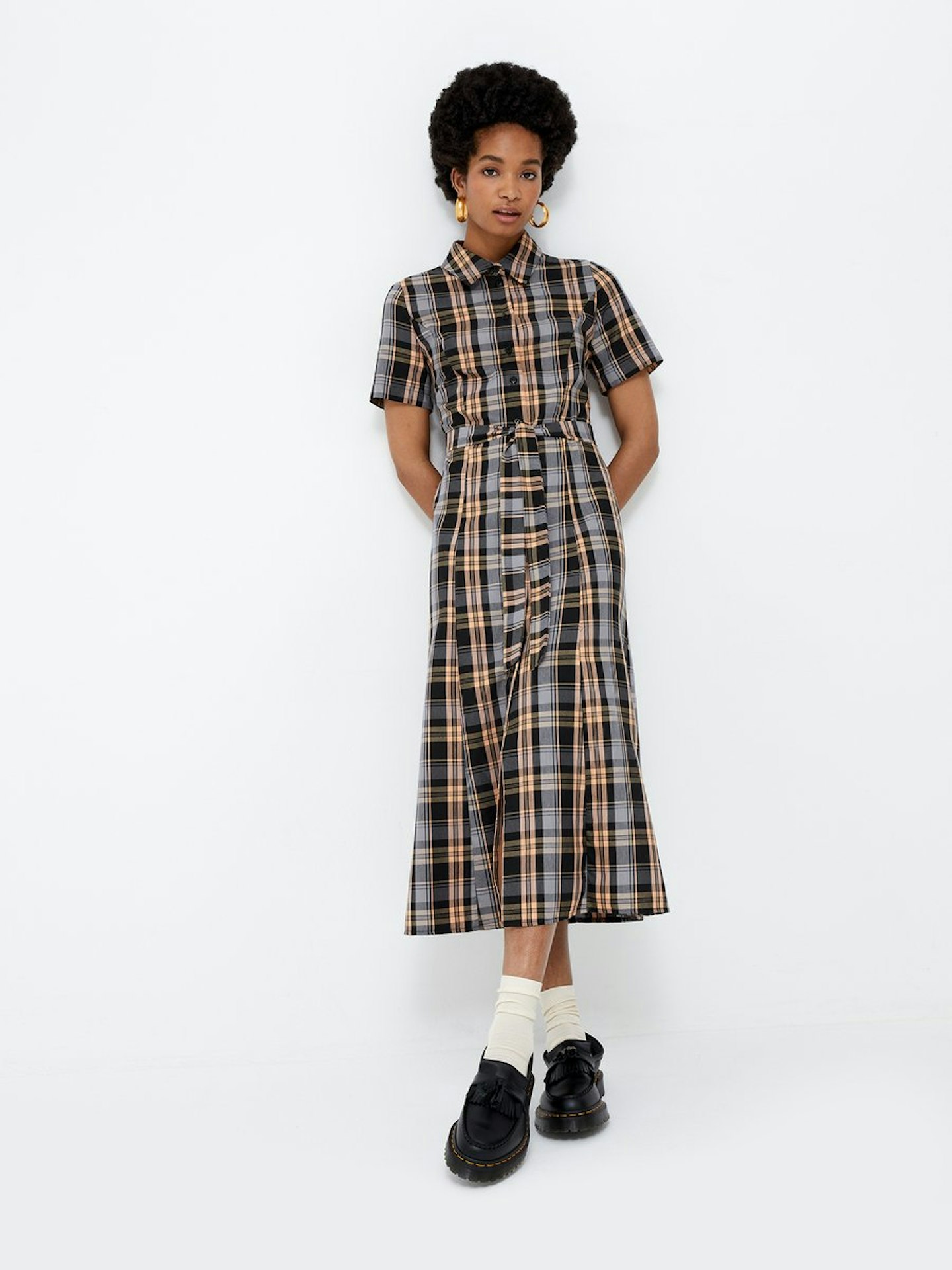 1 of 31
OMNES, Leonie Midi Shirt Dress in Black Orange Check, £69
OMNES is a sustainable womenswear fashion brand that builds the bridge between conscious consumption with eco-friendly fabrics and responsible design at its core. Look out for its beyond-pretty prints.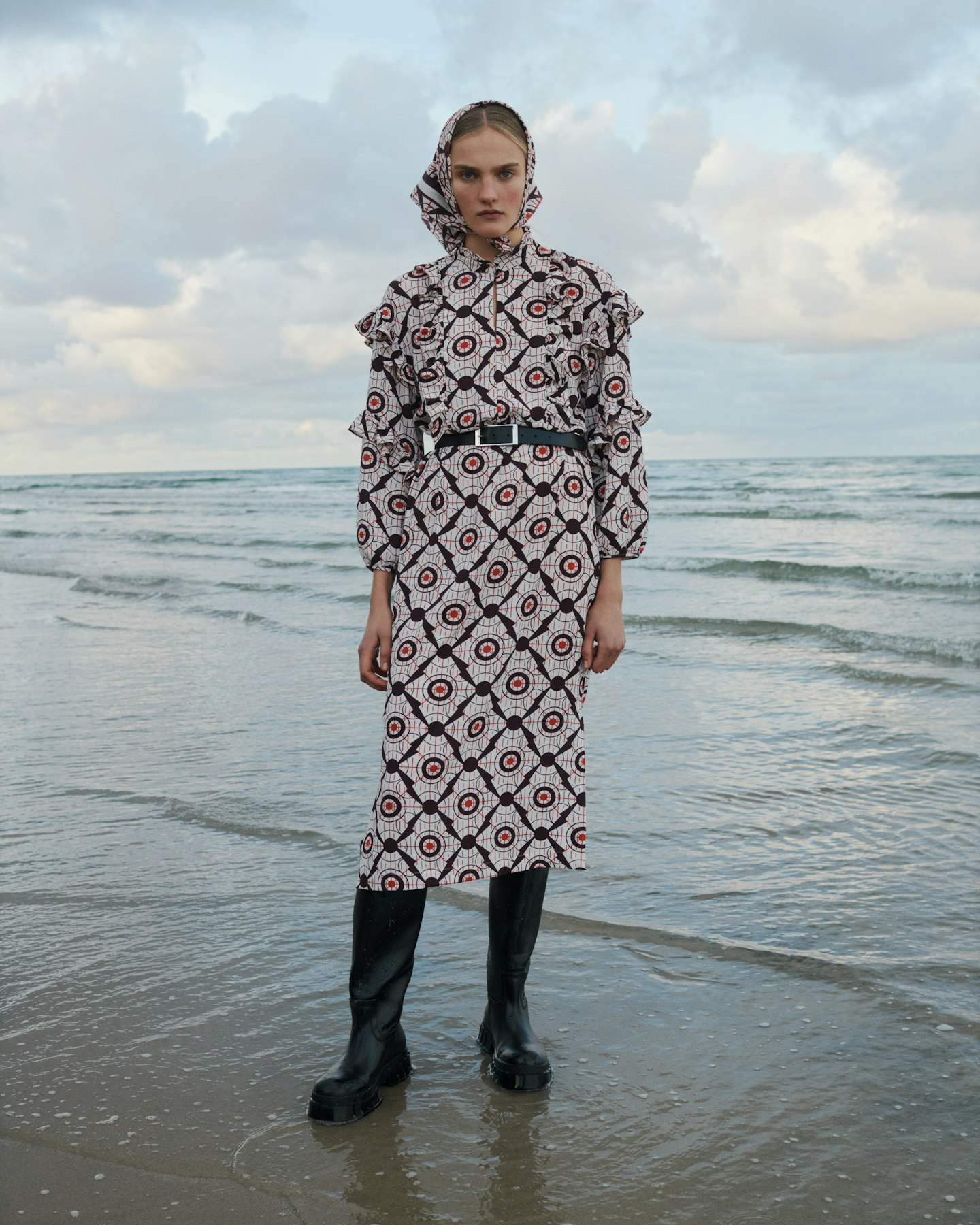 2 of 31
Baum Und Pferdgarten, Ahadi Dress, £189
Baum und Pferdgarten's Responsible Edit are made from organic cotton and recycled fabrics to be 'considerate to the planet, and its people'. The full range starts from £49, and doesn't compromise on the Scandi cool that the brand is known for.
3 of 31
Monika The Label, Camille Animal Print Slip Dress, £270
Monika The Label is a UK brand made in North London. They also produce the majority of the collection in organic cotton or Regenesis Light Satin (a material made out of recycled plastic bottles), and use deadstock fabric to create bandanas and scrunchies.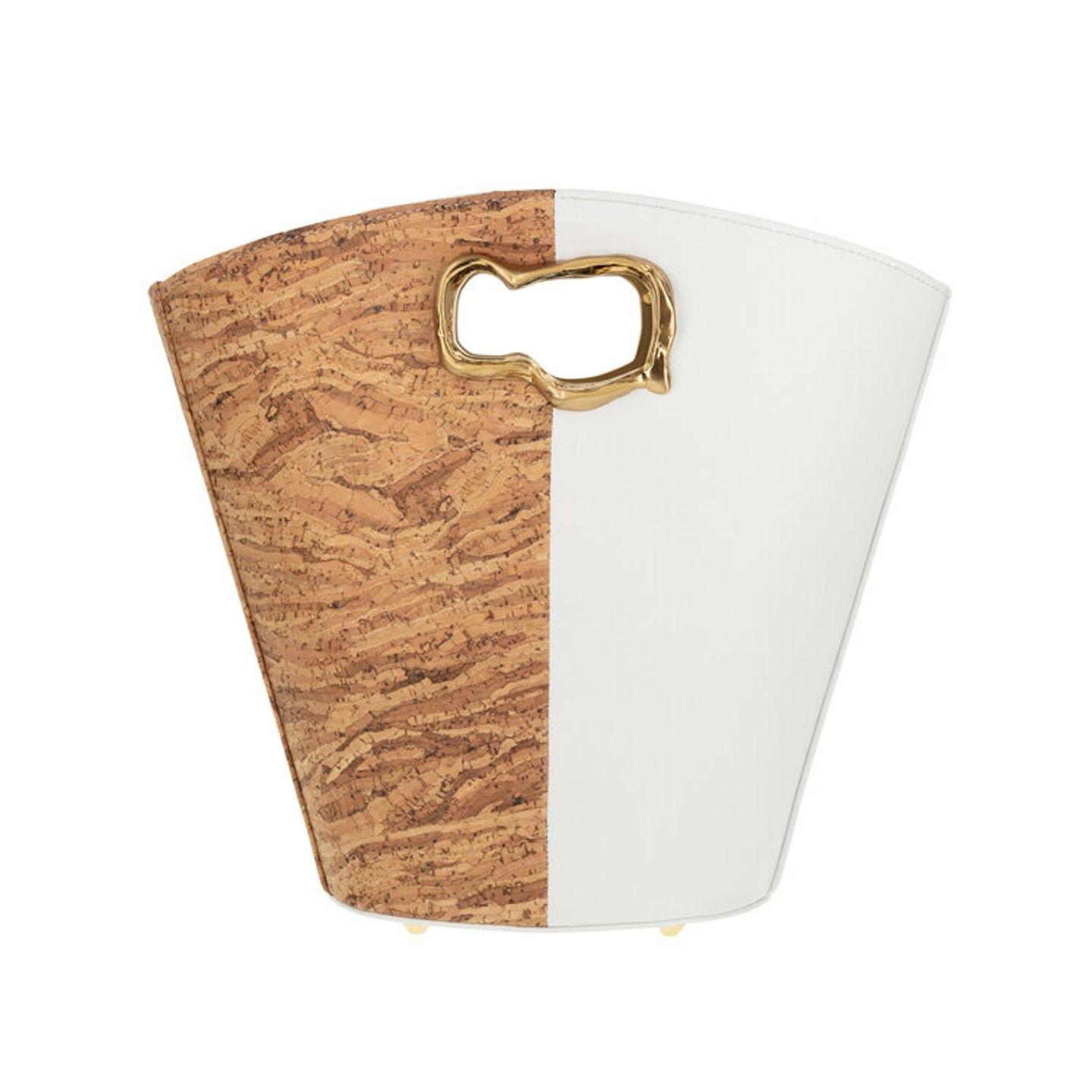 4 of 31
Mashu, Cassiopeia Cork and White, £432
Mashu, a London-based handbag label, uses materials such as recycled polyester, the natural fibre pinatex and repurposed wood from old furniture to make top-handle totes and sleek belt bags in its family-run factory of five artisans in Athens.
5 of 31
Shaina Mote, Lucqa Top In Salt, £142.42
This minimalist brand, based in LA, is all about timeless staples with 'made locally' credentials, such as effortless slip dresses and sweaters with added slouch. Tencel, made from eucalyptus trees, rayon, made from wood pulp, and MicroModal, from beechwood trees, are three of its sustainably harvested hero materials.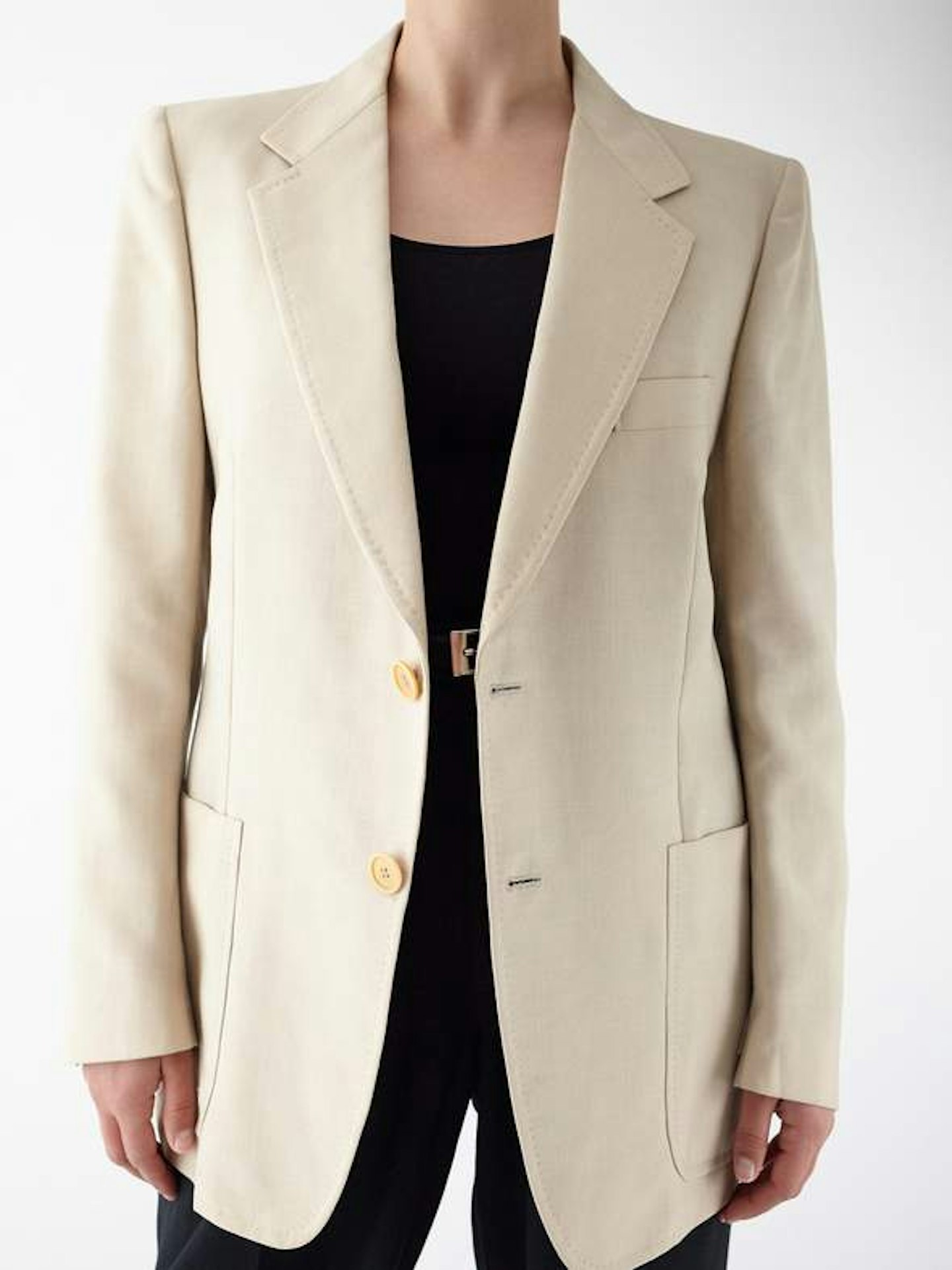 6 of 31
The Level Store, Linen Blazer, £69
One of the easiest ways to lower your carbon footprint is to buy second-hand. The Level Store, an online marketplace that aims to promote a circular economy, takes the rummage hassle out of vintage shopping. The edit of classic trenches, tailoring, sweaters and handbags is impressively premium, plus it donates €1 from every order to reforestation projects in Portugal.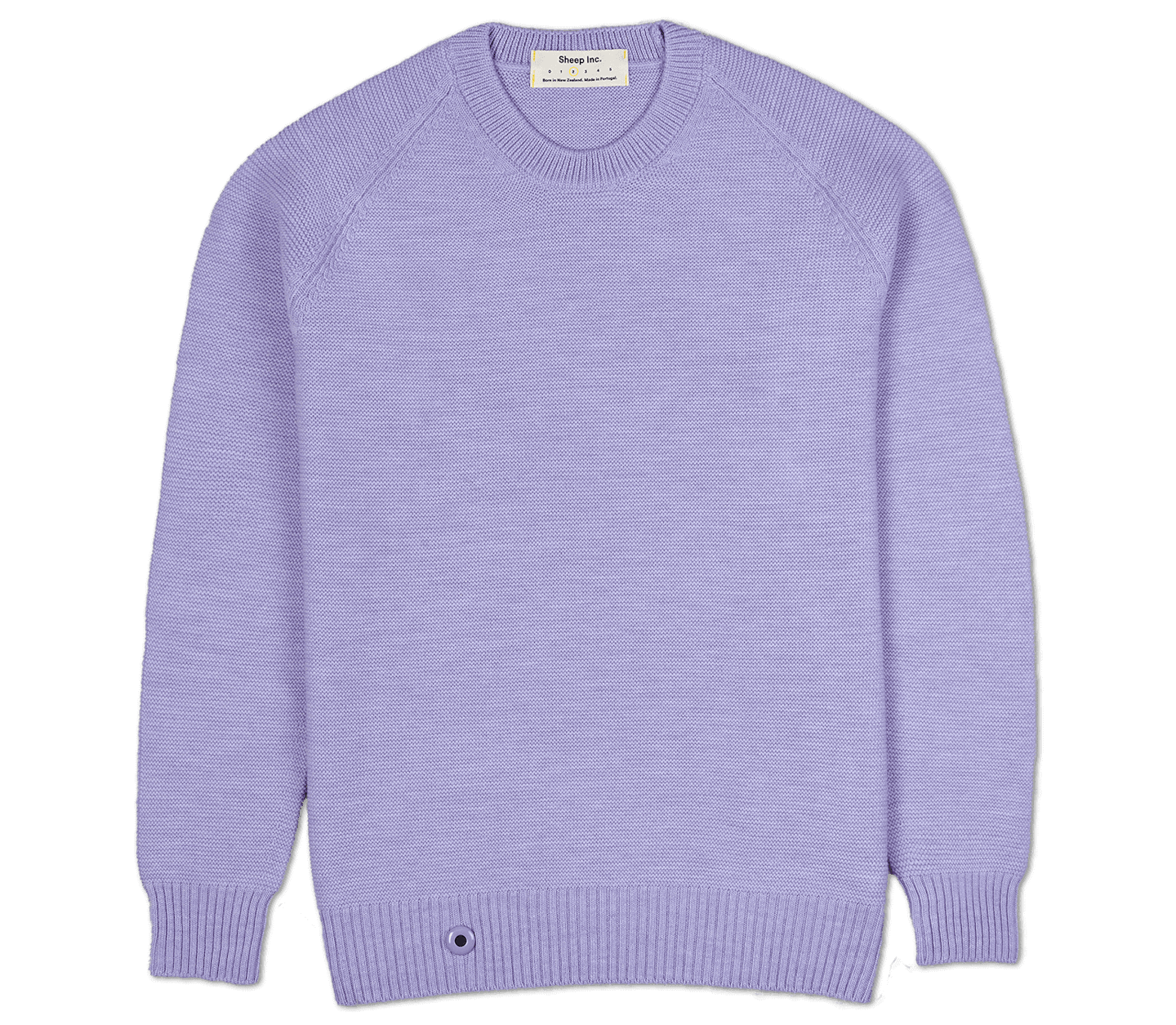 7 of 31
Sheep Inc, 001 Medium Knit Lupin Lilac, £160
The clue's in the name. Sheep Inc is a carbon-negative, 100% transparent sweater brand. Each wool jumper comes with a digital tag, meaning you can track its manufacturing journey from New Zealand to your wardrobe. Test out its mantra – 'Strangers will want to pet you' – for yourself.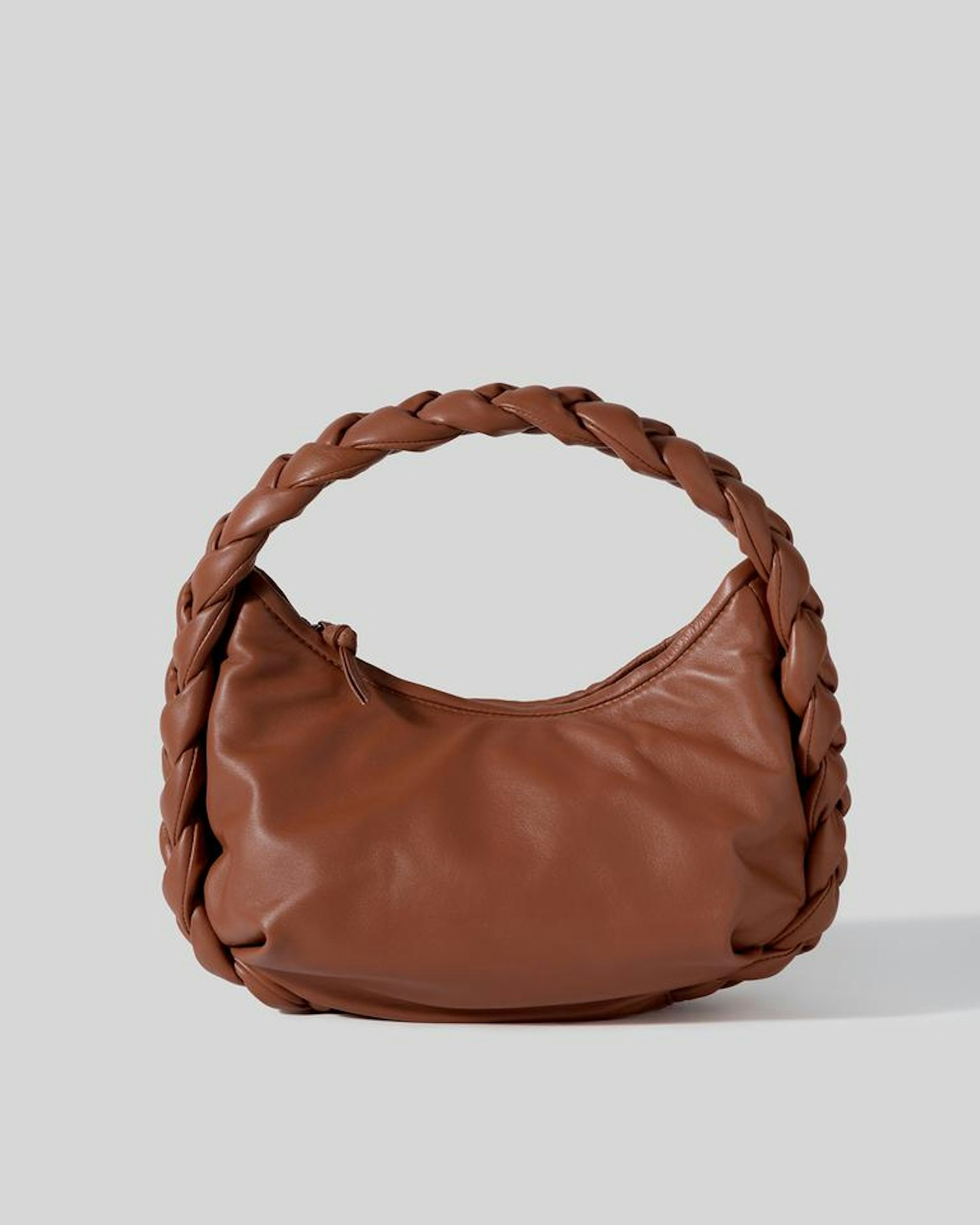 8 of 31
Hereu, Plaited Padded-detail Shoulder Bag, £346
Mediterranean Spain, and its legacy of craftsmanship, is the inspiration behind accessories label Hereu. The shoes (flat loafers, espadrilles and lace-ups) and bags (baskets and woven leather cross-bodies) are all designed and produced in Barcelona.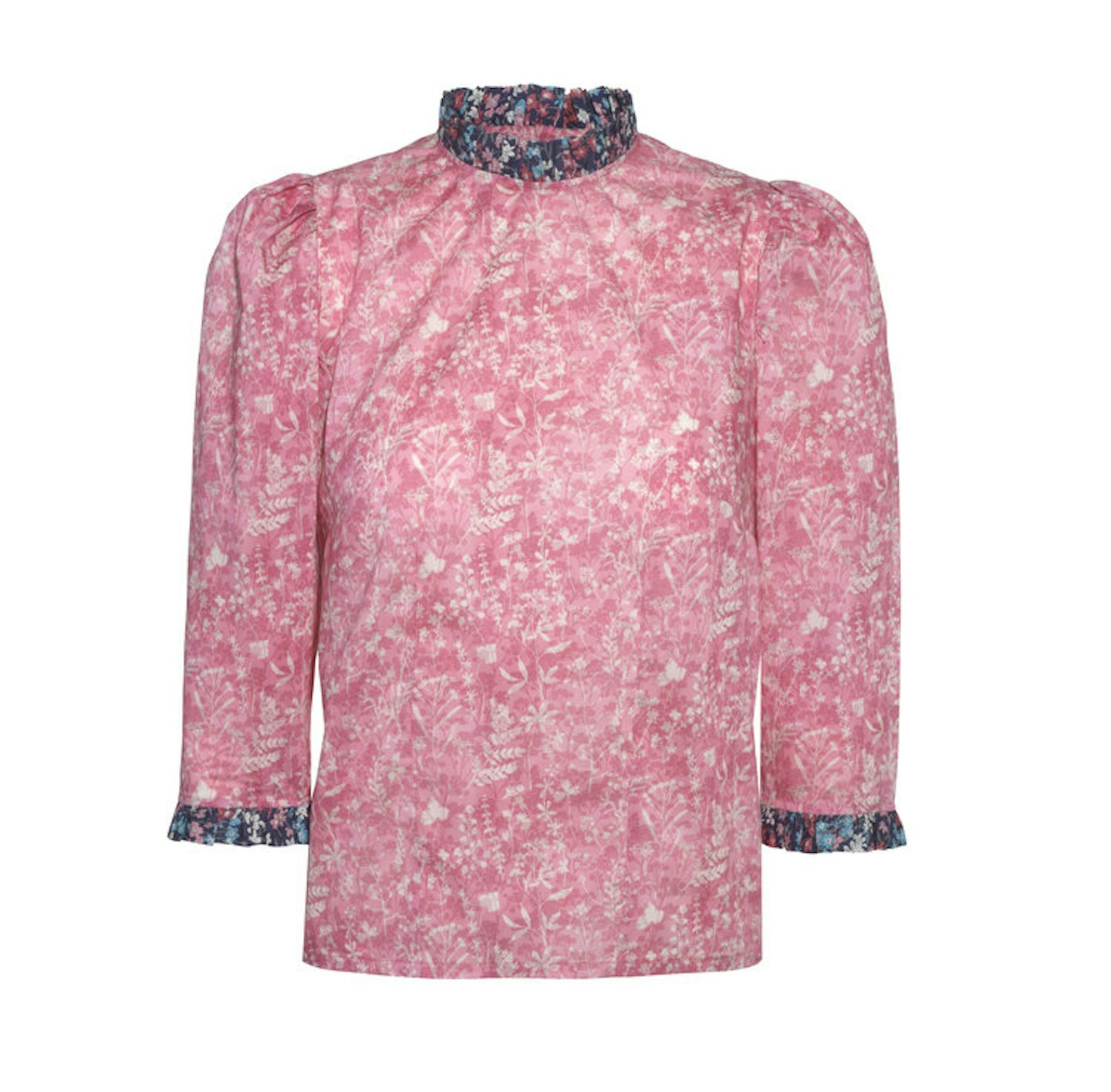 9 of 31
O Pioneers, Milly Blouse, £170
If you can't get enough of prairie dresses, you need to know about O Pioneers. Founded in north London, the limited-edition and one-off designs are handmade using deadstock and vintage fabrics. Fun fact: co-founder Clara Francis made the beaded headress Emma Watson wears in Little Women.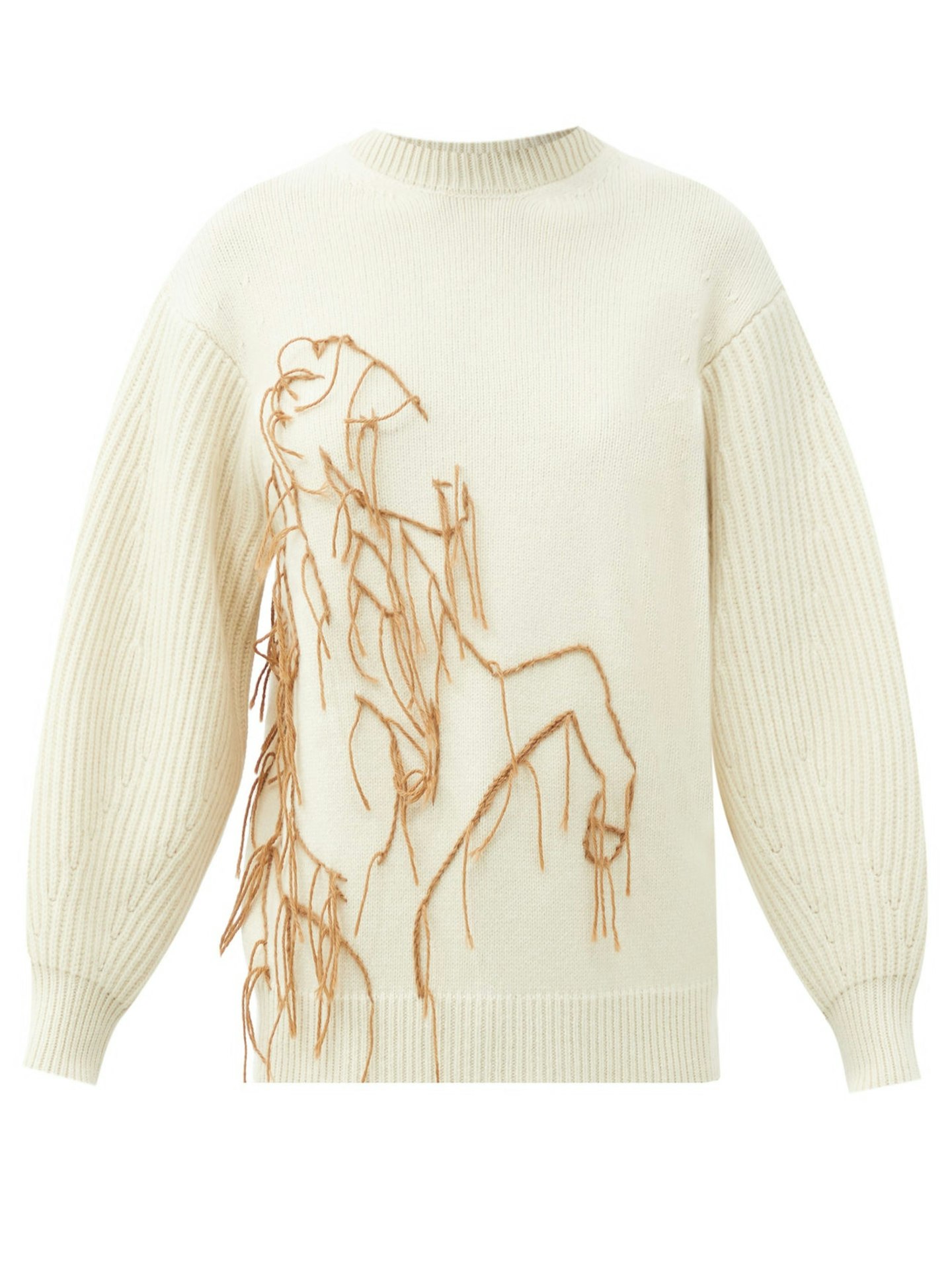 10 of 31
Ssōne, Joanie Embroidered Recycled-Cashmere Sweater, £473
Fashion insiders are already falling for Ssōne, the London label that specialises in socially-conscious, environmentally friendly statement pieces, each of which comes with facts about its provenance.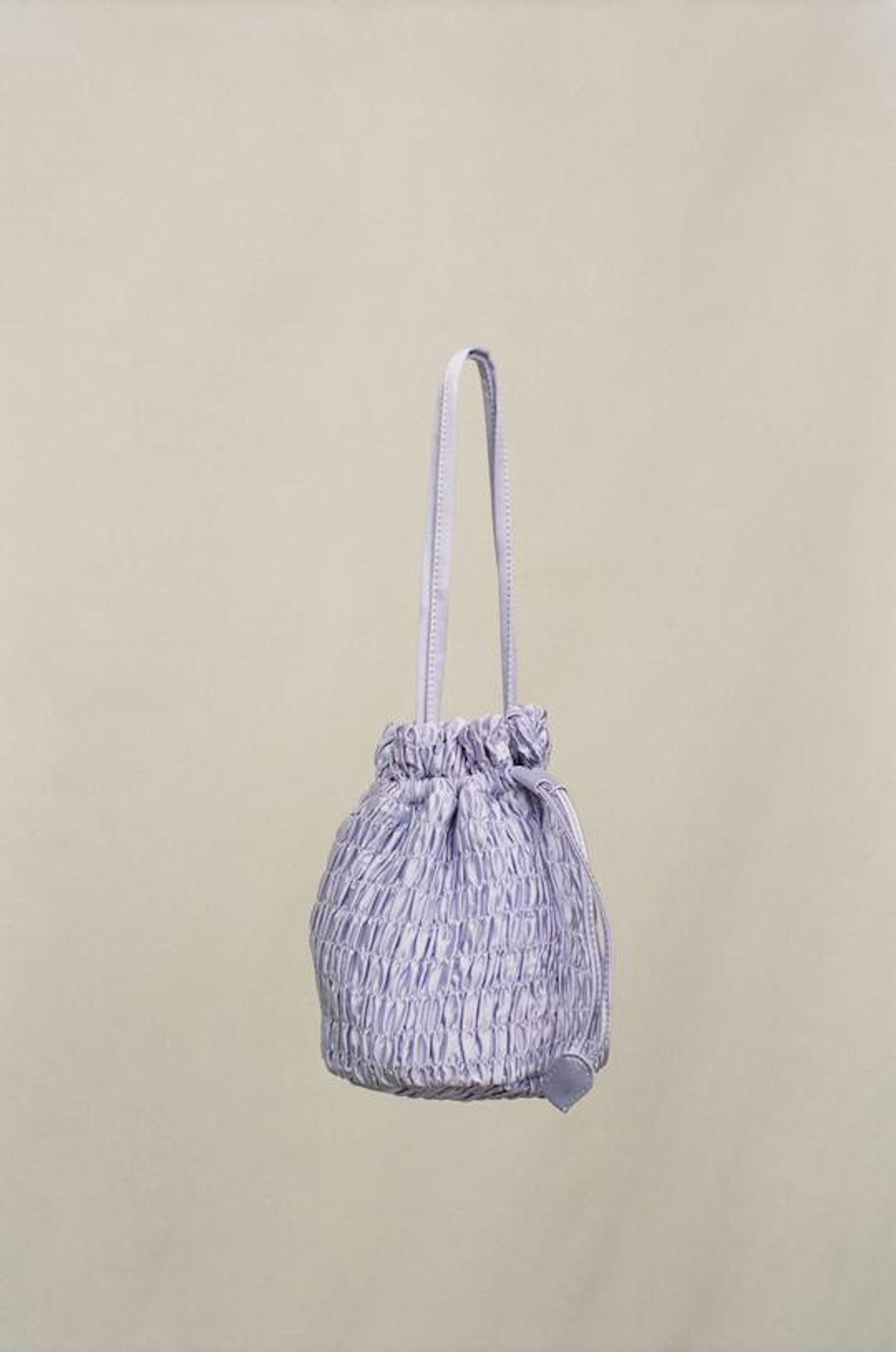 11 of 31
Hai, Puff Gina, £122
So there's never any leftover stock that's wasted, Hai's playful scrunchies and bags are produced in small batches (also minimising your chances of unwanted 'twinning'). Silks are coloured with eco-reactive dye (less damaging than regular versions), and its packaging uses zero plastic.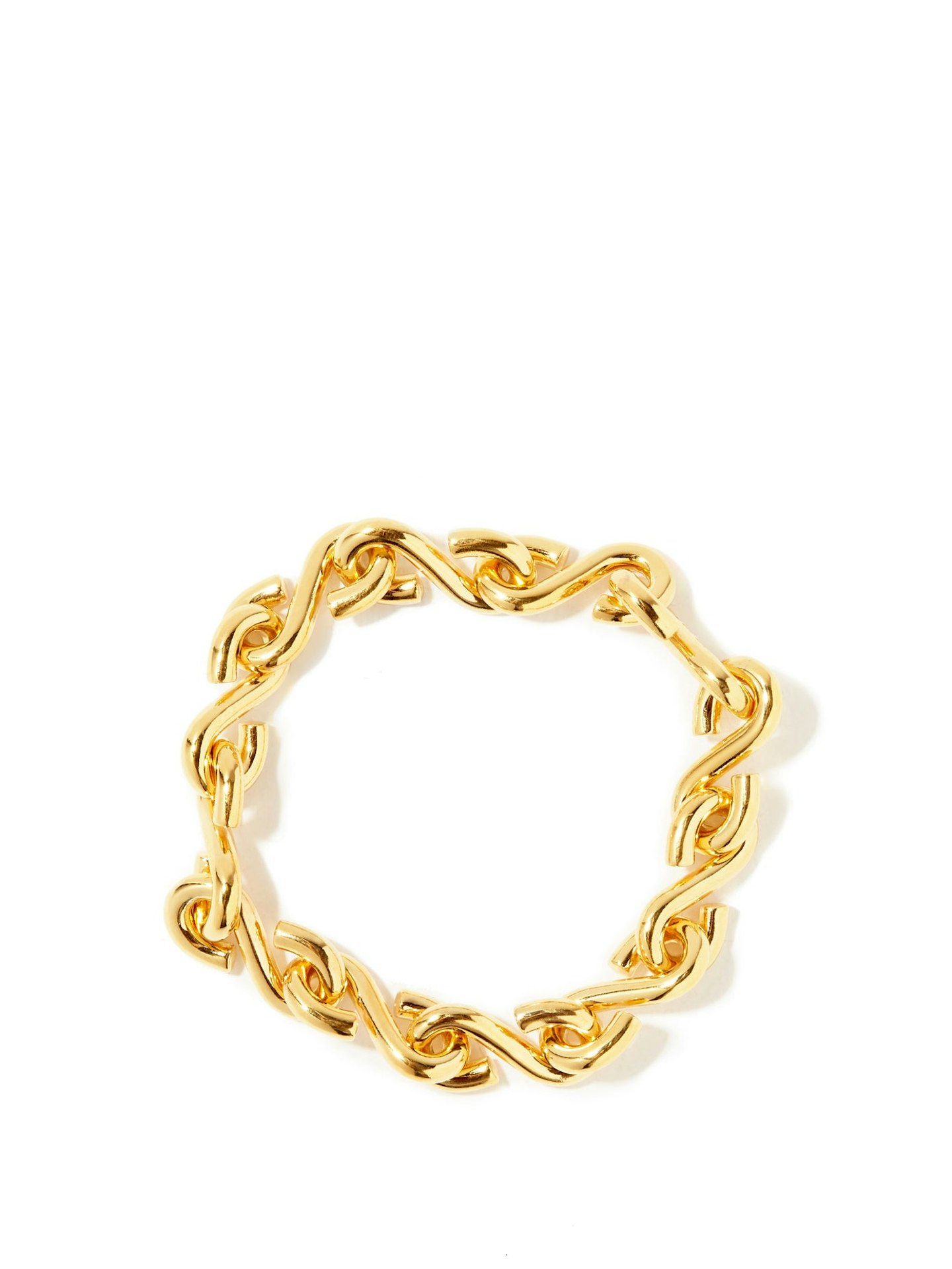 12 of 31
All Blues, S-link Gold-Vermeil Bracelet, £500
The weighty chain-link necklace is set to continue its reign as one of the year's most-desired pieces. Join the club the sustainable way with All Blues, which handcrafts its designs in Stockholm from recycled sterling silver. The definition of a forever piece.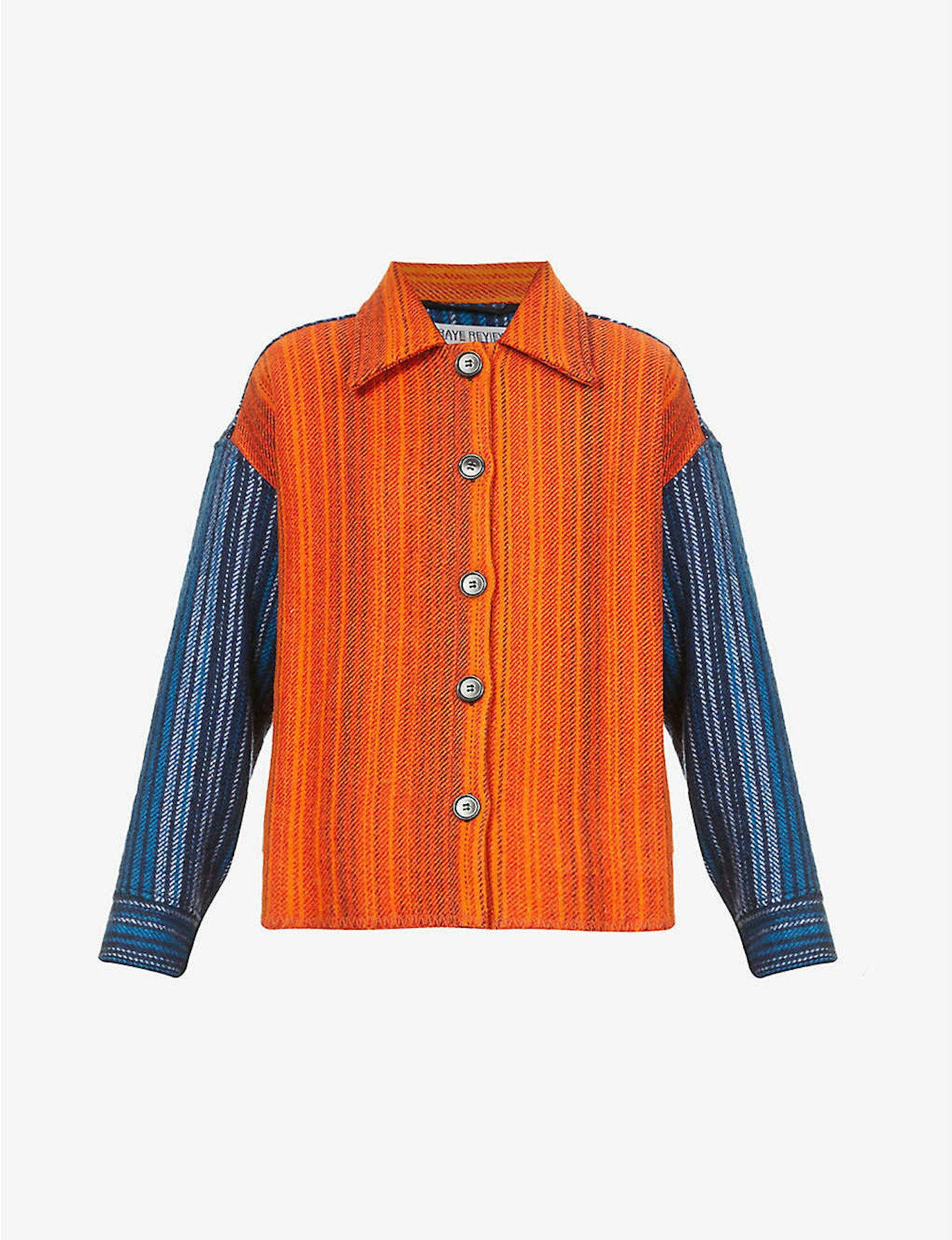 13 of 31
Rave Review, Striped Upcycled-Wool Jacket, £715
All of Rave Review's big personality patchwork coats – a firm street-styler favourite – are made using upcycled garments, resolutely proving that second-hand doesn't mean second-best.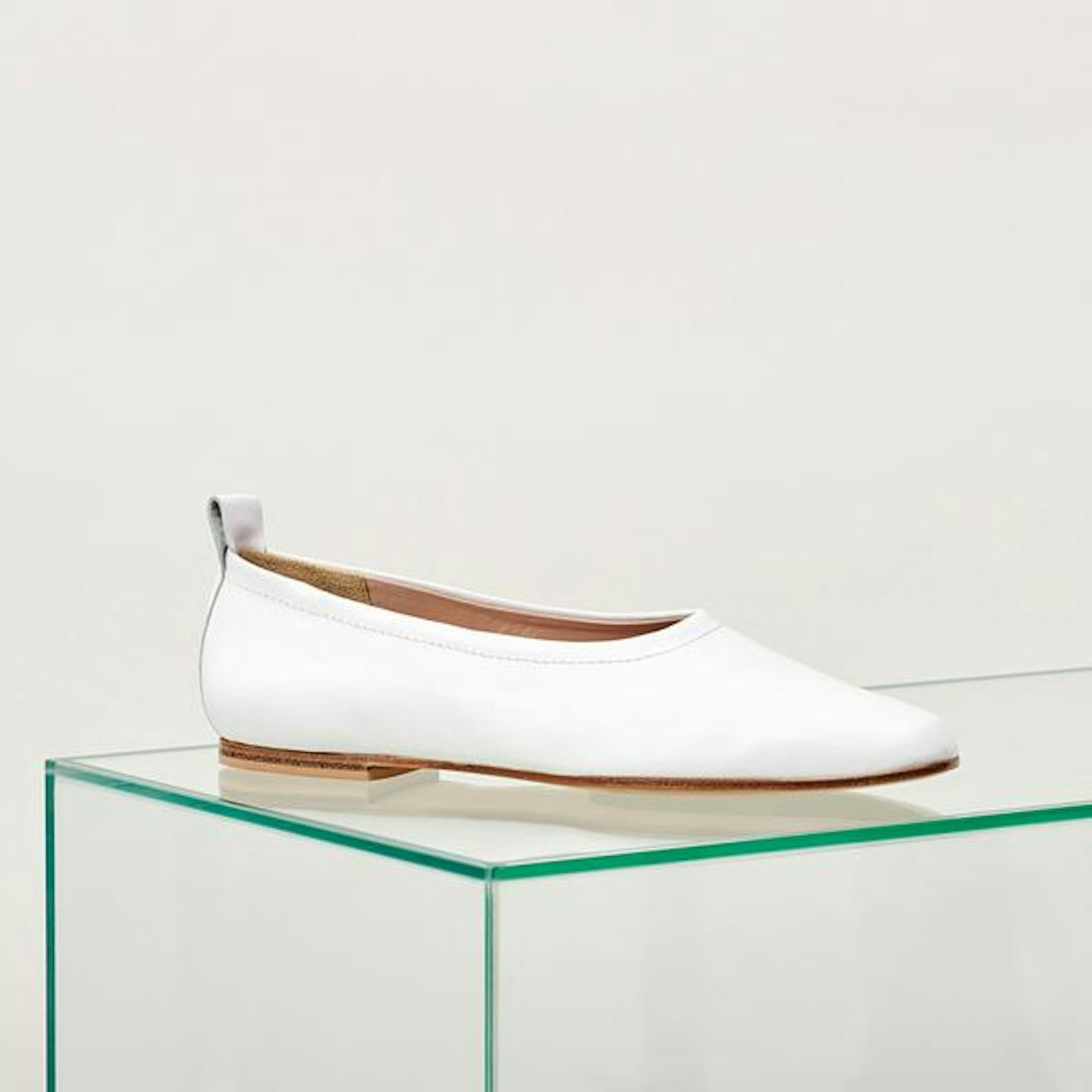 14 of 31
ESSĒN, Foundation Flats, £149
Flat mock-croc Chelsea boots, glove-fit ballet pumps and chunky ankle-strap sandals – all of which are big for SS20 – are all part of ESSĒN's pared-back designs. Collections are designed with a small carbon footprint in mind. Its new styles are produced through a pre-order model, so they're only made when ordered, thereby avoiding overproduction.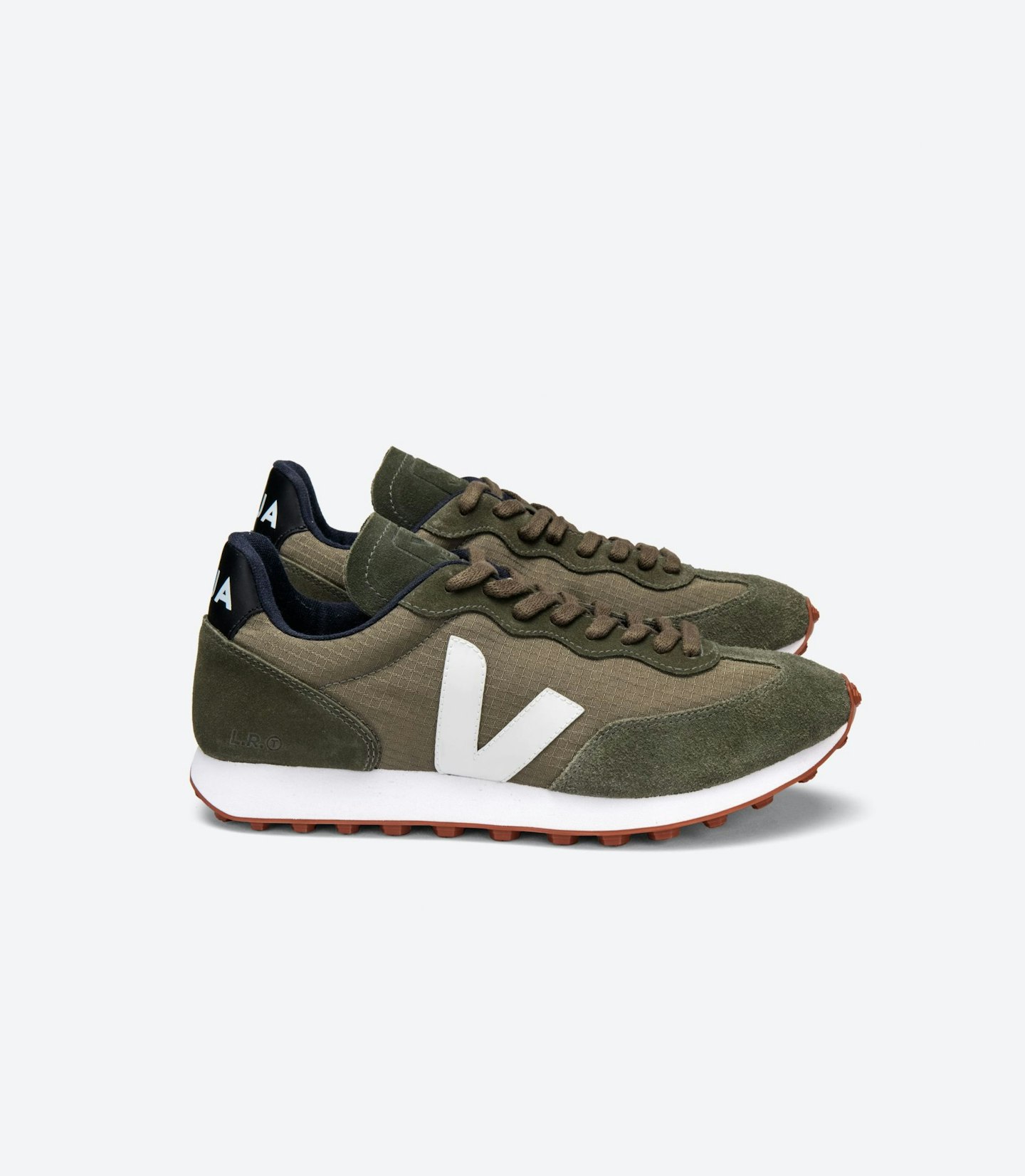 15 of 31
Veja, Rio Branca Ripstop Kaki Pearl, £105
The Duchess of Sussex is a fan - and you will be too once you hear the roll call of Veja's sustainable and ethical credentials. Founded in 2005, it buys agro-ecological cotton and rubber directly from family producers in Brazil, signing one to three year contracts to guarantee income, its logistics workers are part of Atelier Sans Frontieres, an organisation promoting the professional integration of people who have been excluded from the labour market, and it's the first trainer brand to use B-mesh, a fabric made entirely from recycled plastic bottles. It has also purchased 195 tons of wild rubber, to preserve 120,000 hectares of the Amazon rainforest, since 2004.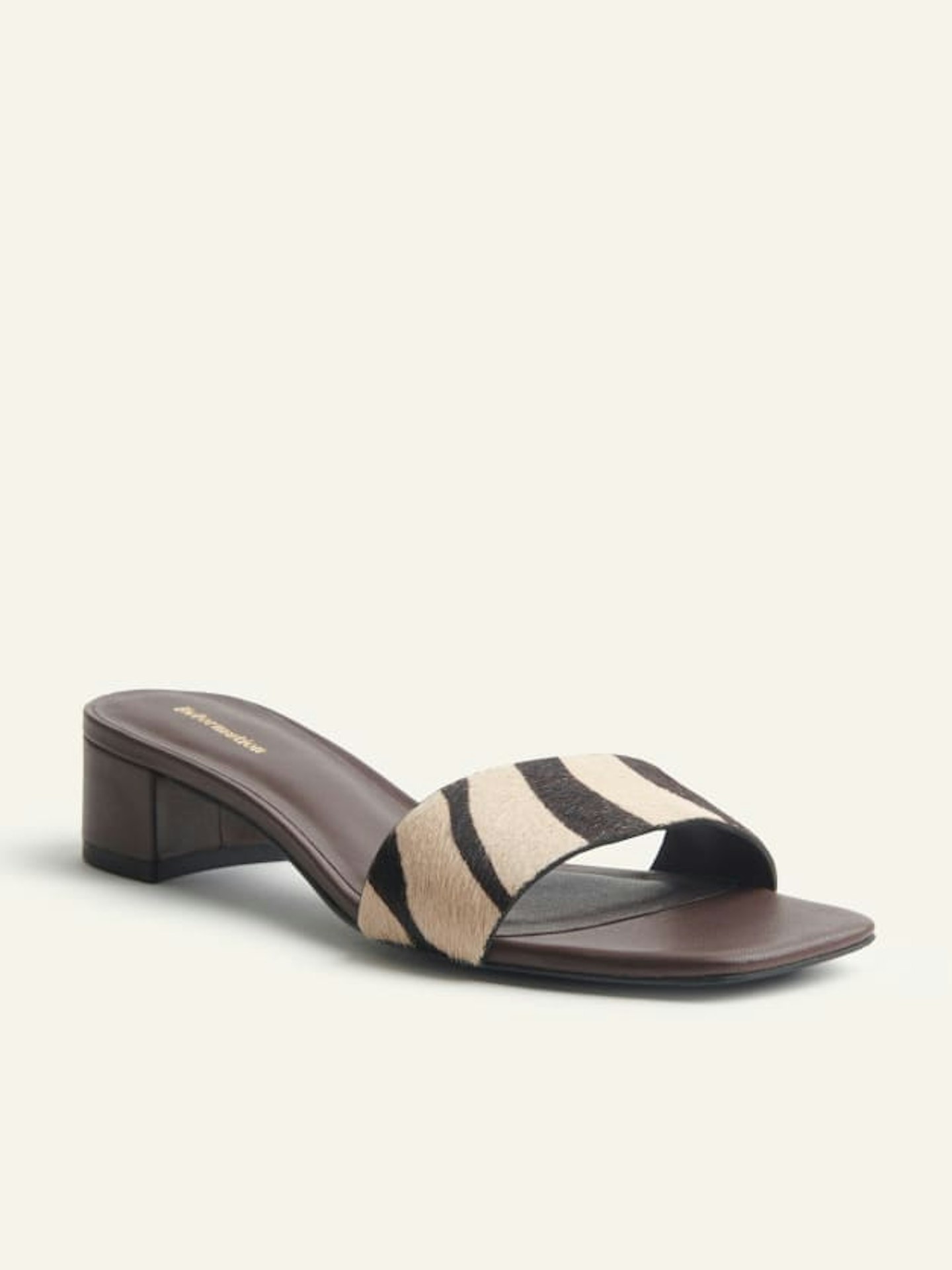 16 of 31
Reformation, Mandy Minimal Block Heel Mule, £215
Reformation is as dedicated to sustainability as it is to making Insta hit after Insta hit. Its RefScale tracks its environmental footprint - adding up the pounds of carbon dioxide emitted, gallons of water used and pounds of waste generated - so that the company can then offset those resources. International shipping is now free - and totally offset, naturally.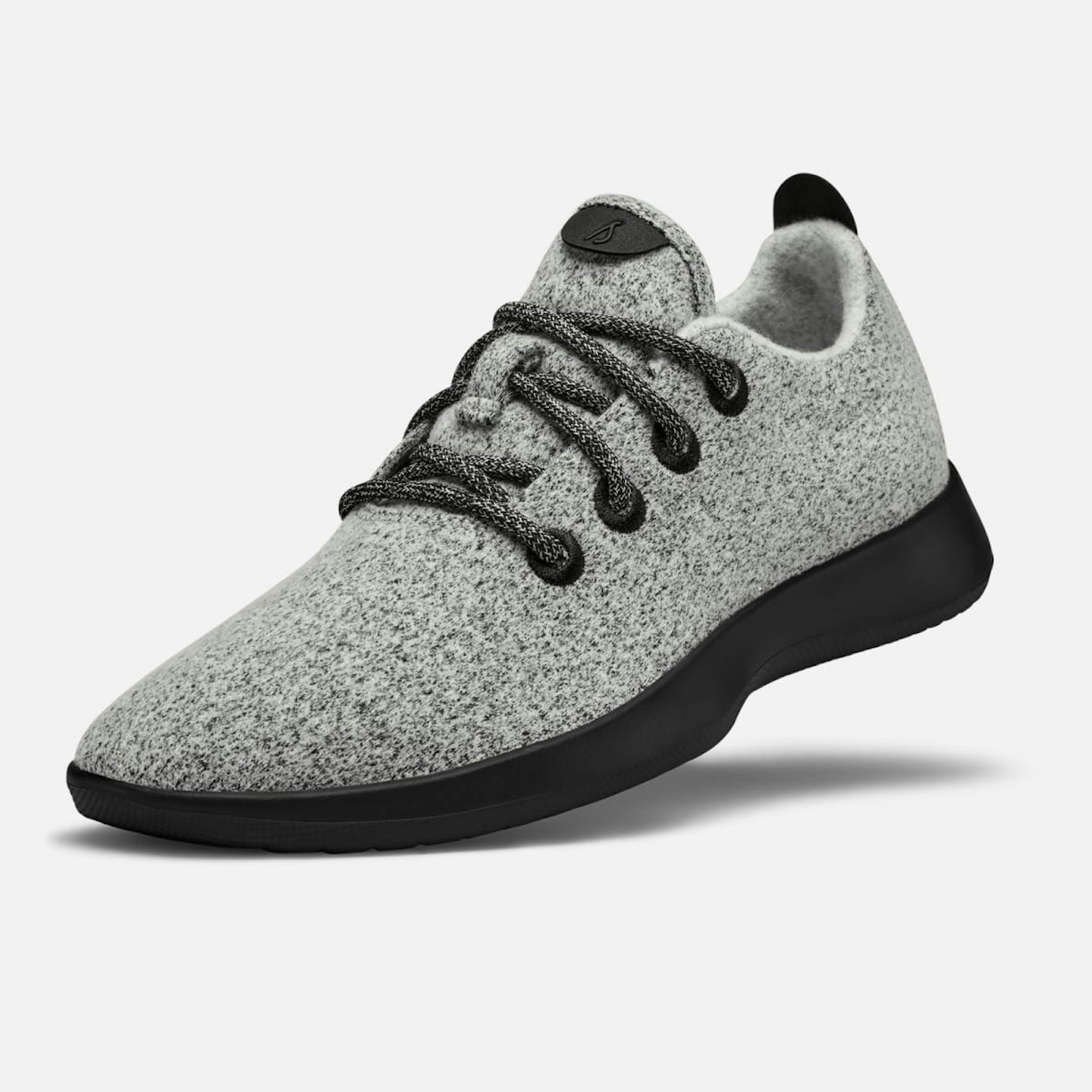 17 of 31
Allbirds, Women's Wool Runners, £95
This New Zealand sneaker brand's mantra - 'Light on your feet, easy on the planet,' - tells you all you need to know. The trainers - made from superfine merino wool, processed using 60% less energy than materials used in synthetic shoes, tencel lyocell, which uses 95% less water than cotton and sugarcane, a renewable resource transformed into Allbirds's SweetFoam soles - really do feel like clouds for your feet. It also takes its carbon footprint seriously - good news for a shoe label - and is a 100% carbon-neutral business.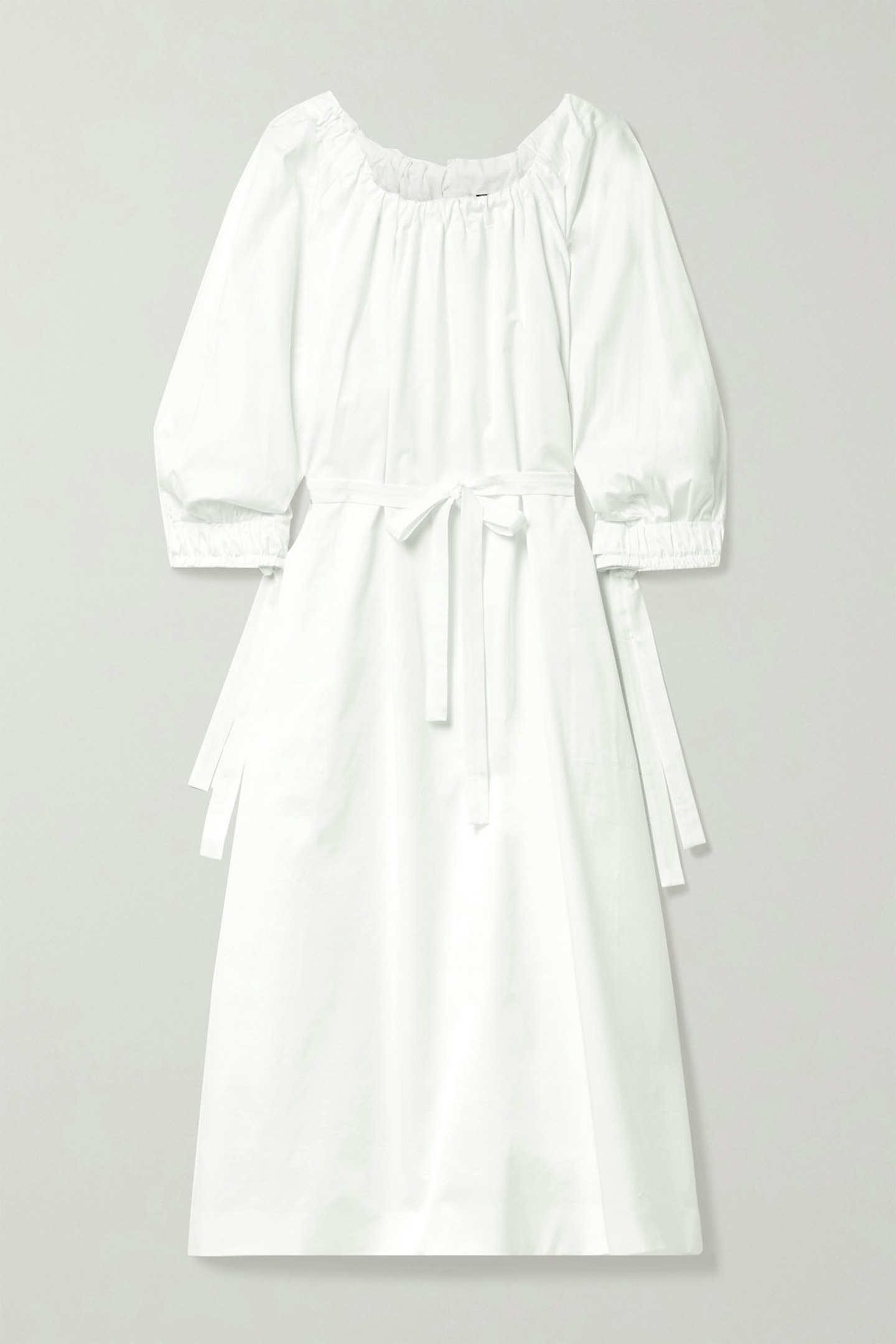 18 of 31
Mother Of Pearl, Zariah Belted Ruched Cotton-Blend Poplin Midi Dress, £175
Mother of Pearl isn't just committed to making sustainable clothes, it also cares deeply about its company culture reflecting its ethos. It has a vegetarian lunch scheme for staff, with produce sourced from local producers via Farmdrop, the office itself runs on green energy and it even uses toilet paper from Who Gives A Crap, a charity who donates 50% of its profits to improving sanitation in the developing world.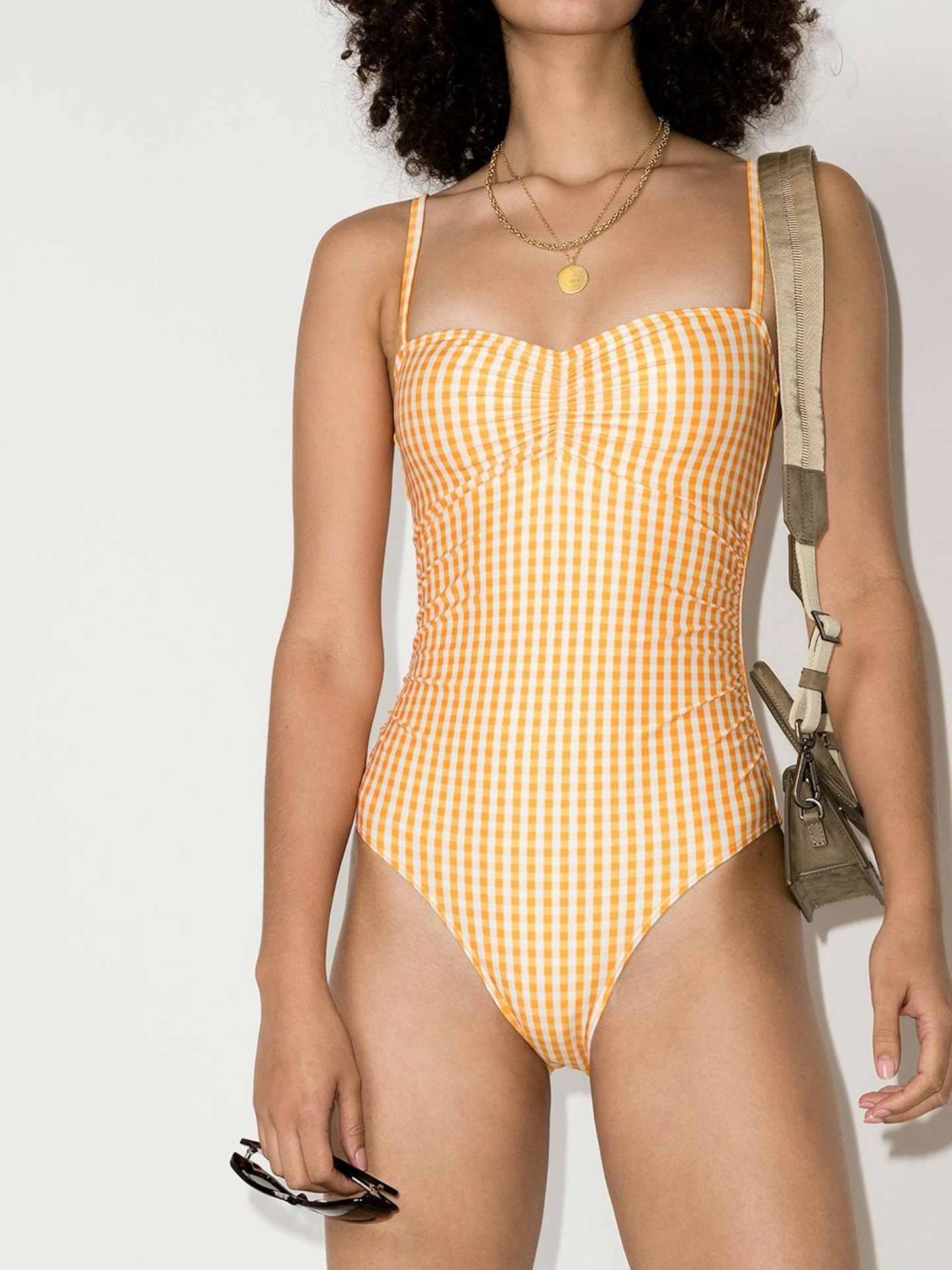 19 of 31
Peony, Gingham Check Print Swimsuit, £155
This Aussie brand has prettily printed bikinis and swimsuits made largely from Econyl, nylon that has been regenerated from abandoned fishing nets and nylon waste. All its fabrications also meet the Oeko-Tex Standard 100, the highest certifiable standard for ensuring responsible use of chemicals during the fabric construction.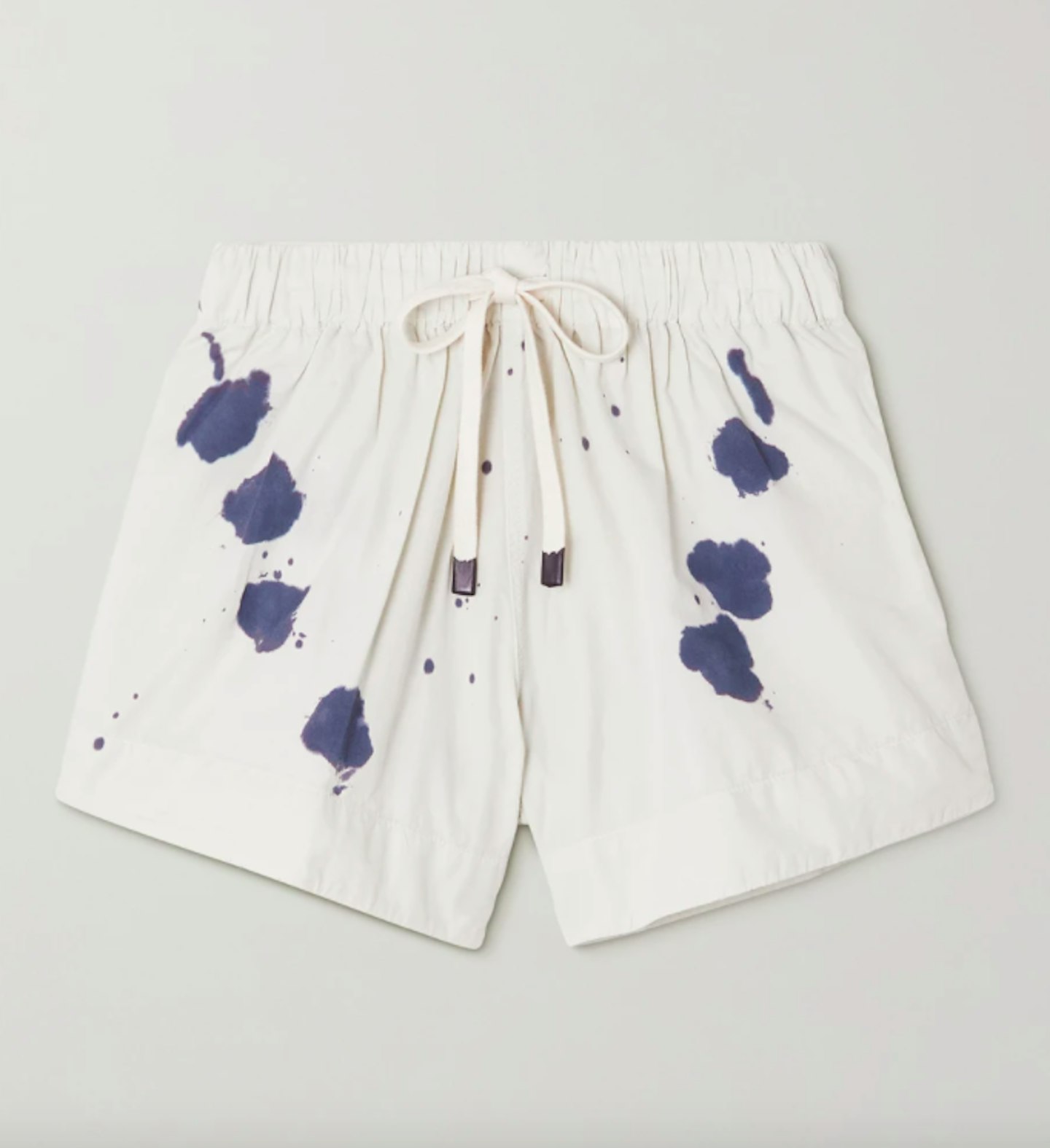 20 of 31
Bassike, Printed Cotton-Twill Shorts, £87.50
The Aussie brand Bassike, founded in 2006, already has some impressive stats under its (pleasingly minimal) belt. Its organic cotton jersey was developed and is made in Melbourne with 95% certified-organic fibres, which biodegrade and are produced without pesticides, it donates past season samples to a company that turns them into cleaning rags and its paper and cardboard packaging is 100% recyclable and biodegradable.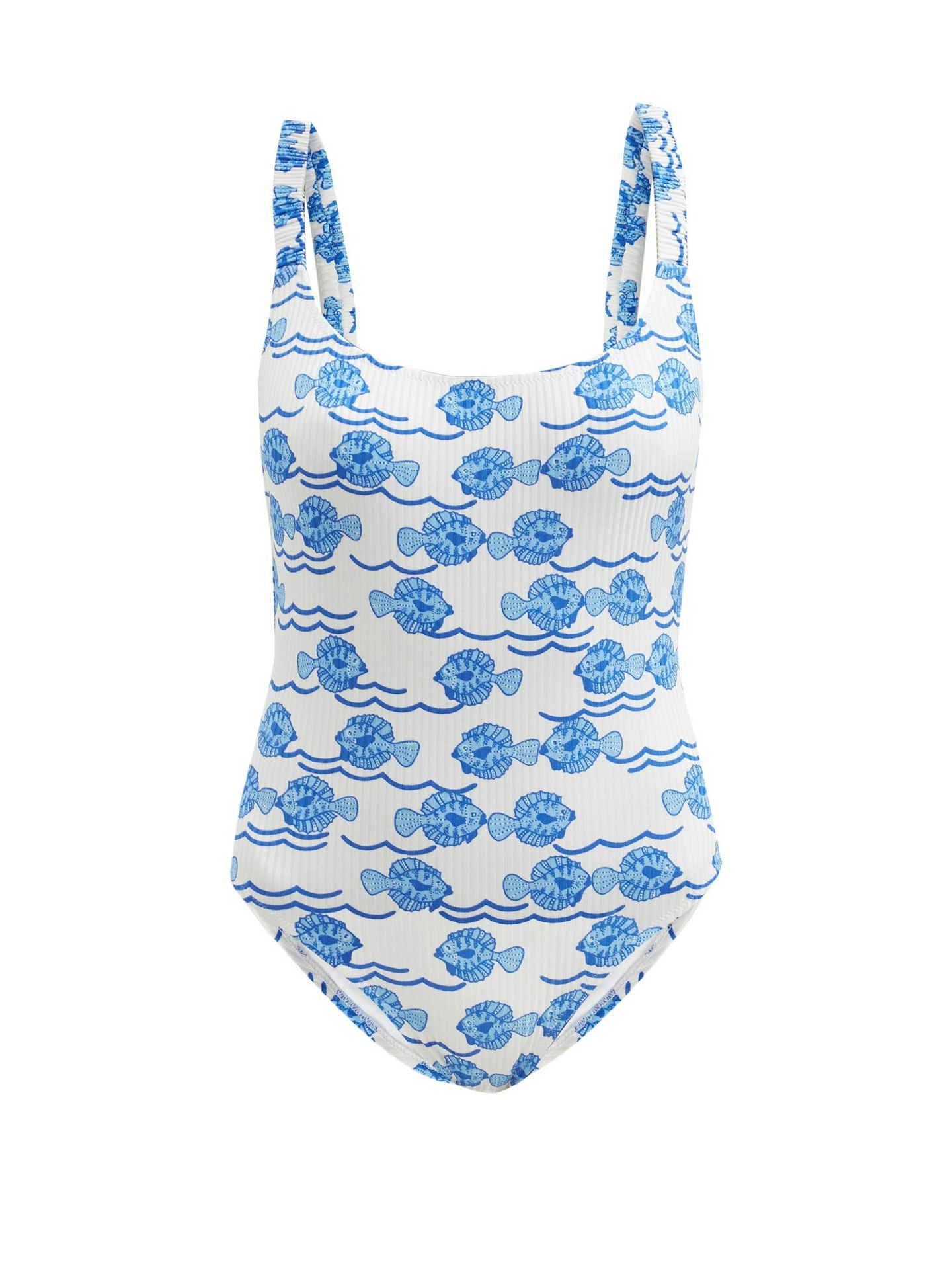 21 of 31
Fisch, Select Fish-Print Low-Back Swimsuit, £195
Fisch's eco-credentials are as on-point as its scoop-backed, squared-necked cossies. They're made out of Italian Econyl, a 100% regenerated nylon fibre created from fishing nets and other types of nylon waste, which is woven in Lombardy, Italy.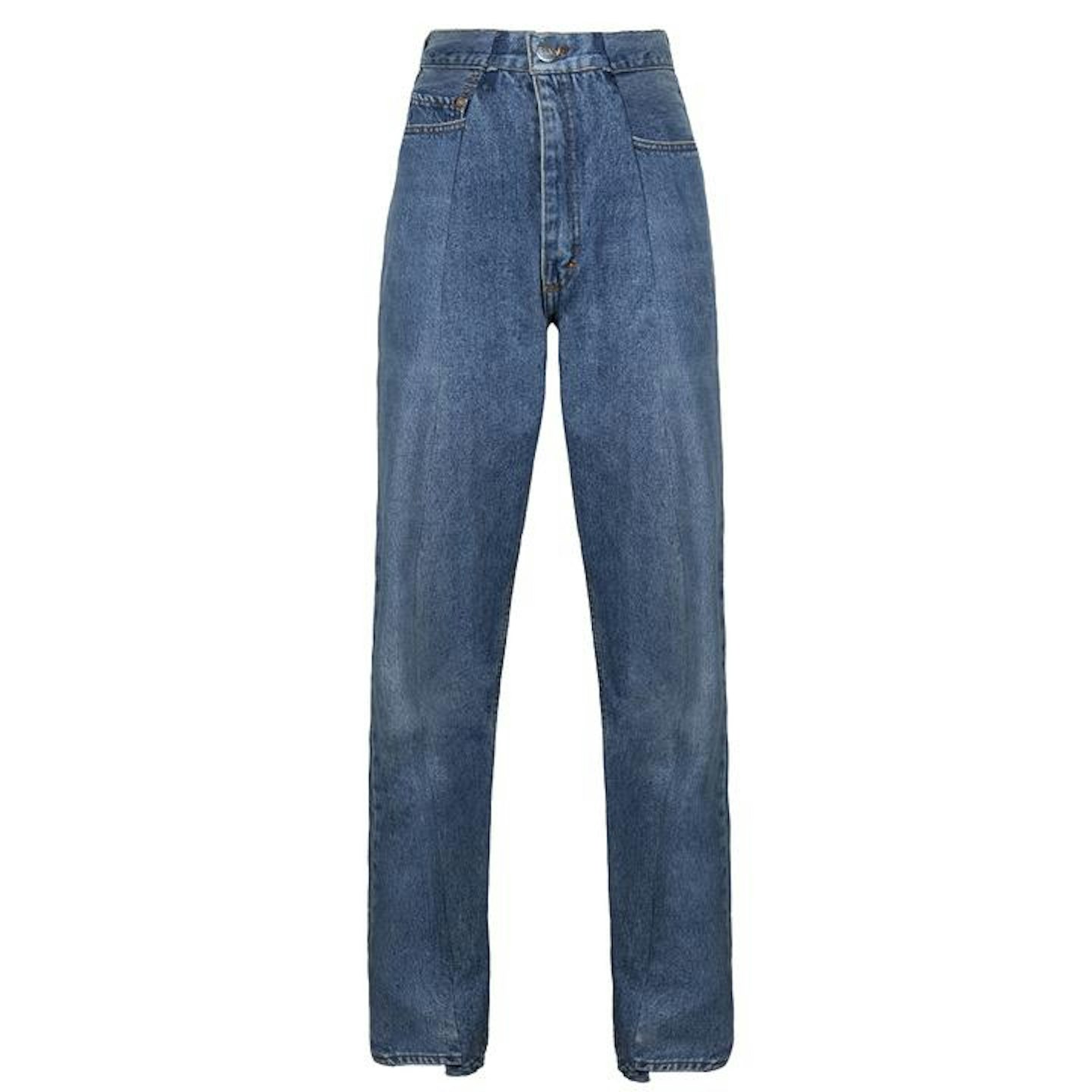 22 of 31
E.L.V, Mid Blue Match Boyfriend Jean, £285
The denim sector of the fashion and textiles industry is one of the worst culprits in terms of sustainability because of the amount of water and chemicals involved in the dyeing and production processes. Each pair of zero-waste E.L.V jeans, however, is made from two pairs of discarded jeans that would otherwise end up in landfill and are produced in a five-mile radius between Dalston and Walthamstow.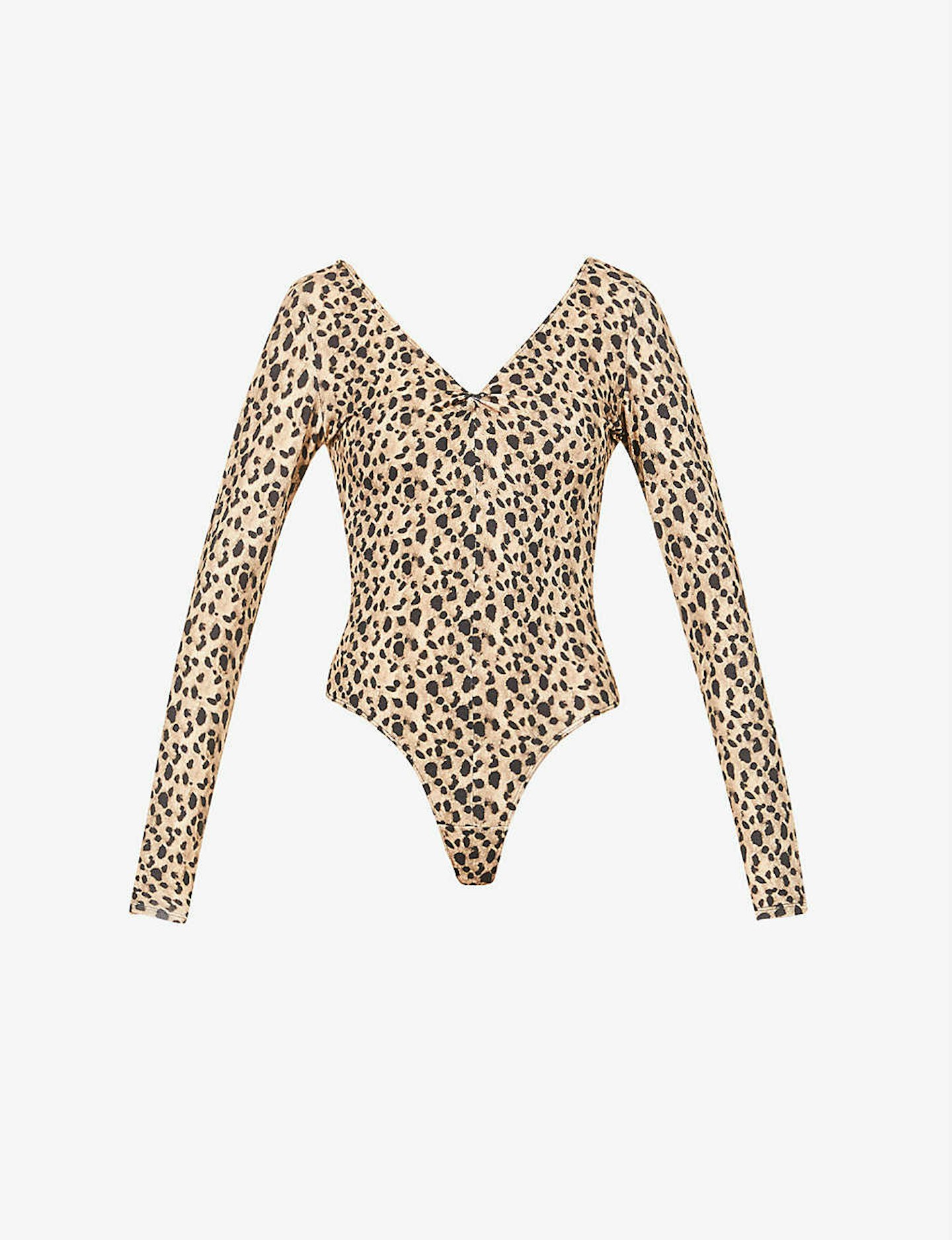 23 of 31
RE/DONE, Wonder Woman 1984 Cheetah-Print Stretch-Jersey Body, £155
As its name suggests, the LA-based Re/Done is all about making something new out of something old. That 'something old' is previously worn Levi's jeans that are hand-picked and hand-cut in limited quantities. The result is the perfect straight jeans, bell bottoms and ankle crops.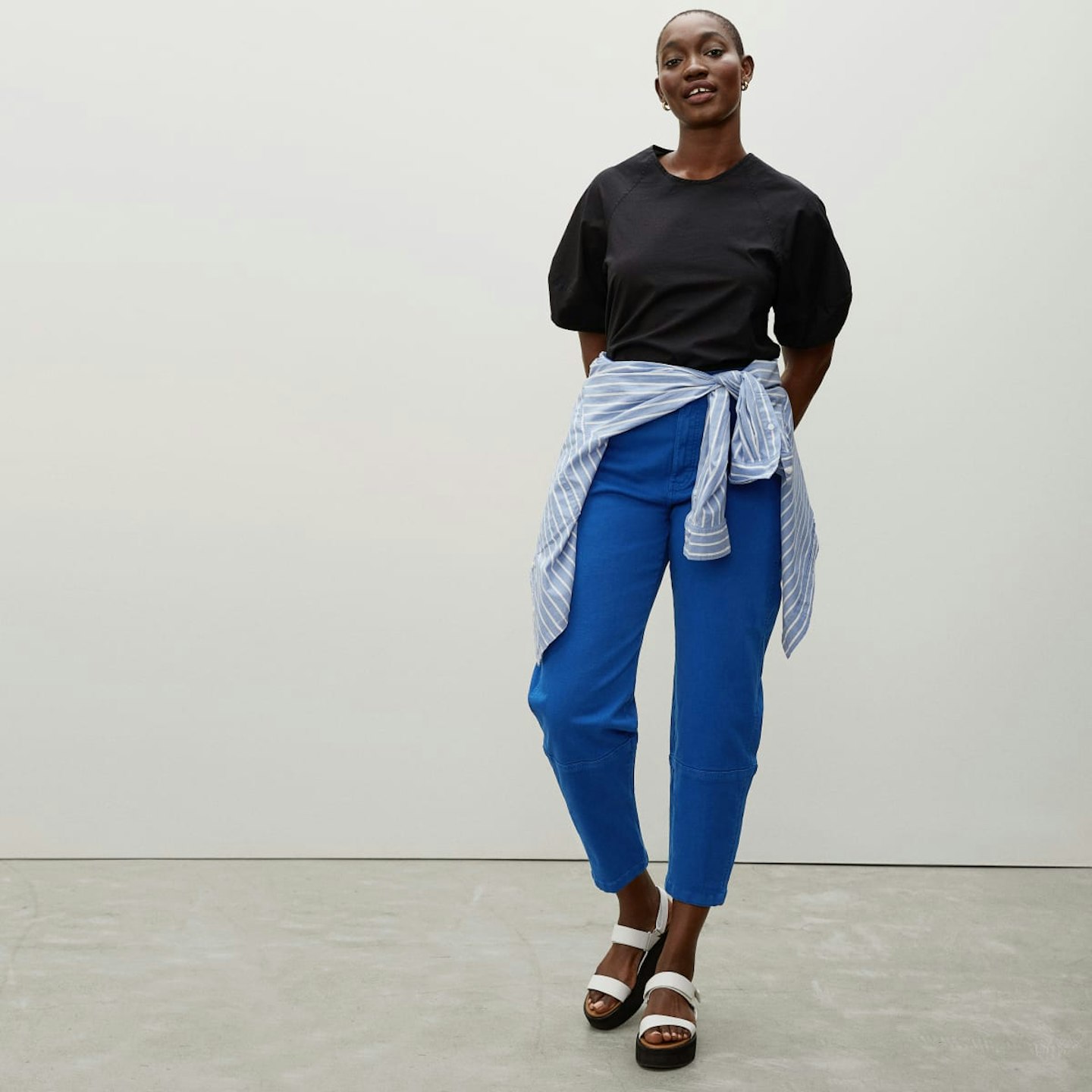 24 of 31
Everlane, The Utility Barrel Pant, £71
Everlane, the San Francisco-based start-up that proves sustainable clothes don't have to cost the earth, has a simple mission statement: 'radial transparency'. It has extensive information about each of its ethical factories online - from the loafer factory in Brescia, Italy, to the knitting factory in Fujian, China - and lists where every single garment was made, and from what materials, in the product information.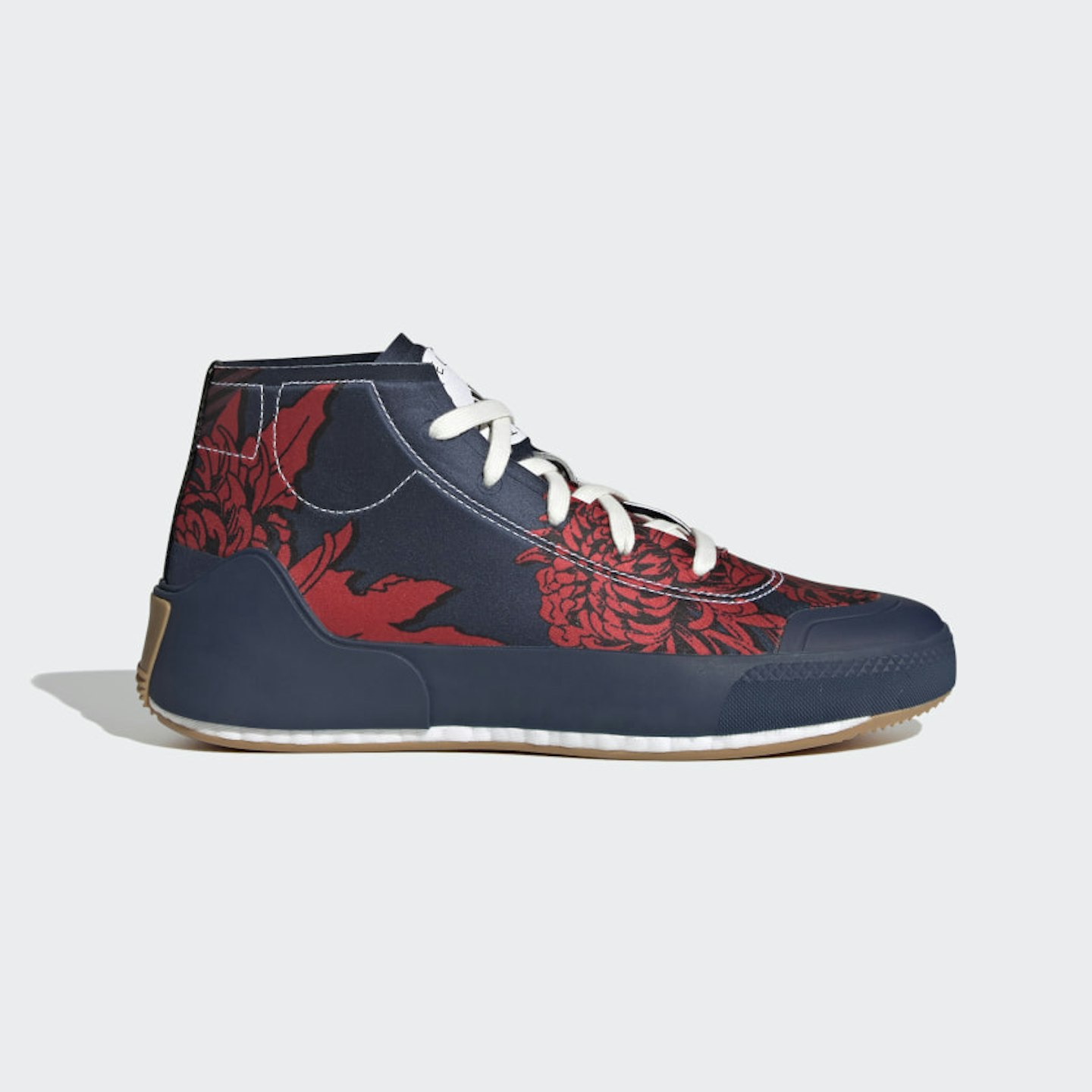 25 of 31
Adidas By Stella McCartney, Treino Mid-Cut Print Shoes, £170
No luxury label has made bigger waves in the sustainable fashion market than Stella McCartney. Some of her most innovative experiments under the adidas by Stella McCartney umbrella involve the 'Infinite Hoodie' - 100% recyclable and created with advanced textile innovation company Evrnu from garment waste - and the biodegradable 'Biofabric Tennis Dress', made in partnership with Bolt Threads, a company specialising in bioengineered sustainable fabrics and fibres. While neither was put into production, both prototypes prove that closed loop clothing is not only possible, but desirable.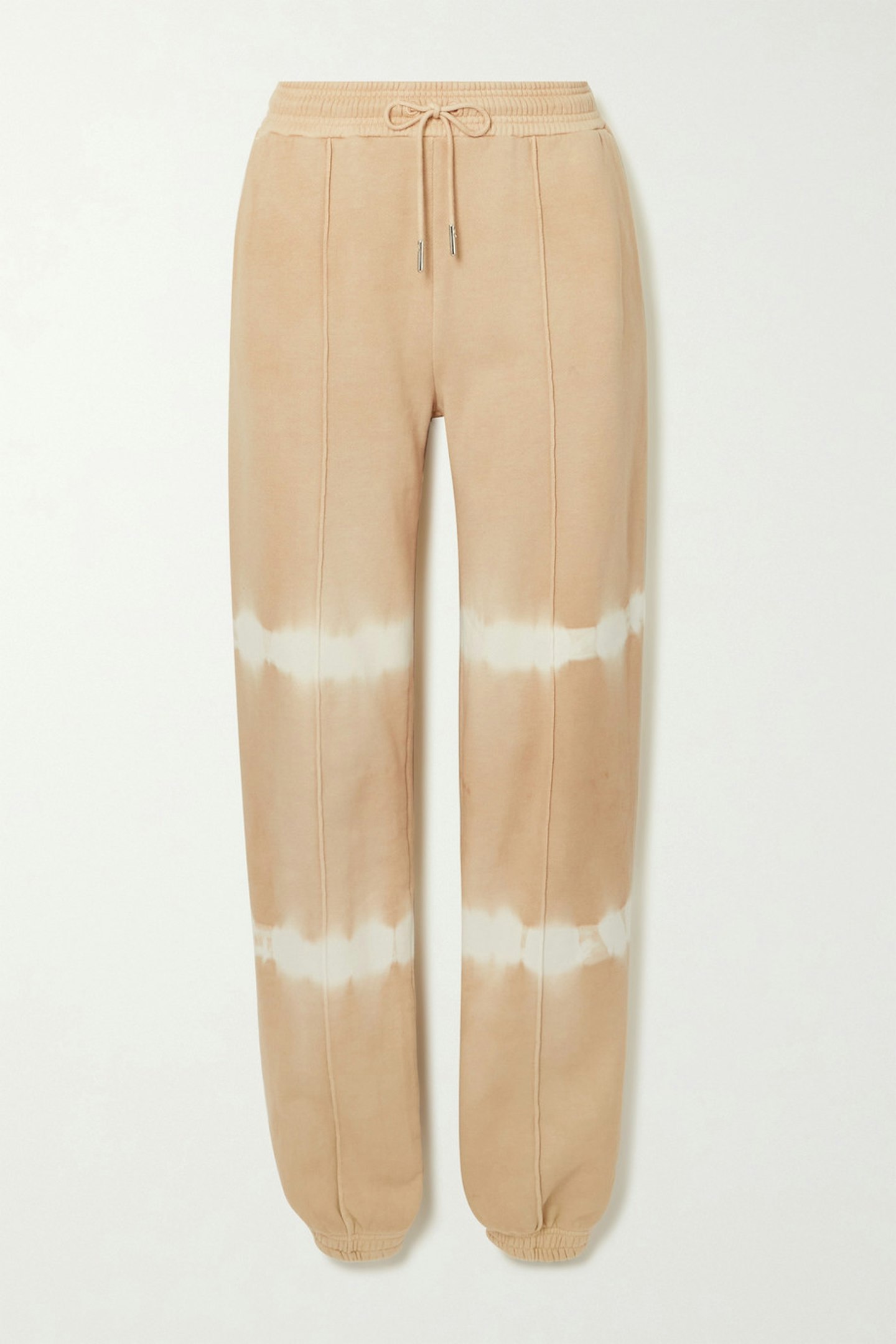 26 of 31
Ninety Percent, Tie-Dyed Organic Cotton-Jersey Track Pants, £91
Ninety Percent does exactly what it says on the tin, donating 90% of its profits, and has a platform on its website that allows customers to vote for their chosen cause after making a purchase. Its materials are strictly sourced from reputable suppliers, and features a lot of tencel, a fabric made from renewable wood pulp in a closed loop system.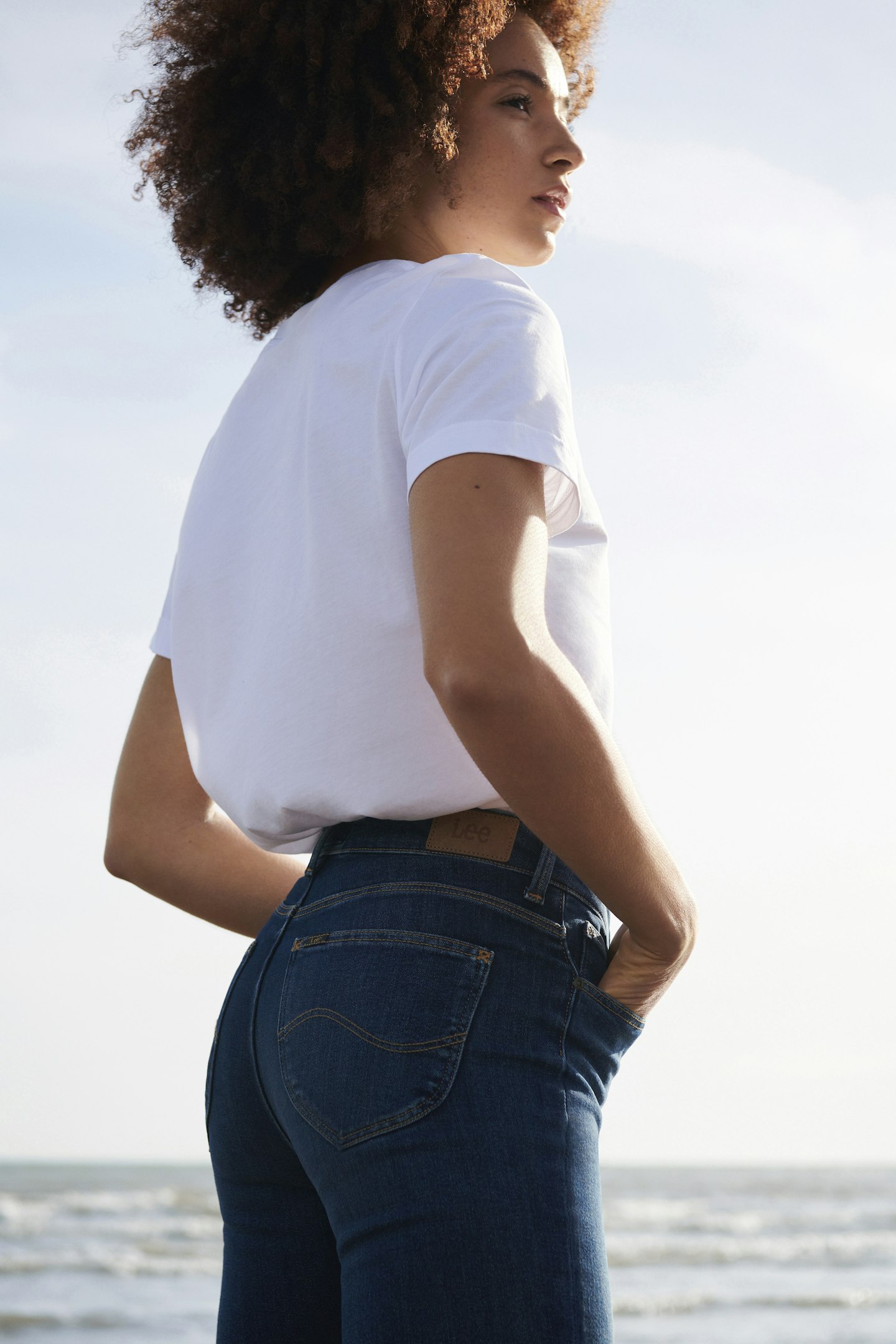 27 of 31
Lee, Breese in Dark Joni, £52.50
Every season, Lee find new ways to create with lower impact on the planet, whether it be reduced water, less waste, or using organic fibres. The brand's 'For a World That Works' programme employs multiple innovative techniques and initiatives to make a blue planet greener. This includes recycled fibres, Indigood foam dyeing, Crystal Clear dyeing, organic fibres, recycled hardware, biodegradable back patches and more.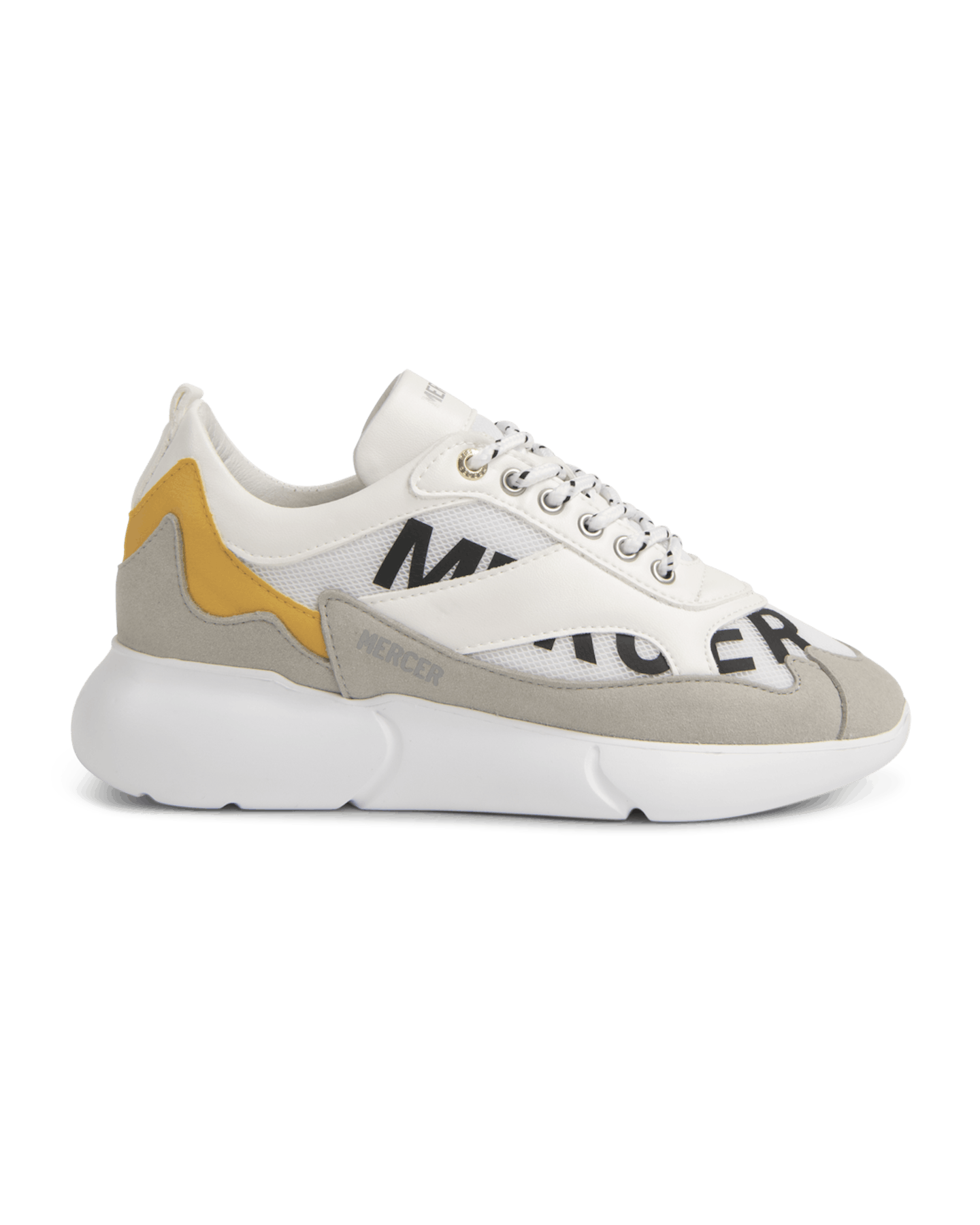 28 of 31
Mercer, W3RD Vegan Wine Sneaker, £225
Dutch sneaker brand Mercer has been a pioneer in sustainability for nearly eight years. Aiming to change the average shoppers perception of sustainable and vegan fashion as cool and contemporary and 'not all socks and sandals', they produced the first-ever sneaker made from pineapple 'leather', and more recently wine leather, cactus leather, and soles from algae and more.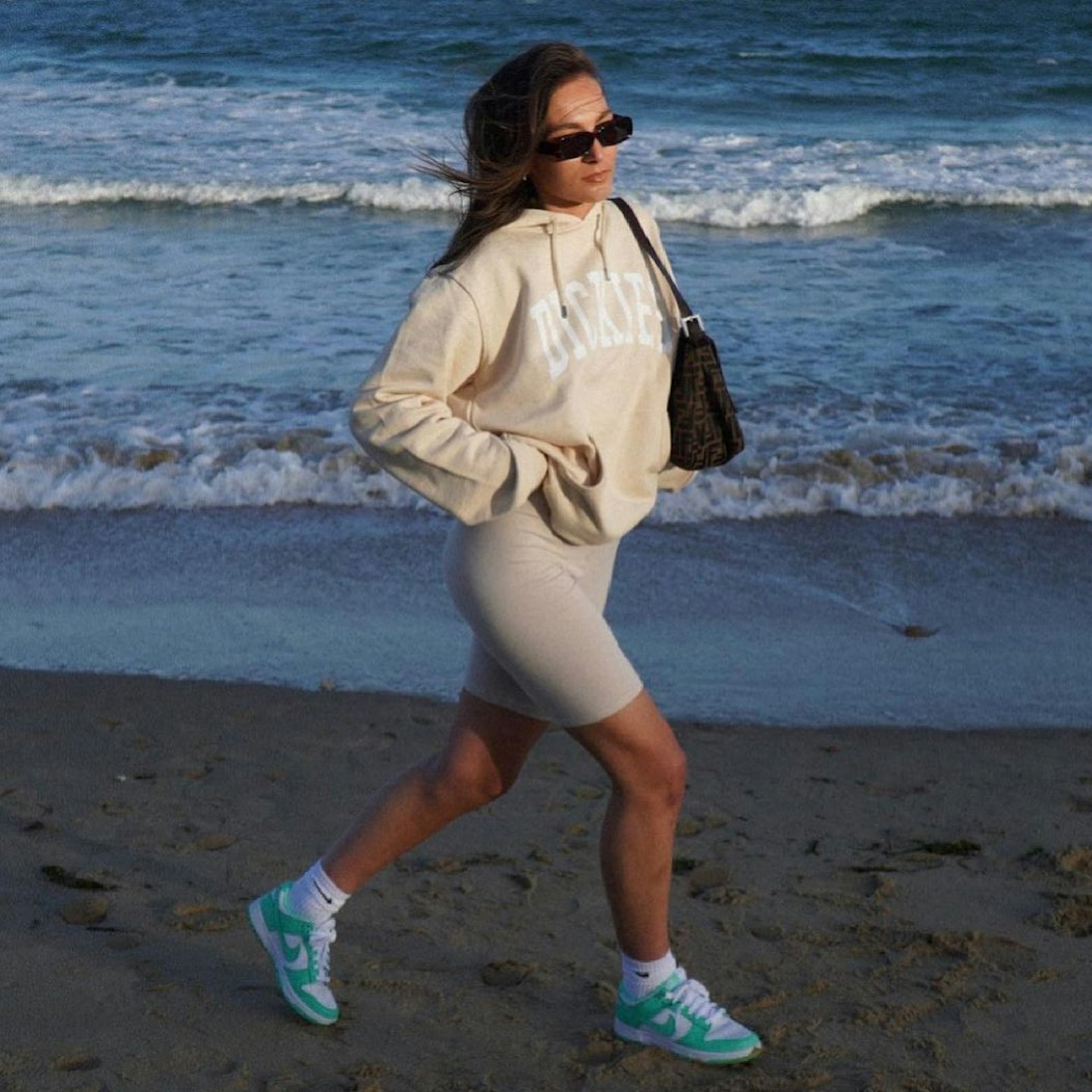 29 of 31
WEAR DEADSTOCK, Dickies Lagrange Peach Hoodie, £49.99
WEAR DEADSTOCK is a small family run business passionate about sustainability and providing quality deadstock pieces. Deadstock is a term used to describe an item which is no longer in manufacture so all of their pieces are exclusive and limited.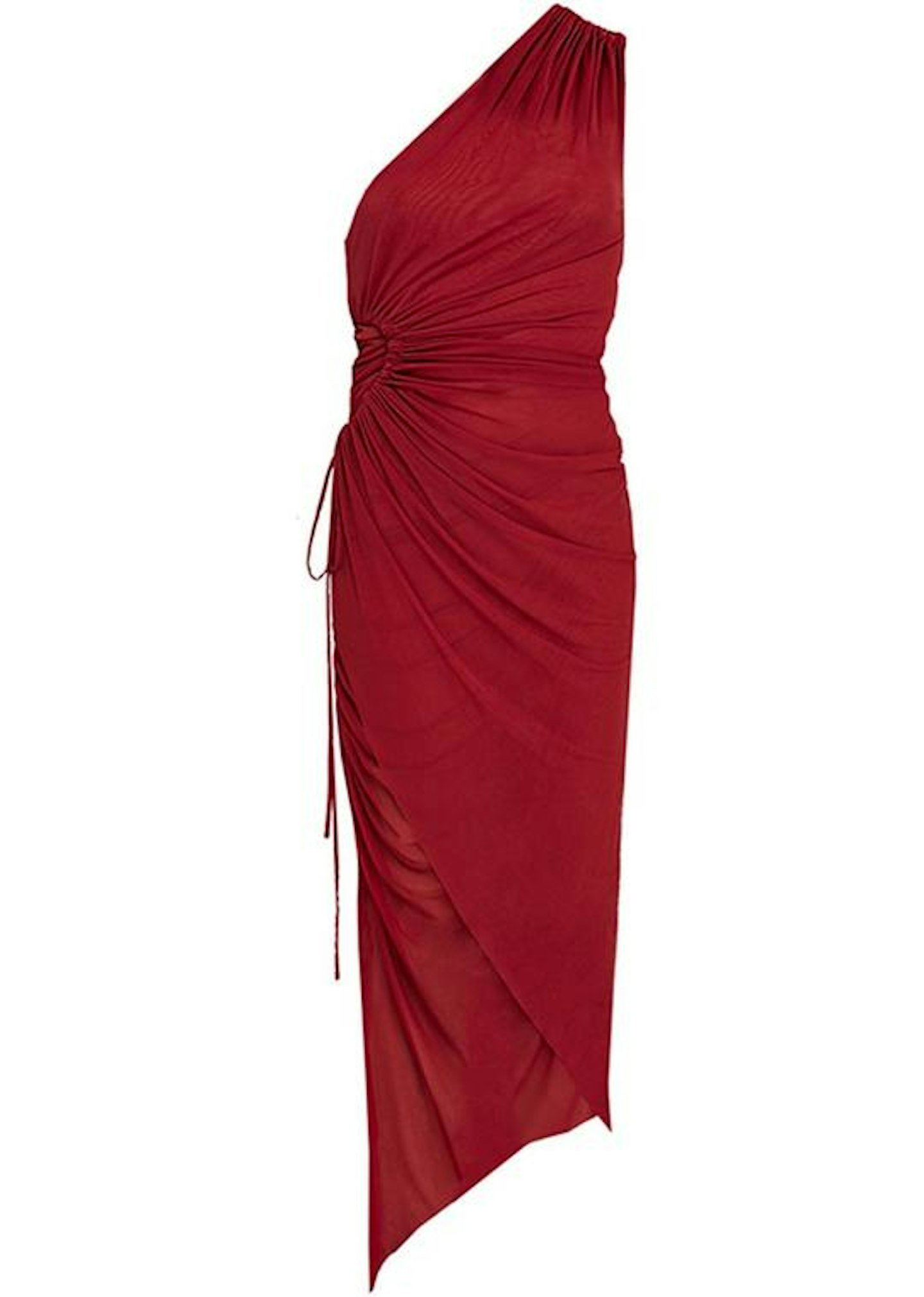 30 of 31
SlowCo, D THE BRAND, Red Tulle Midi Dress, £227
SlowCo are a multi-brand slow fashion retail platform, specialising in sustainability and inclusivity. The brand believes in a "less but better" philosophy, and has created a space where everyone is represented.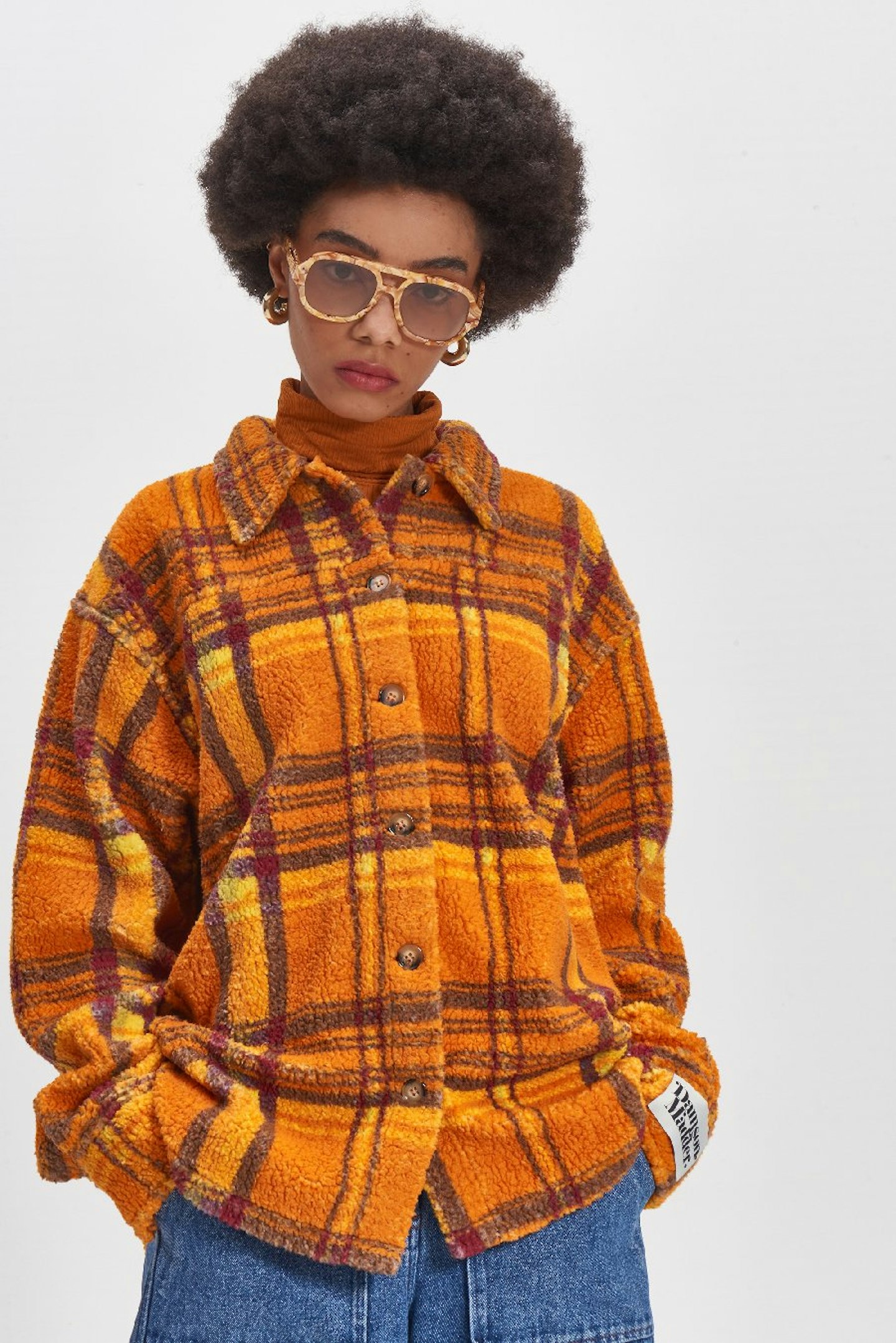 31 of 31
Damson Madder, Faith Check Fleece Over Shirt, £85
Damson Madder are passionate about each of their pieces featuring as many sustainable attributes as possible, and being completely transparent it. The brand's aim is to be open about the origin of their fabrics and to the fact that they might not always get it right every time.
READ MORE: Which Couples Are Still Together From The 2020 Series Of Love Island?
READ MORE: Love Island Confirmed To Return In 2021: What You Need To Know