With winter looming, you've probably been spending a fair amount of time thinking about how to cut the cost of your bills over the coming months, whether it's only heating certain rooms or reducing the number of times you use appliances that need a lot of energy. If you have a tumble dryer, for example, you've probably already tried to stop using it quite so much.
The problem is that, in the colder months, it's just not possible to dry your clothes effectively outside - and they take a lot longer to dry inside, sometimes leaving a slightly damp after-smell. An airing cupboard is a good solution, although lots of properties don't have one, and another is investing in a heated clothes airer. These look like normal airers except that the rails heat up so that your clothes will dry no matter the temperature.
According to the product description of Dry 's, which is available for £129.99 on Lakeland, its heated airer is economical to run with a small footprint and large capacity, kinder to your clothes than a tumble dryer and more efficient than laying laundry on a radiator. Aldi's Easy Home Heated Airer is just £39.99 but is currently sold out online due to high demand.
So, ready to cut down on costs? We've found the best heated clothes airers to shop now.
SHOP: Best Heated Clothes Airers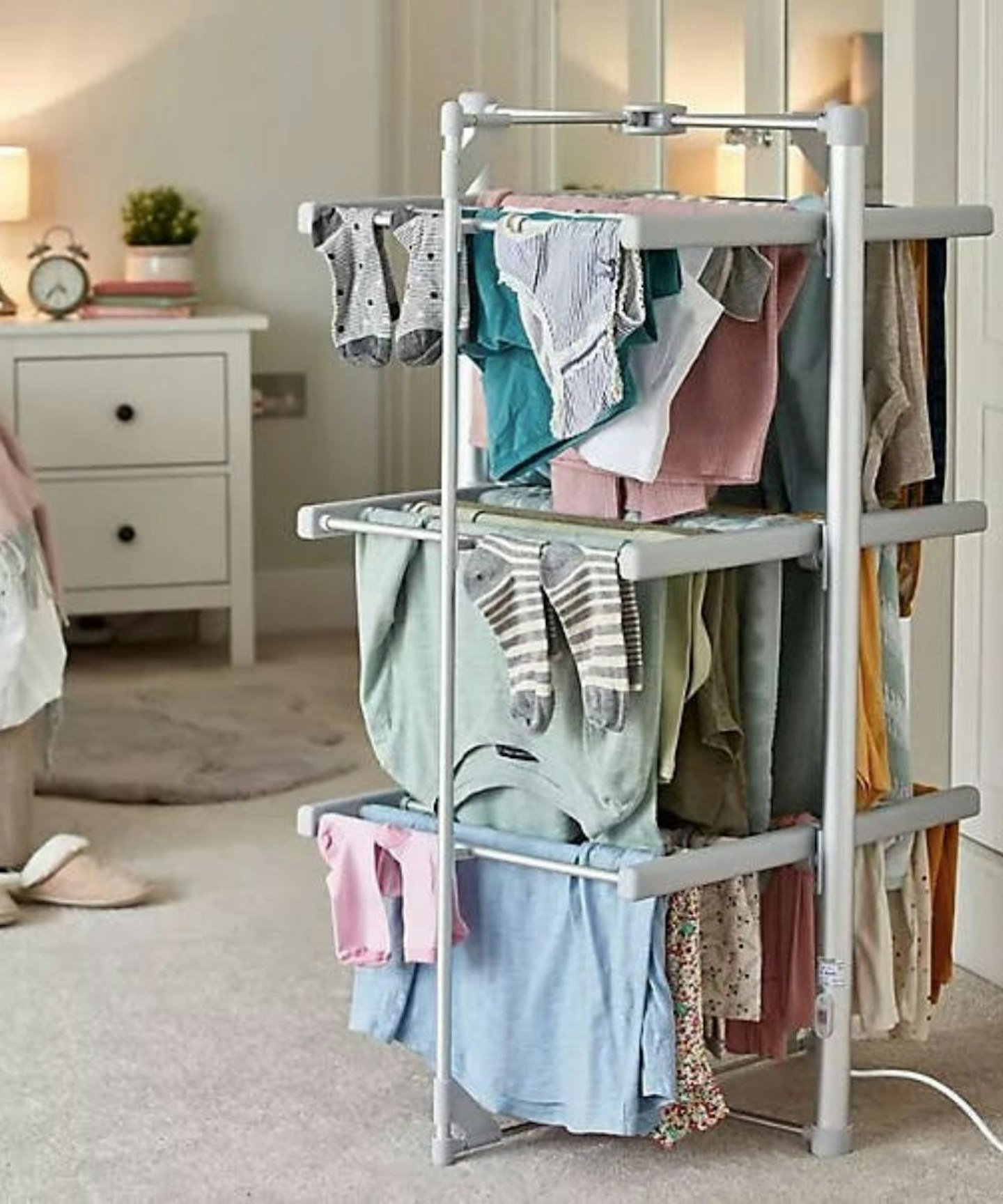 lakeland
Description
The Dry Mini heated clothes airer is efficient, effective and holds up to 15kg of washing. We
Pros
Compact
Holds 15kg of laundry
Costs 6p per hour to run
Foldable
Cons
Some reviewers say drying time is too long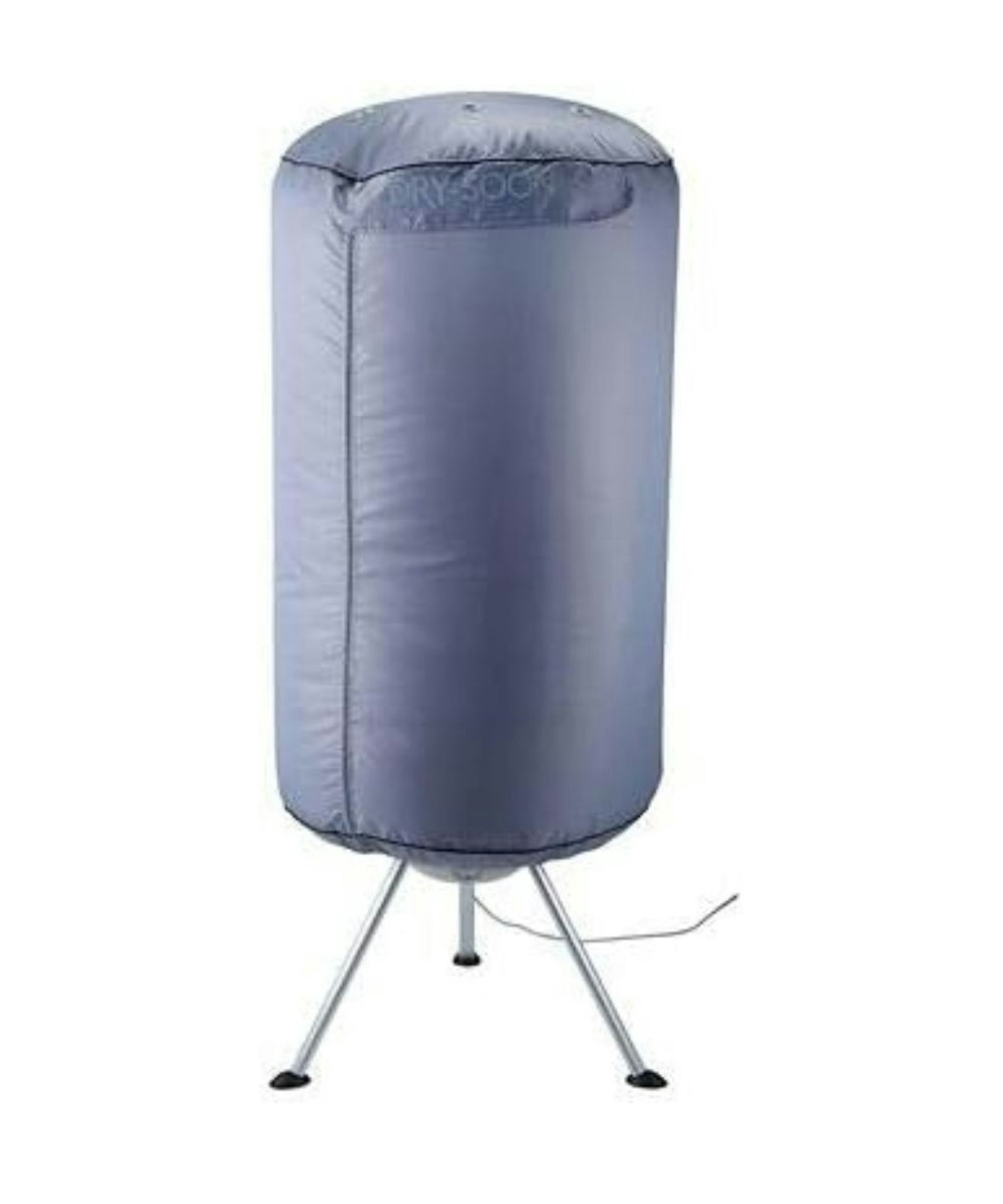 amazon
Description
Another fantastic option from Dry , this drying pod circulates hot air around your clothes,
Pros
Fast and efficient drying method
Auto shut-off timer
Folds away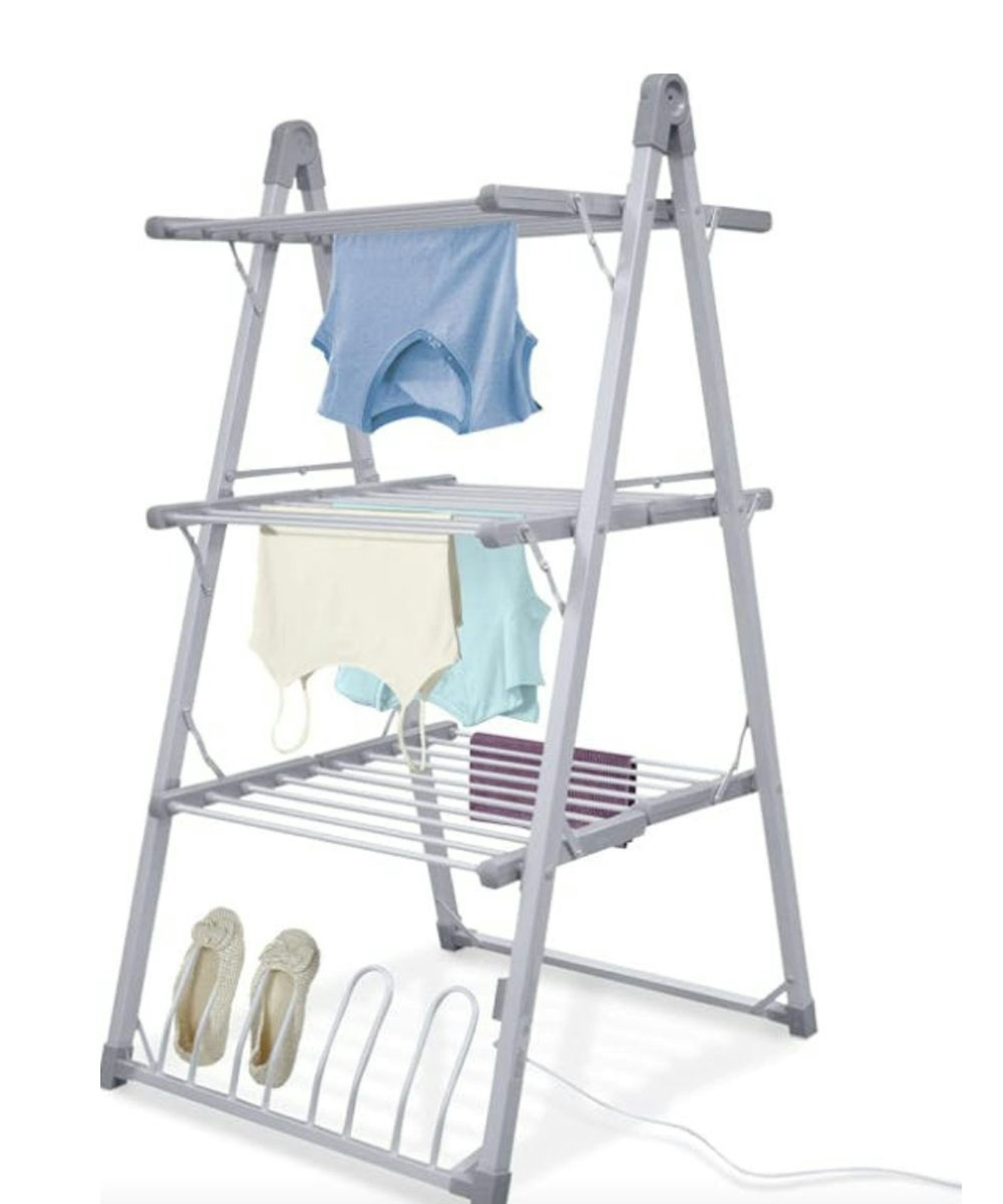 amazon
Description
Another great option you can snap up from Amazon, this three-tier electric air dryer contains
Pros
Highly energy-saving
Foldable
Light
Cons
Not as effective on thick clothes
How does a heated clothes airer work?
A heated clothes airer, also known as a heated drying rack, operates by using electric heating elements to warm up the bars or racks where you hang your clothes. These heated bars provide a gentle and efficient source of warmth, helping to evaporate moisture from your clothing. As the air circulates around your garments, it speeds up the drying process - no more hanging clothes on your radiator. It's an energy-efficient alternative to traditional tumble dryers, and it's especially useful for drying delicate items that can't withstand the heat of a dryer.
Are heated clothes airers safe to use?
Yes, heated clothes airers are generally safe to use when used according to instructions. They are designed with safety features to prevent overheating, and many models have timers and automatic shut-off functions to ensure that they don't operate for extended periods unnecessarily. However, it's important to follow safety guidelines, such as not overloading the airer and ensuring proper ventilation in the room. Also, make sure to keep it away from water sources, and never cover the airer with clothing or any flammable materials during operation.
How much electricity do heated clothes airers consume?
The electricity consumption of heated clothes airers varies depending on the model and its wattage. On average, a typical heated clothes airer consumes between 100 and 300 watts per hour. To put this into perspective, running a 200-watt heated airer for 4 hours would use 800-watt-hours (or 0.8 kilowatt-hours) of electricity. Keep in mind that the energy efficiency may vary between models so it's a good idea to check the product specifications or consult the manufacturer to get a more precise estimate of energy consumption. Generally, they are considered more energy-efficient than tumble dryers.
Natalie Hammond is Grazia's Senior Fashion News Editor. She loves winter, hates summer and can often be found writing about the weather (and what on earth to wear).