When looking for the best wedding dress, searching for a white dress has been a rite of passage burned into our cultural retina for nearly 200 years. It connects millions of women across the world including little girls wearing pillowcases on their heads, mother-in-laws fussing over too much cleavage and brides, surrounded by their best friends, drinking free fizz and giggling over taffeta.
So, no sooner had Mel, my girlfriend of seven years, proposed over box wine and Doritos in a treehouse in California, the algorithms flooded my Instagram with tulle and veils. Colour wasn't even a question. Which was a problem, because whilst I was all for dramatic wedding dresses – my brief to baffled bridal shops in London was: 'A colourful ball gown that's a cross between Frida Kahlo and a drag queen.'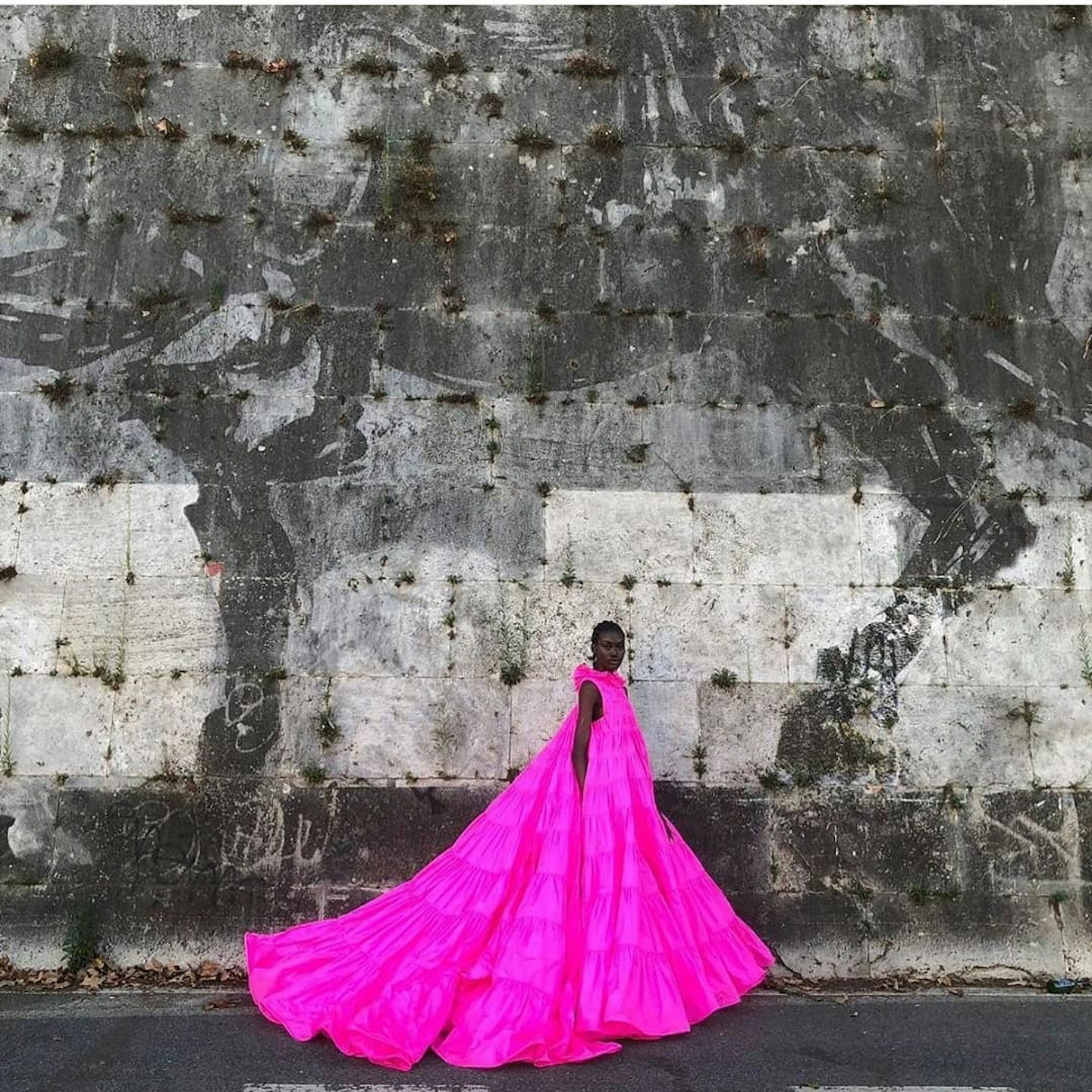 After ferreting in the back of dusty cupboards for the same blush, gold and silver, ankle-length bridesmaid outfits that pass for 'colourful wedding dresses' in every bridal blog's bleak, annual round-up, they gave up. 'Try Selfridges,' sighed one assistant.
That's exactly what documentary producer Helen Conlan did when she married her gallerist husband in a floor-length, yellow Roksanda Ilincic gown in 2016, after running around the high-end store 'like a kid in a candy store, pulling gorgeous dresses off racks.' The 43-year-old, from east Dulwich in London, said: 'It's in the interest of bridal shops to perpetuate the tradition that a 'real wedding' must have a white dress. But so many people don't fit into that mould. I felt amazing in that dress.'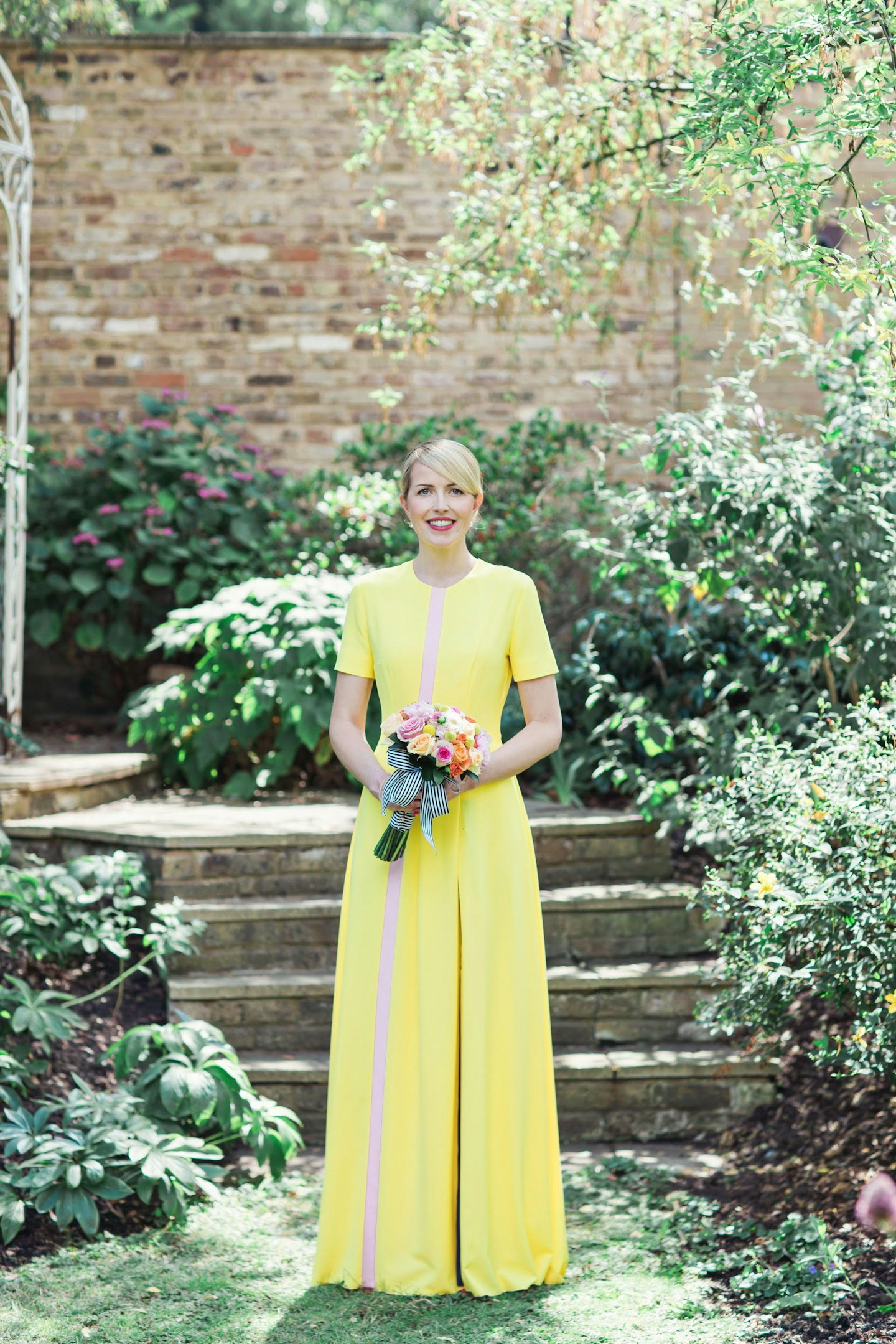 But after spending hours in Selfridges, Liberty and Harvey Nichols, as well as scrolling through Net-a-Porter and Moda Operandi, I realised that 'off-the-rack' prices weren't exactly lower. The best colourful gowns were £4,000+ from Monique Lhuillier, Marchesa, Carolina Herrera and Vera Wang. I realised that, colourful dresses or not, bridal stores do offer something special. It's not just about collating dresses for all budgets – with an in-house tailor to make them fit like a glove, alter the neckline, add a train or change the fabric, if I fancied – but also, a 'bridal experience' that, standing sadly in my pants in another grubby dressing room on my lunch break, I really wanted.
I couldn't be the only one?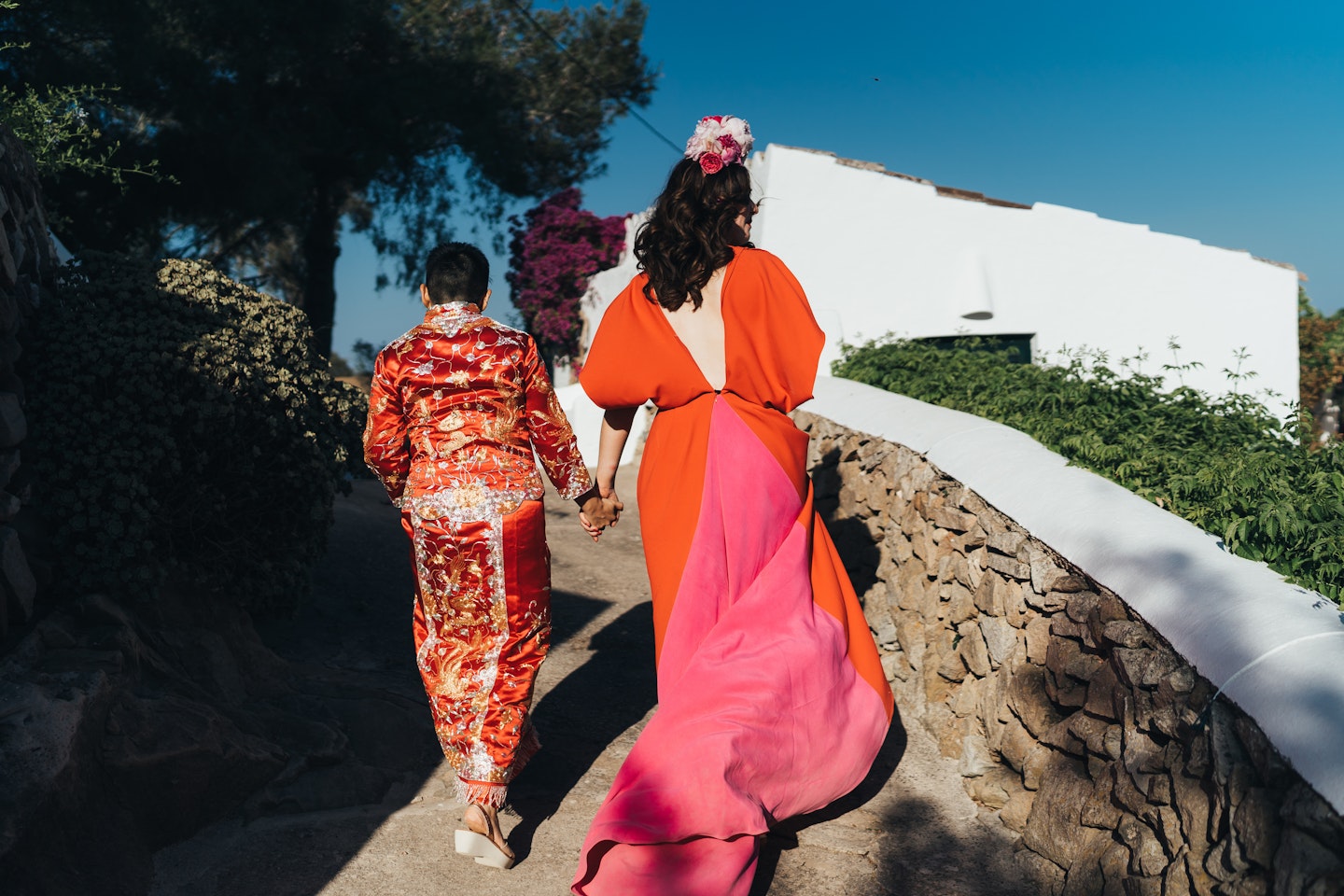 In 2018, long before designers started sewing pearls onto facemasks, an estimated 11% of UK brides (around 25,000) chose non-white outfits, according to Bride Book's annual survey. Not a stampede but, anecdotally, the number is rising, with pressure from LGBT+ and BAME communities on the country's £10billion wedding industry to be more inclusive of different sexualities and non-western cultures- like my British-Cantonese fiancée who would be wearing a red silk Qun Kwa embroidered with gold and silver thread.
Topped with Covid sparking a record number of elopements and bolder outfits from couples freed from the stress of a big 'do, isn't it finally time for a change? The problem boils down to tradition and economics.
Brides spend an average of £1,313 on their outfit, with the majority using boutiques limited to between eight and 15 appointments per day on 52 weekends a year, forcing designers competing in a tough market to chase the 80-90% who want to wear white.
'In many ways the white dress juggernaut has become structural and self-perpetuating, like the diamond engagement ring, which De Beers invented in a marketing campaign in the [1930s],' said Naoise McNally, founder of wedding blog One Fab Day.
The blogger, who tried to find a colourful wedding dress for herself before 'giving up', added: 'Many designers, like Jenny Packham, offer red in Asia, but it's mostly pastels here. And whilst they do well on Instagram, there are not enough sales to make financial sense.'
Emma Chapman of Epic Love Story, a leading alternative wedding photographer with brides in blue sequins, pink suits and cowboy boots, points to societal pressure. 'I see a lot of FOMO that they'll miss out on this big white dress,' she said, 'but a massive problem is parents who think if they're contributing towards costs then the bride must look a certain way, when she should be allowed to be herself.'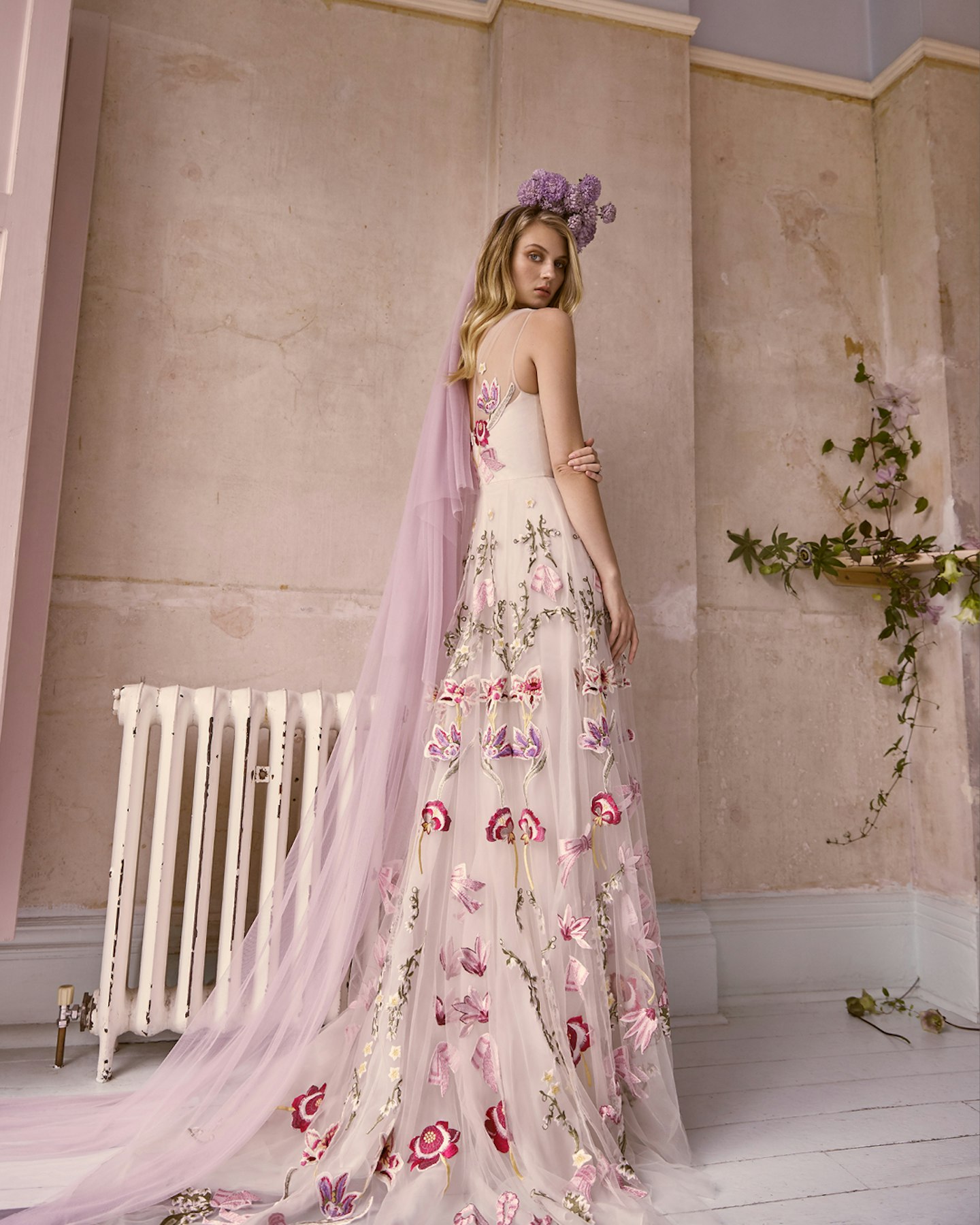 Kate Halfpenny and Alice Temperley couldn't agree more. The two British bridal designers, favoured by everyone from Kate Moss to Kate Middleton, are at the forefront of injecting colour into the UK industry.
Whilst Temperley's Toledo, Bibiand Carnation designs - with their colourful embroidery - have become iconic staples, Halfpenny allows brides to customise designs in colour- if they ask. Both say keeping production in the UK allows them to take more risks financially. And it's paying off.
When former Made in Chelsea star Millie Mackintosh wore the Halfpenny Mayfair dress in pink the brand was 'inundated with brides.' Halfpenny, who has styled everyone from Rihanna to Twiggy, said: 'People are scared about not looking like a 'bride' but if you feel incredible in it- that's your wedding dress. We encourage brides to come alone for the first appointment so they don't have an audience telling them what to think.' Temperley said: 'There are no rules, the fewer the better – then it's more original.'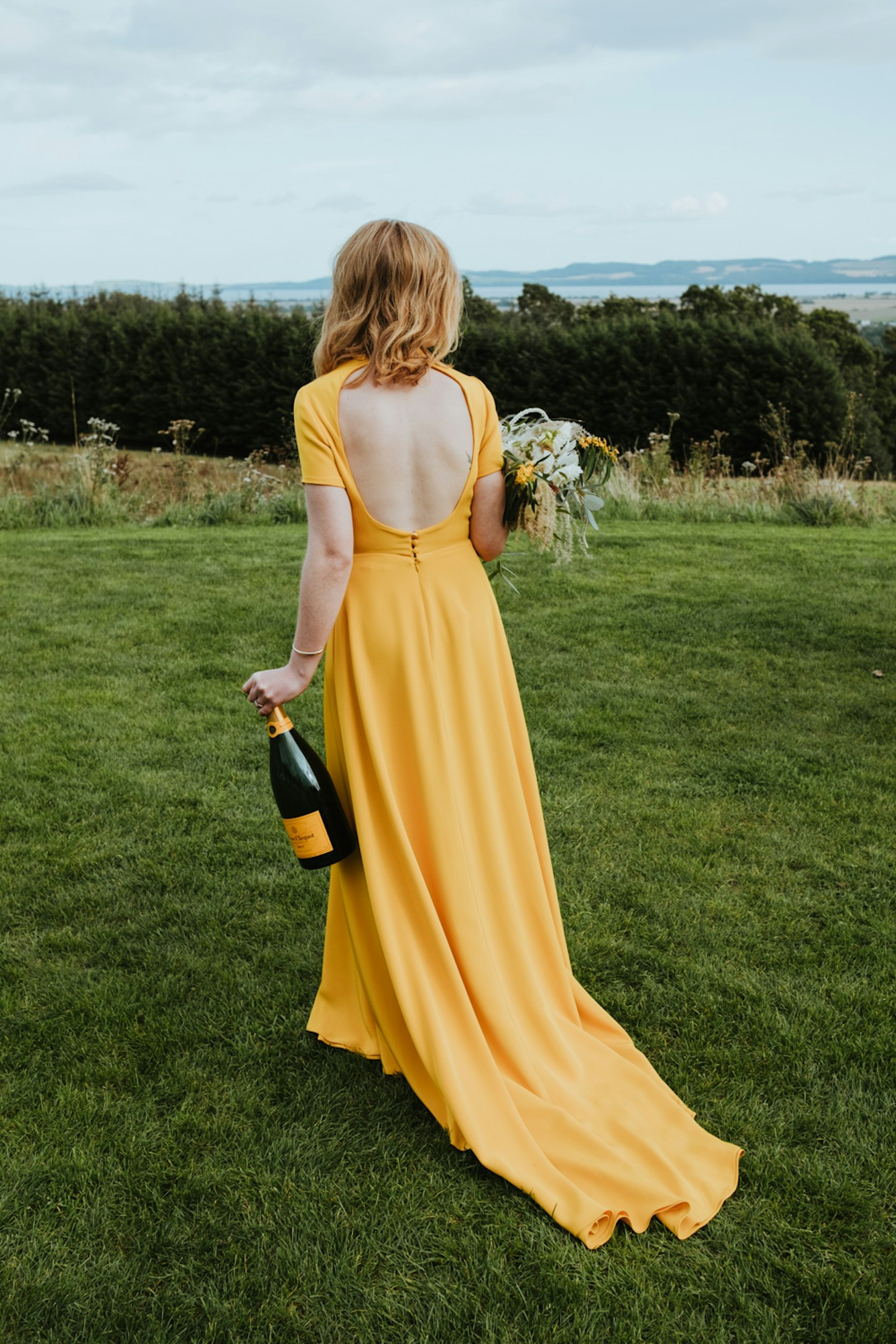 But the star of colourful wedding dresses is US-based Sarah Seven- one of the only high-end designers featuring colourful dresses that aren't pastel, black or sequin in their permanent, western collection. Her wildly popular Marigold Sullivan, stocked in boutiques in London and Northern Ireland, launched in 2015. Speaking from New York she said: 'I expected to lose money, but it was an amazing success. Brides go to incredible lengths to get it.' To designers considering colour, Sarah advises: 'Be bold. It can put you on the map.'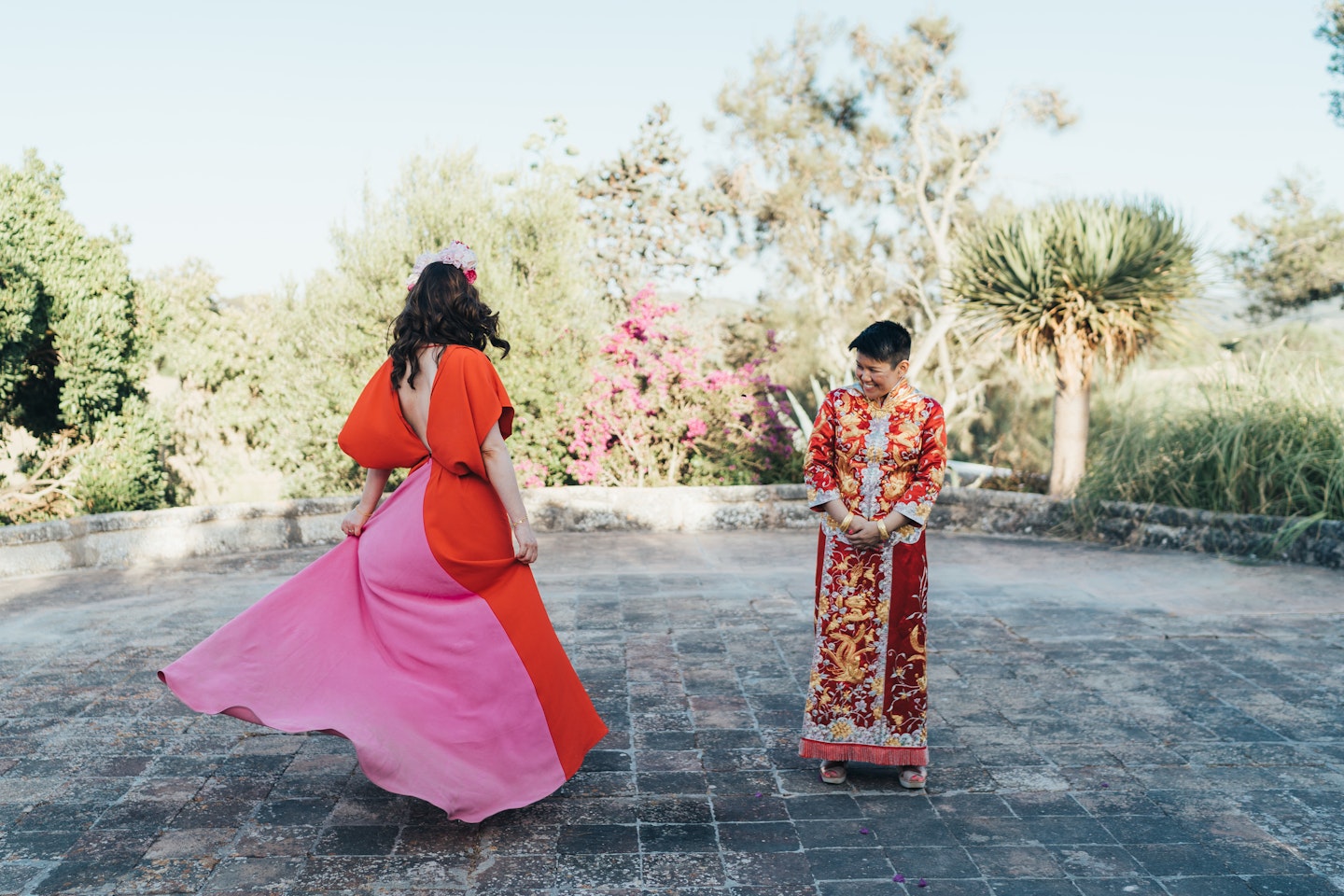 As for my show-stopper, the industry may be inching forward but just hadn't caught up in time, so I customised my own, buying a red Roland Mouret number and adding a neon pink train with help from tailor Lena London and artist Jess Chan. It was perfect.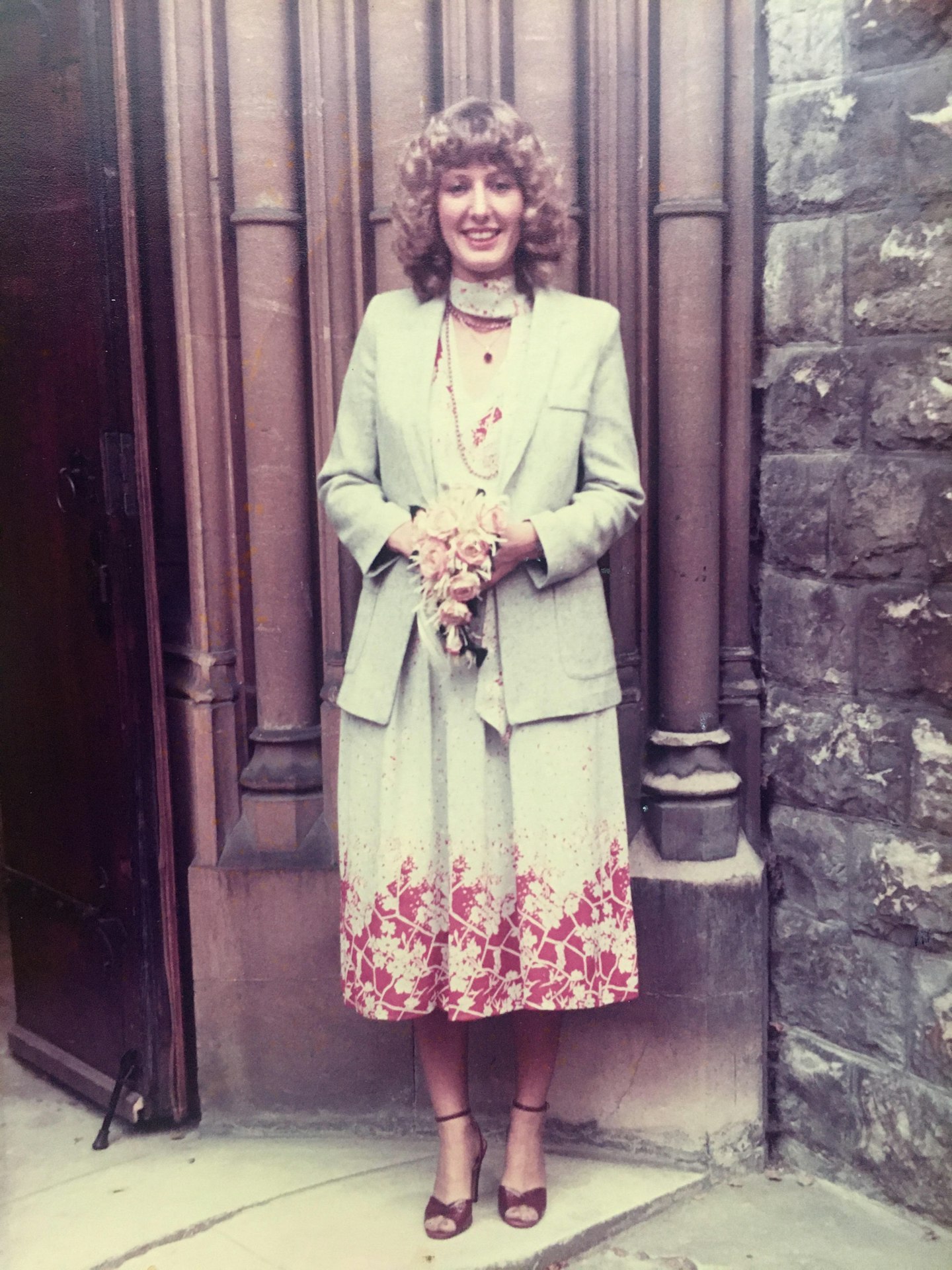 I can even wear it again- just like my late mum. In 1978 she walked down the aisle in a grey and maroon high-street dress. She once said: 'Years later your dad said he wished I'd worn white and I replied 'what I wore has nothing to do with you, you're just lucky I turned up'.'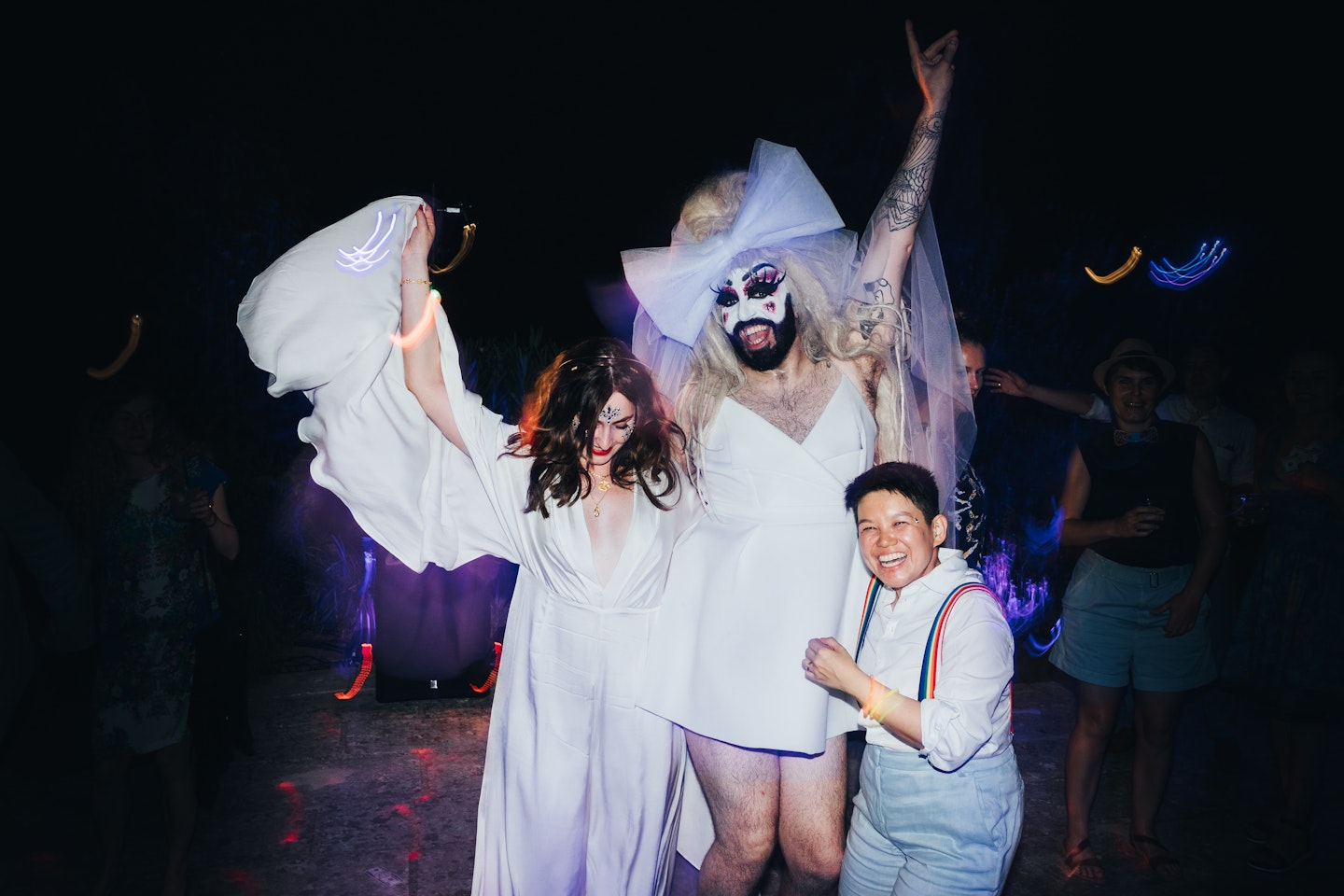 I did get my 'white fix' though, changing into a silky ASOS jumpsuit for the disco where we can-canned under the stars with Baby Lame, the punk-horror, bearded drag queen and the only 'bride' to wear a white dress on my wedding day.
SEE: The Best Colourful Wedding Dresses Inspiration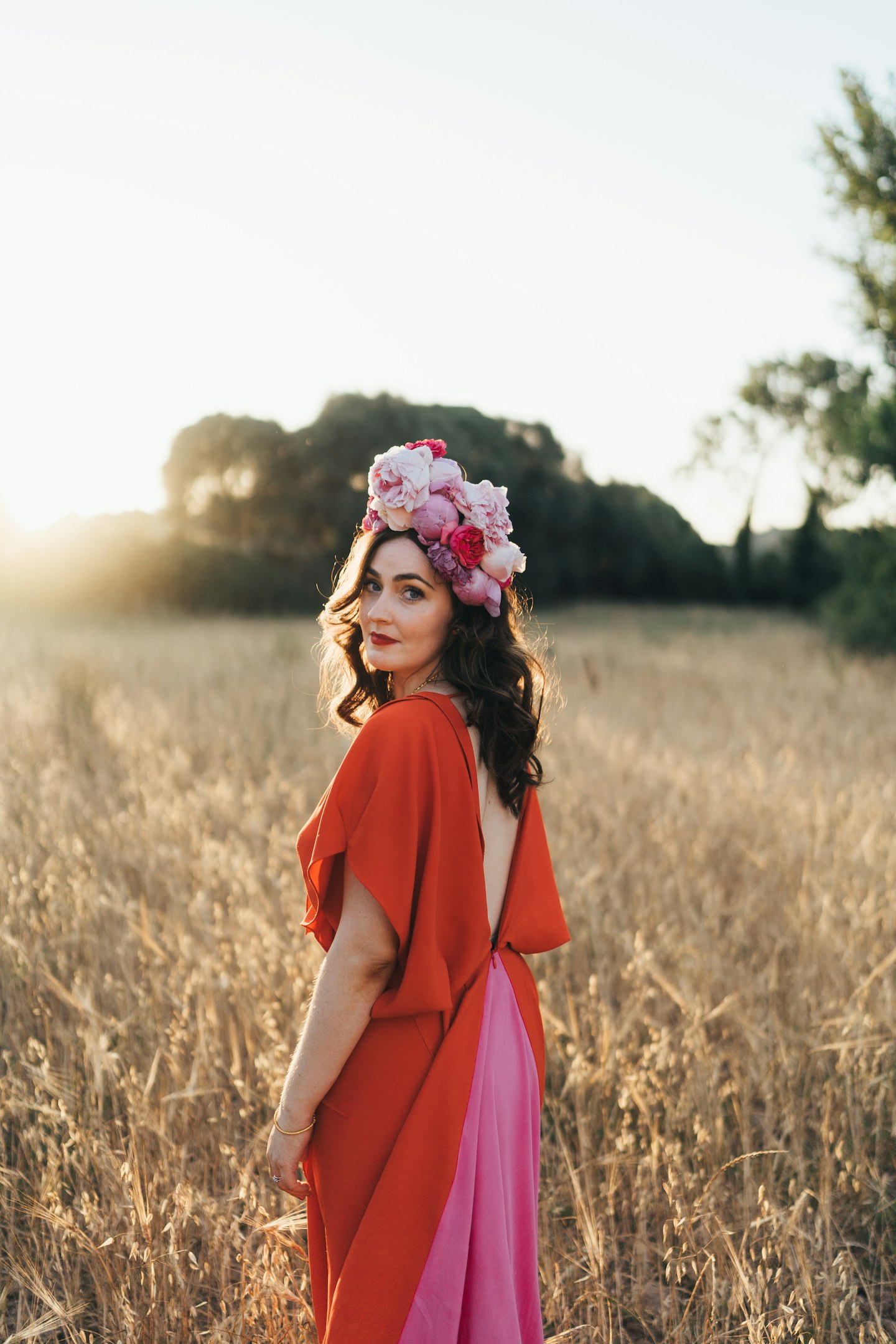 1 of 12
CREDIT: Miss Gen
Alice Hutton in her customised red Roland Mouret dress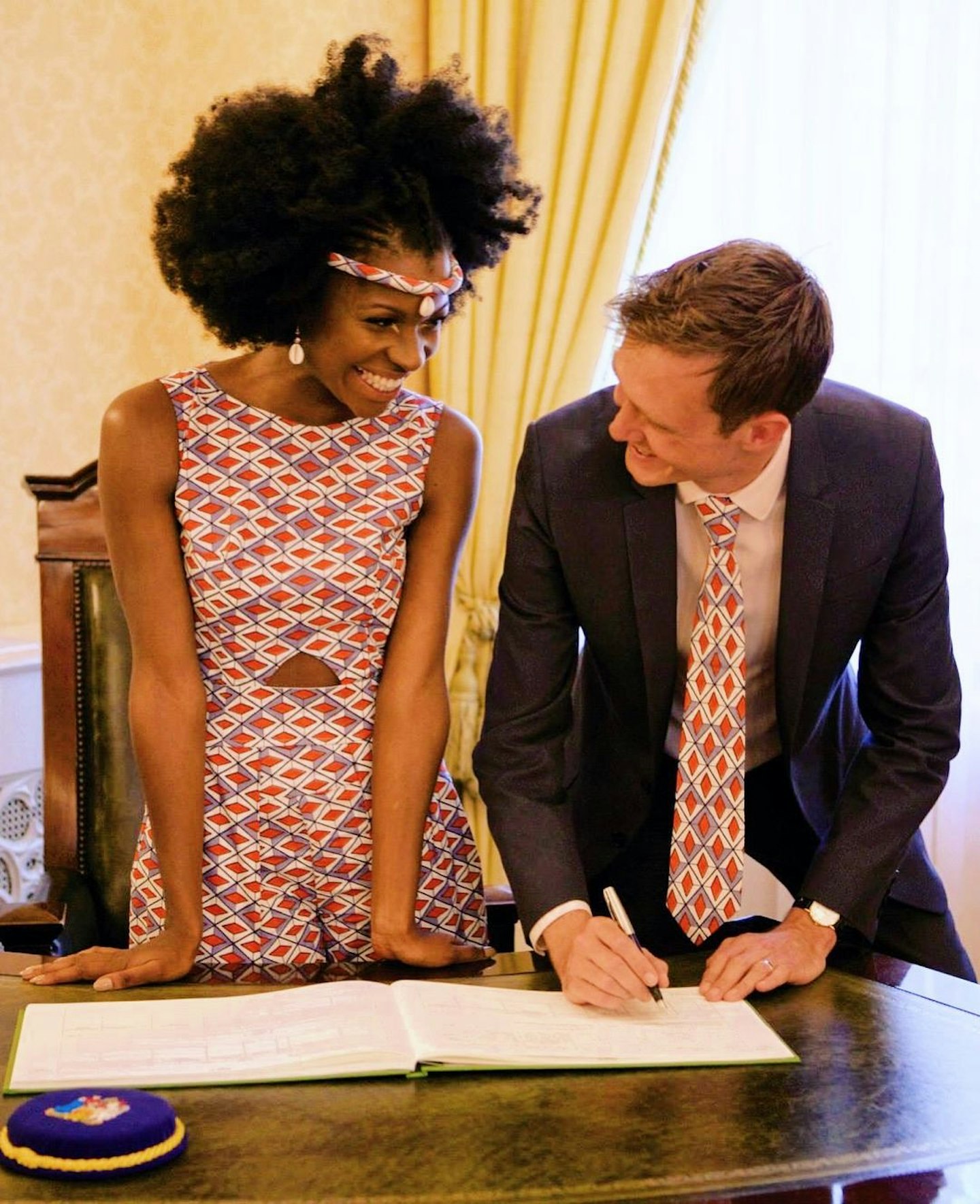 2 of 12
CREDIT: @freddieharrel
Freddie Harrel in a By Natacha Baco jumpsuit on her wedding day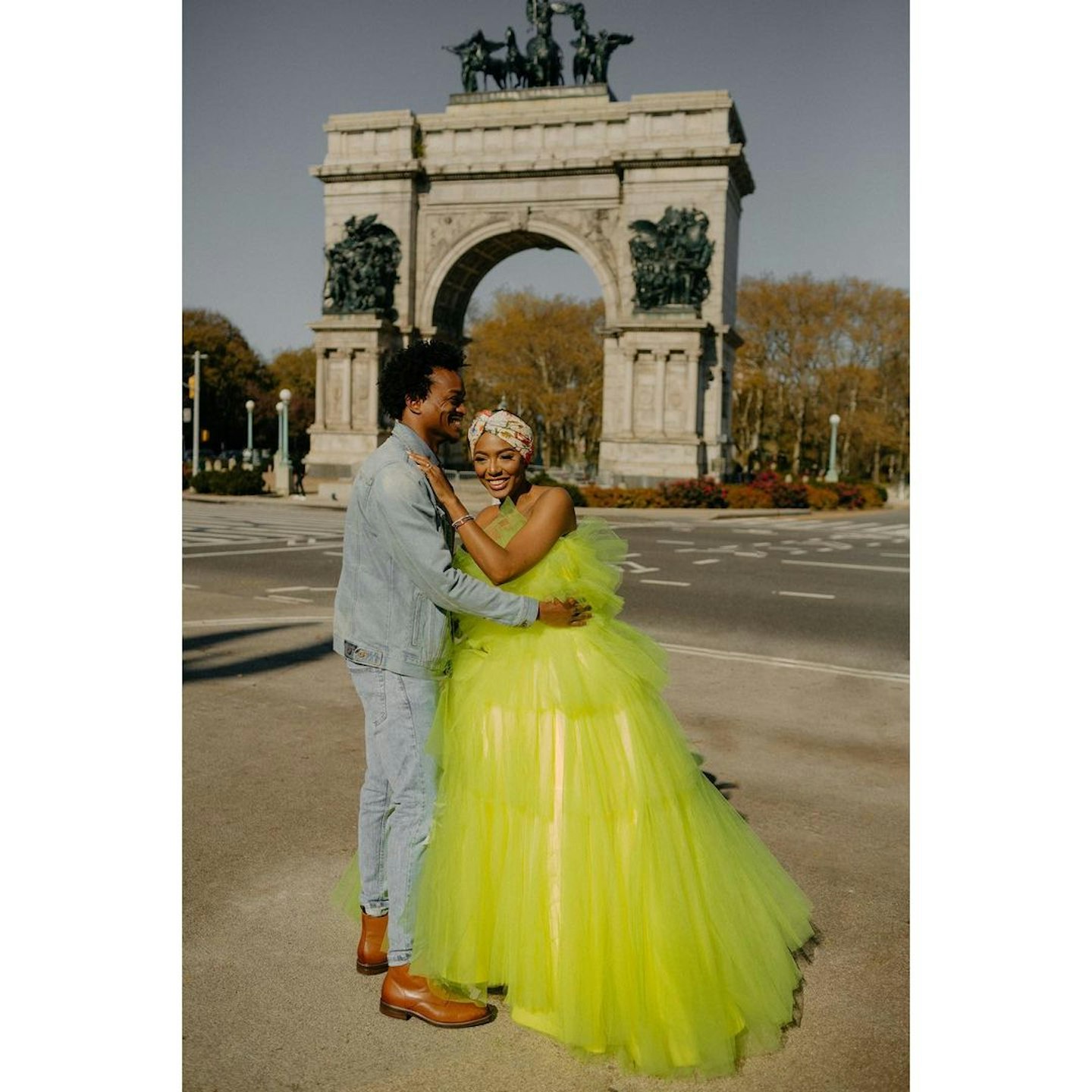 3 of 12
CREDIT: @michellescottphoto
Tori Elizabeth in an Elizabeth Dye gown for her engagement to Keegan Phillip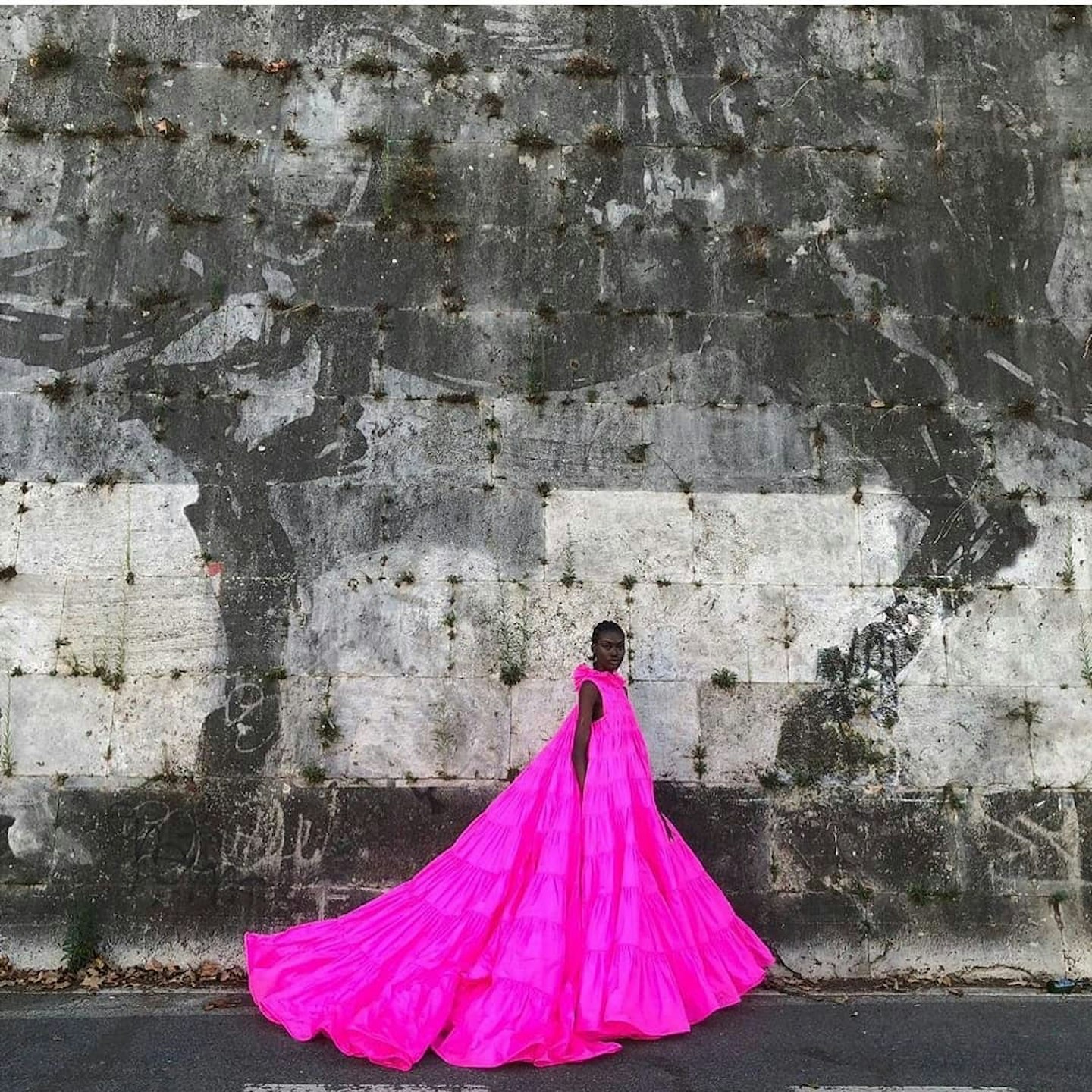 4 of 12
CREDIT: @pppiccioli
Valentino Haute Couture SS19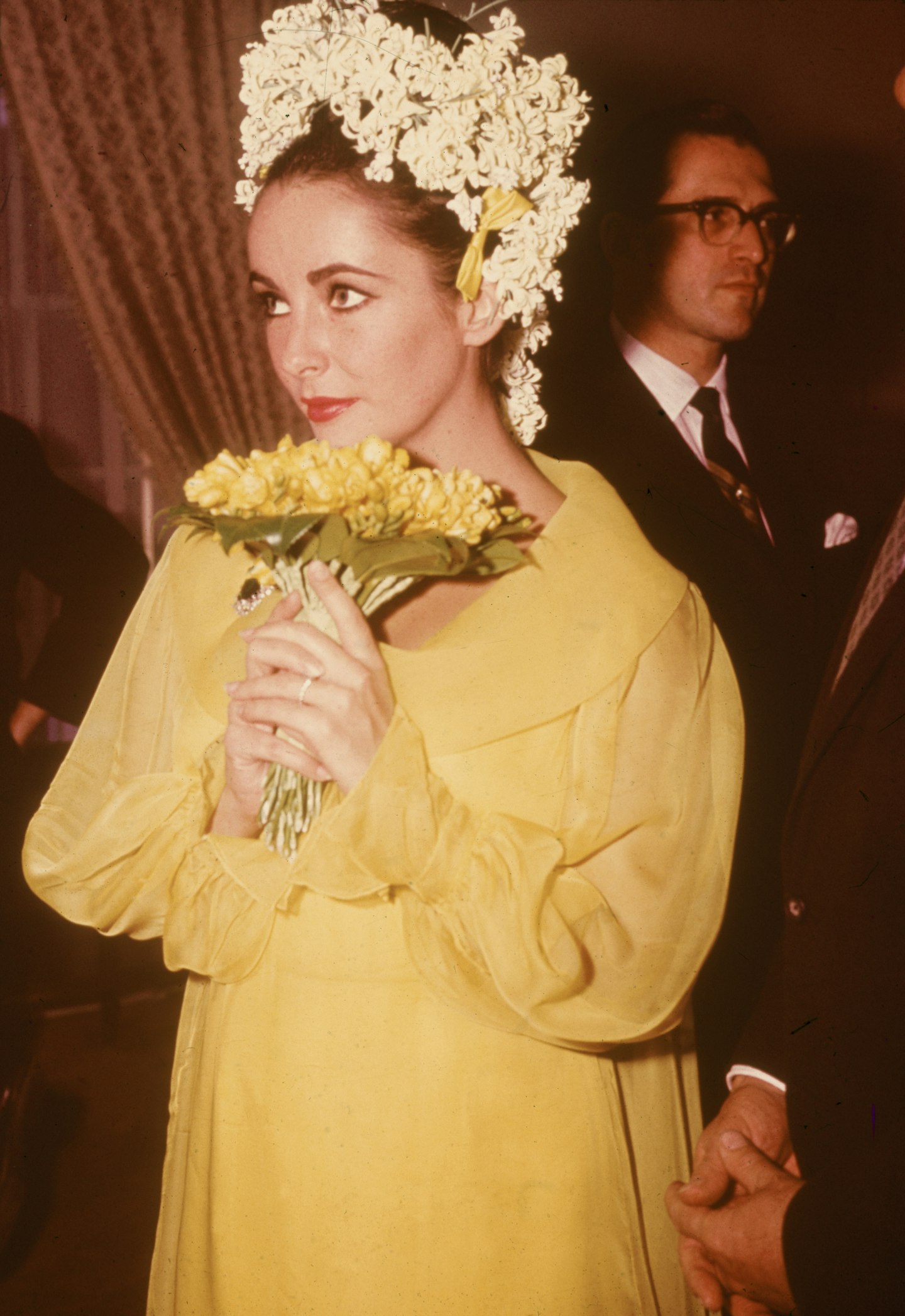 5 of 12
CREDIT: Getty Images
For her first marriage to Richard Burton, Elizabeth Taylor wore a yellow dress by Cleopatra's costume designer, Irene Sharaff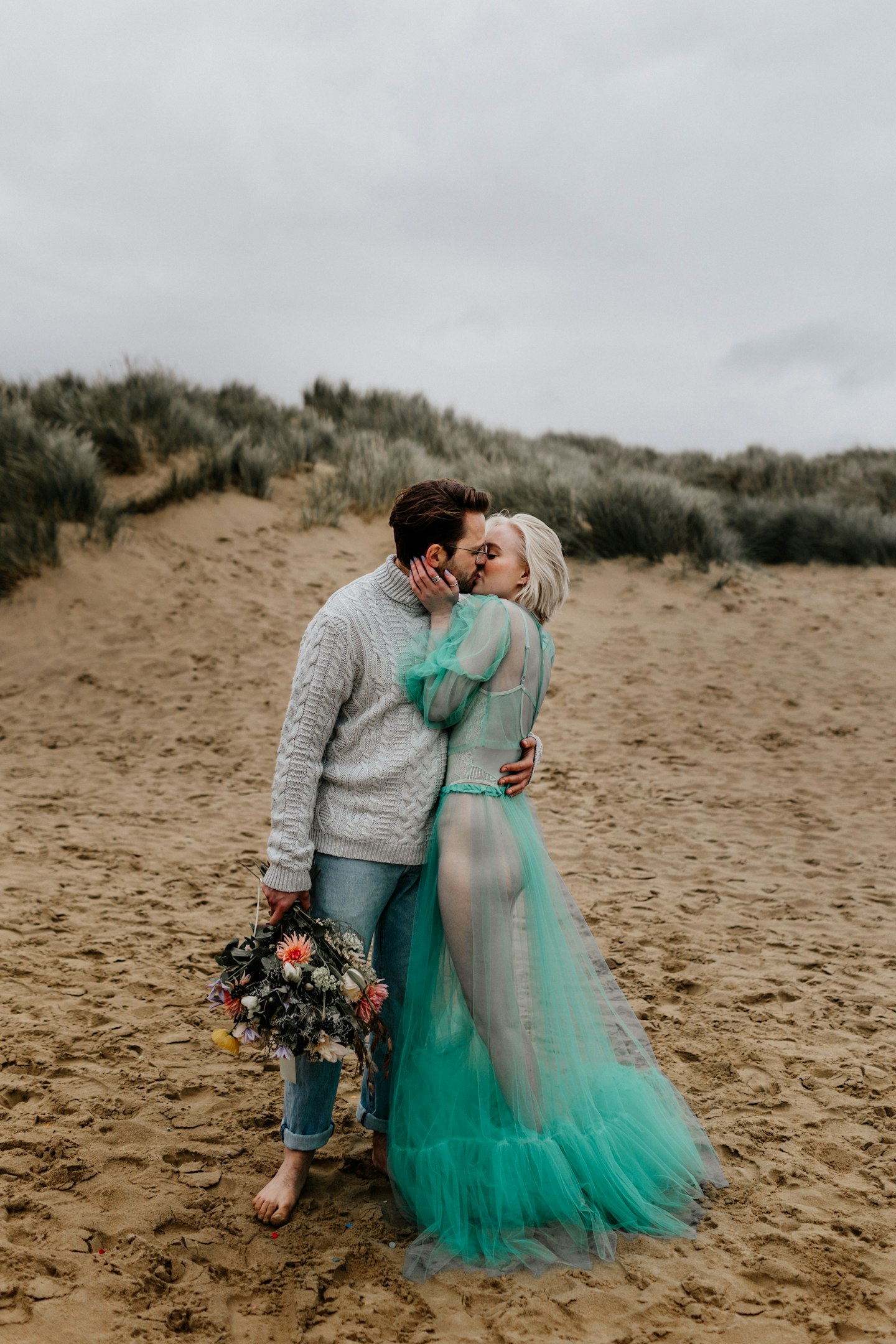 6 of 12
CREDIT: @emma_epiclovestory
A sheer neon dress by @emma_epiclovestory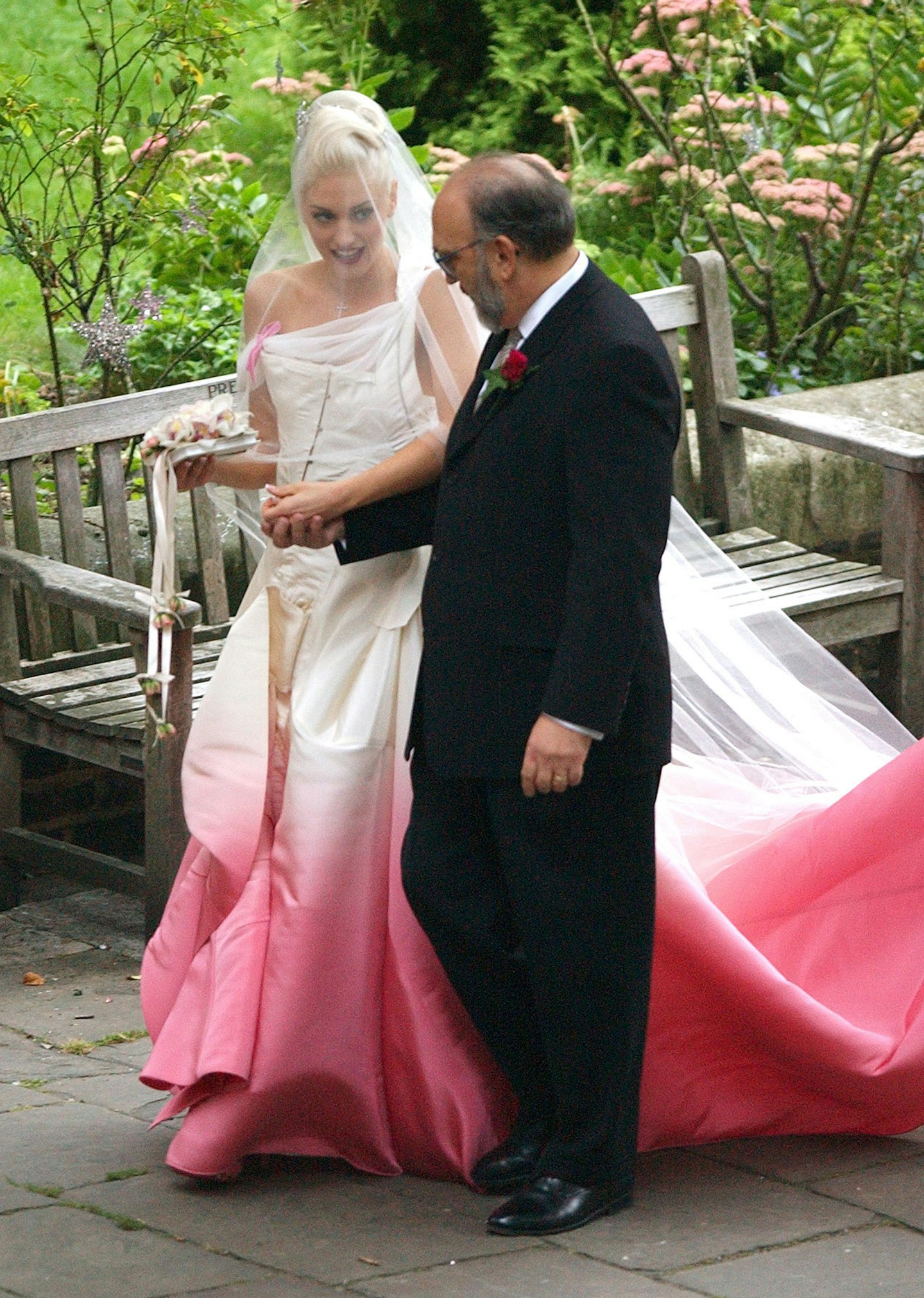 7 of 12
CREDIT: Getty Images
For her wedding to Gavin Rossdale in 2001, Gwen Stefani wore an ombre gown by John Galliano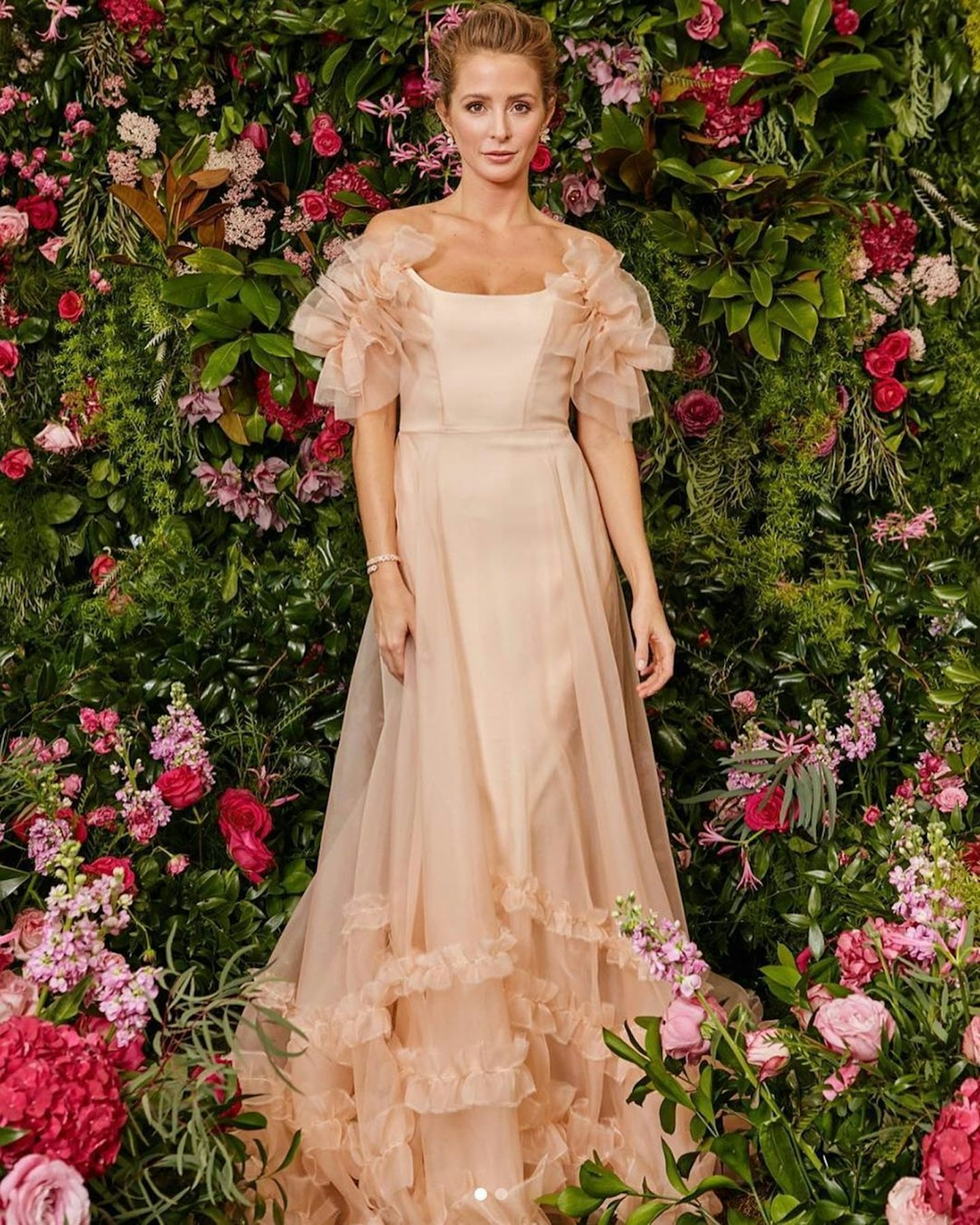 8 of 12
CREDIT: @katehalfpenny
Millie Mackintosh in Halfpenny London's pink Mayfair dress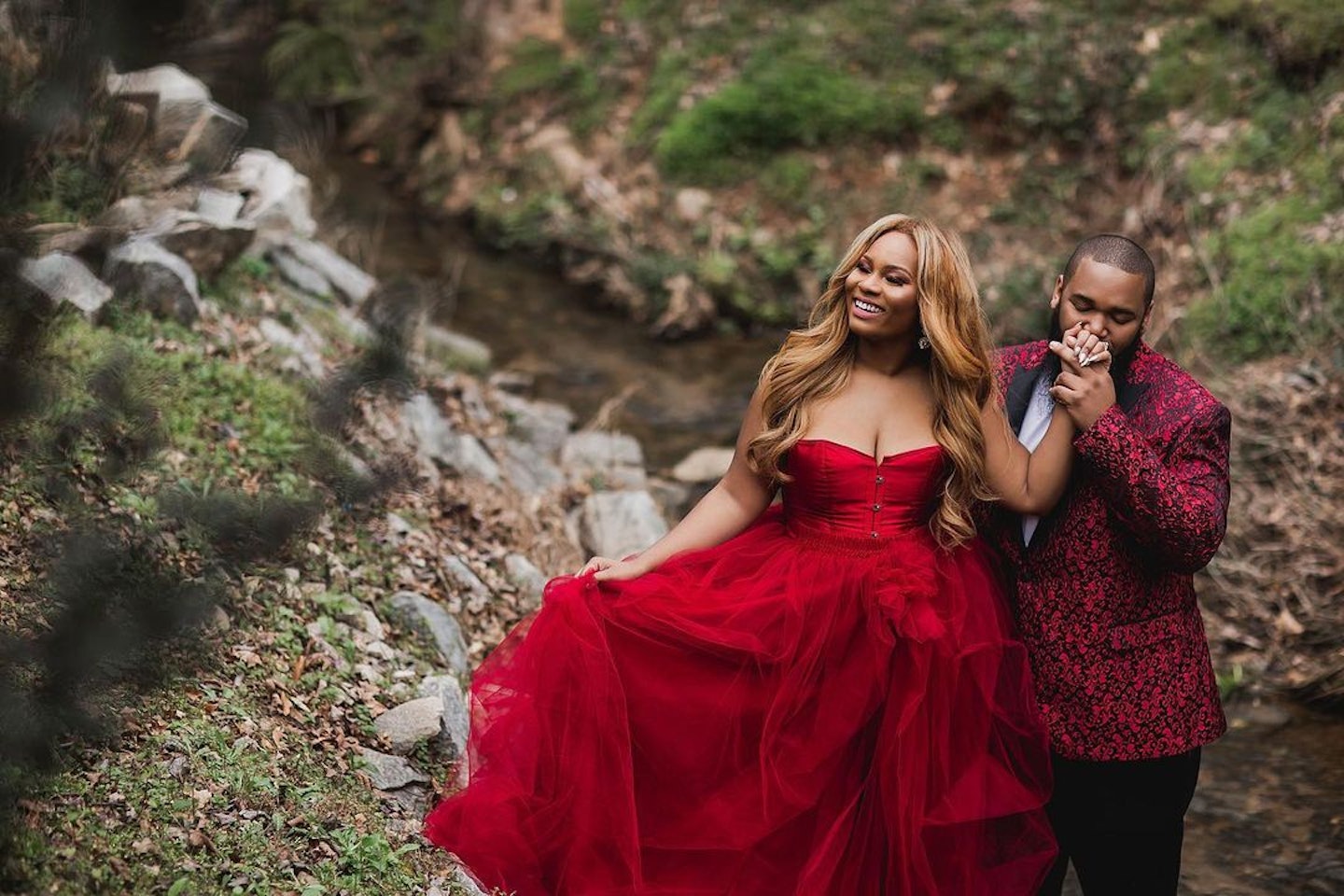 9 of 12
CREDIT: @ynot_images
Bride @emani_divine wore a red tulle dress by Oyemwen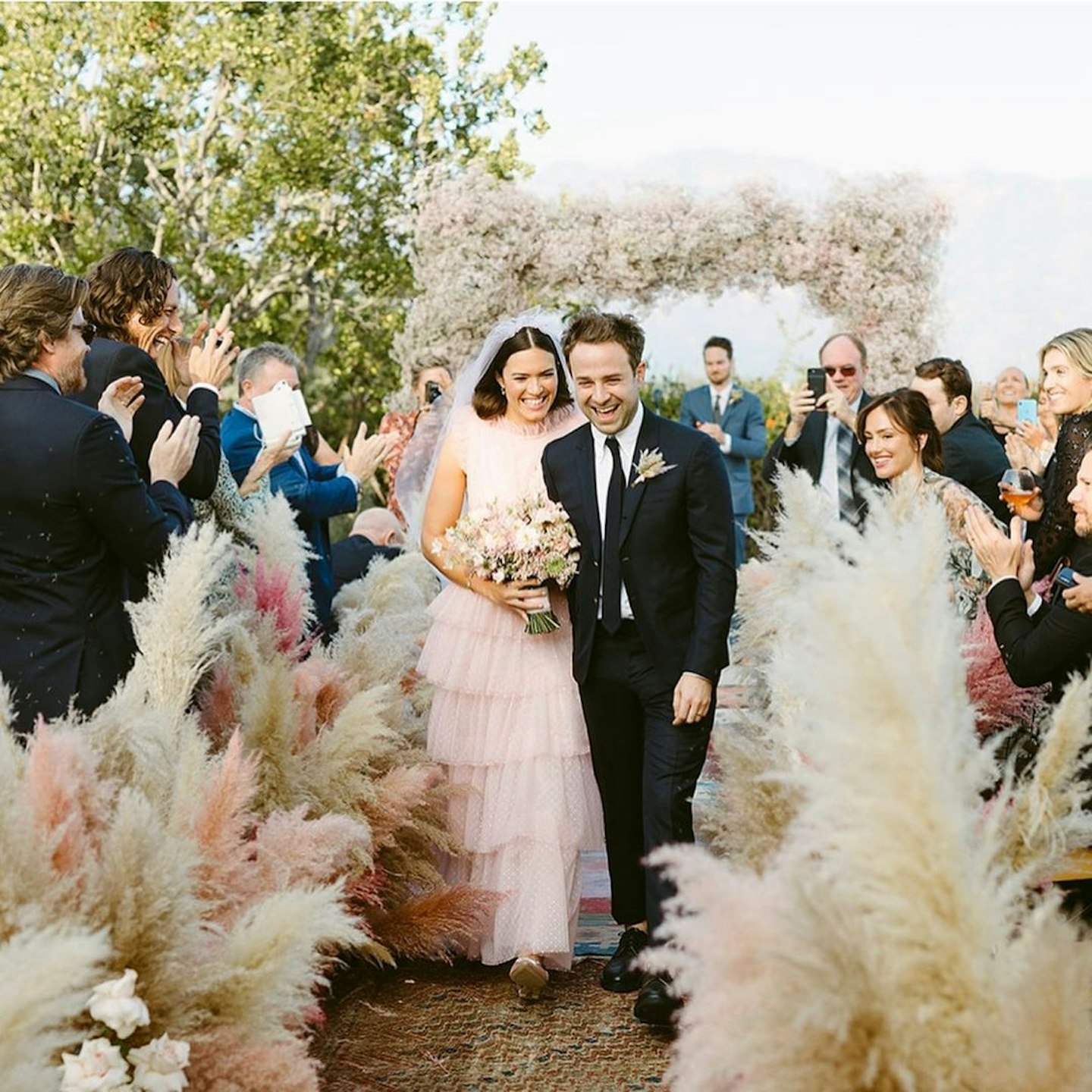 10 of 12
CREDIT: @mandymooremm
Mandy Moore wore a pink Rodarte dress for her wedding in 2018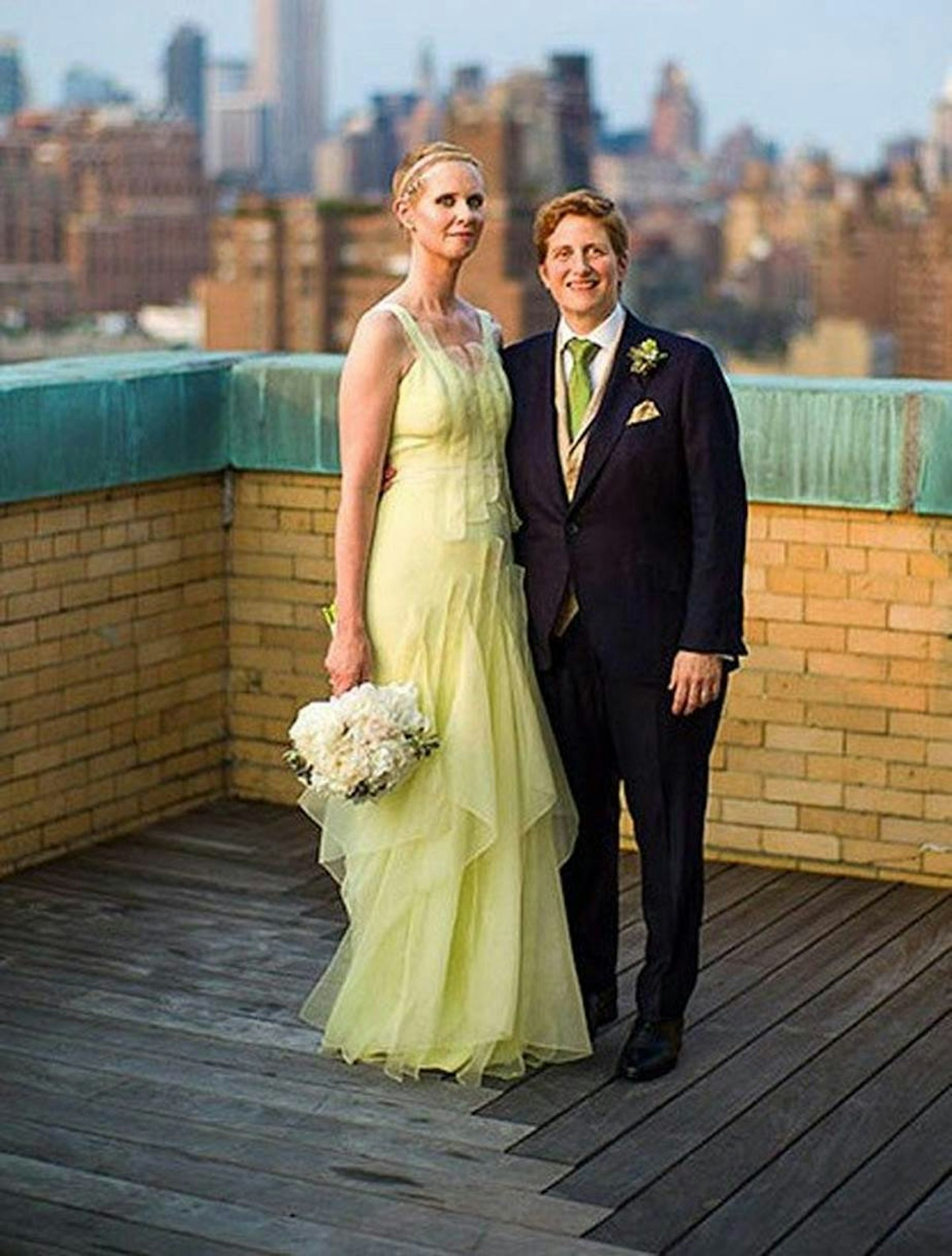 11 of 12
In 2012, Cynthia Nixon wore a yellow ruffled dress for her wedding to Christine Marinoni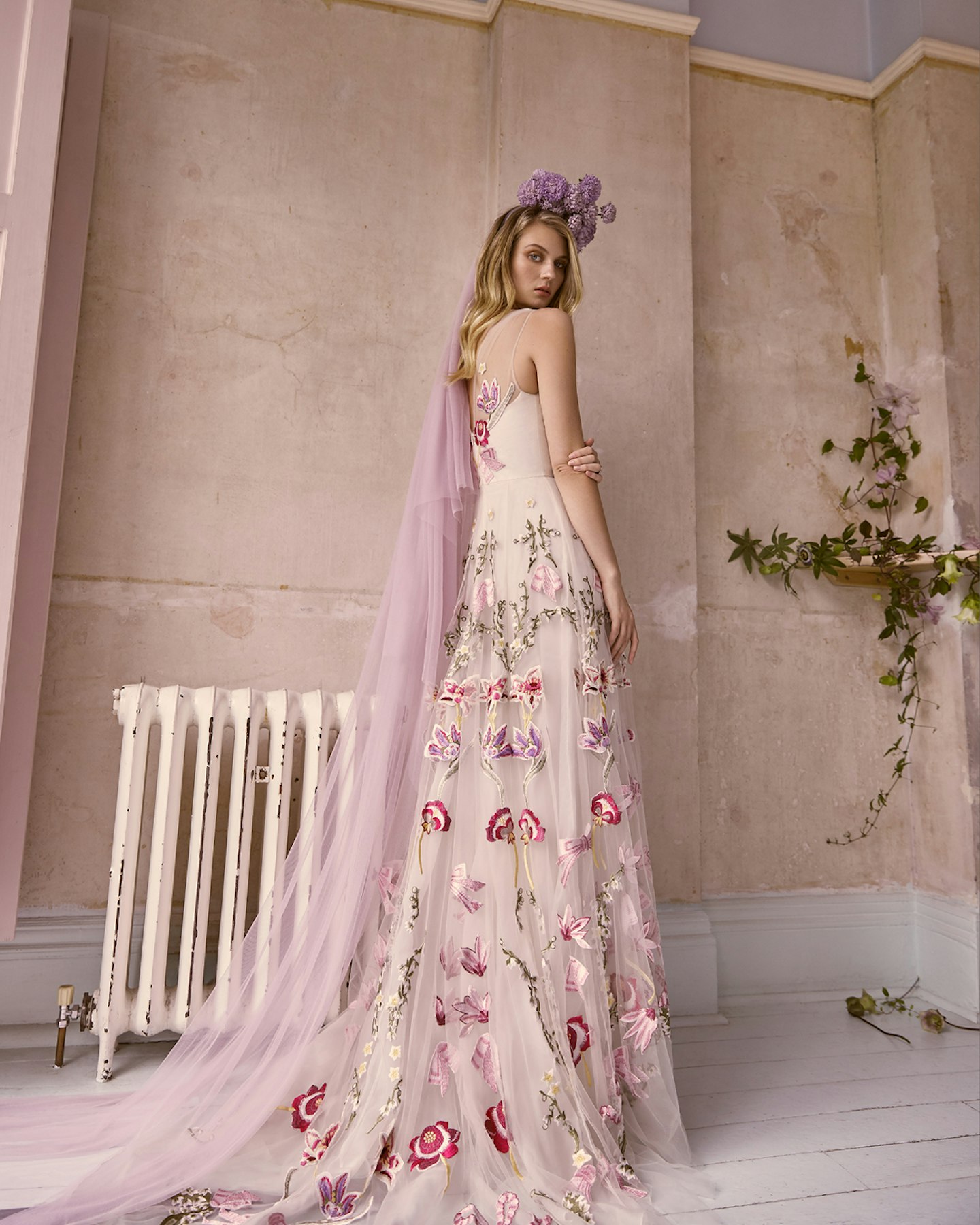 12 of 12
Temperley London's Bibi Dress