I feel it's very appropriate that I'm sat here in a striped t-shirt. If you don't believe me, head to my Instagram where you will be greeted by a sea of nautical inspired shirts, blouses and t-shirts. And it's just my luck that the nautical/stripe trend is in full swing across the high street at the moment. Let's face it; the striped tee has become a staple item in most people's wardrobes. If, however, you haven't bought in to this trend yet (where have you been?!), then I'm here to help you find the best stripes out there, from my favourite high street shops. And no, they don't all have to be navy and white - if you're brave, there are plenty of multicoloured options that are perfect for Spring. You may also be under the impression that the striped top is simply for the relaxed daytime look, but the high street is giving us stripes just as appropriate for a night on the town as an afternoon down the pub.
Outfit 1 - The Sunday stripe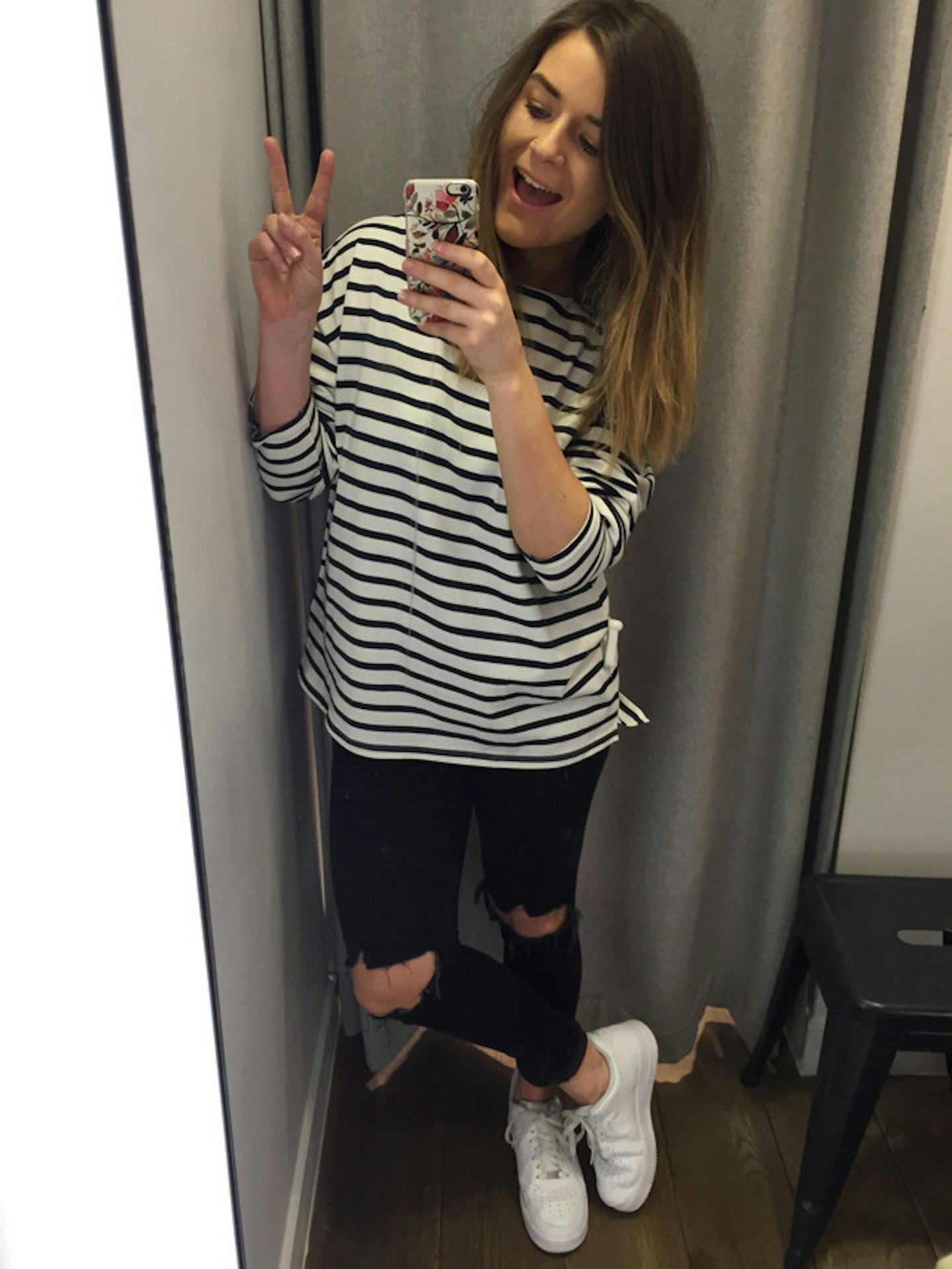 Let's start with what I would call the 'classic Sunday stripe'. You're feeling lazy (quite possibly hungover), maybe heading for a coffee or a stroll, and you just want to be comfortable. This is the fail safe; teamed with a simple pair of skinny jeans and your trainers, you are good to go! Or if you're feeling a little more adventurous, team it with a floaty midi skirt (like this one from & other stories) and a pair of heeled boots for something more office appropriate.
Striped top from Warehouse, £18
Ripped knee black jeans from Topshop, £40
Nike white Air Force trainers from ASOS, £70
Outfit 2 – The off-the-shoulder stripe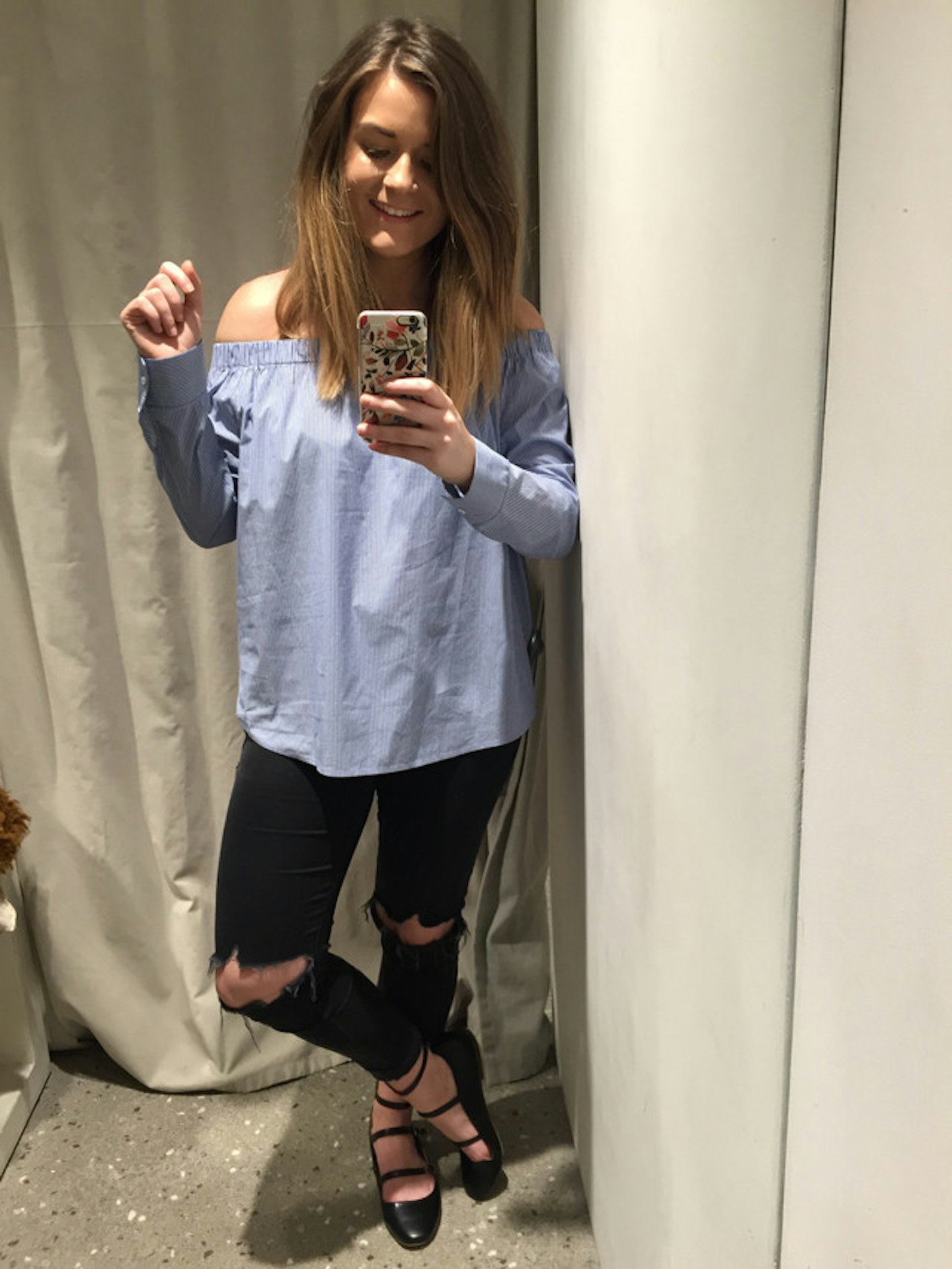 It's the 'yay - summer is on the way' look! You haven't seen the sun since September, but you want to get a little skin on show - desperate for the vitamin D. This Zara number is an easy and effortless way to dress up an outfit – wear with culottes or boyfriend jeans and trainers. Also, let's talk about the price tag; at £29, what's not to like?
Off-the-shoulder top from ZARA, £29.99
Ripped-knee black jeans from Topshop, £40
Stappy black pumps from Topshop, £15 (sale)
Outfit 3 – The pyjama stripe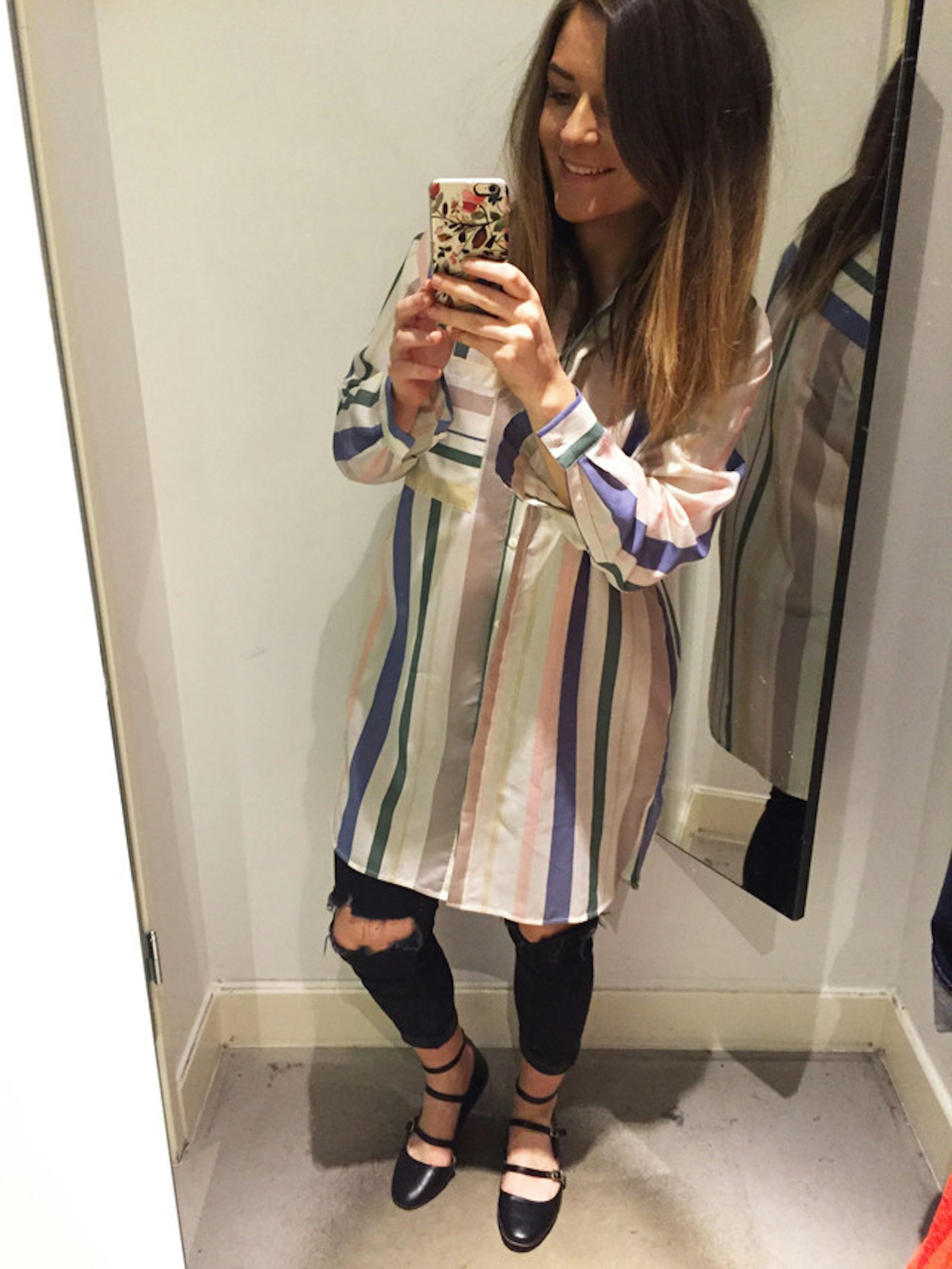 Hallelujah! Something as comfortable as pyjamas that isn't pyjamas. I think it's everyone's dream to be able to leave the house in your pj's, or maybe you have secretly hidden yours under your biggest fur coat for a quick trip to grab a takeaway coffee. Pyjama styling is a big trend at the moment, and the vertical stripe and oversized cut makes this really flattering.
Striped long shirt from H&M, £29.99
Ripped-knee black jeans from Topshop, £40
Strappy black pumps from Topshop, £15 (sale)
Outfit 4 – The Rainbow stripe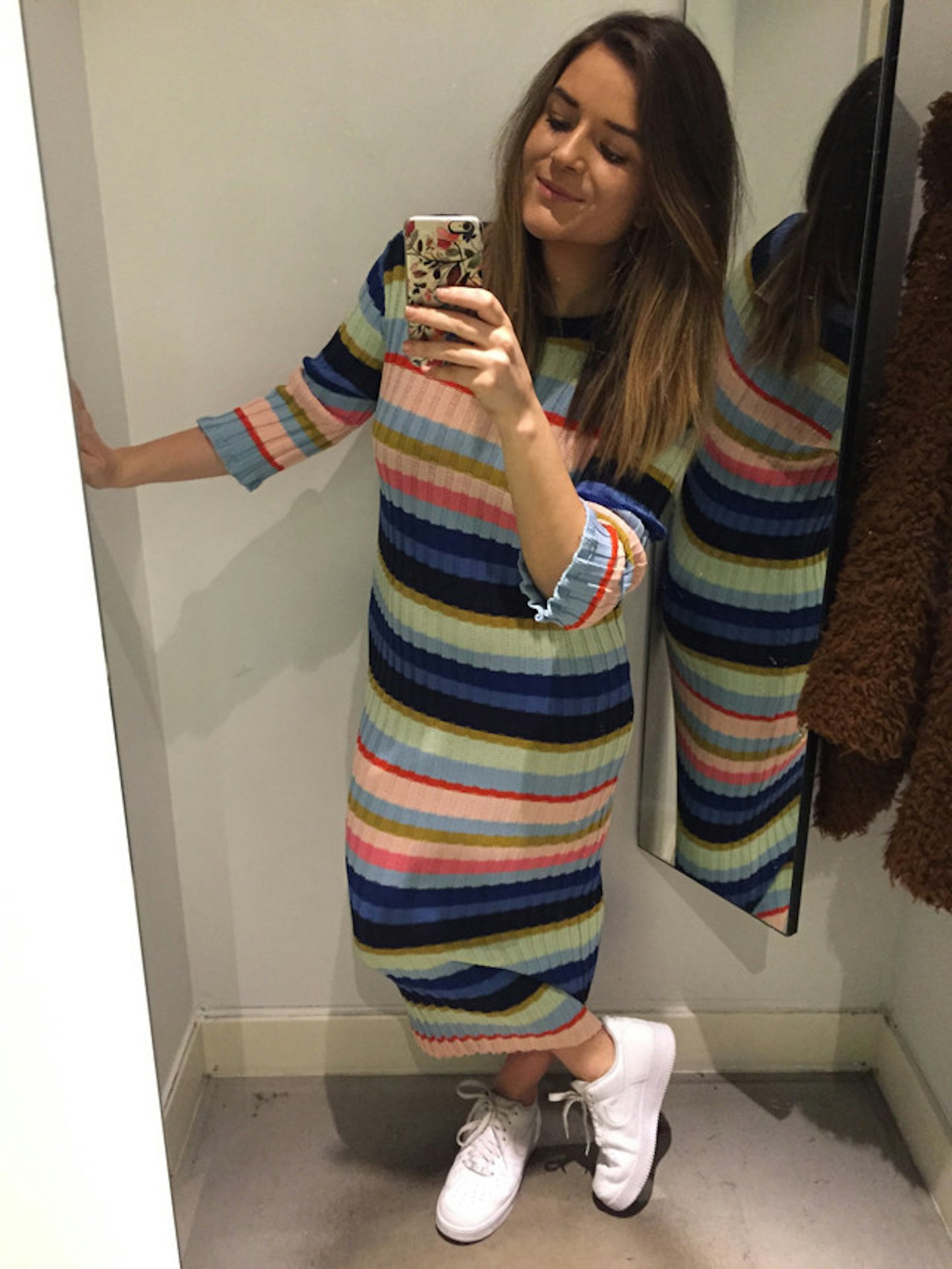 One for the brave, this body con stripe number is Spring in a dress. I know they say a horizontal stripe is a bad idea, but on this occasion I have to disagree – although it may be one to avoid if you're planning an overindulgent meal. Perfect for this time of year; worn with an oversized coat to balance out the tight fit of the dress.
Dress – Available in store at H&M
Nike white Air Force trainers from ASOS, £70
Outfit 5 – The winter stripe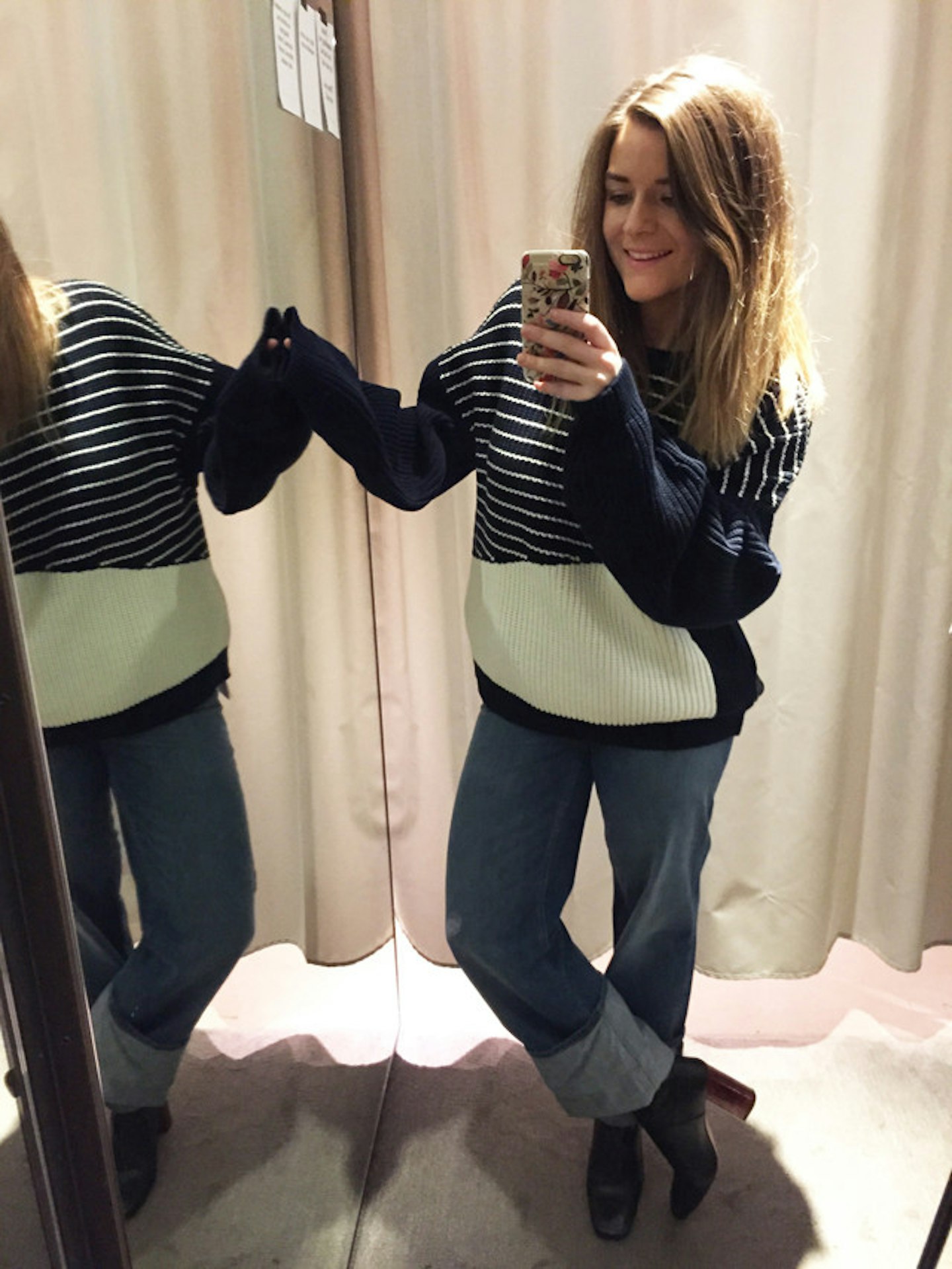 Enter the cosiest jumper ever! Almost cosy enough for me to want winter to come back and join us again so I could justify this purchase. & Other Stories is a game changer on the high street at the moment, leading the way in the cool, Scandi look. Everything is oversized, like this big baggy jumper and these extreme turn-up hem jeans. Throw on a pair of heels to make it look like you've made a bit of an effort, when in fact this is the outfit you really don't need to think about.
Striped sweatshirt from & Other Stories, £65
Straight leg rolled-up jeans from & Other Stories, £55
Tortioseshell ankle boots from Topshop, £85
Outfit 6 – The striped trousers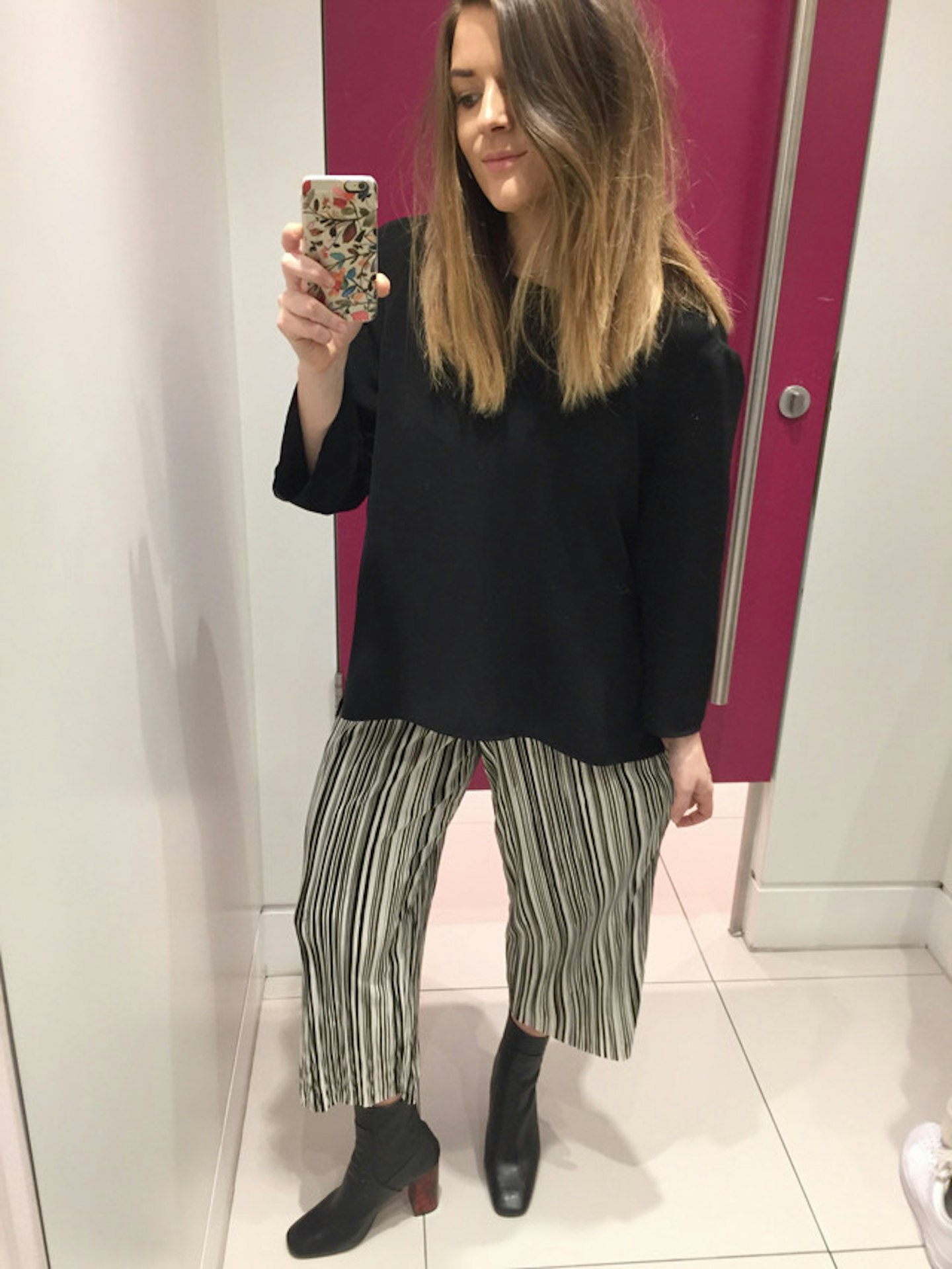 A pair of ankle length, vertical stripe plisse trousers - perfect for Spring. This is a smarter take on the stripe trend; good for the office with a blouse, but equally as cool with a big baggy jumper and trainers. These wonderful things have an elasticated waistband and are a lovely stretchy fabric…can you tell I really go for the comfort factor?! Also, a vertical stripe will give you those elongated pins you've always dreamed of, and this outfit looks very put together.
Striped pleat trousers from Topshop, £34
Side split black top from Topshop, £22
Tortoiseshell ankle boots from Topshop, £85
Outfit 7 – The Matching Stripes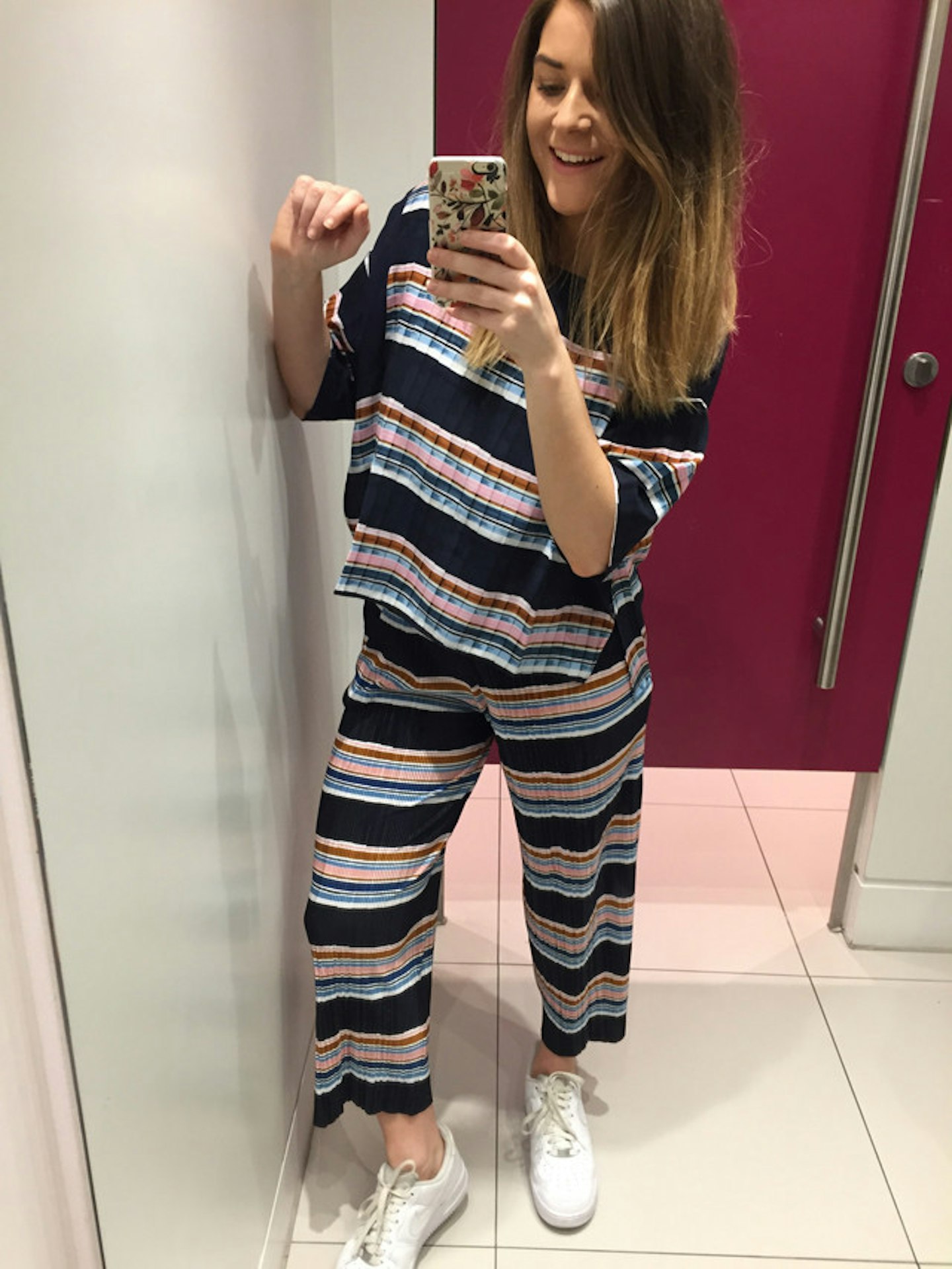 Okay, we're getting all matchy-matchy here. These striped co-ords were my favourite of the bunch. This could be a bit OTT, but it's really fun to wear. This has me thinking about warmer days, strolling along the beach in sandals with a 99 Flake ice cream (which probs cost £4) - but for now, as the summer holiday season is still a good few months away, I'll make do with wearing it with my trainers.
Top – Available in store at Topshop
Horizontal striped trousers from Topshop, £38
Nike white Air Force trainers from ASOS, £70
Outfit 8 – The monochrome stripe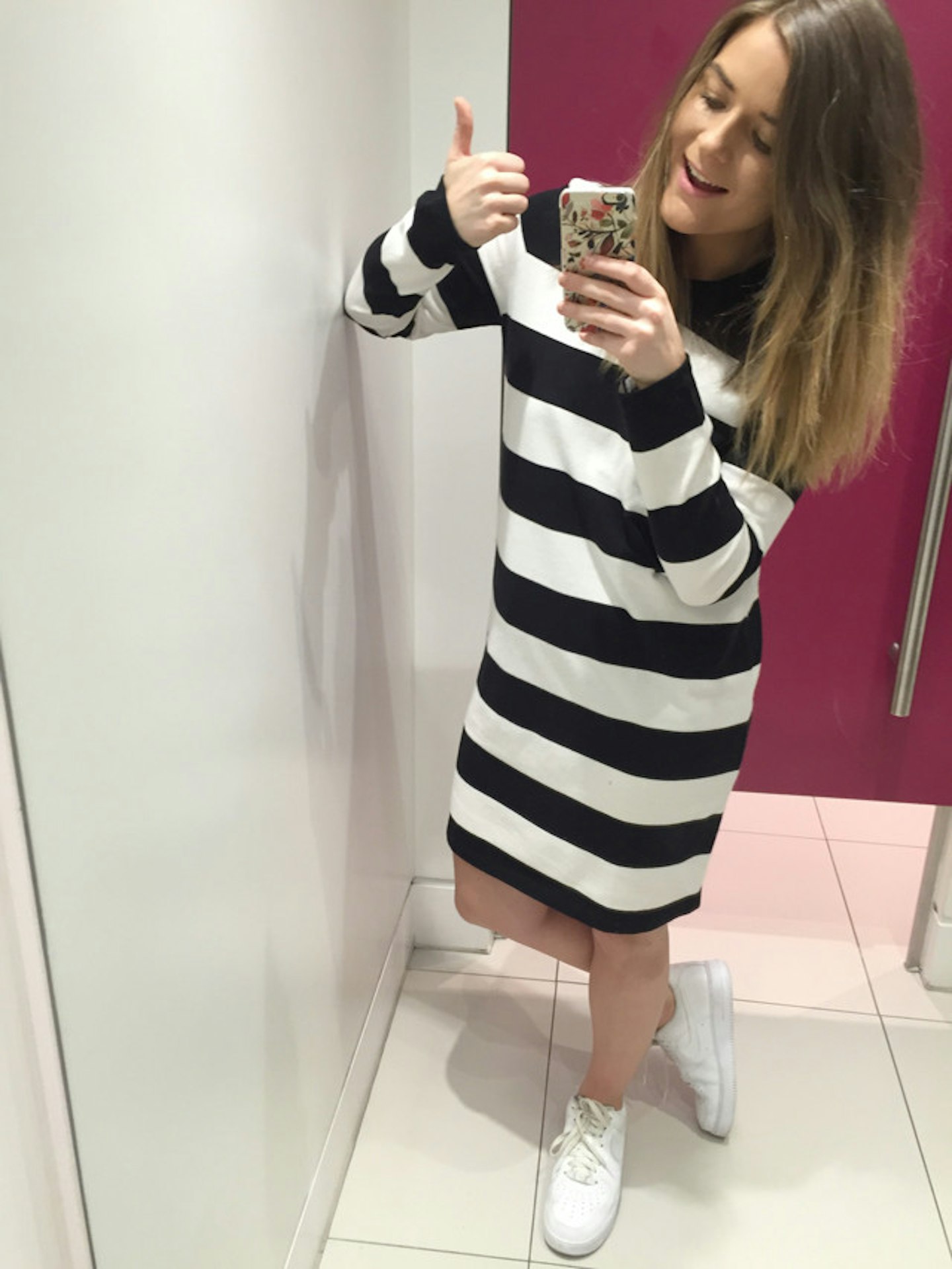 There's something about a black and white stripe that's a bit stereotypical mime/robber, however that is not going to put me off. I'm completely in love with this Topshop Boutique dress! It can be worn with bare legs (as seen here) or just over a pair of skinny jeans for a more casual look. You know those days when you empty your entire wardrobe onto the floor (the floordrobe - it's a real thing) in search of an outfit? This, my friends, is the perfect number.
Monostripe dress from Topshop, £45
Nike white Air Force trainers from ASOS, £70
**Like this? Then you may also be interested in: **
Follow Katie on instagram @katieevans19
This article originally appeared on The Debrief.