There's a saying that runs something like: keep your friends close, and your attractive best friend even closer, and dressed in a matching outfit. And as these really, really good-looking people proved on the streets of fashion week, it's a many faceted mantra to live by. But who to twin with, that is the question…
Best Friends Forever
Remember the agony of best friend necklaces at school? Buying them as a pair, deciding who your best mate was (often with the aid of a pro/con list), and bestowing the honour upon them, before wearing your newly solidified status proudly around your neck. Then falling out two days later (probably over whose frosted backpack was cooler, or who discovered juicy tubes first) and asking for it back, or having it flung in your face during afternoon registration. Well, grown up best mate matching faces the same pitfalls, but with better stuff. Case in point being American brand Veda's amazing hand painted leather jackets, which officially made twinning 'a thing' on the streets of NYFW. At just over $2000 for the pair - you can buy them separately, but who wants to be a 'Stend' – they're not exactly cheap, but who can put a price on best-friendship? Veda, apparently - just make sure you're sure about who you choose. The pair that made them famous are twinning-enthusiasts, singer Caroline Vreeland and fashion stylist and blogger Shea Marie, who racked up more matchy-matchy looks over fashion month than Romy and Michelle.
Sister Sister
When I was a kid, my sister and I would often be matching – duffel coats, little red velvet dresses, bows in our hair. And yes, I'm aware that this makes us sound like the railway children. Song of Style super-blogger Aimee song and her little sister Dani have taken a slightly more modern approach to the Tia and Tamera school of dressing with coordinating colour-palettes and matching accessories. Oh, and it doesn't hurt that they share a gene pool, either.
But when it comes to double-take fashion, you can't out-twin a twin. Sharing a womb pre-disposes you to smashing it on the identi-fashion front, apparently. And while Mary Kate and Ashley will always hold a place in my heart, new twins on the block Camilla and Giulia Venturini took Milan Fashion Week by storm with a very cool, very different look. The models' (who are also artsists and filmmakers) matching buzzcuts and DMs make me want to quote Empire Records, so I will. 'Well Sinead O'Rebellion, shock me shock me shock me.'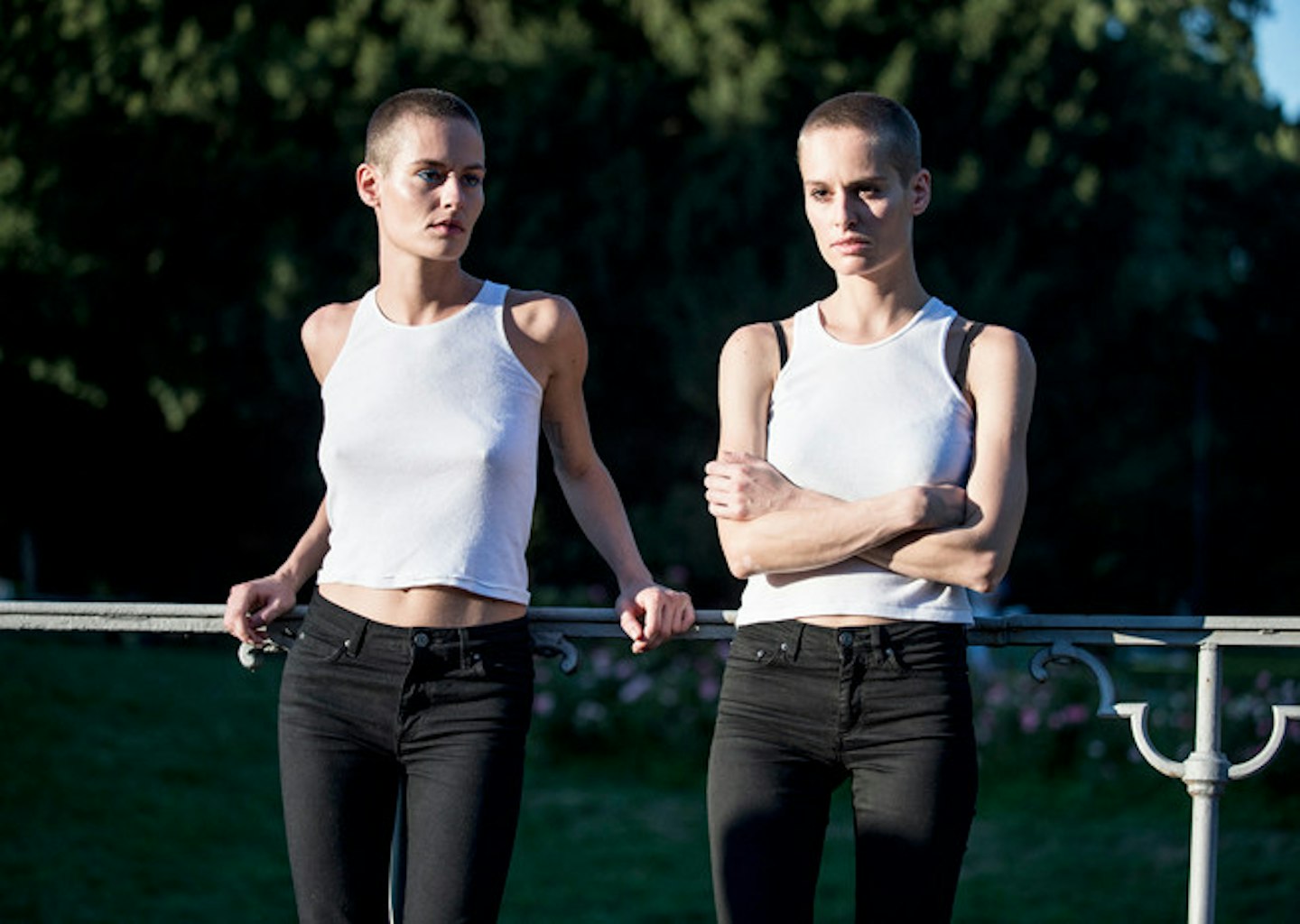 Soul Mates
The closest I ever come to matching the old ball and chain (in the loosest, not at all marital meaning of the term) is when we both wear Grensons, or navy jumpers. But very tall fashion couple Veronika Heilbrunner and Justin O'Shea have taken it next level. Picking up where Britney and Justin left off, they've been coordinating the hell out of it all over town. And looking pretty darn good, too – almost good enough to make me consider a couple-tux of my own. Almost, but not quite – I really don't have the legs for it.
** Follow Charlie on Twitter @charliegowans
**
**Liked this? You might also be interested in: **
7 Fashion Things That Are Meant To Be Effortless That Aren't
This article originally appeared on The Debrief.