Remember this time last year? And by 'remember' I obviously mean memory's modern equivalent, Timehop.
Sure you do – the heady days of spring 2015, back when David Bowie was still alive, Twitter favourites were still stars, Justin Bieber was still a loser and the thermometer was up to a scorching 14°C. And what were you wearing? Well, basically everything you're wearing this year – only not quite as well.
Because while fashion sometimes moves faster than butter off a hot crumpet, you also get your slow-burners. The trends that straddle a few seasons, sometimes even as long as a decade, while we take our time to warm up to them, style them right and explain their purpose and provenance to our Nan/boss/boyfriend.
They're the style false starts. The first time they appear on the radar you give them a go but for whatever reason (climate, confidence, lack of the right shoes) it just doesn't really work out. You feel weird and awkward and convinced that local schoolkids are talking about you on the bus. But instead of wailing 'I HAVE FAILED AT FASHION,' pulling on an M&S wrap dress and sending the offending item straight to Oxfam, you bide your time. You wait a year. And if you're very lucky, fashion will give you a second chance. It's benevolent like that, is fashion.
This generous do-over attitude is the reason a trip up the high street this month might feel like a form of sartorial de ja vu. Cropped denim! Mules! Off-the-shoulder tops! Dungarees! Last spring we tried and bottled it, but this year they're still here and nobody's going to laugh you out of the pub this time round. Promise.
Here are the prime looks from last spring to have another bash at now.
Culottes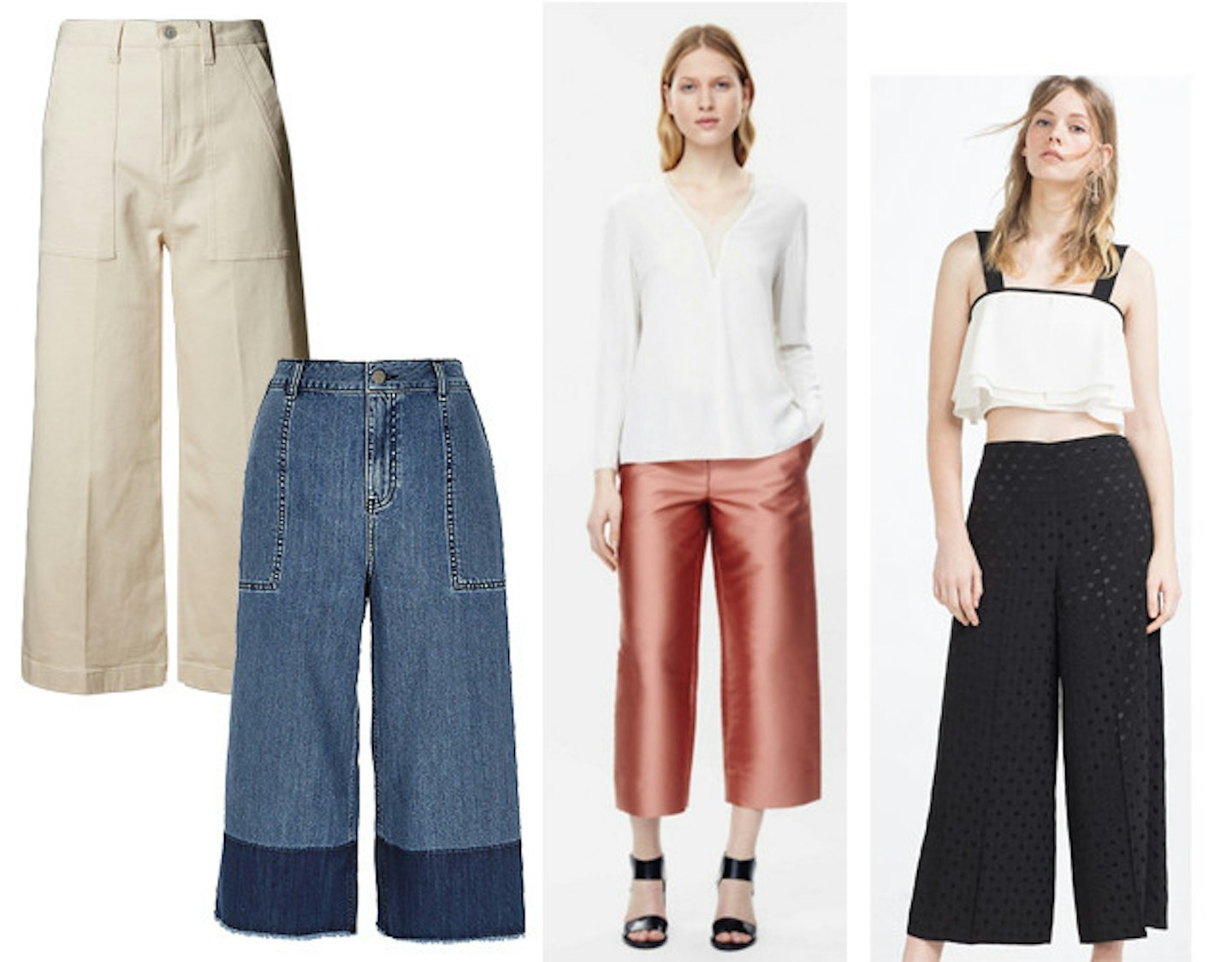 We've been trying to nail these wafty bad boys since 2014, but this will finally be the season that your culottes stop being greeted with 'that's a nice skirt! Oh, it's… er... oh.' and start getting the appreciation they deserve. This is mainly because some far weirder trouser shapes have come along to make them look pedestrian by comparison (cropped flares, we thank you), but also because there's now such a broad range of styles, fabrics and prints on offer. A lotte of culottes, you might say.
From frayed denim for the weekend to silk swishers that you could legit wear to a wedding, this will be the year the culotte goes from leftfield to mainstream. The year you greet other people with: 'what lovely culottes! Oh, it's… er, a skirt. Oh.'
Wide leg denim culottes in ecru from Marks & Spencer, £39.50
Straight cropped trousers in metallic rust from Cos, £79
Polkadot cropped black trousers from ZARA, £29.99
Denim dip-dye frayed hem culottes from River Island, £38
Bardot necklines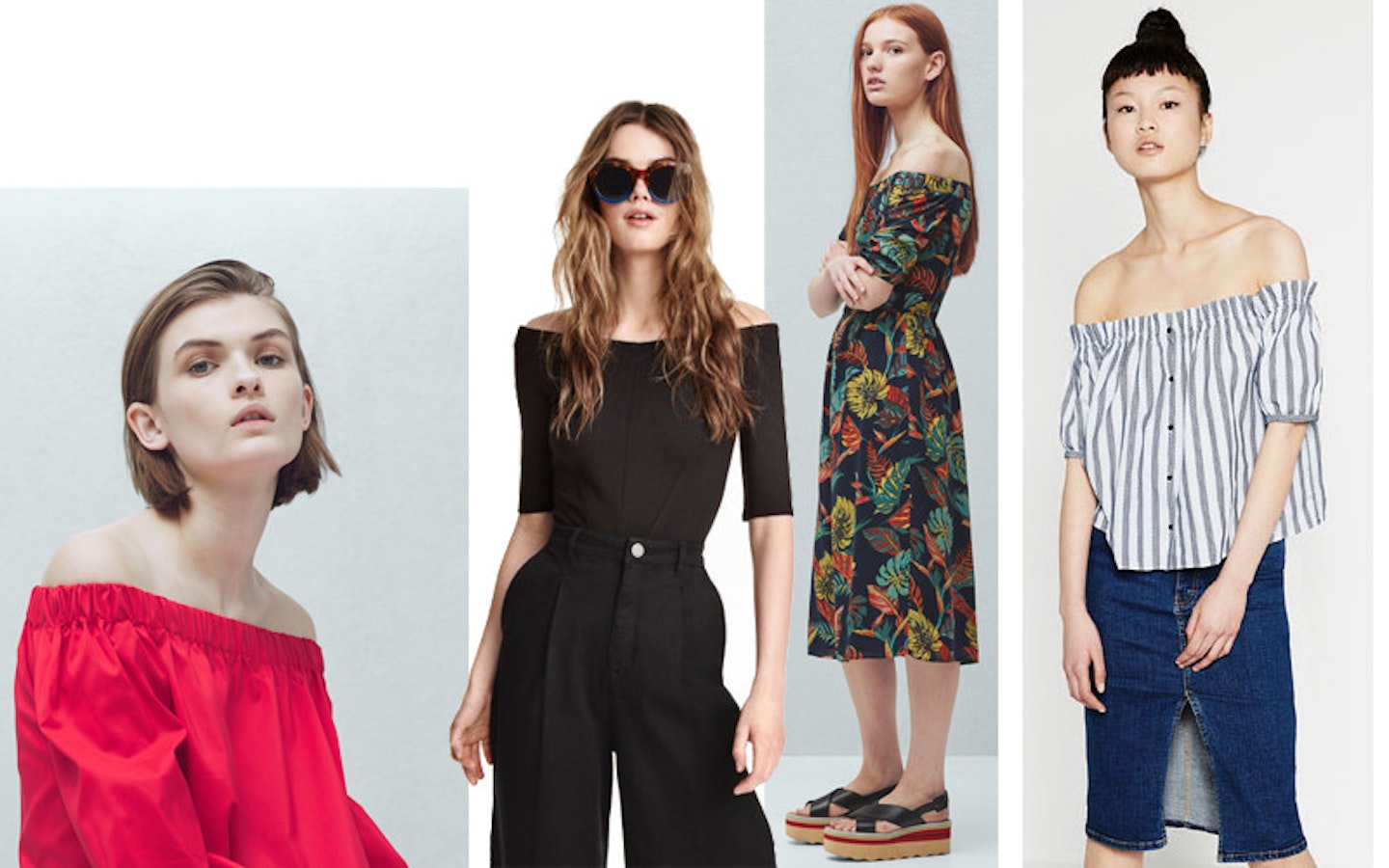 Look, this one has to stay because we invested in some really uncomfortable strapless bras last spring and need to get our money's worth. But pinchy scaffolding aside, the off-the-shoulder top just gets better this year. It's gone tailored for a start, with crisp button-down Bardots as a nice alternative to girlish frills. And that flash of decolletage is the solution for everyone who bought dungarees last year too, but wasn't sure how to wear them without feeling like a sexless circus clown. We'll be on such good terms with the Bardot this year we'll start calling them 'Brigitte'.
Although it could be up to another three years before we learn how to keep the bastarding things off our shoulders. Um, Pritt Stick?
Stiped off-the-shoulder top from ZARA, £22.99
Ruched neck bardot blouse from Mango, £29.99
Bardot neckline structured body from H&M, £24.99
Off-the-shoulder tropical print dress from Mango, £35.99
The 70s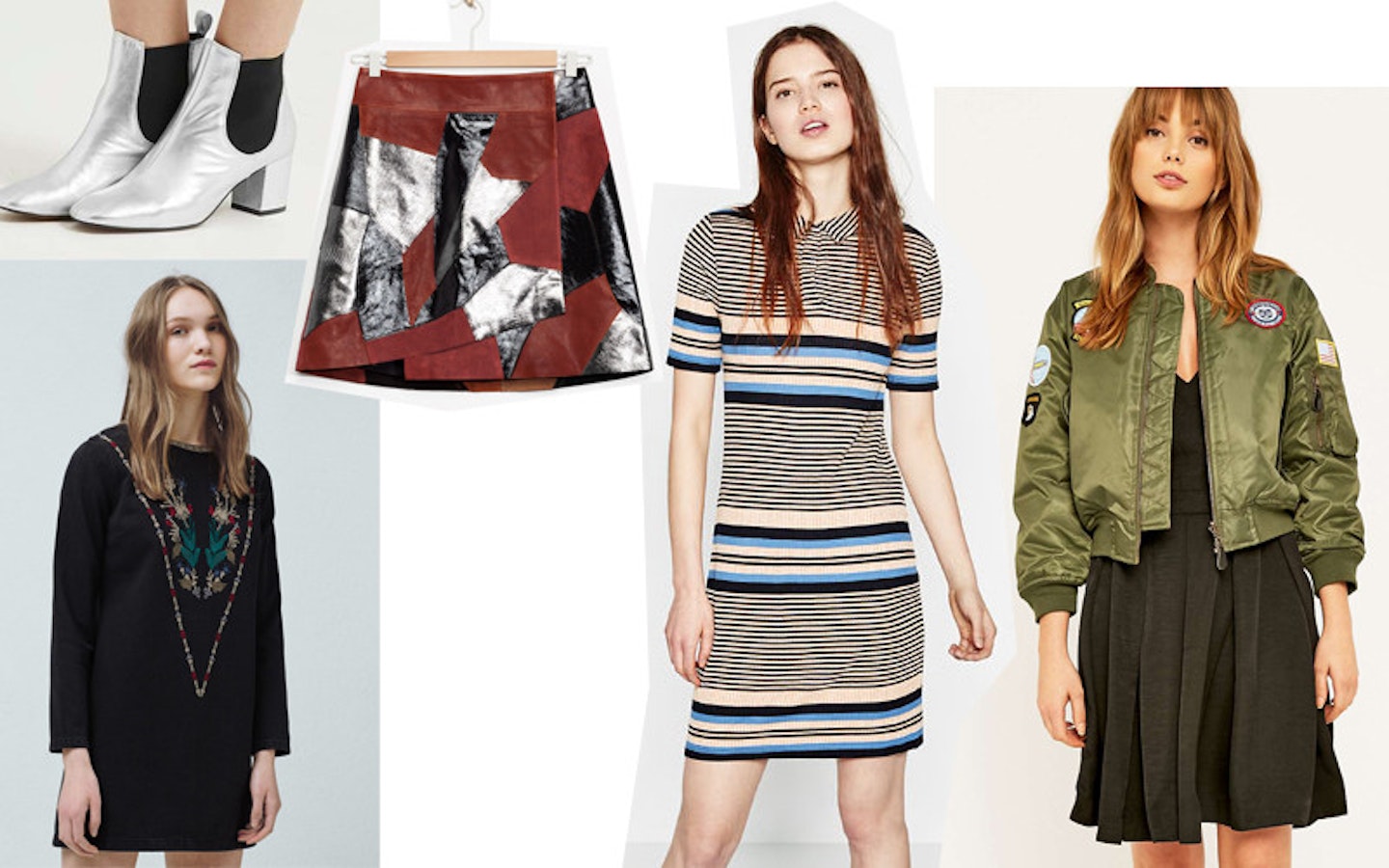 Last year if you wanted to channel the 70s revival, your options were limited to a) the same suedette button-down skirt that the whole world and its auntie was wearing round Tesco, or b) a midi peasant dress, which even the aunties had dismissed as too frumpy. We were on board in theory, but in practice the look just wasn't going to fly when there was still so much bouncy, shiny 90s garb around to make us feel young again.
This year though, we've got the cheerier, sportier side of the 70s to play around with. Think tight stripes, skinny rib, patched denim – basically anything that might look good astride a Chopper or with a pair of rainbow rollerskates. Retrieve the peasant dress, lop a foot off the hem and try it with blocky silver ankle boots and a bomber jacket this time round. Aha! As ABBA would say.
Vintage green bomber jacket from Urban Outfitters, £60
Patchwork leather skirt from & Other Stories, £185
Polo neck striped dress from ZARA, £17.99
Silver metallic Chelsea boots from Topshop, £75
Embroidered denim dress from Mango, £39.99
Mom denim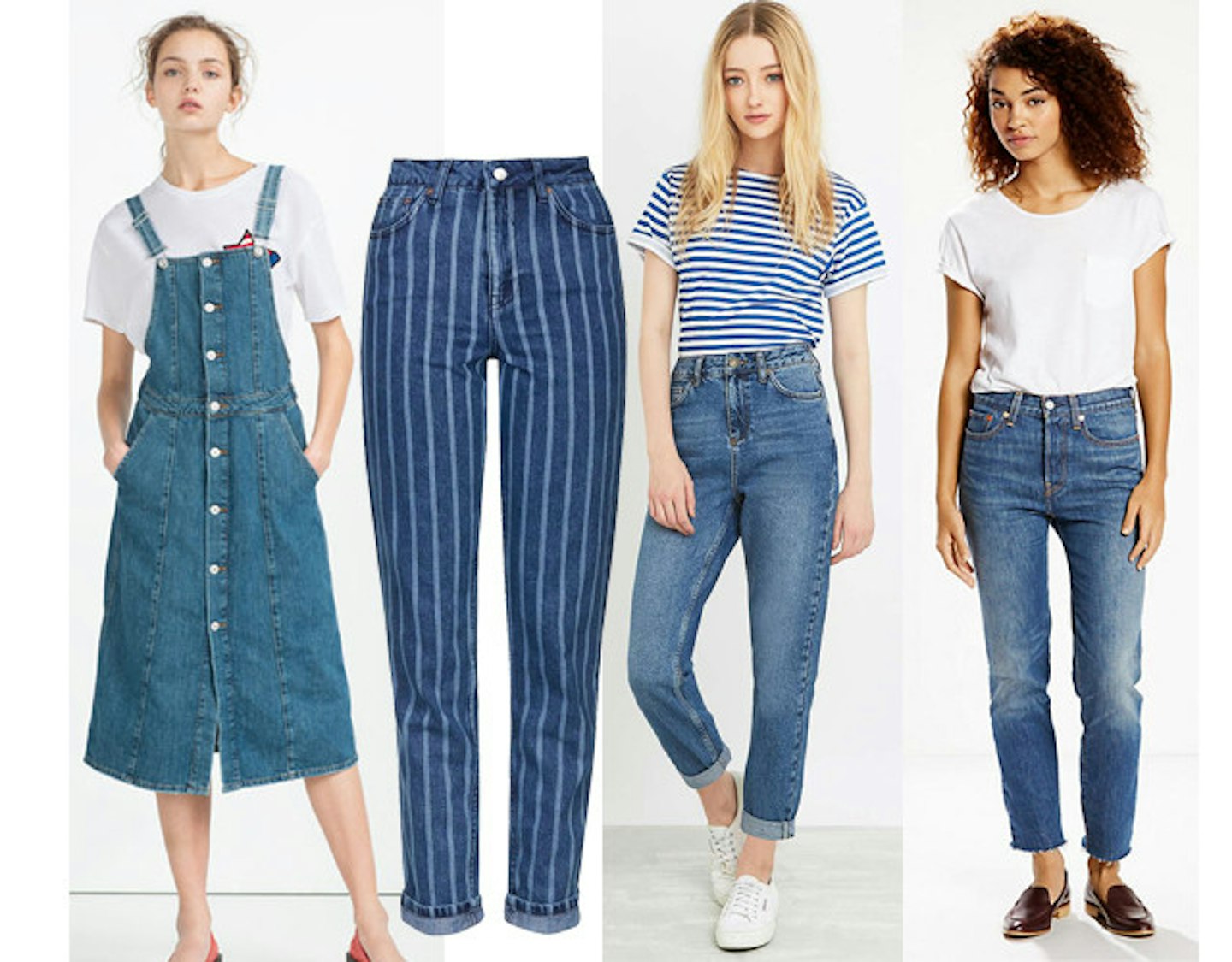 Last year it was the button-down denim midi skirt that had us feeling all 'Mum and her perm at Camber Sands Pontins, 1988'. This time round the skirt can stay, but it's being joined by Levi's Wedgie-fit jeans and their crowd of crotch-focused imitators as we finally peel off our stretch skinnies and reclaim proper, sturdy denim. Denim that supports you, whips you into shape and makes you stand up straighter. Strict denim. Firm but fair denim. Just like a good mum, really.
They also like to interfere in your business, but the less said of that the better.
Wedgie fit jeans from Levi's, £95
Vintage blue mom jeans from Urban Outfitters, £55
Indigo striped mom jeans from Topshop, £42
Denim dungaree midi dress from ZARA, £35.99
Clogs
I bought a pair of wooden-soled clog/mule mutants last year and dutifully clonked around in them all summer, while everyone else shuffled about in pool slides. I felt great; I looked like a background extra off Benidorm. But this spring they're back and they're easier to wear, albeit no less likely to give you bruises on your inner ankles.
Lotta from Stockholm is the new Scandi clog brand du jour – chic, sturdy and helpfully about a third of the price of Swedish Hasbeens (relax, you don't have to assemble them from flatpack), while fellow Swedes Vagabond have the definitive close-toe platform mule. And if you're too much of a wuss for wood, try its lightweight cousin: cork. That's one trend you can really put a pin in.
Heeled t-bar clog in aubergine from Lotta from Stockholm, £57.50
Leather heeled sandal clog from Vagabond, £75
Heeled t-bar sandal clog from Topshop, £46
Silver cork brogue from Office, £58
Embellishment and embroidery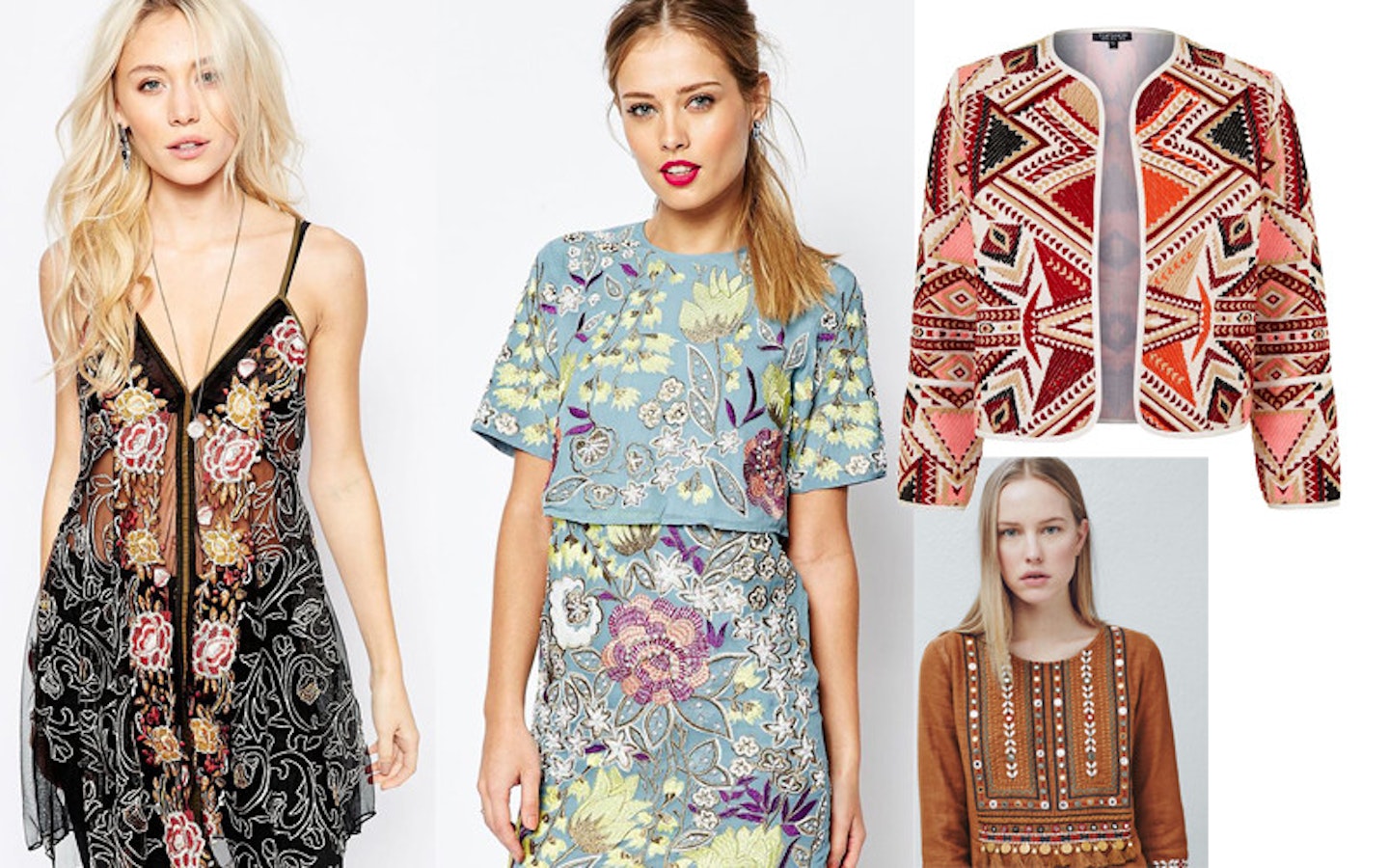 Last spring the embroidery trend was mainly hippie-lite flowers; this year it (quite literally in some cases) has bells on. And tassles. And velvet. We've gone hippie-luxe.
The trick to making it look more 2016 and less like you're at a fancy dress party as Frida Kahlo is to mix it up – so wear last year's embroidered top with a clashing print jacket, an embellished skirt, an embellished clutch or a pair of jeans covered in patches. Be loud, be proud, and avoid rough surfaces for fear of snagging.
Floral embroidered mini dress from ASOS, £130
Bead embroidered smock dress from Mango, £39.99
Embroidered jacquard jacket from Topshop, £55
Embellished sheer cami dress from Free The People at ASOS, £65 (sale)
**Like this? Then you may also be interested in: **
We Try On All The New Season Stuff In & Other Stories So You Don't Have To
7 Ways To Get Your Legs Out When The Sun Is Shining But It's Still Cold AF
Follow Lauren on Twitter @laurenbravo
This article originally appeared on The Debrief.