There's always a hoo-ha at the Whistles show - it's one of the most looked-forward to shows on the London schedule, despite only being a few seasons old and presenting clothes from a high-street (albeit high-end) brand. It's usually because us fashion lot are so excited to watch a show full of ace clothes that we can actually afford, but this season the excitement had already kicked off in the lobby before the fist glossy leg hit the runway.
Hanneli Mustaparta, the ex-model who is gorgeously giraffe like and founded cult blog hanelli.com, had shown up wearing an unusual but striking choice of dress. The sexy, big eyed, long legged beauty was wearing a denim pinafore. And damn she looked good.
Pinafores instinctively remind me of childhood - I was a toddler in the late 80s and there are stacks of photos of me wearing ditsy print pinafores hand sewn by my granny. I remember the satisfying feeling of being buttoned into the little dresses that had a flared skirt but fitted tight across the chest, which made you feel pretty but kept your legs free to kneel and make mud-pies, or race a boy and beat him. It could be that weird mix of feminine, ready-to-run cut that appeals to us even now - and could be why a cluster of designers are bringing the pinafore back for ss15.
Read More: From Grey To Glow: How To Brighten Your Skin From Your Desk
Eudon Choi's denim pinafore was split down the front with a floral pocket and big round buttons, intended to be worn over a summer slip, Stella McCartney's style was also cut from denim with a handkerchief hem and buckles at the shoulders, while Valentino showed a predictably adorned version with whimsical embroidery. Sounding all a bit too girly to you? Then follow Hanneli's vibe, and wear yours with something as super sporty as a Nike cropped vest.
The key is to keep it simple. Pick a denim style - it's the easiest fabric to work into your existing wardrobe - and pair with the building blocks of your wardrobe: a white shirt and some ankle boots. Then you can work in the small details that will make this look feel fresh - some suede fringing on a bag, for example, an aztec weave knitted oversized cardigan, or a patchwork accessory. Don't limit yourself to the pinafore dress, either, experiment with a pinafore jumpsuit or pencil skirt. You can even make some mud pies if you want.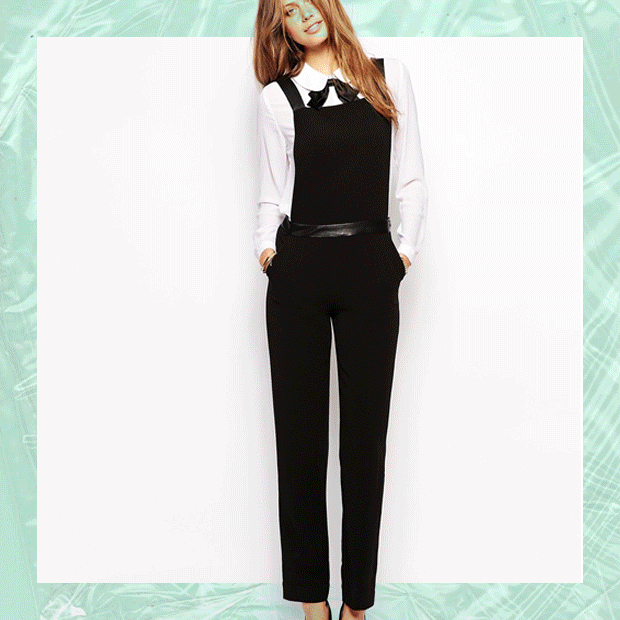 Denim dress, £350, Victoria Beckham at MyTheresa.com, jumpsuit, £140 SuperTrash at Asos, mini pinafore, £225, MIH at Netaporter.com, printed pinafore, £40, Motel Rocks, pinafore dress, £19.99, New Look
Like this? Then you might also be interested in...
Let's Dissect How Blogger Pernille Makes Even A Simple Grey Jumper Look Great
Follow Charlie on Twitter @Charliebyrne406
Pictures: Getty
This article originally appeared on The Debrief.