However natty a man may look in a printed shirt, Noel Fielding they are not. That's right, The Great British Bake Off is back and with it, an array of Noel Fielding's shirts, vaguely ironic, whimsical jumpers and a collection of truly excellent ankle boots. Join us as we take a journey down memory lane, at the best of Noel's past Bake Off wardrobe. As well as this, we've got a guide to the newest of Noel Fielding's shirts in the 2023 series with Alison Hammond, and exactly where you can purchase them.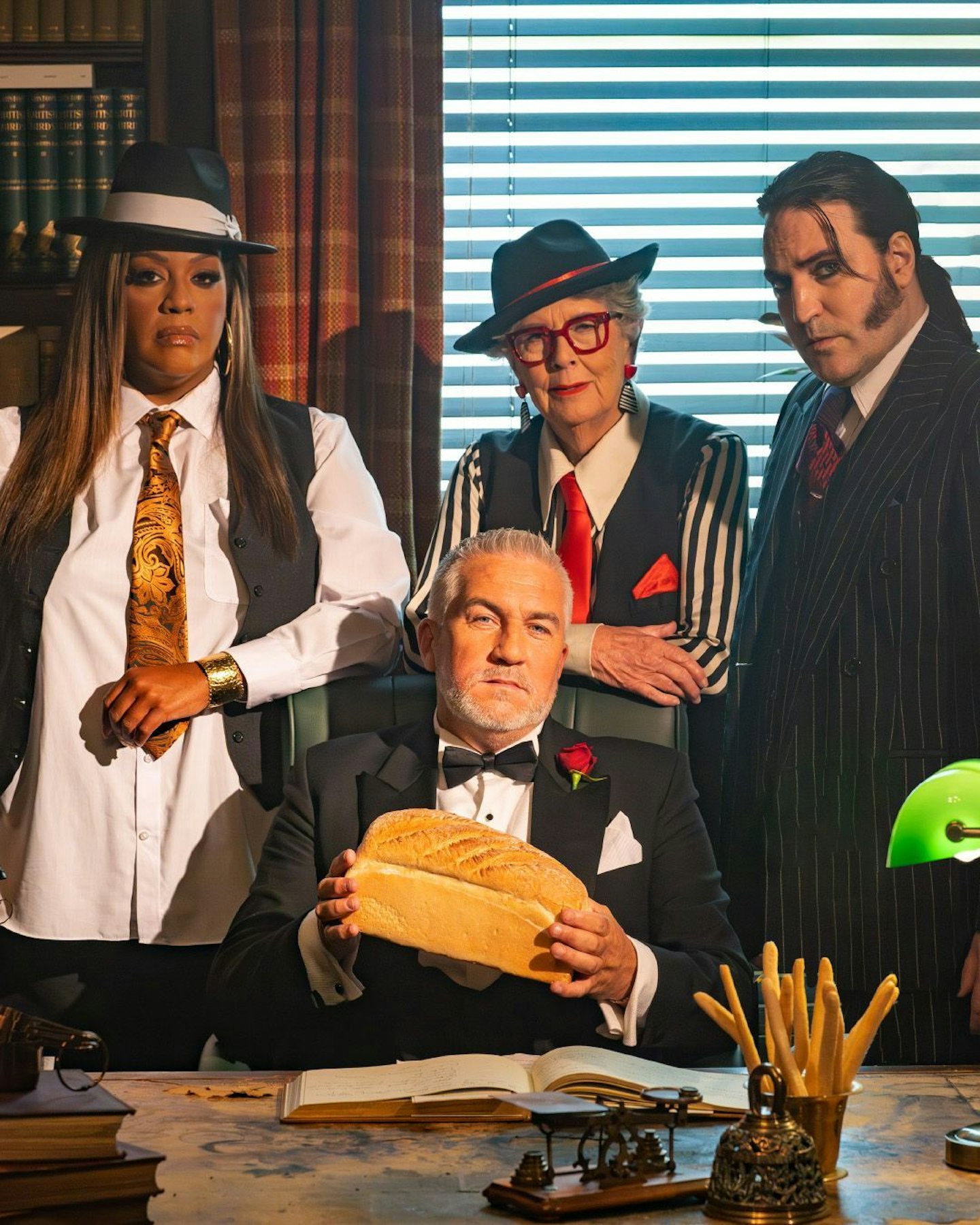 SHOP: Noel Fielding's Great British Bake Off Outfits From The New 2023 Season
In order to satiate our voracious appetites for more of these jaunty outfits, we can look to the current series of Bake Off. We can see, in real-time, Noel Fielding's shirts graduate from nutty high street options to truly astonishing designer numbers, cementing him as the one true style icon of all time.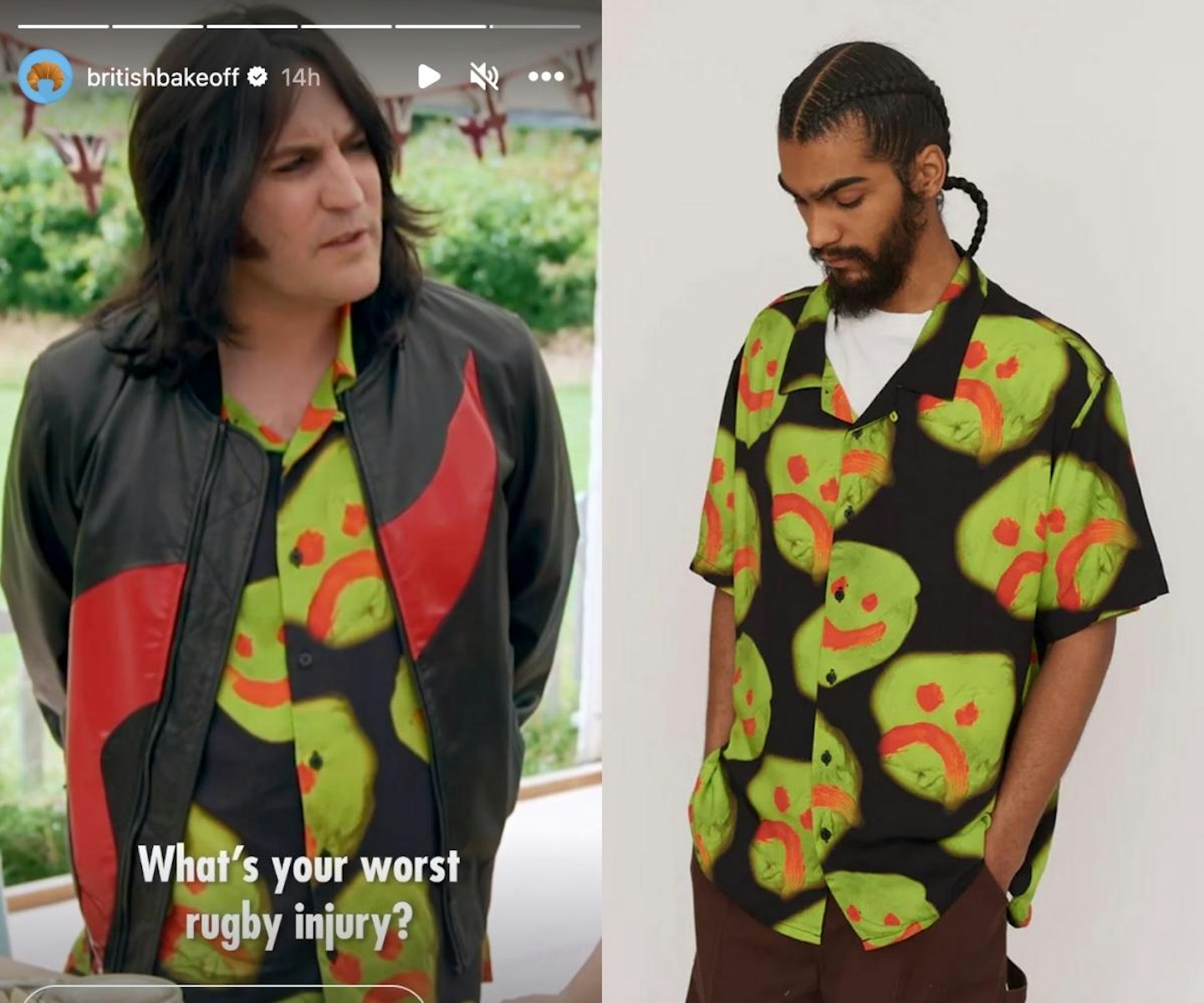 channel 4, lazy oaf
Description
How did we get to the semi-finals so fast? Whilst we ponder this question, discover Noel's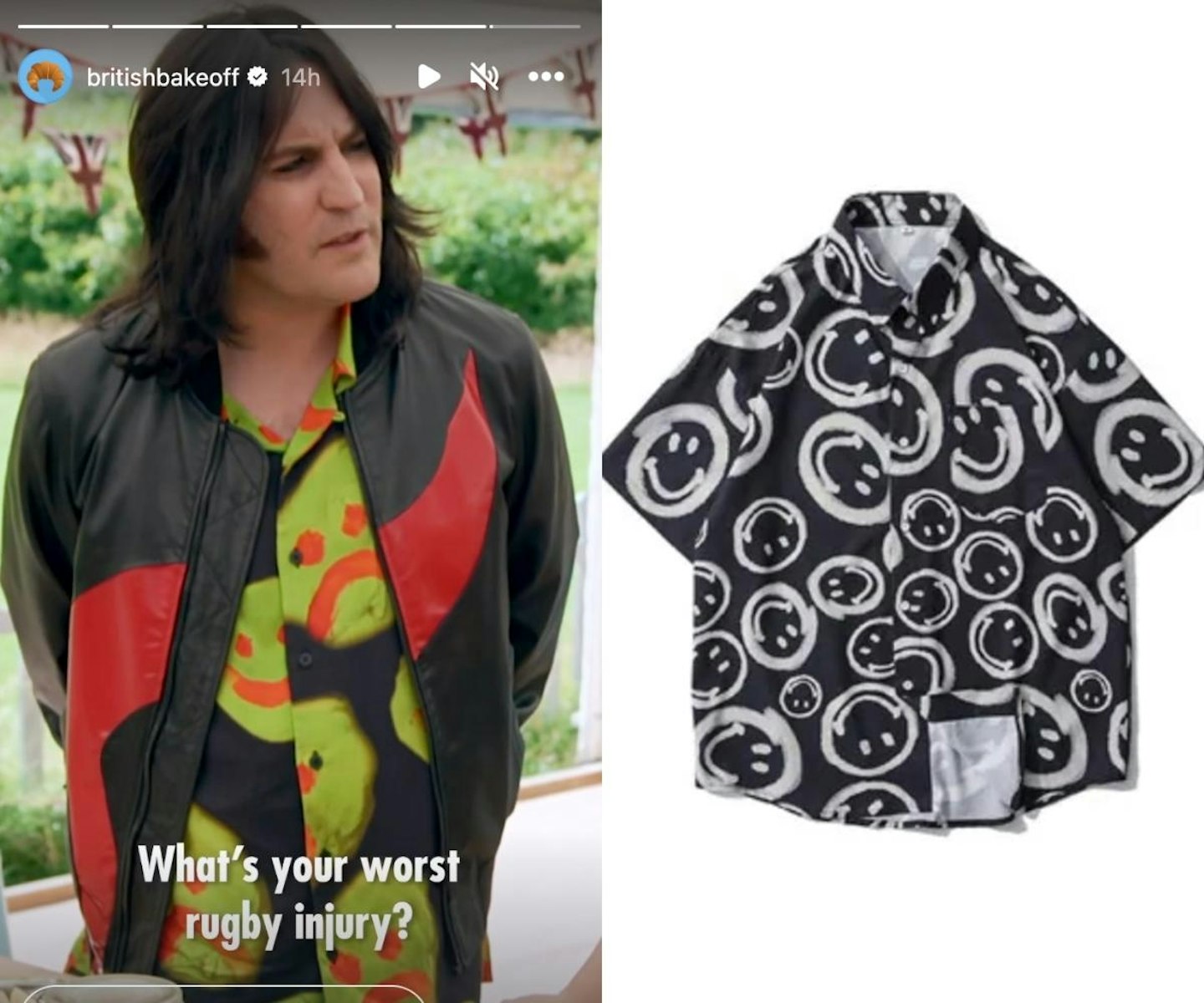 channel 4, asos marketplace
Description
Or, if you're looking for something more smiley-face-themed, ASOS' Marketplace has this iconic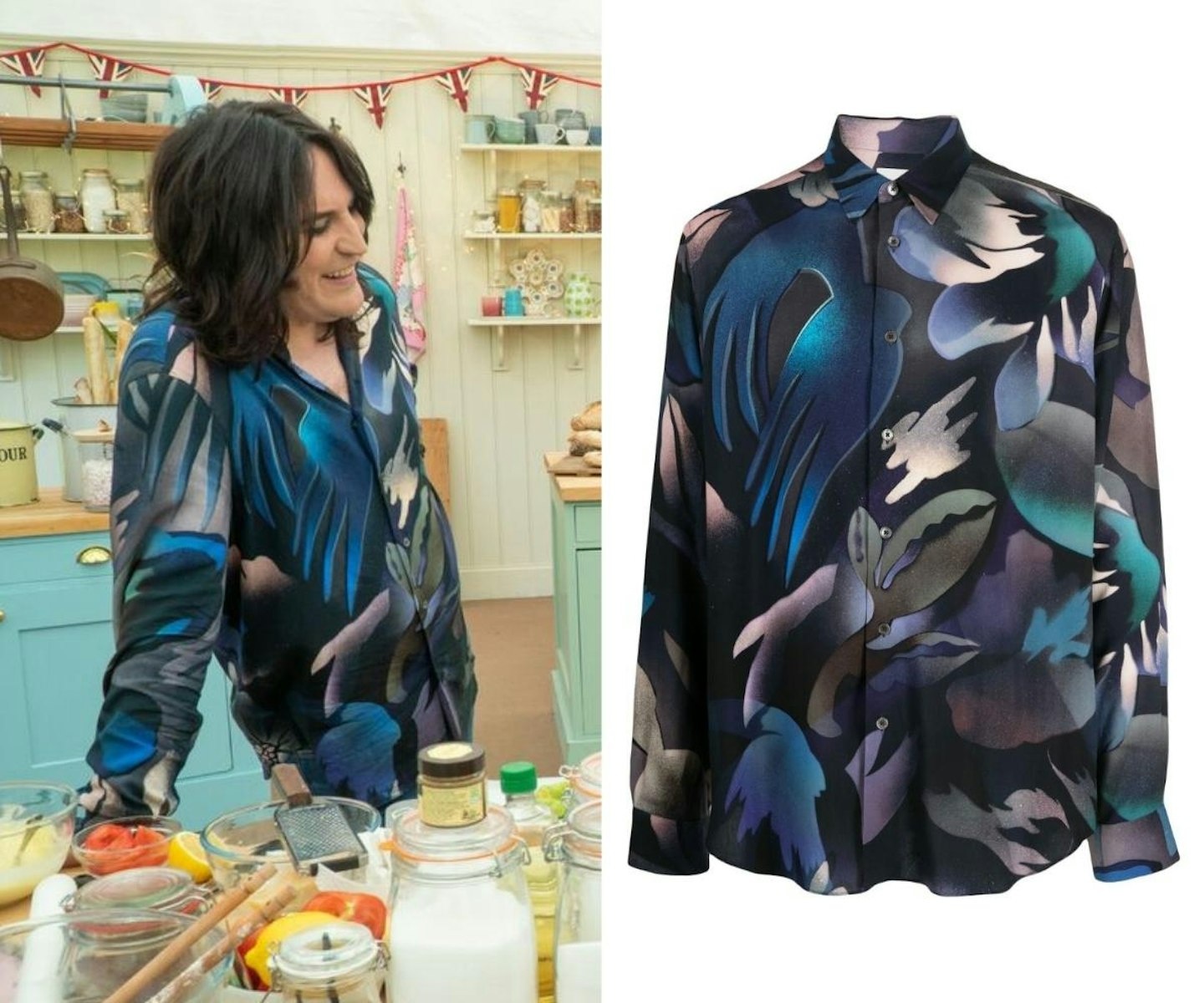 channel 4, farfetch
Description
We are not sure whether the Venus fly trap-esque creature on Noel's shirt is a reference to the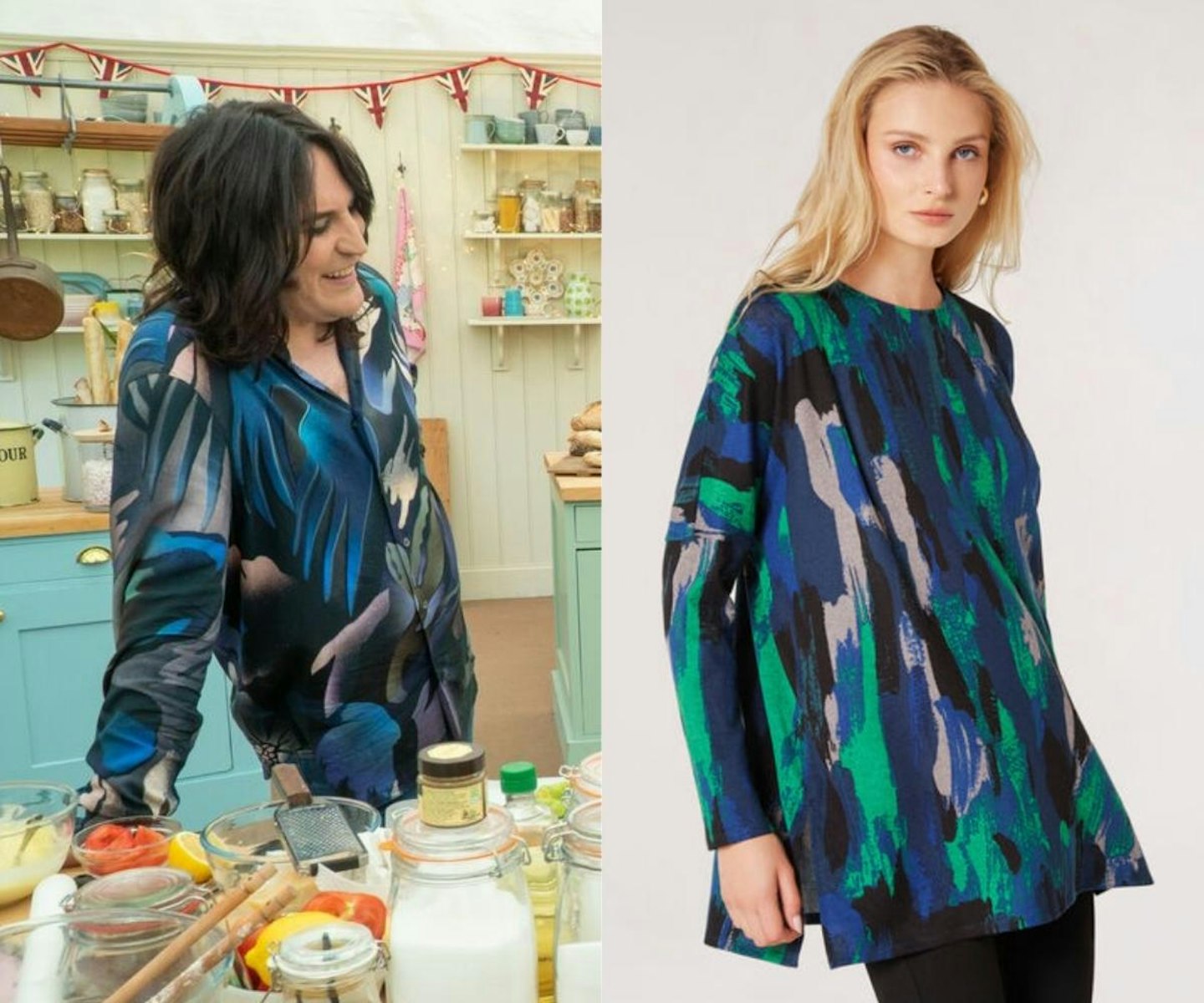 channel 4, apricot
Description
Looking for something a bit more affordable? Noel does have a habit of purchasing rather boujee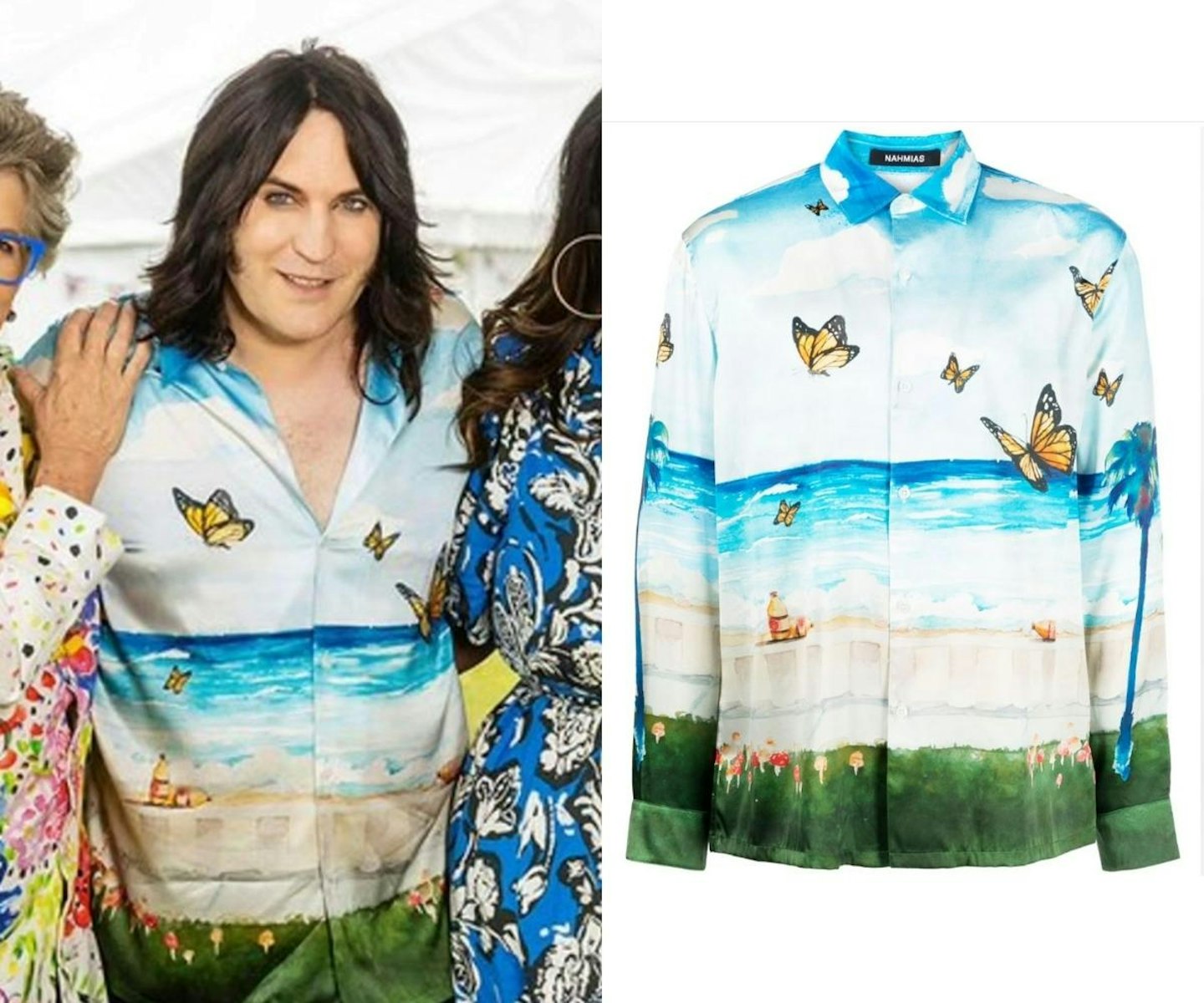 channel 4, farfetch
Description
Noel didn't let us down this week, showing off his fashion prowess with this gorgeous number from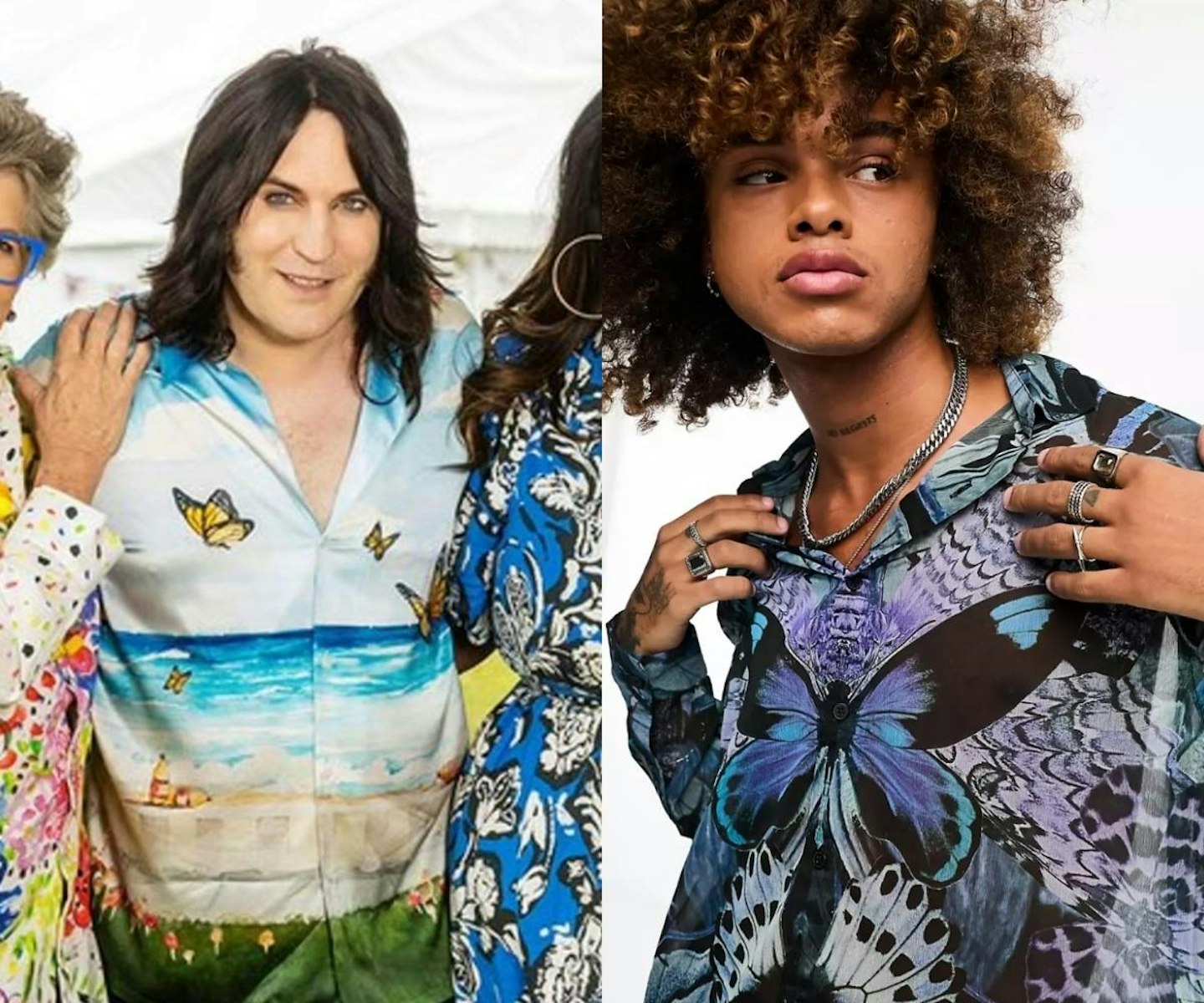 channel 4, asos
Description
Or if you'd like to save a bit of cash (as Noel's taste in fashion has seemed to get more and more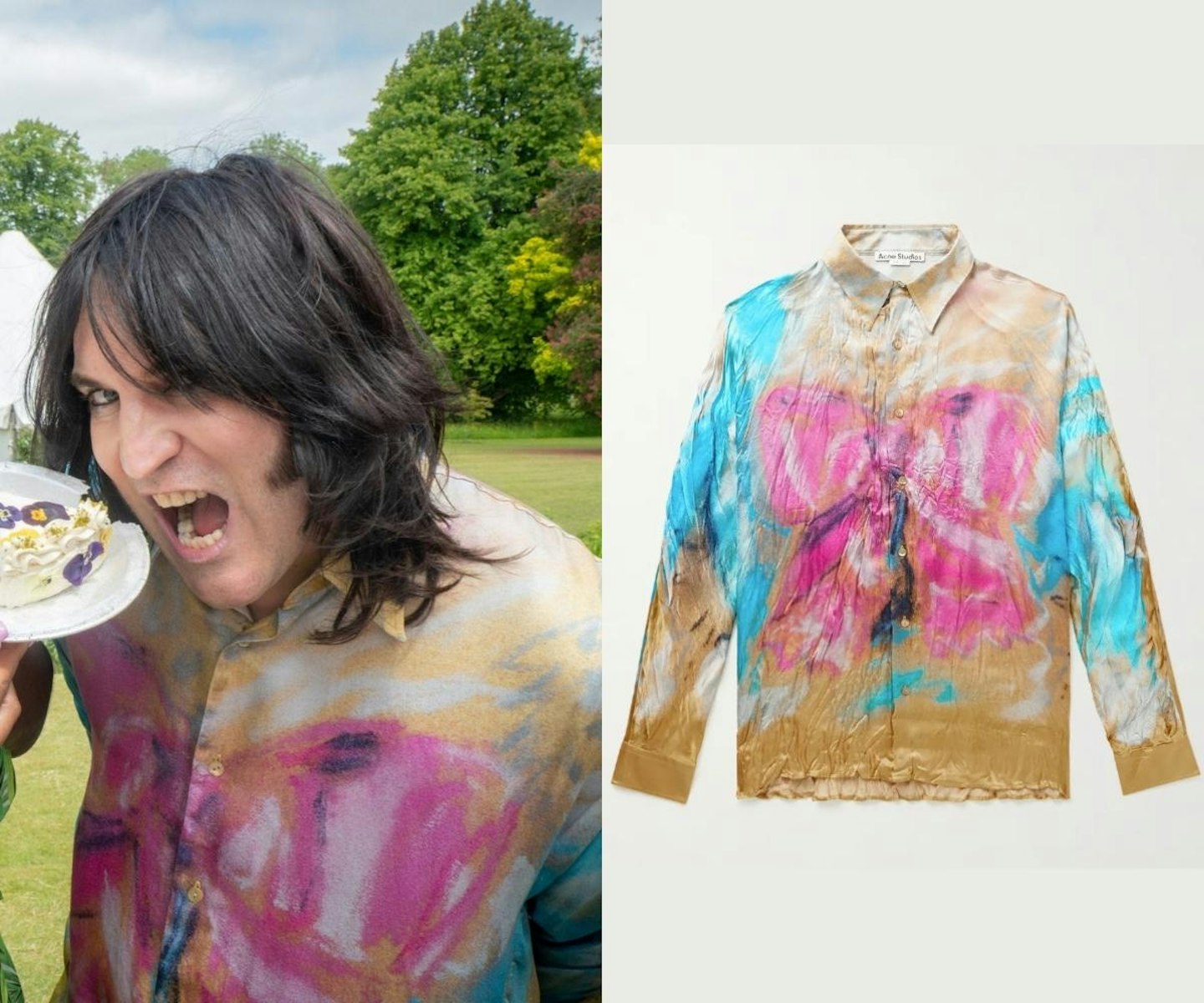 channel 4, acne studios
Description
We know an Acne Studios shirt when we see one - and Noel's Acne Studios + Karen Kilimnick Printed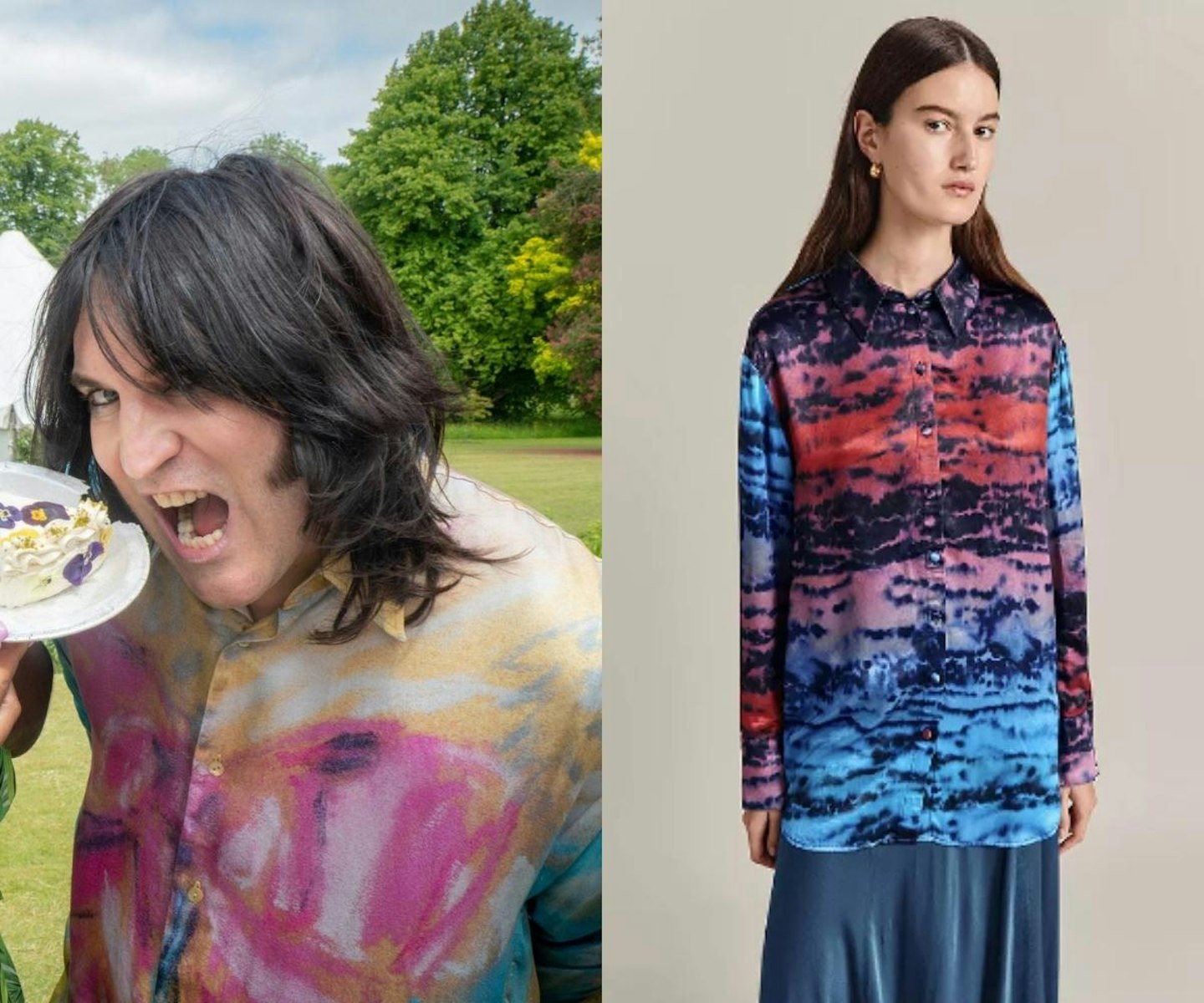 channel 4, john lewis
Description
We've also got a more affordable alternative from Ghost that is just stunning. It's made with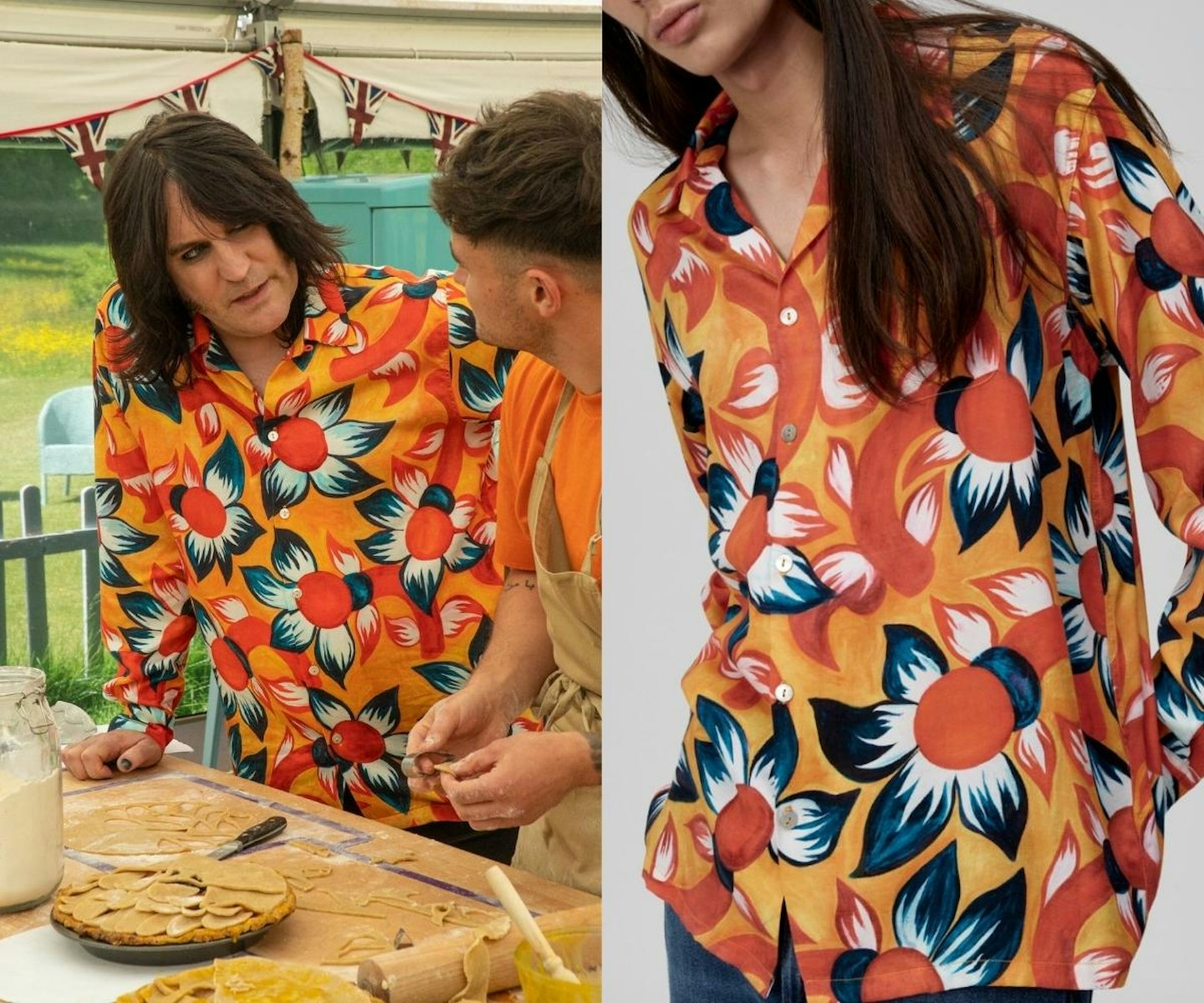 channel 4, endless joy
Description
Never failing to make a statement, Noel stepped out this week in this gorgeous floral number by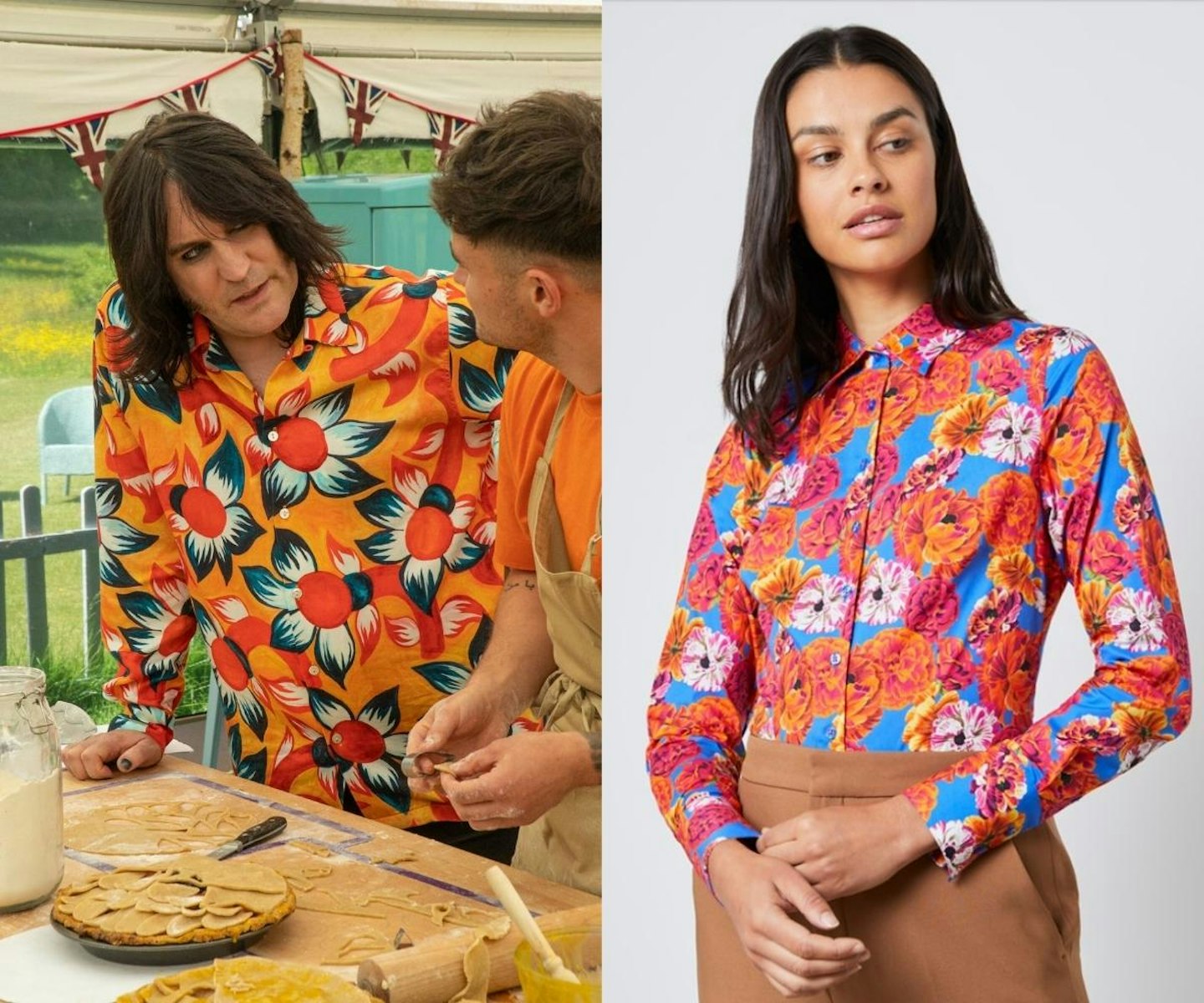 channel 4, hawes & curtis
Description
Looking to spend a little less, and still get that vibrant floral-explosion look? Hawes & Curtis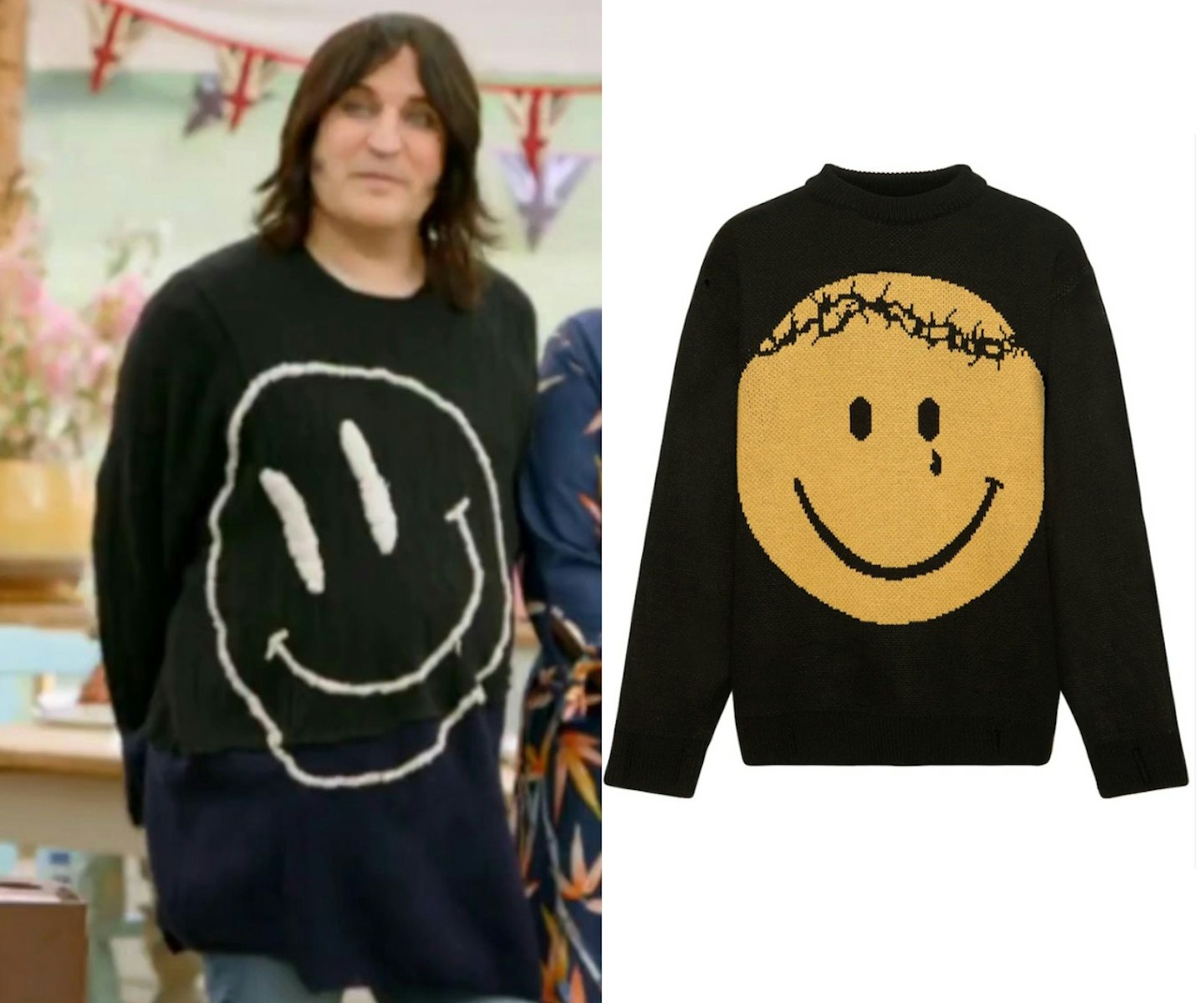 channel 4, luisa via roma
Description
On the hottest day of the year, Noel decided to wear the Oversized Smiley Collage Knit Jumper from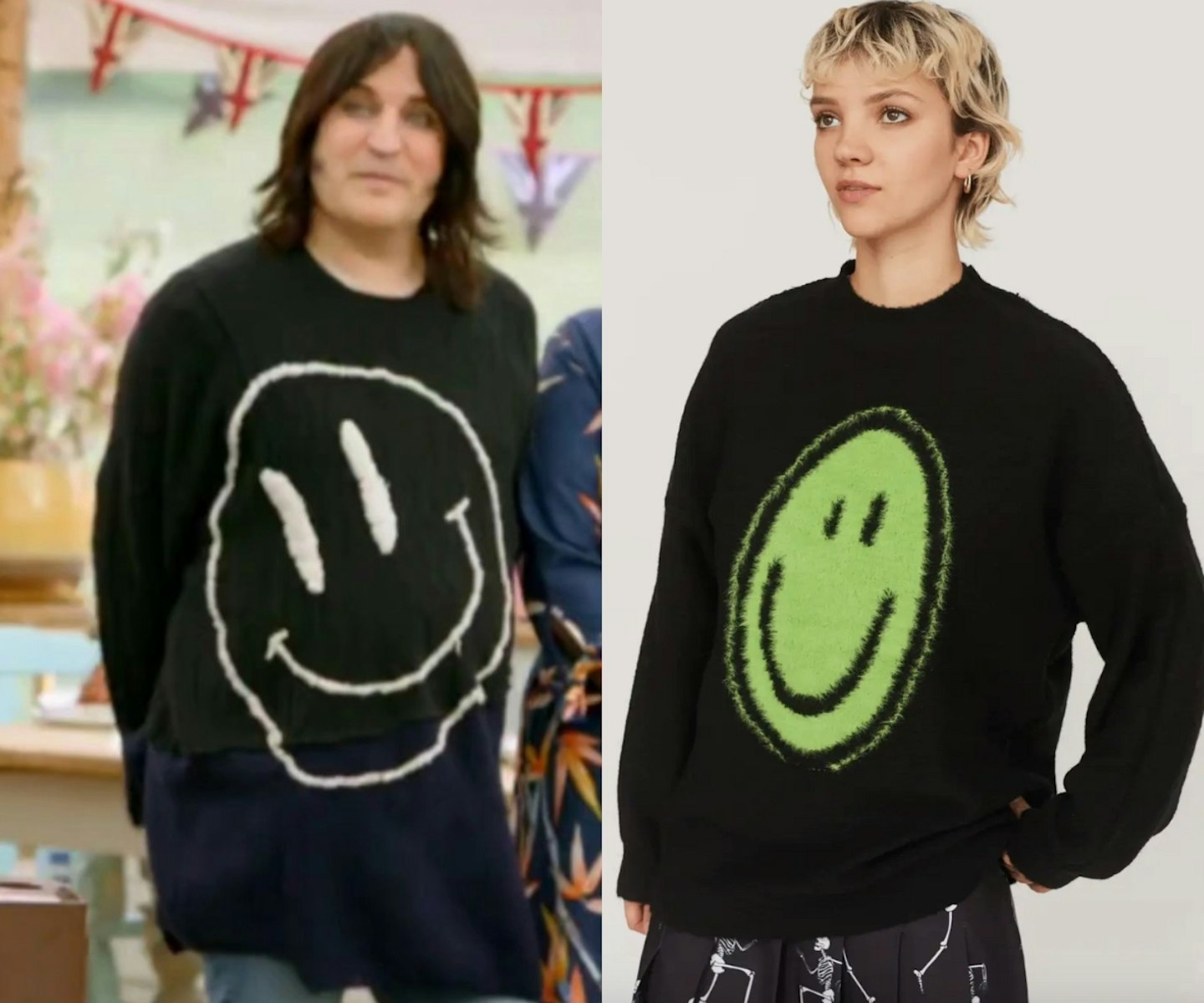 channel 4, lazy oaf
Description
For a slightly more affordable option, this jumper from Lazy Oaf is perfect. It is reversible so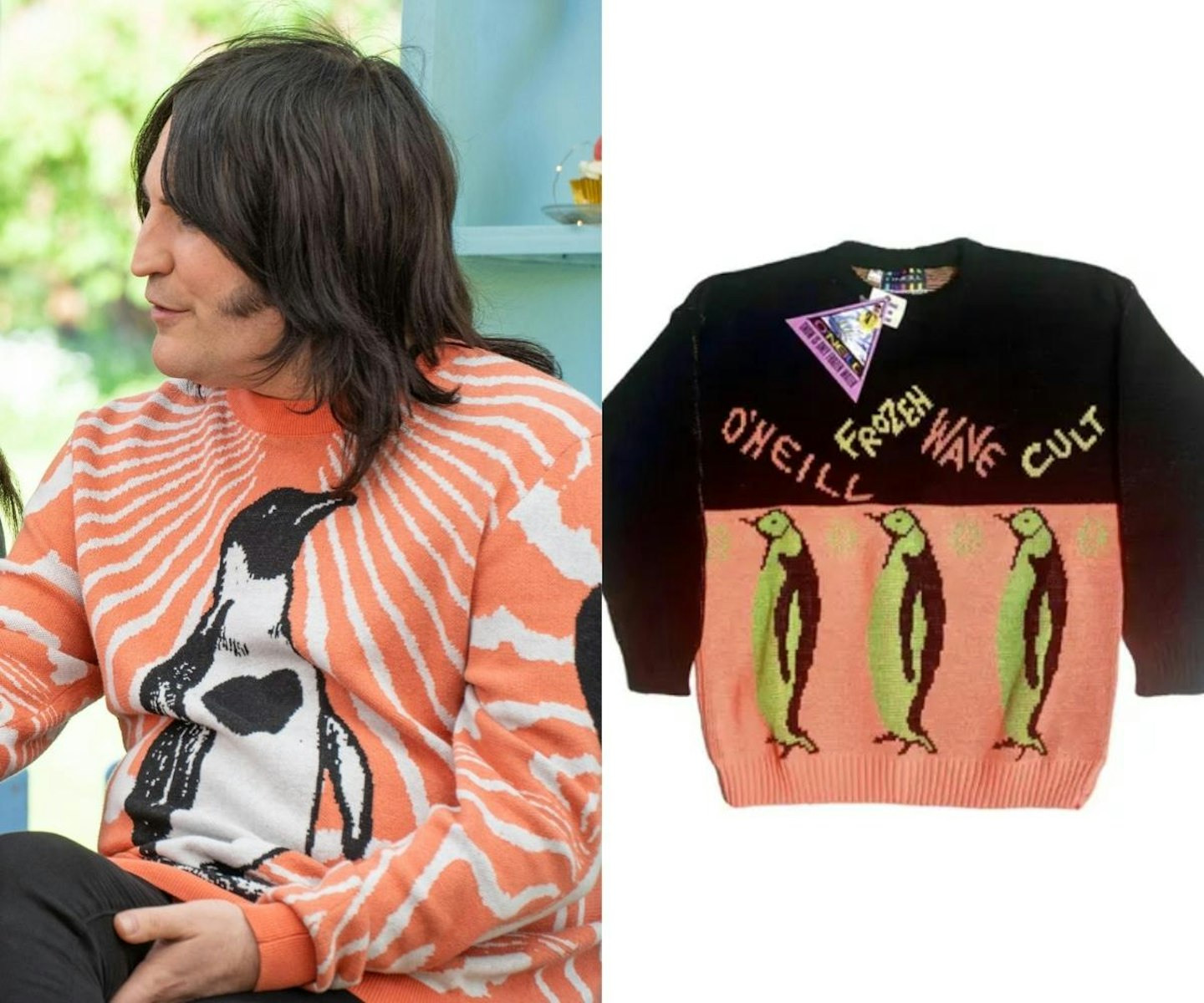 channel 4, vestiaire collective
Description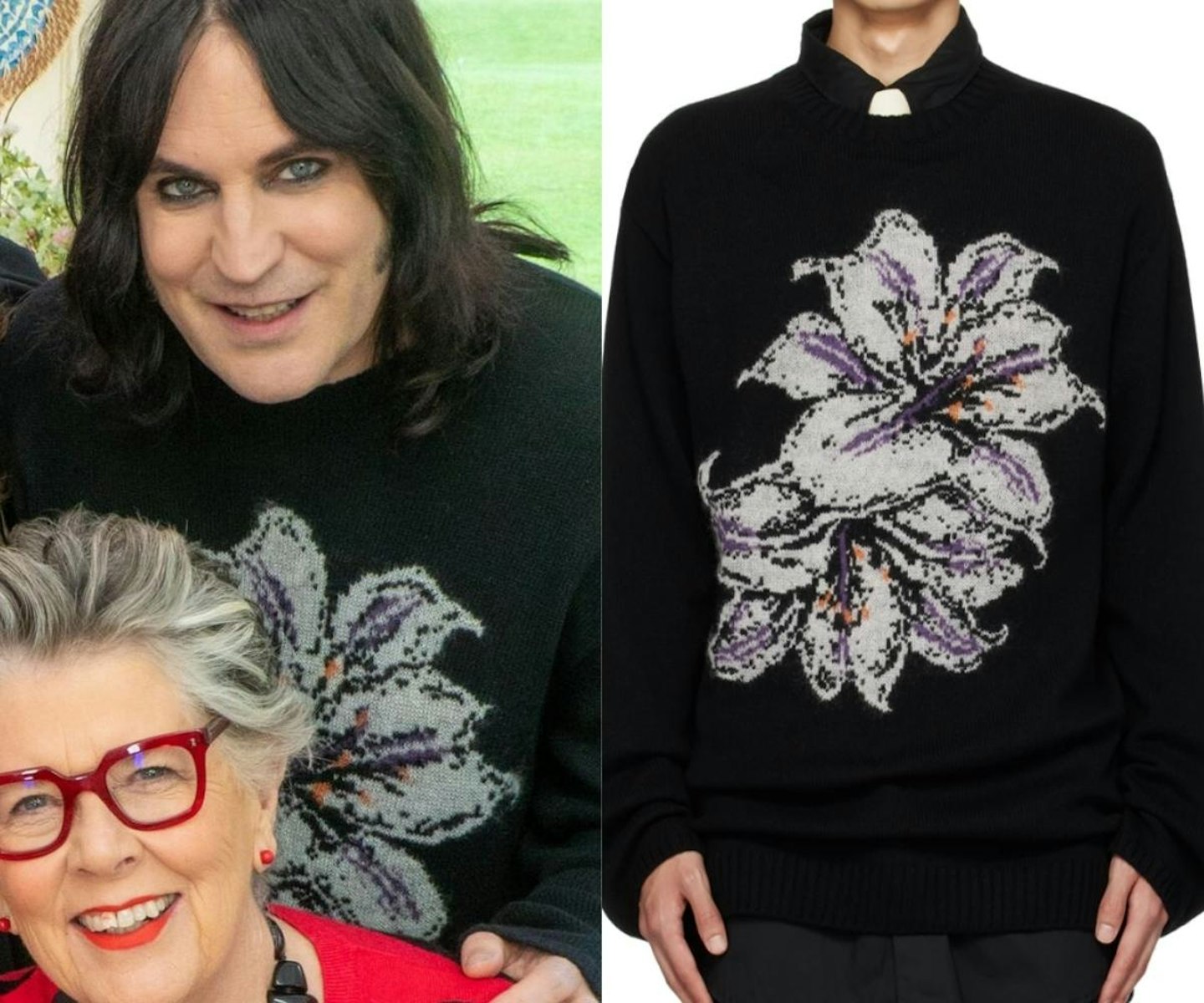 channel 4, oasis
Description
Whilst we tried not to get too stressed by Keith's chaotic baking this episode, we focused on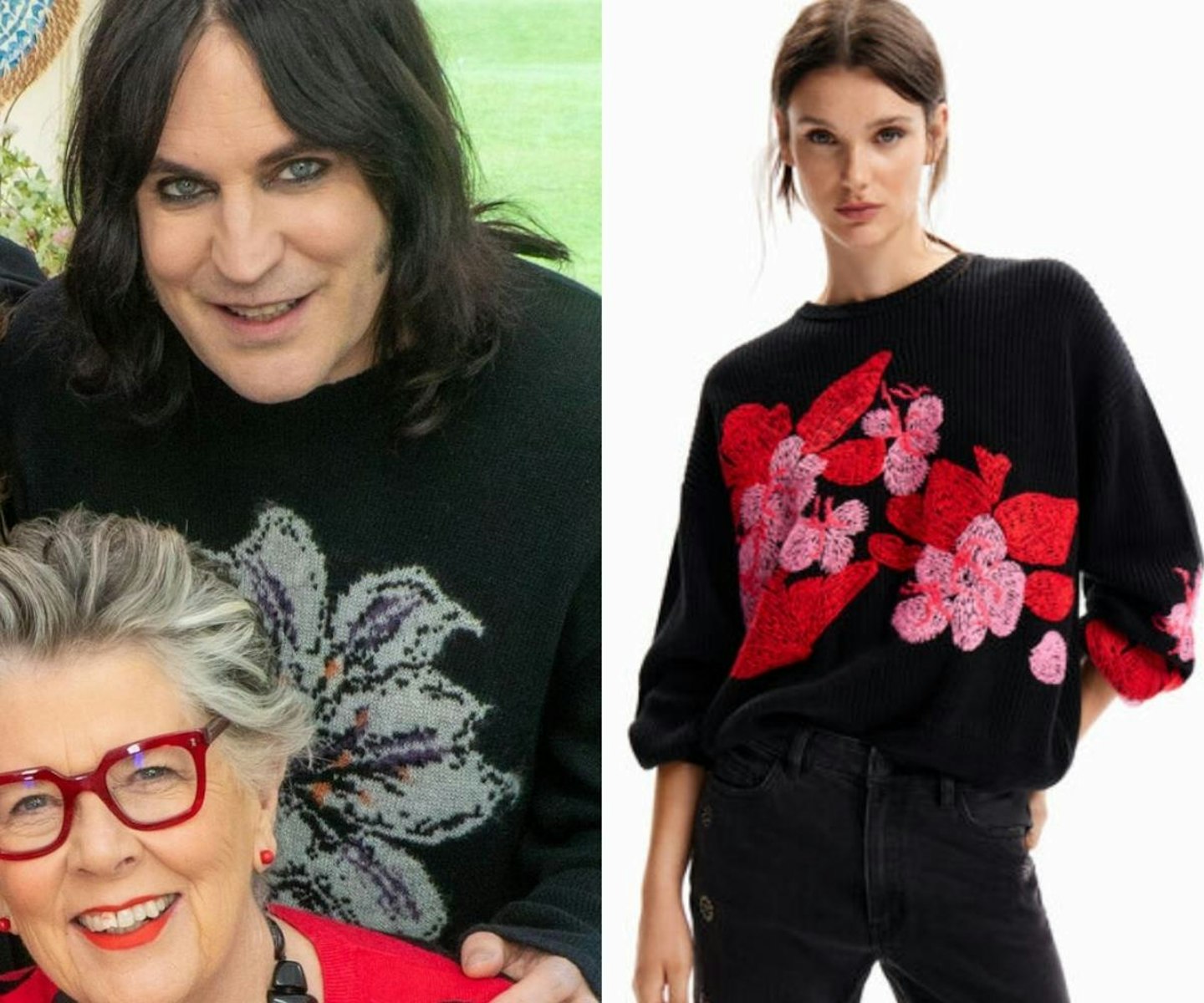 channel 4, desigual
Description
Noel has worn this jumper previously on the show, so you might recognise it. We've also got a
sold out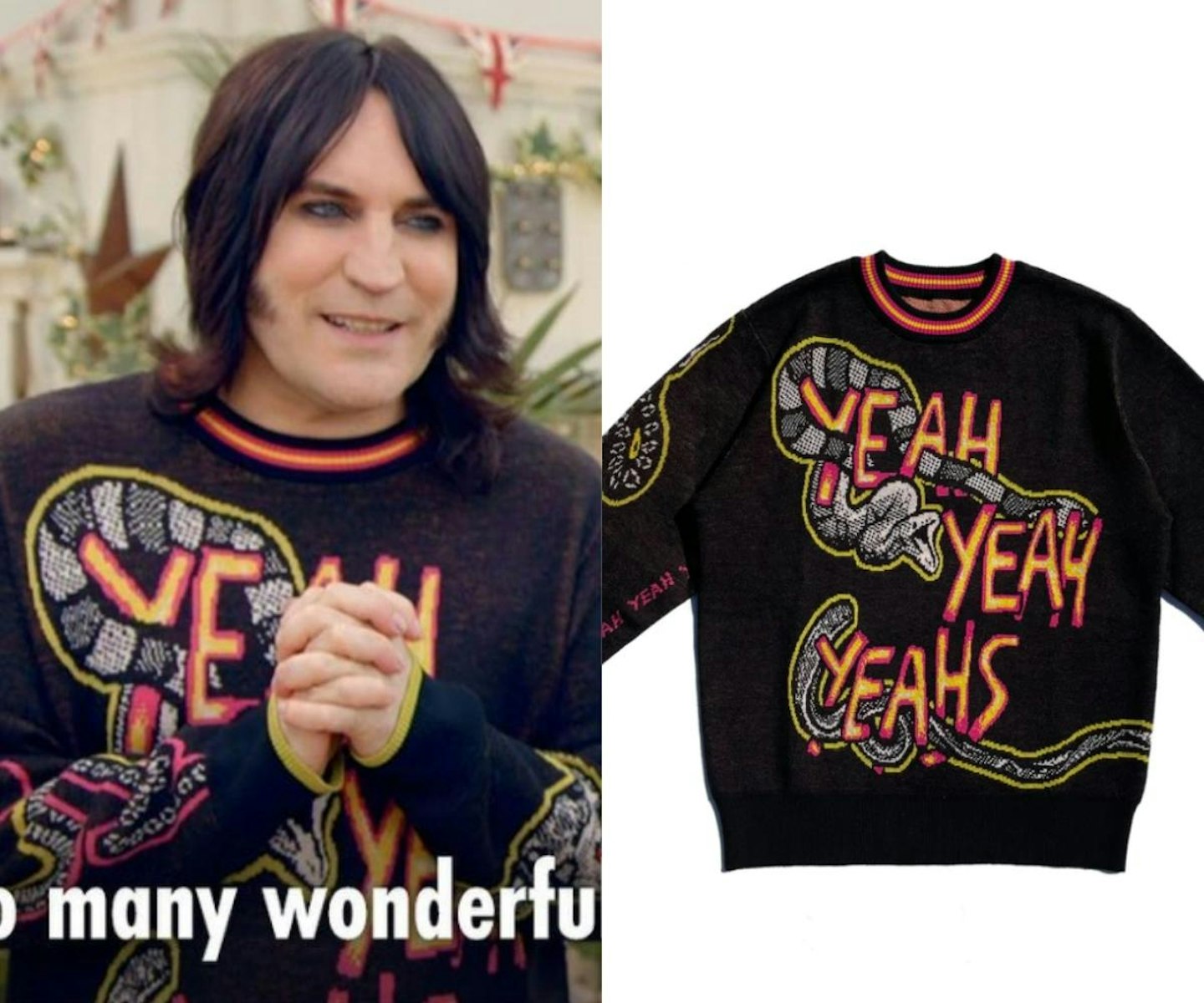 channel 4, asos
Description
Beginning the 2023 series, Noel started off with a bang with this Wah-Wah jumper from the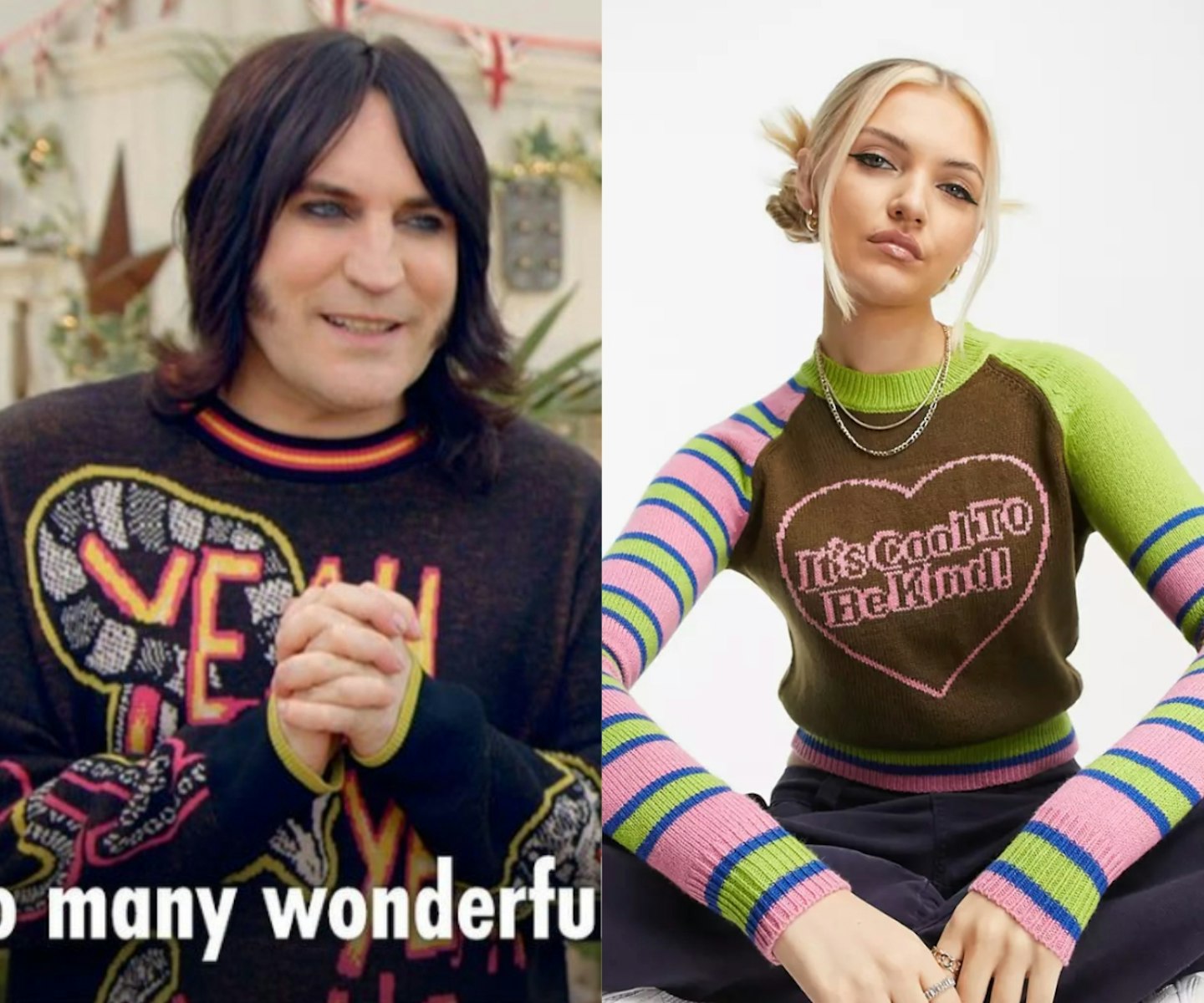 channel 4, asos
Description
But why not go for something more budget-friendly, like this option from ASOS that has the same
In previous years, we've seen a Westwood creation, a Dries Van Noten number, which happily gave Noel a dinner party guest from the '70s vibe about him, and plenty of WAH WAH options, too. Most of Noel Fielding's shirts and jumpers sell out within minutes during the Bake Off run - a tribute to his keen eye for an irresistible design.
Where To Buy Noel Fielding's Bake Off Shirts From Previous Seasons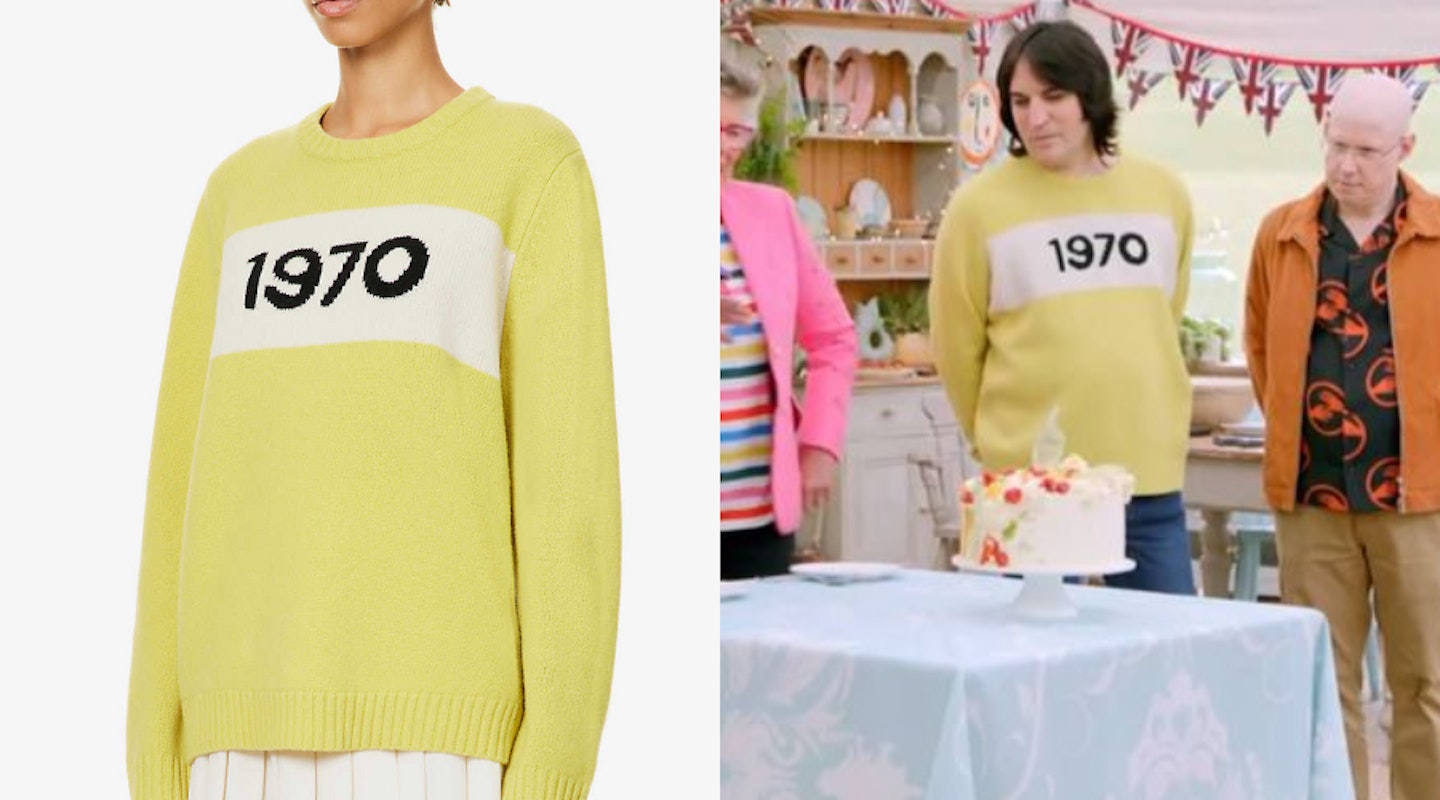 1 of 7
CREDIT: selfridges, channel 4
Noel Fielding Bella Freud 1970 Yellow Oversized Jumper
This iconic 1970 jumper is instantly recognisable as Bella Freud - a designer Noel's worn many times over the years. Shop the other colourways and designs, via Selfridges.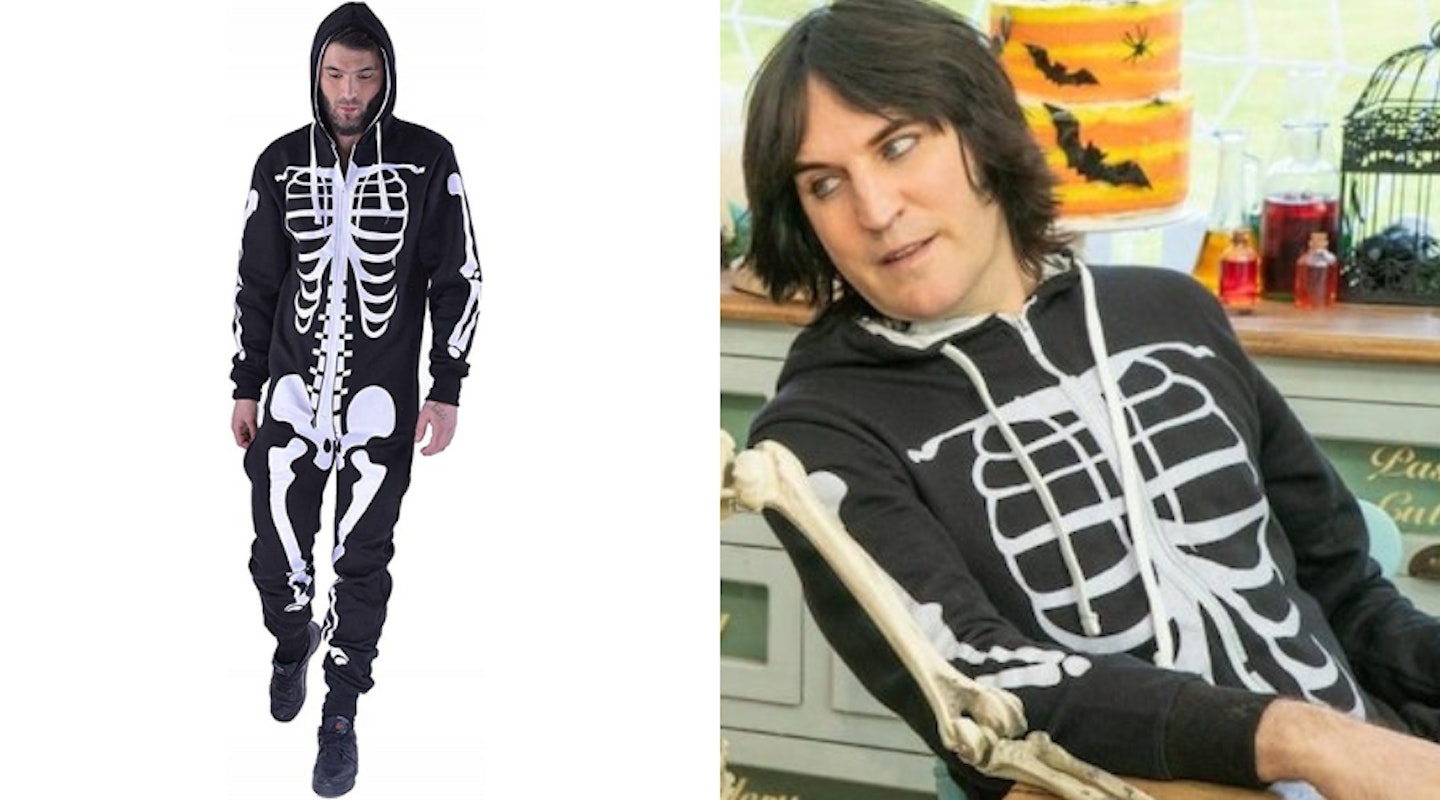 2 of 7
CREDIT: amazon, channel 4
Noel Fielding Unisex Halloween Skeleton Onesie
Week six saw Noel get a little spooky in the tent, rocking this very affordable skeleton onesie. You can grab one on Amazon.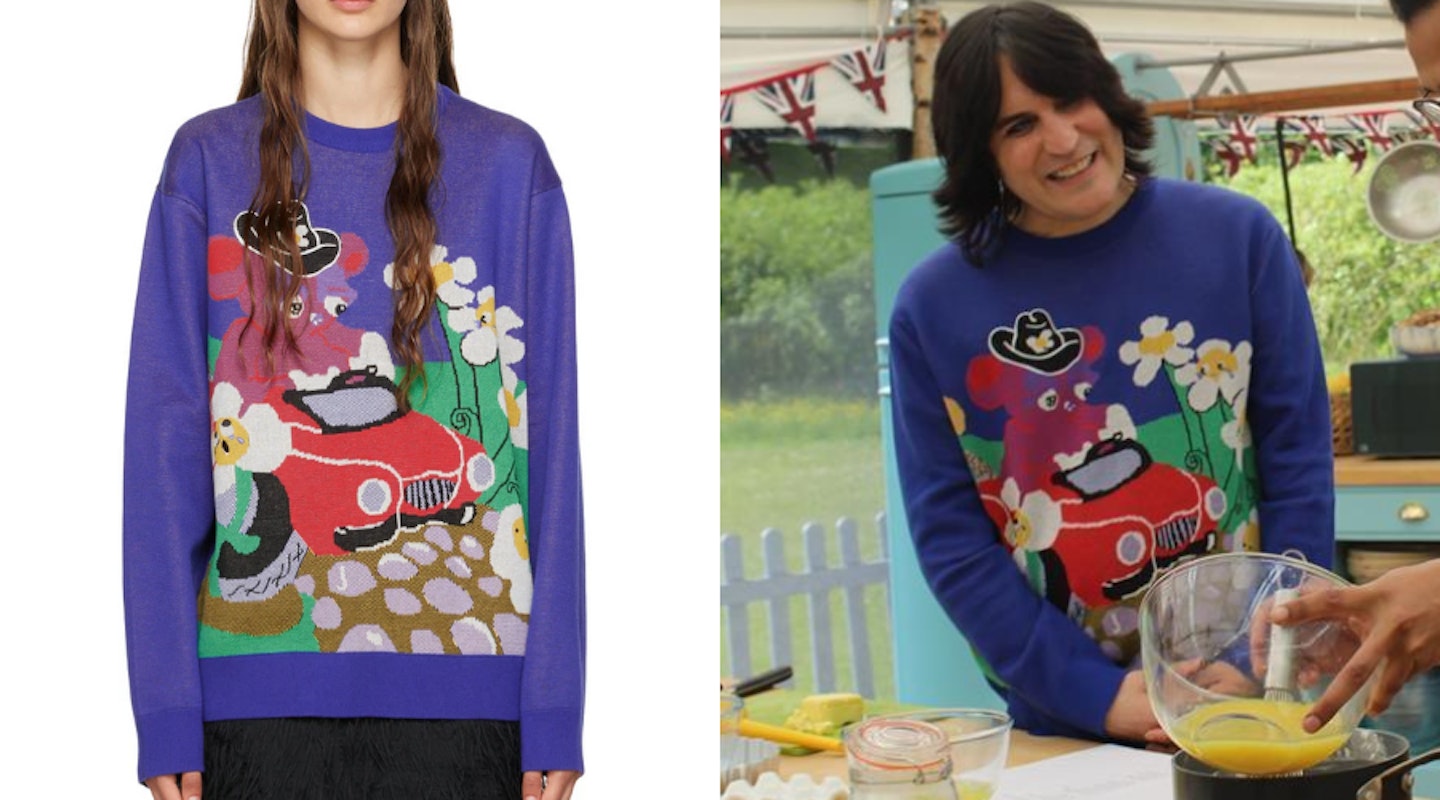 3 of 7
CREDIT: depop, channel 4
Noel Fielding Marc Jacobs Heaven Blue Buggy Bear Sweater
For week five of the 2022 season, Noel wore a Marc Jacobs Blue Buggy Sweater, which (shockingly) is still available to nab over on Depop in a size small (shipping from the US).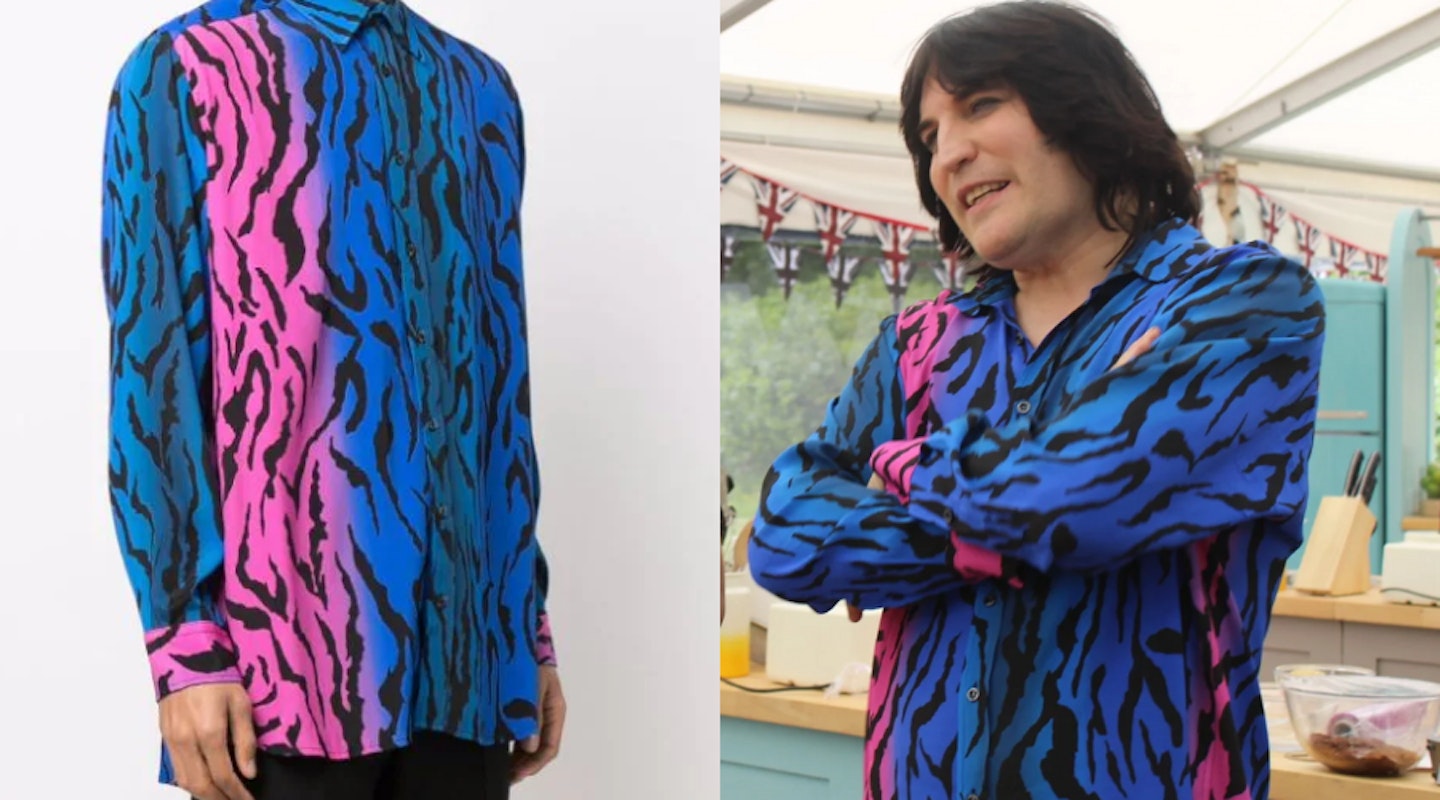 4 of 7
CREDIT: farfetch, channel 4
Noel Fielding Waxman Brothers All-Over Zebra-Print Shirt
This Waxman Brothers zebra print shirt is sadly sold out, but if you like the classic black and white zebra print, this Just Cavalli version is a great option.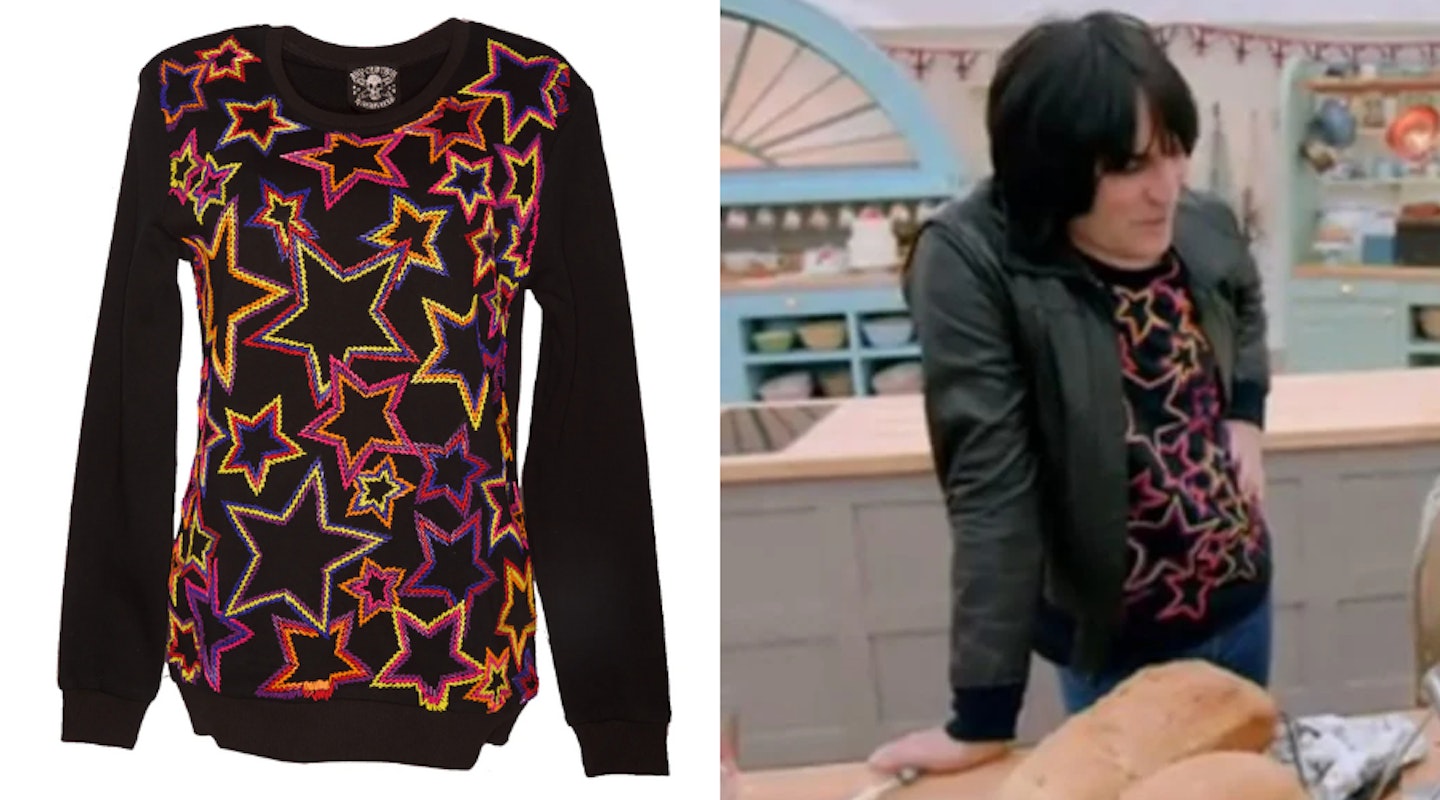 5 of 7
CREDIT: wolf & badger, channel 4
Noel Fielding Any Old Iron Colour Star Sweatshirt
For Bread Week, Noel repped this rainbow star jumper from Nashville brand, Any Old Iron. The sweater includes a hand-beaded, star design which is just mesmerising.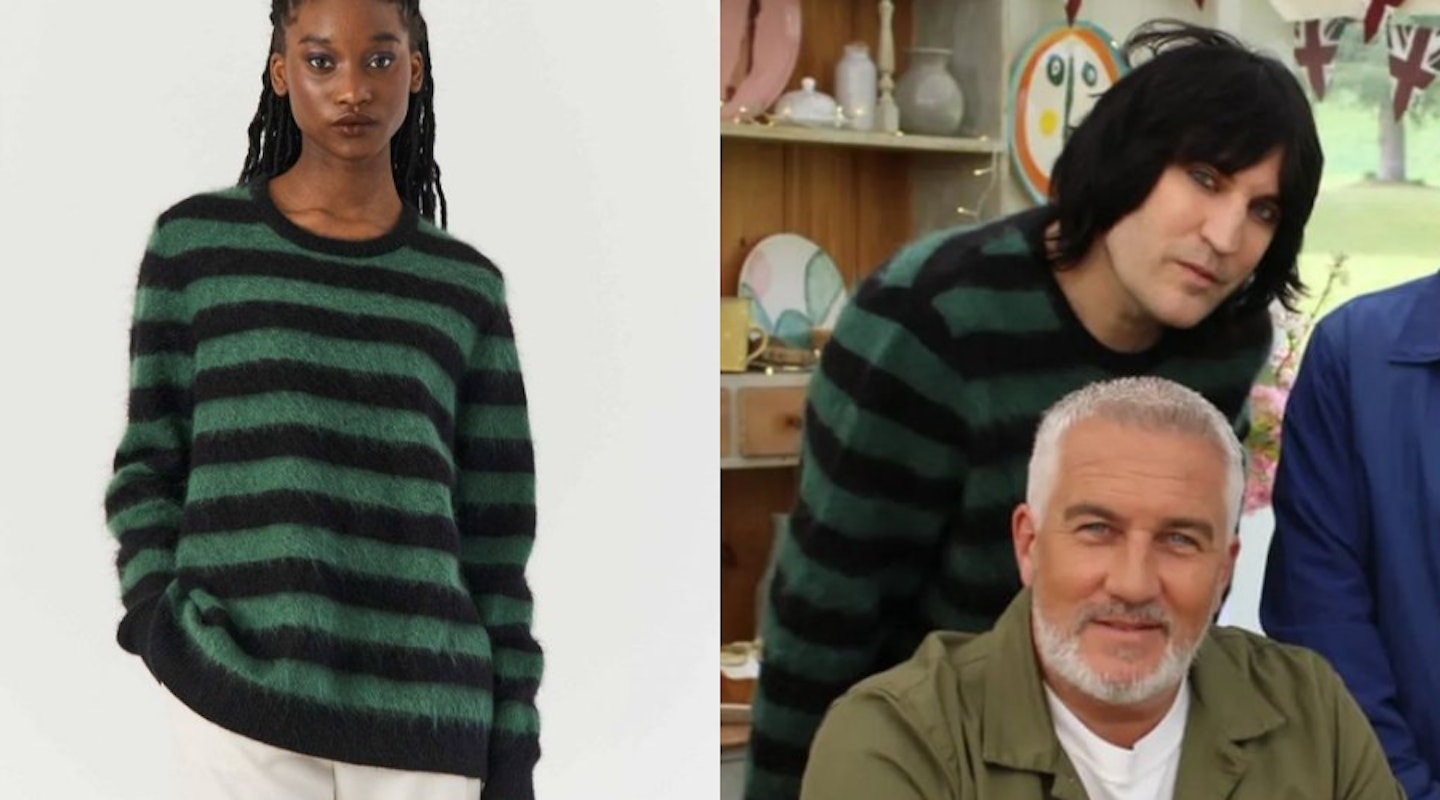 6 of 7
CREDIT: bella freud, channel 4
Noel Fielding Bella Freud Truman Stripe Mohair Jumper
Noel's back with another signature striped jumper and it's giving serious cosy vibes. This Bella Freud striped mohair jumper is impossible to get hold of, but this Marni striped jumper, £950 has a similar design.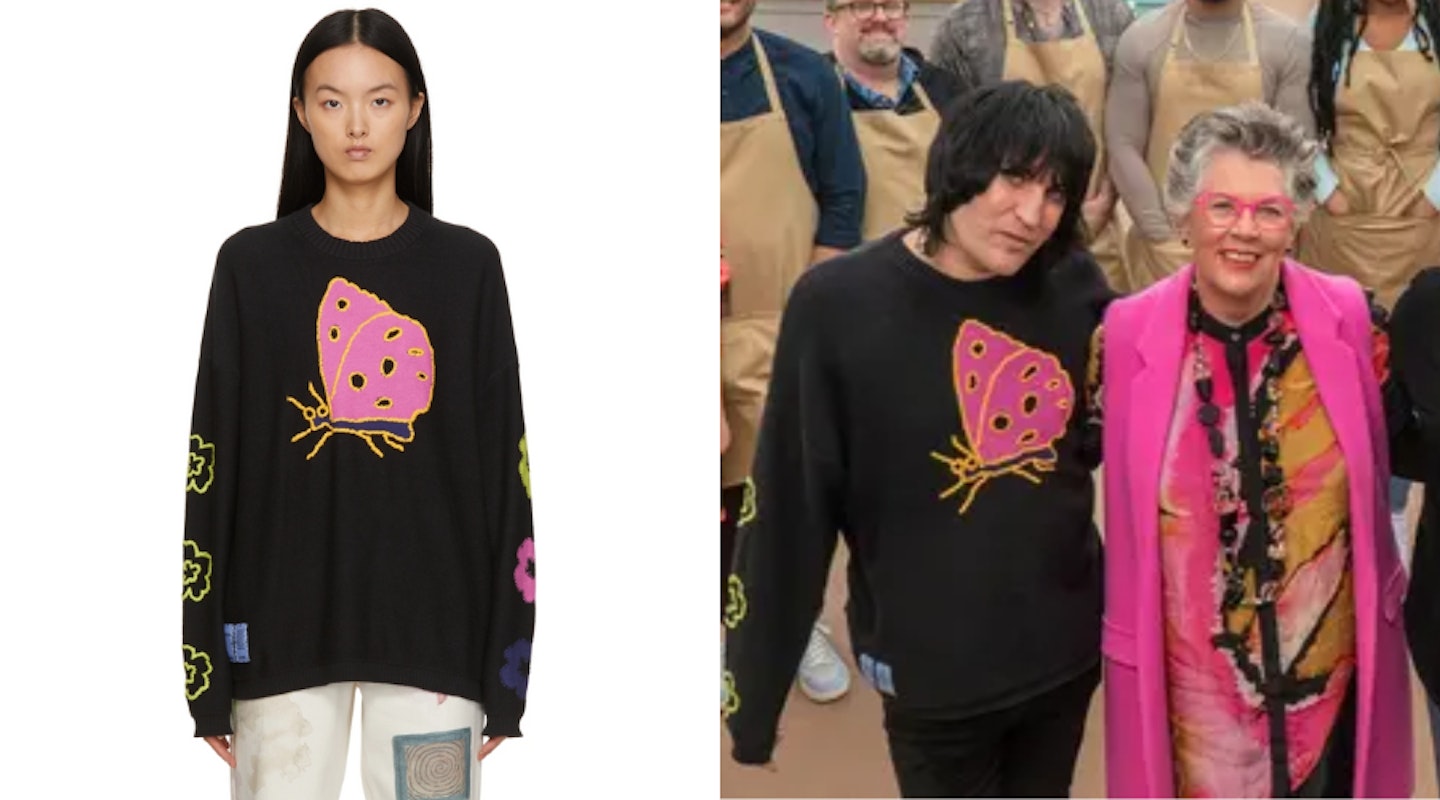 7 of 7
CREDIT: alexander mcqueen, channel 4
Noel Fielding's MCQ Butterfly Sweater
Noel kicked off the 2022 series with this MCQ Black 'Positive Earth' Sweater, featuring an illustrated pink butterfly. It's sadly out of stock now, but this dupe from Lazy Oaf, £63 has the same vibe.
Noel Fielding's Shirts - An Evolution Through Time
In the first episode of the 2022 series, Noel's MCQ Black 'Positive Earth' Sweater set the tone for the series ahead, so it seemed our great sartorial expectations for N-Fields, as absolutely nobody is calling him, were already being exceeded.
To give credit to his recently departed host Matt Lucas, he fought for Noel's crown for kooky fashion. In his initial promo shot, there was a navy printed shirt that was just on the right side of 'fun' – but that was merely a warm-up act for his first episode, during which Lucas debuted a red shirt with enormous pink polka dots. He will be sorely missed, but we are ever-so-excited to see what Alison Hammond brings to the table, outfit-wise.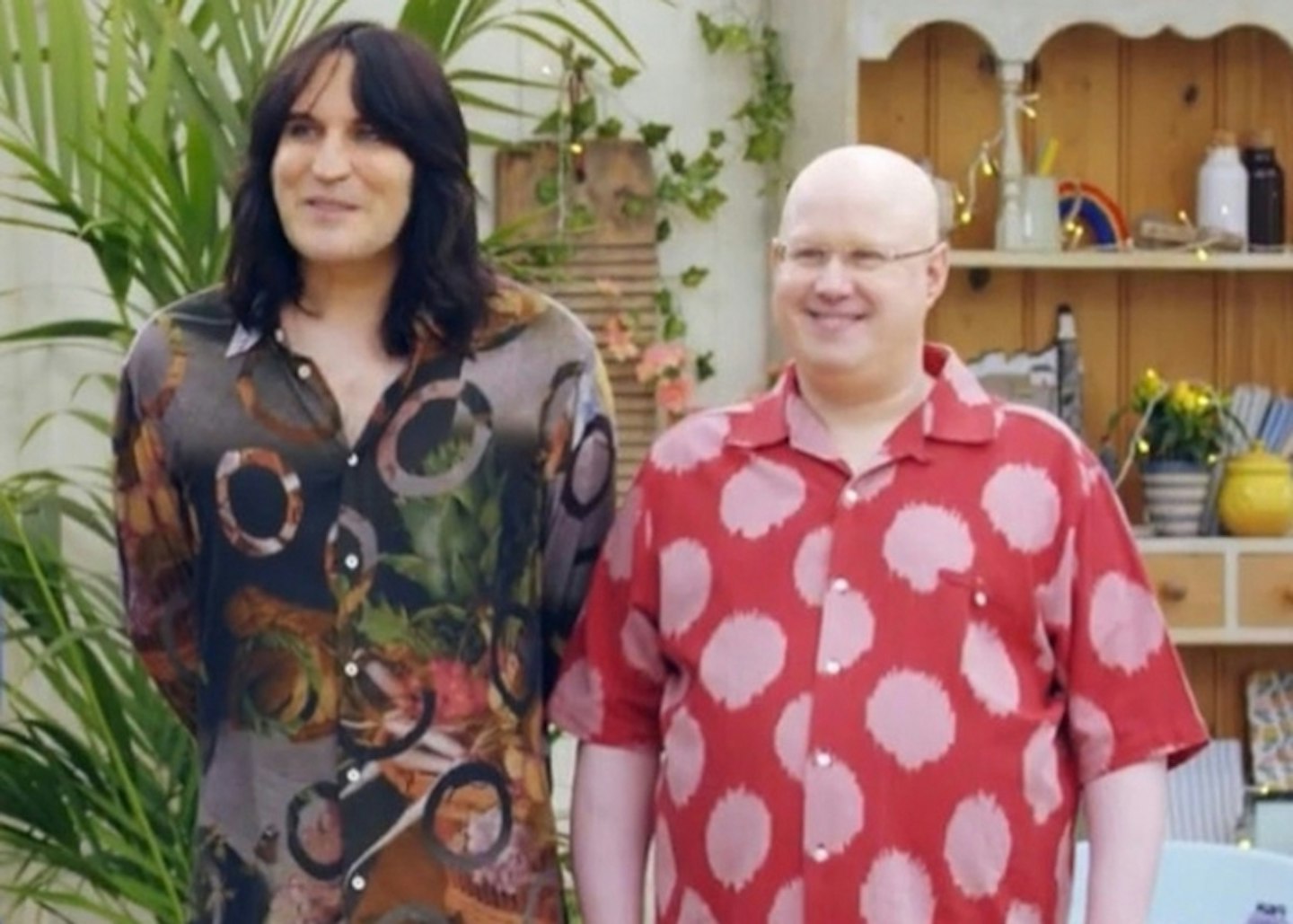 We can also enjoy reminiscing on some of the knitwear Noel has chosen for seasons past. There was a Raf Simons smiley jumper, for example, which proved that Noel is a secret hype beast, while Japanese Week saw him choose from a collaboration between Wah-Wah Australia x Laura Callaghan.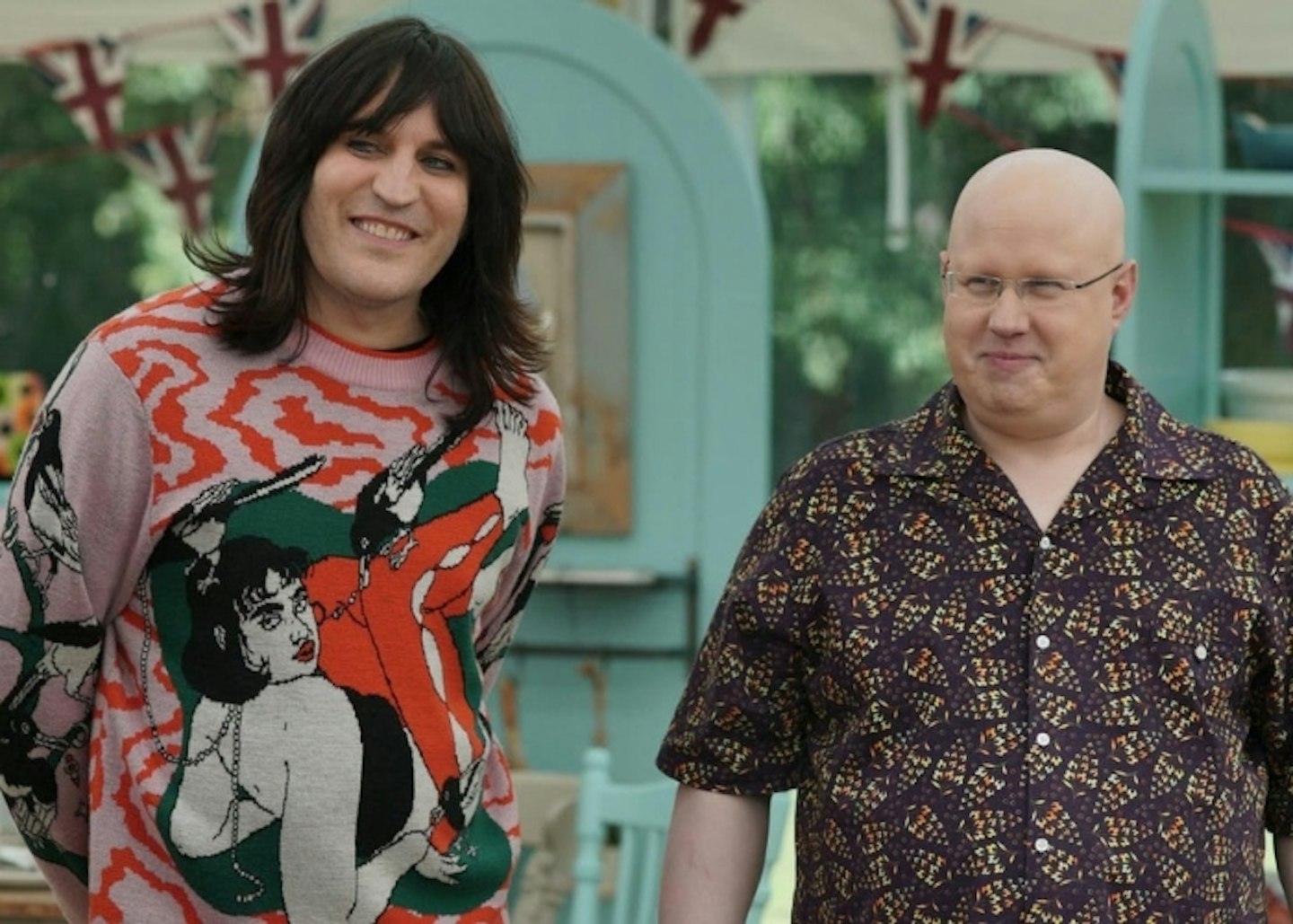 A particular highlight was the time that Noel sent the entire country into panic, lest they all be affected by a crippling migraine induced by the jazzy shirt he had chosen for Dairy Week. Many concerned tweets were published as people became disoriented and confused. 'Can't watch Bake Off due to the nightmare that is Noel Fielding's headache-inducing shirt. I will not hear a bad word said about the man, it is what it is,' wrote one fan.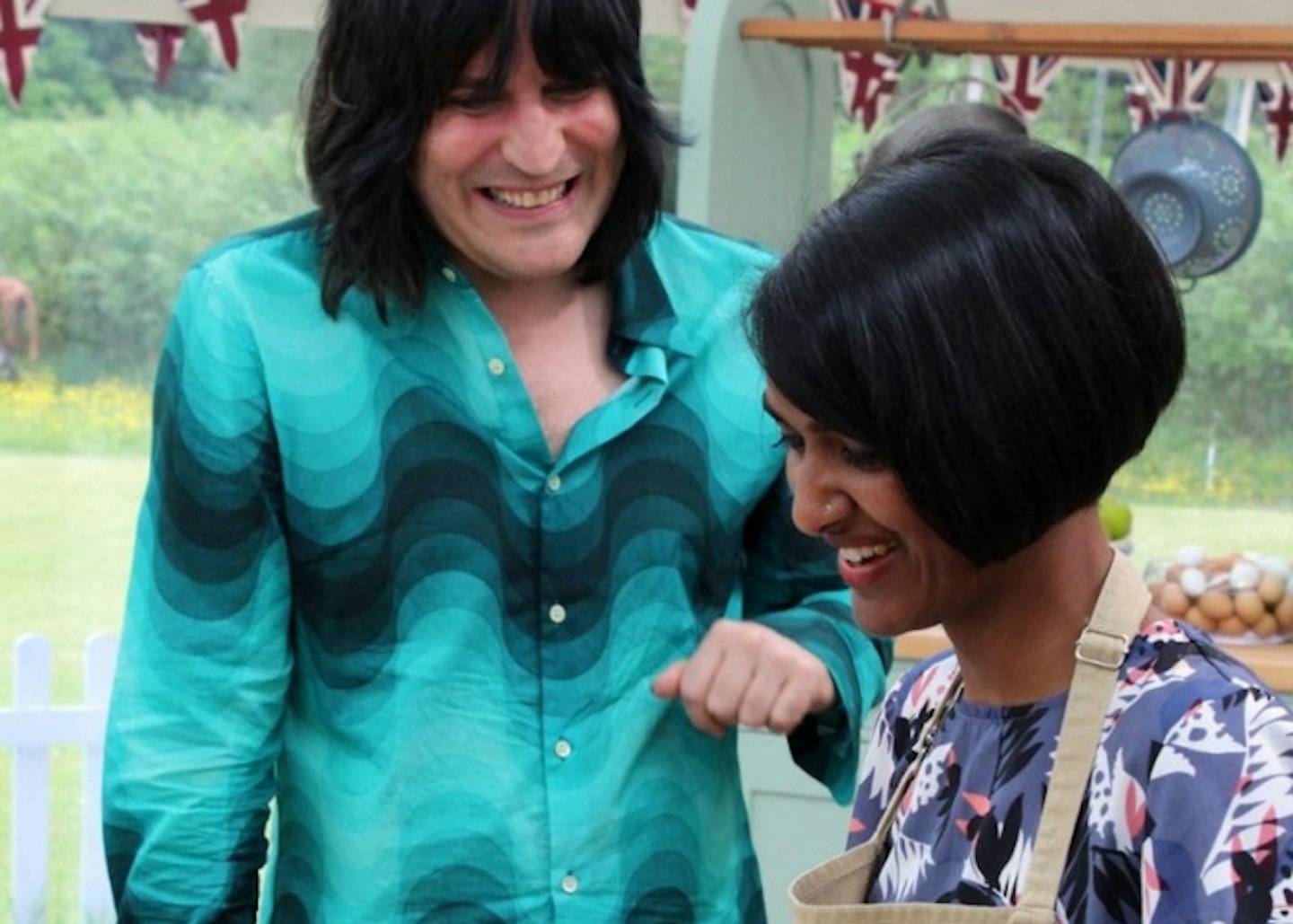 Speaking of feeling disoriented, at first, I was taken aback by the choice of Valentino for episode one of one of the previous series. But then, thinking about it, Sandi Toksvig's hair looked even more coiffured than usual, suggesting that the wardrobe, hair and make-up teams decided to put all that Channel 4 money to good use.
What Are Noel Fielding's Favourite Brands To Wear, You Ask?
A personal favourite of Noel Fielding's shirts, the brand Lazy Oaf appeared frequently, and I'm not mad about it. My favourite of the Lazy Oaf appearances is probably the shirt that resembled a brick wall, for no clear reason at all.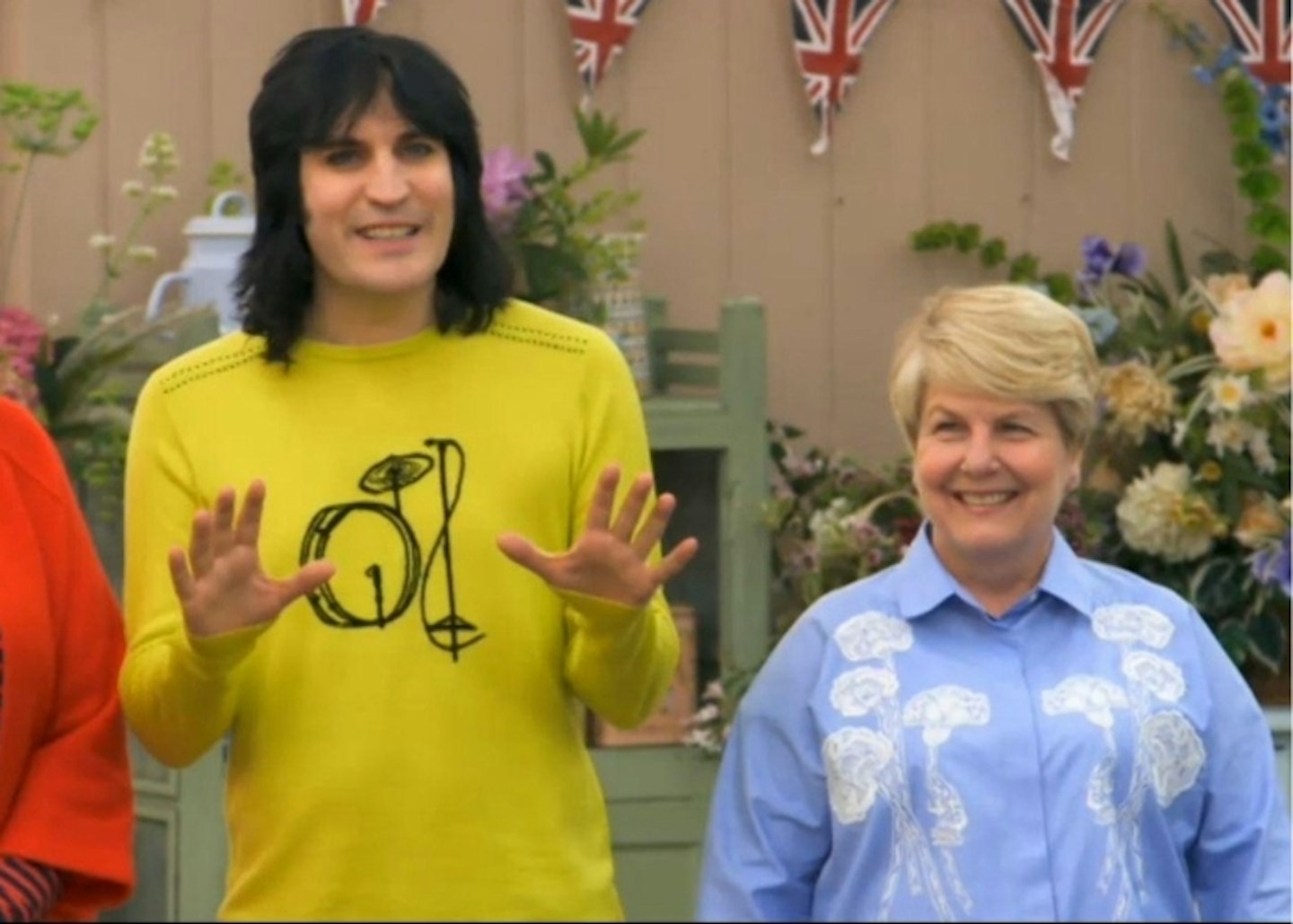 I also fully enjoyed his choice of a yellow Bella Freud jumper. Oh, and the time he wore a pink ice-cream print shirt also owned by vlogging sensation Zoella. You really can't make this stuff up!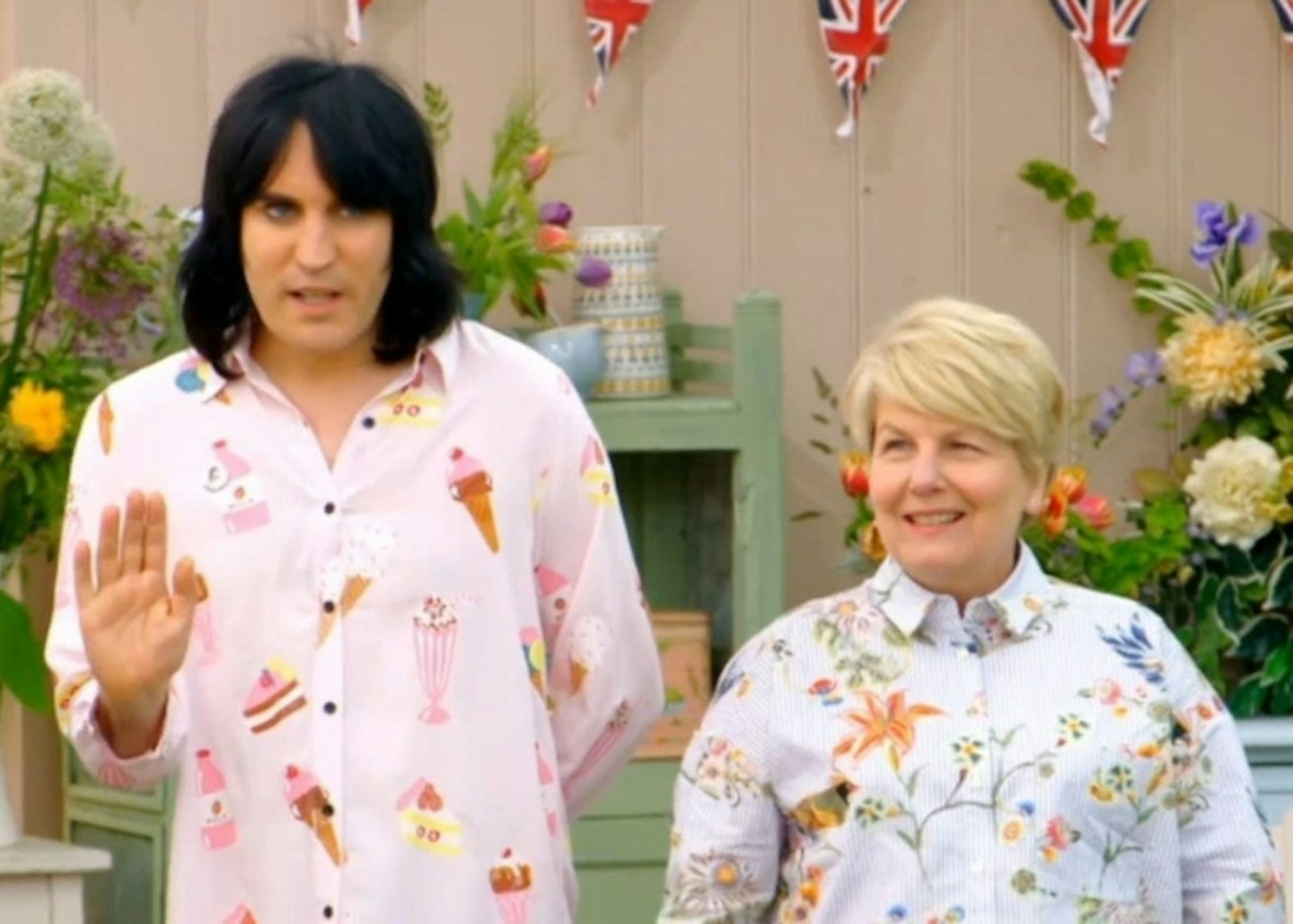 There was also the vintage Kenzo tomato print shirt and the ocean print Paul Smith number which, while relatively conservative by Noel's own standards, is the level of 'out-there' that would raise eyebrows in a Midlands pub.
Really, the achievement here lies not in Fielding's choice of shirts, but rather his ability to wear the most ridiculous prints like he's wearing an old T-shirt. He is – to paraphrase Tyra Banks in every episode of America's Next Top Model ever made – wearing the shirt, rather than letting it wear him. I BET he has a cerulean jumper and fully understands its import.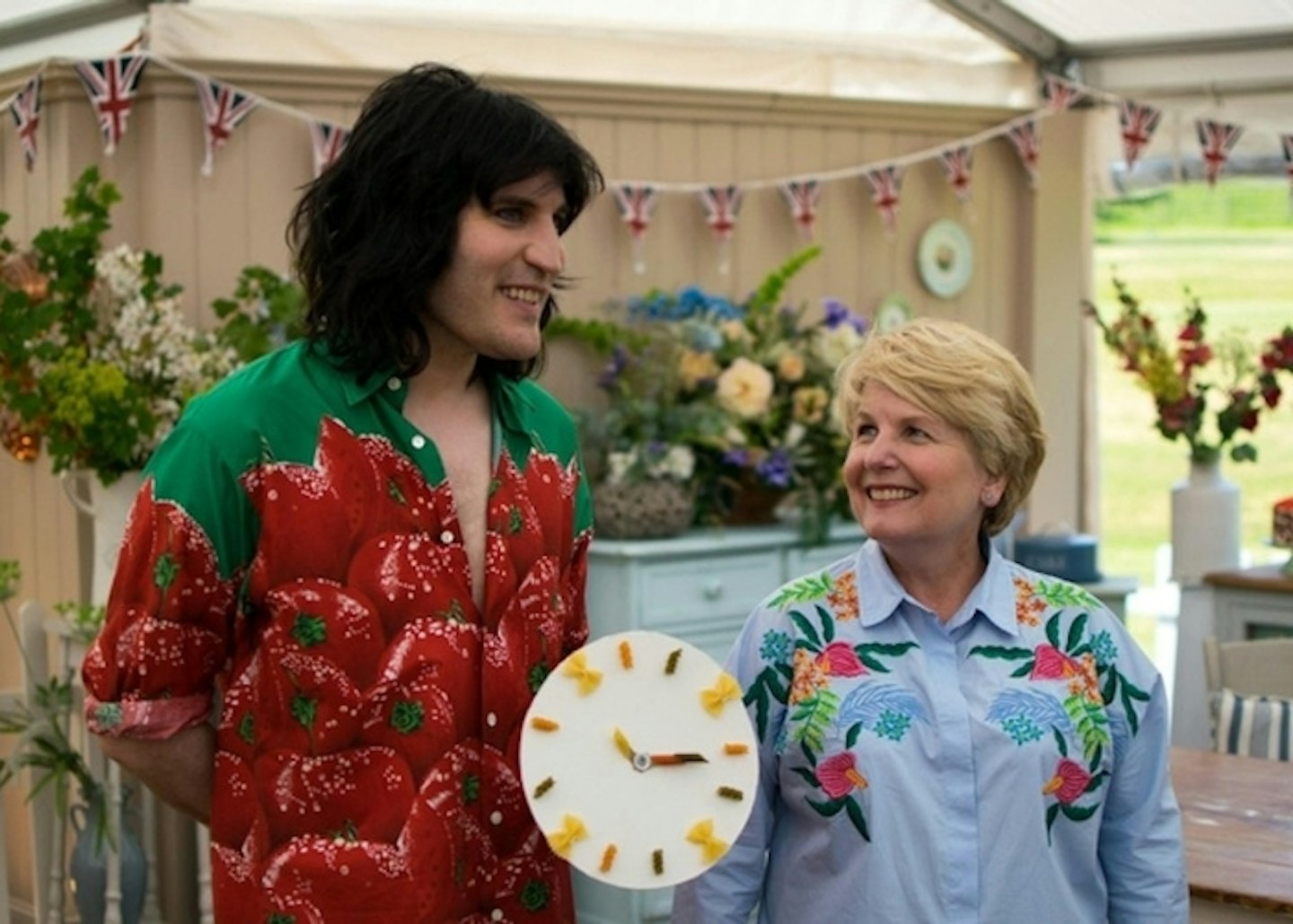 Whatever happens in this series – however many clammy hands are gripped for just that moment too long by Paul Hollywood; however many innuendos reveal the production team to possess the same sensibility as a Carry-On film, however many contestants promise that they really won't cry as tears stream from their eyes – at least we'll always have Noel's shirts. As Braveheart once said, they can make Brexit happen, but they can't take away Bake Off.
Hannah Banks-Walker is the Head of Fashion Commerce for Grazia, where she waxes lyrical about midi dresses and tries not to collect any more red lipsticks.
Ruby Barry is a Product Writer for Grazia, specialising in fashion and beauty. She loves finding dupes for clothes worn in TV & film, and is currently binge-watching Succession.