Michelle Obama chose to kick off her London look, by landing for her state visit wearing her much-loved British label Preen. With her two daughters, Sasha and Malia by her side, the First Lady looked modern, but refined, by mixing cornflower blue lace with neon yellow.
The dress is a custom variation of the Lou dress from Preen pre-fall 2015 collection. Always one to be coordinated, she accessorised with drop down blue earrings, and a perfect matching yellow manicure. This isn't the first time the First Lady has worn Preen - she wore the label she appeared on David Letterman's show in 2012, and at the first presidential debate for the 2012 election at the University of Denver.
We chatted to the designers behind Preen - Justin Thornton and Thea Bregazzi - to find out what it's like to dress the First Lady...
Grazia Daily: What do you think it is about Preen's dresses that Michelle Obama so likes and suits?
Justin and Thea: "We love that the First Lady is bold and directional with her fashion choices, she loves colour and strong silhouettes, as do we."
---
Grazia Daily: Did you know that she would be wearing this dress at this time? Or are these moments a complete surprise?
Justin and Thea: "We had made the dress for her trip to the UK, but had no idea when or where she would wear it."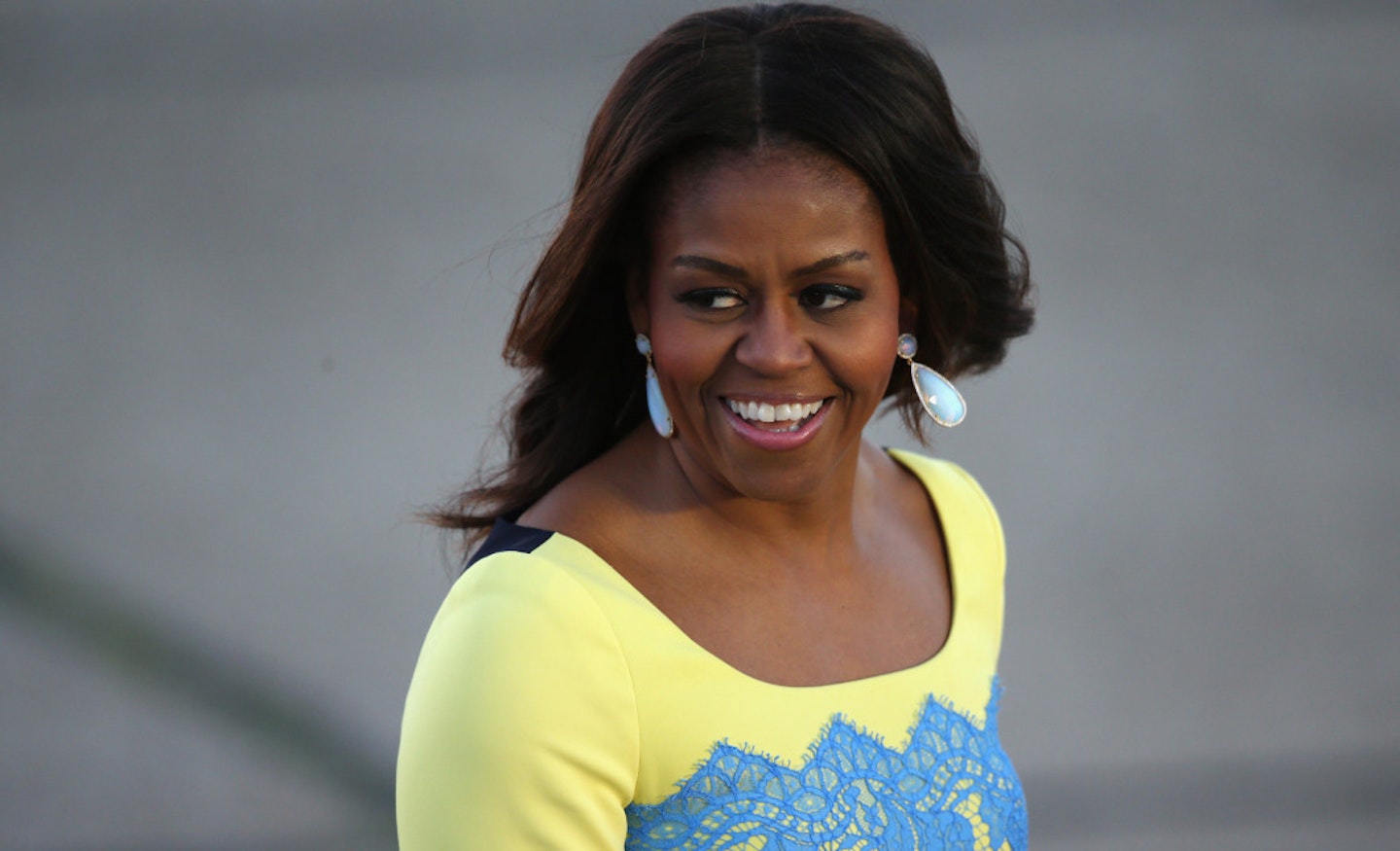 Grazia Daily: How do you arrange the custom-design tweaks? And have these changes ever inspired you further along the line with your collections?
Justin and Thea: "Generally, she selects from our collections, all of the dresses she has worn are directly from our collections, we sometimes just add a bit of length to skirts or sleeves, she never wants a special design. We find her inspirational and love how she has really moved bolder directional fashion forward and opened these ideas and style up to all. "
---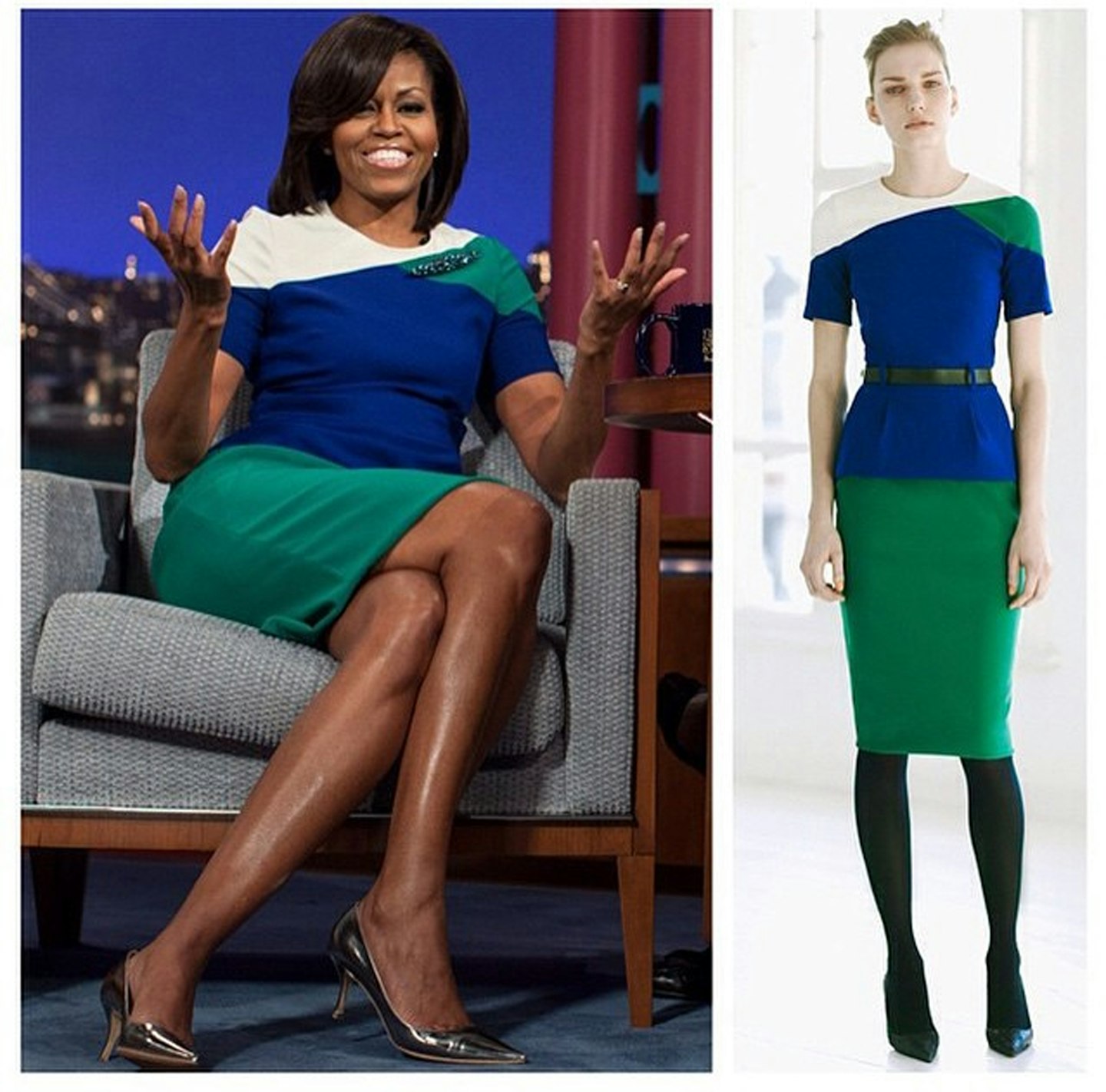 Grazia Daily: How do you find consumers respond to her wearing the brand? i.e. do those pieces sell faster/more furiously than other celebrities?
Justin and Thea: "It's amazing, when she wears something we get a lot more sales and requests from new customers. She is such an inspirational woman and a great supporter of younger smaller brands. We are honoured to dress her."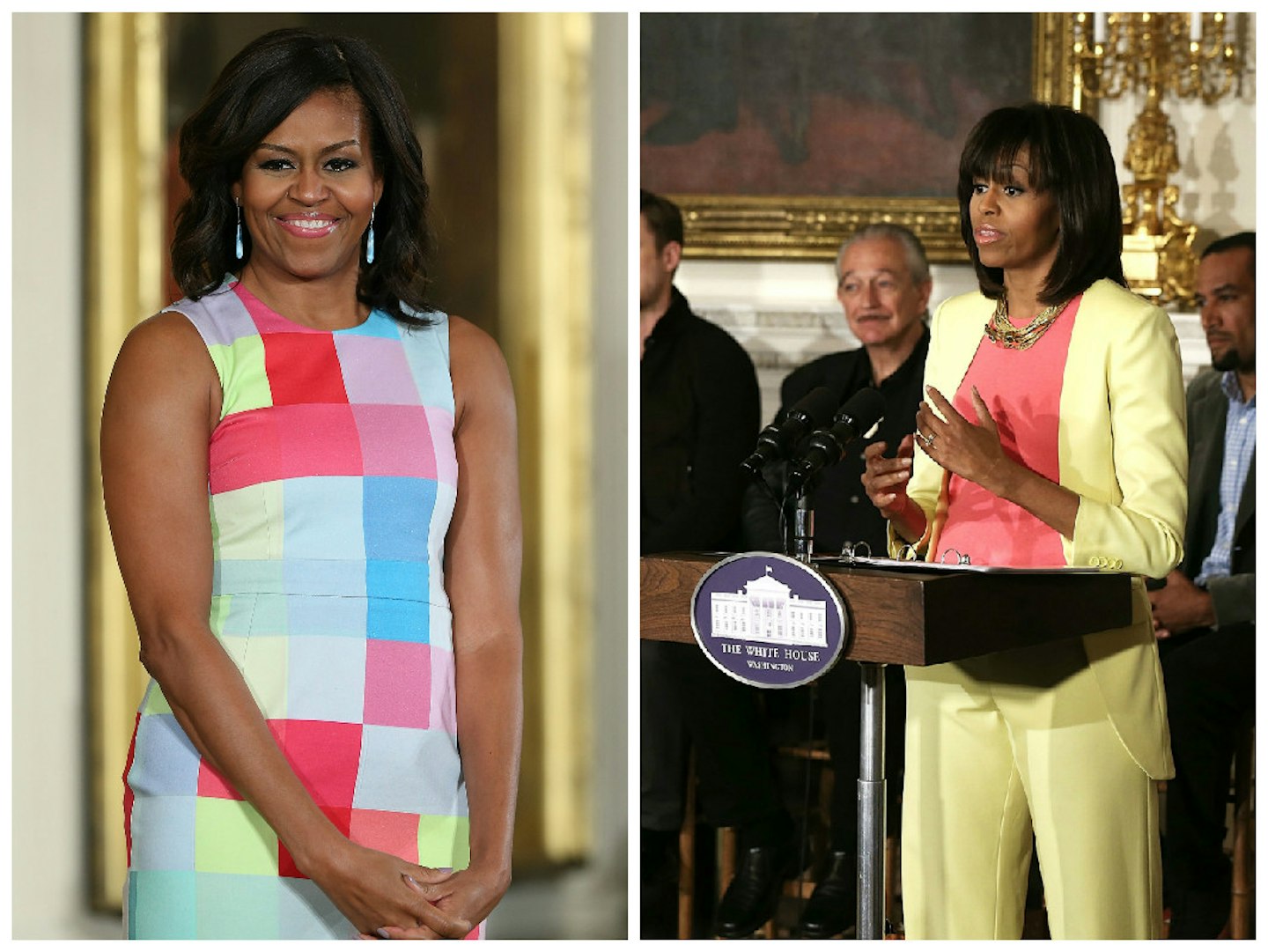 Michelle is visiting the UK to promote the 'Let Girls Learn' initiative. On Tuesday she met with students to discuss how both the U.S. and U.K. can work together in promoting the significance of female education, and highlight the importance of expanding access for women to learn across the world.
Let's hope that the First Lady surprises us with more British fashion hits on her visit.
*** See Mobama's style evolution in the gallery below...***
Michelle Obama Style - Best Dresses & Outfits
1 of 33
Michelle Obama style 1
Michelle Obama at the The Grammy Museum's Jane Ortner Education Award luncheon - July 16, 2014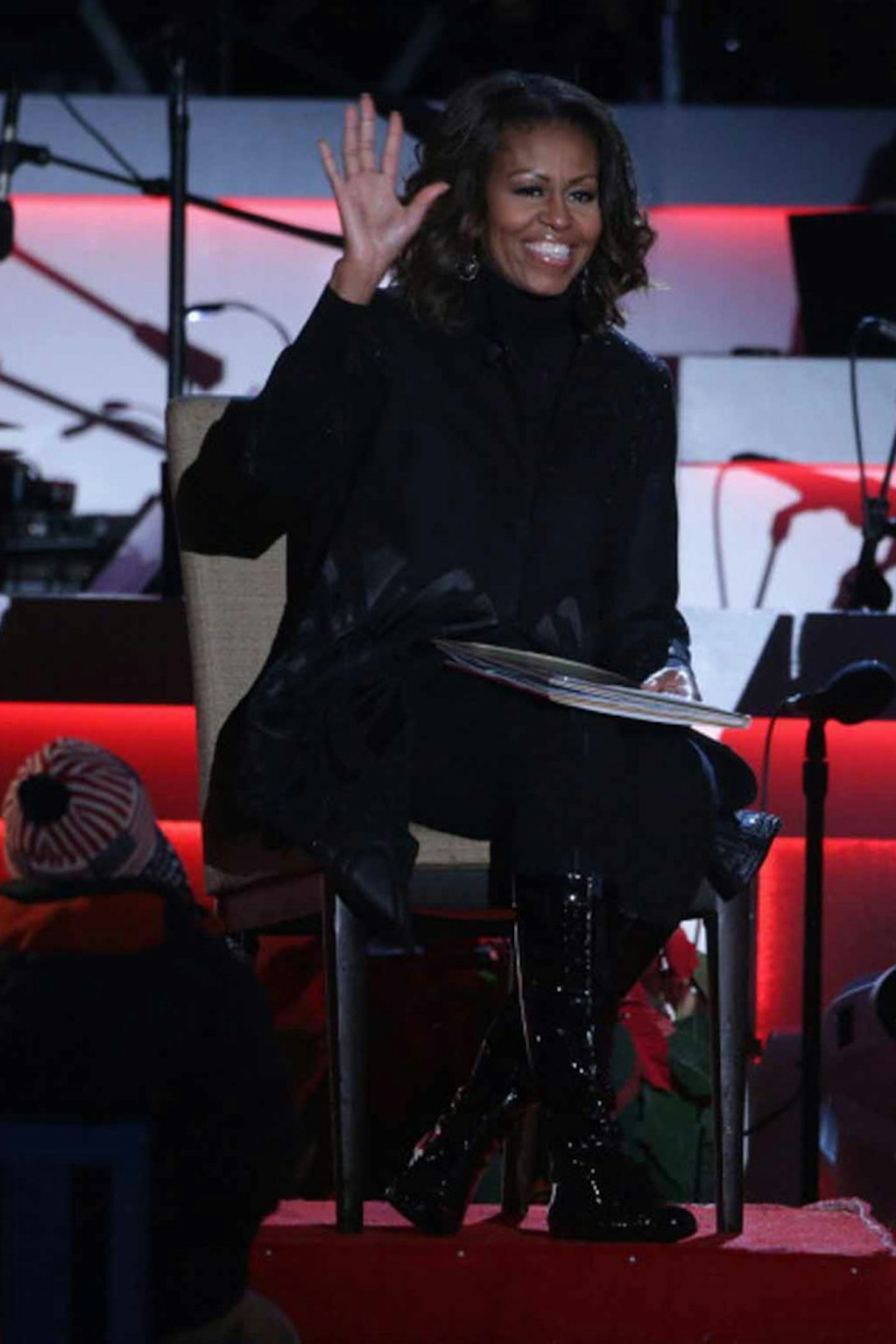 2 of 33
Michelle Obama style 2
Michelle Obama at the White House, November 2013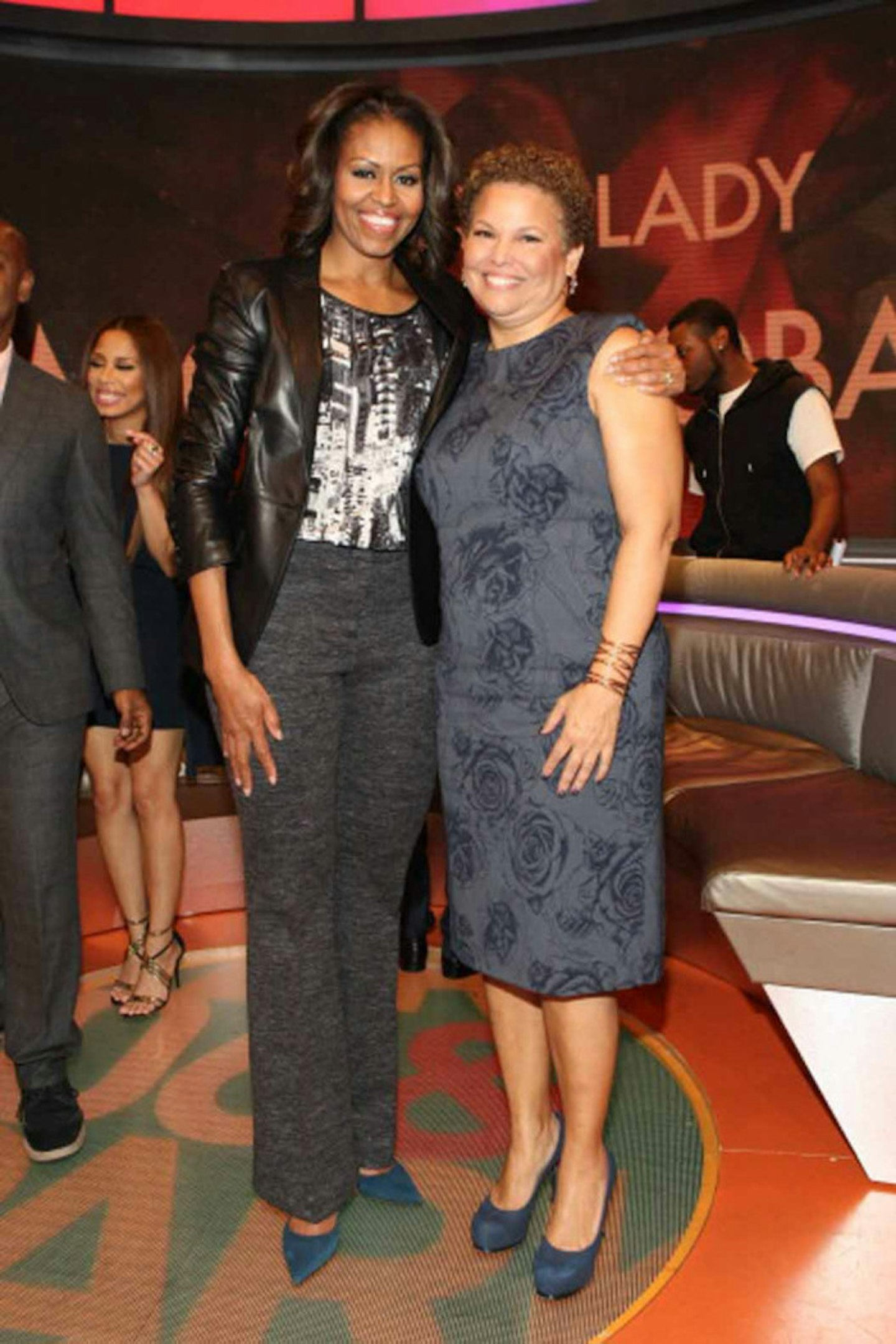 3 of 33
Michelle Obama style 3
Michelle Obama at 106 & Park at BET Studios, November 2013
4 of 33
Michelle Obama style 5
Michelle Obama at Arlington National Cemetery, November 2013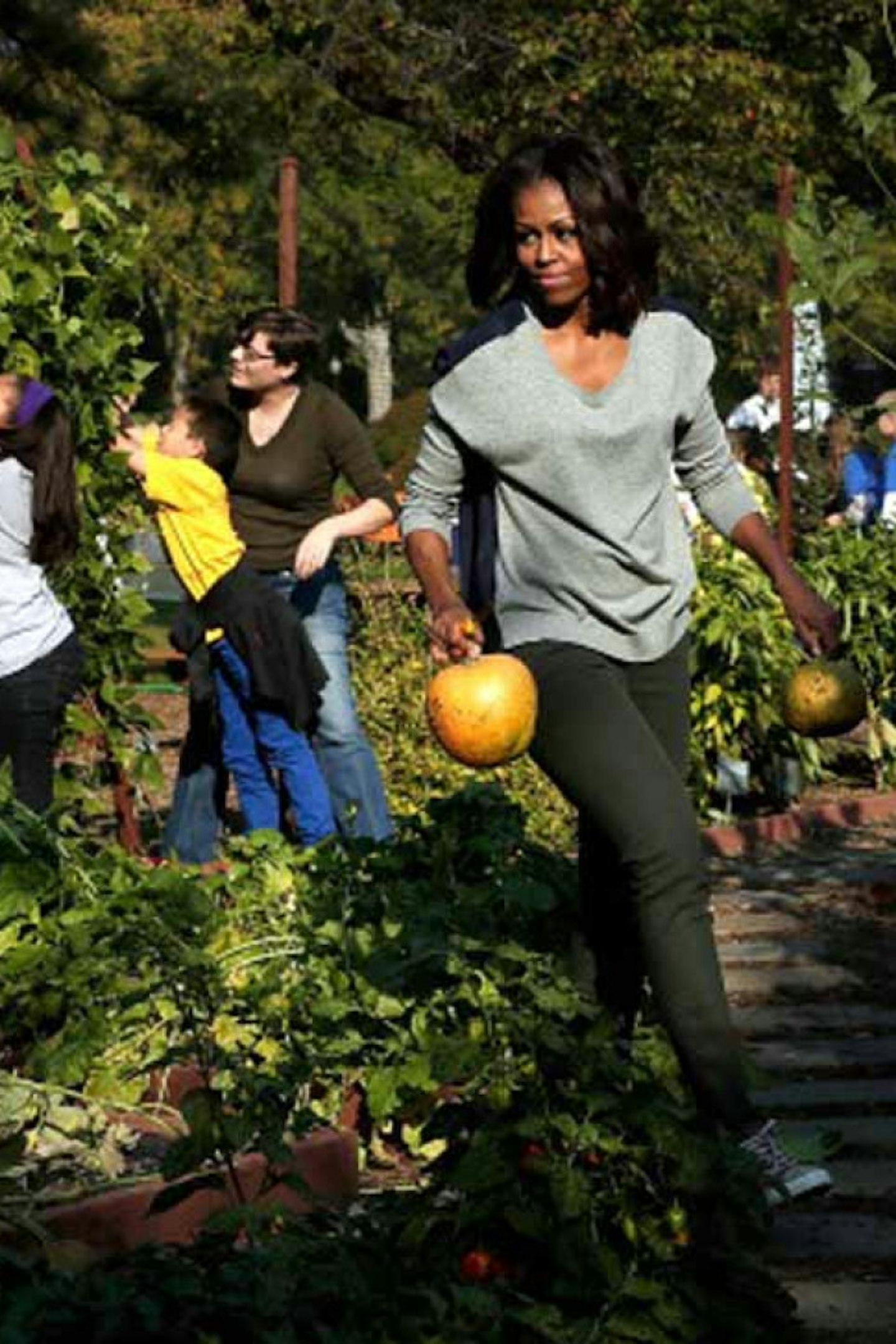 5 of 33
Michelle Obama style 6
Michelle Obama at the White House Kitchen Garden, October 2013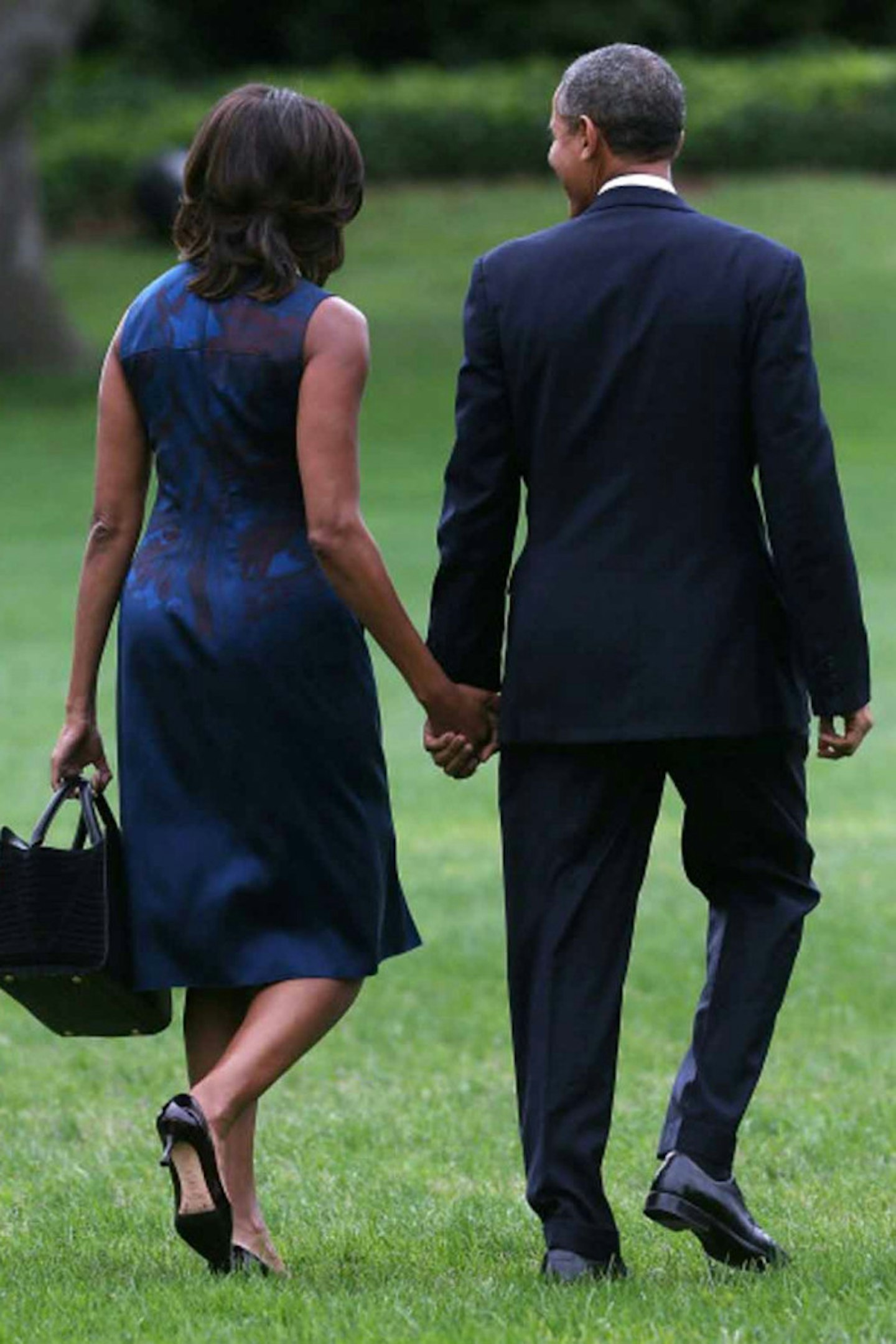 6 of 33
Michelle Obama style 7
Michelle Obama departing the White House toward Marine One, September 2013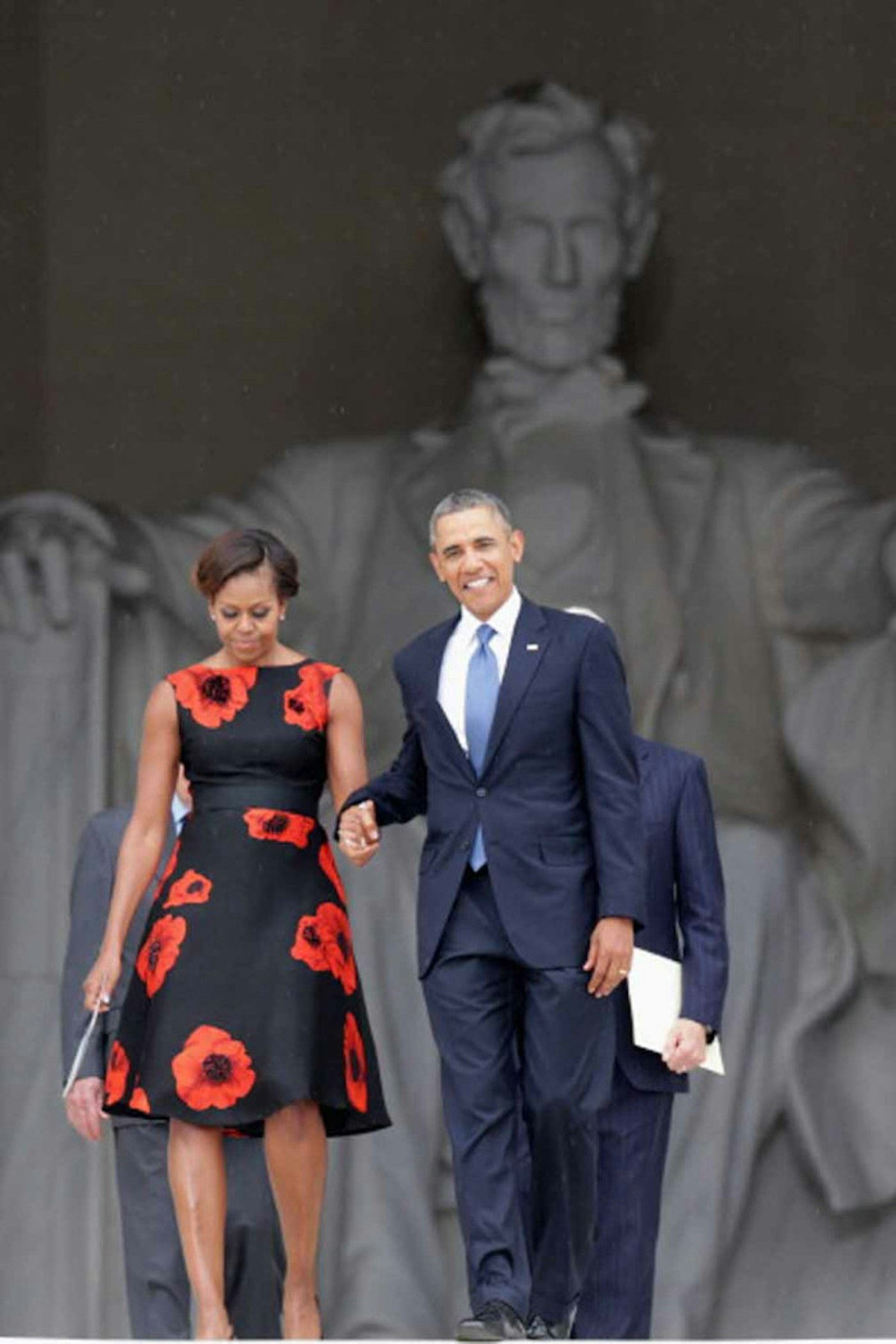 7 of 33
Michelle Obama style 8
Michelle Obama at the Lincoln Memorial, August 2013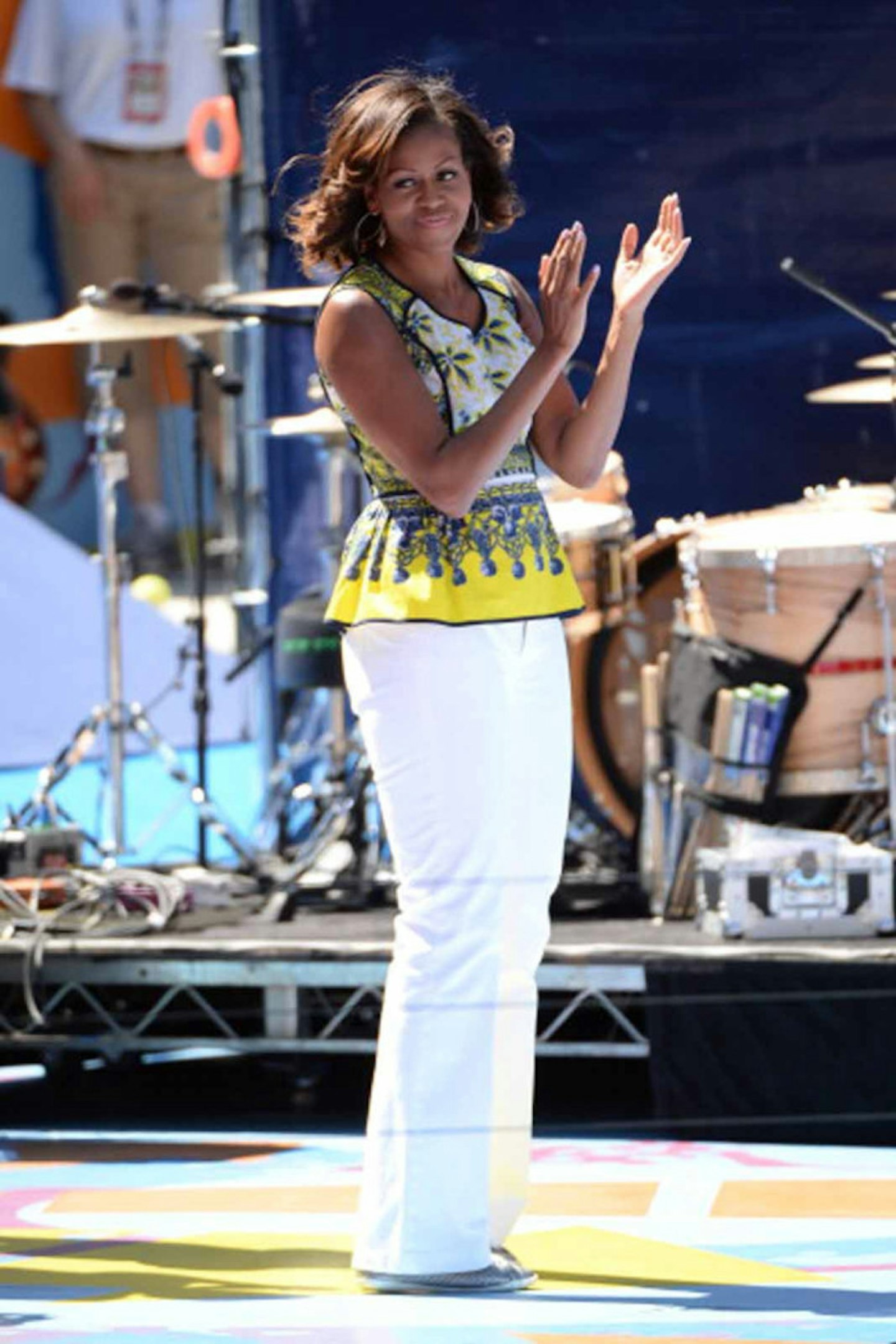 8 of 33
Michelle Obama style 9
Michelle Obama at USTA Billie Jean King National Tennis Center, August 2013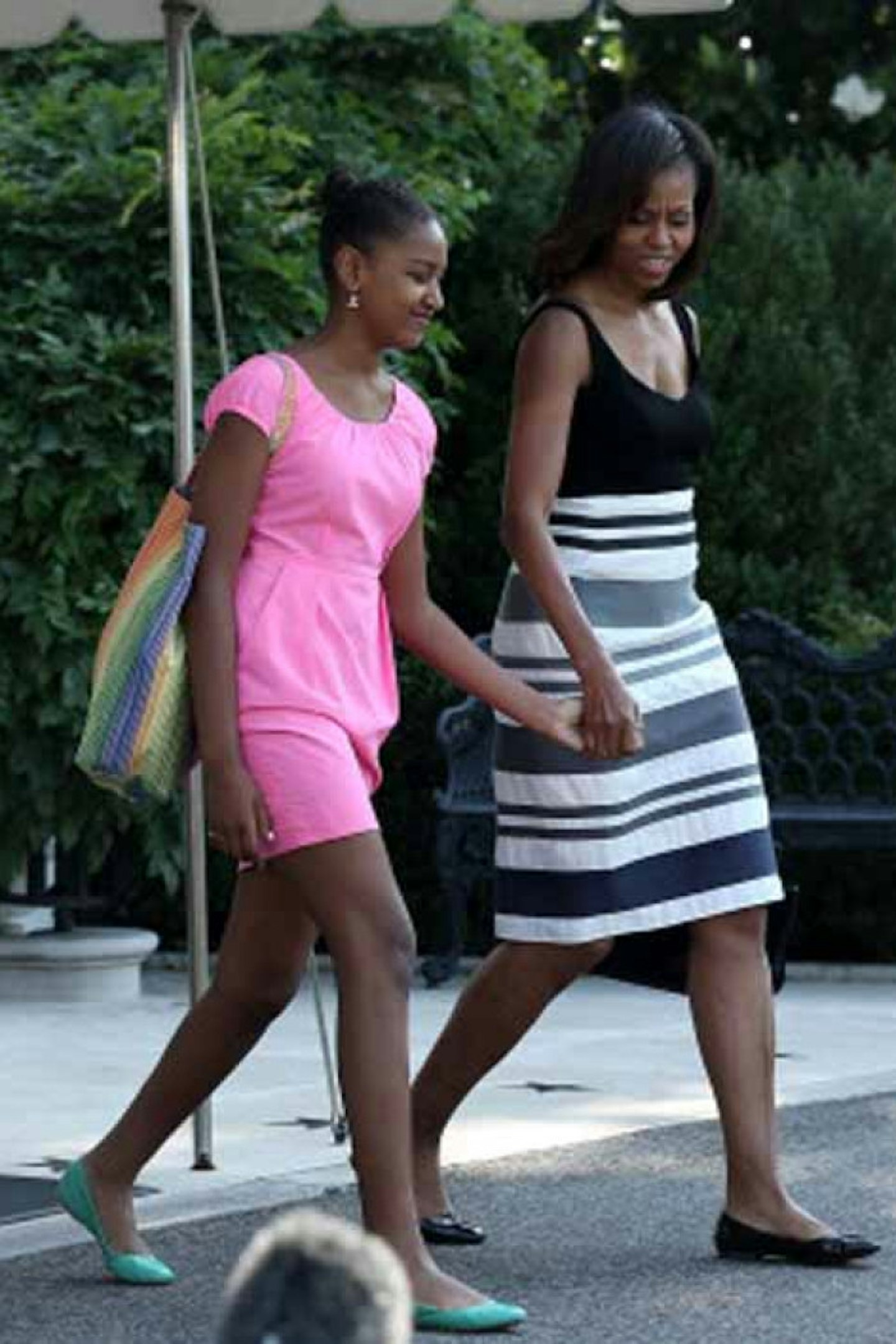 9 of 33
Michelle Obama style 10
Michelle Obama departing the White House for a trip to Africa, June 2013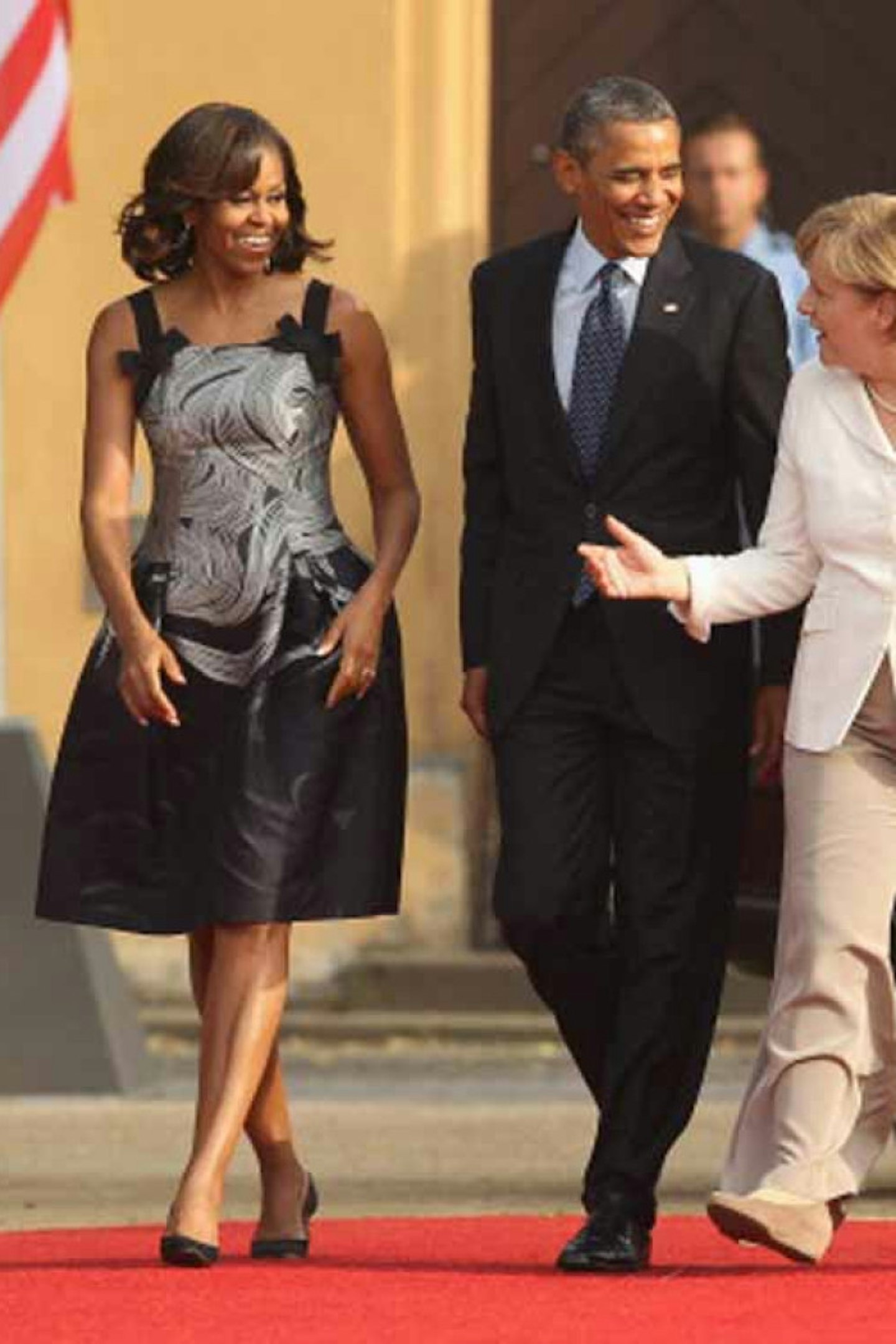 10 of 33
Michelle Obama style 11
Michelle Obama in Berlin, June 2013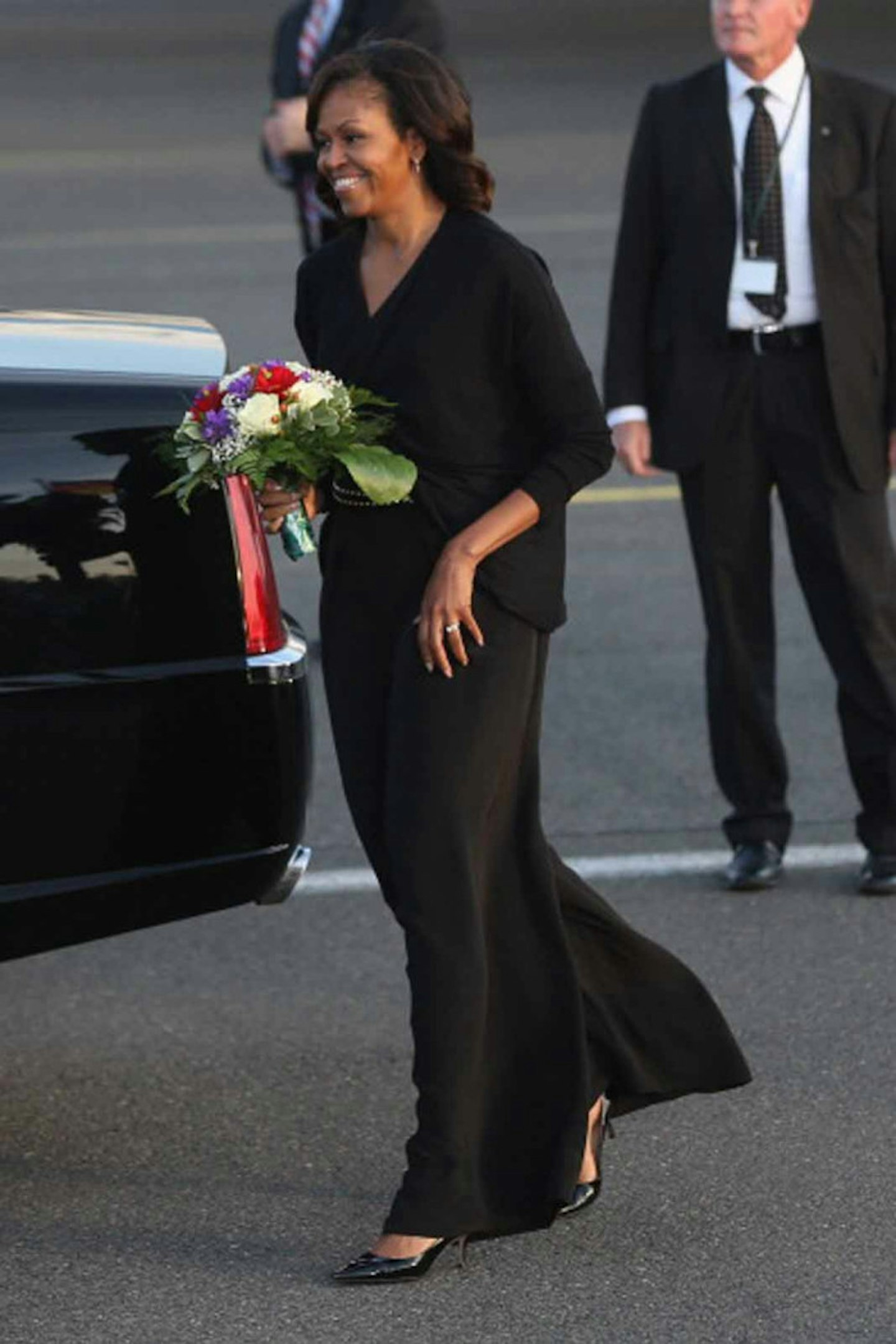 11 of 33
Michelle Obama style 12
Michelle Obama at Tegel Airport in Berlin, June 2013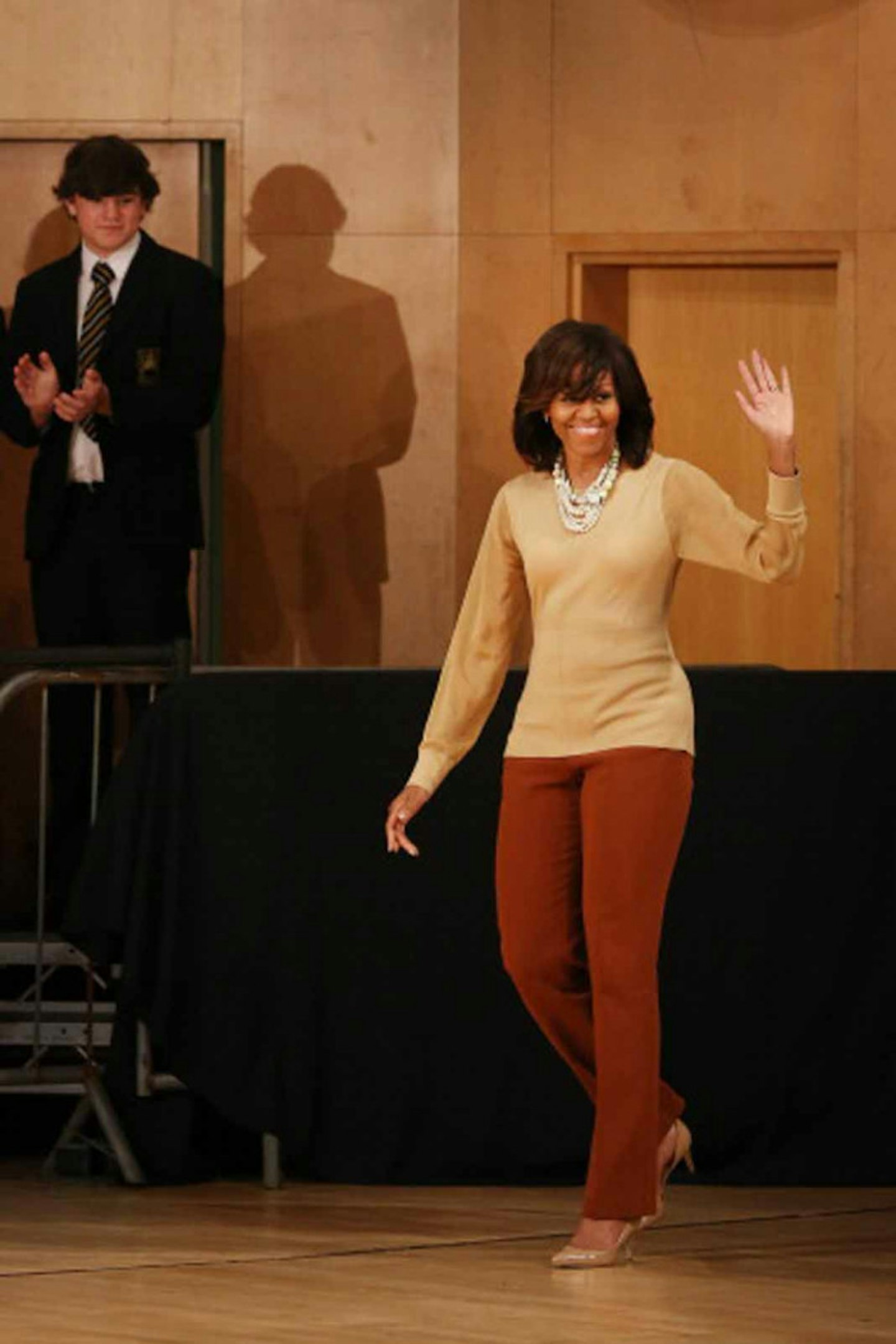 12 of 33
Michelle Obama style 13
Michelle Obama at the Waterfront Hall in Belfast, June 2013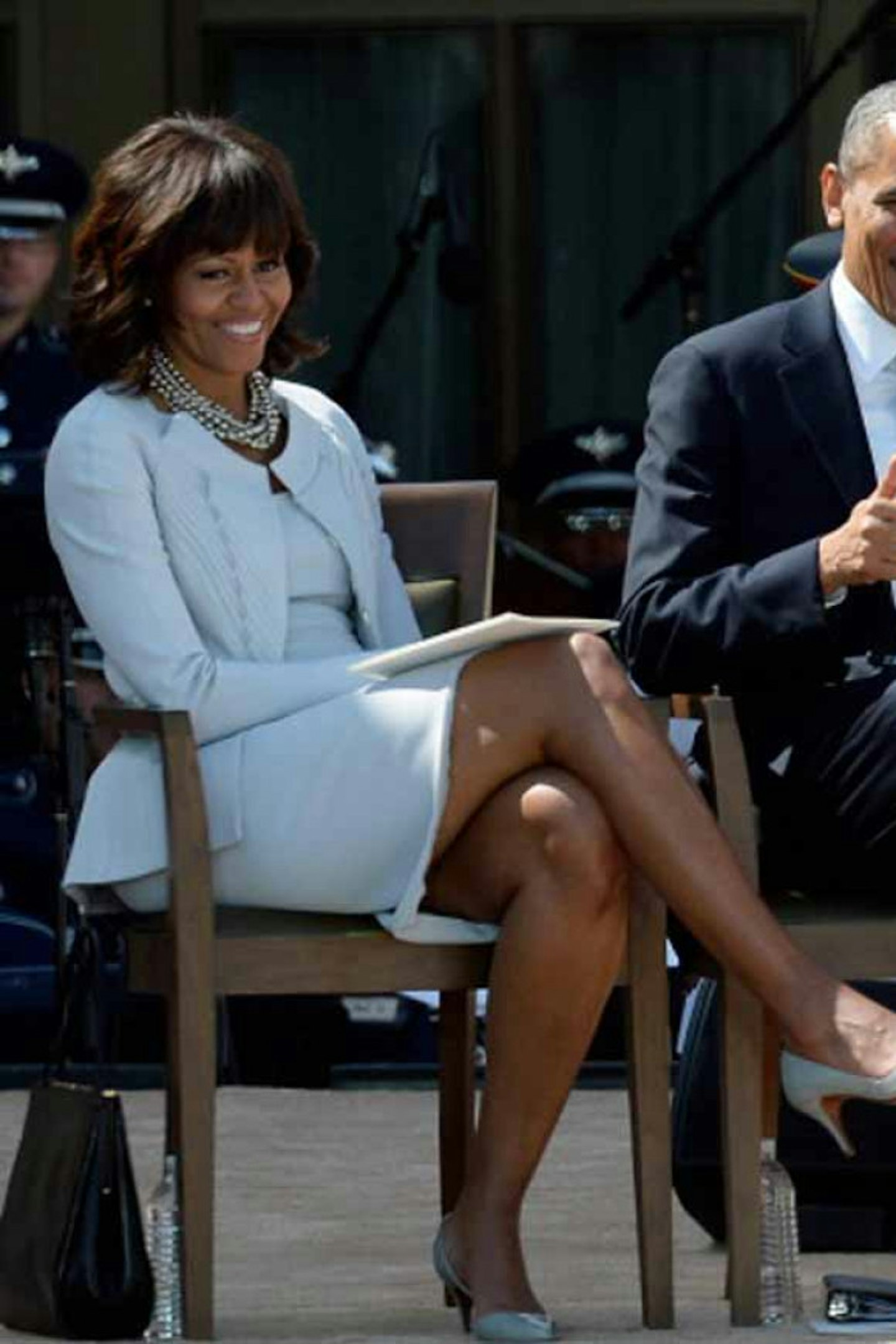 13 of 33
Michelle Obama style 14
Michelle Obama at the opening of the George W. Bush Presidential Center in Texas, April 2013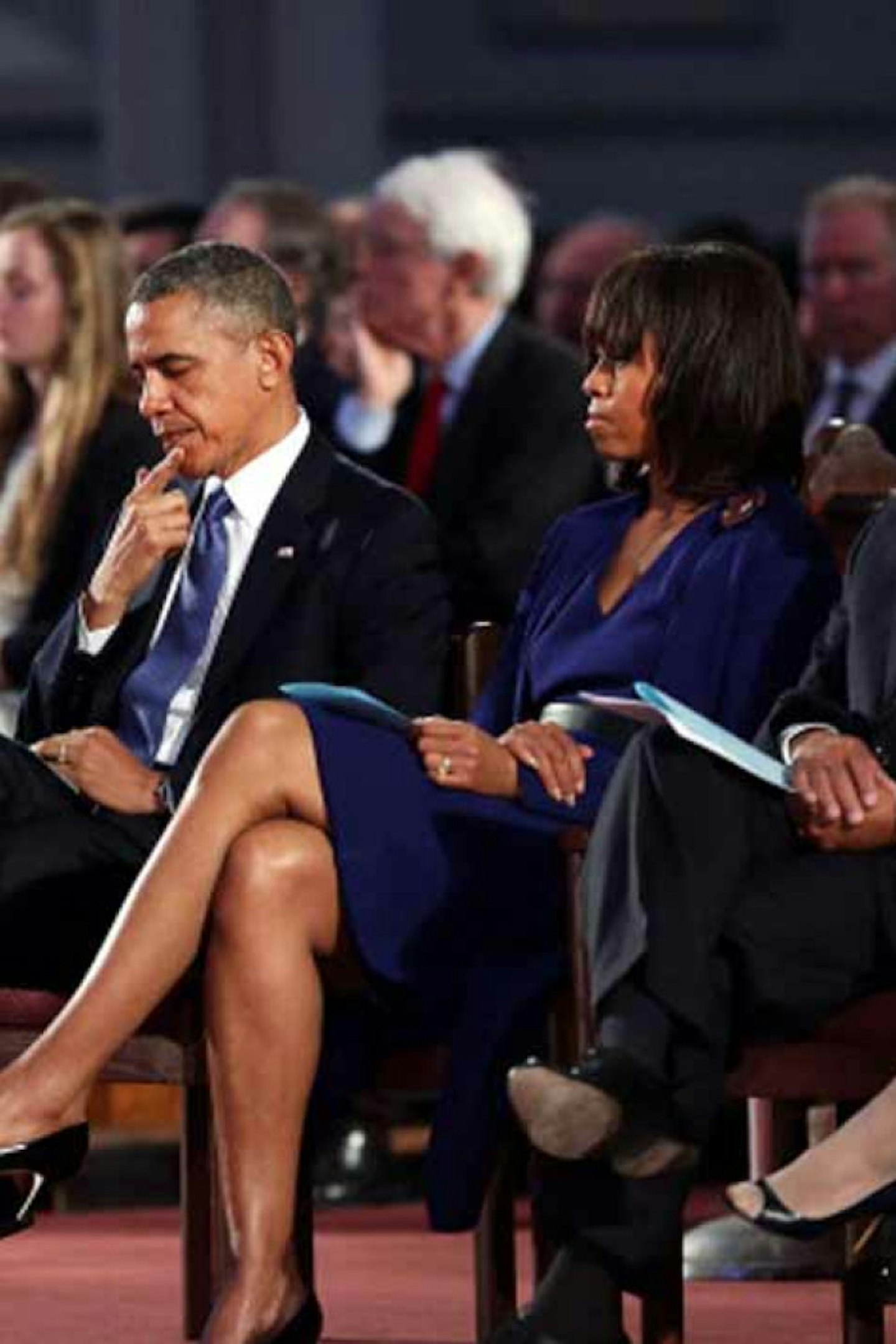 14 of 33
Michelle Obama style 15
Michelle Obama at the Cathedral of the Holy Cross in Boston, April 2013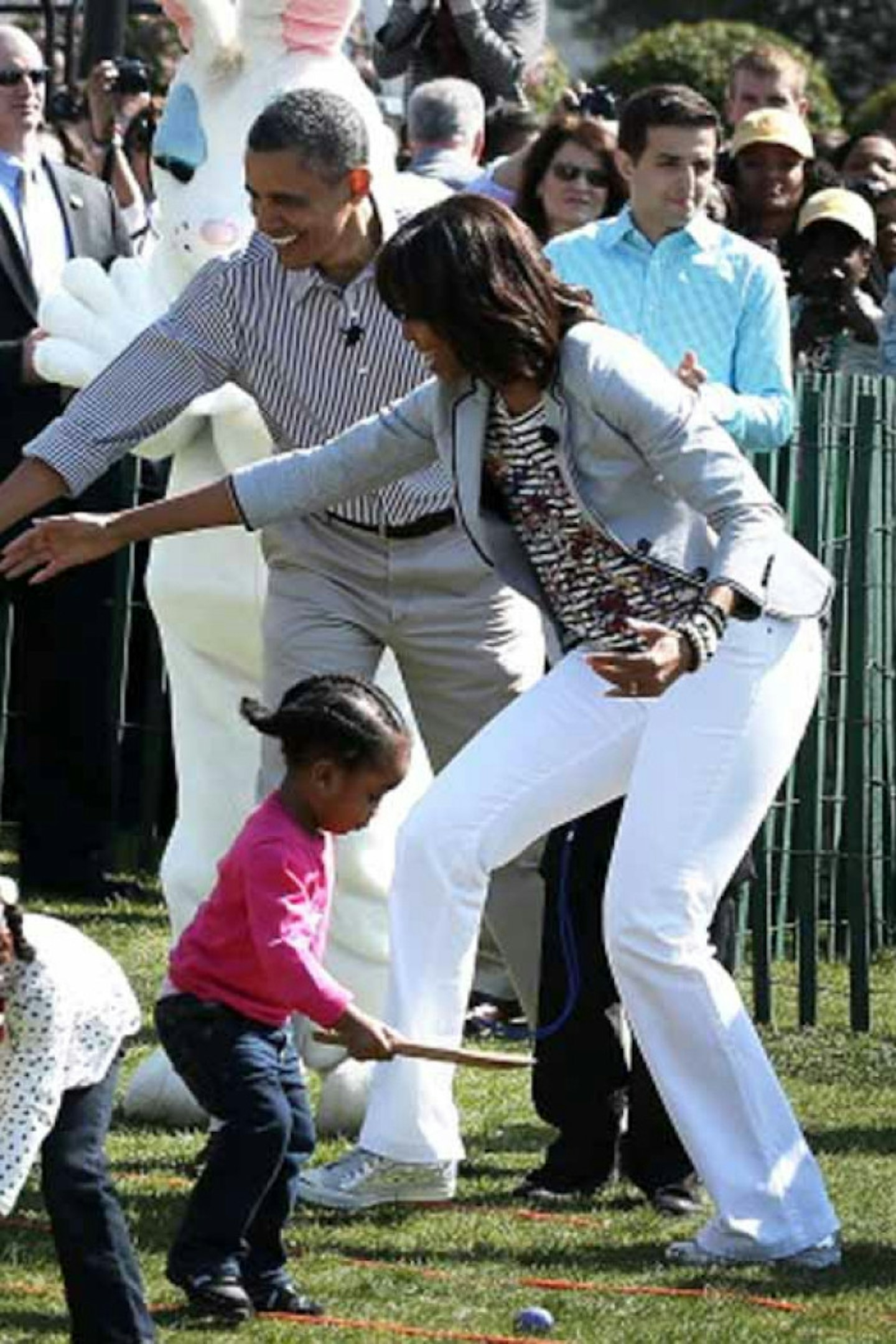 15 of 33
Michelle Obama style 16
Michelle Obama at the annual White House Easter Egg Roll, April 2013
16 of 33
Michelle Obama style 17
Michelle Obama at McCormick Place in Chicago, February 2013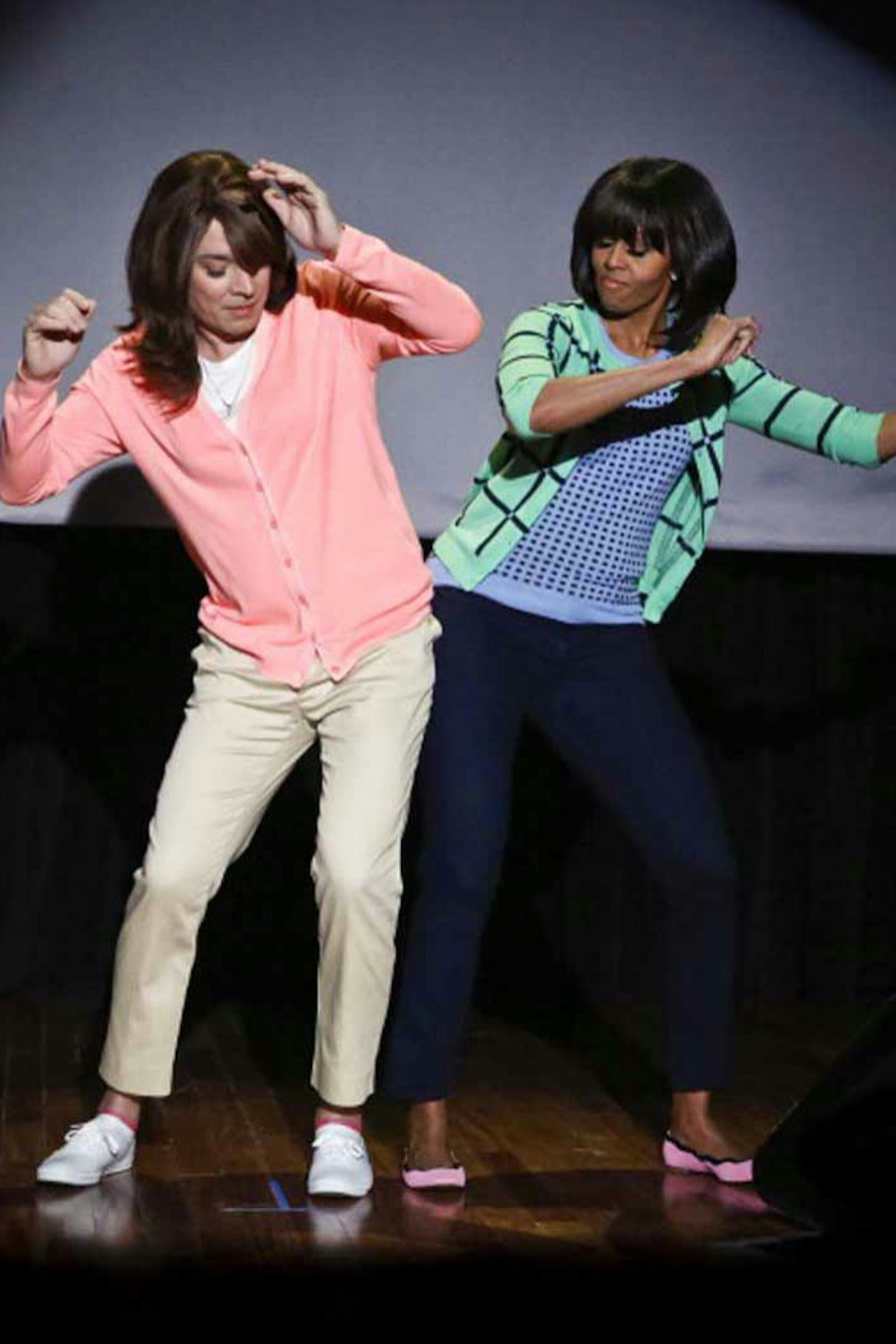 17 of 33
Michelle Obama style 18
Michelle Obama during a skit with Jimmy Fallon, February 2013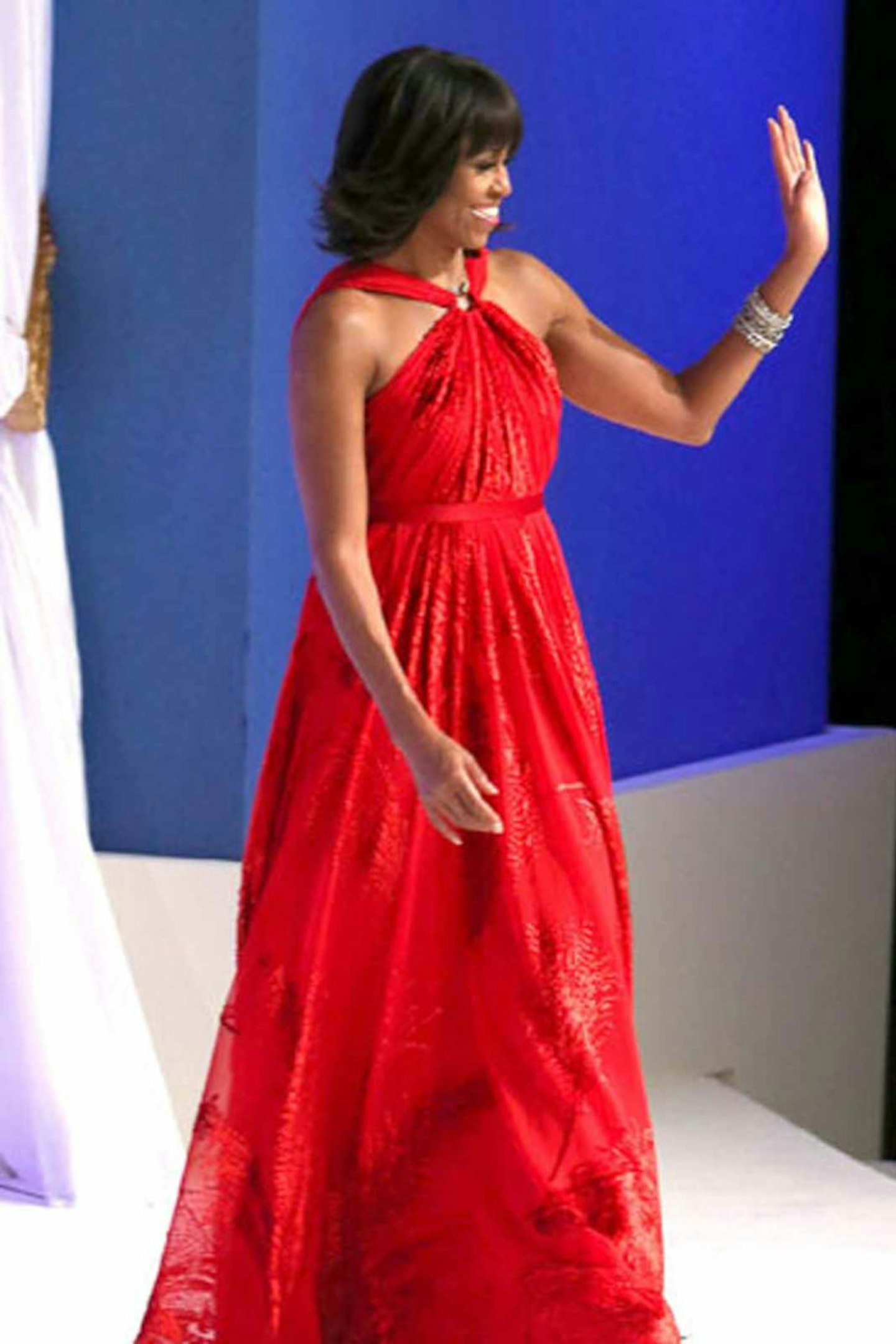 18 of 33
Michelle Obama style 19
Michelle Obama in Jason Wu at the inaugural ball, January 2013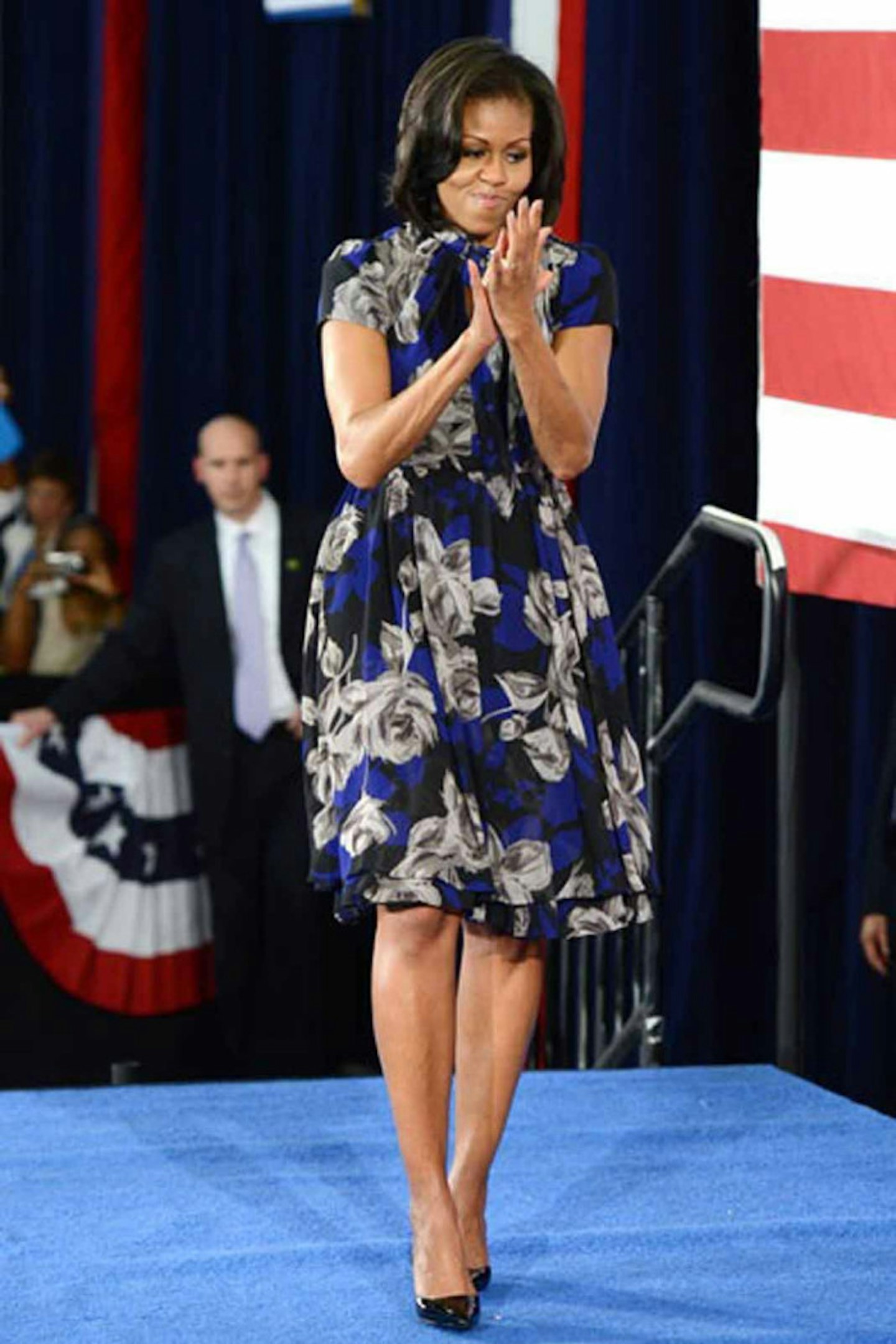 19 of 33
Michelle Obama style 20
Michelle Obama taking part in the Grass Roots Campaign, Oct 2012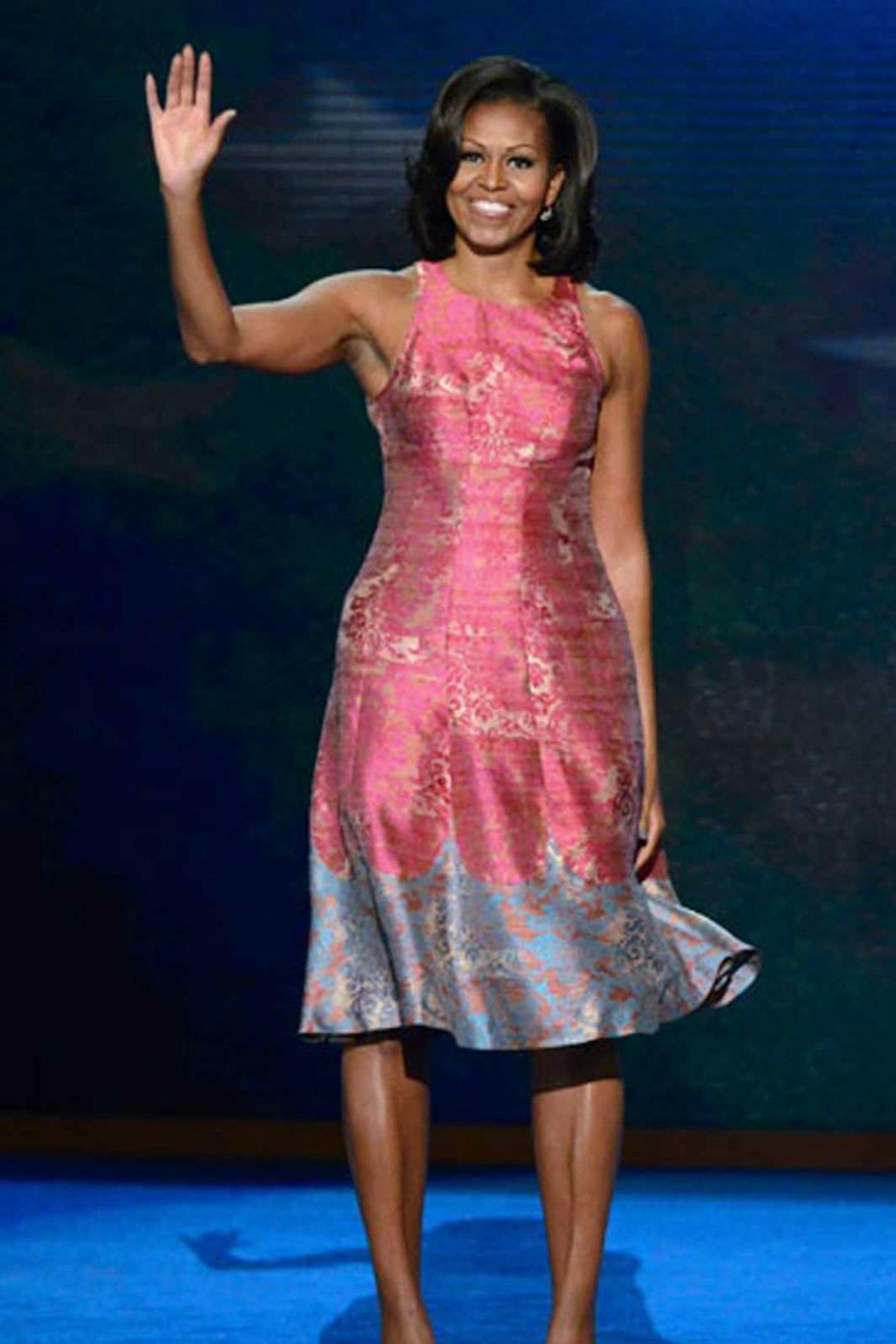 20 of 33
Michelle Obama style 21
Michelle Obama in Tracy Reese at the Demographic National Convention, Sept 2012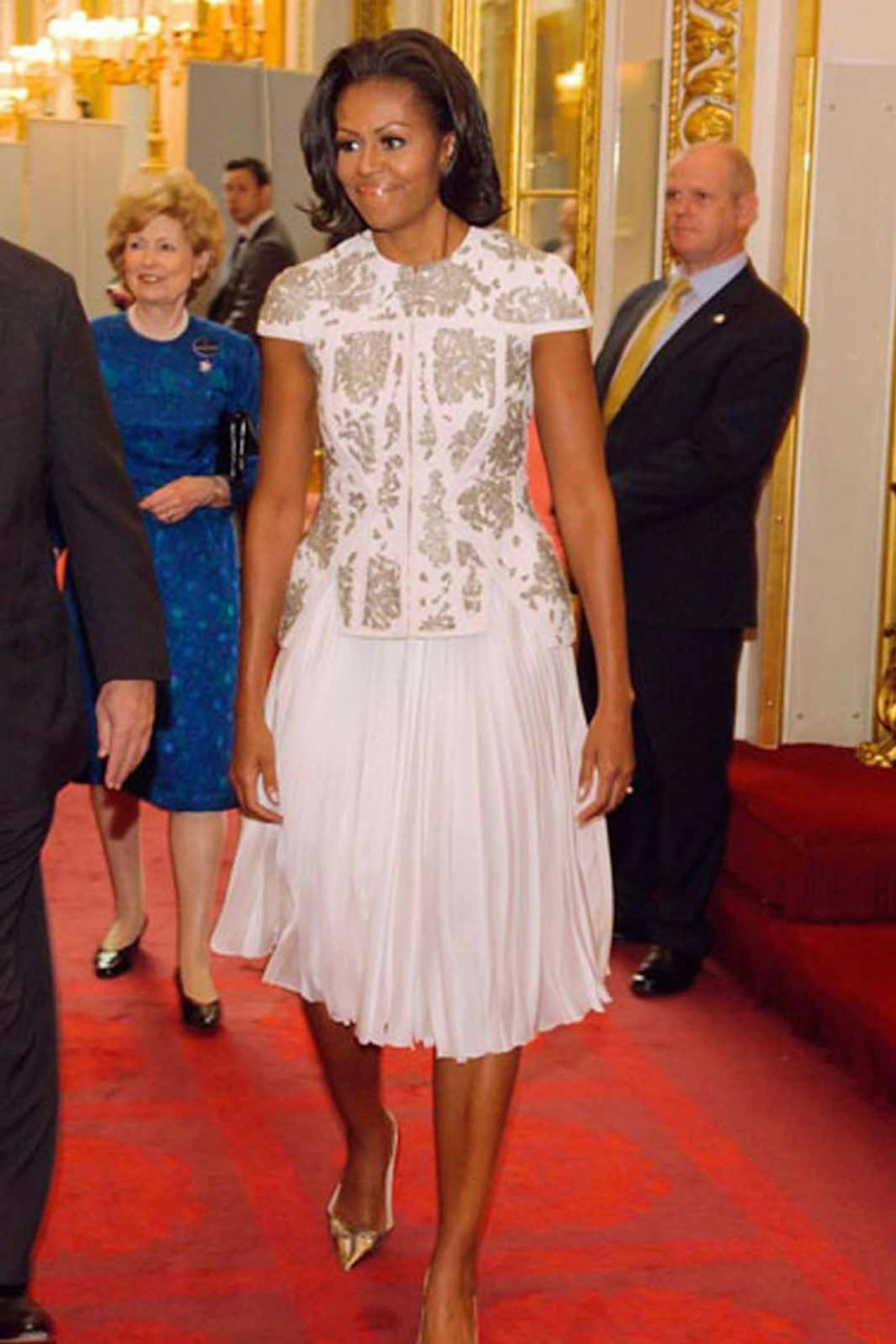 21 of 33
Michelle Obama style 22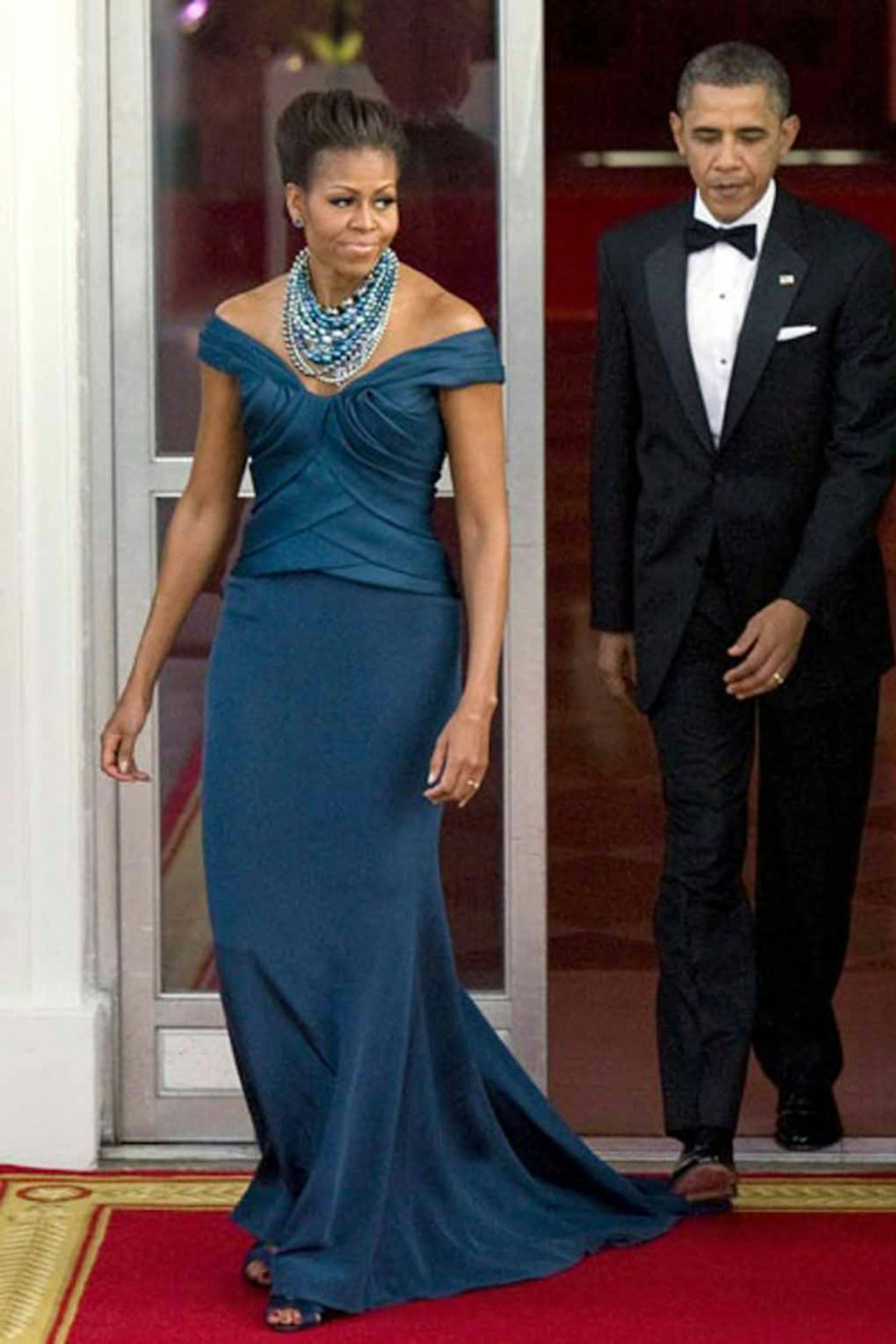 22 of 33
Michelle Obama style 23
Michelle Obama in a Marchesa gown at The White House, March 2012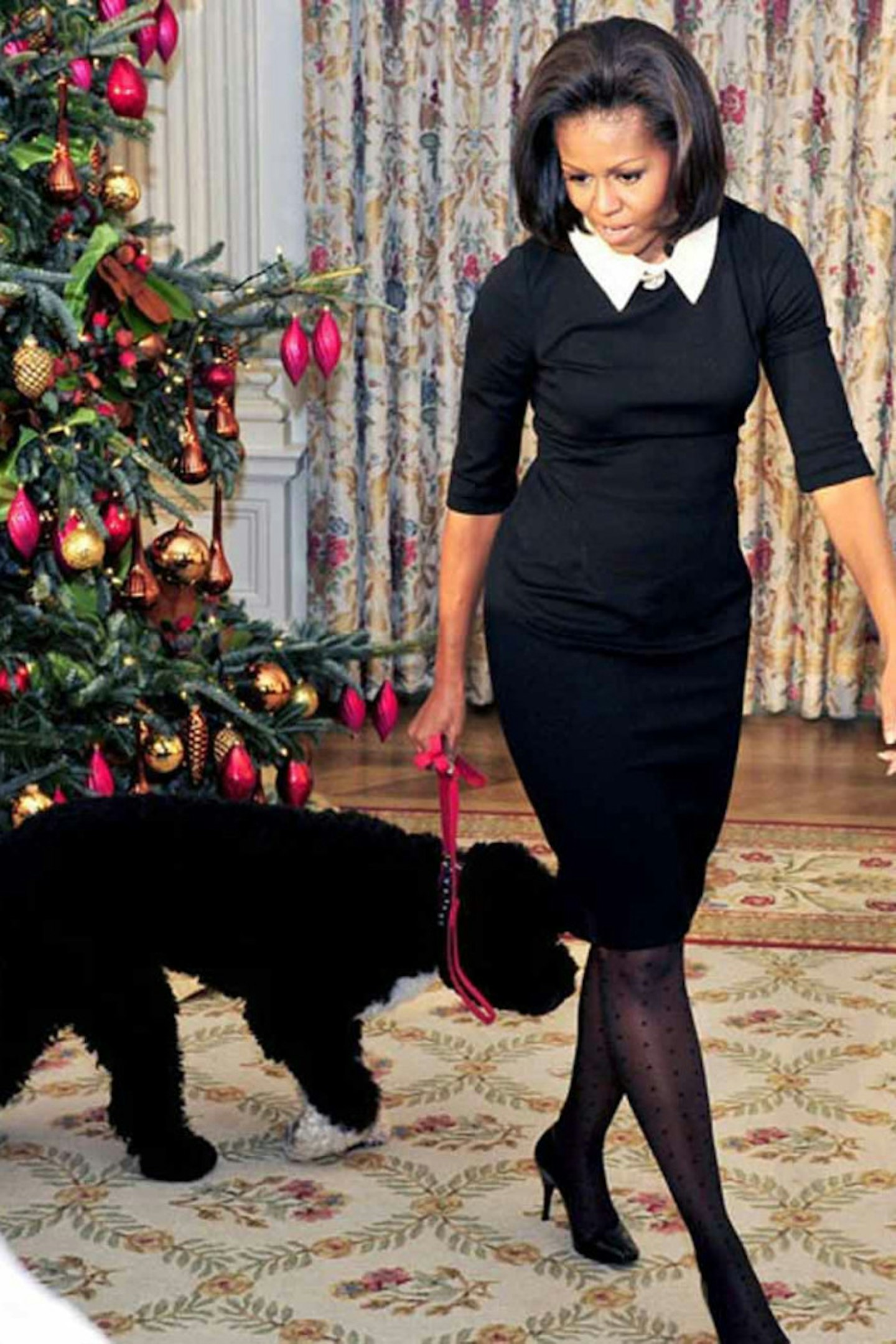 23 of 33
Michelle Obama style 24
Michelle Obama at the Healthier Future Summit, Nov 2011
24 of 33
Michelle Obama style 25
Michelle Obama in Tom Ford at Buckingham Palace, July 2011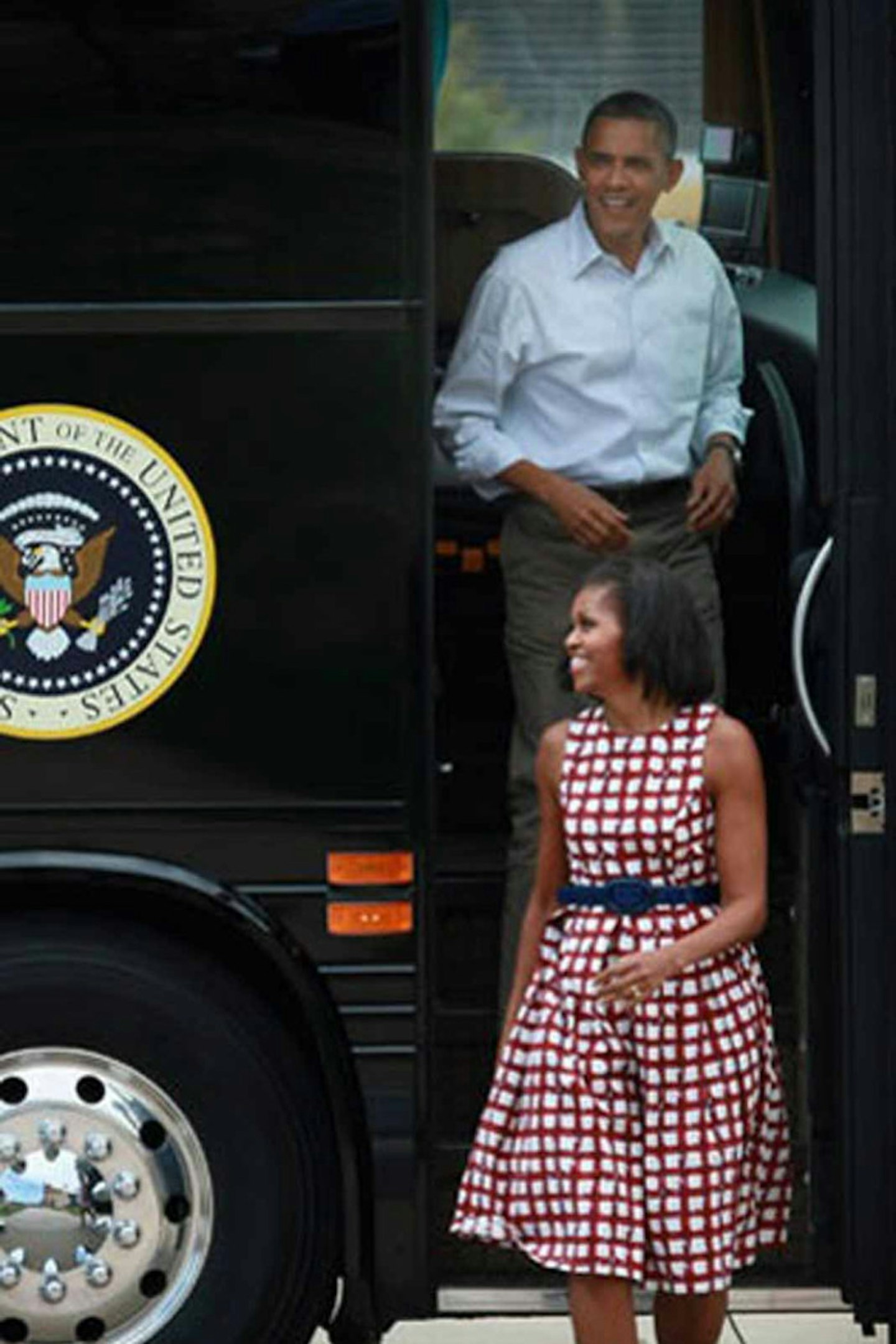 25 of 33
Michelle Obama style 26
Michelle Obama in ASOS, July 2011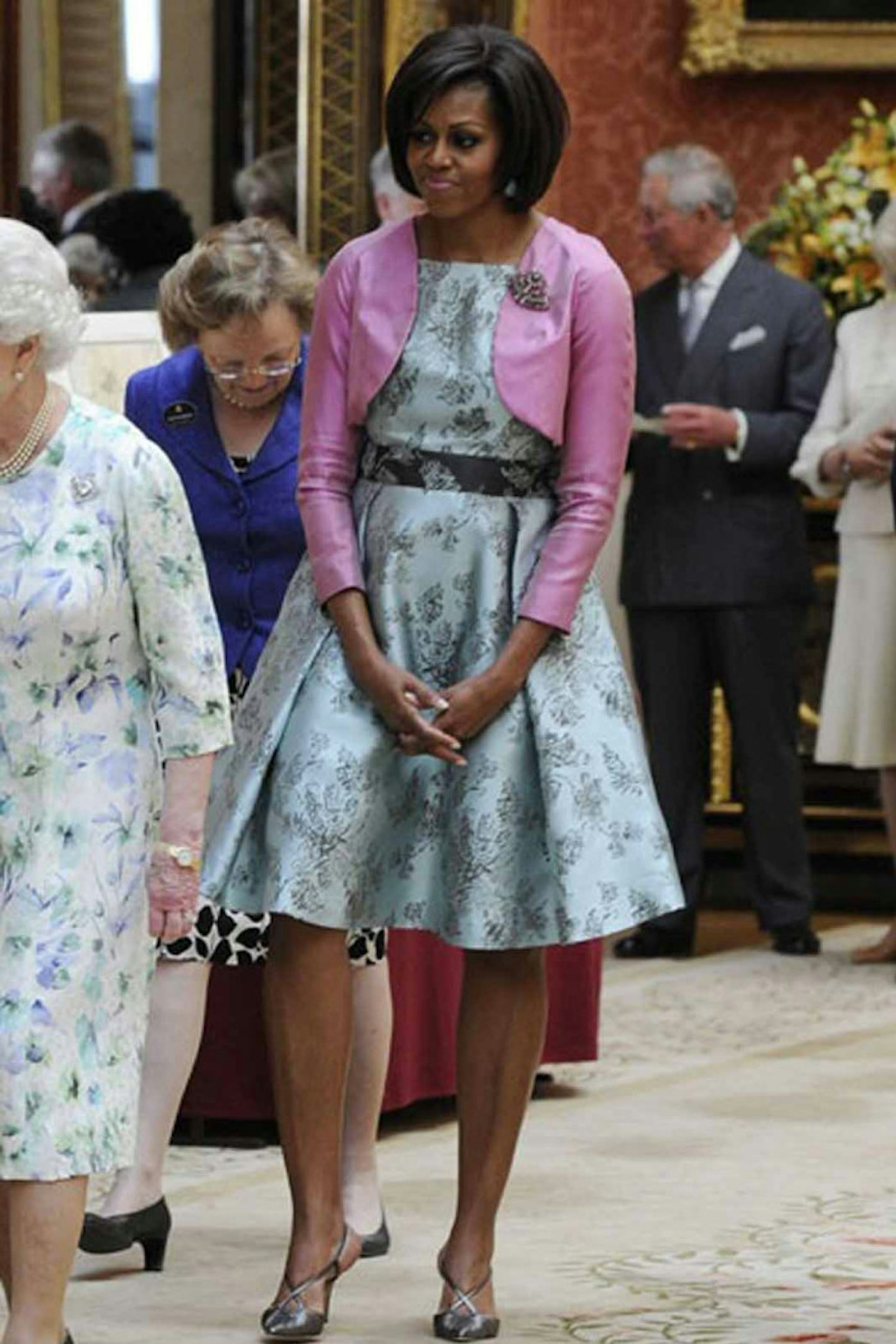 26 of 33
Michelle Obama style 27
Michelle Obama in Barbara Tfank at Buckingham Palace, May 2011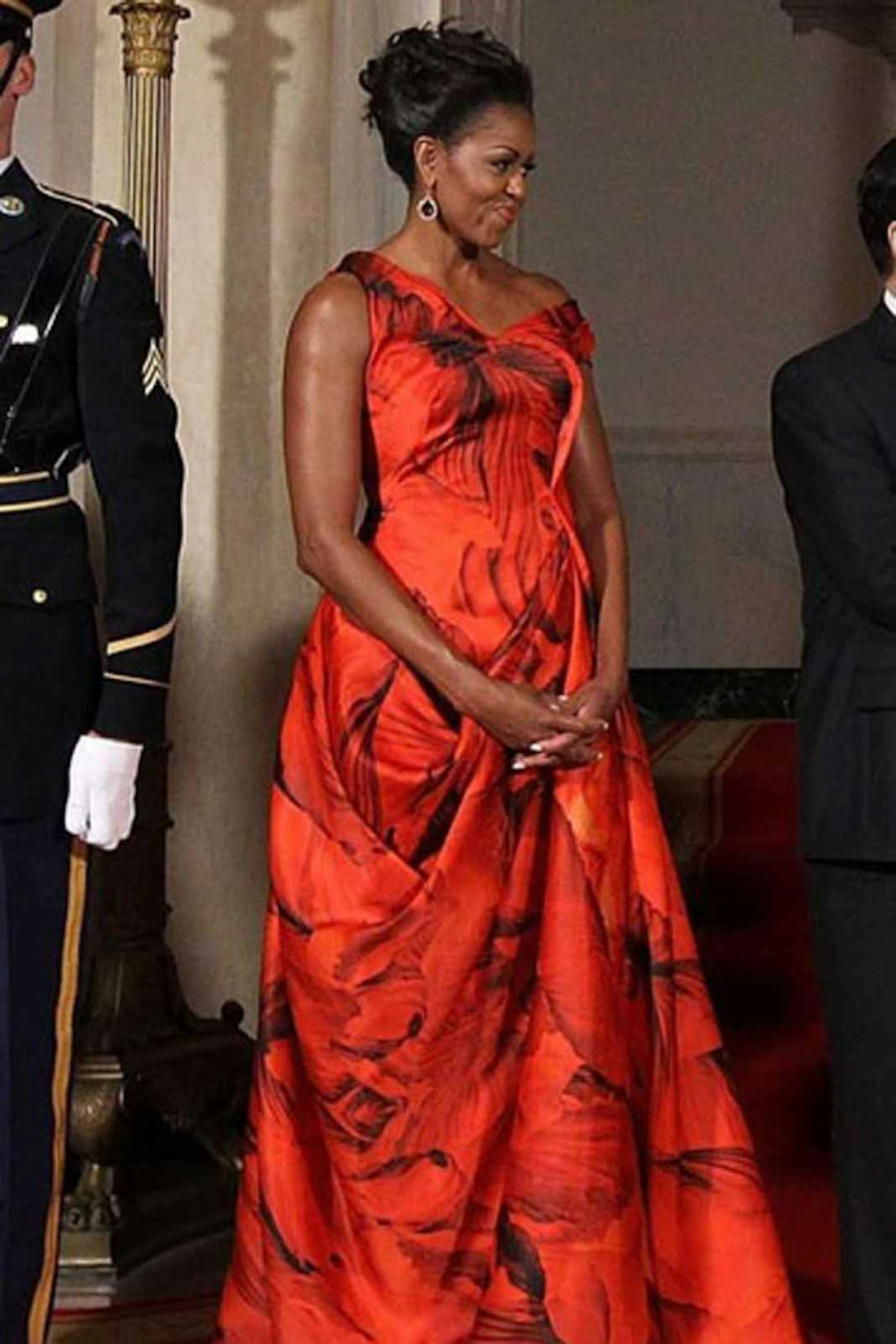 27 of 33
Michelle Obama style 28
Michelle Obama in Alexander McQueen, Jan 2011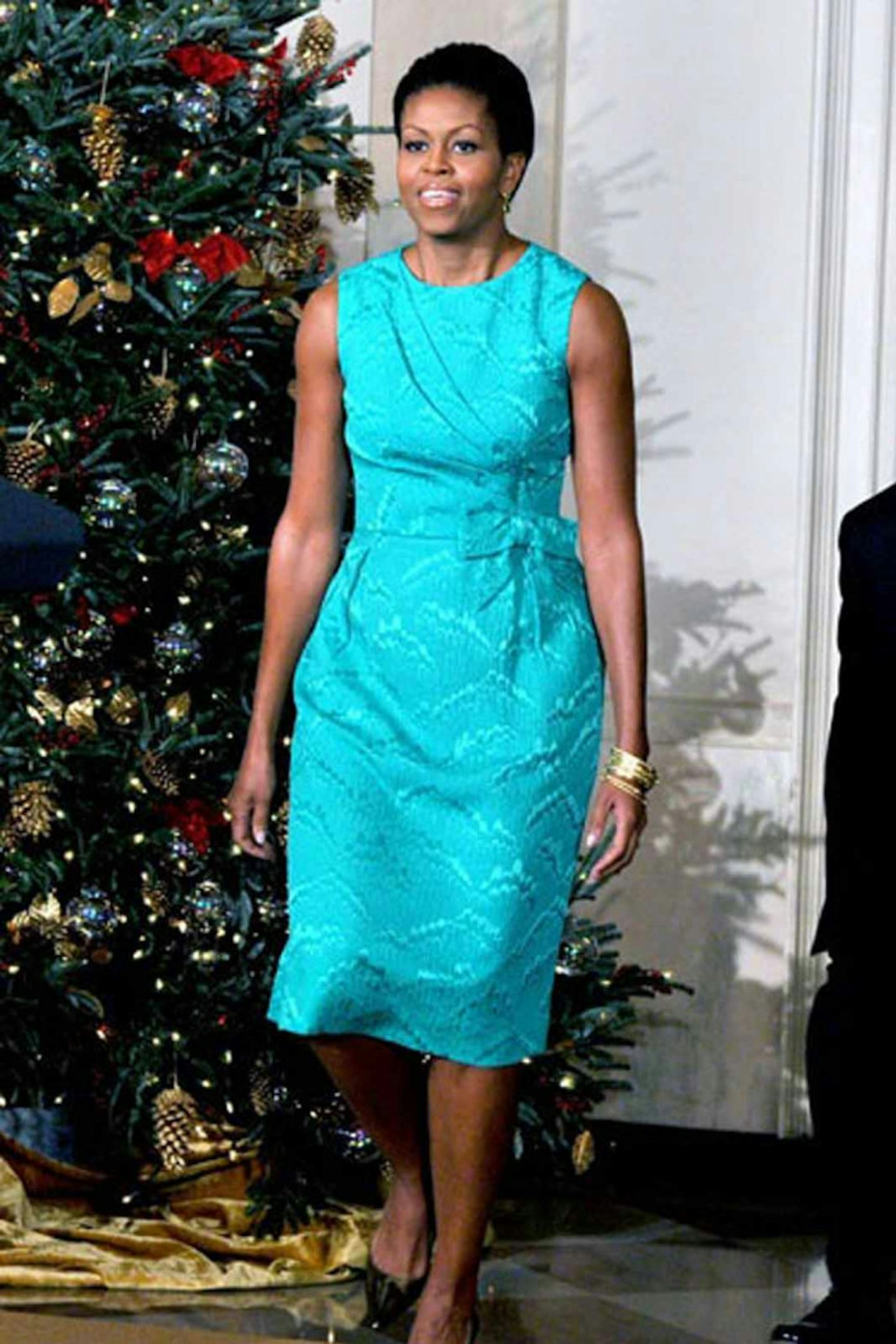 28 of 33
Michelle Obama style 29
Michelle Obama at the World Leader Lunch, Sept 2010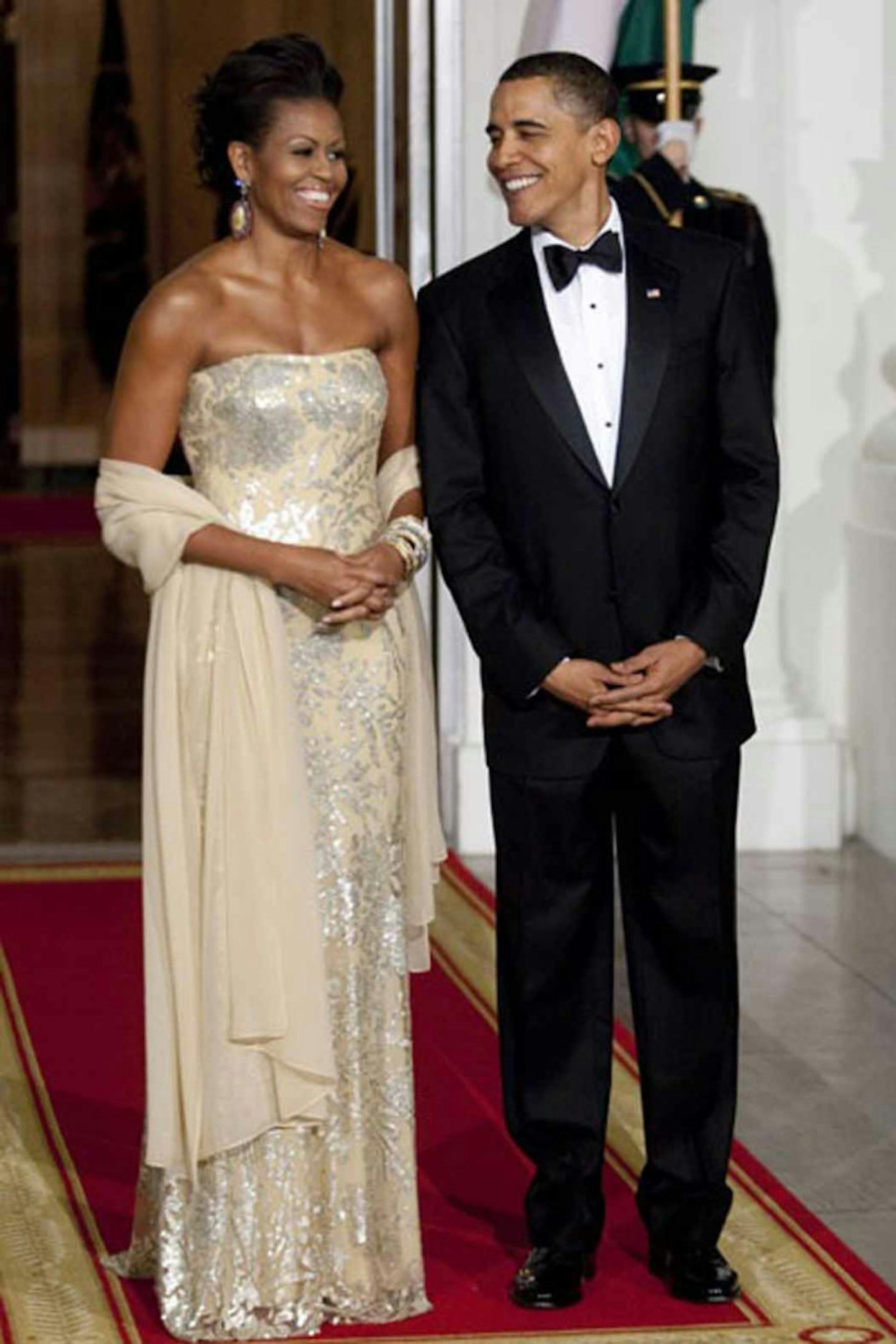 29 of 33
Michelle Obama style 30
Michelle Obama in Naeem Khan at a state dinner, Nov 2009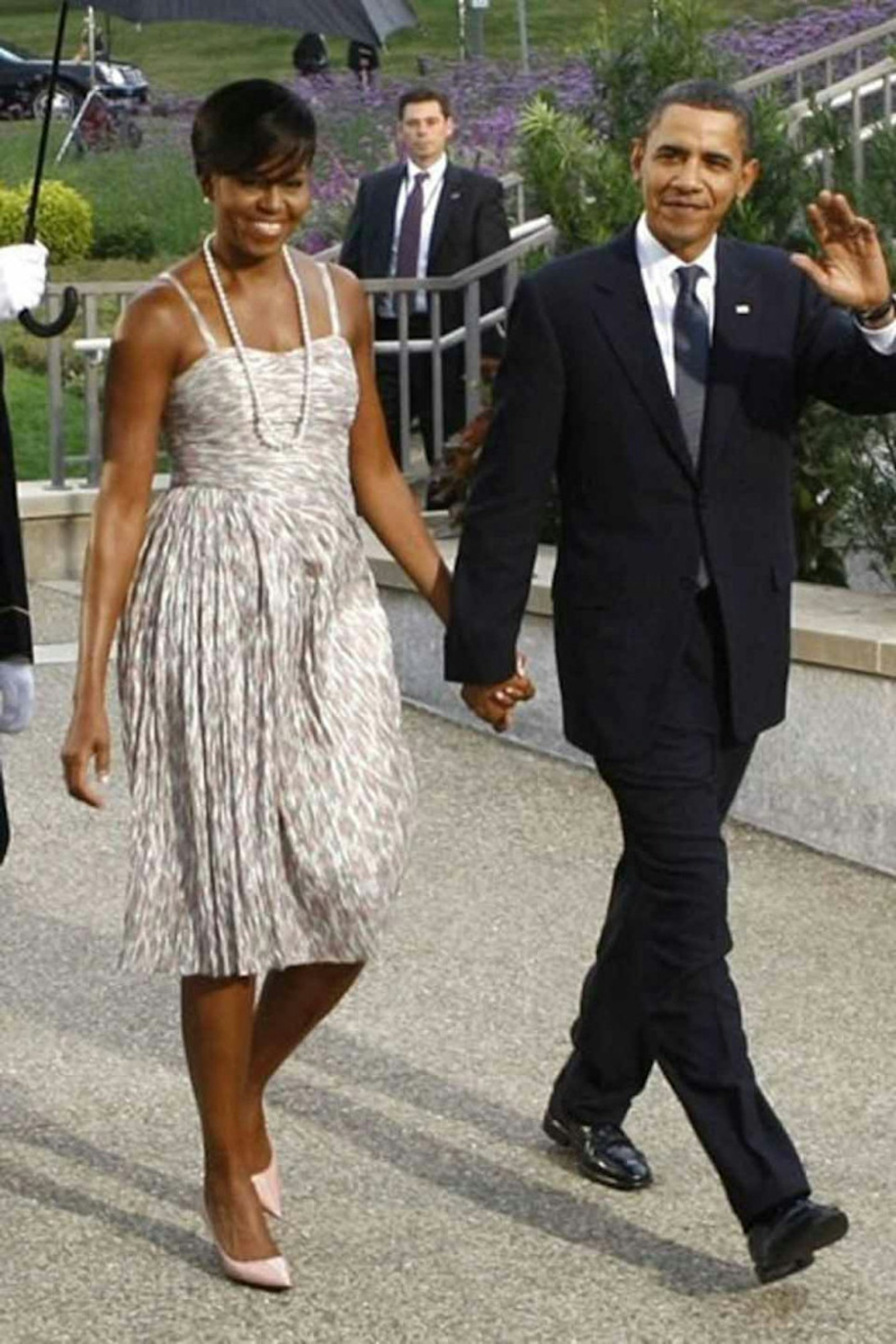 30 of 33
Michelle Obama style 31
Michelle Obama in Thakoon at the G20 Summit opening dinner, Sept 2009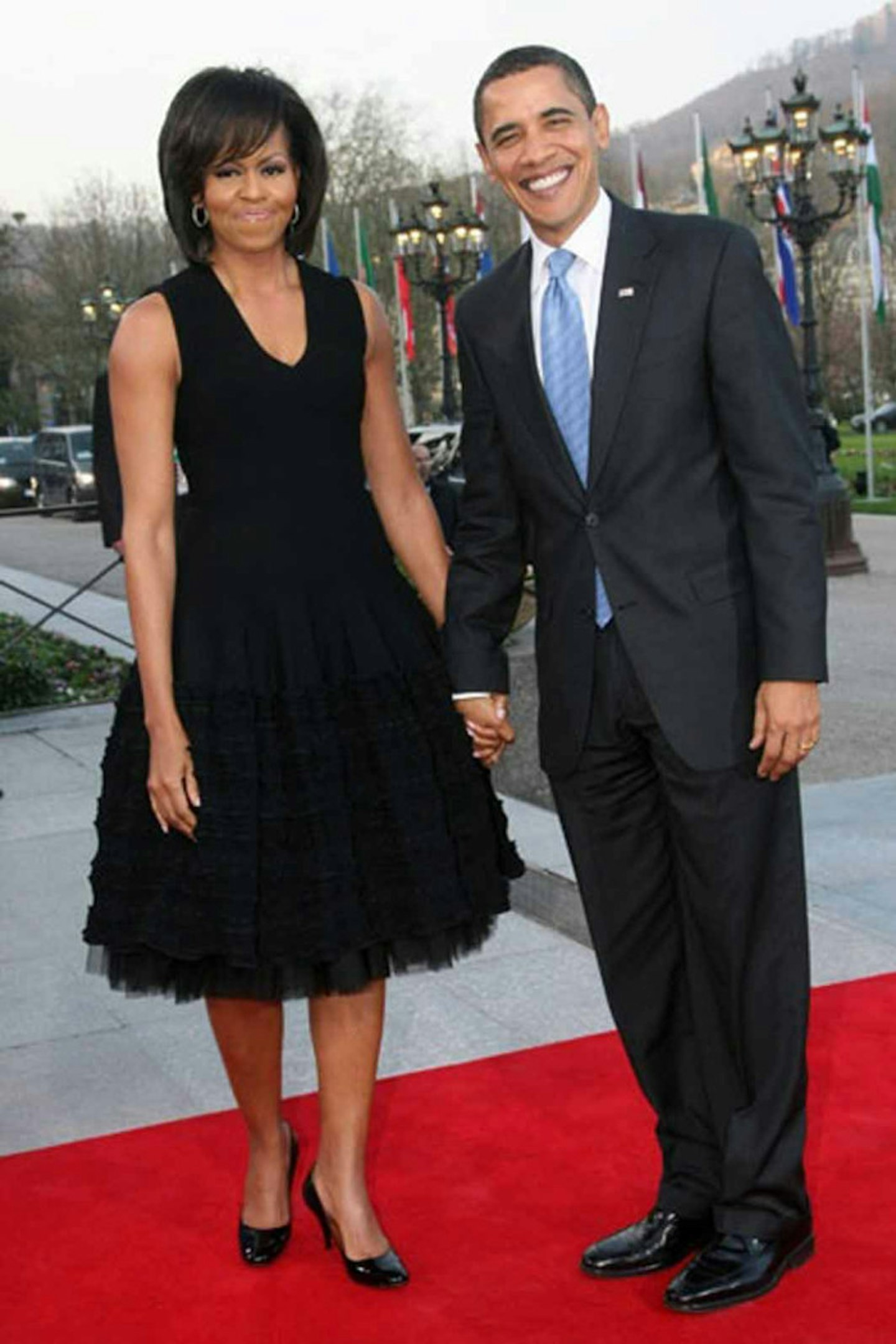 31 of 33
Michelle Obama style 32
Michelle Obama at a NATO dinner in Azzedina Alaia, April 2009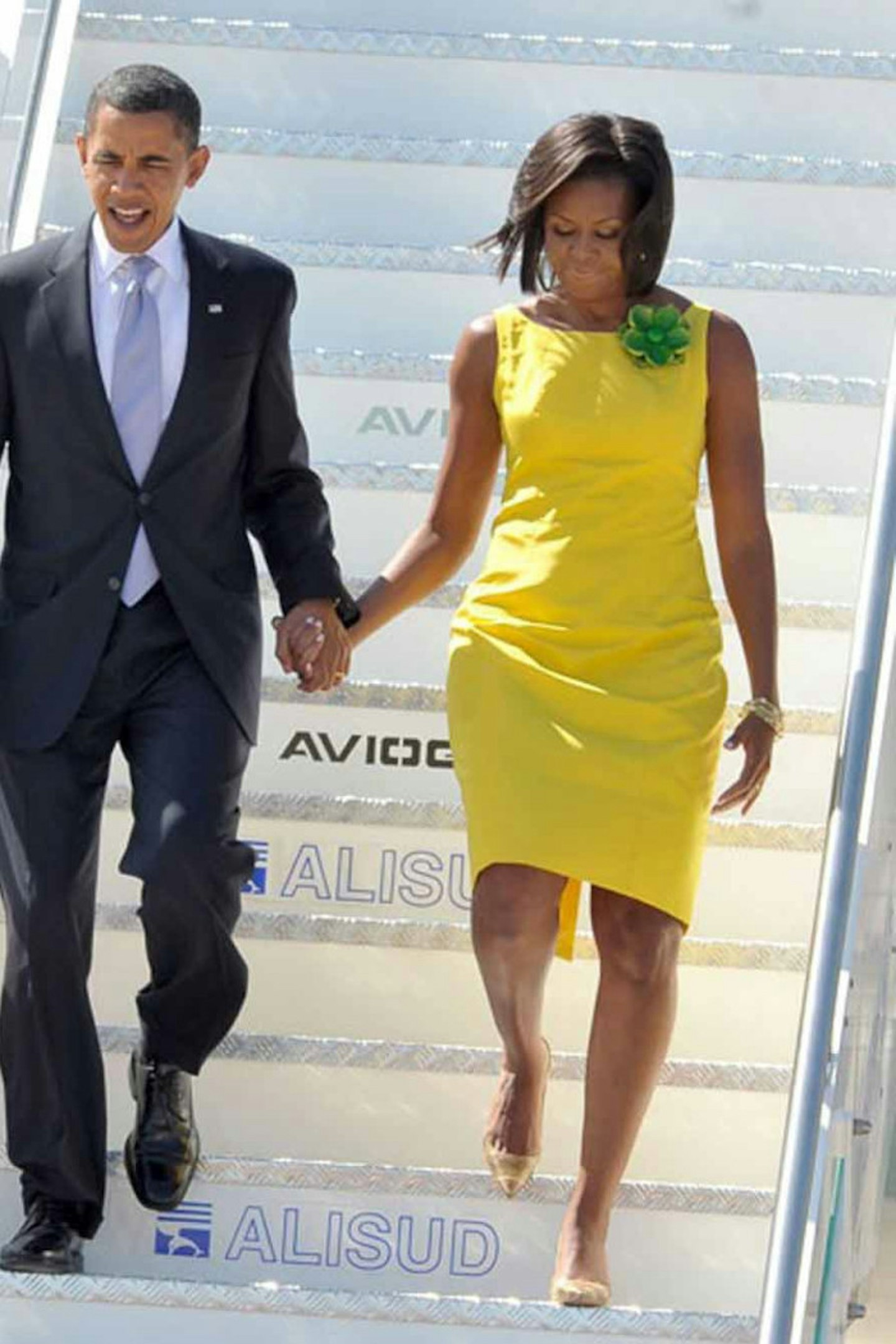 32 of 33
Michelle Obama style 33
Michelle Obama arriving in London in Jason Wu, March 2009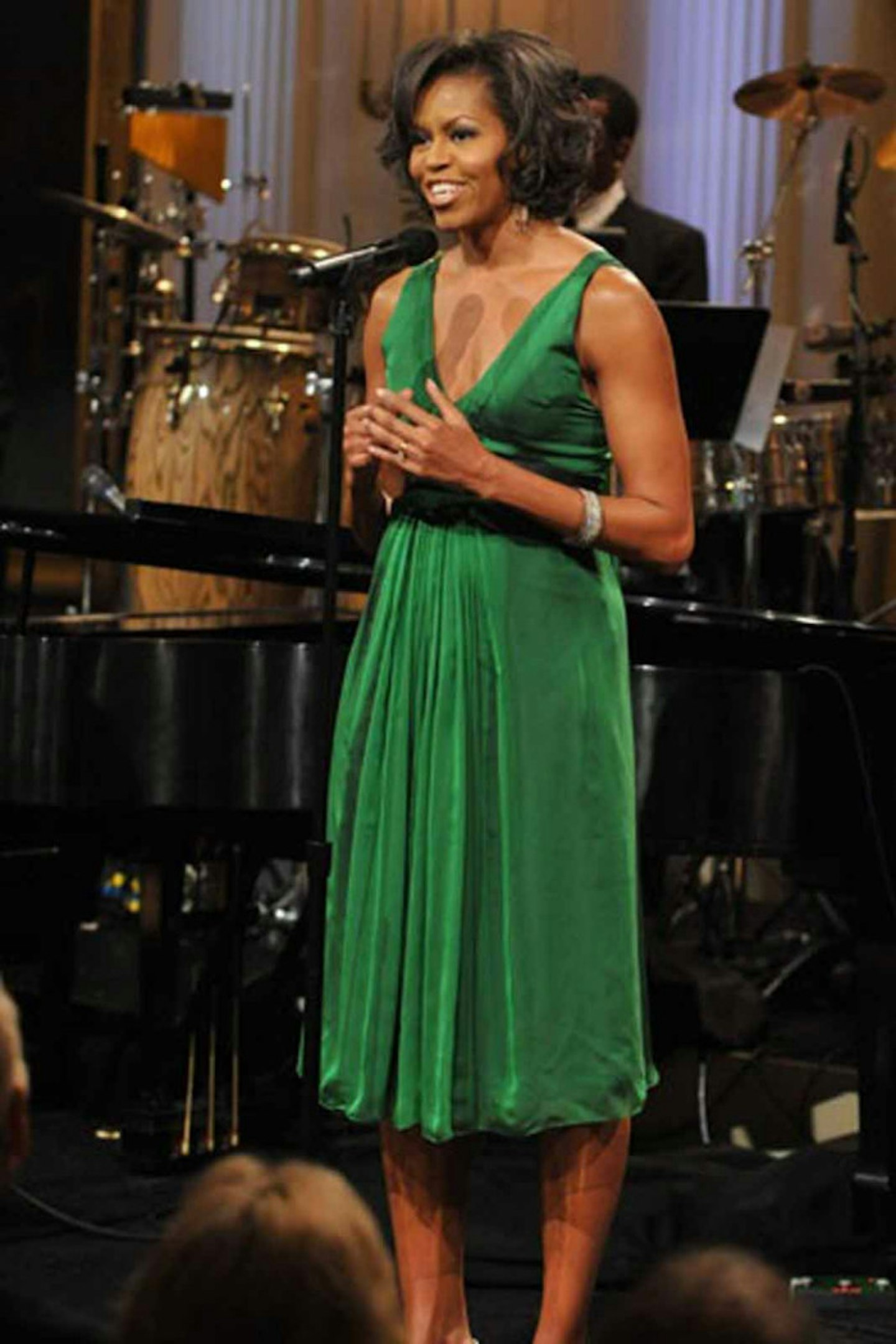 33 of 33
Michelle Obama style 34
Michelle Obama opening the Stevie Wonder White House concert in Kai Milla, March 2009