Virgil Abloh's final men's collection for Louis Vuitton proved that, even posthumously, the designer can excite and inspire the fashion industry like few others. This final chapter felt like the most fitting tribute possible, celebrating Abloh's almost limitless imagination, his reverence to great art and his understanding of what it is to build a fashion brand.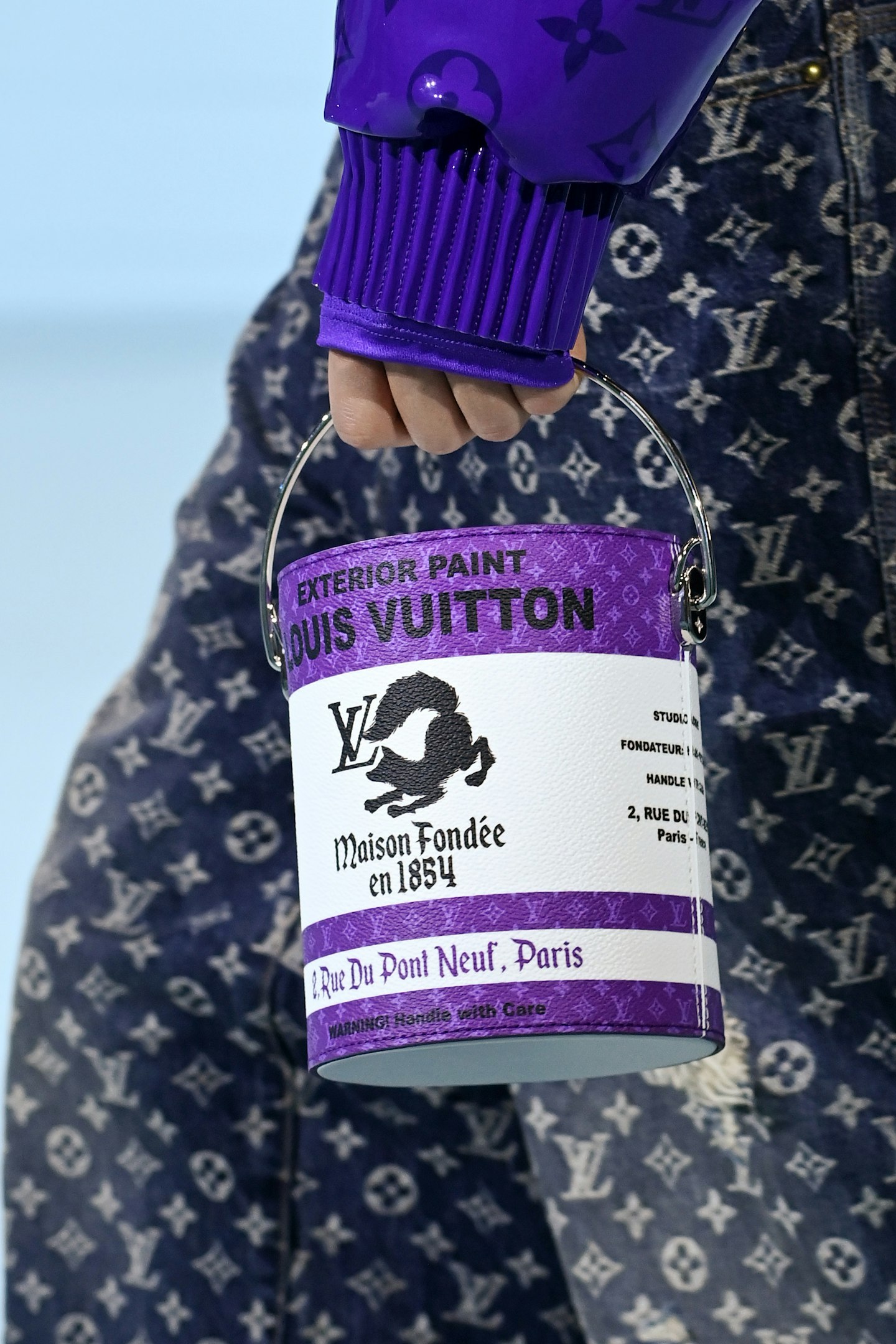 The collection, 95% complete at the time of Abloh's death, was playful, romantic, surreal at times and all underpinned by that canny intellectualism – Abloh referenced paintings by Gustave Courbet and Giorgio de Chirico, transforming them into wearable tapestries. He also lent a surreal air to his accessories, invoking the spirit of Salvador Dalí in a warped version of the classic LV trunk, which looked every bit as amorphous as Dalí's famous melting clock.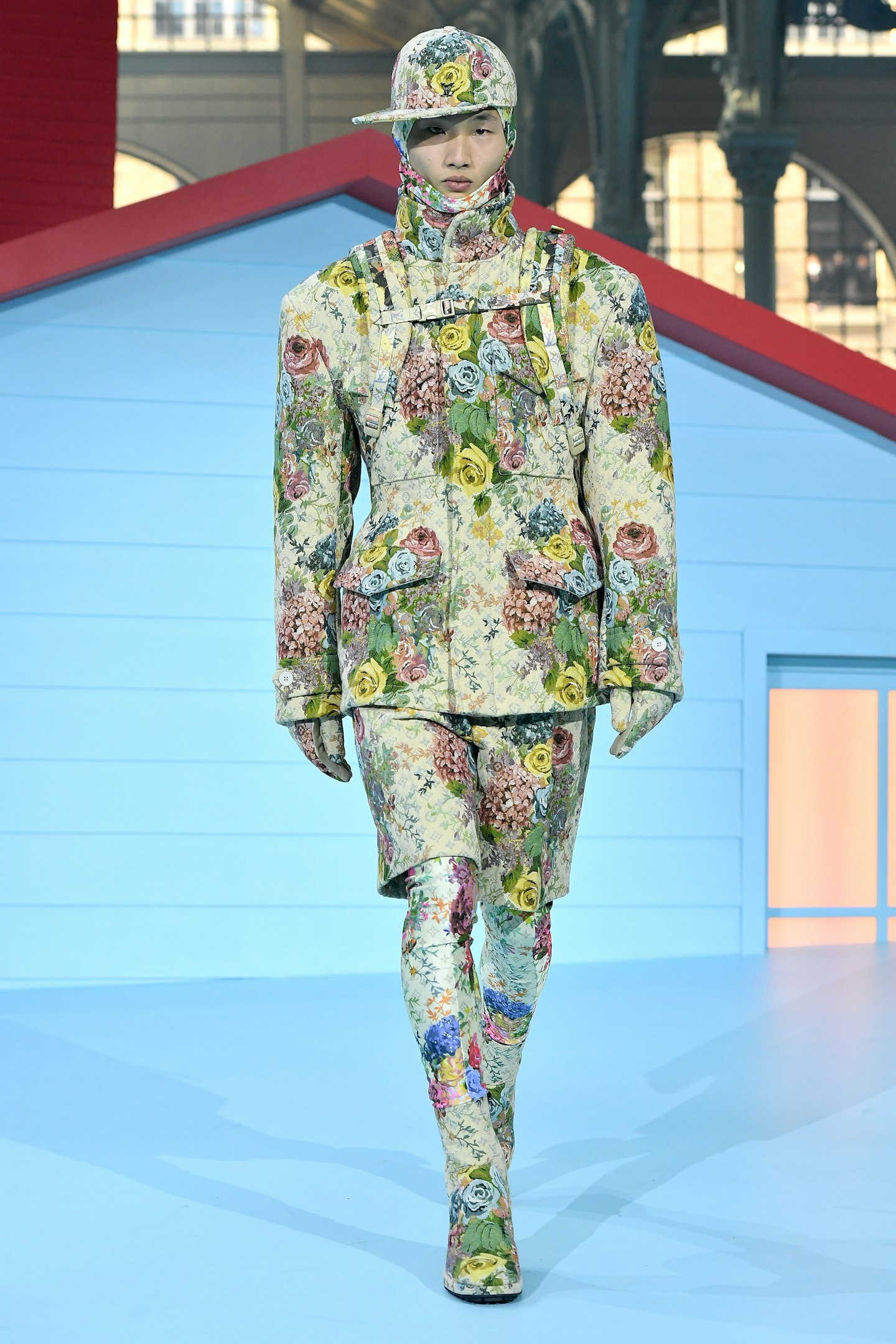 One of the major talking points were undoubtedly the paint can bucket bags, carried by models who made them look as commonplace as a shopping bag. Expect to see them all over Instagram soon(ish), no doubt racking up waiting lists longer than we've seen for some time.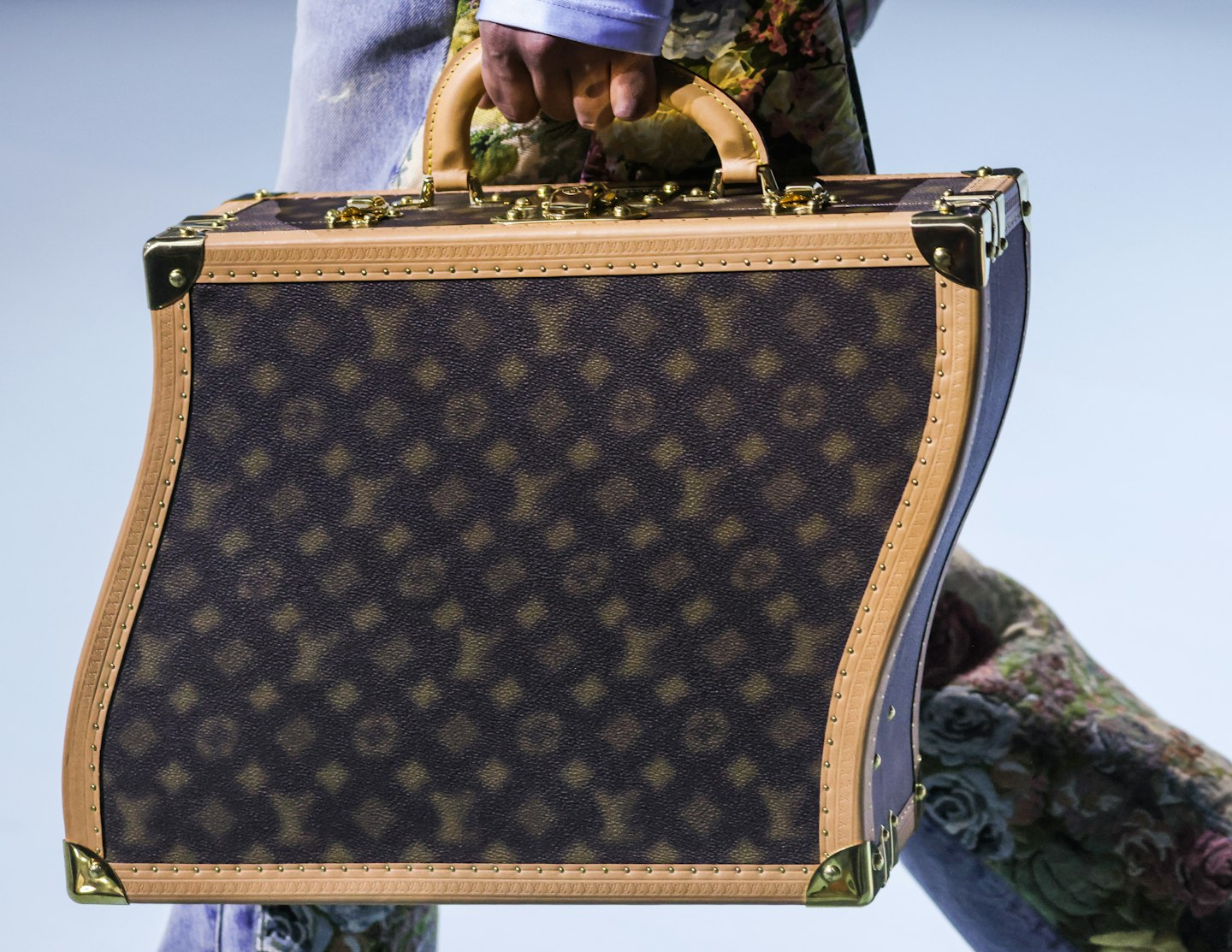 Louis Vuitton referred to this all as Abloh's Boyhood Ideology, a perception of the world as if seen through the innocent, unspoilt eyes of a child. 'Through this lens, the membrane between reality and imagination is nonexistent. Dreams can come true,' read the show notes.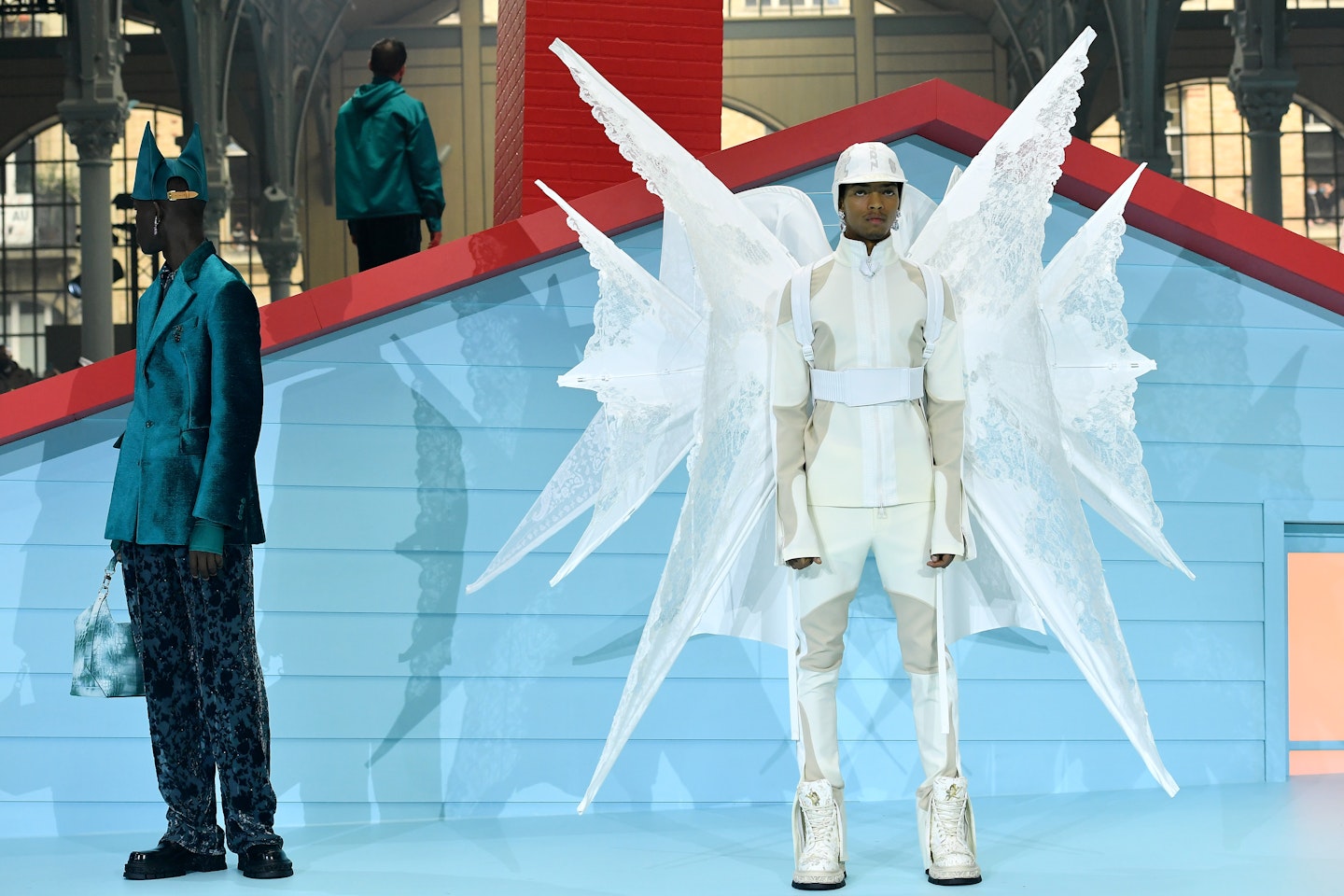 How sad for us all that Abloh wasn't around to see this particular dream of his become a reality.
SEE: Virgil Abloh's Most Memorable Fashion Moments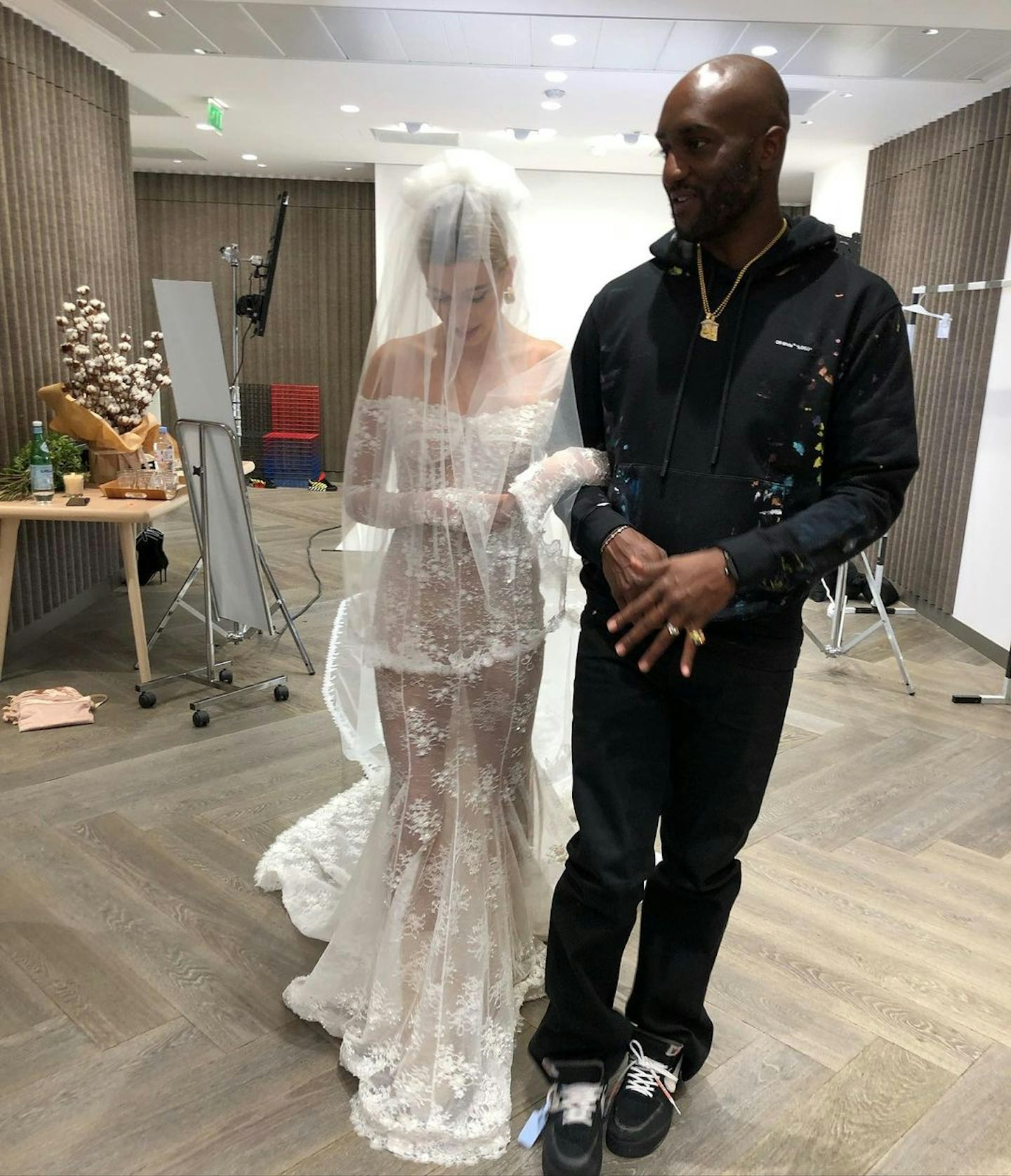 1 of 8
CREDIT: @haileybieber
Virgil Abloh
Hailey Bieber's wedding dress was a masterpiece in marrying the old and new from Abloh. The veil - embroidered with the words 'Till Death Do Us Part' - had his handwriting all over it. Posting yesterday on Instagram, Bieber made the following tribute: 'Virgil completely changed the way I looked at street style and fashion, the way he looked at things inspired me deeply. I will never be able to fully express how grateful I am to have known him and worked with him, from walking on his runways to having him design my wedding dress and all the other amazing moments in between, I felt he was always rooting for me.'
2 of 8
CREDIT: Getty
Virgil Abloh
Off-White's accessories quickly achieved cult status on the street style circuit, especially the brand's wraparound seatbelt belt.
3 of 8
CREDIT: Getty
Virgil Abloh
Abloh's pool of inspiration was famously prolific. At Louis Vuitton, he drew from his own Ghanian heritage, telling his family history through the clothes. Speaking to Vogue, Abloh said: 'When I grew up, my father wore Kente cloth, with nothing beneath it, to family weddings, funerals, graduations. When he went to an American wedding, he wore a suit. I merged those two together, celebrating my Ghanaian culture.' For Off-White SS18, Abloh was inspired by Princess Diana, sending cycling shorts, white shirts and polka dots down the catwalk.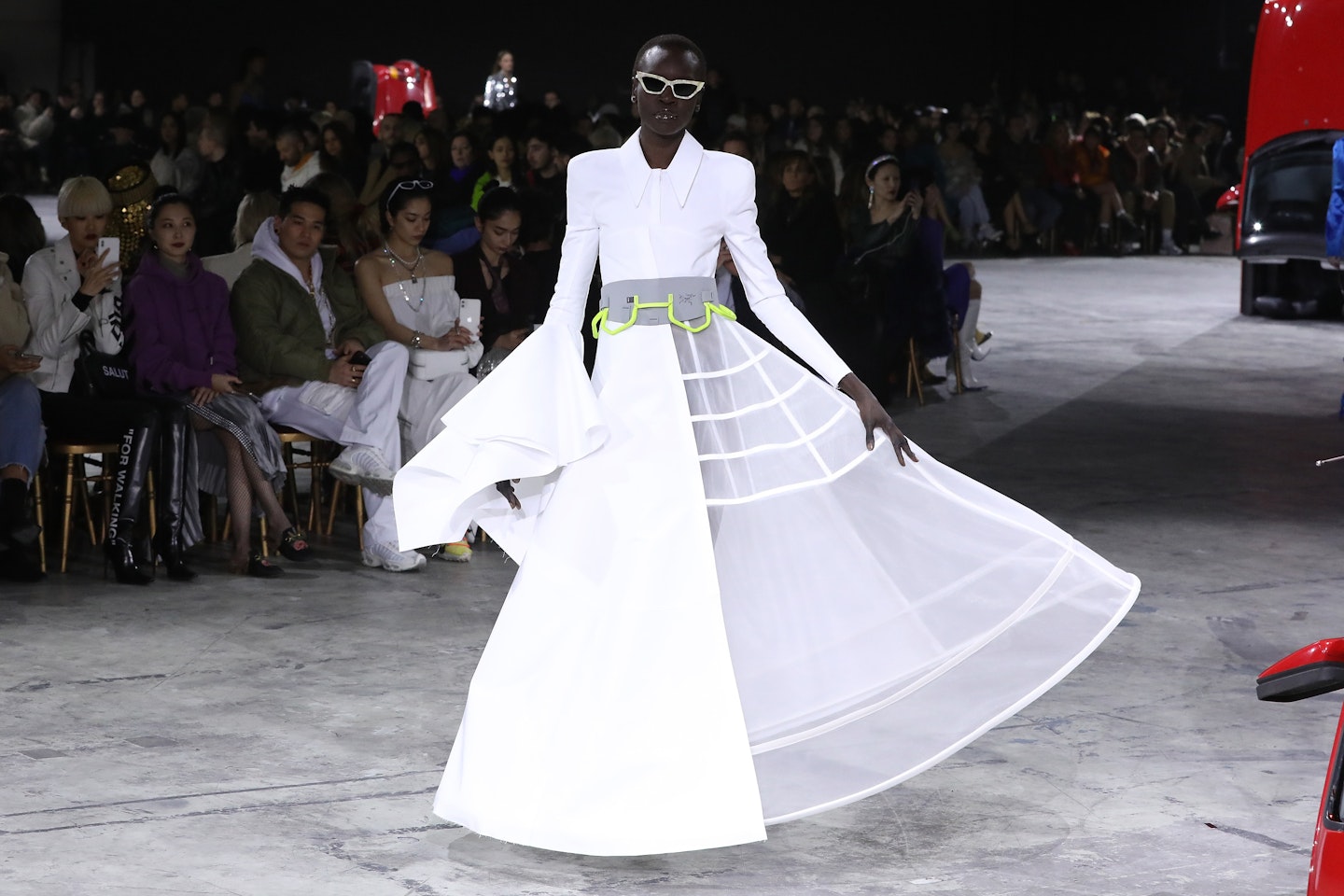 4 of 8
CREDIT: Getty
Virgil Abloh
Abloh was a streetwear genius, but proved how the genre could blend with its polar opposite - eveningwear - time and time again at Off-White. This shirt dress, complete with a boned hoop skirt, was a case in point on Alek Wek.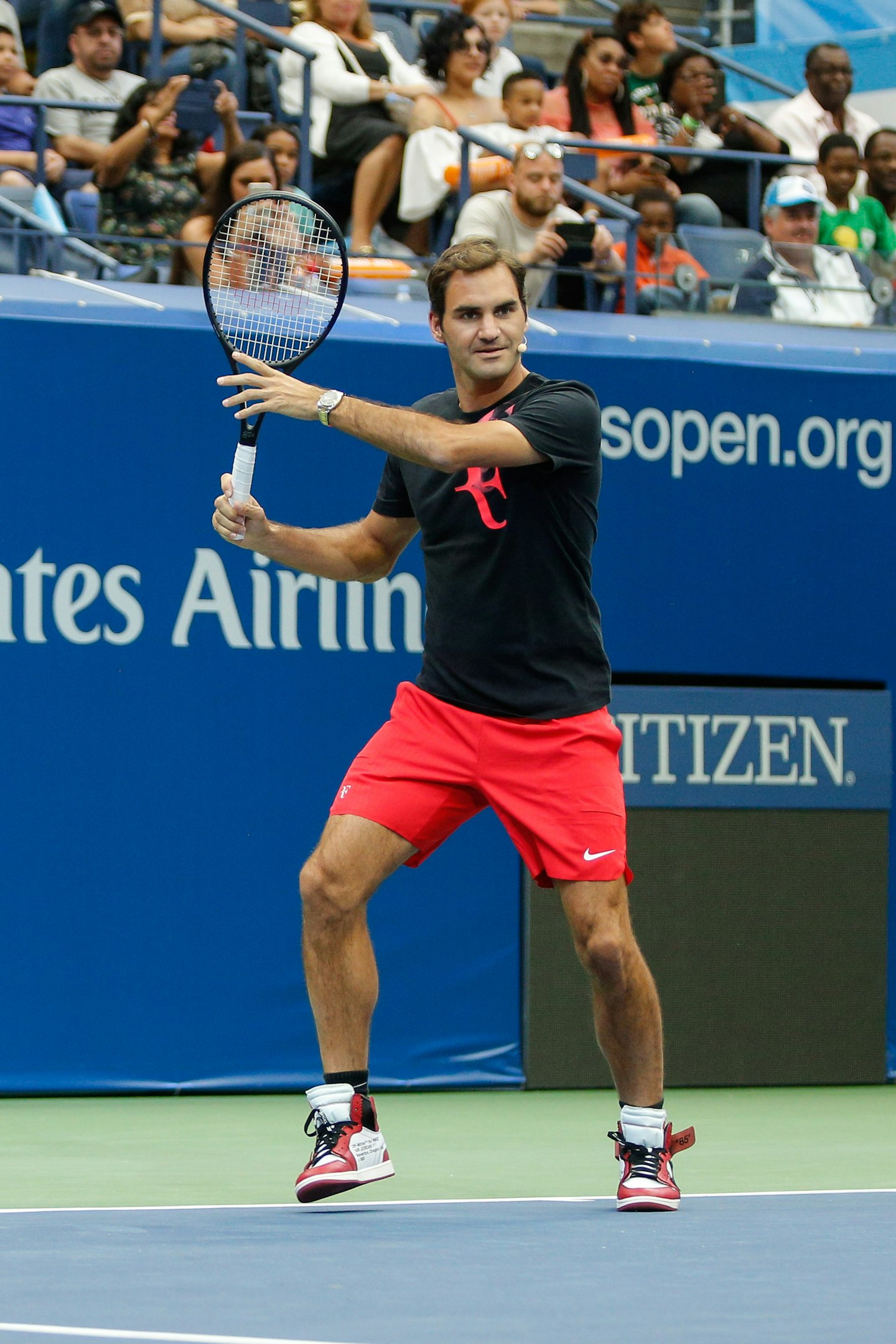 5 of 8
CREDIT: Getty
Virgil Abloh
Almost every tastemaker has a pair of Off-White x Nike Air Jordans (Roger Federer's a fan).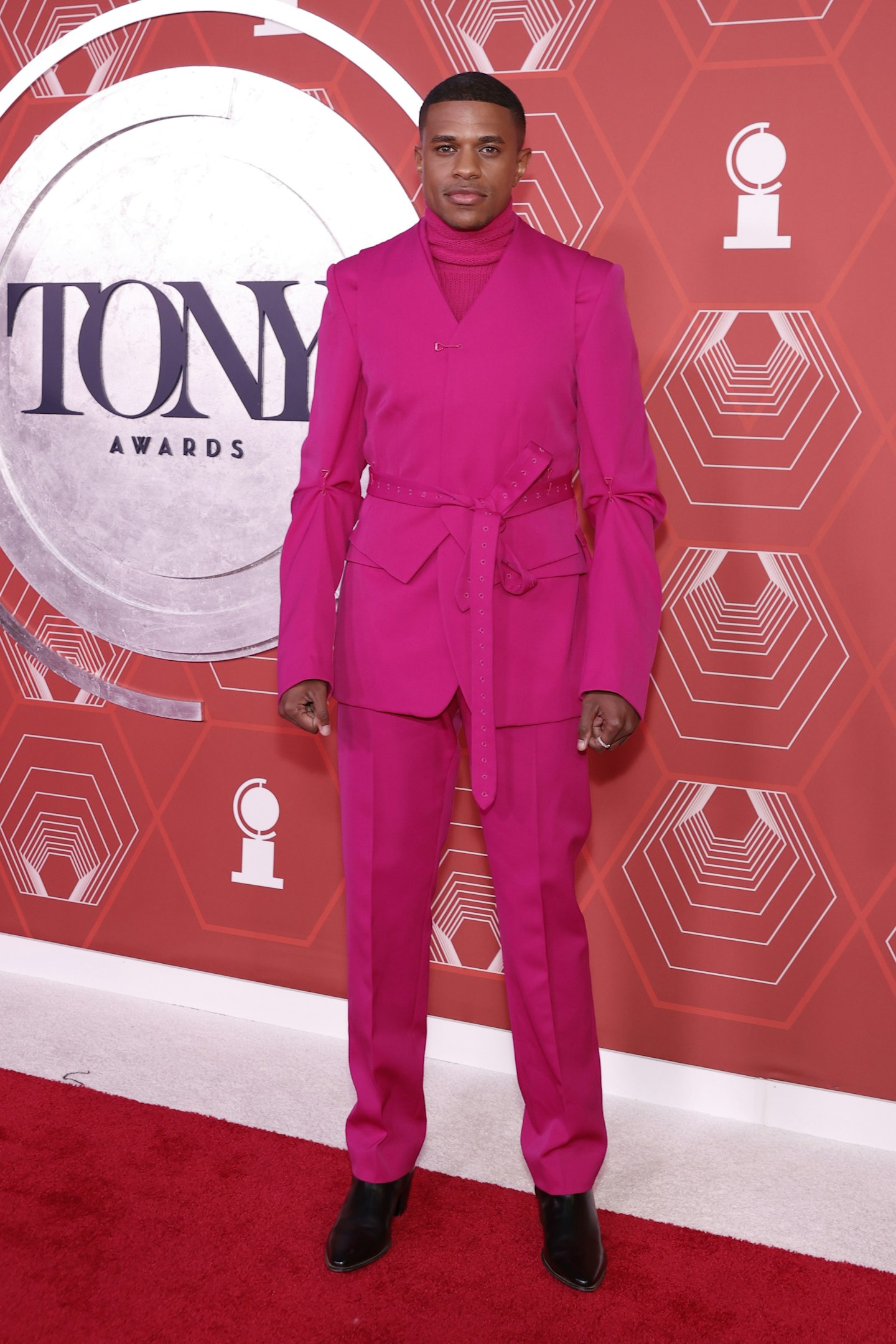 6 of 8
CREDIT: Getty
Virgil Abloh
Men often get the thin end of the wedge on the red carpet. Thanks to Abloh's Louis Vuitton, however, they can now claim equal peacock rights to women. Jeremy Pope's hot pink suit at this year's Tony Awards - finished with a power polo neck - was the best look of the evening. Also see: Timothee Chalamet's harness (major), and John Boyega at the Critics' Choice Awards.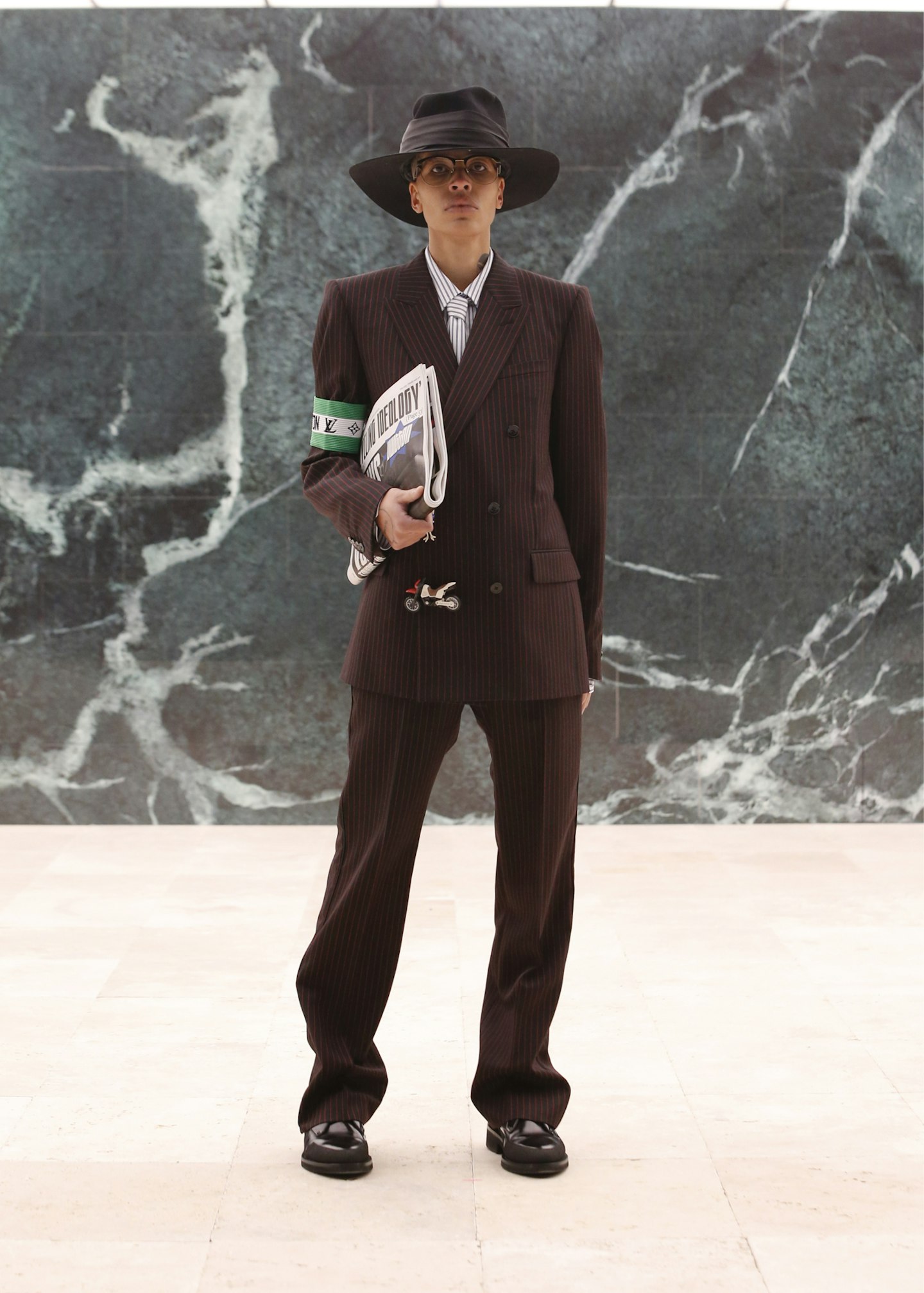 7 of 8
CREDIT: Louis Vuitton
Virgil Abloh
Abloh had an energy for collaborating with fellow creatives, and elevating their work, like no other. For Louis Vuitton AW21, he worked with spoken word artist Kai Isaiah Jamal, who posted a tribute to the designer on their Instagram, which included the phrase: 'He was an ocean of the most beautiful things.'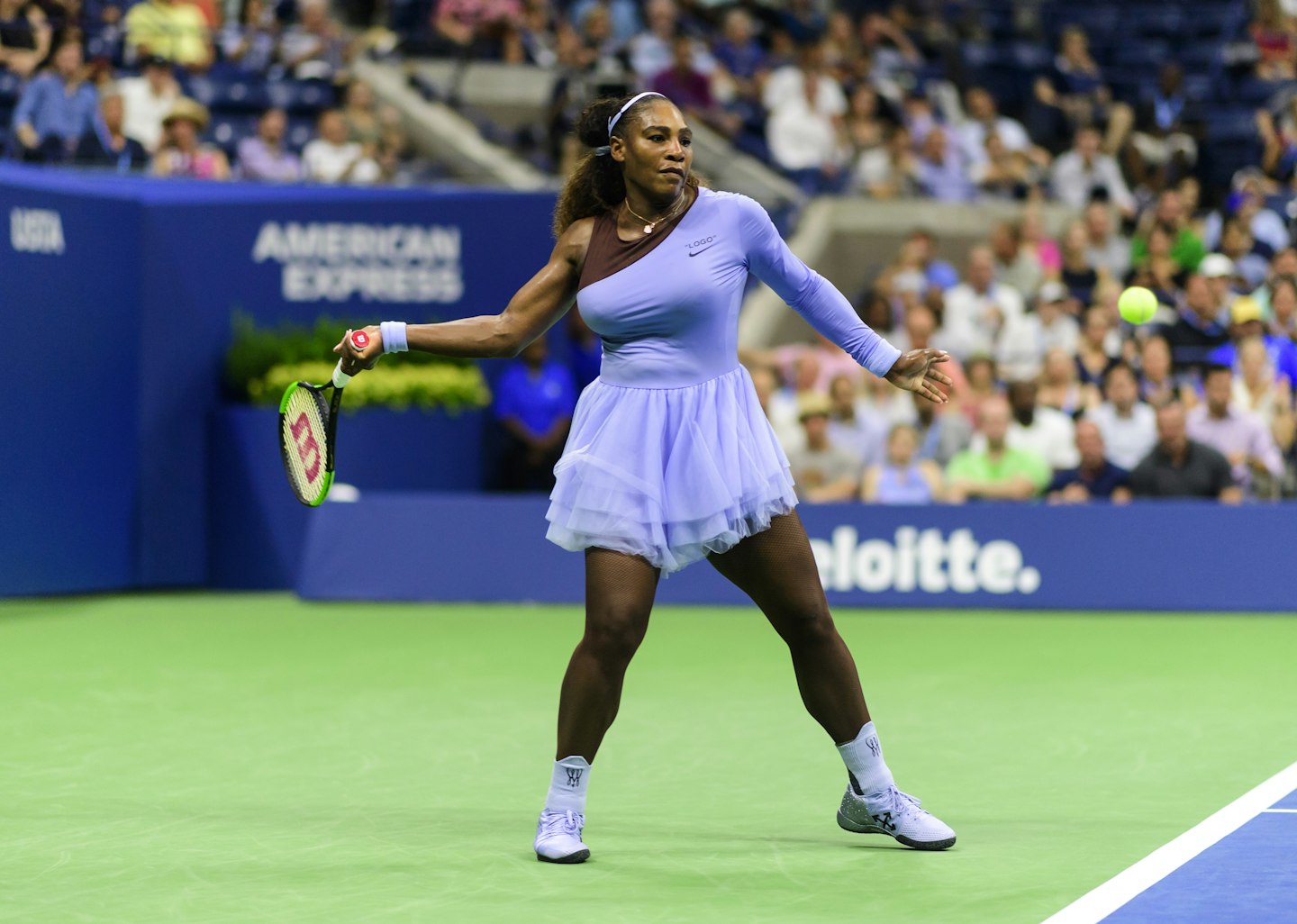 8 of 8
CREDIT: Getty
Virgil Abloh
Serena Williams, the ultimate tennis titan, wore several custom on-court outfits by Abloh.