Despite some recent victories, the issue of fur in fashion is still very real, and the subject of high-profile names wearing fur is almost guaranteed to invite backlash. But does it make a difference if it's part of their job?
Kendall Jenner is someone who has recently found herself at the end of this question. At Dsquared2's Milan Fashion Week show on Sunday, the supermodel's assigned runway look included a satin maxi dress and a corduroy coat, lined in what appeared to be real fur. Swathes of it, in fact. A fur coat so huge it could have acted as a costume double in The Revenant. It was a slap in the face for animal rights activists and fans with similar principals alike, especially since Jenner posted multiple photos of herself wearing the coat across her social channels. She captioned her posts 'this coat!' Call us cynical, but we hardly think she experienced a premature posting spasm before being able to finish: 'is really unethical and I loathe having to wear it'.
What came was a steady counterblast. One Twitter user spat: '@KendallJenner Wearing #fur in 2018 is not beautiful, it shows you're an ignorant and pretty empty being. #FurIsDead', while another wrote: 'I love Kendall but real fur is for animals not people. It's 2018, we should be banning fur... not promoting it'.
It's no wonder people are angry: fur's place in fashion is outdated, and practices are cruel. But is Kendall's decision to wear the unethical number for the runway show just a case of an employee doing their job? Is it the same as, say, a vegetarian waitress serving meat at her restaurant? A different tweet read: 'Blame the designer, not the model. Also, where's the backlash when other celebs wear fur for personal reasons and not for work?'
But of course, there's a difference between Kendall Jenner and your average, vegetarian waitress. Jenner is the highest-paid model in the world according to Forbes' 2017 round-up, so you'd think she could easily turn down lucrative work if it hurt her principles. Of course, this could risk severing relationships, and it's clear that reaching the top of the modelling industry is largely a game of designer-model bonding and double air kisses. Would Kendall really want to disturb the cutesy set-up of her Insta-perfect 'fashion family' for something like, you know, her moral compass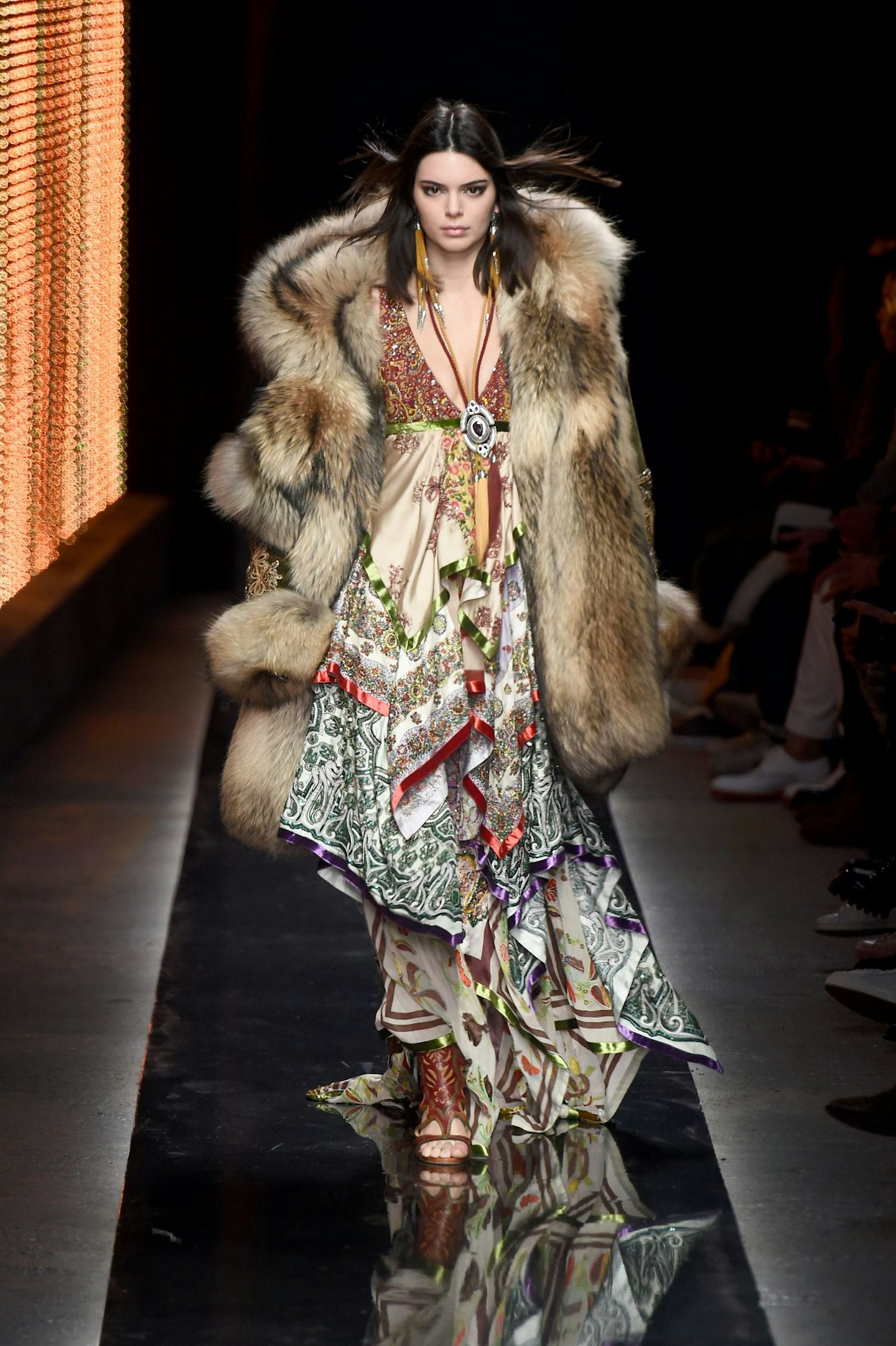 Jenner also boasts over 86 million followers on Instagram, making her 'influential', and let's not forget the fact she gushed about the coat on social media afterwards is a huge part of the problem here. Can we go ahead and assume Kendall doesn't have an ethical code that she lives by regarding animal welfare? Probably - as sad as that is.
It's especially troubling at a time where it seems the fashion industry is making progress. Just this week, Norway - one of the biggest producers of fur in Europe - pledged to ban fur farming. Gucci announced at the end of last year that it's going fur-free in 2018 (Gucci CEO Marco Bizzarri called the practice 'not modern'), following the likes of Stella McCartney, Armani and Michael Kors.
So, of course, a lot of the onus should be Dsquared2 and the people behind its outdated decision to still be using fur in their collections. Mink coats, Coyote fur hooded jackets, Fox fur boots and 100% Racoon fur hats are among just some of its website's current offerings.
It does seem odd for a brand to send one of the most famous (and most-watched) models in the world down the runway in a look that it surely knew would cause so much controversy, but perhaps therein lies the logic. Too cynical a take on our part? Maybe.
And if it's simply a case of Kendall being unabashed about a garment she loves, then we can only hope that she learns to take a moment to think more in 2018. You can have that one for free, Kendall.
This article originally appeared on The Debrief.