The internet basically broke when Kendall Jenner stepped out on the Tommy Hilfiger catwalk in September wearing a scalloped, ruby red bikini with stars dotted all over it. To be fair, any picture of Kendall in a bikini tends to have that effect, but there was something about those stars, and how they spilled onto her skin via tiny temporary tattoos that made us twig that the little blighters were going to be a big thing this spring.
READ MORE: Blogger The Frugality Recommends An E-Store You Can Afford, Even When Very Skint
The whole Hilfiger collection was peppered with tiny constellations, from floor length maxi dresses with sweeping galaxies to faux fur coats with contrasting shades of furry stars worked into the pile. And that was just the start of the spot the stars game.
Saint Laurent's spring collection was also littered with star prints, in fatter, cookie-cutter shapes that were dusted over sheer shirts, short dresses and a pair of cropped black trousers that everyone in the room immediately craved. Stella McCartney also got in on the act, designing handbags that would be plain and forgettable if she hadn't sliced out some star shapes and pumped the holes full of spangly glitter, and shirt brands like Equipment have designed star print shirts in shades of spangled banner.
But why the rush to wear stars all of a sudden? It's part of a wider movement, maaaan. Hippie is back in a big way, meaning all things floral, bo-ho and spaced out need to be on your radar. And right now, while it's still freezing outside, it's easier for you to start wearing some star prints than it is for you to start prancing around in a kaftan.
READ MORE: Turns Out You Can Totally Highlight Your Hair From Home
So what should you be looking for? You're going to want a pair of star print jeans. Current Elliott have some great styles, with subtle itsy-bitsy stars you barely notice, but they are around the 200 quid mark so you need to make sure you're someone who will get a good run out of them. I'm pretty confident that Topshop et al will have their own versions shortly, so if you're short on cash, hold out.
It's also worth buying some trinkety bits of jewellery that you can layer up - Asos has some great necklaces from indie designers Estella Bartlett, Tatty Devine and Zoe & Morgan - while Claire's Accessories have a star tattoo stencil for just £2.50. If you're brave enough to wear them on your face like Kendall, try dotting a few on the corner of your cheek using silver eyeliner, and you're good to go.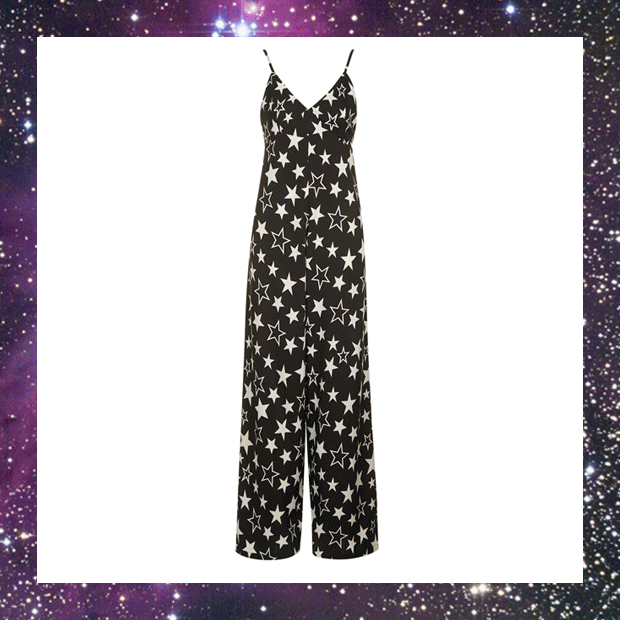 Shirt dress, £275, Vivienne Westwood Anglomania at Asos, shirt, £75, Ralph Lauren Denim & Supply at Asos, jumpsuit, £42, Rare at Topshop, bra top, £28, Free People, jeans, £249.99, Current Elliott at FarFetch, gym bag, £10, Nike at Asos, body stencil, £2.50, Claires Accessories
Like this? Then you might also be interested in...
We Tried On All This Season's Boldest Prints At Monki So That You Don't Have To
Super Blogger Peony Lim Shows Us How To Look Vaguely Polished
Horoscope Hair! Yep, Let Your Star Sign Rule Your Barnet For 2015
Follow Charlie on twitter @Charliebyrne406
This article originally appeared on The Debrief.