Masculinity is at a turning point. And, watching from the sidelines as alpha machoism explodes in flames is Girli, the artist who's motivated by a deep desire to shock, awe and shutdown sexism. At her punkish gigs, she throws tampons like confetti and drowns out the idea that pink, fluffy, sparkly bastions of femininity are in anyway aligned with weakness. She's brazen, she's rude and she's obsessed with the colour pink.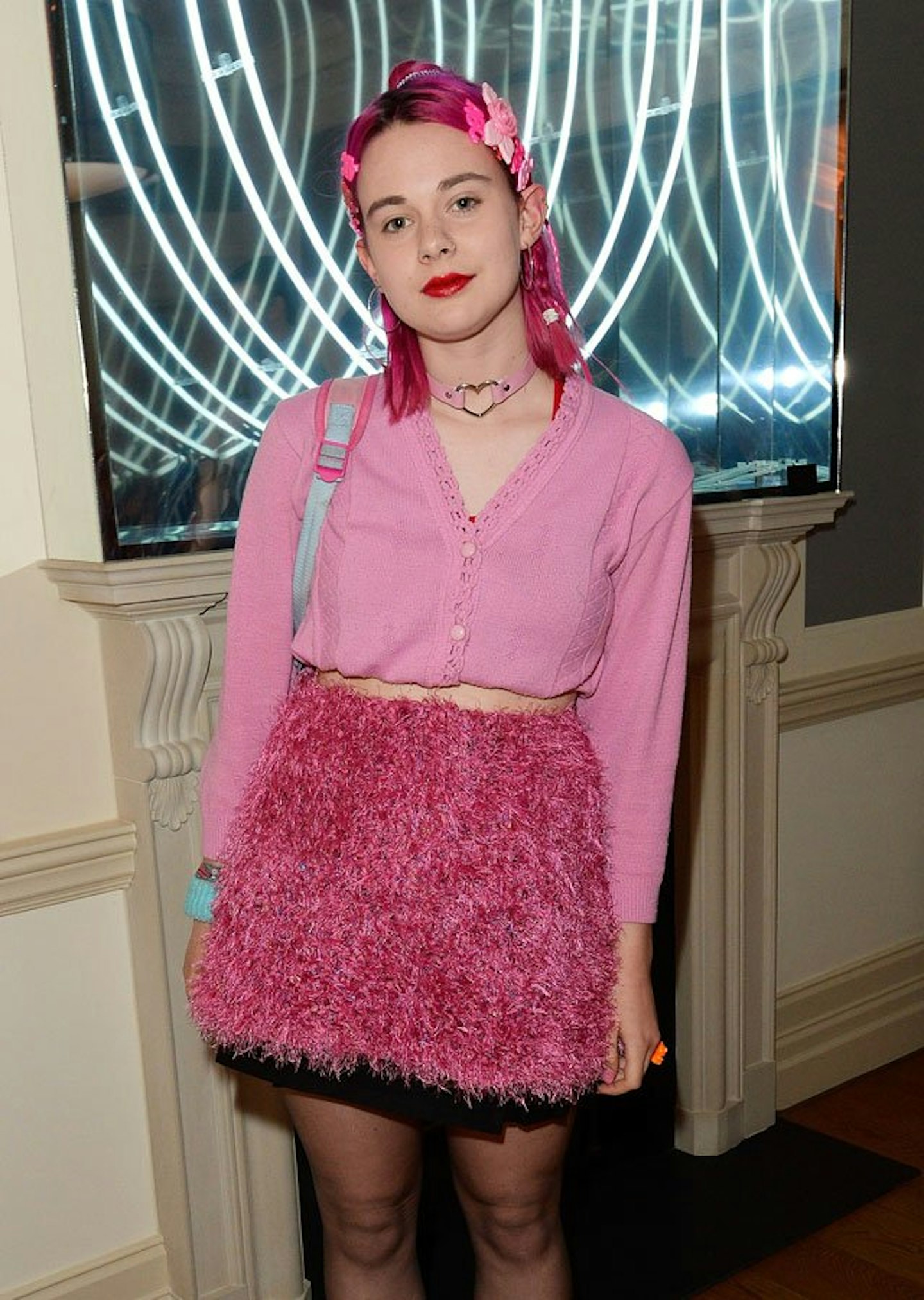 Sat in her trailer backstage at Mighty Hoopla festival one hot summers day, Girli explains how her idiosyncratic style came about and why her fanatical passion for Barbie's favourite colour has become core to her career…
What's your favourite lyric that you've ever written?
There's a lyric from my song Girls Get Angry Too, where I say: 'hyper-masculinity drowning the vicinity weakness is just another word for femininity'.
What was the progression of developing your personal style?
I don't like to use the word 'tomboy', but when I was first in a band, I loved wearing men's clothing. I wore loads of baggy t-shirts and jeans, I had short hair, and I wore baseball caps. And then it just switched when I discovered new types of music. I was really into indie, then I started listening to more female-made music, and my style developed based on what I was listening to. And one day it just assembled.
Where does your obsession with pink come from?
Initially, it came from a love of Japanese culture, like Kawaii and Harajuku, and of 90s millennial style. But I also like subverting it the concept that people see it as a weak colour as that's bullshit.
I was really into millennium fashion and the Spice Girls, Britney, Shampoo and '90s Pop, which had adopted a child-like style. It started when I would tie my hair up in little girls' bobbles and stuff and then I started being into punk, and pink started to represent something different for me – instead of something childlike it started to represent something strong. I like subverting it and that when people see I wear all pink they underestimate me because they think it's childish. It's the same thing as what people think when they hear the word 'Girli'. They think it means weak and sissy and I'm a pussy, but it doesn't. To me, it means strong.
Do you think you'll ever move away from pink?
I don't know. Who's to say. People ask me that a lot as in I should be embarrassed about it if I ever stop wearing pink. And I'm just like, 'fuck off, I'll wear what I'll wear, when I want to wear it.' I'm really into it right now, but in three years maybe I'll be into blue.
How do you decide what to wear on stage?
I work with a really cool stylist called Jamie Jarvis, she's a legend. Basically, I have ideas about what I want to wear or the outfits to look like. Say there's a 12-date tour, we'll have like six different outfits and I'll wear some of them twice. We go shopping to places like Punkyfish and vintage stores or we'll collaborate with a designer. For instance, I had boiler suits tie-dyed for this tour. I also had a matching double-denim millennial pink look with diamanté that said Girli on the back. And, I worked with Jamie Hutwood who sews together polo shirts and petticoats to make dresses. The idea is to look punky and girly.
Liked this? You might also be interested in:
Meet Chloe And Halle, The Phenomenal Young Women Who Collected Beyoncé's BET Award
This article originally appeared on The Debrief.