Stylist Kelly Framel otherwise known as fashion blogger The Glamourai lives in New York and runs her own webzine. If you're not already one of her 109k followers on Instagram, you're going to want to be.
On her feed, she shows us every inch of the life we wish we led in NYC, including where she shops. We wanted a piece of Kelly's savvy shopping action, so we asked her to tell us all about her favourite store (dont worry, it delivers here to Blighty): Primary NYC.
'Primary creates fashion essentials and specialises in 'Made In New York' leather garments, handbags, washed silk separates and tees made of tencel and modal. They offer all the perfect building blocks for a city girl's wardrobe,' Kelly tells me when we chat.
READ MORE: Chelsea Leyland Tells Us All About Her Favourite NYC E-Store So We Can Get Her Look
'The store has its own in-house line, but also stocks a brilliantly-curated array of specialty designers, with lots of cool under-the-radar brands. And their snakeskin bags are practically famous!'
So what are Kelly's top picks for a/w 2014? 'These clutch bags are perfectly simple and totally versatile. This is THE bag that every woman needs,' she says.
The bags come in a range of neutral and metallic shades, making them ideal to take to evening drinks, but they will also fit right into your workwear wardrobe, too.
Clutch, £222
READ MORE: In Which We Predict What Mulberry Bags Will Look Like With Their New Creative Director From Céline
'This coat is an update on the classic trench, in a relaxed cocoon cut and a colour that promises to brighten stormy, drizzly days.'
Pastels are a key trend this winter, but it's hard to find a pastel coat that doesn't feel twee. Big congrats to Primary NYC for solving our sugary shade woes.
Coat, £94
Leather skirts can be so predictable, and it's unusual to find one that isn't just a bog standard straight mini-style. 'This skirt is one of Primary's signature pieces, and one of my all-time favorite staples,' says Kelly.
Skirt, £167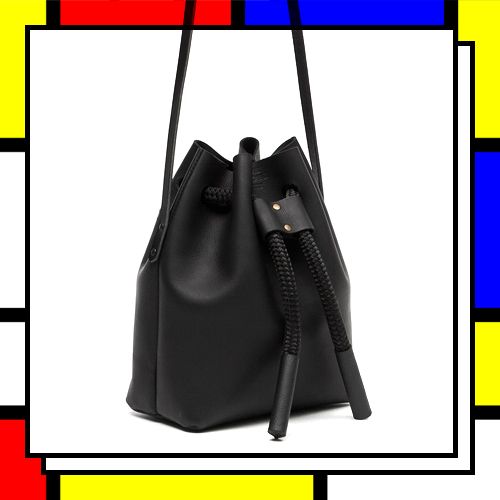 Bucket bags have been huge this season, and we love the utilitarian cord toggles. 'This is just about the coolest day bag in the game,' Kelly says.
Bag, £175
Normally, when you see co-ordinating separates you love, there's always half of the look that is sold out in your size. But not at Primary NYC, who sell their co-ords as sets.
'There are so many possibilities for styling these two together or separately,' Kelly tells us. Wear over a lightweight roll neck while it's cold, and then pair with bright accessories and bare skin for summer.
Top and skirt, £88
**Like this? Then you might also be interested in... **
Here's Some Very Handy Tips To Find A Perfect Vintage Party Dress
Follow Charlie on Twitter @Charliebyrne406
This article originally appeared on The Debrief.