The bi-annual haute couture shows aren't usually the place to look for relatable style cues, but the central message of Dior creative director Maria Grazia Chiuri for her AW23 show is one we can always do with being reminded of: sometimes it's the simple things in life that are the most beautiful.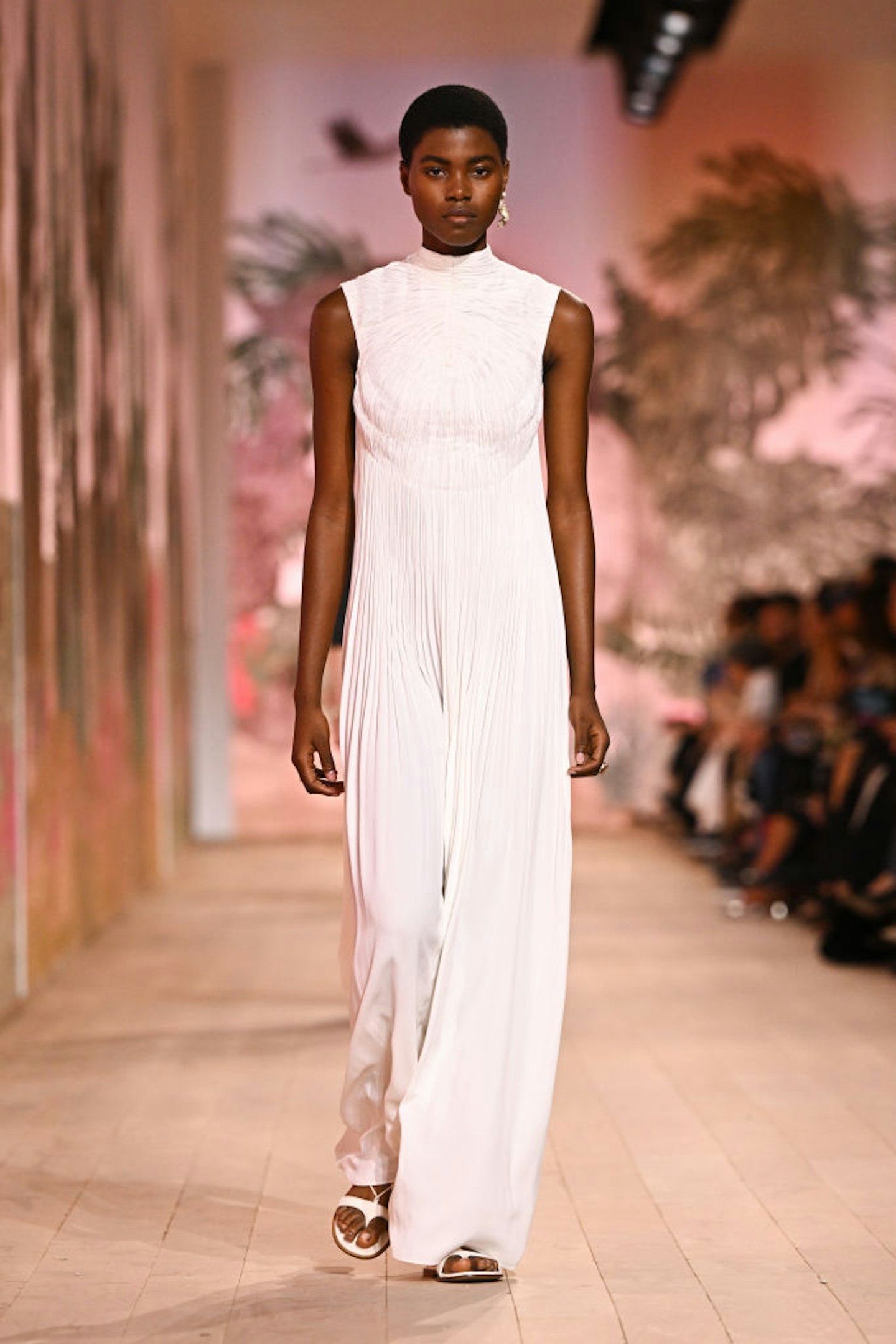 The collection was inspired by the neo-classical world, and a quote from Christian Dior himself that featured on Chiuri's moodboard. 'My dresses are connected to the idea of the clothes of the antiquity. I keep an apparent simplicity,' he once said. Chiuri had taken that theme and run with it: presenting 66 looks in a strict colour palette of white, beige, black and metallics all worn with gladiator-style flat sandals. ('Super comfortable… because you don't see a heel in the ancient world,' Chiuri laughed as she explained her thinking backstage).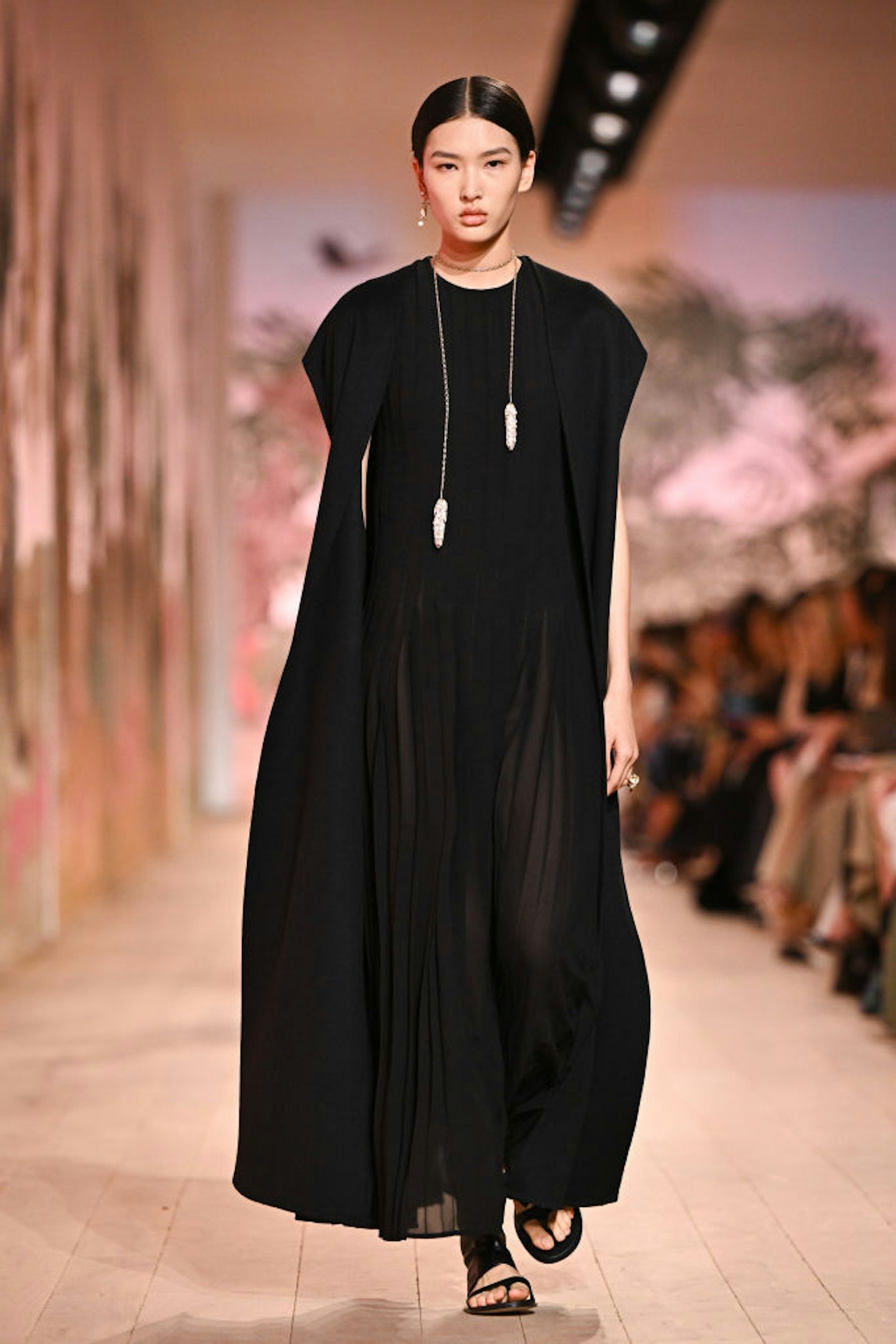 Comfort was indeed key. Pleated dresses in light chiffons and georgette looked easy to wear, as did the column dresses that came with capes designed to be able to be taken on and off as desired. Elsewhere, Chiuri had worked on making one of her famous bar jackets even more desirable: creating a new kind of brocade that looked exquisite but was comfortable to wear. 'I like this work that apparently could be simple but is actually really complex,' she explained of the contradiction.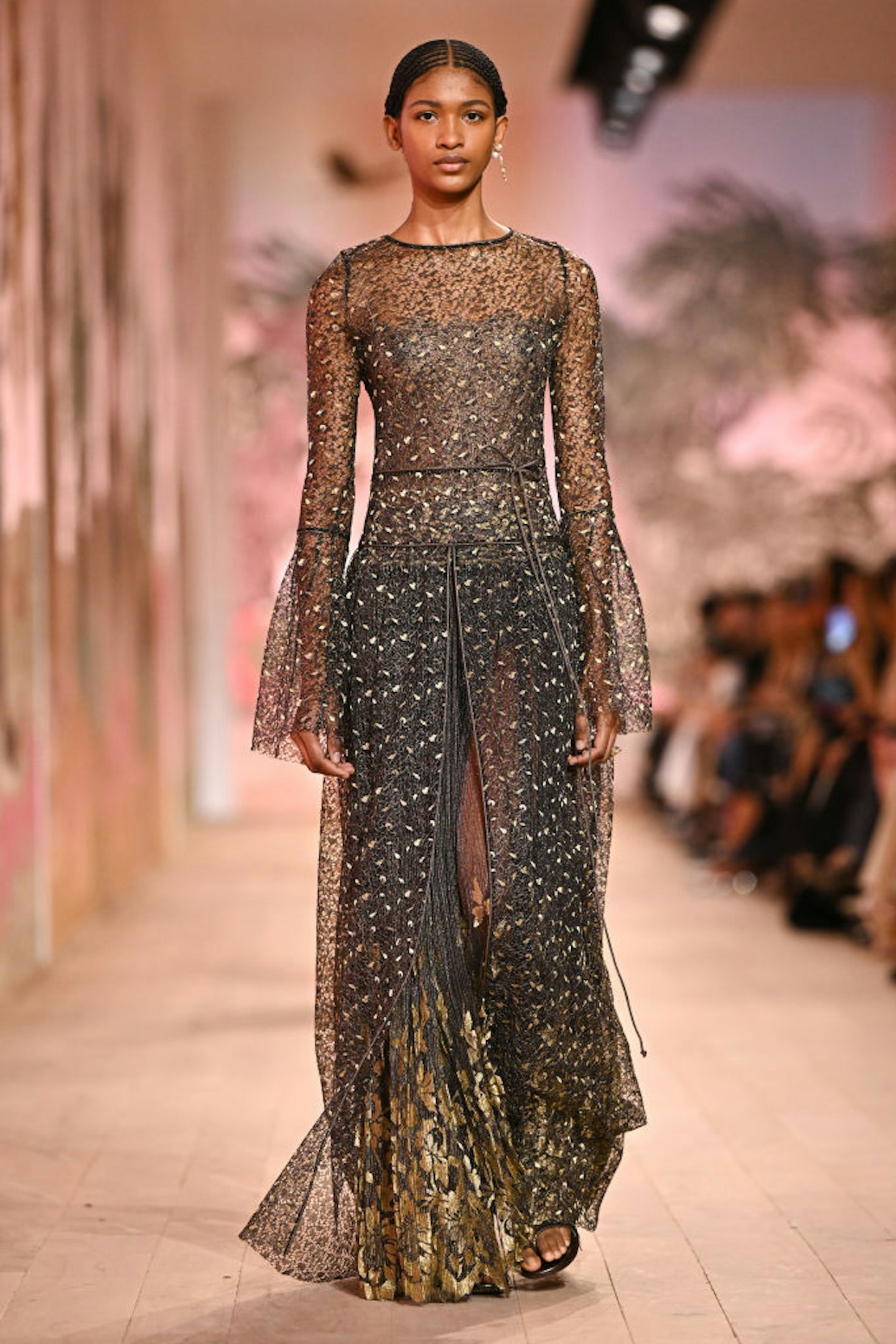 What that meant was that whilst the shapes might have been simple – think tunics, peplums and capes – the construction was anything but. Pearls, symbols of purity, featured in much of the embroidery, set off by shimmering metallic thread. Meanwhile, Chiuri had worked with craftsmen to revive a type of lace-making that hasn't been used for centuries – even if it was so intricate it could only be made on one dress. 'For me, couture is a territory where you can take your time,' she said of the painstaking process. 'And the client who comes for couture knows that it's a different kind of clothes. It's more timeless.'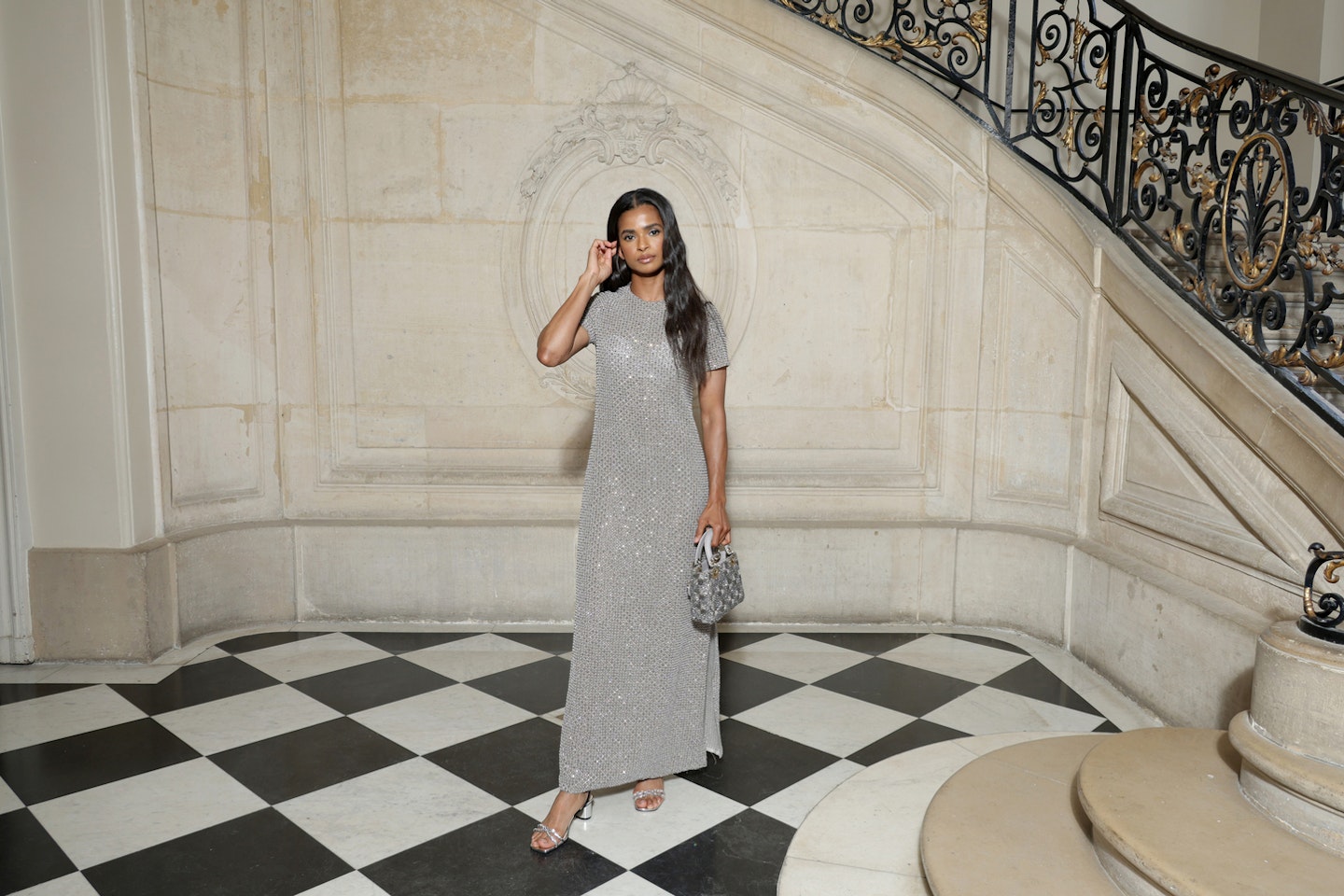 But whilst these clothes might be for the 1%, that doesn't mean Chiuri wants them to be hidden away. 'I want them my couture clients to be able to have a small wardrobe they can mix and match; to use for special moments but also professional moments,' she said. 'Sometimes couture is more associated with the red carpet, but when you work with a celebrity it's more like a performance. With this collection I have the opportunity to focus on the craftsmanship.'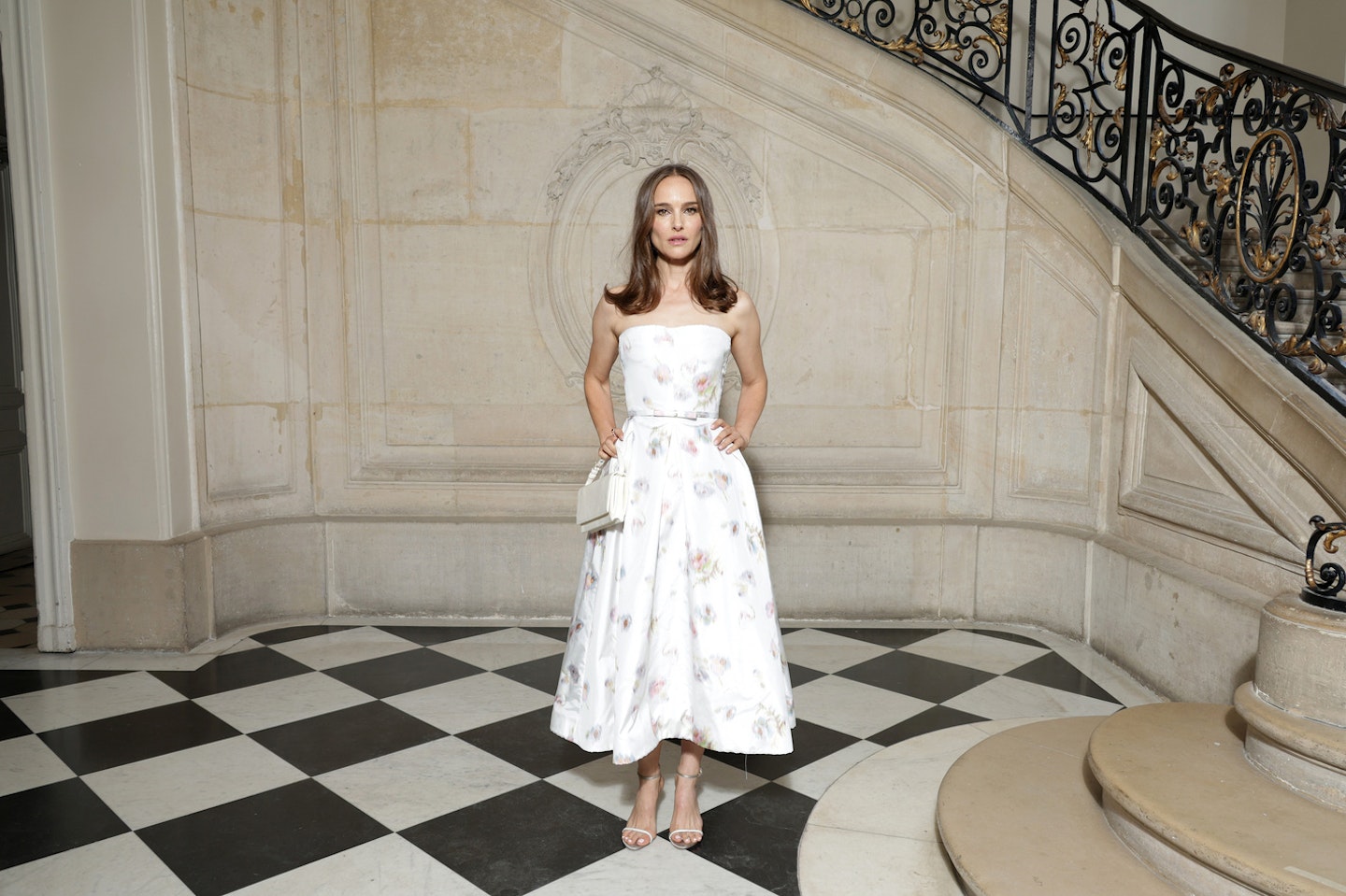 Still, judging by the starry front row I think you'll still see some of these dresses pop up on red carpets to come. Dior ambassadors Elizabeth Debicki, Natalie Portman, Ramla Ali and Rosamund Pike all sat to attention – whilst giving other guests a lesson in smart summer style. Key points to note: a white tank top can take you anywhere (especially if it's branded with the Dior bumblebee), floral dresses are a failsafe but if they're too girly for you try a shorts suit. And if all else fails, a final note about the hair: plaits twisted into ponytails are the chicest way to style out a heatwave.