The latest face to join the line-up of celebrity kids taking the catwalk - think Georgia-May Jagger, Kaia Gerber and Bobby Brazier - is Sade's son Izaak Adu.
Beginning with a bang, Izaak walked in one of the biggest shows on London's schedule for his debut. Posting on Instagram, the model wrote, 'Walked my first show today!! Thank you @burberry @riccardotisci17 for having me and @mr_carlos_nazario for the steezy look 🙌🏾♥️.' The 'look' in question was classic-with-a-twist Burberry - a checked trouser suit and a leather-lapel trench coat - and the picture has already got 5,000 likes.
Izaak is transgender, having spoken openly on social media about his journey and the incredible support his mother has offered him throughout. On Instagram back in September, he wrote: 'It's been a long hard road but We did it!! We are coming home!!!! Thank you for staying by my side these past 6 months Mumma. Thank you for fighting with me to complete the man I am.'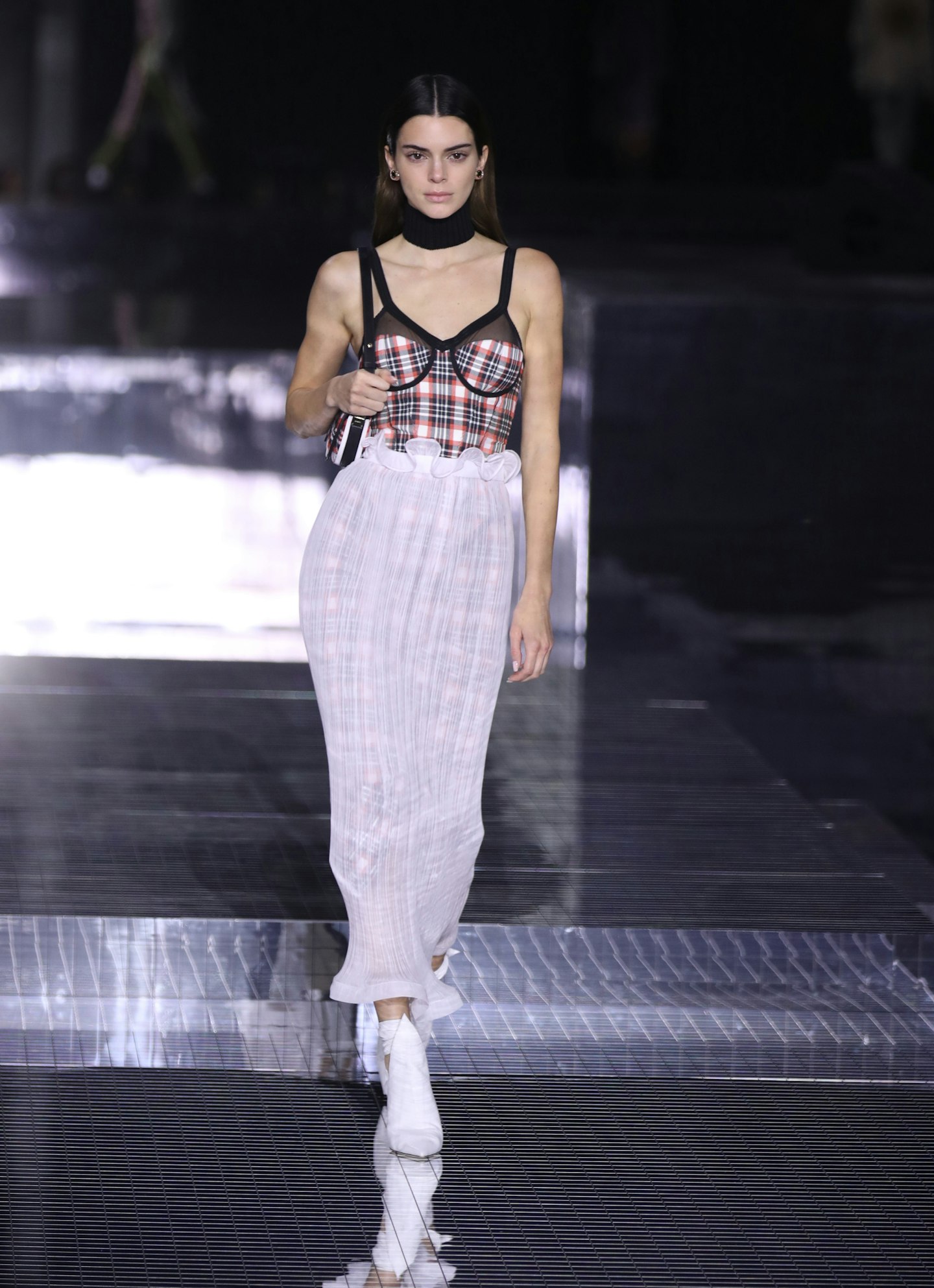 Izaak appeared alongside models-slash-Insta-stars Irina Shayk, Kendall Jenner, Joan Smalls and the Hadid sisters in a stellar parade that proved Riccardo Tisci can pull in the big guns like no other.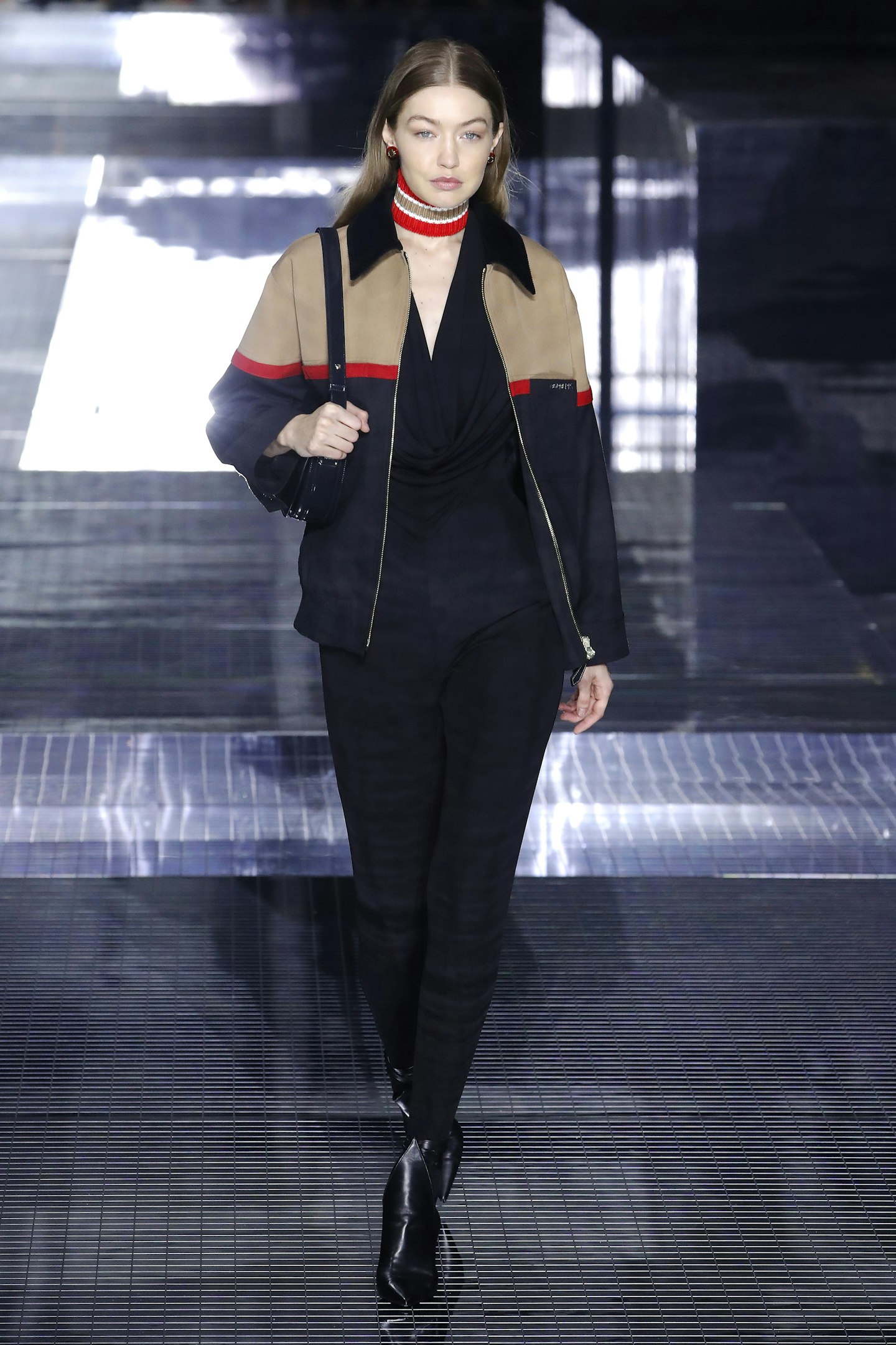 The collection, a whopping 108 looks, has that new-gen Burberry feeling that he's finessed over the past four seasons. In the mix was tailoring (a frog green trouser suit was particularly tantalising), several spins on the trench (the floor-sweepers will be street-style catnip next season) and 101 musings on the classic house check (it danced across waistcoats, slip dresses and duffle coats).
As for Izaak - watch this space.
SEE: The Highlights From London Fashion Week
SEE: The Highlights From London Fashion Week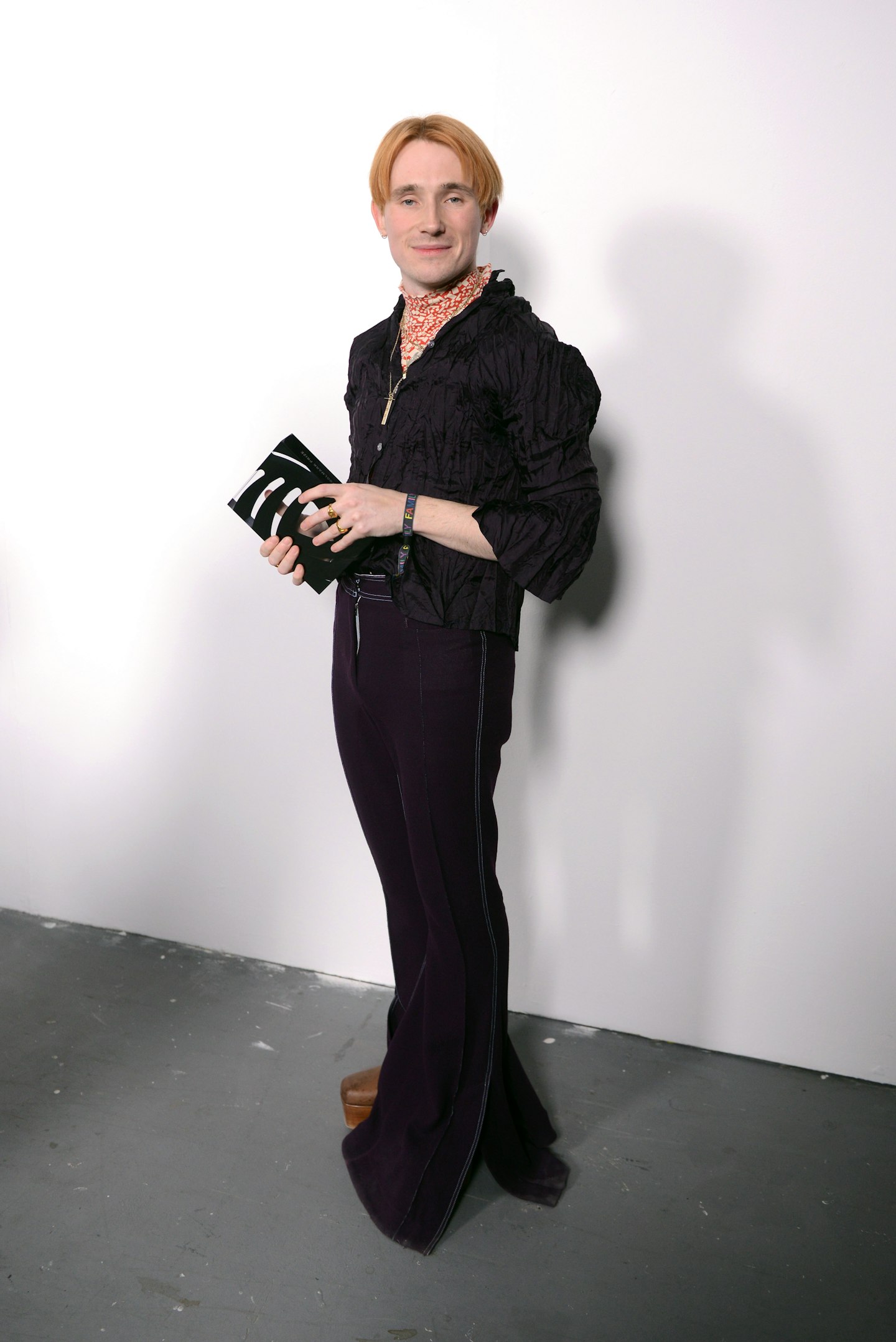 1 of 18
Richard Malone and Emily Adams Bode are recognised by the Woolmark Company
Monday night ended on a high - with the announcement of this year's Woolmark Prize winners. Both Richard Malone, the Wexford-born womenswear designer who won the International Woolmark Prize, and Emily Adams Bode, who was awarded the inaugural Karl Lagerfeld Award for Innovation, have been recognised for putting sustainability and transparency at the heart of their businesses. Richard works with weavers in Tamil Nadu, India, and uses plant-based dyes instead of traditional chemicals, while Emily works with deadstock fabrics found in abandoned factories.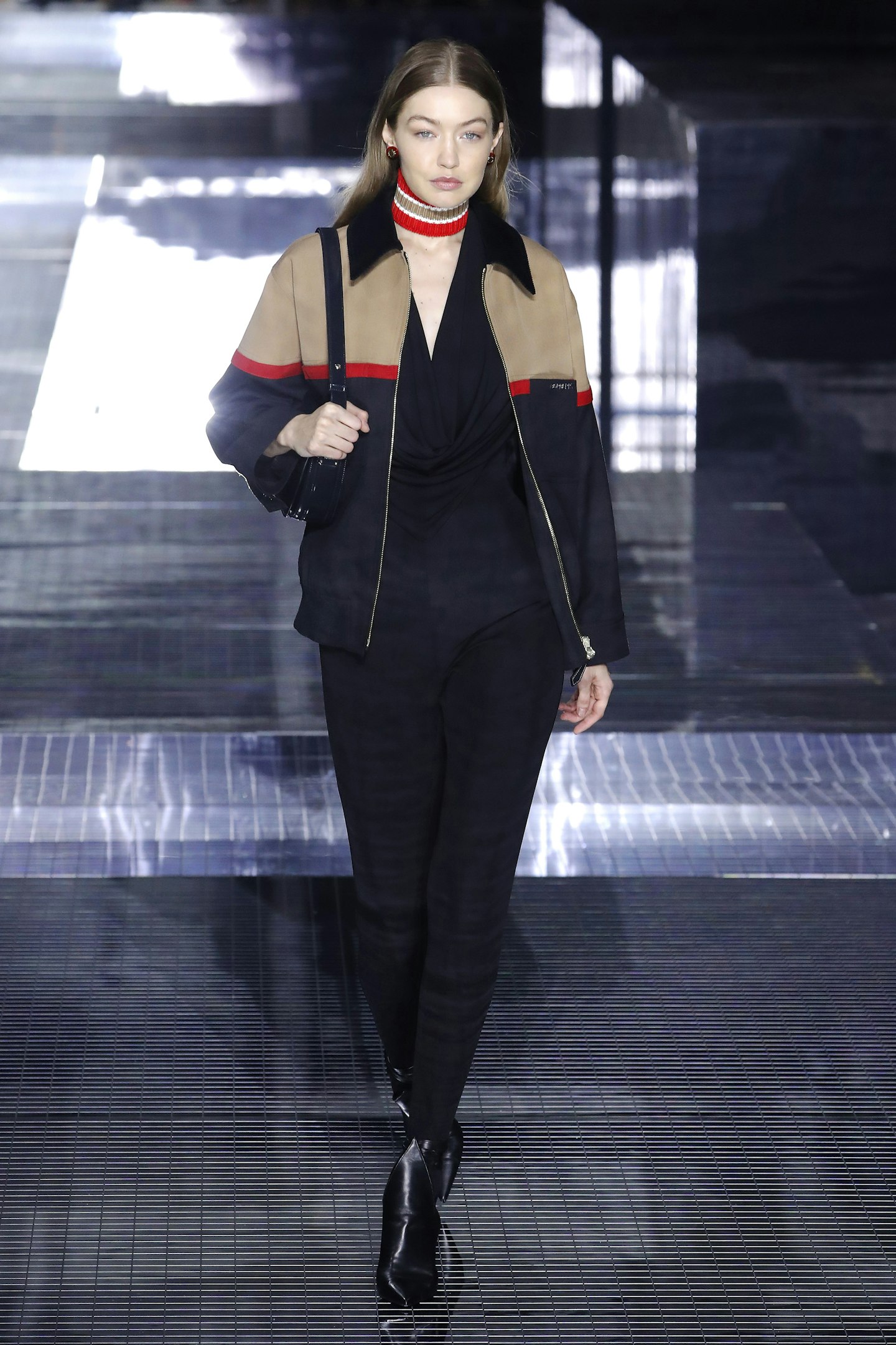 2 of 18
Riccardo Tisci presents a stellar line-up
Riccardo Tisci pulled in the big guns for his AW20 show, with the stellar line-up including Irina Shayk, Kendall Jenner, Joan Smalls, the Hadid sisters and, making his debut, Sade's son Izaak Adu. With a whopping 108 looks, it was new-gen Burberry at its best.
3 of 18
JW Anderson brings back the shoulder pad
JW Anderson's shoulder-pads, which shimmered on checked coats, blanket capes, sequinned frocks and ribbed sweaters, are sure to turn heads in September.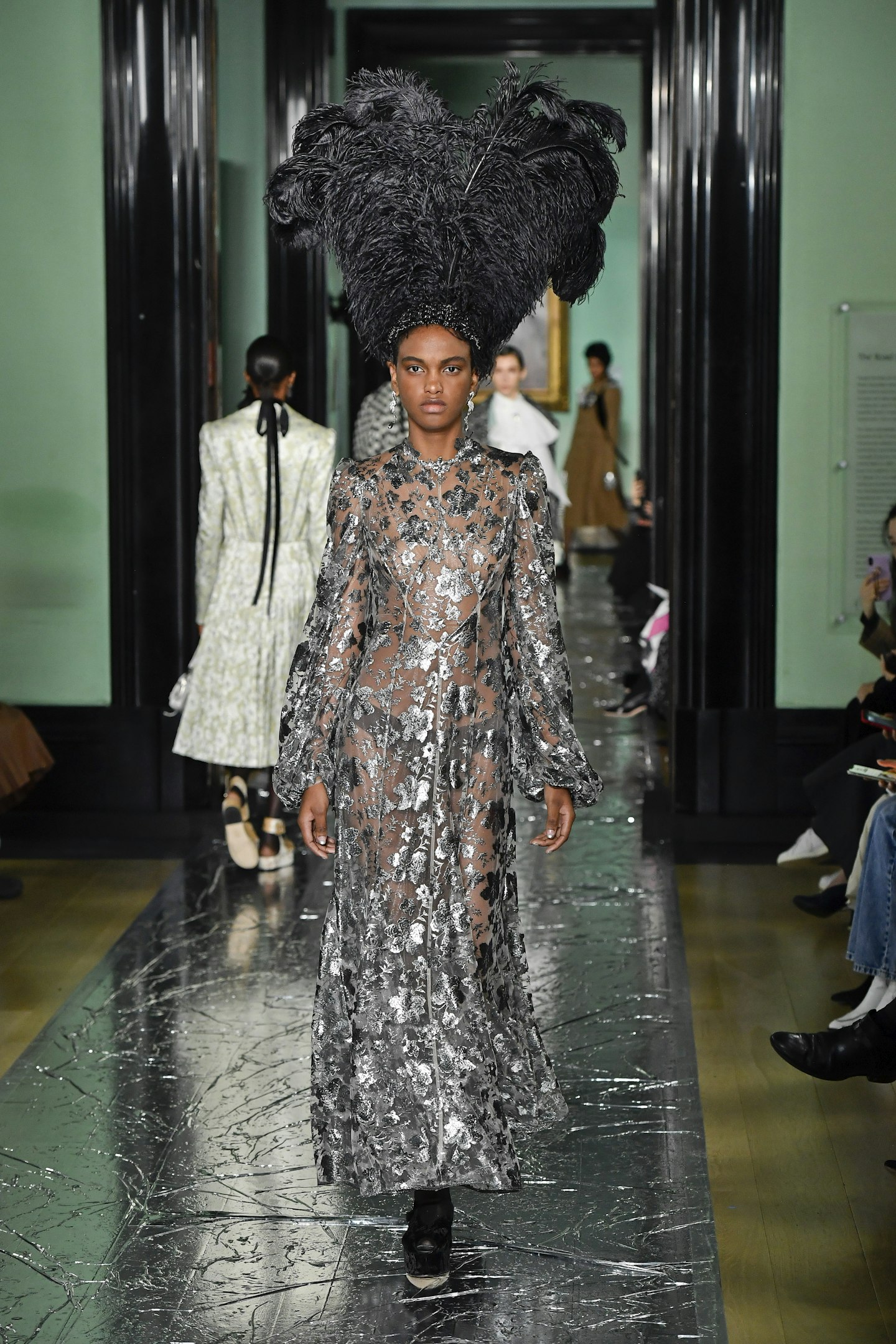 4 of 18
Erdem had a major headwear moment
The ultimate Insta-bait moment at Erdem's AW20 show was the headdress of giant plumes attached to this model's head. As long as the doorways you're walking through are as lofty as the National Portrait Gallery's, you won't have a problem.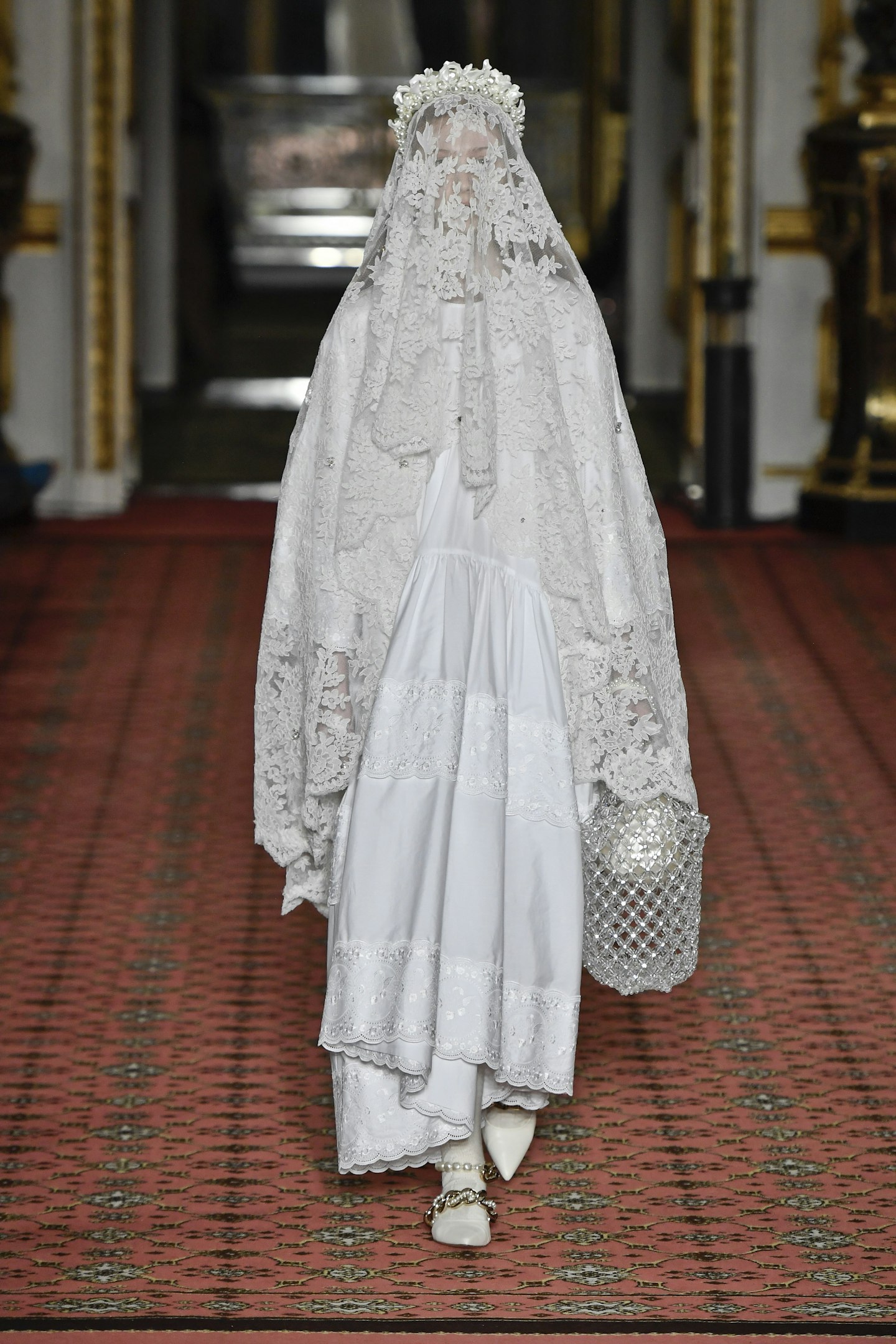 5 of 18
Simone Rocha says yes to the dress
Simone Rocha's AW20 collection was a meditation on 'birth', 'life' and 'loss' - and had plenty for the 21st century bride to bookmark. Can you imagine getting married in this lace-veiled and flower-crowned ensemble for starters?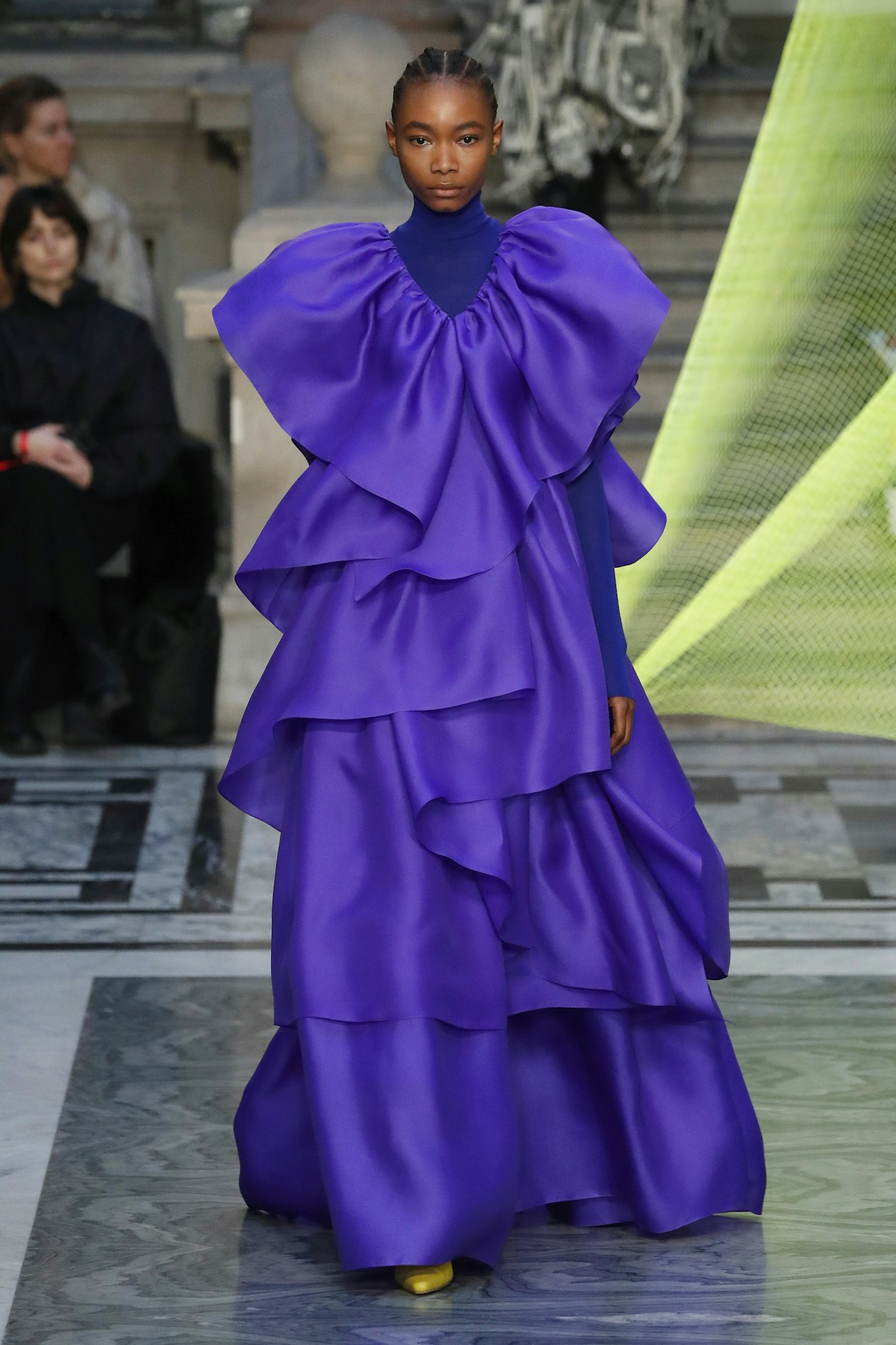 6 of 18
Roksanda brings a hit of colour to The Foreign and Commonwealth Office
Roksanda's colour-filled AW collection, a collaboration with the British-Bangladeshi visual artist Rana Begum, fitted the pomp and circumstance of The Foreign & Commonwealth Office to perfection. This ruffled number's drama is pushing all the right buttons.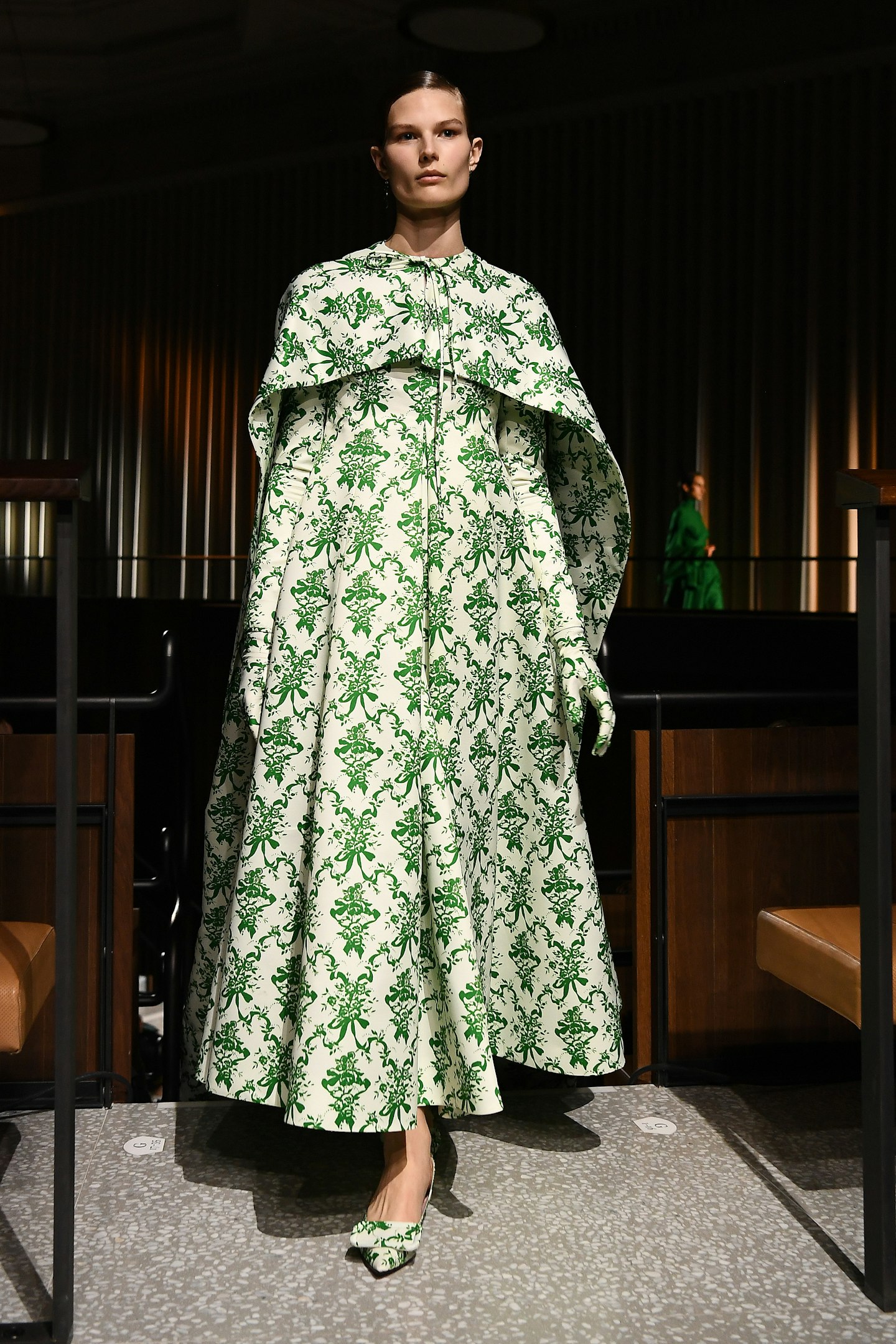 7 of 18
Emilia Wickstead gives us bloomin' lovely florals
Emilia Wickstead majors in chintzy fabrics that somehow steer clear from saccharine territory - and AW20 had plenty for print lovers. The matching frock, cape, gloves and pointed pumps on this model had a butter-wouldn't-melt kind of beauty.
8 of 18
Victoria Beckham makes a case for ladylike dressing
The mood was set to modern bourgeois at Victoria Beckham, with fluid black dresses cinched with leather belts, boots that came scrunched to the leg and the kind of outfit-making outerwear that real women will clamour to wear come autumn.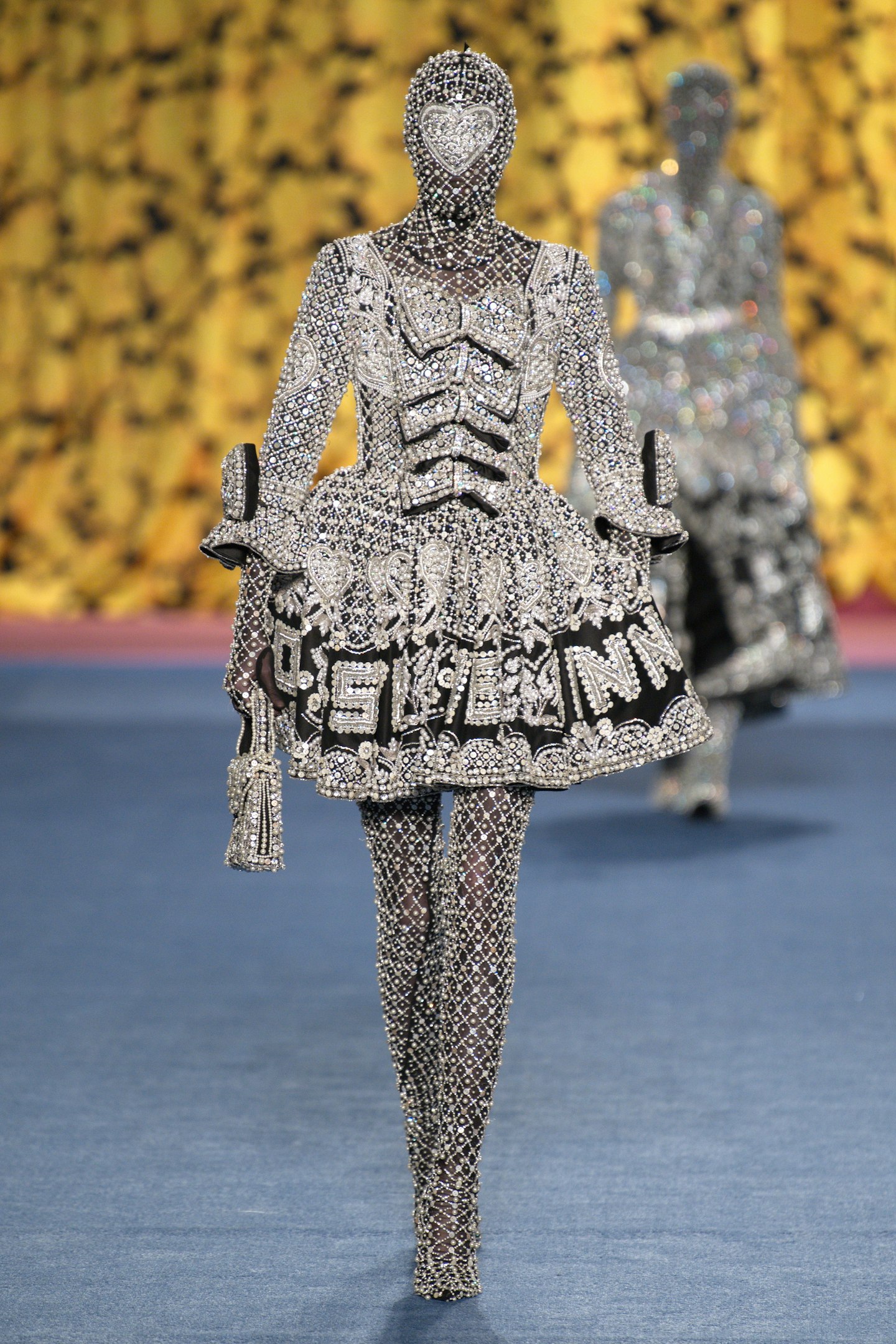 9 of 18
Richard Quinn brings in the big guns
The Peckham-based designer Richard Quinn is fast-becoming one of the hottest tickets on London's packed schedule. His AW20 show was styled by the ultimate French editrix, Carine Roitfeld, with a live rendition of 'Dancing Queen' that proved almost tear-inducing next to the 'working-class couture' clothes. Ah, the clothes, which encompassed modern day pearly kings and queens, whose entire bodies were covered with minute embroideries and the mantra, 'God Save The Quinn', dreamy ballgowns that wafted down the runway and his exuberant-as-ever florals.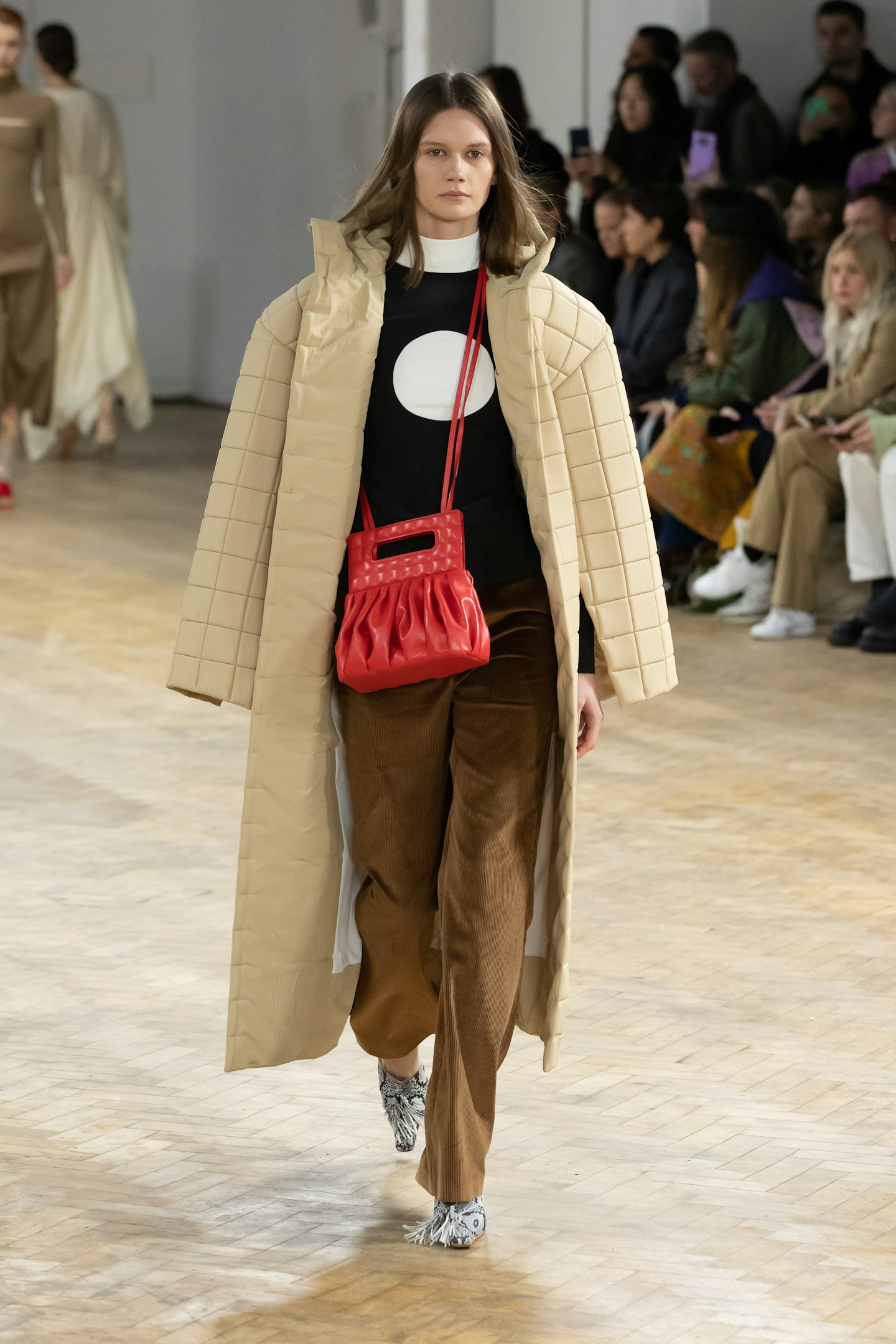 10 of 18
A.W.A.K.E Mode makes the clothes we all want to wear
A last-minute venue change didn't stop Natalia Alaverdian delivering an on-point collection of real women's clothes. On our wishlists for autumn include the jumbo quilted coat, the pleated shirt dresses with elongated point collars, the zip-tops, the checked skirts, the leather separates, oh, just about everything.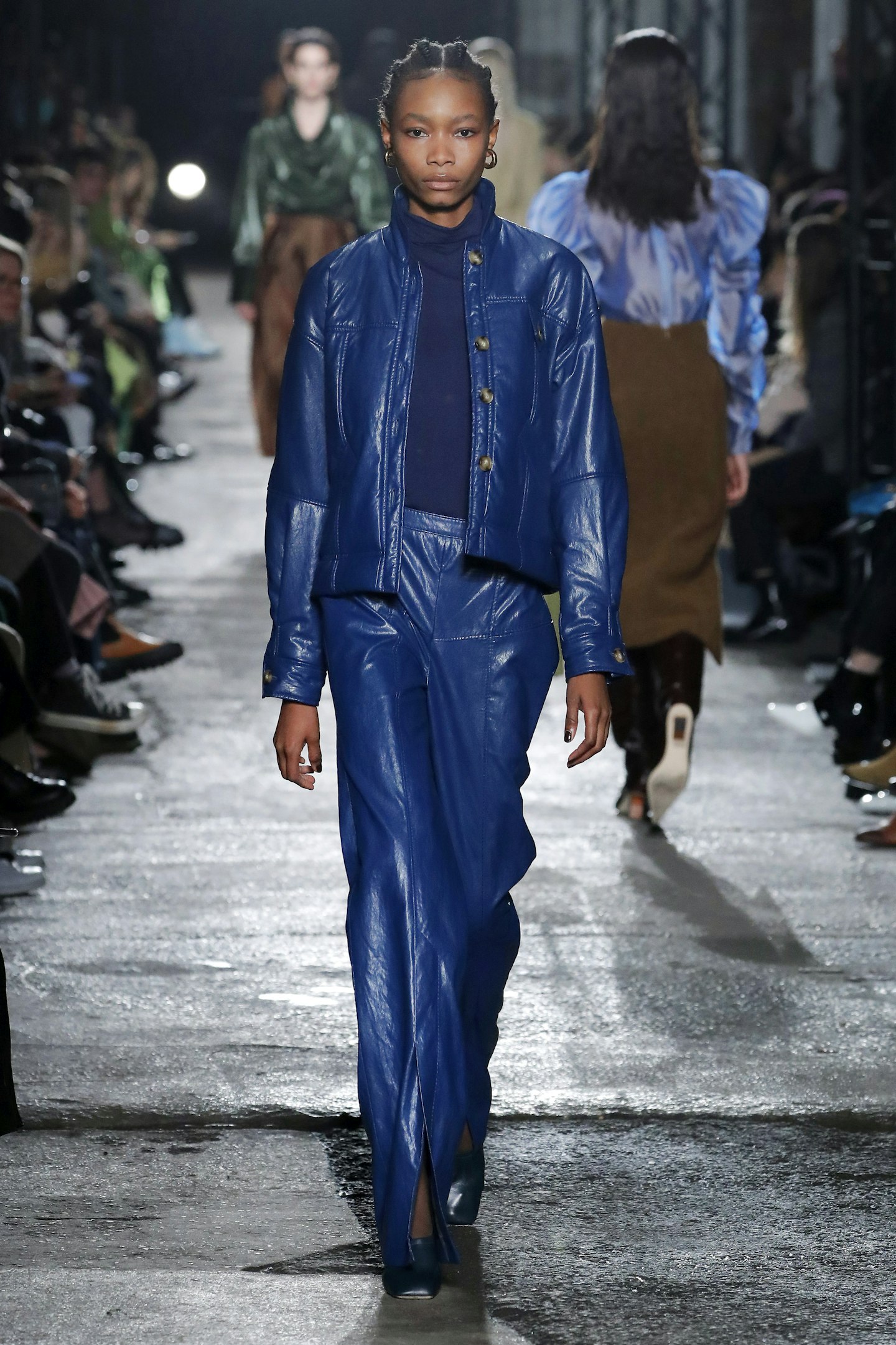 11 of 18
Rejina Pyo makes a top-notch trouser suit
Rejina Pyo puts out the kind of collections where you immediately want everything, and we mean everything off the catwalk. For autumn, we'll be channeling the woman wearing the cobalt leather trouser suit. Fierce, no?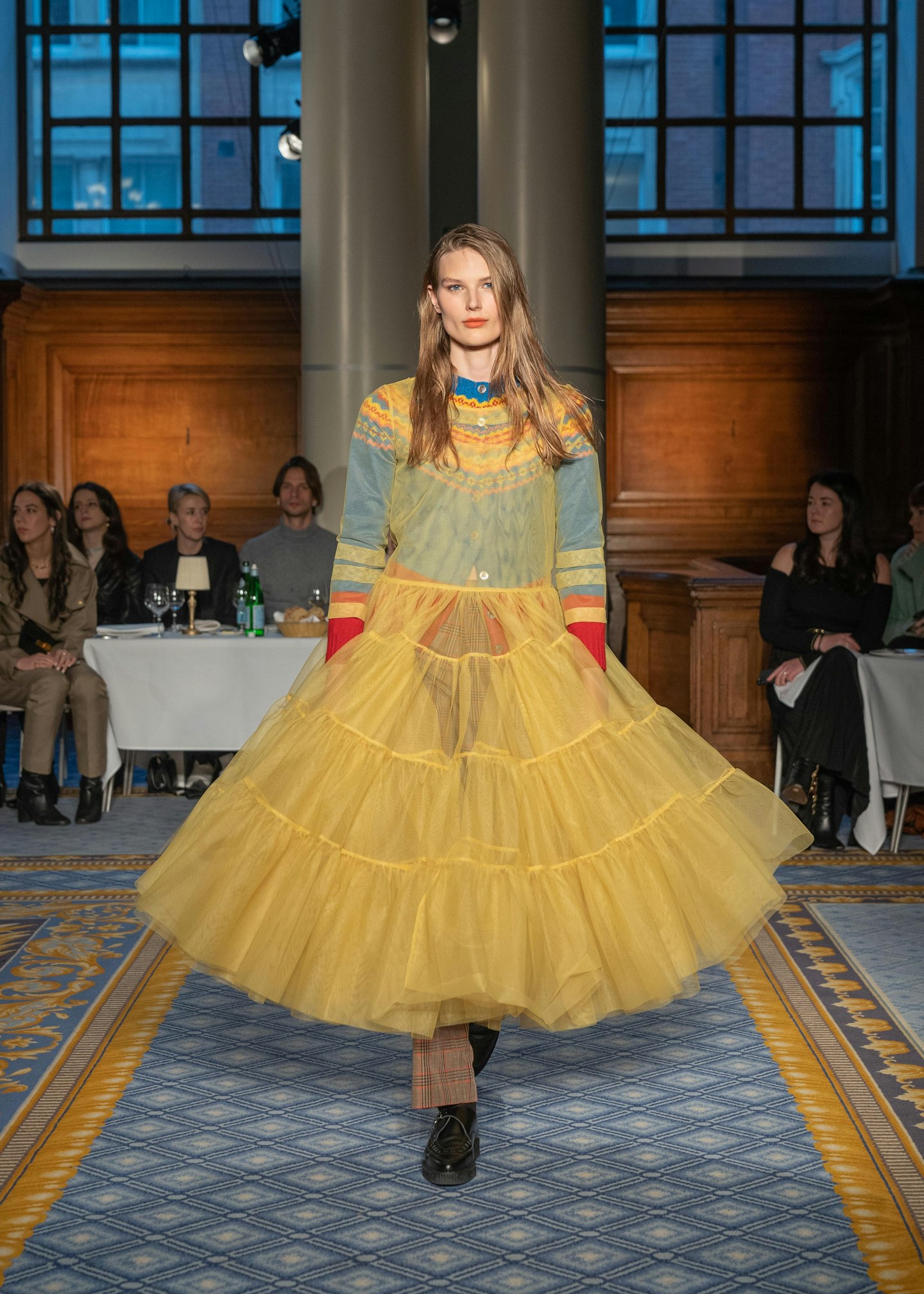 12 of 18
Molly Goddard is the new mistress of layering
The drum 'n' bass soundtrack was a fitting contrast to the froth at Molly Goddard. This season, the designer layered her signature tulle over wearable separates to delicious effect. A semi-sheer peachy top was popped over a Fairisle cardi and checked trews, while chunky striped sweaters sat underneath millefeuille-skirt pinafores. The beanie hats bedecked with taffeta bows? The cherry on top.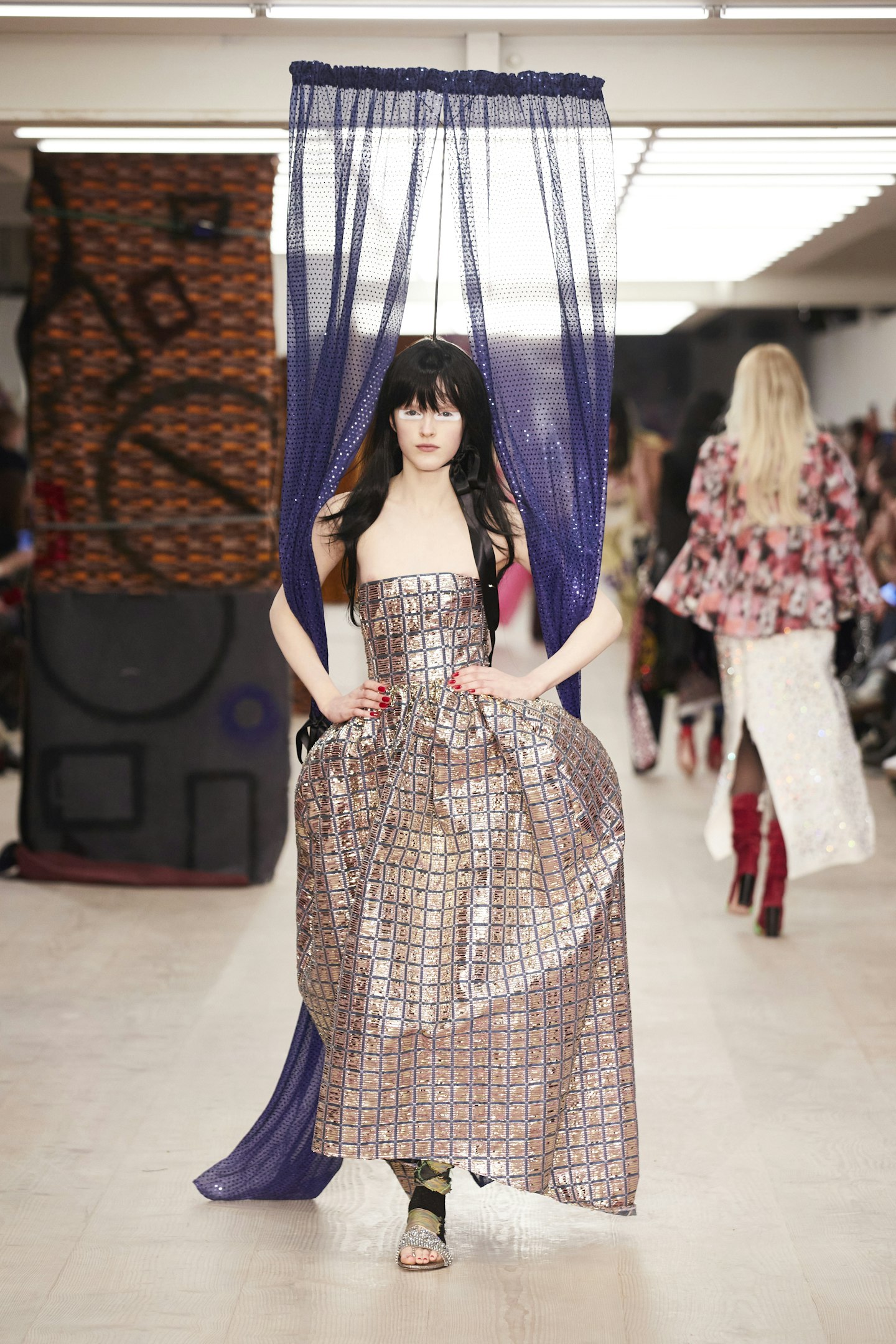 13 of 18
Matty Bovan makes a case for carrying your own set of curtains
Matty Bovan doesn't do shows, but rather spectacles. Last night's 'Off World' collection, a science fiction term that means being in space, included reject garments from Fiorucci and Liberty cushions that were used to make his doorway-sized skirts even more sumptuous. The brilliant final flourish was three looks that came with their own curtains. Clever, no?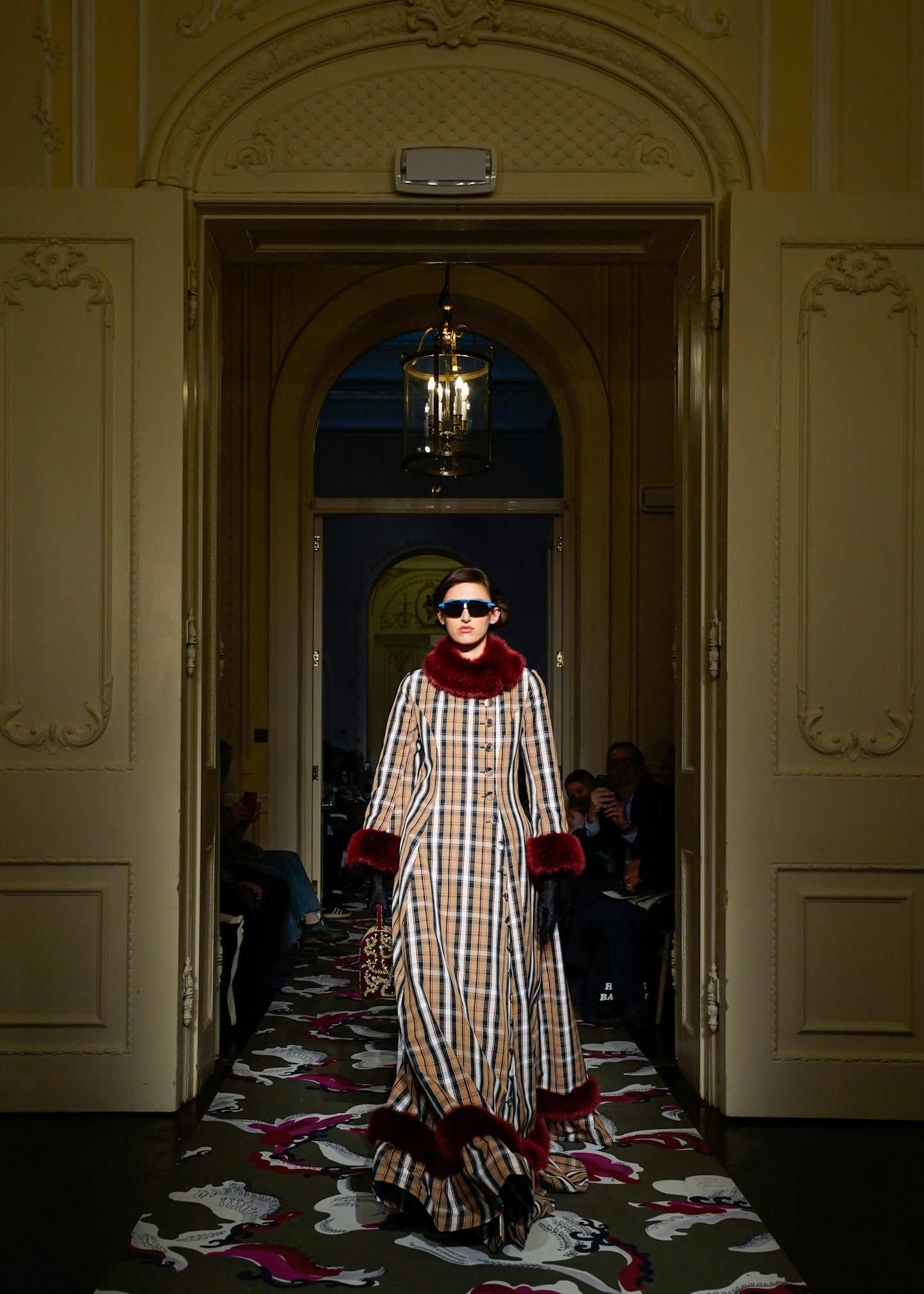 14 of 18
Shrimps pays homage to Her Maj
As a nation obsessed with The Crown, it made sense that Shrimps's Hannah Weiland was inspired by Her Maj's hobbies and wardrobe for AW20. Cue a regal collection of floor-sweeping faux-fur coats with matching muffs and knitted sweaters with built-in balaclavas. The icing on the cake? The fittingly coiffed hairdos.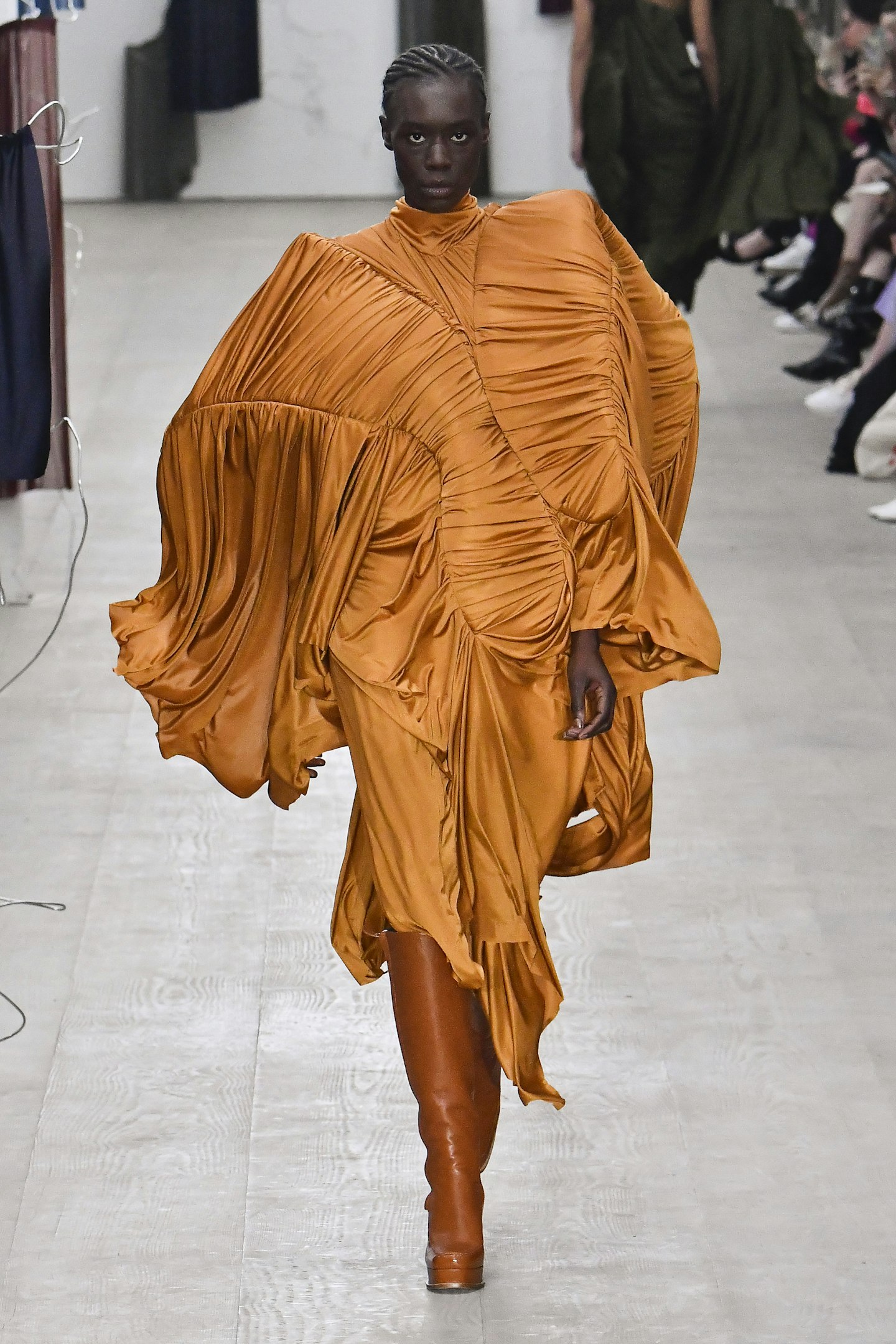 15 of 18
Richard Malone makes high-concept clothes with a conscience
Richard Malone's makes look-twice shapes and textures look effortless. The designer's collection was heavy with sustainable credentials - he used upcycled felt and regenerated econyl - thanks to his partnership with The Woolmark Company.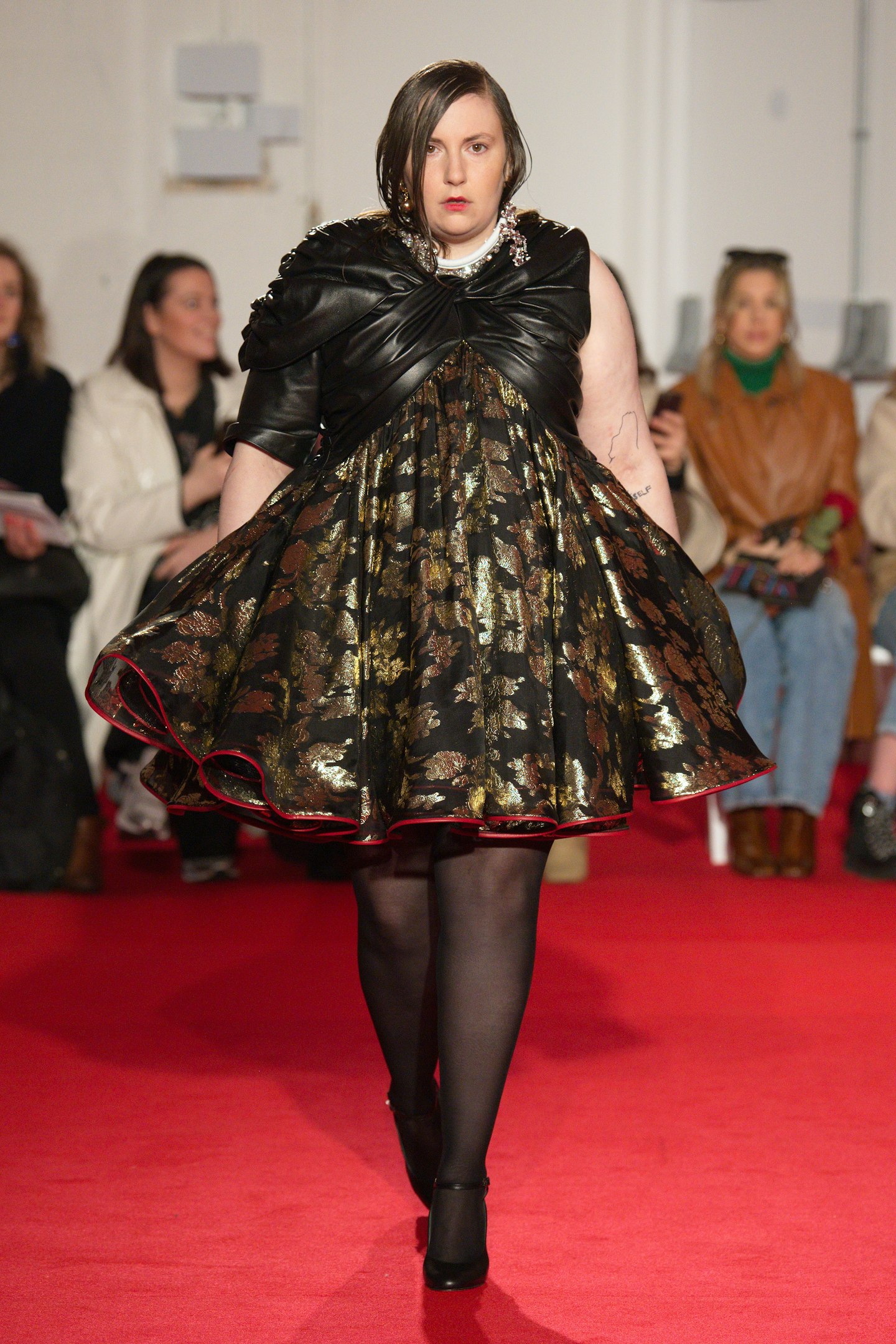 16 of 18
Lena Dunham brings star power to proceedings
Lena Dunham made a surprise appearance at 16 Arlington's debut catwalk show. The actor is a famous fan of the design duo - she wore a sequined and feathered creation in fire colours to the Once Upon A Time In Hollywood premiere last July - and it's not hard to see why. The collection, inspired by Chinese photographer Ren Hang, was a joyful celebration of out-out dressing, from the peekaboo party tops to the body-hugging pencil skirts. Fetish at its finest.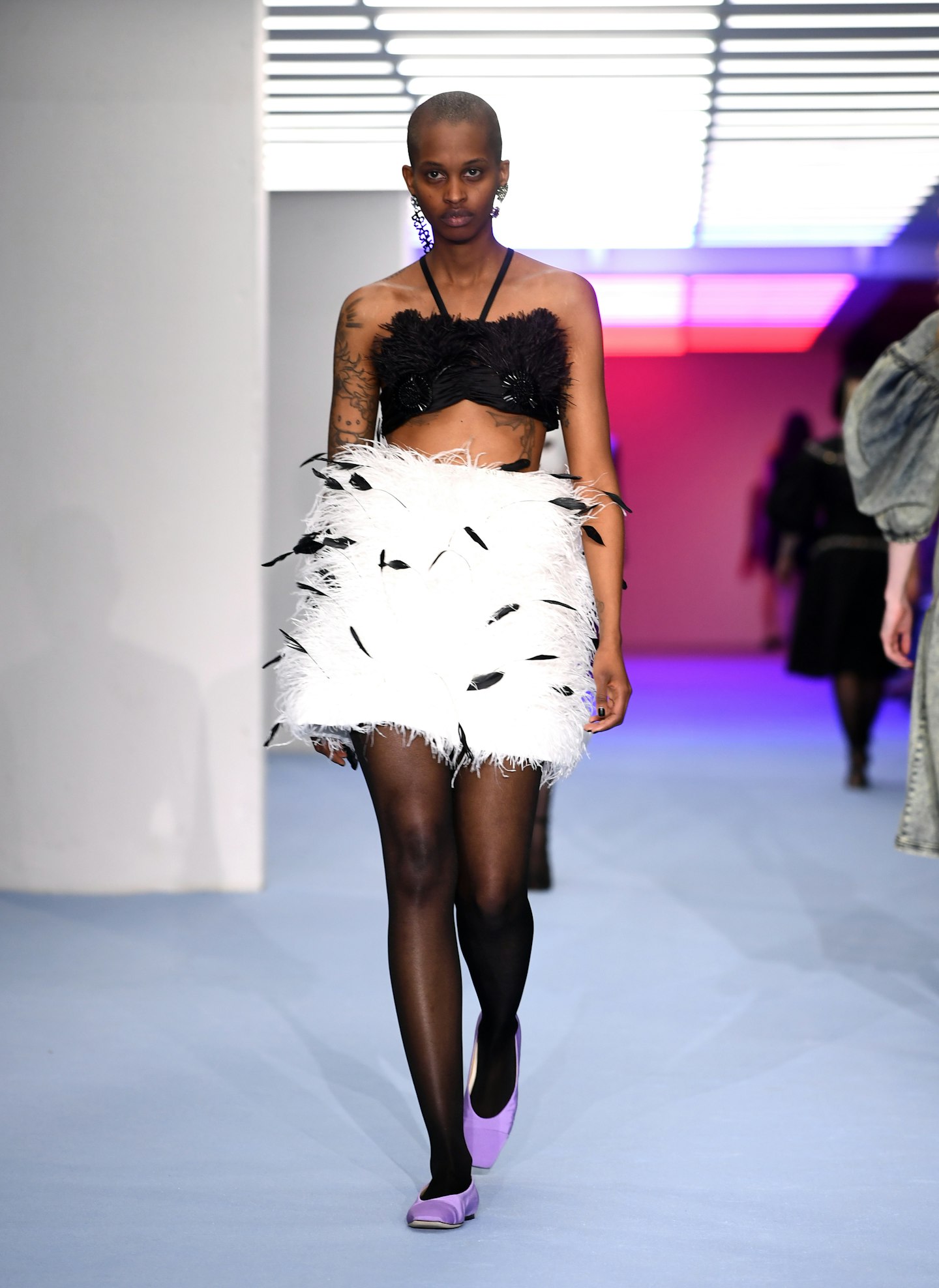 17 of 18
Ashley Williams suggests making adult socks into toddler leggings
Inspired by some of the silver screen's greatest characters - Scarlett O'Hara, Rose DeWitt Bukater and Jessica Rabbit were just three listed - Ashley Williams's AW20 offering was a typically playful mix of shift dresses, bearing the blown-up photographs of dogs and cats, frou-frou party frocks and her signature good-time girl hair accessories. She upcycled old samples - and even provided a helpful suggestions list of how to be more sustainable on her show notes. Favourite entries included, 'Use a cheesegrater to display your jewellery,' and 'Transform adult socks into toddler leggings.'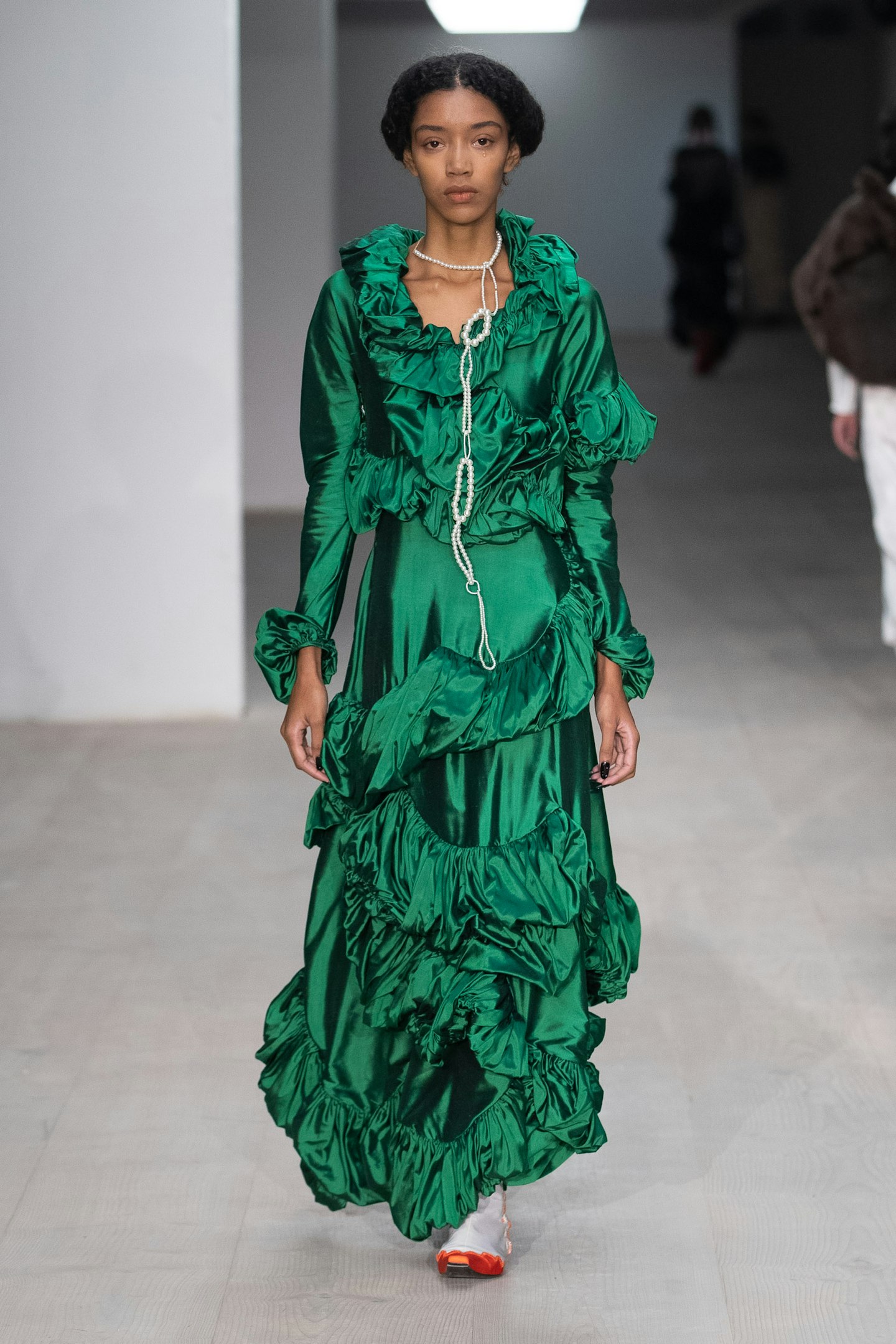 18 of 18
Yuhan Wang makes a stunning debut
For her debut solo collection - she showed as part of last season's Fashion East collective - the Chinese designer Yuhan Wang looked to the rituals of mourning and funeral ceremonies in the Victorian era. The results were an exquisitely rendered collection of 'walking suits' in a frayed, tapestry-like fabric, Sunday-best coats, buttoned-up boots and hats like looked like part of a bee-keeper's uniform. The Atonement green dress, worn with a cascading necklace of pearls, is crying out for a red carpet moment.