When I envisaged my plans for Christmas 2016 they involved jet lag, crystal clear waters and a coconut in hand, it most definitely did not include Chemotherapy. But there I was, four days before Santa was due to visit, hooked up to a whole load of Epirubicin Cyclophosphamide (or EC in hospital slang). Balls.
In the August of that year, I heard the words that would change my world forever – 'I'm sorry, it's not good news, it's breast cancer'. I was 31 with zero family history of this hellish disease. Worst of all, I barely had any tits, to begin with! They aren't even what I would refer to as boobies, they're more of a nod to a boob, a goodwill gesture.
I'm still not convinced this wasn't the universe's idea of a sick joke. But really there was nothing funny about it. An aggressive 2.8cm 'Grade 3' cancerous lump set up residence in my right chesticle, and it was going to take a lot of gnarly narcotics to get rid of it.
It all began at the back end of May 2016 when I discovered a sizeable lump in my right boobie. Convinced it was bound to be a cyst I cracked on with summer shenanigans until July rolled around. Bothered that this lump hadn't done one I took myself to the local walk-in for a feel up – 'You're young, have no family history, it's likely to be nothing but you'll need to get it checked, your GP will refer you'.
Satisfied I was in a flap over nowt I headed off on a holiday and planned to register with a new GP on my return (I'd recently moved flats you see). Again I was told not to worry but they'll book me into the Breast Clinic just in case. Five days later I found myself calmly having an ultrasound when the radiographer called over her consultant who said 'Lauren we want to biopsy this, to be safe'. I was alone, caught completely off-guard and terrified. After a panicked call to my Mum the biopsy went ahead.
When the consultant recommended I bring someone with me to fetch my results, I just knew.
On hearing the news I went zero-to-Danny-Dyer in a split second. I said fuck a world record amount of times punctuated only by sobs and stunned silence. Strangely my second thought after 'I don't want to die' was the fact that I was yet to find the love of my life and have a family. God knows I never thought I wanted those things until the chance was taken away.
That's the thing with a cancer diagnosis, especially at the ripe old age of 31, you go through life taking it for granted that you'll get to live a full one. That you'll grow old. That you have time. I guess this was when my perception started to shift.
Before the Big C, I was a girl about town, young, wild and free. I'd mindlessly spent my precious days at parties that I barely remember with people who didn't matter putting off grand life plans. Now every second becomes a prized possession, a gift. It was this strong 180 spin on my perspective that created an emotional distance between me and my peers, it knocked me for six. My cancer meant they didn't get 'it'. Through no fault of their own, or mine, they no longer got me.
Not only was I lonely in the cerebral sense I was lonely in the physical too. Before you could flutter a fake-lashed lid I was reduced from being the life and soul to bed-bound and bored. My entire existence collapsed in on itself and although my world may have stopped spinning life went on for everyone else. Whilst I was huddled up in agony with bones that ached from my nose to my toes my pals were out living it up and plastering their bants all over Facebook. I became consumed with a heady cocktail of jealousy, resentment and frustration. Basically, I was a right mardy cow.
It was in these early days of my shock diagnosis that I became desperate for some reassurance and carcinoma companionship. There must be like-minded bods out there who have faced the c-bomb, surely? Girls that got 'it'. And so off I went looking for advice and encouragement but instead found a flood of doomsaying online forums and clinical materials aimed at women in a more advanced life stage. It didn't speak to me at all.
It suddenly dawned on me that at thirty-one the risk of breast cancer, or any cancer to be fair, couldn't have been further off my radar. Fed up with the idea that cancer is a disease for the over the fifties I decided to share the tales of my cancer treatment on my Instagram under the hashtag #GIRLvsCANCER. I found it relatively easy to empty the contents of my weary mind onto the internet and soon came to comprehend that there was a real need to tackle the cancer taboo and normalise the conversation. It was crucial to create a better understanding of the challenges facing those diagnosed with cancer in their 20's + 30's. Because, believe me, a coffee morning or cake sale aren't going to do the trick.
I also hoped to encourage my mates to take responsibility for their bodies. To know them like they know the lyrics to Drake's *Hotline Bling *because by being in tune with your bod you'll know when something is in need of examining. Early detection of any cancer saves lives. Fact.
Hell-bent on raising awareness and funds for the charitable organisations who were supporting me during my time of crisis I masterminded the design and distribution of the TIT-TEES. Although there were already a few titty-related t-shirts on the high street none of them were centred around charity or consciousness. In the throes of chemotherapy, discovering my inner #GirlBoss by launching a new business was a way of occupying my mangled mind. It saved me in fact because what began as a purely philanthropic endeavour soon became a lifeline.
Chemo completely kiboshes your body not to mention your mind. Everything hurts, tastes funny, feels exhausting and your brain function can best be described as fish food – flaky AF. It goes without saying then, that when it came to cancer treatment and the workplace I wasn't fit for purpose. But it's all good though because having put in seventeen years solid graft and handed over a ton of taxes I'll be economically okay. Right? Wrong.
I was paid just eight weeks of eight months of treatment. Yep. Desperate to make ends meet I went to the next port of call in a financial storm - the government. Unfortunately, the overstretched benefits system cannot cater for such a need especially, for those who are technically full-time employed. Even though I wasn't working. Nightmare.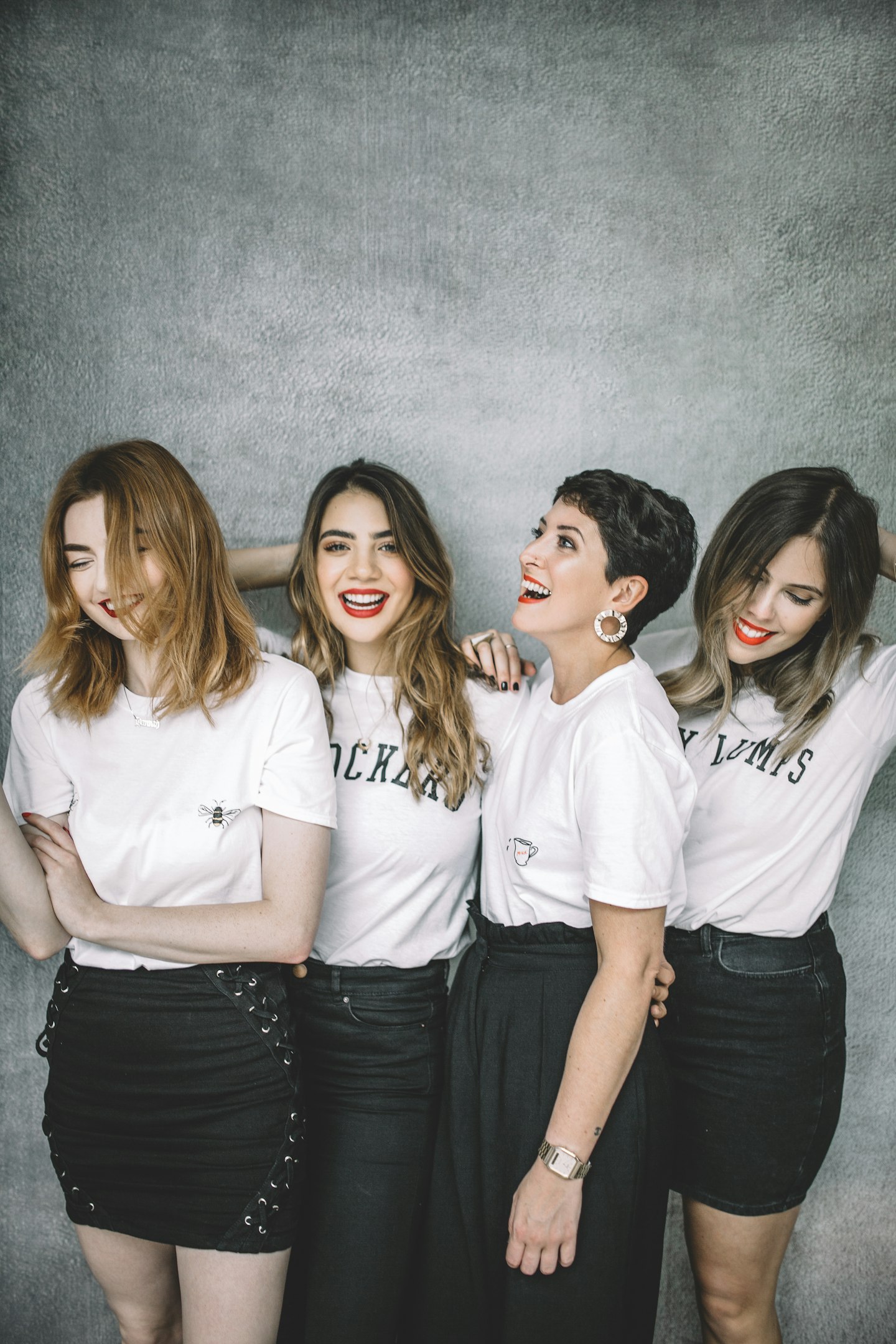 And, so for a while, the TIT-TEES became a means of financial survival, ensuring I could pay rent, retain my East LDN home and, you know, eat. Despite this, I stayed true to my goal and proudly donated 25% of all money raised equally between GIRLvsCANCER's four partner charities - CoppaFeel!, Trekstock, Future Dreams and Look Good Feel Better - to help to ensure that they are able to continue doing the epic things they already do.
I'm now on the cusp on the launch of my third TIT-TEE collection, just in time for Valentines Day. Designed by Dom&Ink the new tees place a heart over either the left, right or both breasts. The intention is that women can wear a tee to represent the breast or breasts that were affected. The campaign shoot features an incredible bunch of fellow breast cancer survivors that I built bonds with during my boobie bother.
Twelve months on I've been given the 'all clear' and GIRLvsCANCER has grown from an emotional outlet to an established community that I'm extremely proud of. Despite how difficult my cancer experience was, it was the making (not the breaking) of me. I may grieve my old life daily and mourn the girl I once was, but I'm content with the woman cancer has made me. And oh-so-ecstatic that GIRLvsCANCER continues to provide support for fierce females affected by the cretin that is cancer, and beyond
This article originally appeared on The Debrief.