The holiday season is fast approaching, and as the days grow shorter, there's one cherished tradition that truly ignites the anticipation for Christmas: the simple act of opening each day's surprise from your advent calendar. The days of chocolate offerings are long gone, instead you can now get gin, tea, jewellery and even beauty advent calendars. In the spirit of the festive season - and following the resounding success of its 2022 debut - Liberty is back with the return of its highly anticipated '12 Days Of Jewellery' Liberty advent calendar for the second year, and we already can't wait.
Carefully selected by the expert jewellery buyers, the Liberty advent calendar is a treasure trove filled with plenty of beautiful piecces to fill-up your jewellery box. Expect to see a thoughtfully curated assortment of precious pieces from renowned brands such as Alighieri, Dinny Hall, Rachel Jackson, Kenneth Jay Lane, Otiumberg, and of course, Liberty's beautiful own brand. From bracelets and necklaces to earrings and rings, there is plenty to enjoy in the this baby.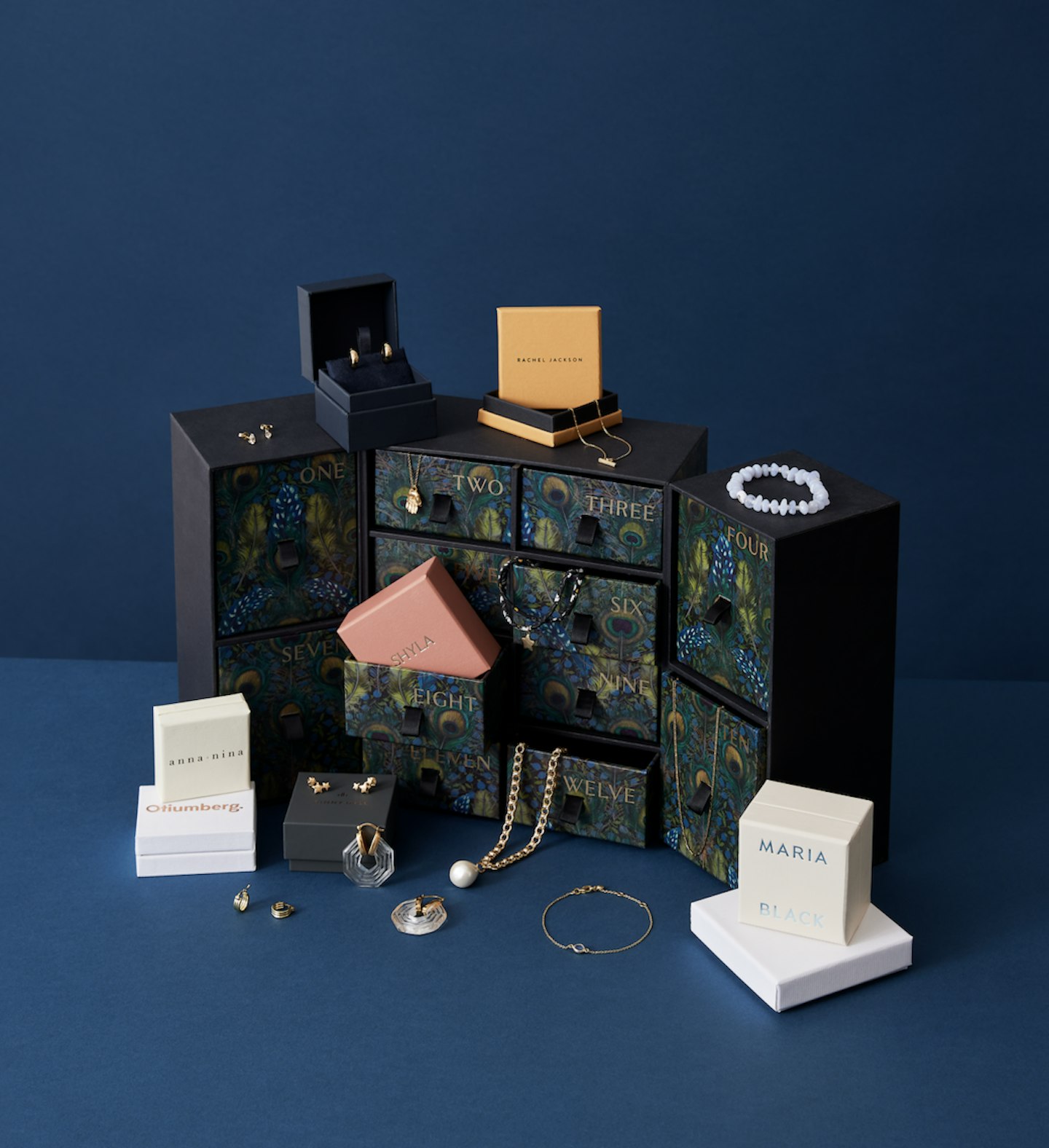 But what truly makes this calendar a standout is its range. It's a guide to the world of jewellery, showcasing a wide spectrum of brands, from household names to hidden gems waiting to be unboxed. Within the calendar, you'll find exclusive pieces crafted just for this year, including celestial charms that are truly one-of-a-kind, gold plated pieces that exude timeless elegance, and earrings that can effortlessly be worn everyday.
How much is the new Liberty advent calendar?
With a retail price of £595, this luxurious calendar is a real gem of a deal with a true value of over £1,100! It's the perfect gift for someone special or even a delightful treat for yourself. So, as the holiday season approaches, embrace the joy of unwrapping a new piece of jewellery 12 days before Christmas.
If you want to know the full contents scroll down, but if you're not into spoilers just hit the link!
SHOP: The All New Liberty Advent Calendar
Description
Worth £1,100, the Liberty advent calendar retails for £595 and is packed with precious pieces from
What's inside the new Liberty advent calendar?
Astley Clarke 18ct Gold-Plated Vermeil Silver Celestial Tiny Star Hoop Earrings

Alighieri 24ct Gold-Plated The Starry Night Amulet Necklace

Rachel Jackson 22ct Gold-Plated Mini T-Bar Necklace

Auree 18ct Gold-Plated Vermeil Silver Hampton Sapphire Bracelet

Anna & Nina 14ct Gold-Plated Small Poetic Ring Huggie Hoop Earrings

Liberty 9ct Gold One Star Love Bracelet

Otiumberg 14ct Gold-Plated Vermeil Silver White Topaz Teardrop Stud Earrings

Shyla 22ct Gold-Plated Sphinx Glass Hoop Earrings

Tbalance Crystals Blue Lace Agate Moon Bracelet

Maria Black 22ct Gold-Plated Karen Necklace

Dinny Hall 22ct Gold-Plated Vermeil Silver Bijou Trio Star Stud Earrings

Kenneth Jay Lane Gold-Plated Chunky Chain and Pearl Necklace
The hardest thing to do now is to wait until December!