Partnership Promotion
When it comes to choosing piercing jewellery that's made to last but also looks modern, Astrid & Miyu may be one of the first brands that come to mind. Currently celebrating five years of creating some of the best jewellery in the business (that's affordable, too) as well as offering piercings in the brands studios, the brand comes in as both timeless and stylish.
To mark the anniversary of its piercing studio, Astrid & Miyu is offering a no-piercing charge on all of their piercing jewellery (because one can never be enough, can it?) throughout the month. So, if you're looking to get a new piercing, whether that be lobe, conch, tragus or anything in between, Astrid & Miyu is the place to go in August. With piercing studios across the UK including Manchester and London, it's never been easier to get a new stud or hoop.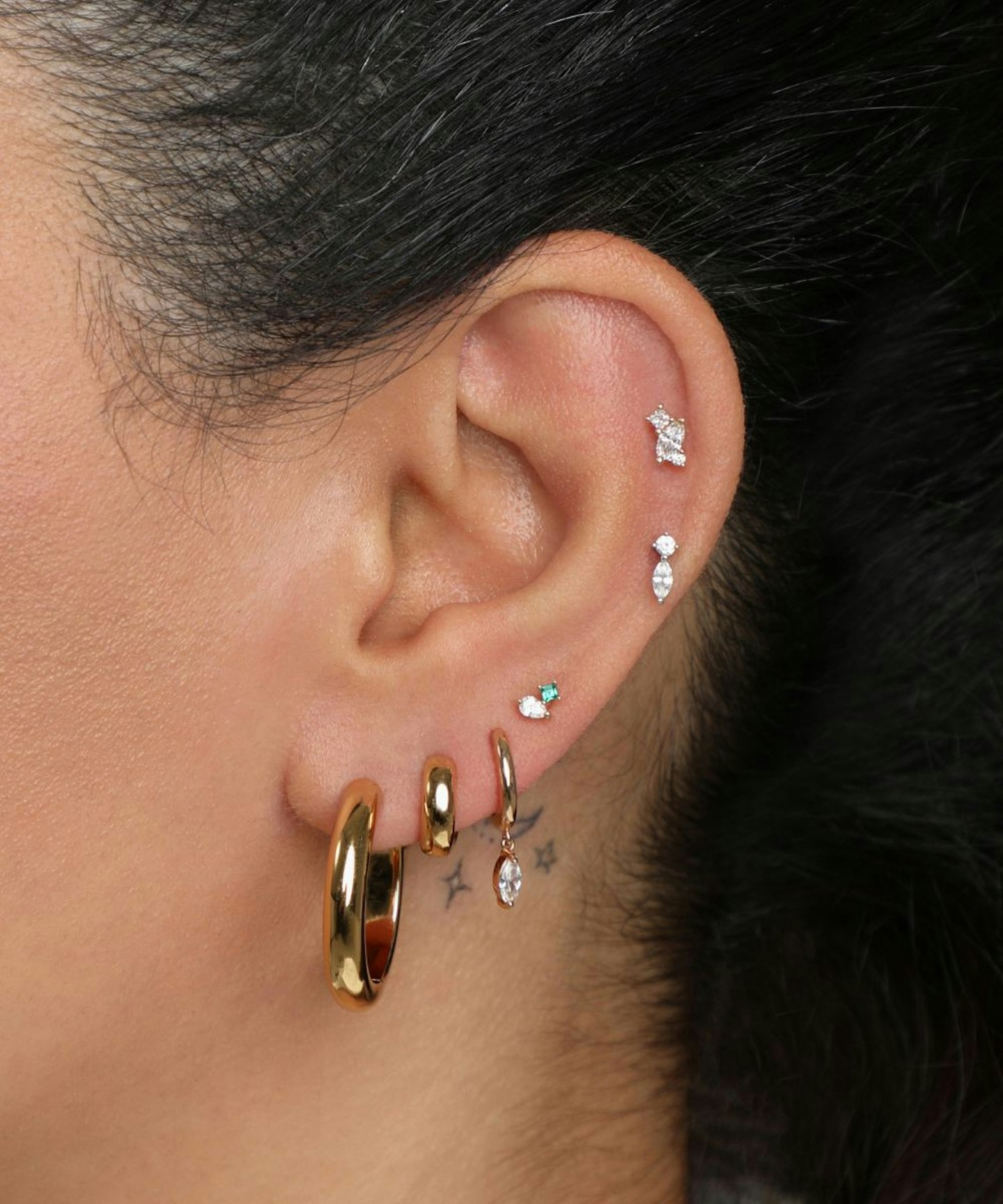 Most of Astrid & Miyu's jewellery comes in 14k gold, 14k white gold or plated sterling silver so you know you're making the most of your money with high-quality materials and choices that will suit you. Not everyone wants a simple ball stud to pierce with (although that's also an option here), so if you're looking for wide range of piercings to suit every style, you've come to the right place.
So, how is the brand celebrating its five-year piercing milestone? Well, you can save £20 off your next piercing when booked in with Astrid & Miyu on Mondays to Thursdays in August. No code is needed but we suggest you book in quickly, before all the appointments go.
All that's left to do is choose your jewellery, so here's the best Astrid & Miyu pieces to help you make up your mind.
Don't worry if you're a silver lover because all of the below are also available in white gold or sterling silver, too.
SHOP: Astrid & Miyu's Bestselling Piercing Jewellery Collection
Description
There may be nothing more classic than a solid gold ball stud. With this choice from Astrid & Miyu
Description
These cosmic star huggies are one of Astrid & Miyu's bestsellers.
Description
A sweet alternative to a ball stud but still simple enough to wear everyday without it being
Description
Looking for a suitable gift or just want to treat yourself? The brand also offers these birthstone
Description
Of course, it wouldn't be Astrid & Miyu without some sparkle. This triple topaz piercing stud is
Description
Add a dazzle to your ears with these dangle crystal star hoops. Also available in rose gold.
Description
Similar to its triple topaz counterpart, this curved crystal piercing stud from Astrid & Miyu will
Description
If you want to up the ante of your everyday jewellery, this is the perfect choice.
Description
If you want to go one-up from a stud, get a simple piercing hoop like this solid gold choice to
*The Astrid & Miyu £20 off piercing jewellery ends 31/08/23. Excludes Bank Holidays.