We talk a lot about sustainable fashion and the importance of not letting garments become one-wear. Usually that applies to cheaply manufactured mini dresses and plastic shoes, but one of the most single-use items of clothing that a woman can buy is a wedding dress.
Ask a married woman what she did with her wedding dress and chances are she'll tell you that it's hanging in the wardrobe waiting to be dry cleaned with a filthy hem. But there are some smart cookies who don't leave the most expensive dress they'll ever buy in the wardrobe, but do something amazing with it instead.
So, what can you do with a wedding dress once you've worn it?
Donate it
The easiest way to do good with your dress is to donate it. Brides Do Goodresell worn designer wedding dresses and designer samples for a fraction of their original price. All of their profits fund a charity to eradicate child marriage.
If your gown doesn't fit their criteria, most charity shops will be extremely grateful for a donated wedding gown.
Another amazing cause you can donate your dress to is Cherished Gowns, which makes wedding dresses into burial gowns for babies. You can find out more about Cherished Gowns here.
Dye it
Dying your dress is the most common way to give it another lease of life after you've worn it. There are some brands, like Caramel Company, who will dye your dress for you after your wedding in order to promote sustainability and reduce waste.
Sell it
Selling your wedding dress might feel a bit cold but by putting yours on eBay or Depop you can make a bit of the cost back. (Let's face it: post-wedding is a spectacularly broke time). Still White are the world's largest wedding dress marketplace and is a great place to list your gown and means another bride can have a gorgeous dress on a budget. Plus, buying a second-hand dress reduces the environmental impact of your wedding.
Make it into a jumpsuit
Dying your dress is one thing, but it can still look a bit too bridal to wear to a party. However, if the skirt has plenty of fabric, a tailor should be able to convert it into a jumpsuit, giving it a whole new lease of life.
Make a crib hanging
Some people believe that your veil or wedding dress should be turned into a crib hanging for your first baby.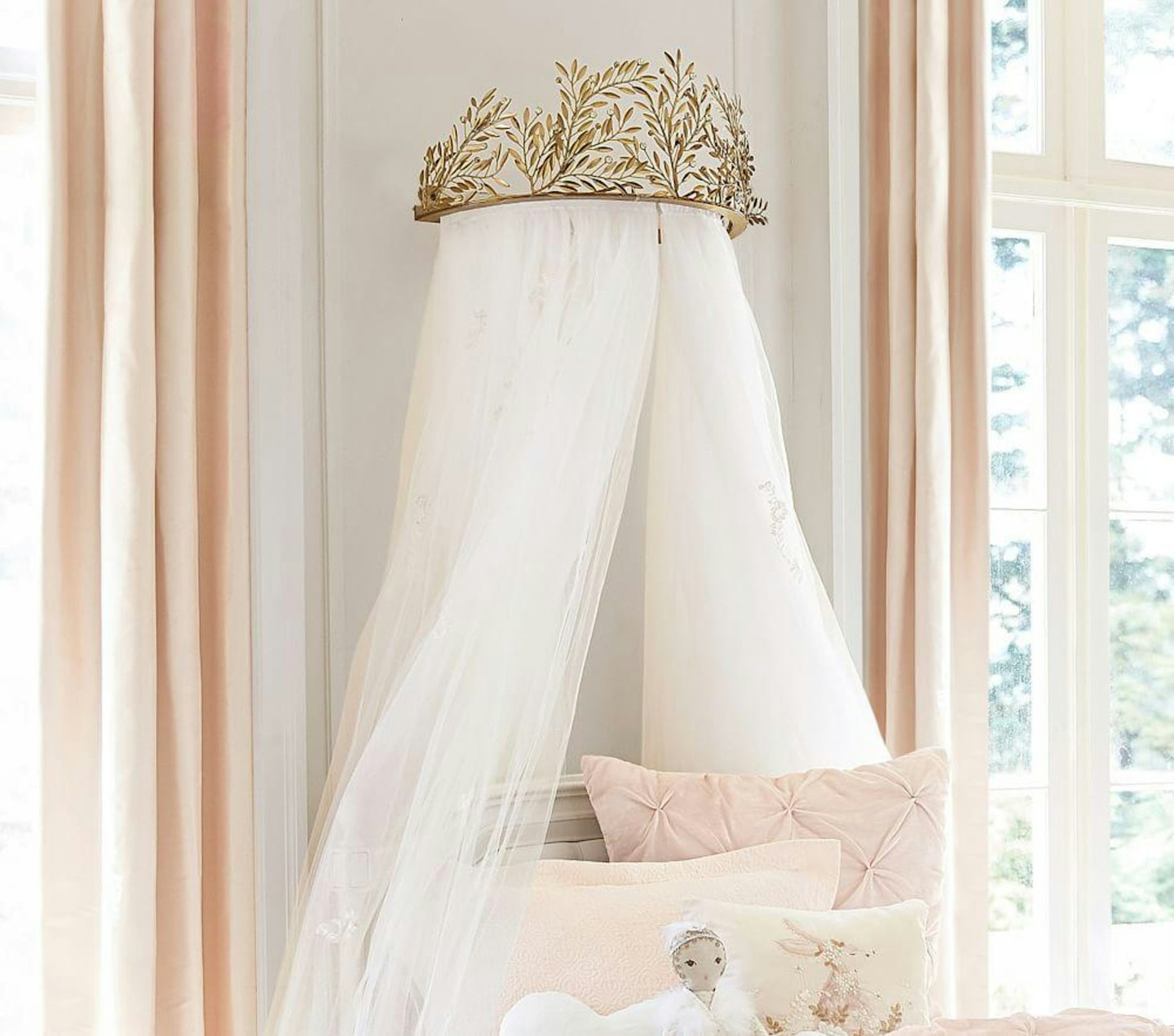 This Monique Lhullier crib hanging (above) isn't actually made from a veil, but is a perfect replacement if yours is beaded and therefore a choking hazard.
If you are going to use your veil, make sure it has been dry cleaned first, then get busy with a craft hoop. (NB: the crib hanging should be clear of the crib, and your baby shouldn't sleep under anything like this until it's at least 18 months old.)
Frame it
Admittedly, you need a decent amount of space in your house for this, but framing your wedding dress can be a beautiful, romantic memory of the big day. If you've got the wall space then this could be the perfect decoration.
Make cushions or an eiderdown
Some women wince at the idea of cutting their wedding dress up, but most dresses are made from such high quality fabric, it's a waste not to do something tactile with it.
By making it into an eiderdown (or paying someone who is good at sewing to do it) you can have it on your marital bed. Pretty romantic, eh?
Turn it into a Christening gown
Another very traditional use for a wedding gown is to have a tailor turn it into a christening gown. Obviously this only works if you have children, but it enables your dress to become a family heirloom, which is always nice.
Just please don't trash it...
A popular way to use your dress after your wedding is to have a 'trash the dress' shoot where you cover it in paint, jump in the sea, or do whatever you fancy to trash the dress.
Of course it's your dress and it's your choice, but there are so many other ways that you could use your dress sustainably to help others, or make something beautiful for your home. Maybe just leave the neon paint alone.
READ MORE: My wedding dress was the biggest waste of money - until I cut it up