Festival season has arrived. The line-ups are confirmed, the tickets are booked and the whole gang is excited. Now it's time to curate your perfect festival looks (to be honest that's half the fun) and the Klarna shopping app can certainly help you on that journey. Think of them as your own personal shopper.
The Klarna app has many smart features such as Search & Compare, which allows you to compare the prices of more than two million items. You can also check user ratings and even shipping costs. The Collections feature is a fashionista's dream, it is the perfect tool for creating your very own shopping edit of festival style inspo. Klarna also gives you a heads up with Price Drop Notifications. And Delivery Tracking means you'll know where your purchases are up to and when they'll drop. Plus, when you shop in the Klarna app, any discount codes will be applied automatically at the checkout - thank you Klarna. Basically, they've thought of everything. With these tools at hand, you can shop around and shop smarter.
Klarna know all about festivals, in fact you may have caught them at Mighty Hoopla in London earlier this month. Sponsoring it for the third year running, Klarna were back as the hosts with the most. And it certainly was a great party. From free glitter face-painting stations at the Klarna Parlour, to their rather swanky VIP lounge, there was live entertainment, giveaways, and some utterly insta-worthy photo ops. We had a ball and hope you did too.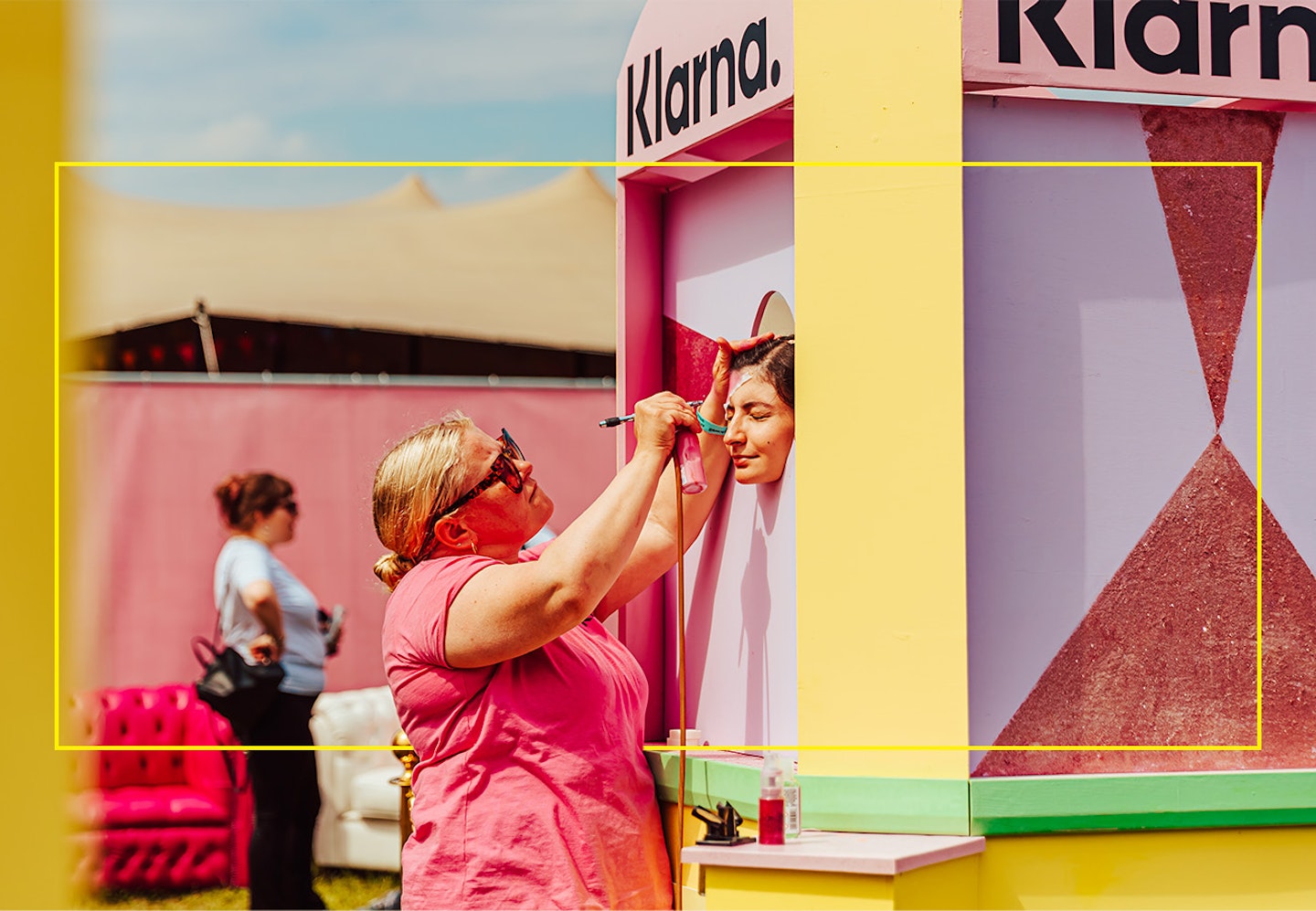 So, not sure what to wear to the fests? Here's our thoughts…
Festival chic is all about unique looks and having fun with fashion. A go-your-own-way approach is essential. You be you. The festival field is one place where you can truly let your hair down and express yourself. The rules? There are no rules.
Firstly, we suggest you put some thought into footwear. You will be dancing all day and night (and the loo will be miles away), so trainers (we love retro) or pumps will be sweet to your feet. They'll also look great teamed with…everything. Cowboy boots are still big news and will compliment a floaty floral dress or denim shorts. According to Klarna's Shopping Index the cowboy trend is looking big for summer 2023 with sales of cowboy boots 40% up April 2023 vs April 2022 (with cowboy hats rising too). Avoid heels as they will sink and that's annoying, sandals are a super alternative. And always check the weather forecast. If a downpour is on the cards, then wellies may be the way to go - perfect for mud.
A bit of sparkle goes a long way. Sequins will shine in the midday sunshine and glitter in the evening when the headliners hit the stage. Whether you opt for a rhinestone encrusted jacket, or a sequin short - glitter is a key trend for 2023. In Klarna's index, sales of metallic skirts have gone through the roof, rising by 524%.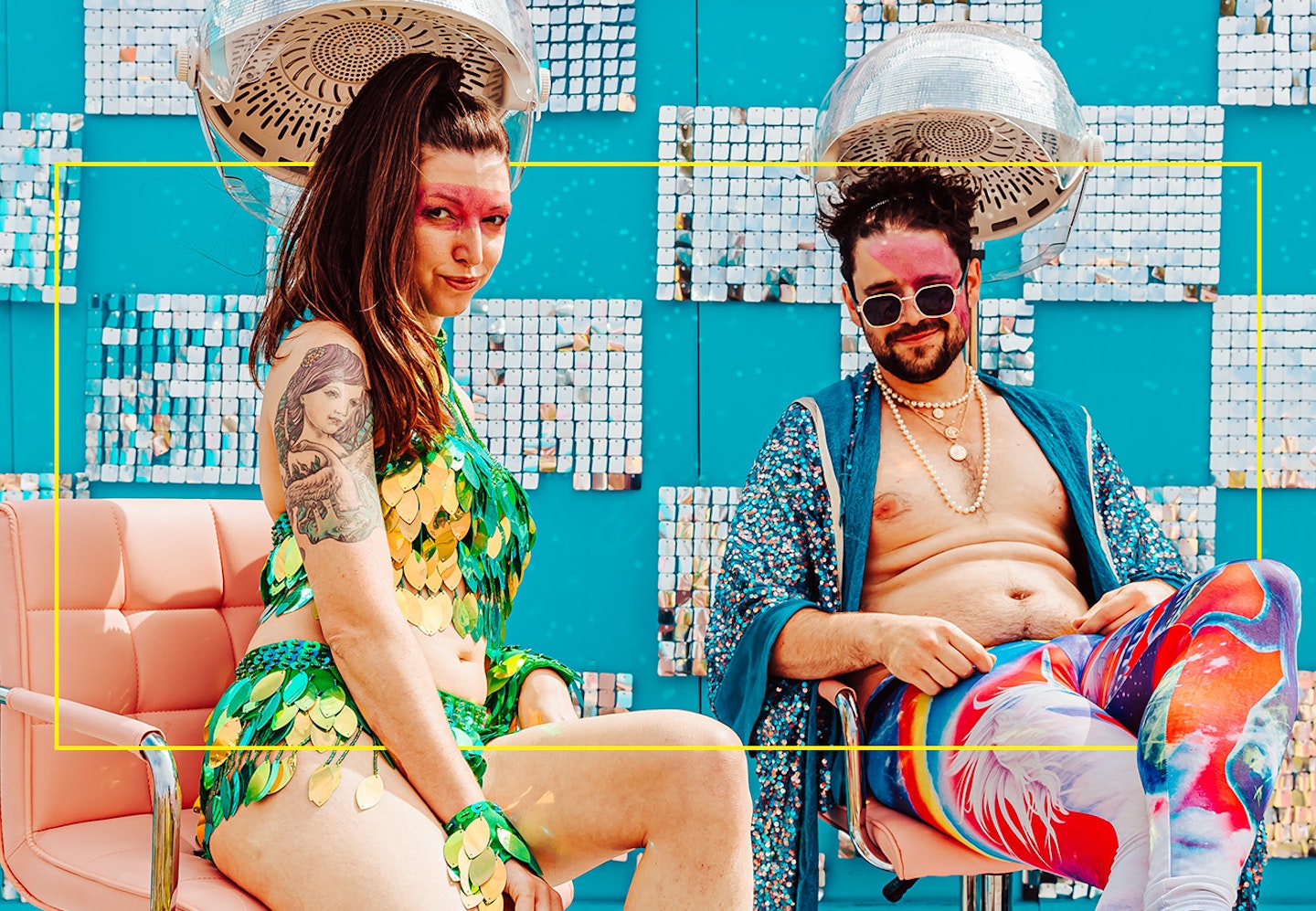 Band Tees, especially if they are vintage are super cool. Add a classic waistcoat and shorts to truly rock this look. Anything that has a retro vibe is a winner. If it looks like your folks once wore it (or even your gramps) then go for it. And the boho aesthetic never gets old either, think crochet, fringing, loose maxi dresses, and wild prints. Klarna's Shopping Index confirmed that crochet is going to be a huge this season with sales up year on year by 81%.
Finishing festival touches - the right accessories will complete and elevate your look. Shades are a must, and at a festival you can opt for a more adventurous style, they'll also be great to hide tired eyes the next day. Keep the sun off with a hat - a cap is a relaxed choice, as is an iconic 90's bucket hat or you could go for a fedora or wide brim sun hat. Many of us are a little timid when it comes to headwear, luckily a festival is the one place you can throw away your inhibitions. Lastly, anything goes when it come to jewellery, just leave the family heirlooms at home, they are not for the mosh-pit.
Now go have some pre-fest fun shopping for your look with your new best friend Klarna.
Get the Klarna app here.