She's an influencer, businesswoman, TED talk host and mother – with an excellent wardrobe to boot. So Freddie Harrel understands style, confidence and creativity. 'It's dangerous to shrink yourself and not express yourself,' she says. Speaking exclusively to Grazia, Freddie shared her pieces of advice for incorporating style and creativity into your life.
How To Incorporate Style Into Your Wardrobe
Freddie's simple advice? 'It's definitely important to stand out from the crowd. Wear what you want. Say what you want. Creativity is personal.' It's this attitude that's seen her amass over 183,000 followers on Instagram and become a social media style maven.
So, how do you actually stand out? The way to do it this season is with an all-new colour palette. Currently, cool blues are a warm weather winner. Clash texture to give the powder primary all new attitude. But what about metallics? Don't save them for after-dark - rev up your 24/7 repertoire in a gold coat, which says 'look at me' for all the right reasons. Inject some neon into your wardrobe, too. A shocking shade of pink shifts gears from pretty to powerful (emphasis on the 'pow!'). One thing to remember, though: while stepping out of your comfort zone, it's important to find that perfect balance between daring but also comfortable, because the more at ease you are, the more confident you'll feel.
WATCH Freddie Harrel behind-the-scenes at the Grazia x Jaguar shoot:
How To Incorporate Style Into Your Surroundings
Express yourself through bold colours and design, all the way from your home interiors to your car. Relaunched this year, the XE – a made-for-real-life saloon that drives with all the attitude of a sports car – has been upgraded with all-new details. As a busy working mother, Freddie finds the XE is equipped to keep up with all the gear changes of her day-to-day. Take the wireless charging system¹, which means your phone will never be out of juice, or the innovative ClearSightᵀᴹ rear-view mirror², which is a game-changer when you're driving with a full car.
And because there's no better way to express yourself than with music, Freddie also loves the Meridian Sound Systemᵀᴹ, which delivers an enhanced audio experience². Known for her bold style, Freddie takes her Jaguar XE in a punchy shade of red. 'I love seeing how people express themselves through their style,' she says. 'It inspires me to be myself'.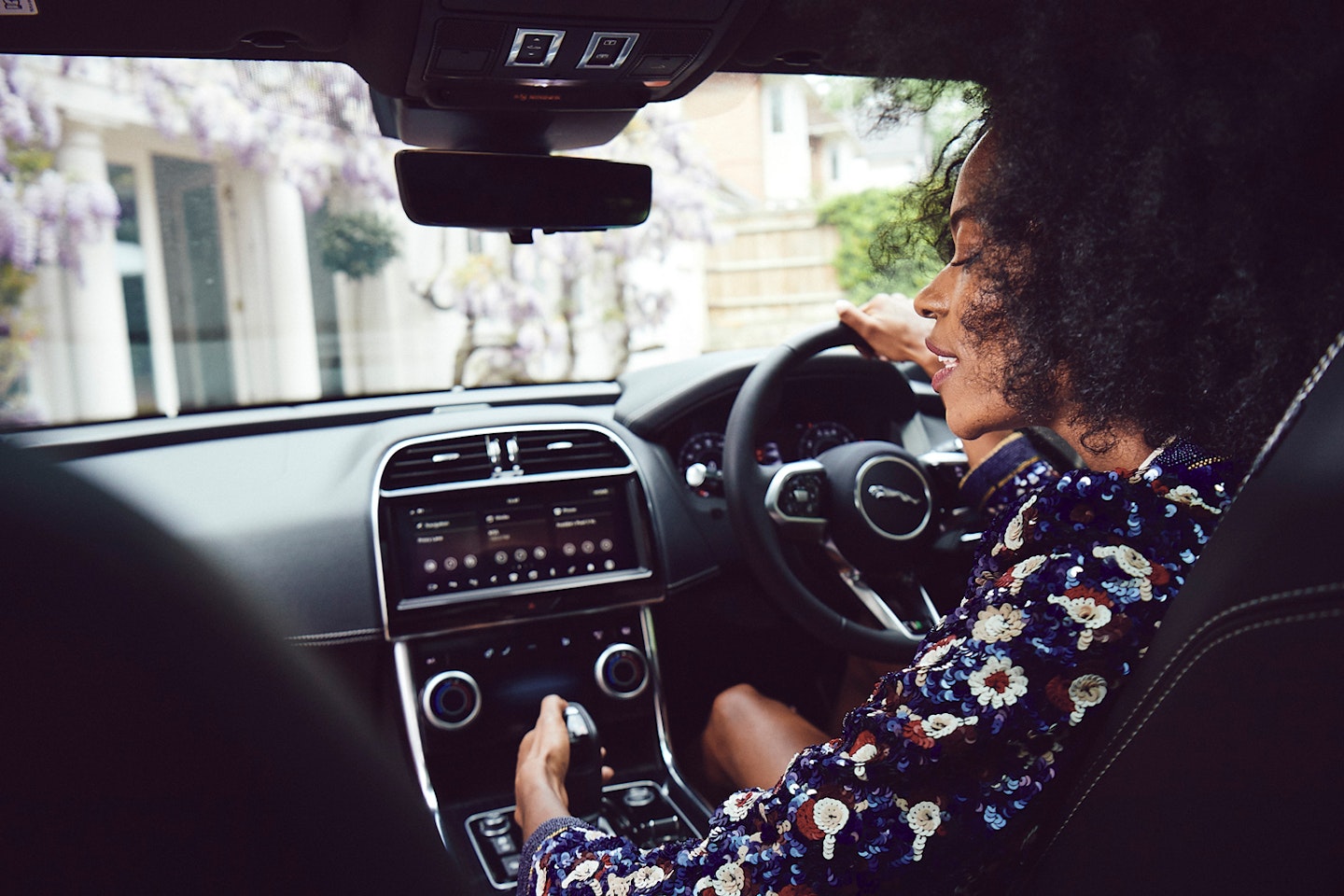 In your home, you can express your creativity through DIY décor - think printed wall art, pegboards or floating bookshelves. Accent pieces like these will give your home a more personal feel, plus you'll feel fulfilled having made them yourself. For inspiration, look to Pinterest for help, or do what Freddie does and 'look around at what other people do - that really encourages me to express myself. Use social media too, as you get a peek into so many people's worlds and different backgrounds. Inspiration to me is soaking in everything around you and being open-minded.'
To incorporate style seamlessly into your life, invest in the new Jaguar XE. For more information, visit jaguar.co.uk/XE.
¹Only compatible phones.
²These features are options on some XE models.