If you're one of the lucky few getting ready to see Madonna's Worldwide tour this year, then you might just be looking for Madonna tour outfits. After all, no matter which era, album or music video, we're always looking to pay homage to the Queen of Pop. The sell-out Celebration Tour kicked off in London last week, and proves to be a fitting tribute to Madonna's lengthy career, spanning four decades.
Known for wearing couture pieces from the likes of Jean Paul Gaultier (responsible for the iconic cone bra), Vera Wang and Chanel to name but a few, the pop icon always looks the part, often seen in separates – from sultry co-ords to pinstriped waistcoat and trousers combo to a bedazzled LaCroix corset top.
And, it goes without saying, that Madonna is much more than her look. She's a rebel, a disrupter - and through her work, she's broken down barriers of stigma, celebrating differences and turning the status quo on its head. We're in awe of her.
So, if you're seeking an outfit for Madonna's Celebration Tour, consider some of our unapologetically Madonna-inspired pieces to express yourself (!) and pay tribute to the icon. Each piece speaks to a past concert, award show or red-carpet outfit. We've handpicked a selection of pieces that speak to every era – from Like A Virgin to Like A Prayer.
Best Madonna Tour Outfits
ASOS / Getty
Description
We did a double-take at these Bronze Leather Western-Style Knee Boots from ASOS, similar to those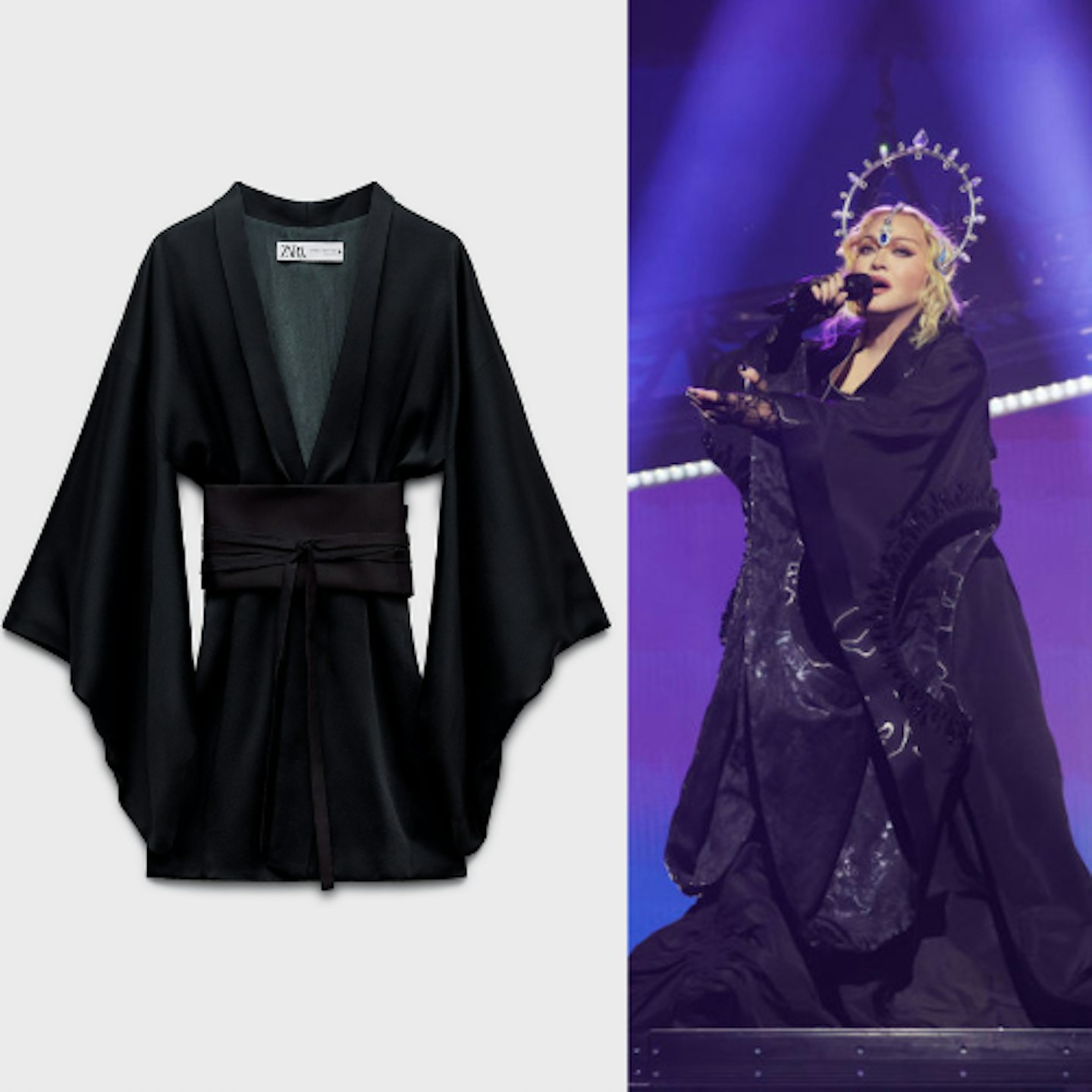 Zara / Getty
Description
You can get the Madonna look with this kimono corset from Zara. Though not floor-length like the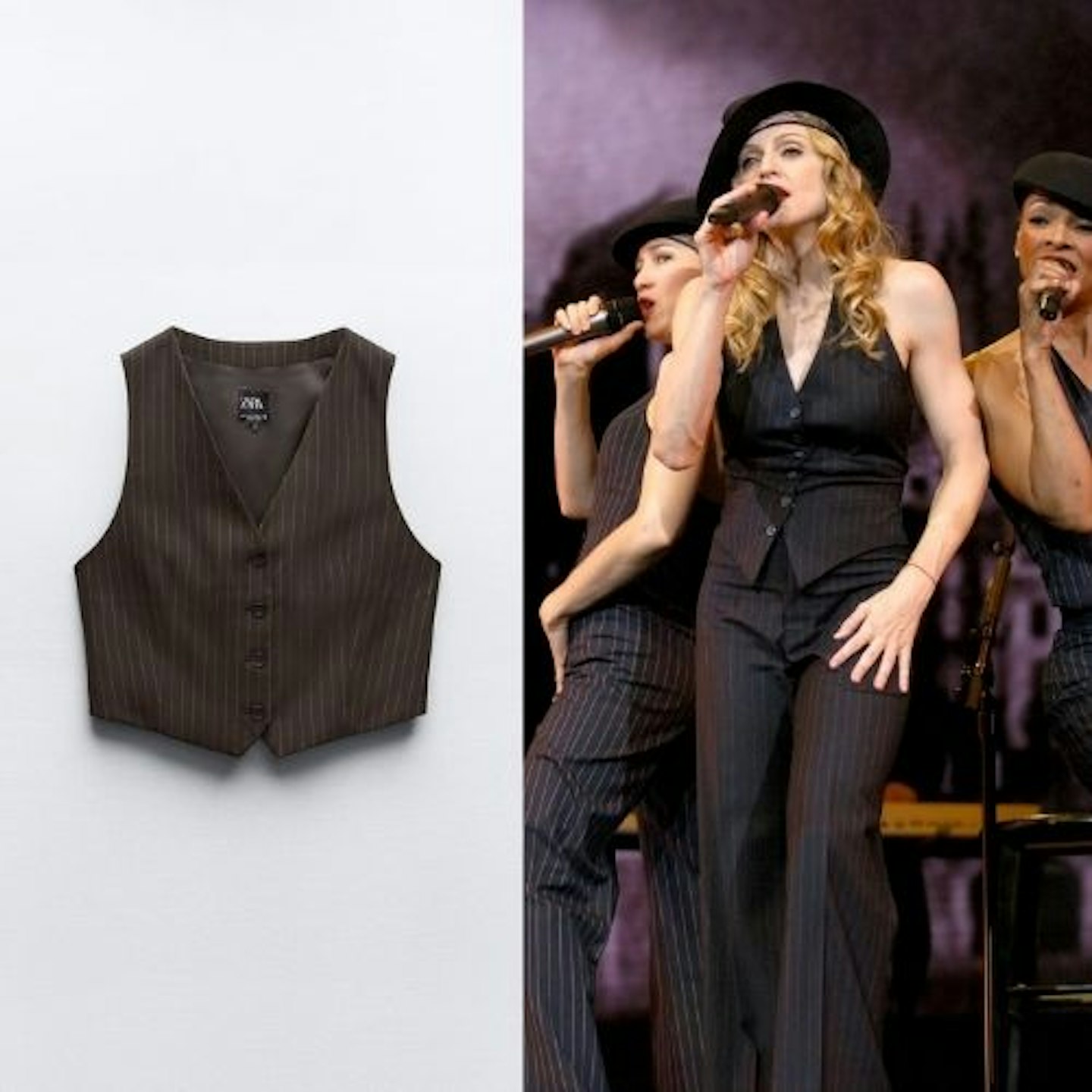 Zara / Getty
Description
Waistcoats have come back in fashion just in time to celebrate Madonna's look from the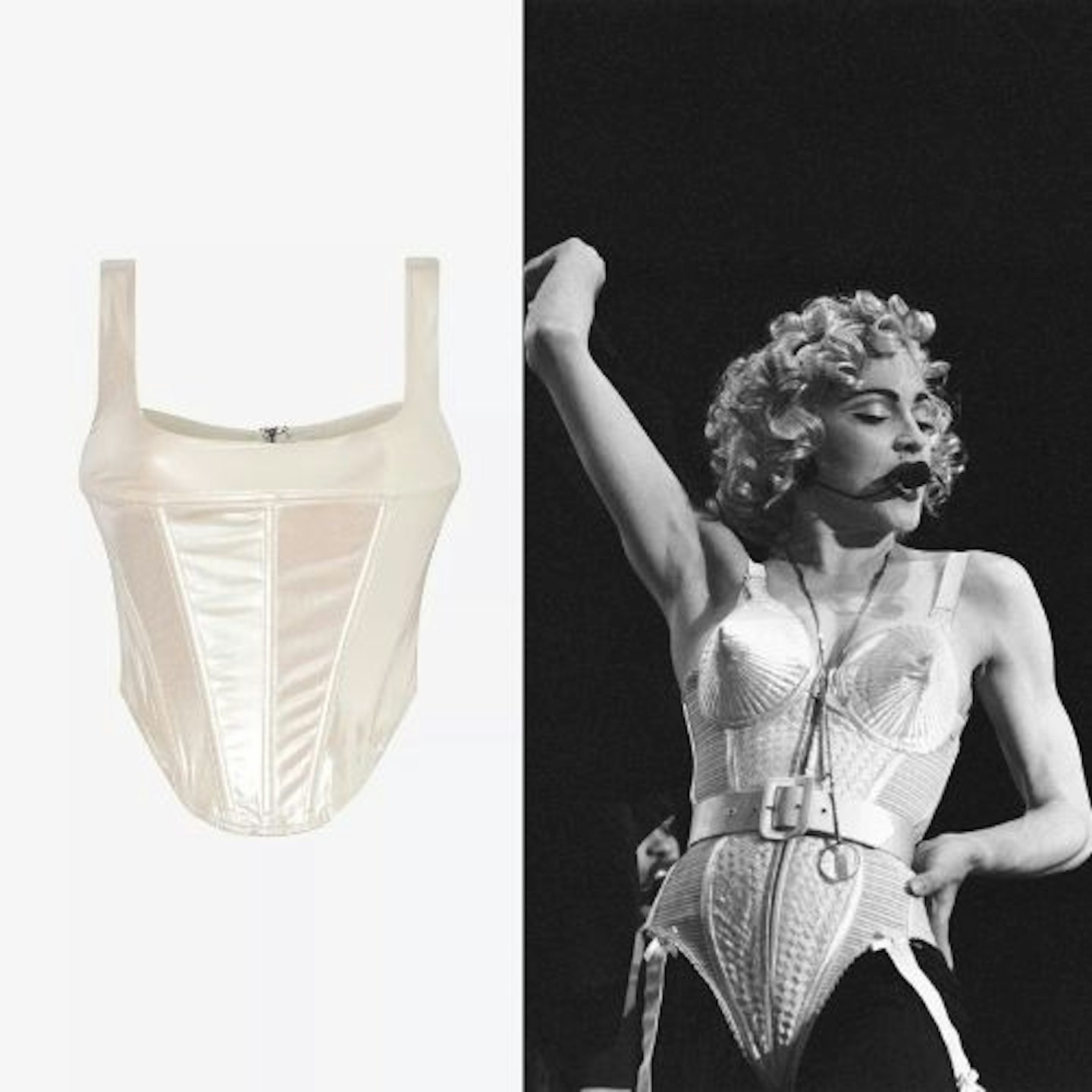 Selfridges / Getty
Description
Madonna is no stranger to an unusual corset. Perfect for paying tribute to her, this Miaou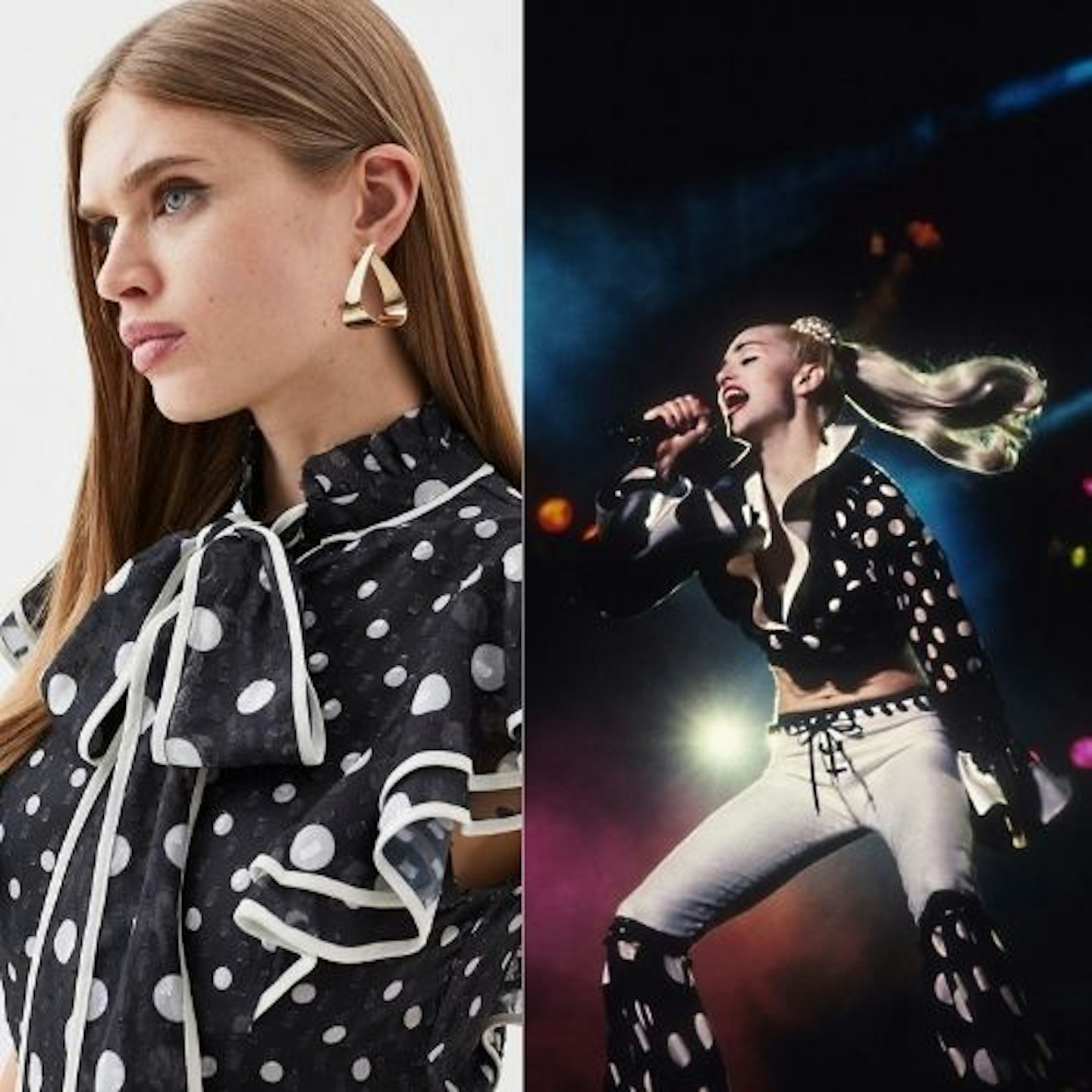 Karen Millen / Getty
Description
Inspired by Gaultier look, Madonna wore some iconic polka dotting on her Blond Ambition tour,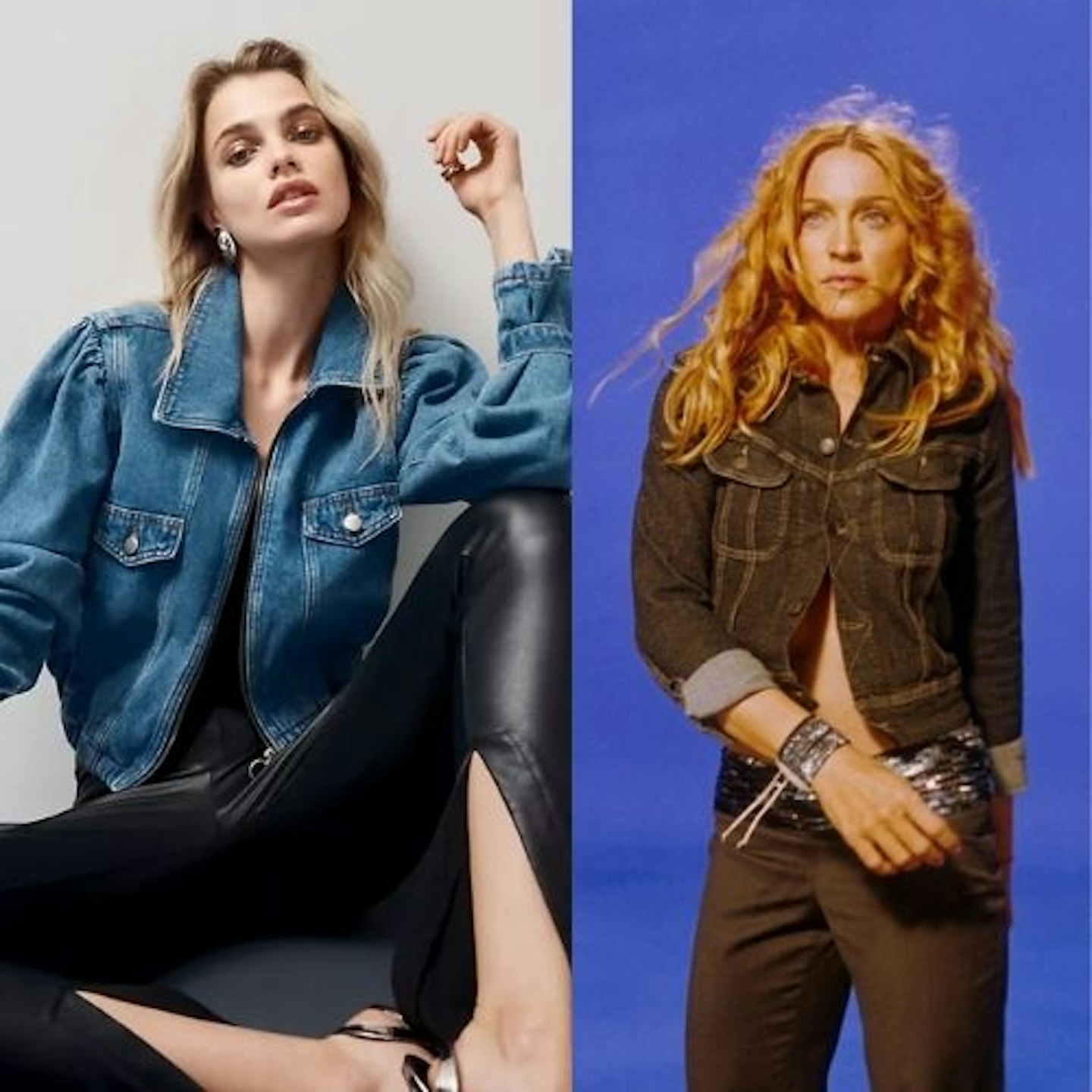 Anthropologie / Getty
Description
If you're a Madonna devotee, you're for sure aware of the Ray of Light era. With a denim jacket,
Best Confessions tour-inspired look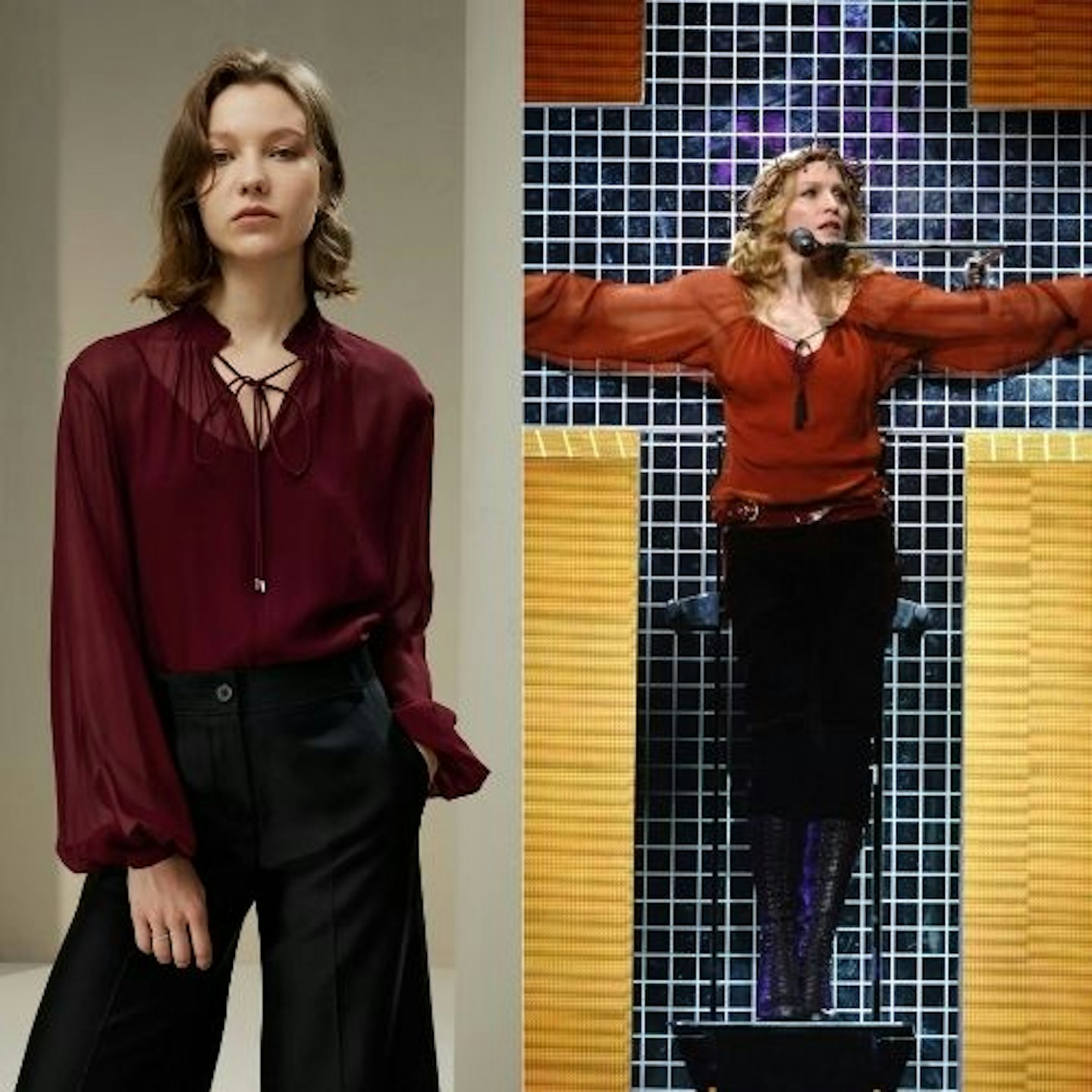 Lily Silk / Getty
Description
During the Confessions tour, Madonna wore a Biblical-inspired ensemble, again by Jean Paul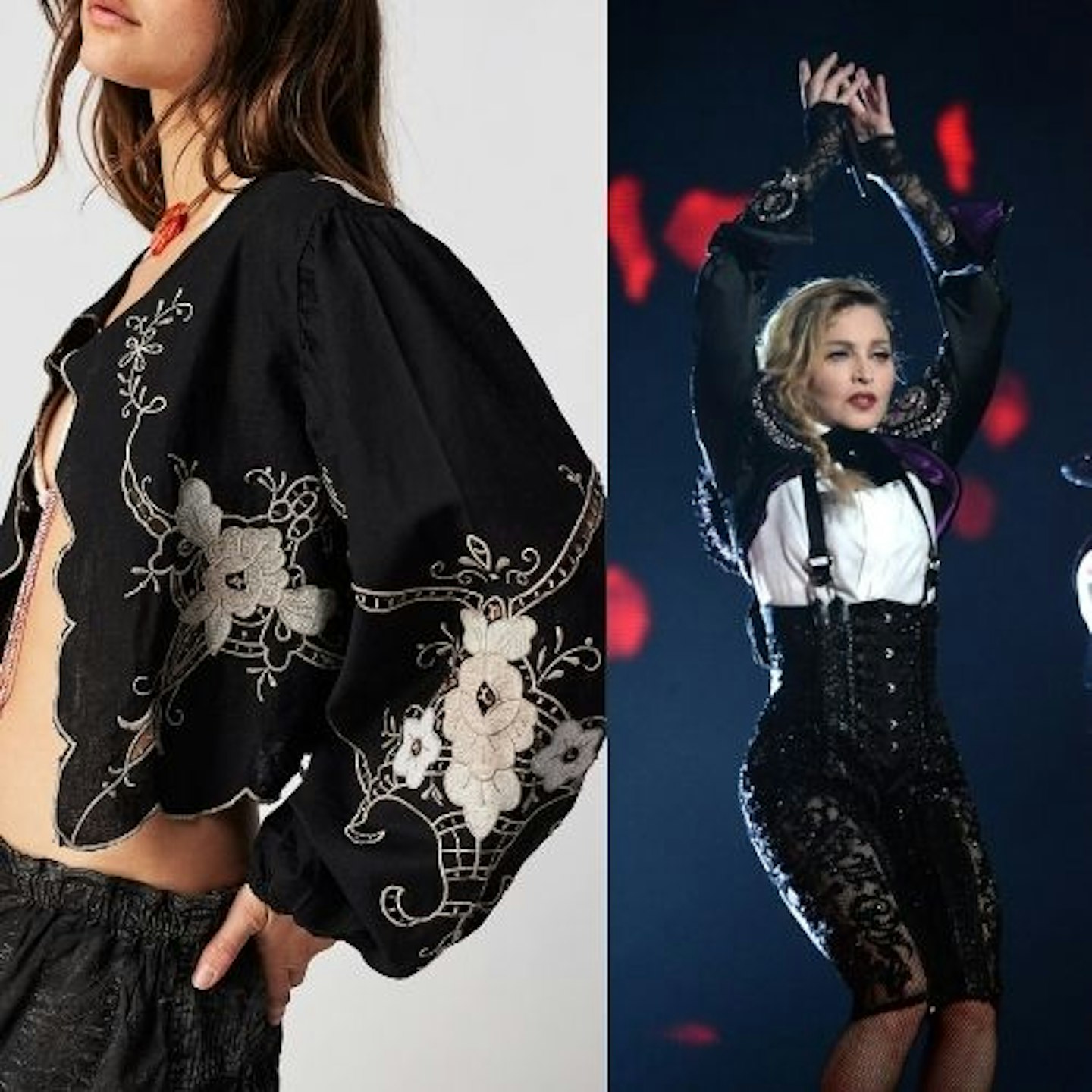 Free People / Getty
Description
The Matador-era Madonna era became iconic for that mishap at the Brit Awards in 2015. And - for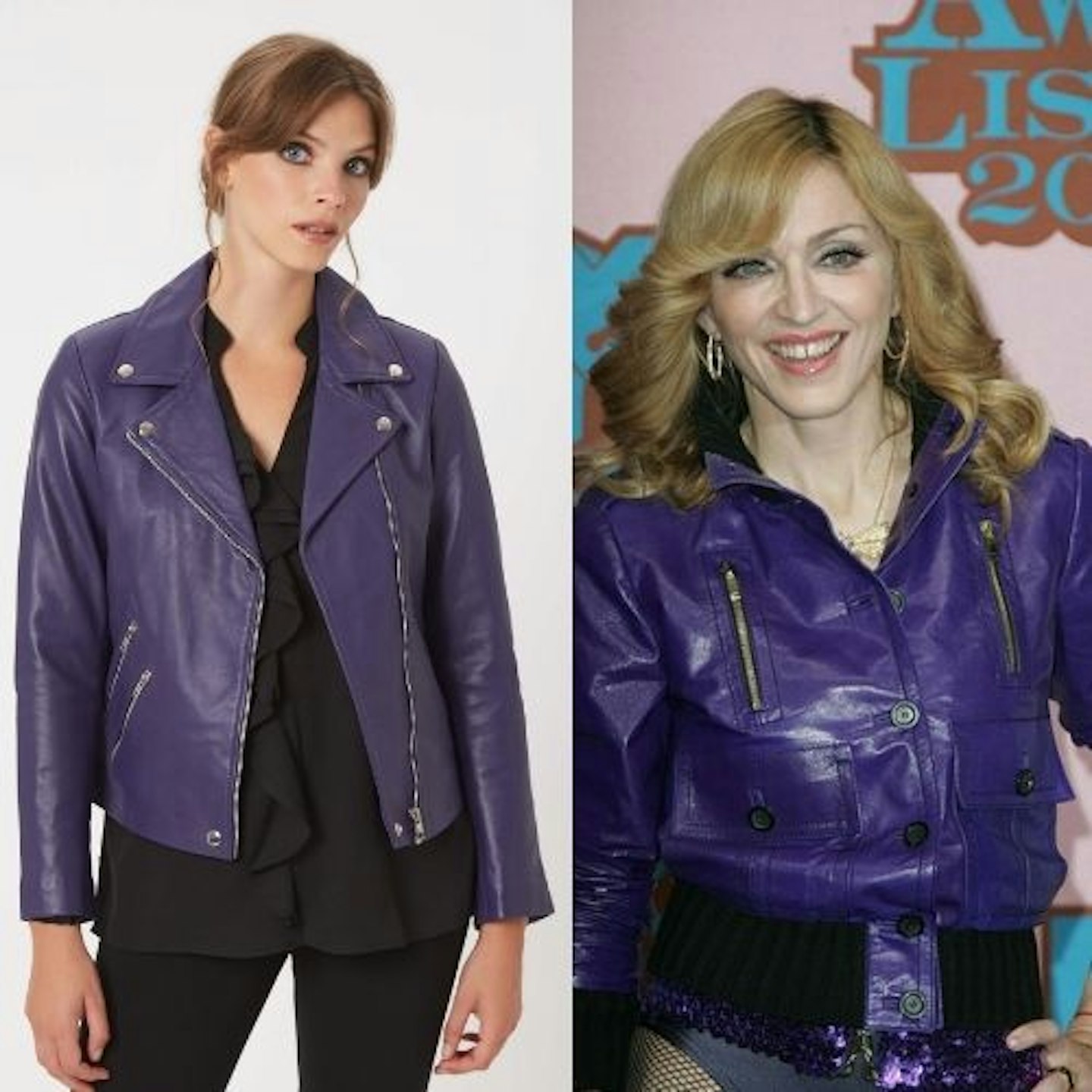 Wolf and Badger / Getty
Description
At the MTV European Music Awards in 2005, Madonna was snapped in a purple bodysuit, matching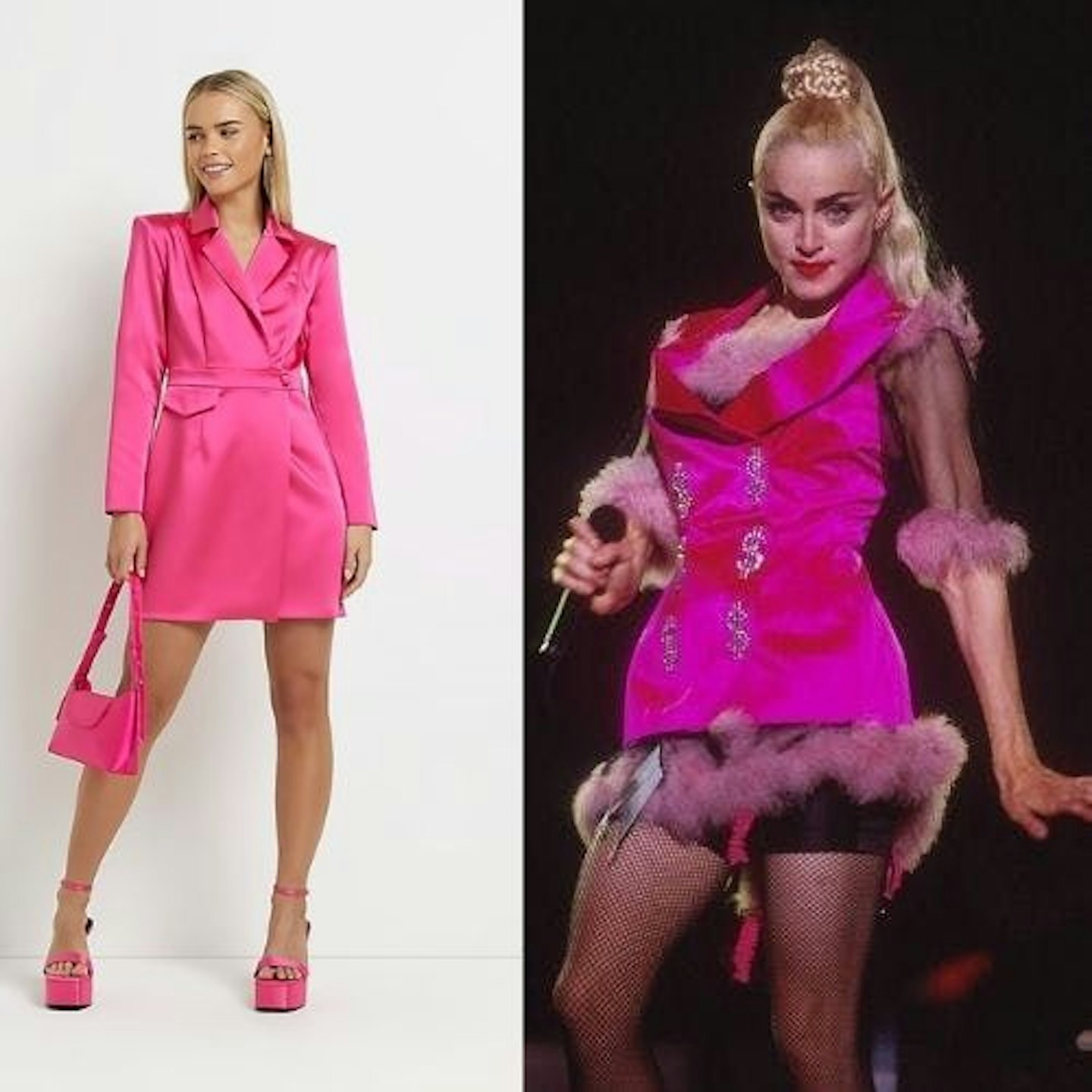 New Look / Getty
Description
Though the singer isn't known for a dress, this whimsical midi shirt dress speaks true to the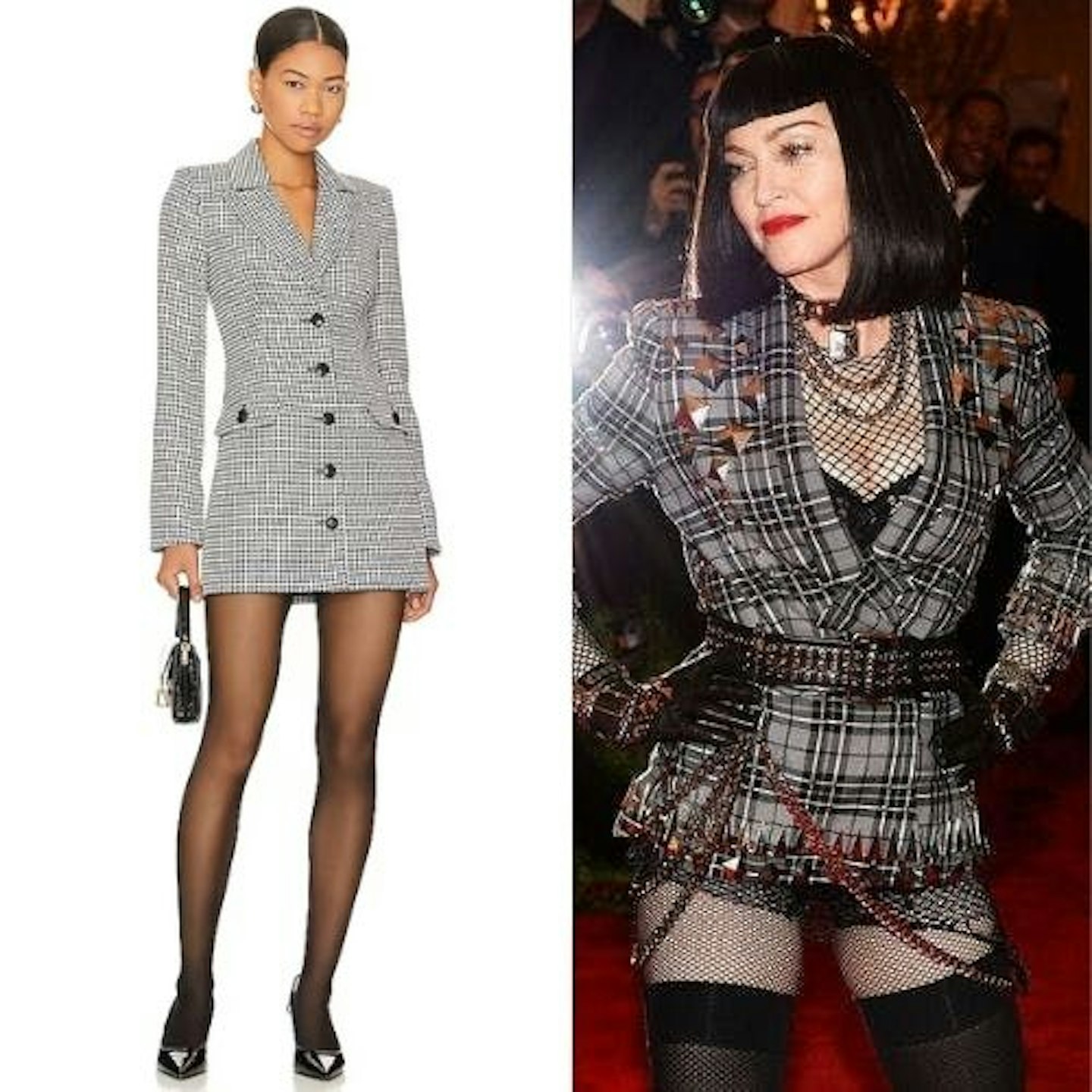 M&S / Getty
Description
Next, we have this couture Givenchy look - snapped at the Costume Institute Gala for the Punk:
When does the Madonna tour start?
Madonna's sell-out Celebration Tour began at the O2 this weekend. She's hopping over to Europe and then back to London for two more shows on December 5th and 6th at the O2 Arena.
Which era are you most excited to see?
Piper Huxley is a Homes, Gardens and Wellness Product Writer, specialising in homeware. When she's not obsessing over the latest home decor trends, she's doomscrolling somewhere.