The last thing you'd expect to hear on the red carpet of Cannes Film Festival is the clomping sound of flip-flops. Fashion's idea of onomatopoeia has no place at a black-tie event - so you'd think. But despite all dress code rules, Jennifer Lawrence took her toe-separators beyond her hotel suite's doorstep, donning them on the steps of Le Grand Théâtre Lumière, matched with a red Dior gown, putting a triumphant smirk on the faces of us fellow smart-casual dressers.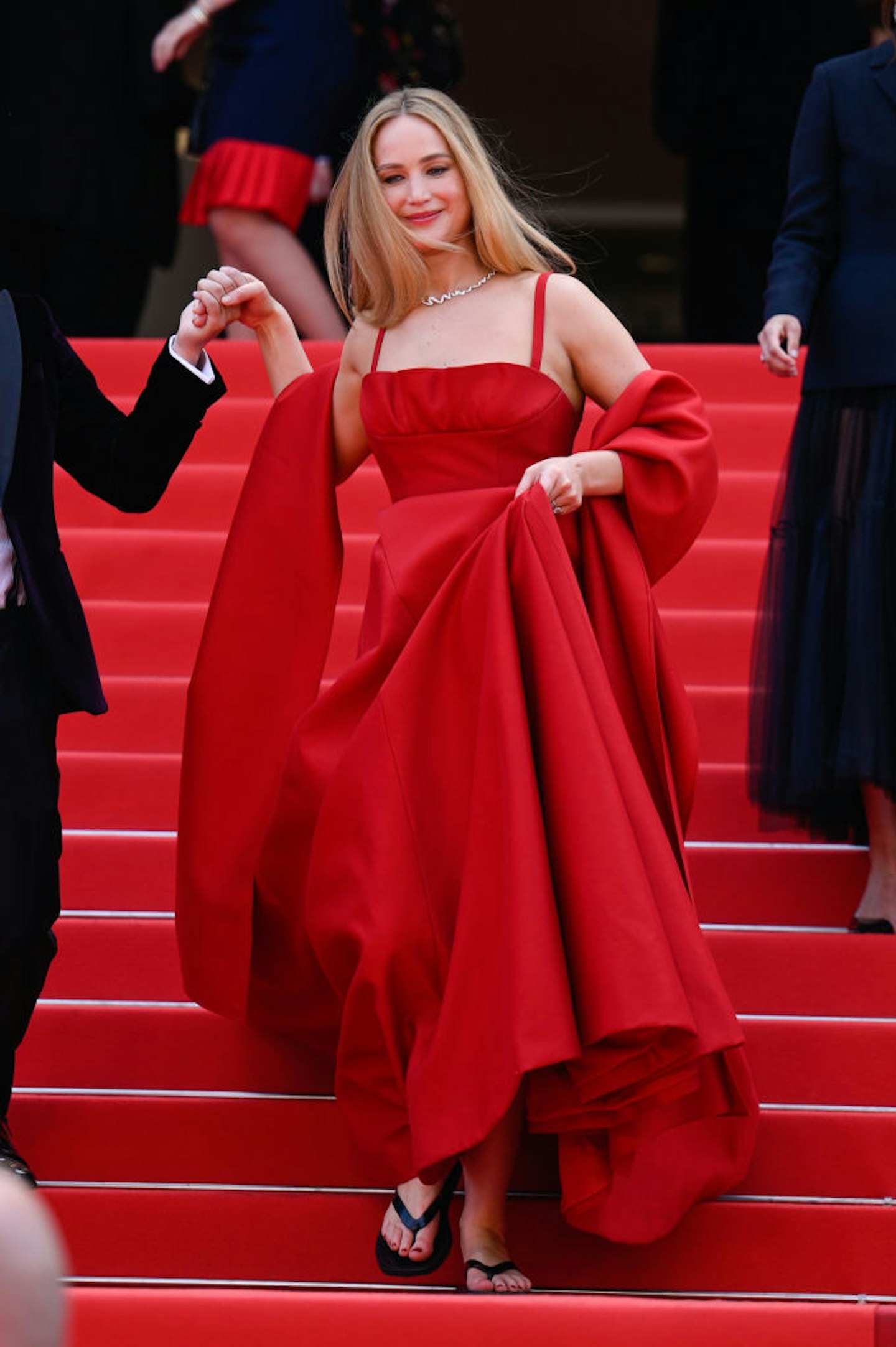 Of course there was an outcry about her soles of choice. Why go for the nail salon shoe? Well, we have no definite answer for now. Maybe she wanted to avoid tripping in high heels…again (remember the Oscars 2013?) so she opted for a style which would guarantee more stability. Her pedicure hadn't dried yet, perhaps. Or, and that is a big or, she thought that you wouldn't see her shoes anyways, given the voluminous hemline of her gown. All (semi-)valid reasons to break with the dress code.
Astute fashion observers might argue that if she was going for flats – JLaw is an avid flat shoe-fluencer – she could have gone for something slightly more polished, such as satin ballet flats. A fair point, too. But instead of getting caught up on 'what if' scenarios, we should examine flip-flops once again, as we might be judging the clompers prematurely. Thong sandals have held fashion in a chokehold, at least since last summer. Platform sandals in particular, with The Row's Ginza separators leading the charge. Cool girls also took to Axel Arigiato's chunky Delta sandals as well as Coperni's towering fashion flatform to make a stealth nod to the Noughties. And if Kendall Jenner on her coffee run wasn't enough to qualify as a rite of passage, Jennifer Lawrence on the red carpet most definitely catapults flip-flops to the fashion Olympus.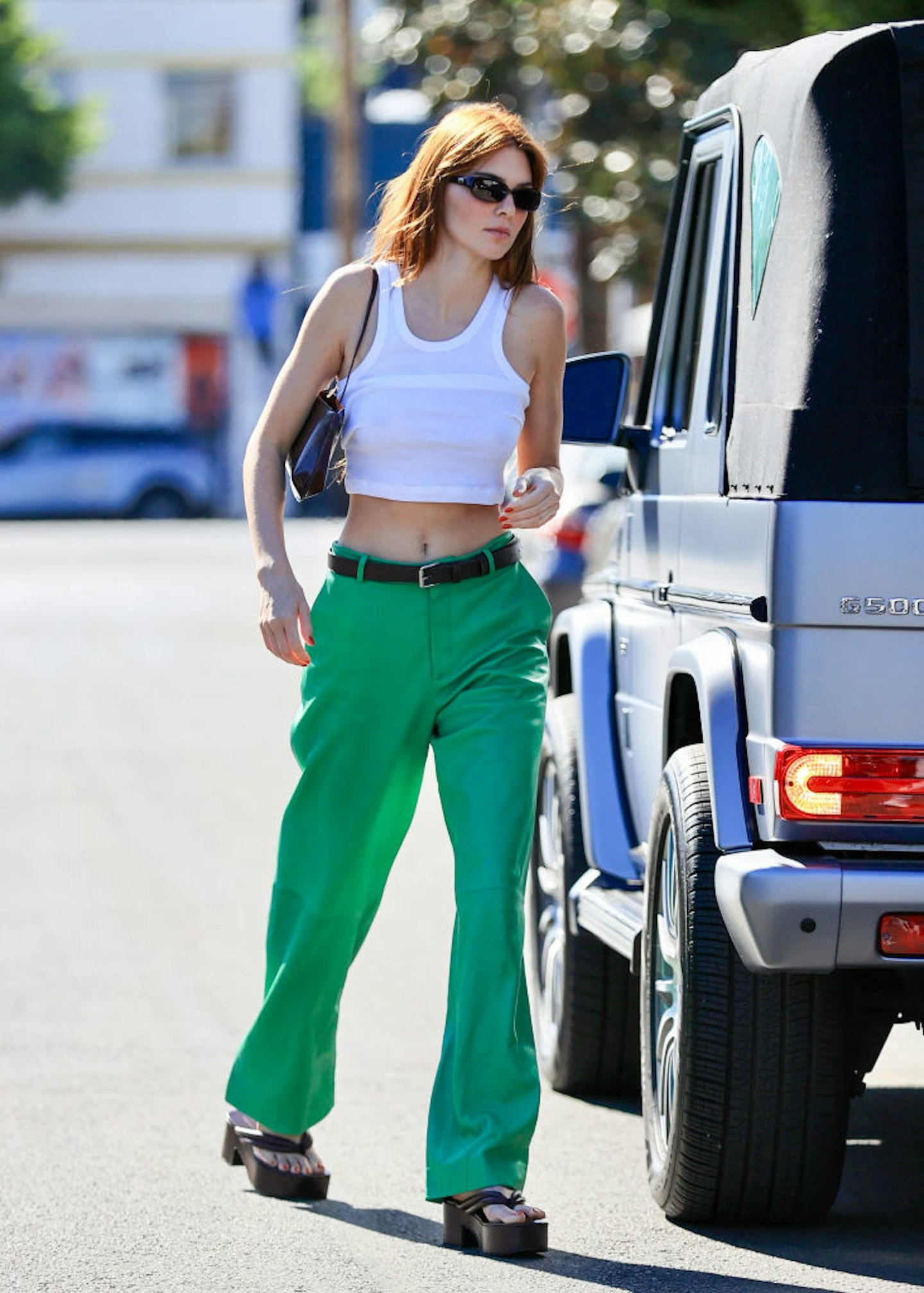 And only God knows why, but the red carpet flip-flops don't seem like a fashion faux-pas but a style choice instead. And even more worryingly so, a style choice we can get behind. It's peak high-low dressing. It's like wearing track pants with a blazer or cashmere joggers to the after-party of the Met Gala. Somehow, it all goes.
The organisers behind the film festival might feel differently, but this isn't the first time an A-lister laughed in the face of the event's uptight dressing rules. In 2016, following an official statement that women would have to wear high heels to the red carpet, Julia Roberts decided to go barefoot as an act of rebellion. In 2018, Kristen Stewart did not only take her high heels off in front of the cameras, following Roberts' footsteps, protesting the outdated dress codes for women attending the event but also showed up in penny loafers. Was Lawrence partaking in fashion activism? We wouldn't put it past her.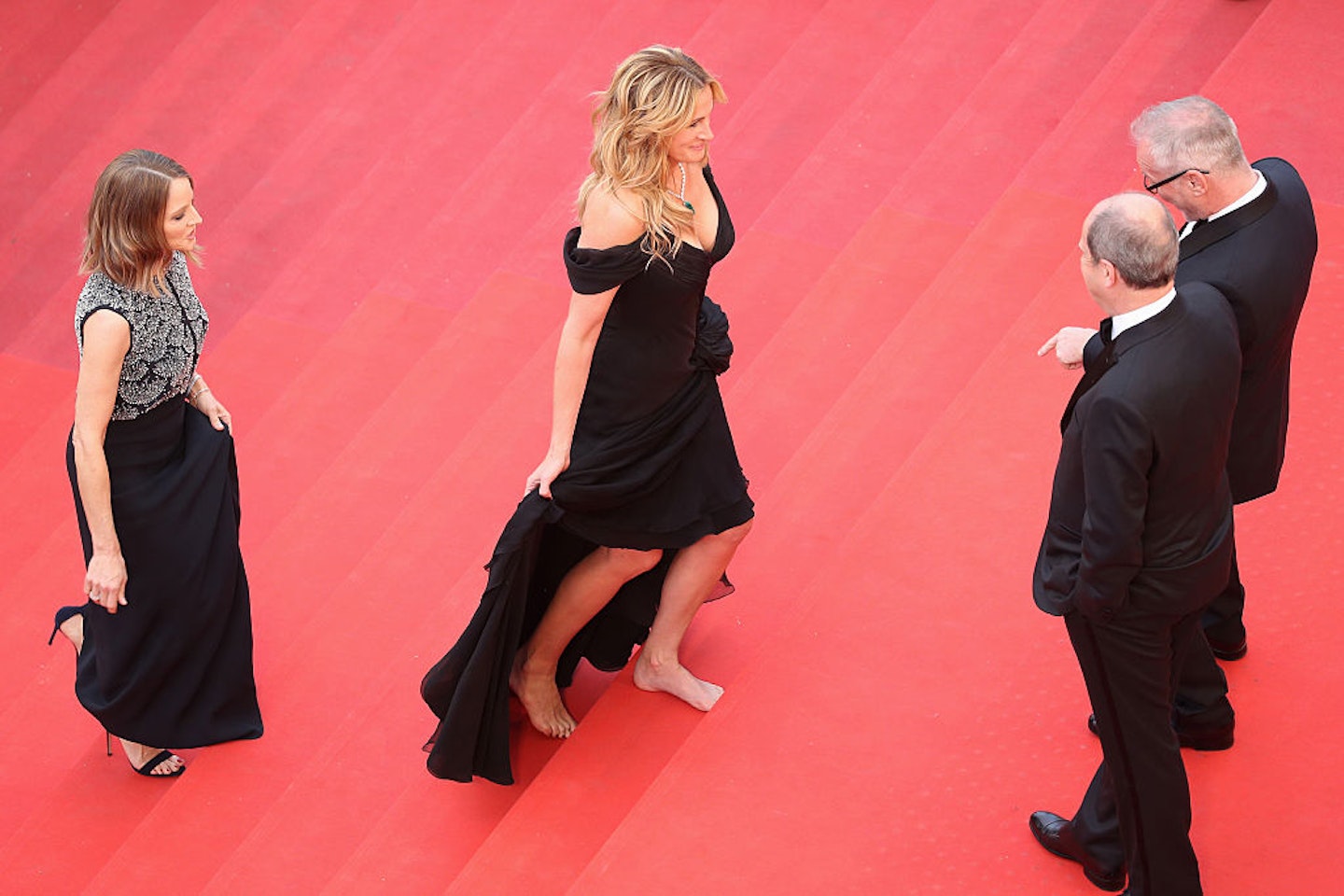 Either way, we have taken a liking to haute flip-flop. Time to officially make it a thing – red carpet or no red carpet. But let's do it like Lawrence: if the shoes are the low, everything else must be a high. If it's not a ball-gown, at least make it a pair of tailored trews.