Zoe Kravitz is a busy woman: the Batman and Big Little Lies star is working on her directorial debut, Pussy Island, a post-#MeToo thriller which follows a young waitress who sets her sights on a tech mogul (played by Channing Tatum) and winds up attending an intimate gathering on a private island. Needless to say, there's more to the island than meets the eye.
'Making this shift from acting to directing and writing is scary, and also really exciting. I usually think that, when you're outside your comfort zone, it means you're doing something right,' she explained at a special event in London hosted by OMEGA to celebrate the new Aqua Terra Shades collection.
Time magazine named Zoe one of the most influential people of 2022, but it's an accolade she wears lightly. 'I feel like that word [influence] is complicated right now. Influence or influencer? Is it because I'm saying something interesting? Or is it because 8.2 million people follow me on Instagram? I don't really know. But I try to be an honest human being and a representation of just another person that's trying to figure it all out. That's the best I can do. Just be an example of another person that's out there trying to win.'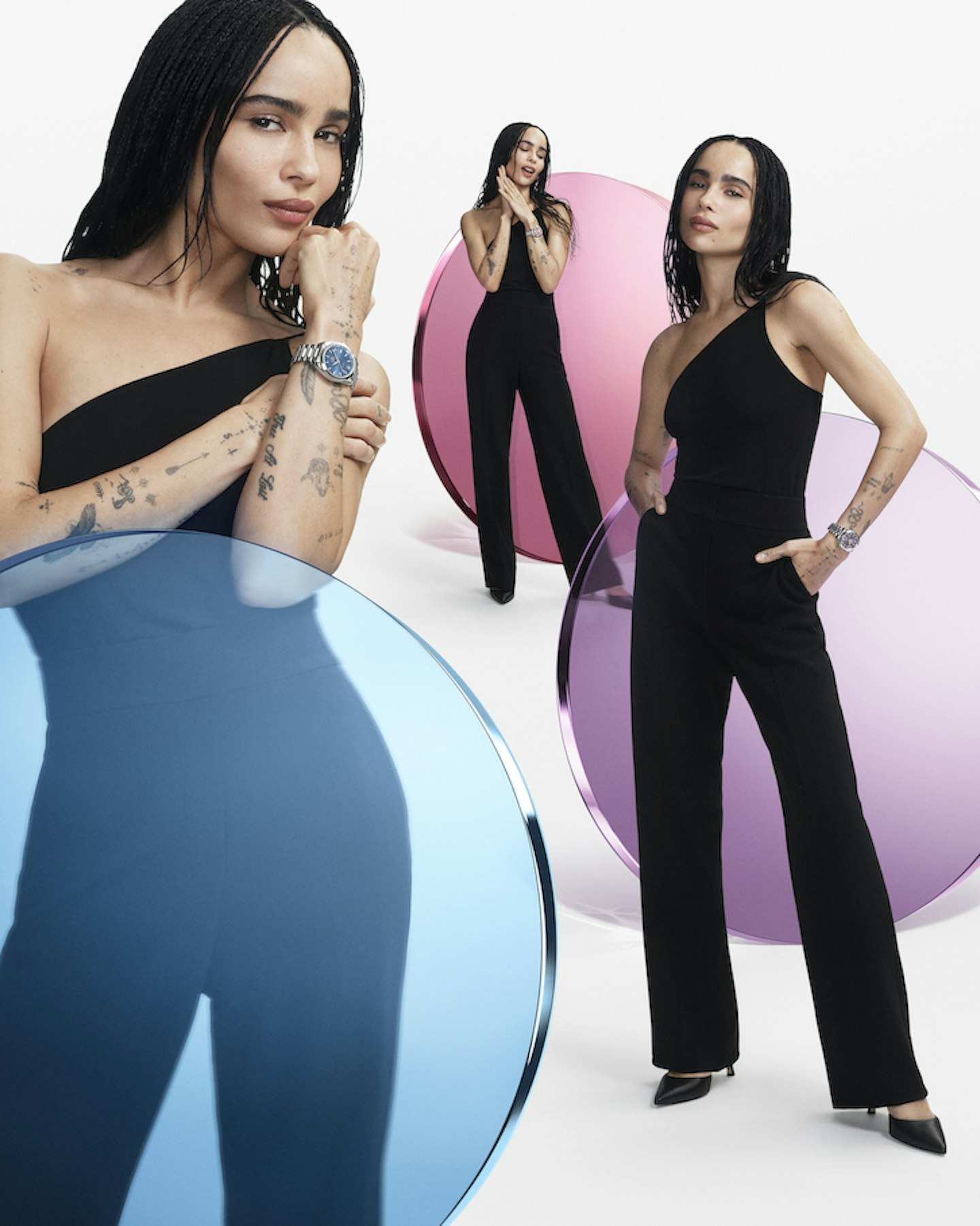 The daughter of singer Lenny Kravitz and actor Lisa Bonet, creativity - and style - is in Zoe's blood: 'I love fashion. I think it's a form of self-expression. I think it's a beautiful art form. And I think it should be playful. It should not be taken too seriously. Not that the work that goes into fashion isn't serious, but that it's something people should have fun with.'
While she may be an ambassador for OMEGA, she admits, 'I'm horrible with time. I set my clocks in my house 10 minutes early.' Of course, a beautiful watch certainly helps with timekeeping on the go. 'I think a watch is a statement now. It's not a necessity the way it used to be, but anything that stops us from looking at our phones, even for one moment, is a good thing. And they're also so beautiful. They're beautiful pieces of jewellery. The craftsmanship is really impressive and beautiful.'
Time - or the lack of it - is something that Zoe, like many women, grapples with. 'Women often feel like we have to do it all. I think that we feel selfish sometimes for taking time for ourselves. Whether you have a full time job, or you're a mother, or you're doing both, I feel like we've just been trained to feel badly about putting our feet up, and being indulgent.
'I always try to remind my girlfriends and myself, that it's absolutely OK to take that time, to ask for time, to demand that time. We have a fear of being difficult too. But I think we know what's best for ourselves. It's important that we honour that.'
Dis_c_over OMEGA's Aqua Terra Shades collection at omegawatches.com