At last night's premiere of Black Panther: Wakanda Forever, the fashion was off the charts. Michaela Coel wore a custom-made gown from Salvatore Ferragamo, which was designed by Maximilian Davis. Letitia Wright, meanwhile, wore a sharp-shouldered tuxedo (complete with a crystal harness) by Alexander McQueen. Of course, Rihanna was also in attendance. The singer wrote the lead single for the latest instalment of Black Panther, in tribute to Chadwick Boseman, and arrived wearing the most spectacular gown by Rick Owens. Made of sculptural denim, which looked like it had been coated in a futuristic layer of sequins, it marked a brilliant return to the red carpet. Keep scrolling to see all our favourite looks from RiRi.
SEE: Rihanna's Best Outfits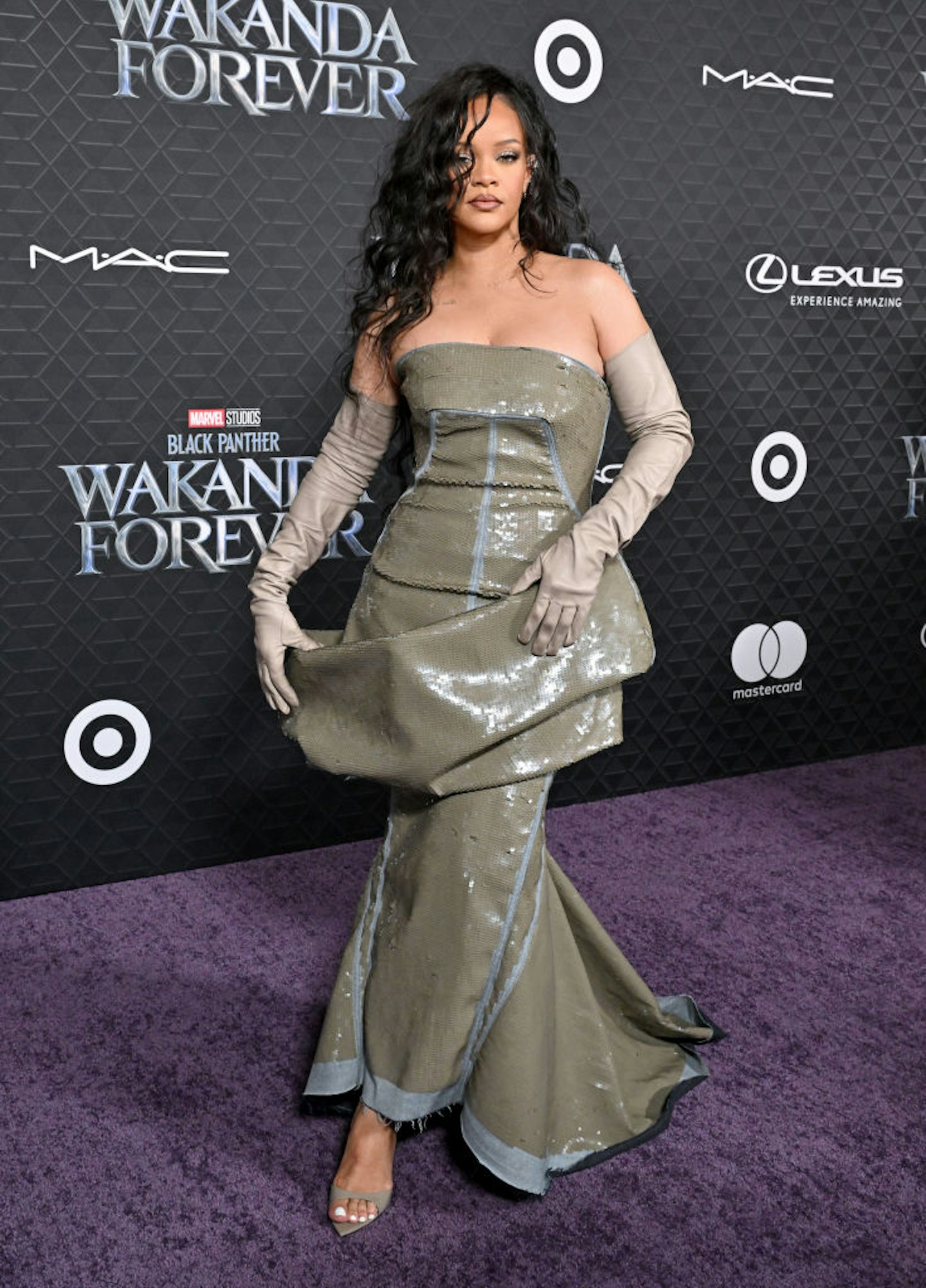 1 of 23
October 2022
At the premiere of Black Panther: Wakanda Forever, Rihanna wore this futuristic gown by Rick Owens. She's back.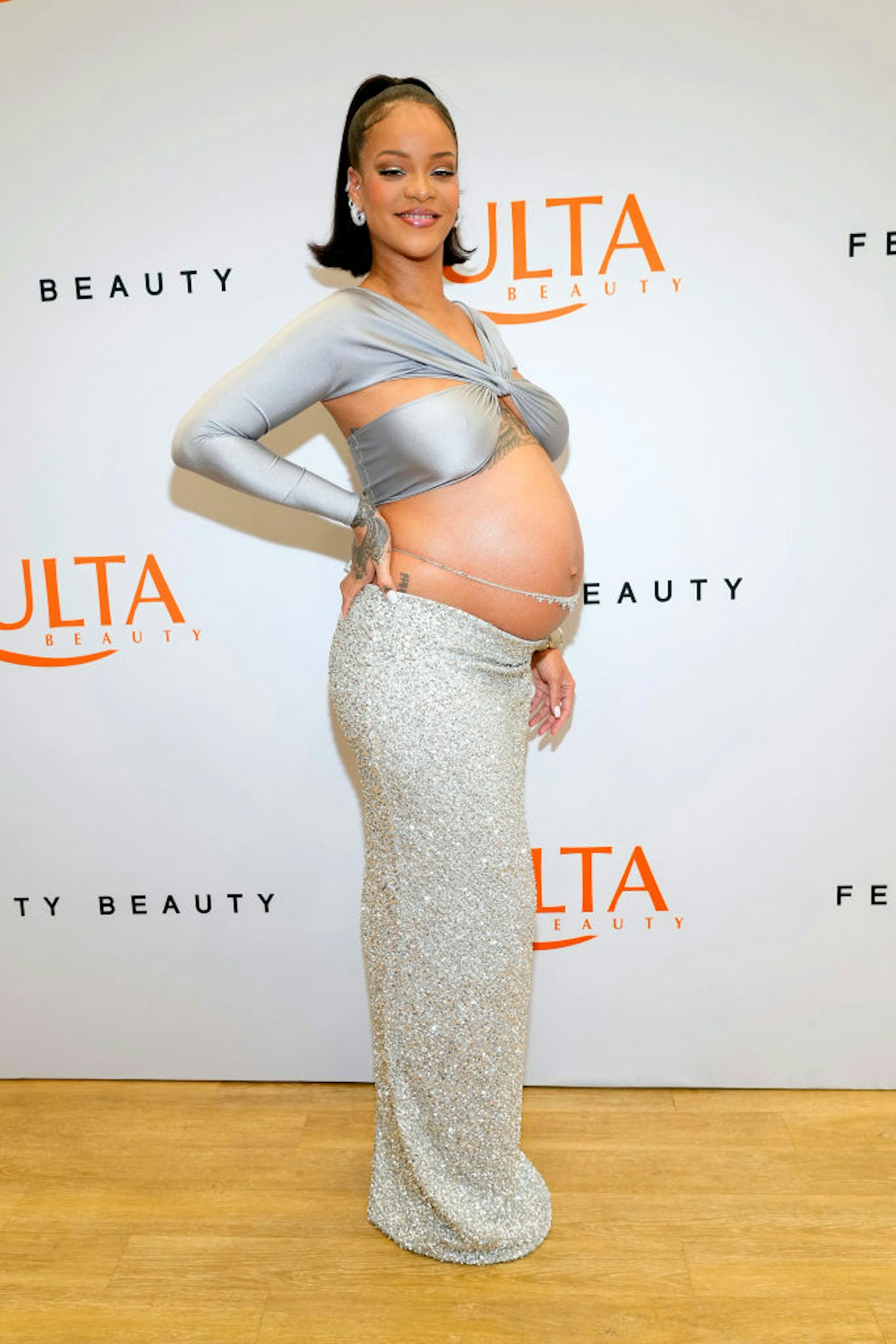 2 of 23
CREDIT: Getty
March 2022
Rihanna's maternity wardrobe was a real game-changer for the genre. A case in point? This micro-maxi showstopper of two-piece by Coperni.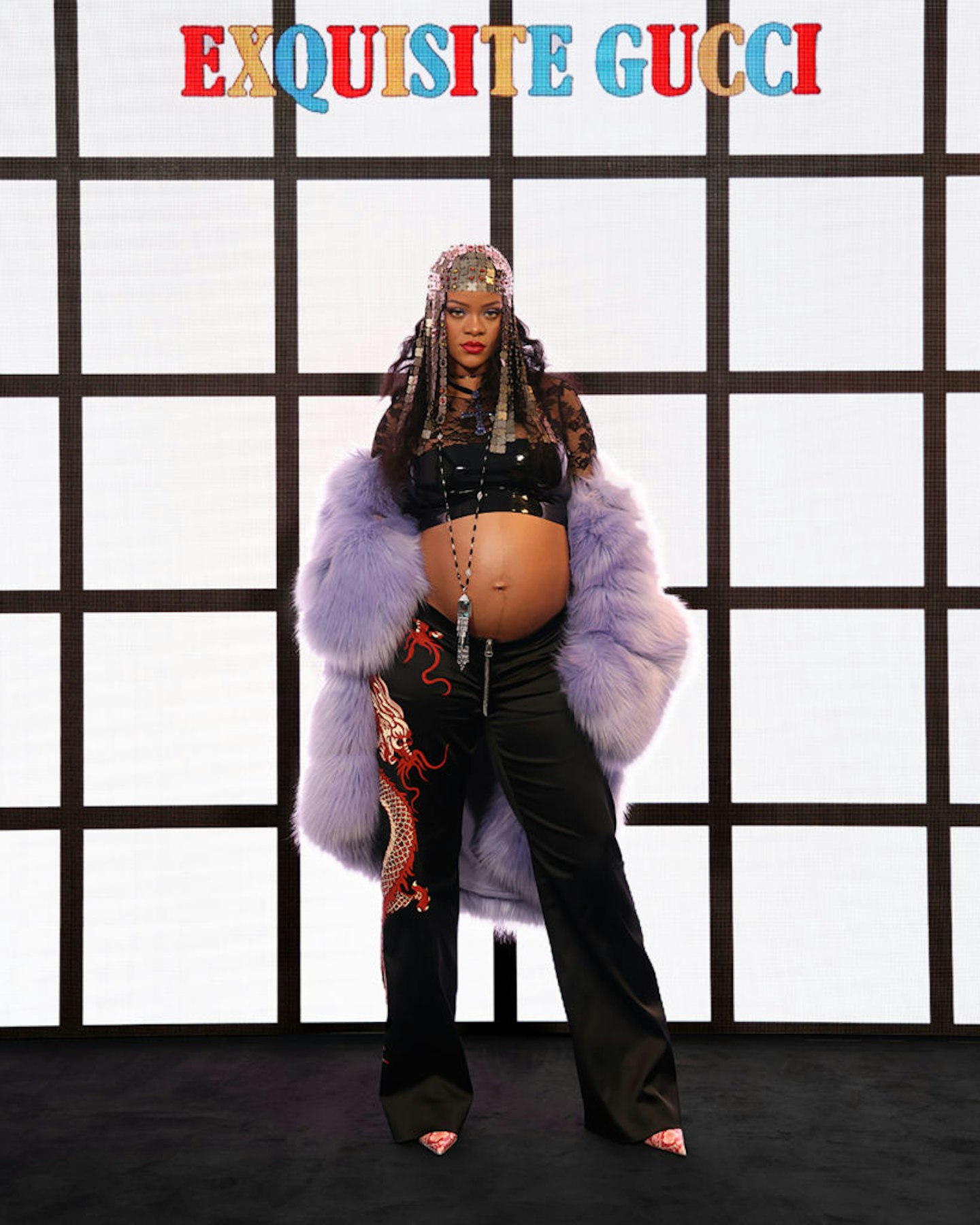 3 of 23
CREDIT: Getty
February 2022
Latex, faux-fur, satin: this look - head-to-toe Gucci - has got it all.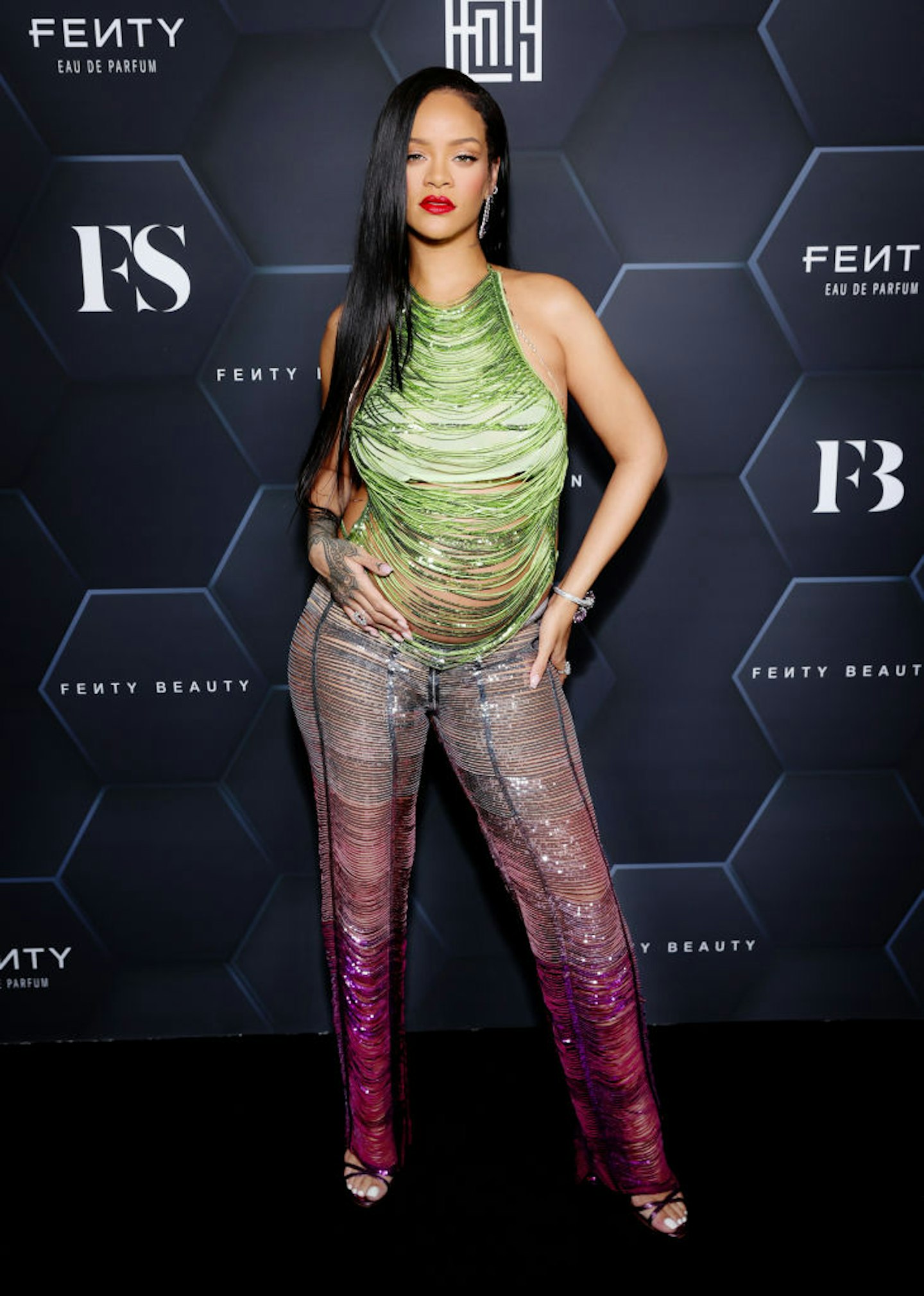 4 of 23
CREDIT: Getty
February 2022
The Attico's spangled halter-neck and sexy trousers put sparkle back on the 'cool' list in February.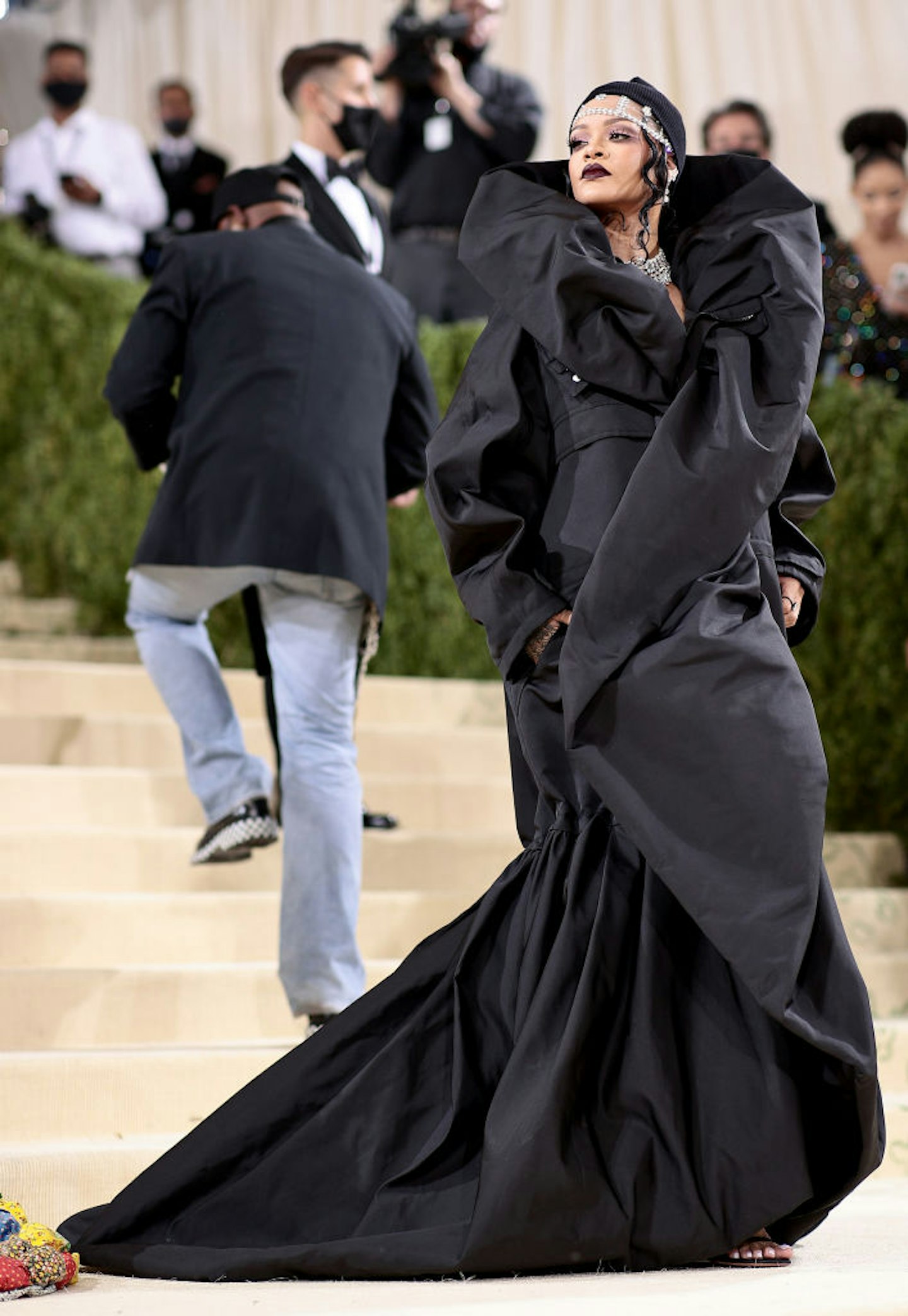 5 of 23
CREDIT: Getty
September 2021
The Met Gala belongs to RiRi. In 2021, she wore this dramatic coat dress by Balenciaga - complete with a beanie.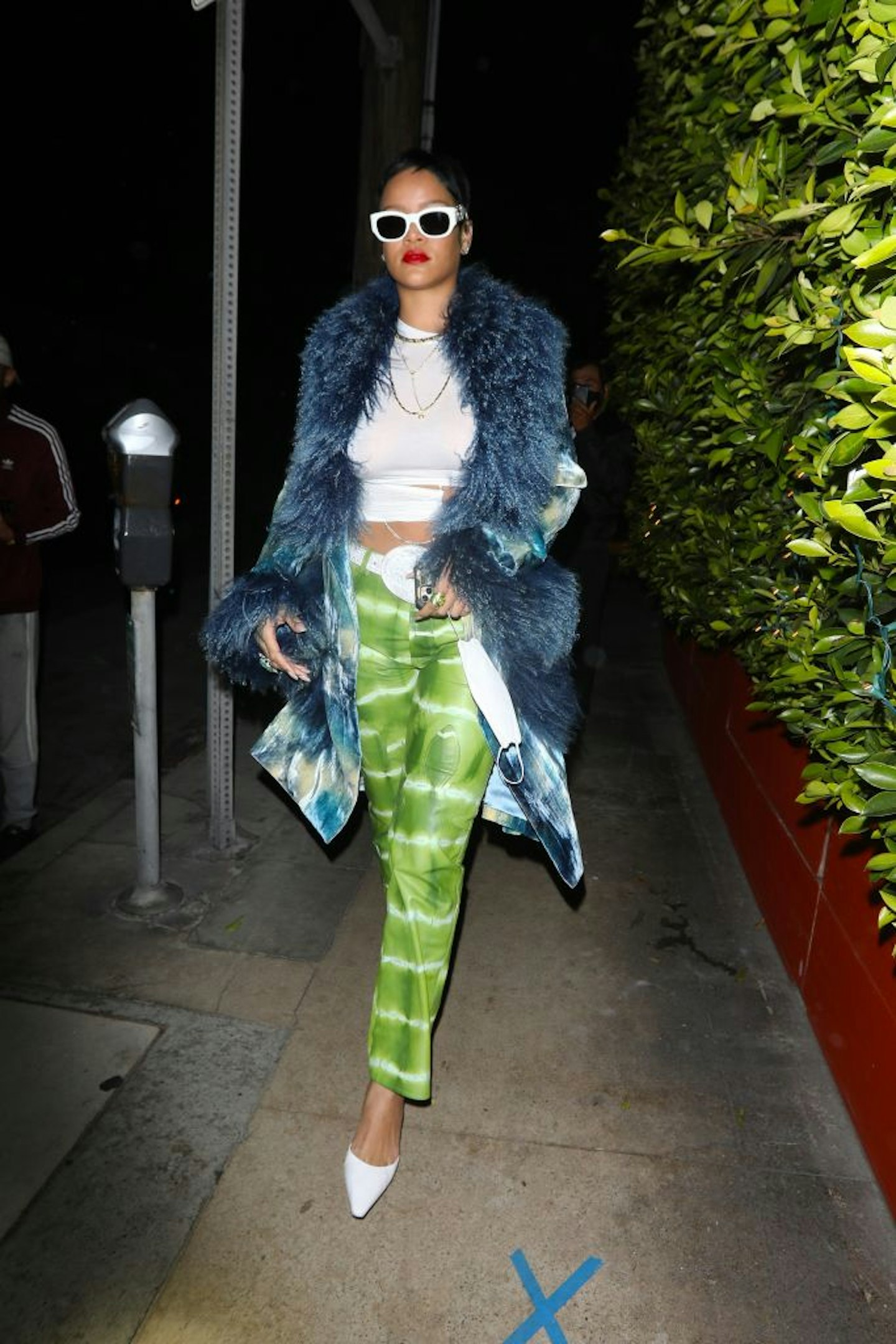 6 of 23
CREDIT: Getty
May 2021
She's also the queen of vintage. This coat is archive Dior.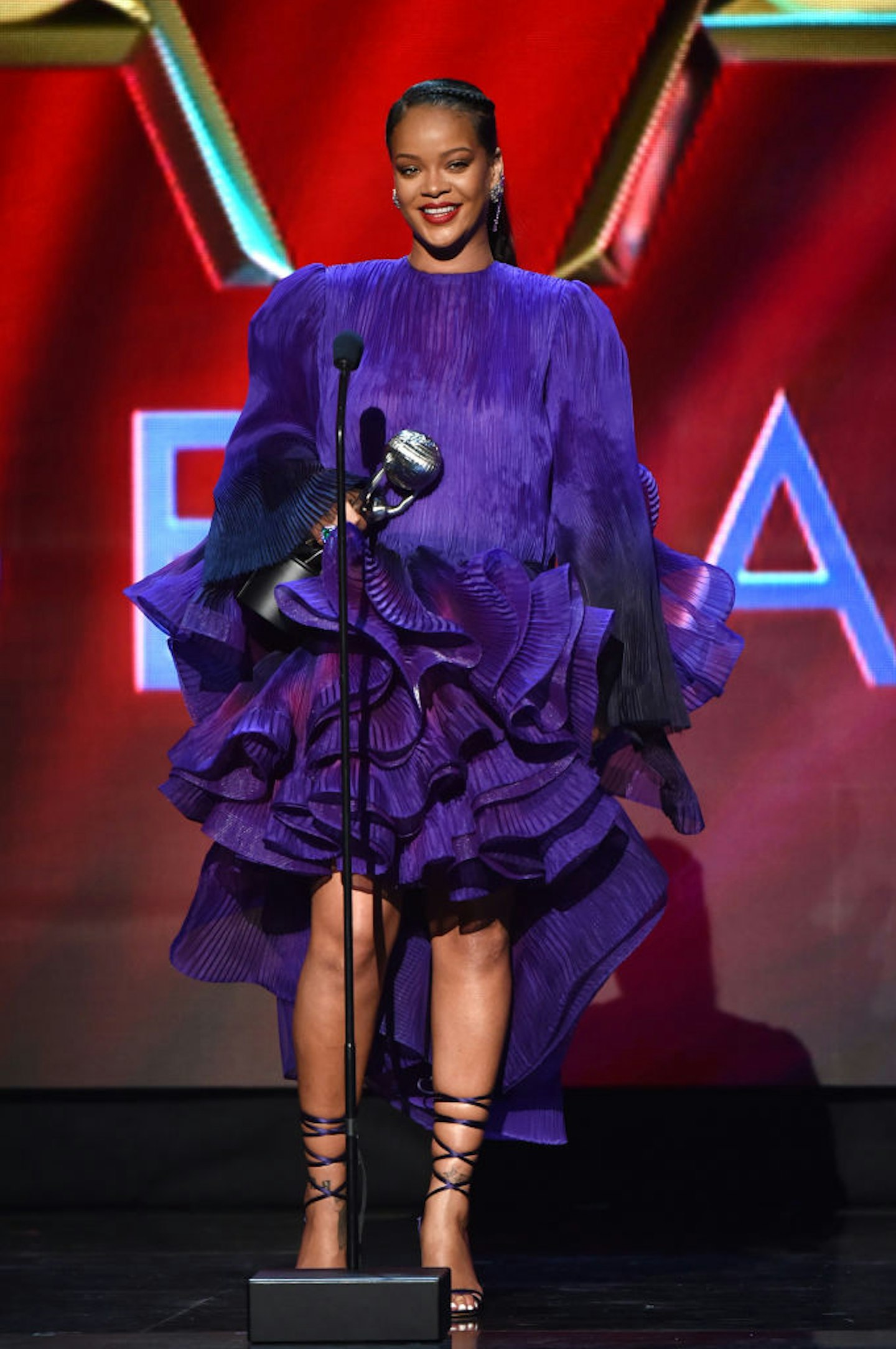 7 of 23
CREDIT: Getty
February 2020
A vision in power purple at 2020's NAACP Awards.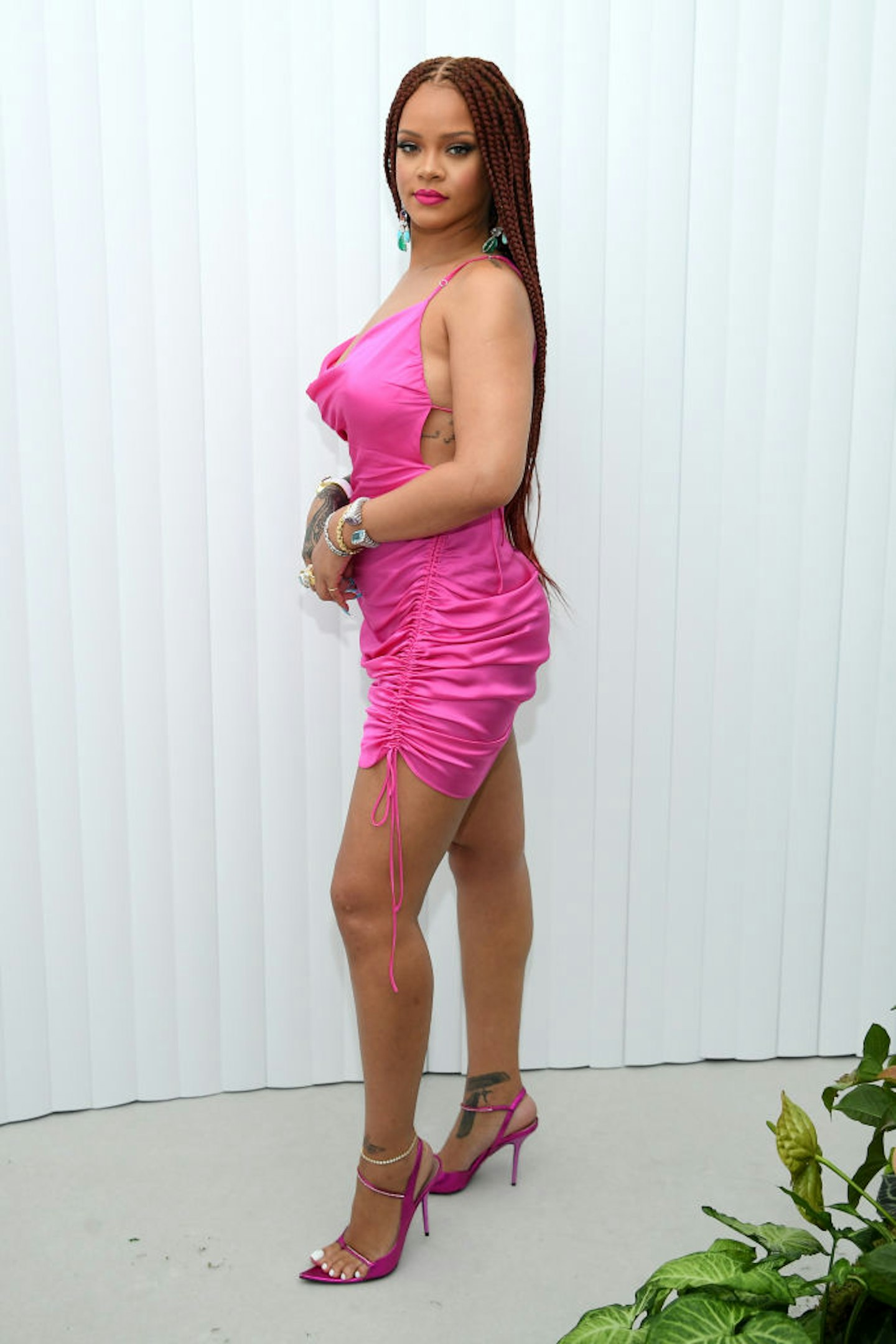 8 of 23
June 2019
Rihanna was way (way) ahead of the hot pink trend.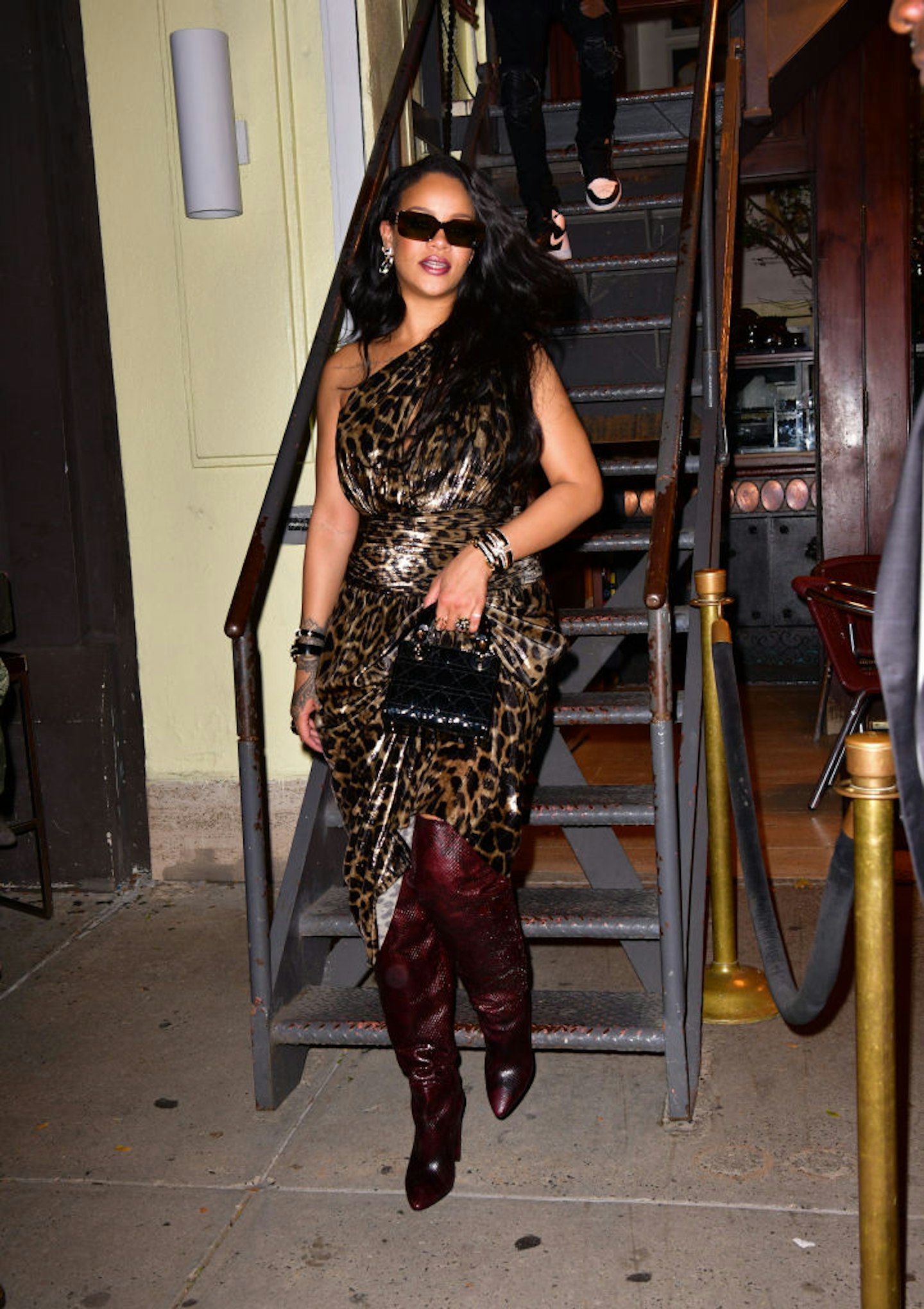 9 of 23
CREDIT: Getty
October 2019
This leopard-spotted dress is pure glamour, especially with the Lady Dior.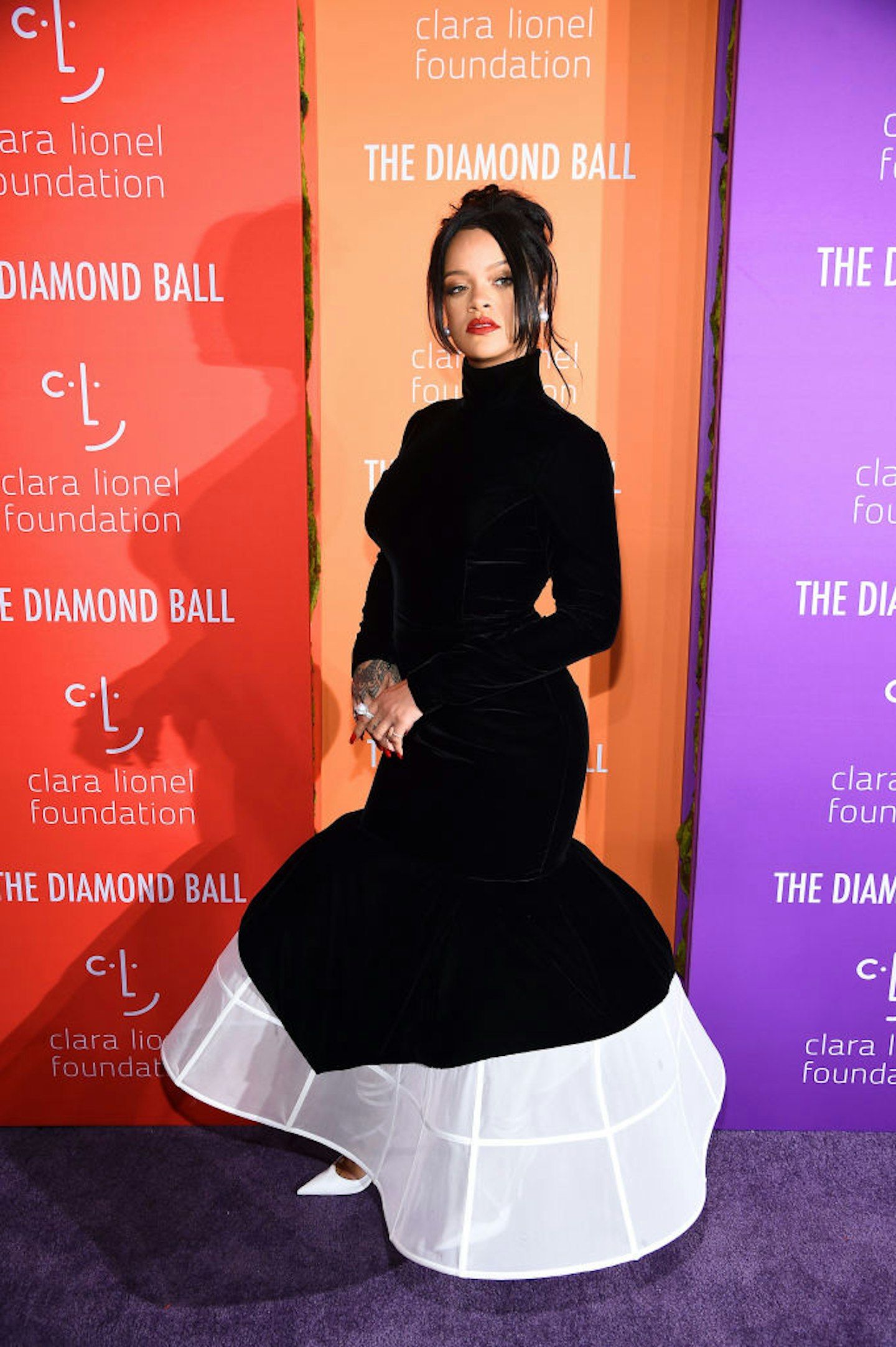 10 of 23
September 2019
One of my personal favourites from the archive. Rihanna in this hoop-skirted, high-necked gown from Givenchy.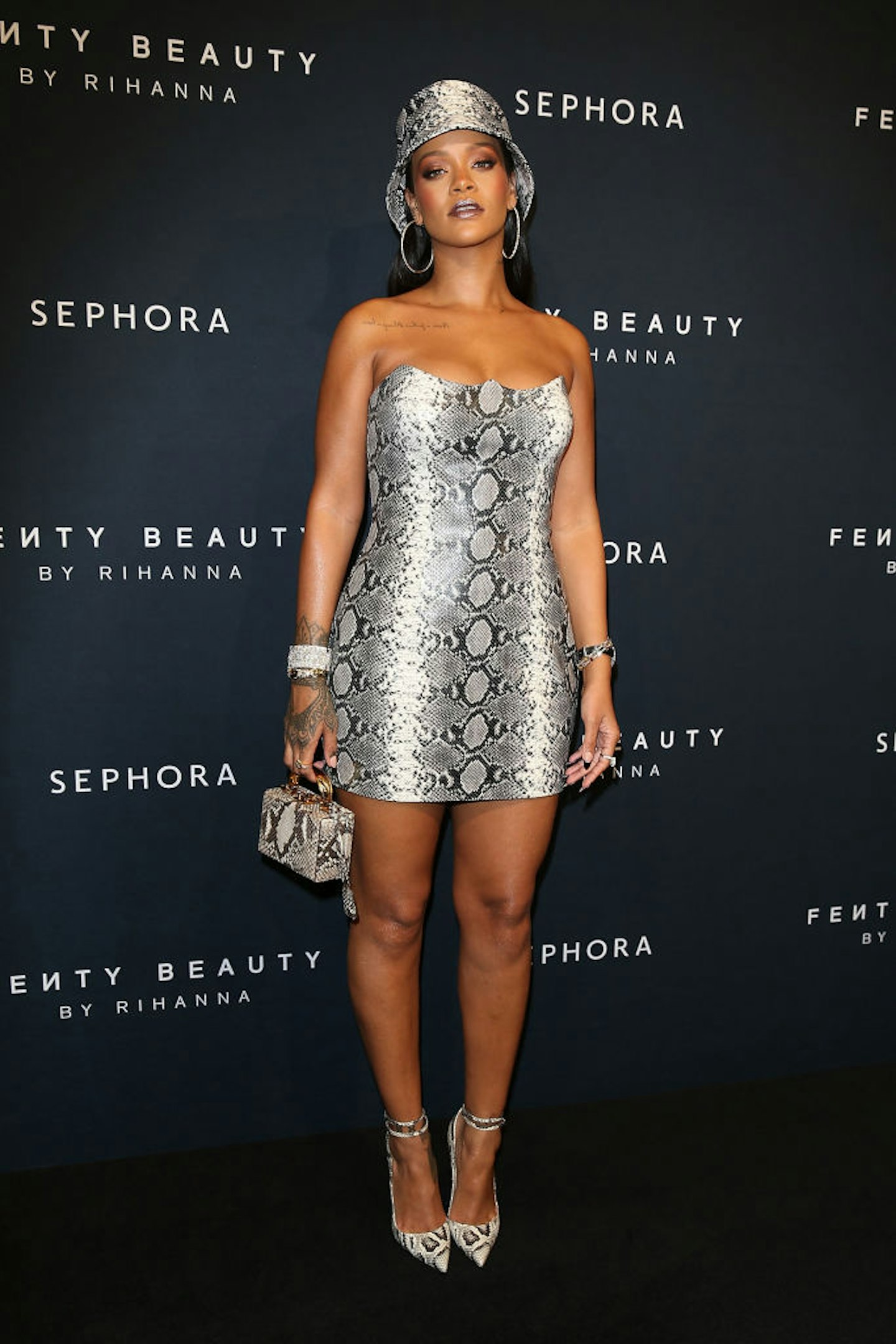 11 of 23
CREDIT: Getty
October 2018
Has top-to-toe snake-print ever looked so fabulous?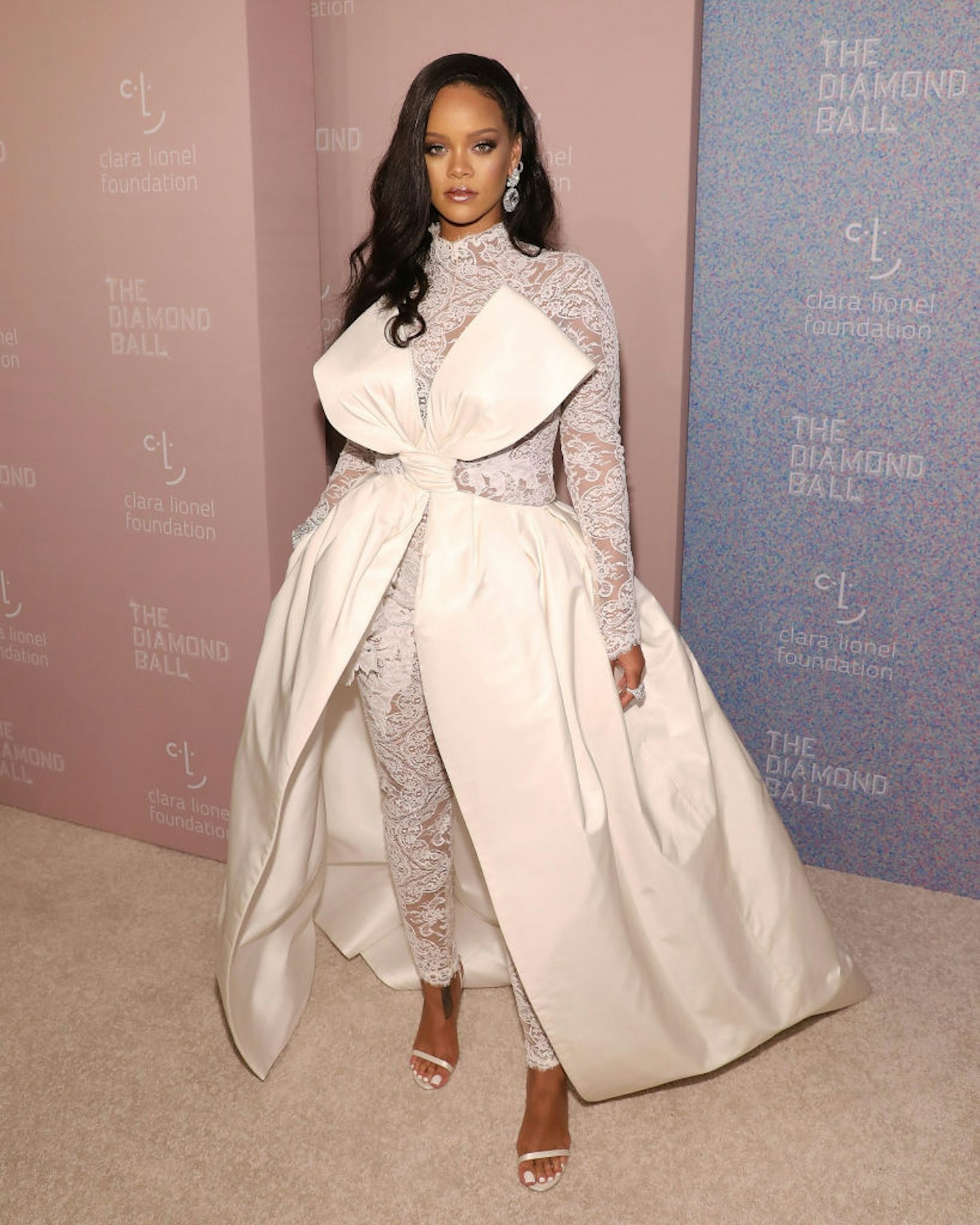 12 of 23
CREDIT: Getty
September 2018
Is it a (wedding) dress? Is it a jumpsuit? Trick question: it's both!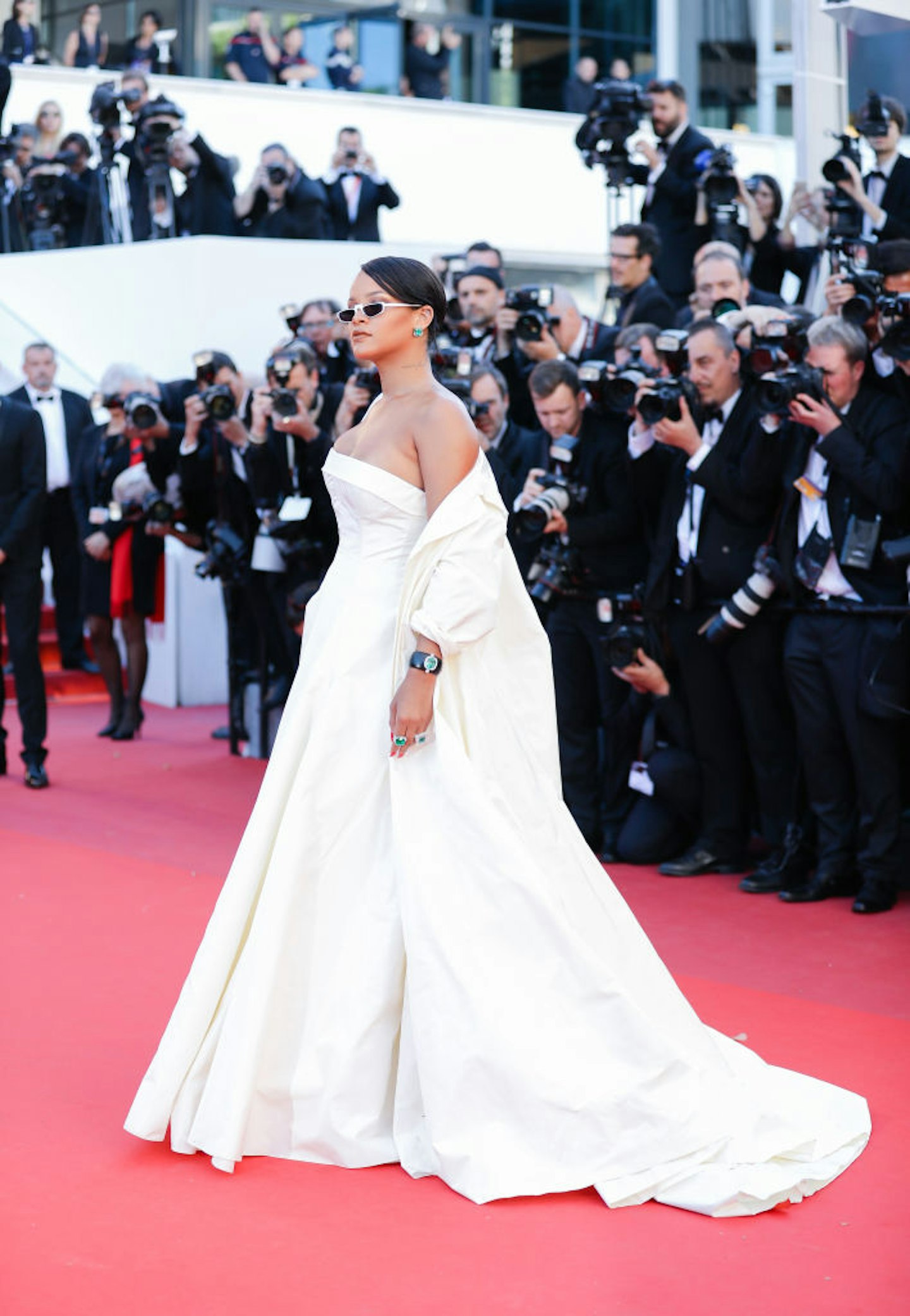 13 of 23
May 2017
This was 'a moment' at 2017's Cannes Film Festival. The definition of Big Dress Energy.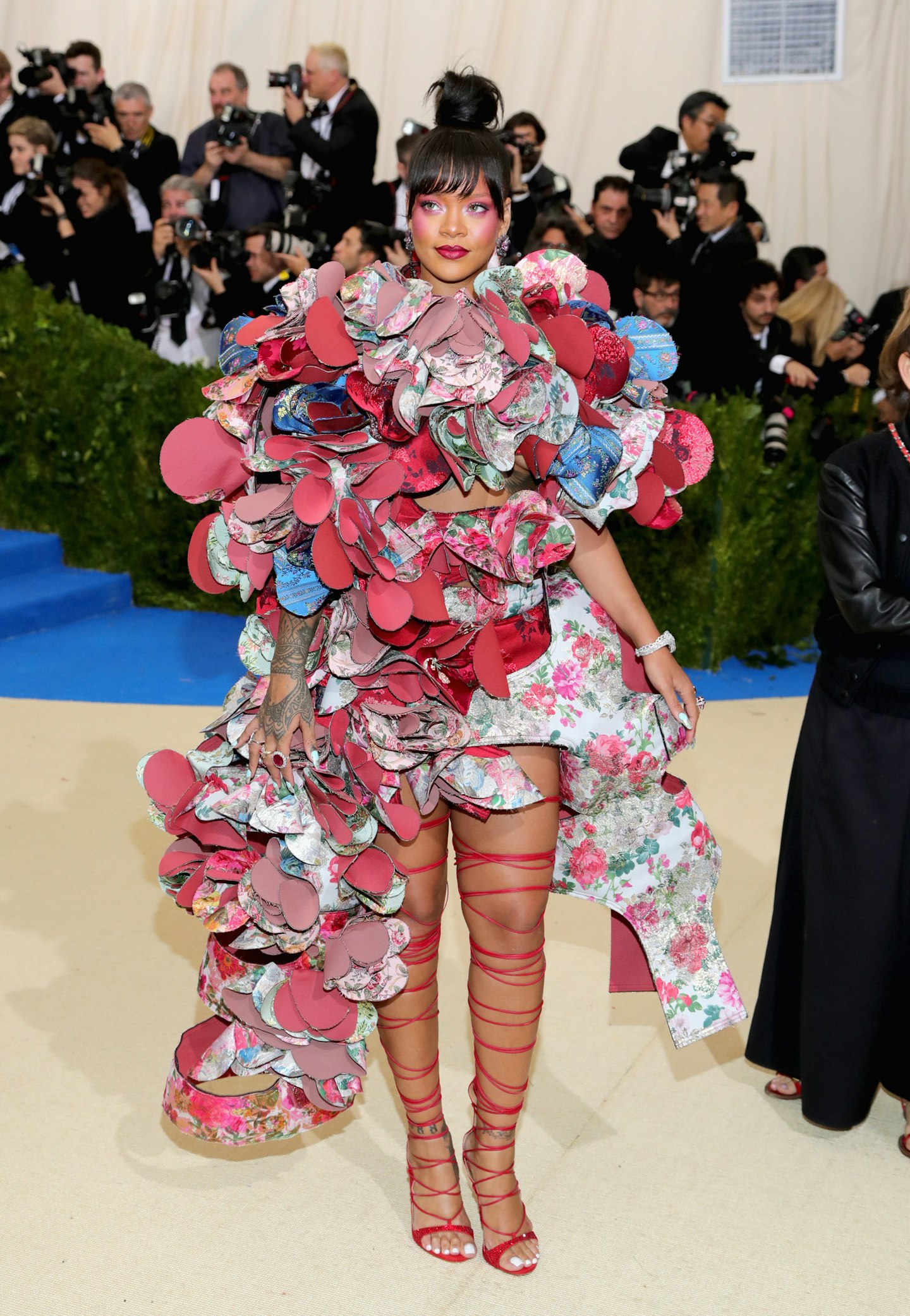 14 of 23
May 2017
This Comme des Garçons masterpiece was a wearable piece of art at 2017's Met Gala.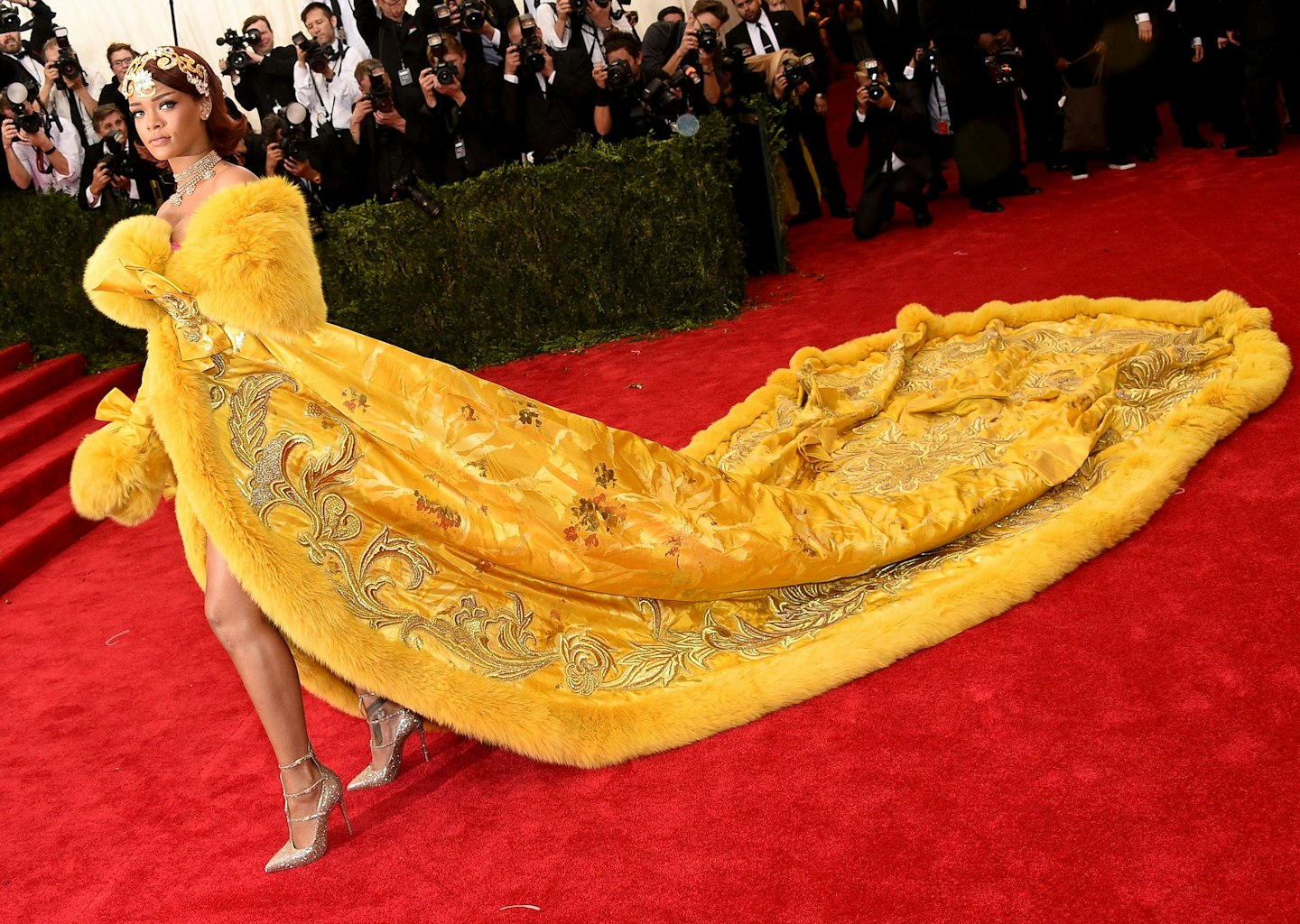 15 of 23
May 2015
Rihanna's so-called 'omelette' dress was actually a fabulous cape designed by Guo Pei. It might have launched a thousand memes, but it's still one of the most memorable red carpet moments of all time.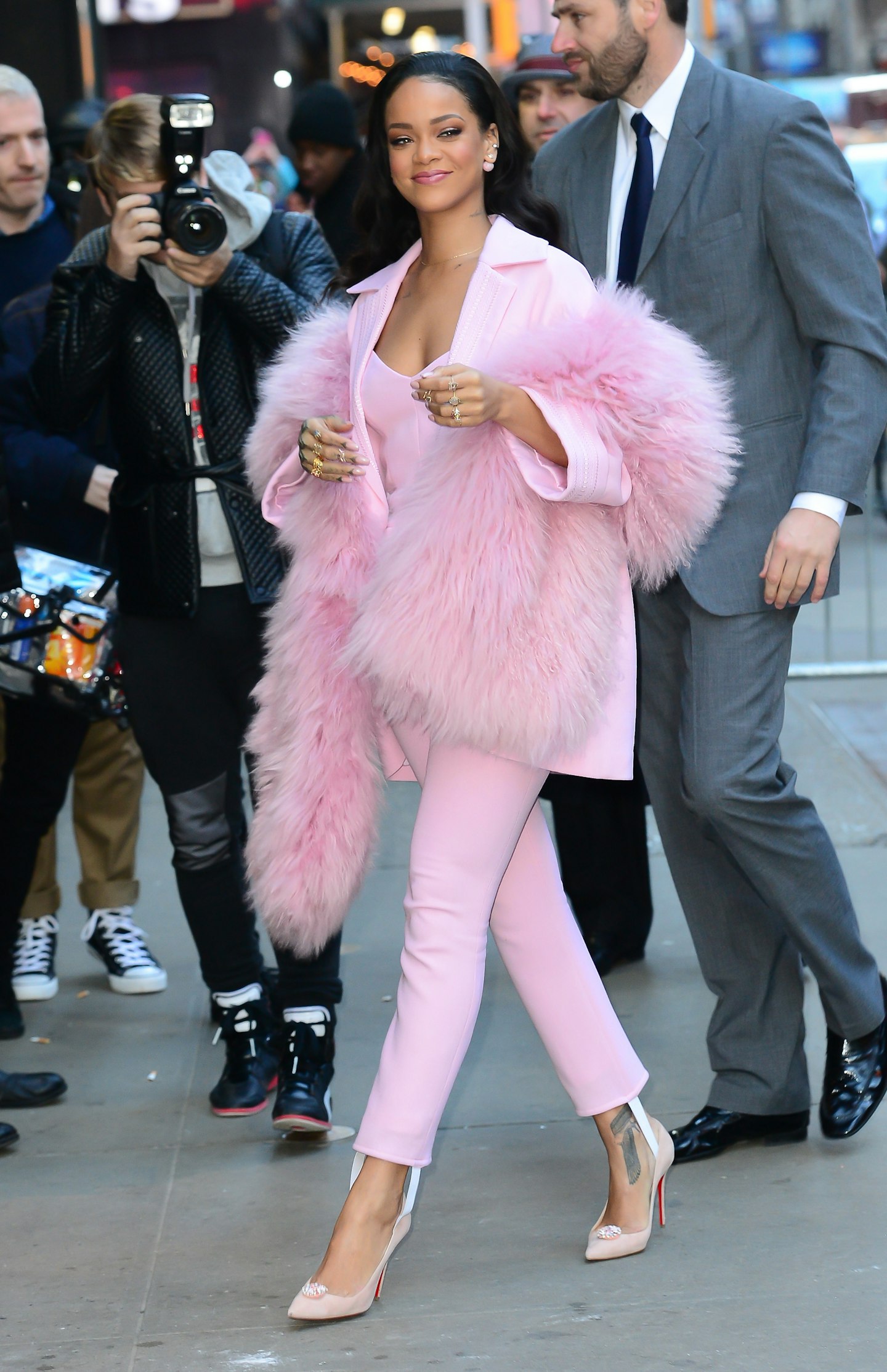 16 of 23
March 2015
For an appearance on Good Morning America, RiRi showed her sugary side in suiting by Pascal Millet.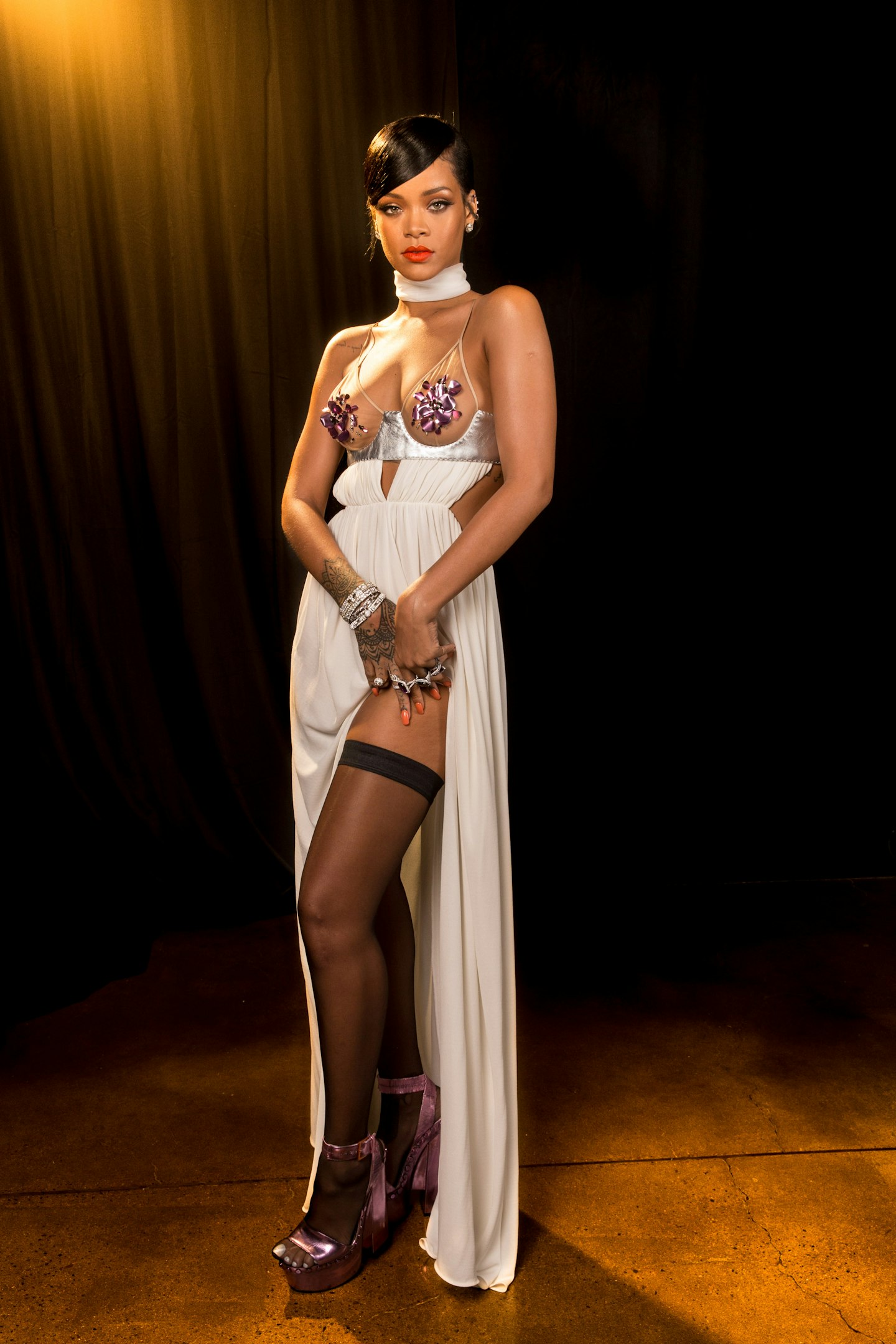 17 of 23
October 2014
Before Tom Ford's breastplate was his bejewelled nipple pasties. Rihanna rocked them.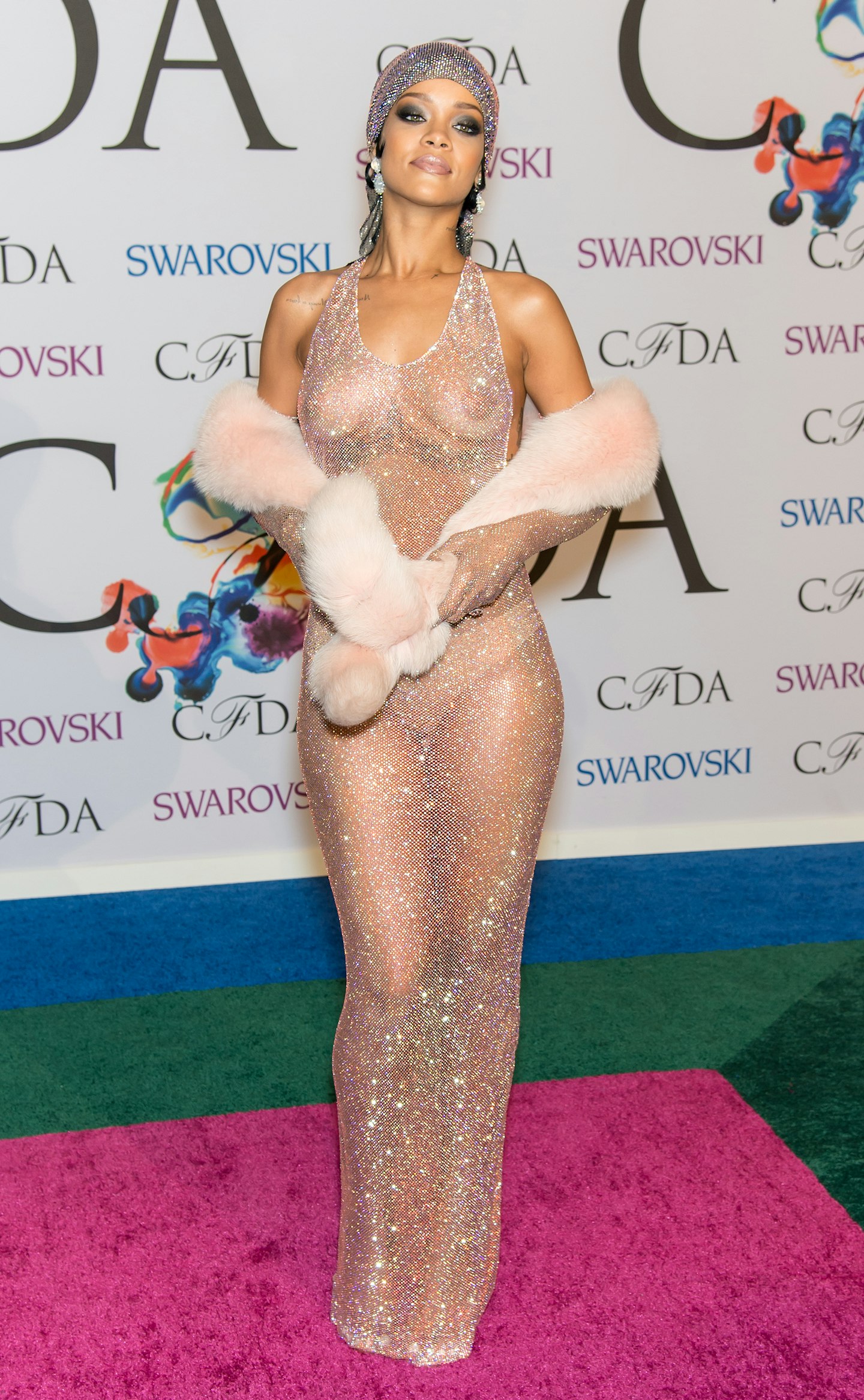 18 of 23
June 2014
One of the most iconic looks to date. When Laverne Cox asked what gave her the courage to wear the sheer dress to the CFDA Awards, which was designed by Adam Selman, she said: 'Dear Laverne, I took advantage of my t***ies before they go south. I saw my window, and I took it.' Hear hear.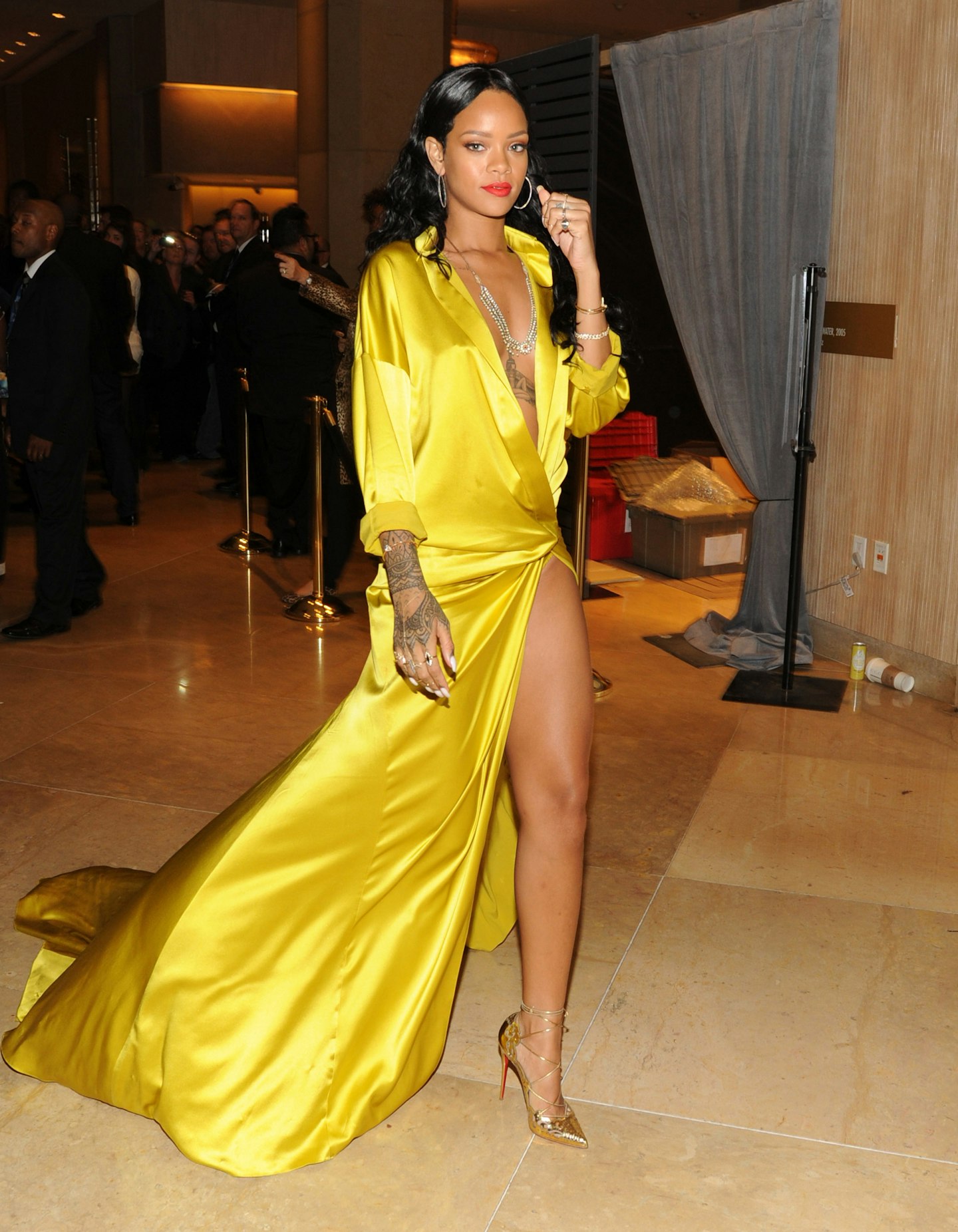 19 of 23
January 2014
This shirt dress with a (serious) difference is by Alexandre Vauthier.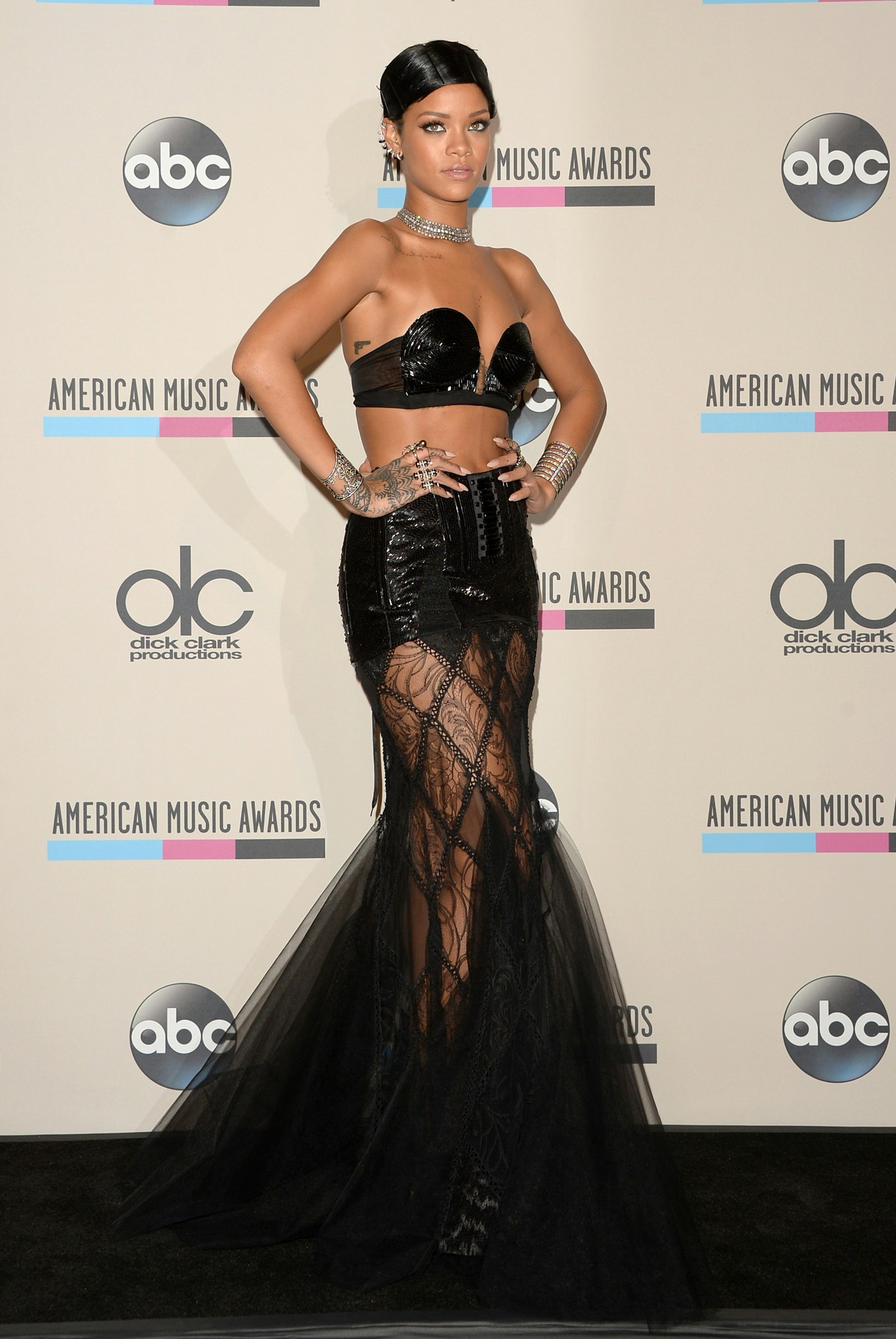 20 of 23
November 2013
This Jean Paul Gaultier two-piece was the star of the show (after its wearer, of course) at 2013's American Music Awards.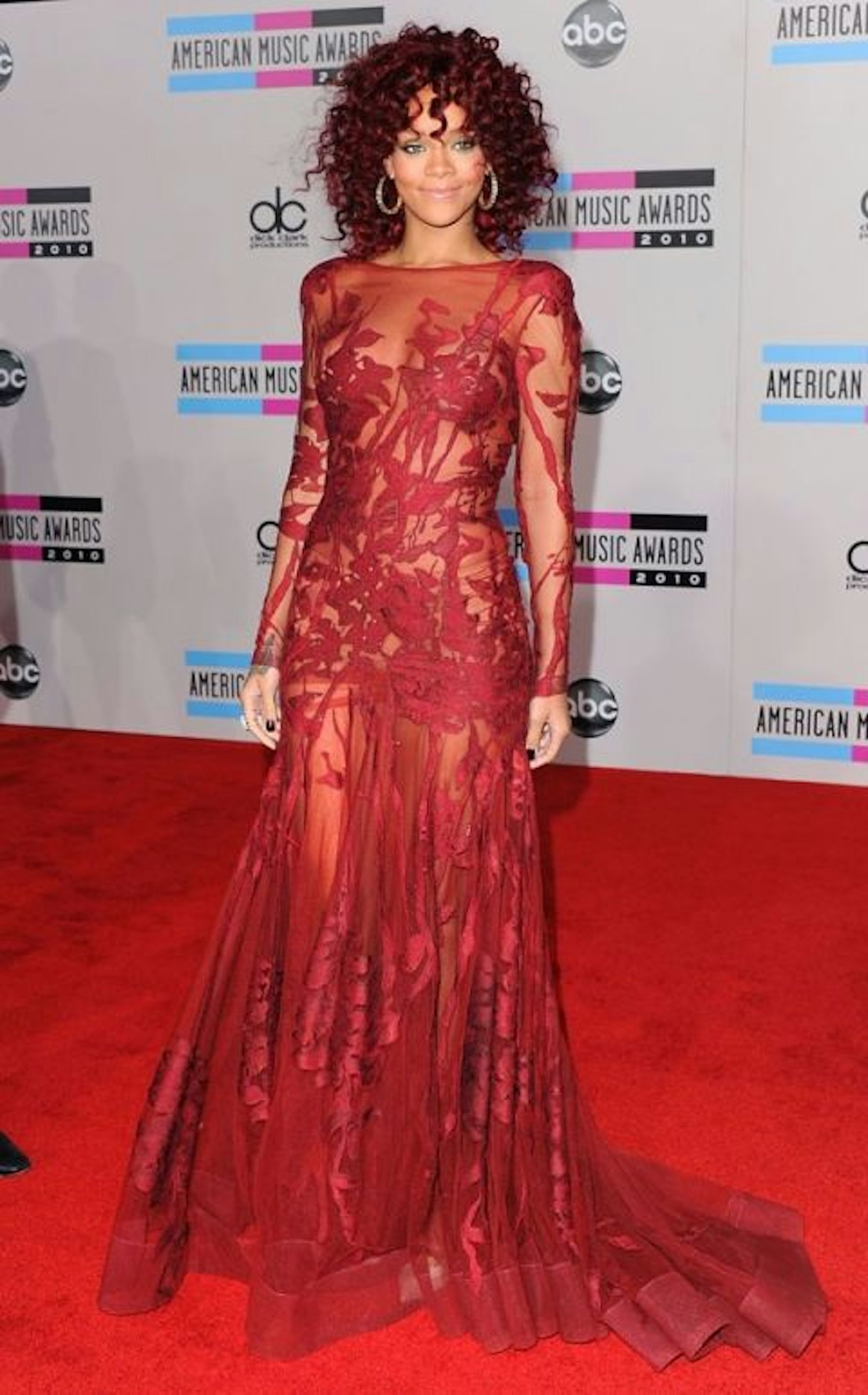 21 of 23
November 2010
Big-time glamour for 2010's American Music Awards.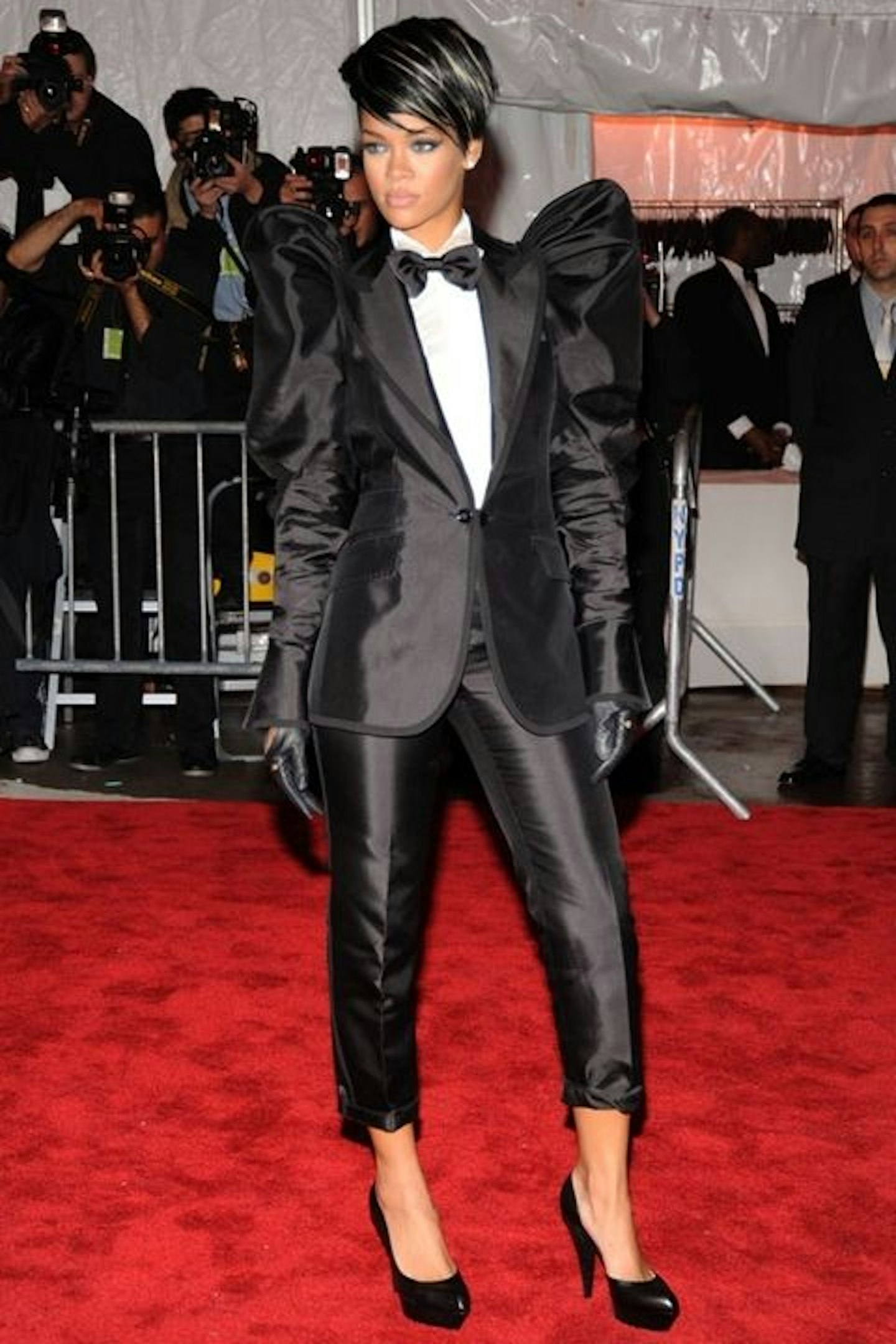 22 of 23
May 2009
At 2009's Met Gala, Rihanna wore her version of black tie: Dolce & Gabbana's sharp-shouldered tuxedo.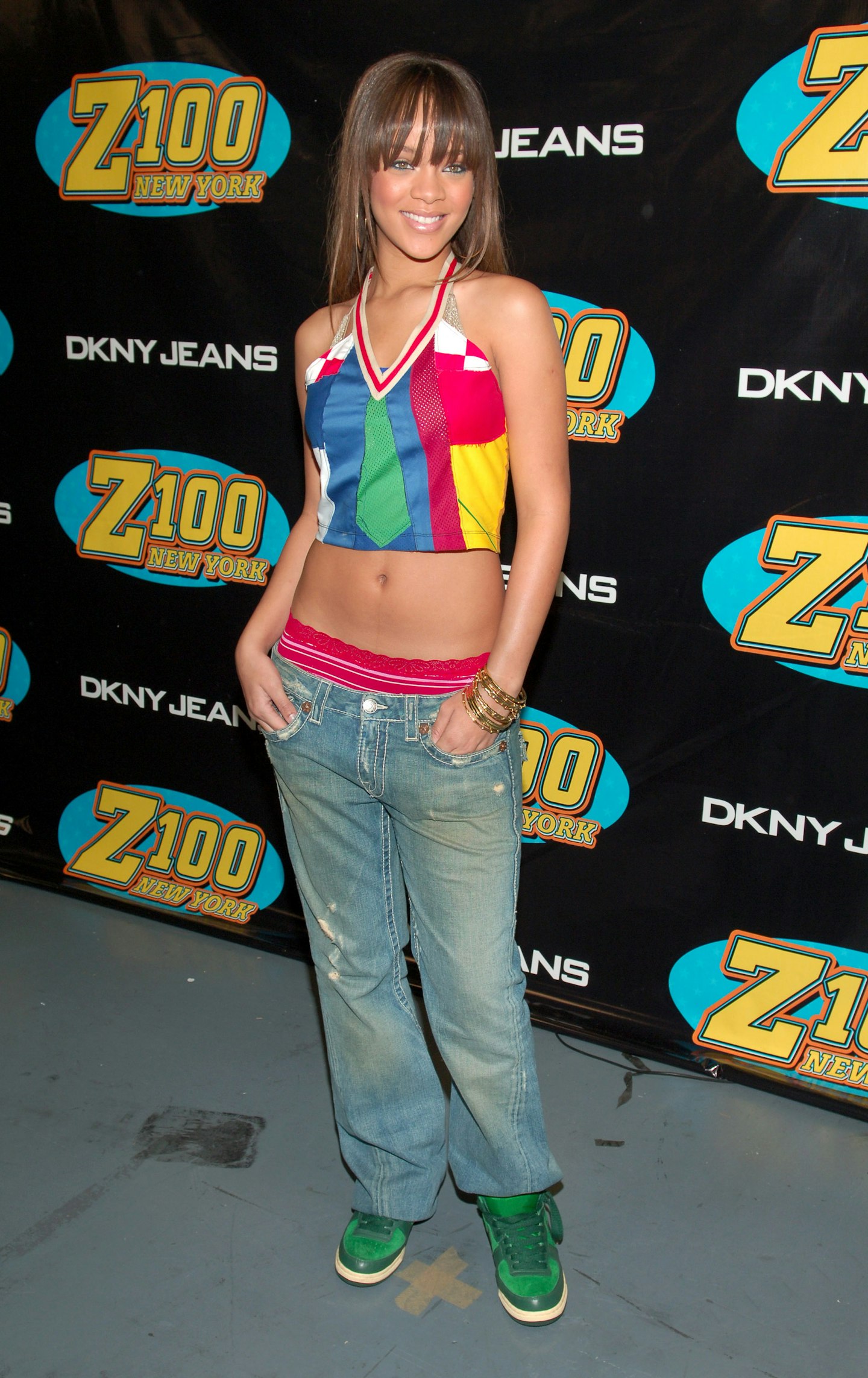 23 of 23
December 2005
It might be all over TikTok, but the singer was one of the original champions when it comes to the low-rise waistband.