Asked about her number one styling rule, Mimi Keene has an answer unlike most 25-year-olds. 'I have everything tailored. Always. For me, the thing that makes me the most confident is knowing something fits me properly.'
Part of the new vanguard of British acting talent making waves, our cover star has traded the razor-sharp power suiting from her Grazia shoot for her comfies. She is smiling at me through a laptop screen from the bedroom of her family home, her Siamese cat, Darling, nestled on her lap.
She concedes she's no stranger to a tracksuit. 'I'm mainly into practical clothing,' she says. 'Sometimes I switch it up, style it out a bit more and make it more fashion. But not every day because I live in the countryside and I'm always walking the dogs.' She's got four: Tequila, Treacle, Truffle and Baby ('Baby came before I started the 'T' train.') 'I'm a big fan of a bumbag too, obviously, to carry all the dog treats.' She references the Tod's leather belt bag worn on her Grazia shoot as a far chicer version than the one she can usually be seen trudging through the mud in.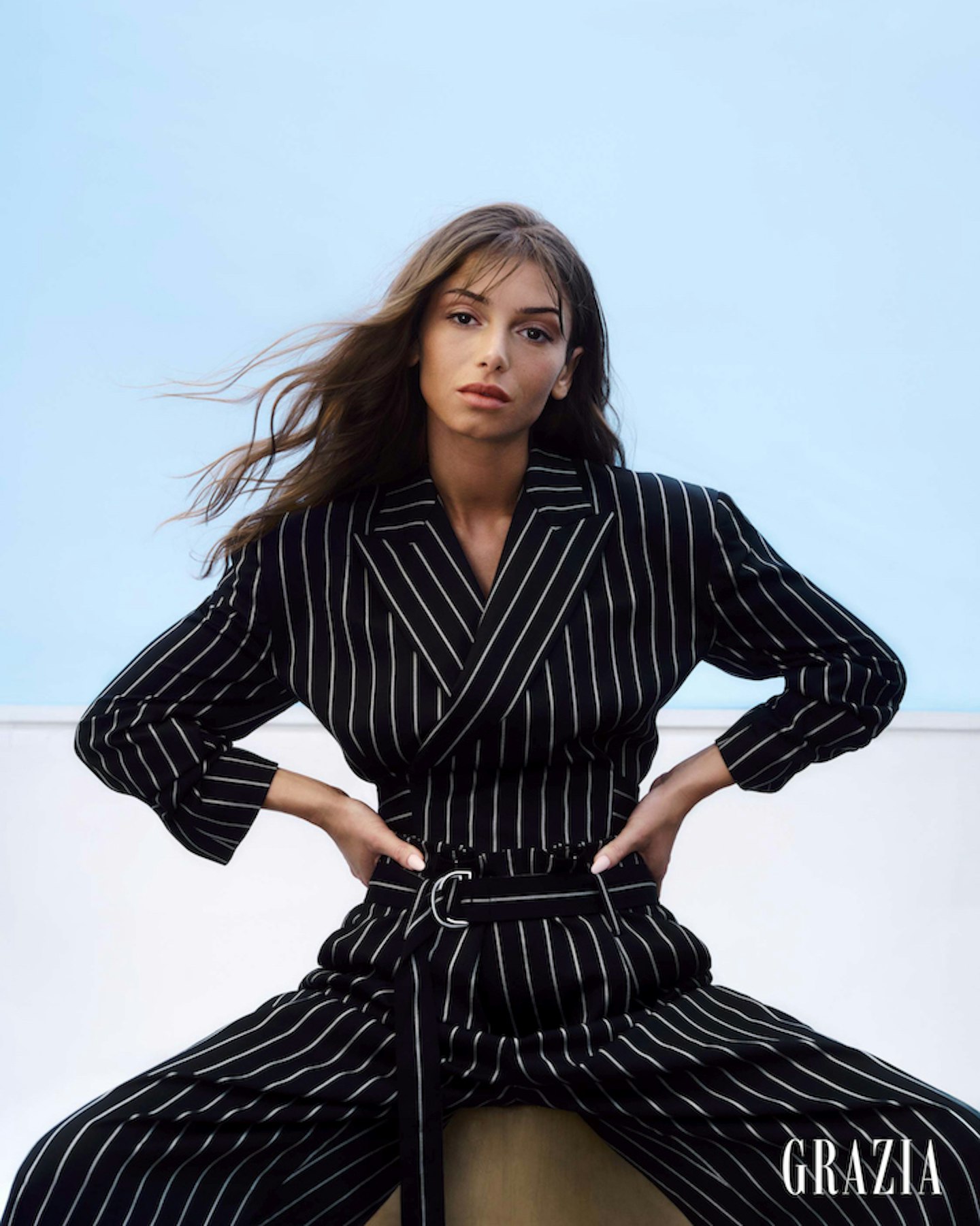 When she does dress up, her philosophy is 'there's no heel too high', and her increasingly frequent appearances on the red carpet – and even on the front row at Paris Fashion Week – provide ample opportunity to indulge her inner glamazon. 'When it comes to fashion, I always want to try new things. As I've been doing more fittings and shoots and events, I'm getting to try on clothes I wouldn't usually. I'm definitely more adventurous now. Even at work, playing a character has inspired me to be more outgoing in my outfit choices.'
The only actor in her family, she reveals that rejection from grammar school is what led to her discovering her talent. 'I think the lesson is that, a lot of the time, the worst situations lead to the best outcomes,' she says, philosophically. 'But when all of my friends were having fun over the summer, I was auditioning for stage schools.' She got into all she applied for but chose the Italia Conti Academy of Theatre Arts in Woking for its 'homely vibe', adding that she would often turn up for lectures in her pyjamas.
Having secured her first major role in a soap opera at the tender age of 14, she's had to adjust quickly to the spotlight. 'Back then, people felt like they actually knew me and weren't afraid to come up and speak to me. The level of recognition has never been more intense than it was then. But I've always appreciated it. I think it's a lovely part of the job. I know it's not for everyone, but I've always thought, how would you want someone to act if it were the other way round? I'd never want anyone to be disappointed from any interaction with me.'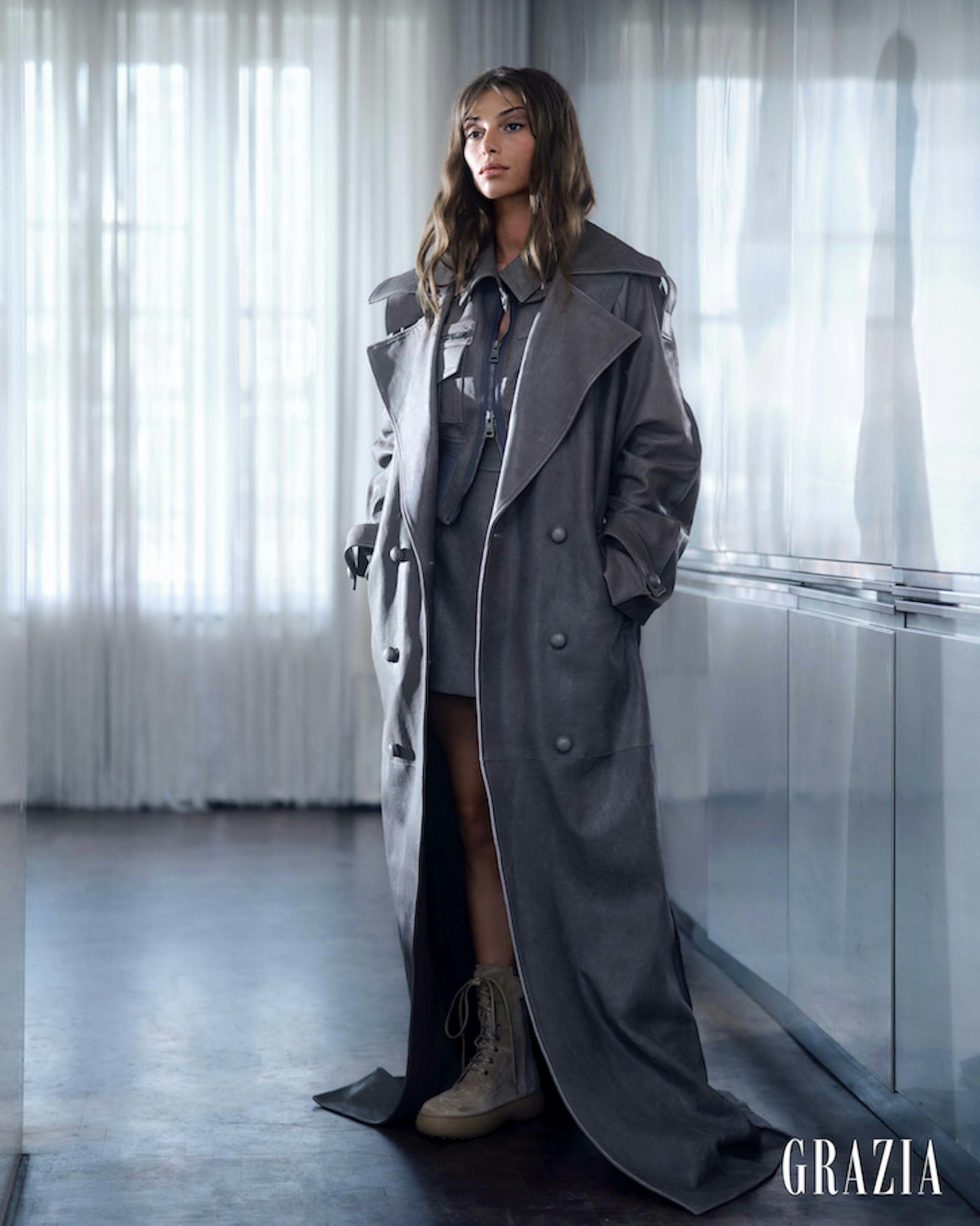 As for the future, Keene has her sights set on success – across all genres. 'My biggest goal is to have a very varied CV. I want to try everything – sci-fi, fantasy, CGI, superheroes or magic and witches and dragons.'
So where to begin? 'I've always been an active person – I love horse riding and was good at gymnastics when I was younger,' she muses. 'Maybe I could do my own stunts! Guns and explosions and jumping off stuff...' Maybe she's the next Tom Cruise? Or does she have her sights on the next Bond film? 'We don't have to start at Bond,' she giggles. 'We could work our way up.'
She's also not afraid to study her mistakes. 'I always watch myself back. I know a lot of actors don't like to do that
but, for me, it would be like writing an essay and then not proofreading it.' As well as time and experience, she learns by osmosis. 'I think the best way to learn on the job is to surround yourself with the right people – that way, it's easier to have the confidence to step out of your comfort zone.'
Spoken like a true pro.
Main image: Mimi wears Blazer, £1,980, shirt, £520, belt, £520, and shoes, £870, all Tod's
Photographer: Amanda Fordyce. Styling: Molly Haylor. Hair: Davide Barbieri at Caren using Oribe. Make-up: Florrie White at Bryant Artist's using Hourglass Cosmetics. Nails: Kim Orse-Macias at Gary Represents using Nails Inc. Photographer's first assistant: Nick Banner. Photographer's second assistant: Freddie Miller. Digital: Matthew Aland. Fashion assistant: Gave Weiss. Fashion intern: Madelaine Roberts.