Jane Fonda for L'Oréal Paris
Photographs: Yu Tsai
Of all the myriad unexpected and surreal moments in the past two years, reading 'Jane Fonda is in the waiting room' is by some distance the most welcome. The 83-year-old L'Oréal Paris ambassador and bona fide iconic star of Barbarella, Klute, 9 To 5 and Netflix smash Grace And Frankie is Zooming me from her home in Los Angeles and waiting at my virtual door to chat all things beauty. She sits in a stripy Breton top, behind a reassuringly lived-in desk, surrounded by photographs and oil paintings, looking absolutely sensational and more like a Hollywood movie star than any other I've ever interviewed.
Fresh from the Grazia photo shoot, Fonda is flawless – all dark, smoky eyes and snatched cheekbones – but claims she rarely wore make-up during the pandemic. Characteristically, she has remained diligent with self-care and fitness – and not just for appearances' sake. 'There's no question that when I don't work out – and this is true of so, so many people who I've talked to – that when we're not working out, we can get depressed more easily. Exercising is as much about the head as it is about the body – they're not really two separate things. It's very important for mental stability and a good attitude to work out.' Where she once aimed to feel the burn (in the 1980s, she used her global fitness movement, the Jane Fonda Workout, to fund a non-profit organisation campaigning against economic inequality), now Fonda has finally turned down the heat. 'Anything I do now is very slow. That's one thing that has to change when you get older is that things have to be slow. Basically, I'm working the same muscles, I just do less weights and use resistance bands – things like that. I do it very carefully and slowly. I have a trainer who makes sure I'm doing them right so I don't get hurt.'
Post-workout, she takes good care of her complexion. 'Skin is very important,' she says. 'It's important as a movie star. You can get rid of a lot of wrinkles and things with good lighting, but still, it's really important for any woman, whether she's a movie actor or not, to take care of her skin. To keep it clean and moist. As you get older, skin tends to get drier – everything does. I have a real connection with the skin part of beauty.' Each morning, she follows the same routine: a wash with a coarse washcloth to exfoliate, then a face cream with all-important SPF 50 (her favourite is L'Oréal Paris Revitalift), some under-eye concealer if she's going out, a little blusher and then lipstick. 'I find that as you get older you need some brightness. You tend to lose definition on your lips, so you have to add it. Using a lipliner on my lips is like running over a washboard with all the wrinkles, but it does help.'
And she never, ever sleeps in a face. 'At night, after I've removed my make-up, I use L'Oréal Paris' new [Age Perfect Cell Renewal] Midnight Serum. It has a lot of antioxidants and good things to hydrate the skin and comes in recyclable glass. They're trying to use less plastic, be more sustainable and are recycling products, so I think that's a good thing.'
Climate change is a huge issue for all, but a very personal one for Fonda. Pre-pandemic, she moved to Washington DC to lead weekly non-violent climate change demos on Capitol Hill. Her most recent book, What Can I Do? The Truth About Climate Change And How To Fix It, was published last month. I ask whether she feels any of the political and civil causes, from environmentalism to racial inequality, to which she's devoted her off-screen life have had any impact on the beauty landscape? Fonda's not convinced but concedes that there is some small progress in terms of how Black women, like Fonda's adopted daughter Mary Luana Williams (a social activist herself), are represented in beauty. 'Black women have felt more empowered. I just think that there's been more of a freedom to do whatever works for you and not have to conform to something.' But she feels there's infinitely more representation needed. 'I don't think that these movements have changed beauty ideals, no. But it changed the way some beauty products are packaged.'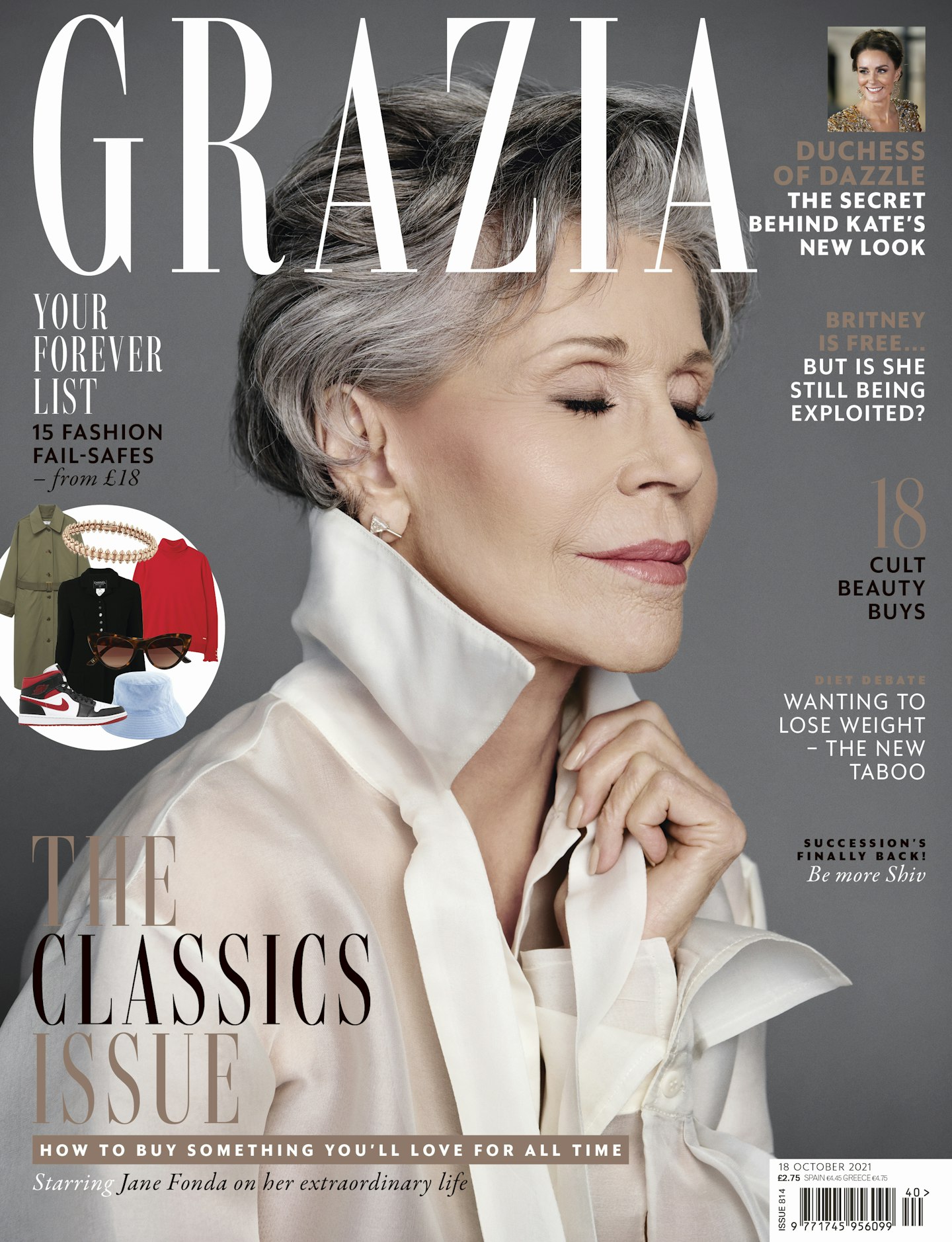 I suggest that the fact that Fonda – at 83 – has a mainstream beauty ambassadorial contract, alongside fellow L'Oréal Paris spokespeople Dame Helen Mirren (76), Vanessa Williams (58) and Isabelle Adjani (66), indicates some broadening of the definition of beauty, at least. She's admiring of the beauty behemoth's still atypical strategy. 'We – older women – are the fastest growing demographic in the world. That's not just true in the US but everywhere. We tend, on average, to live about five or six years longer than men. There are all kinds of reasons why but there are just more of us and every day, and every year, it continues to be true, so it's very smart to pay attention to us.' She believes a mature woman has the right to see herself reflected in beauty, and the benefits transcend financial profit. 'It lets her know that it's not just younger women who should be taking care of themselves – their hair, their skin, the way they look. I think it's nice, it reminds older women that we're not done yet. Beauty is for ourselves and for how that makes us feel. I think it's good to encourage older women to keep paying attention to things internal as well as external.'
We – older women – are the fastest growing demographic in the world… it's very smart to pay attention to us.'
Nonetheless, Fonda knows that the external remains all-important for women in Hollywood – whether 18 or 80. Beauty pays the bills. 'I am a little bit vain,' she admits. 'I have friends who are not but I'm afraid I am. I don't think it's necessarily a good thing, but given that I'm an actress and actors have to be photographed, it does help.' Looks, she says, matter to her more than she'd like. She recalls, 'You know, I lived for 20 years in Atlanta, Georgia. But it was when I was back in LA for some awards show and I knew that I looked really good. Aaron Sorkin (the Oscar- and Emmy- winning writer and producer) saw me and I could tell that he thought that I looked good, and he offered me a part. I hadn't worked in a long, long time. That's when I realised I had to move out here so people could see me. But the fact is that even though I was in my seventies, looking good helped me get work. I'm a working actor, I support myself so that part of it is important.'
I'm interested in how Fonda squares this undeniable truth with her lifelong commitment to feminism. She is a world class, two-times-Oscar-winning actor, who models for a beauty brand and was brought out of semi-retirement by a man who decided she looked good enough to work. She says, 'I used to think in the very beginning, in the late '60s, early '70s, that to be a feminist meant you didn't like men and so it was very hard for me to identify with that part of the women's movement,' she says. 'And then when I very first became a feminist I didn't really pay that much attention to how I looked. There was a space between Barbarella [1968] and Monster-In-Law [2005], where I didn't really pay that much attention to how I looked on purpose, because I thought that to be taken seriously I had to look like I didn't care how I looked. A point came when I really became a feminist, not just theoretically in my head, but an embodied feminist, and I was confident in my feminism that I didn't have to forgo looking good. You can look beautiful and still be a feminist.'
You can look beautiful and still be a feminist.'
Nonetheless, Fonda has spoken previously on her 'disease to please' – the common female affliction of feeling as though she must keep everyone else happy, even if at her own expense. I ask her to what degree male approval plays a part in her self-esteem now? She is unhesitant, 'I'm going to tell you the absolute truth. I thought of this the other day – if I'm going to be on a Zoom meeting and I know that there's going to be a man – even if I go to a doctor and it's a guy – I mean, I feel ashamed even admitting this, but I pay a little extra attention to how I look than I do if it's a woman. I became an adult in the '50s and it's just part of my DNA. I probably will feel that way on my death bed.'
I ask her why raving beauty Jane Fonda – of all people – thinks she still has to prove her attractiveness on a Zoom call. 'I do it because I need to feel that they think I'm attractive,' she shrugs. 'I don't mean sexy,
I mean just look good for my age. Guys tell me, whether they're a doctor or a hairdresser or whatever, that other people say, "Oh my god you know Jane Fonda! What does she look like?!" I want for them to say, 'She looks good for her age.'"
If my being a woman has made her make less effort today, then I can't imagine how she could look any more beautiful than this for a man. She looks glorious, happy, energised. She tells me she's feeling true joy in her acting again. She's preparing to film her last season of Grace And Frankie, then will make three feature films back-to-back with co-star and close friend Lily Tomlin. So is loving her job and looking phenomenally good for her age what makes Jane Fonda feel – to quote the L'Oréal Paris legend – 'worth it'? 'No,' she says. 'I guess I should say it is, but feeling that I have used my life for good, that I have always tried to be a better person and tried to do good in the world. That's what makes me feel worth it.' And for just a moment, it's not about what anyone else thinks.
Styling: Mary Inacio. Make-up: David De Leon using L'Oréal Paris Midnight Serum and True Match Tinted Serum. Hair: Jonathan Hanousek using L'Oréal Paris Elnett Styling. Beauty Director: Joely Walker. Style Director: Molly Haylor. Production: Jessica Harrison & Nathan Higham-Grady. Stylist's Assistant: Emily Diddle