There is no starrier night than the Oscars. And in preparation for this Sunday, what better excuse for a look back at the most memorable dresses of all time?
One of our favourites is always Cate Blanchett. At 2007's Academy Awards, she wore a gown from Armani Privé, which, whisper it, cost upwards of $250,000. She's nominated again this year, for her critically-acclaimed performance in Tár, and has been blazing a sustainable trail through award season so far by rewearing some of her most famous looks (yes, really). Michelle Yeoh, who's nominated for Everything Everywhere All at Once, has worn some of this year's most spectacular gowns - see, Schiaparelli Haute Couture at the SAG Awards - and will pull out all the (sartorial) stops this Sunday.
Ahead of the 95th Academy Awards, we've had a look back at the best dresses from years past. So without further ado, here are some of the most memorable sartorial moments in the history of the Oscars. From Audrey Hepburn's classic outing in Givenchy Couture, back in 1954, to Halle Berry - and, yes, even Bjork's swan.
SEE: Best Oscar Dresses Ever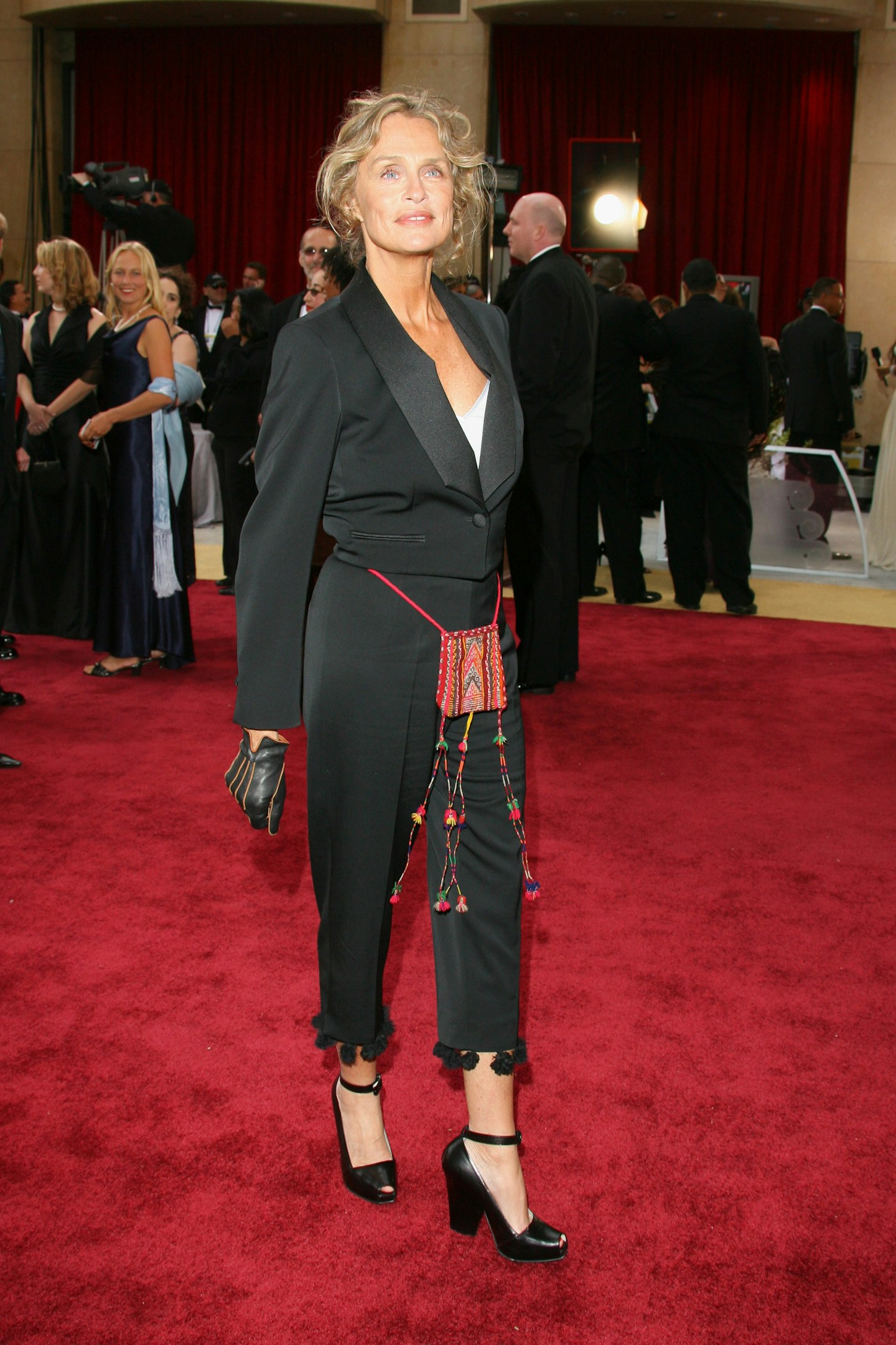 1 of 39
CREDIT: Getty
Lauren Hutton, 2006
You don't have to wear a dress to get on the best dressed list. For 2006's red carpet, Lauren Hutton appeared wearing a shrunken tuxedo jacket and cigarette pants that blew all the frothy frocks out of the water.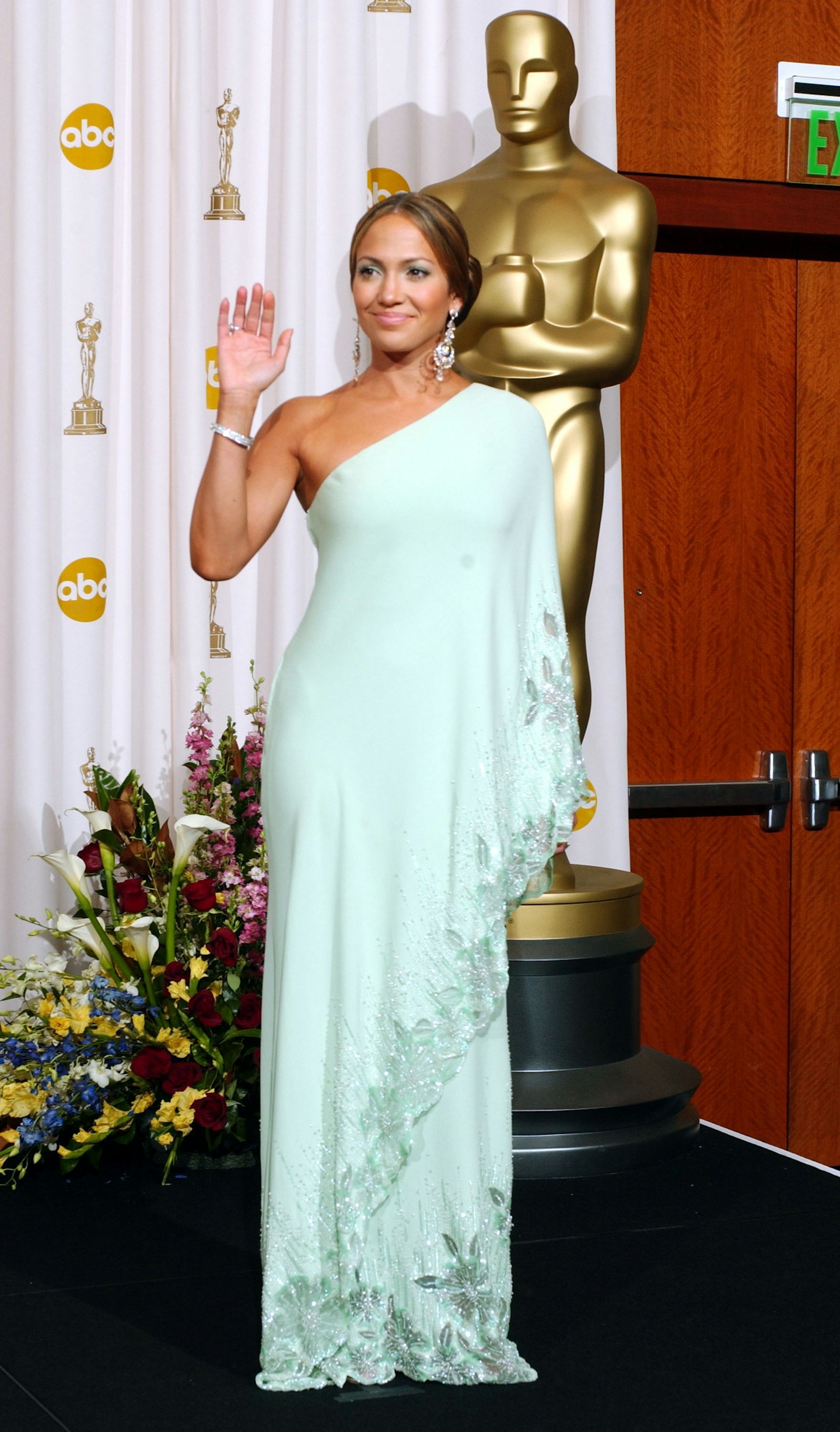 2 of 39
CREDIT: Getty
Jennifer Lopez in Valentino, 2003
Bennifer is back on the table - and this one-shouldered vintage gown from Valentino, which she wore with frosted green eyeshadow, is still one of our all-time favourites from Jennifer Lopez.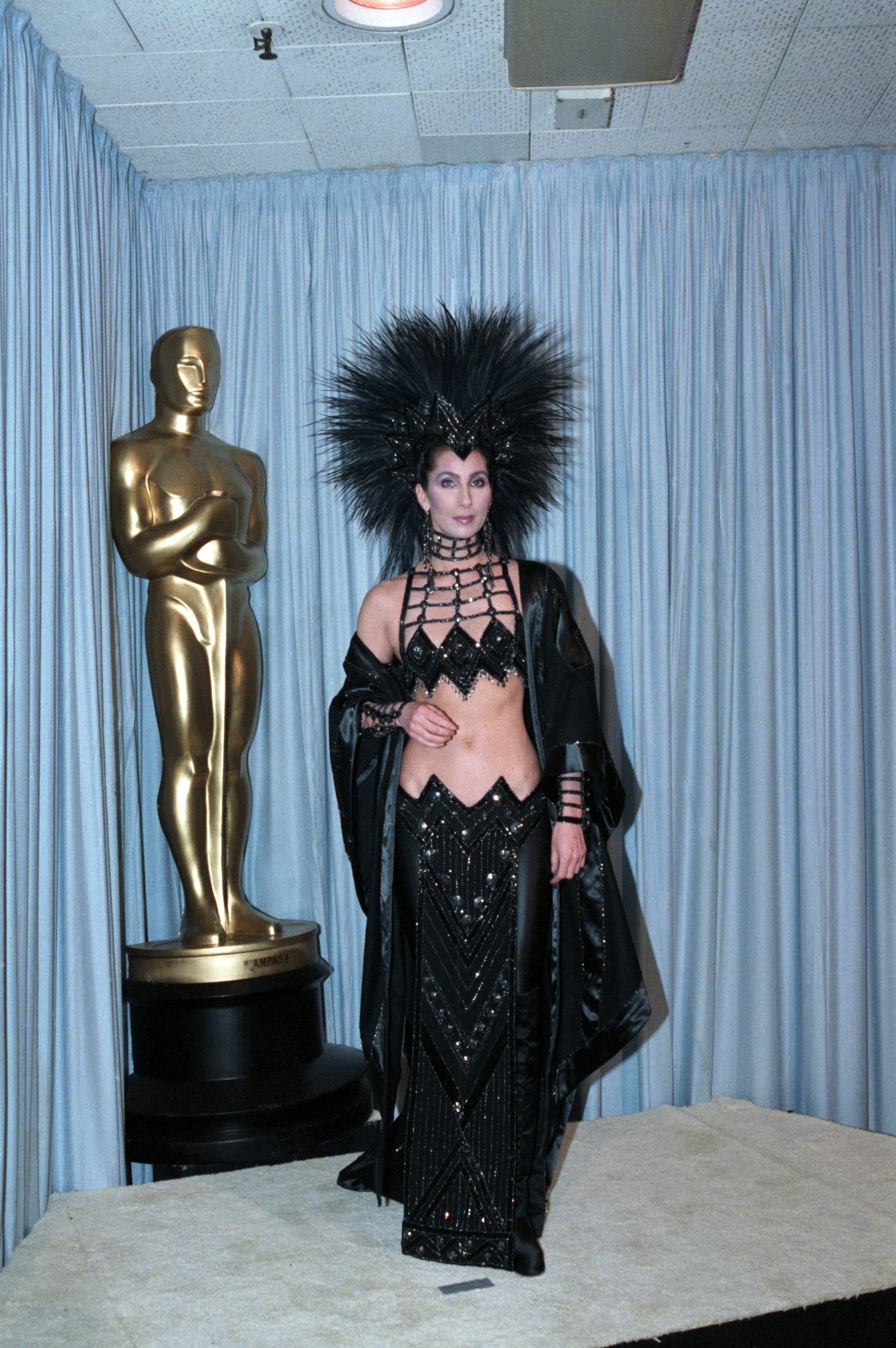 3 of 39
CREDIT: Getty
Cher in Bob Mackie, 1986
According to Cher, her boyfriend at the time almost passed out when she walked out of her bedroom wearing this showgirl outfit by Bob Mackie. She also said, in a video interview with Vogue, that she wanted to wear it because the powers that be, the Academy, didn't like her. 'They hated the way I dressed, and I had young boyfriends, and they just thought I wasn't serious so I came out and said as you can see I got my handbook on how to dress like a serious actress.'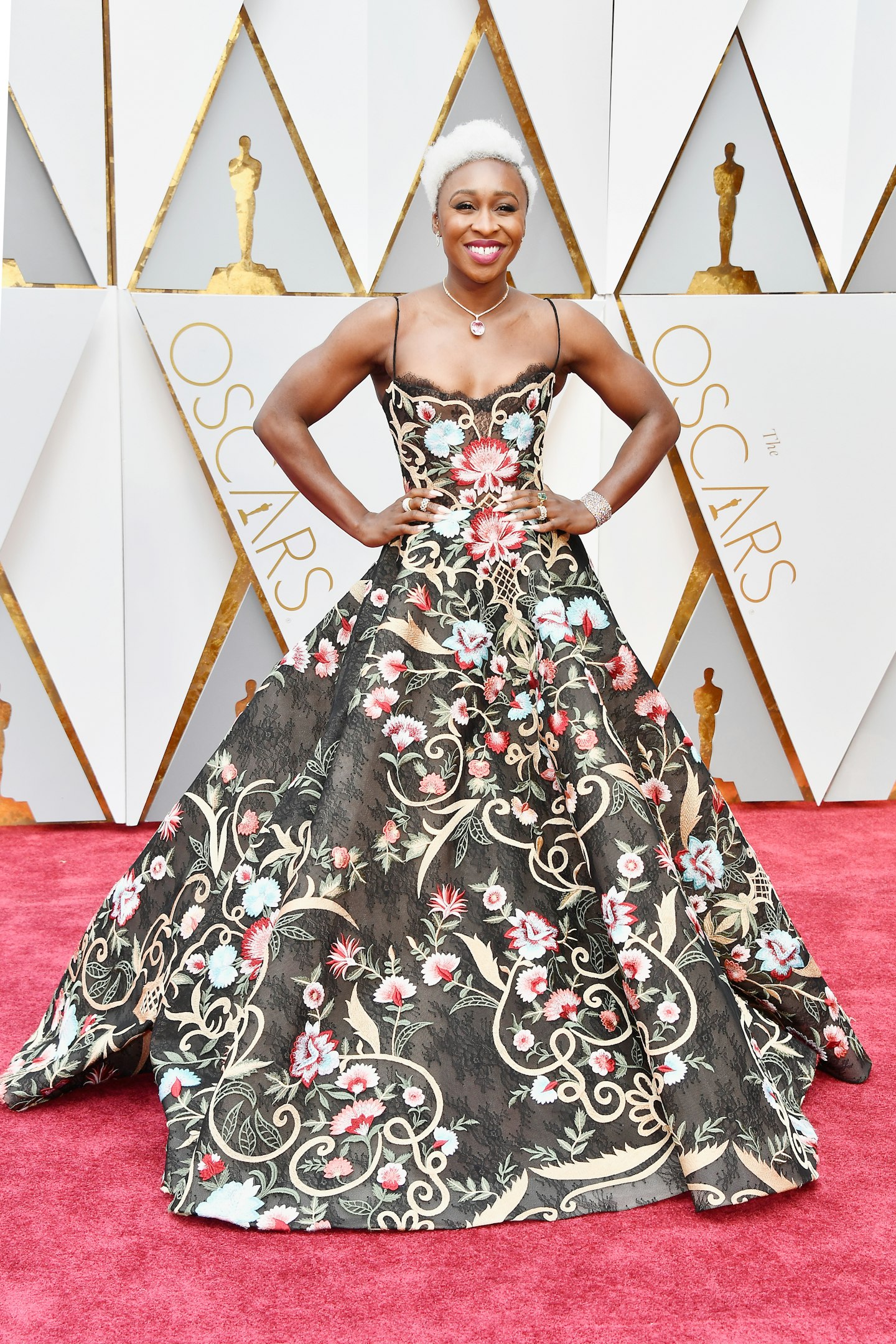 4 of 39
CREDIT: Getty
Cynthia Erivo in Pablo Sebastian, 2017
Cynthia Erivo's proved herself to be our favourite red carpet risk-taker in recent years, and this oh-so-elegant little black dress with a difference was the best look in 2017.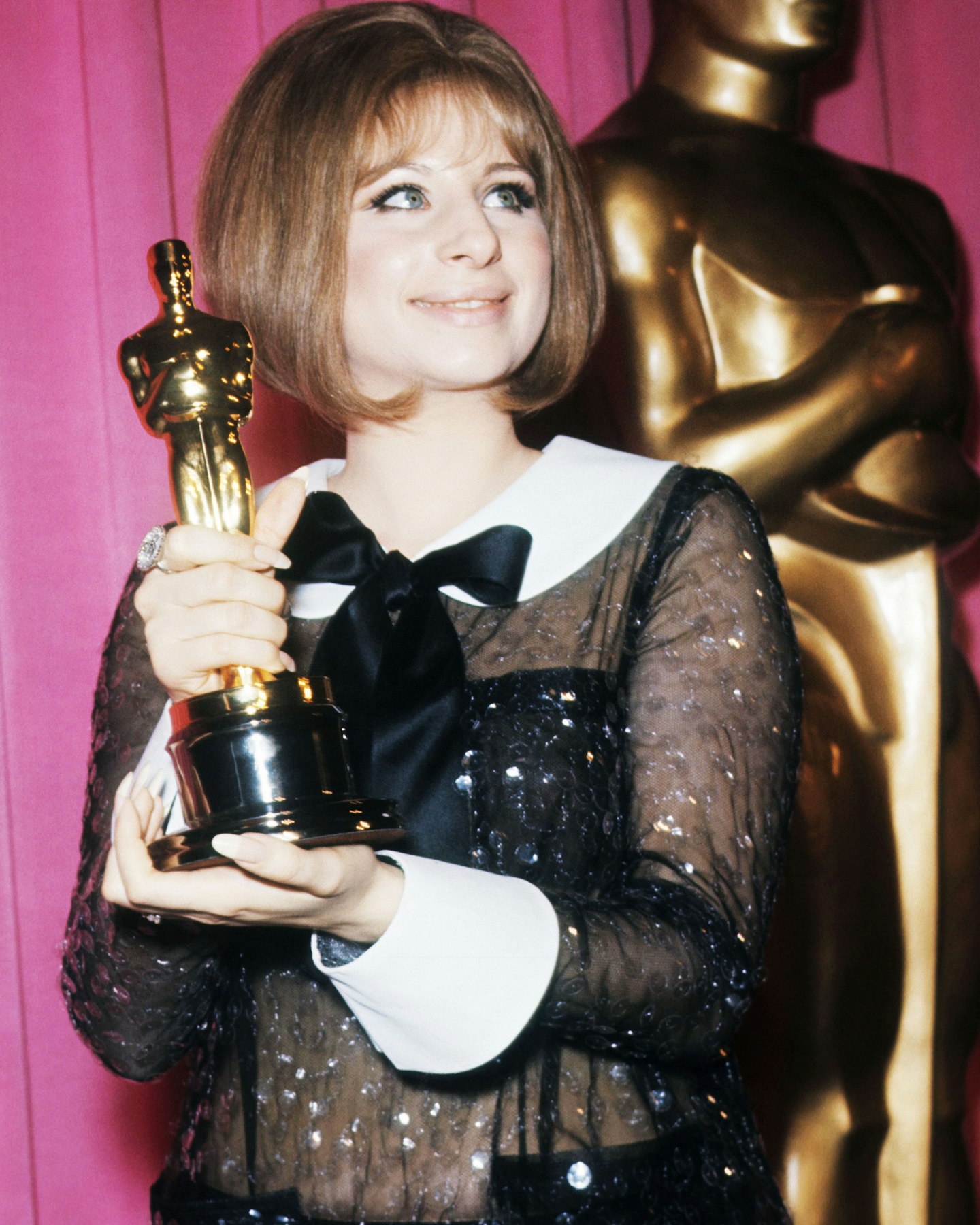 5 of 39
CREDIT: Getty
Barbra Streisand in Arnold Scaasi, 1969
Apparently Barbra Streisand didn't realise that her winning look, a spangled suit by Arnold Scaasi, was almost entirely see-through. And while it might not have won best dressed plaudits on the night, it has undoubtedly made it into the most memorable outfits hall of fame.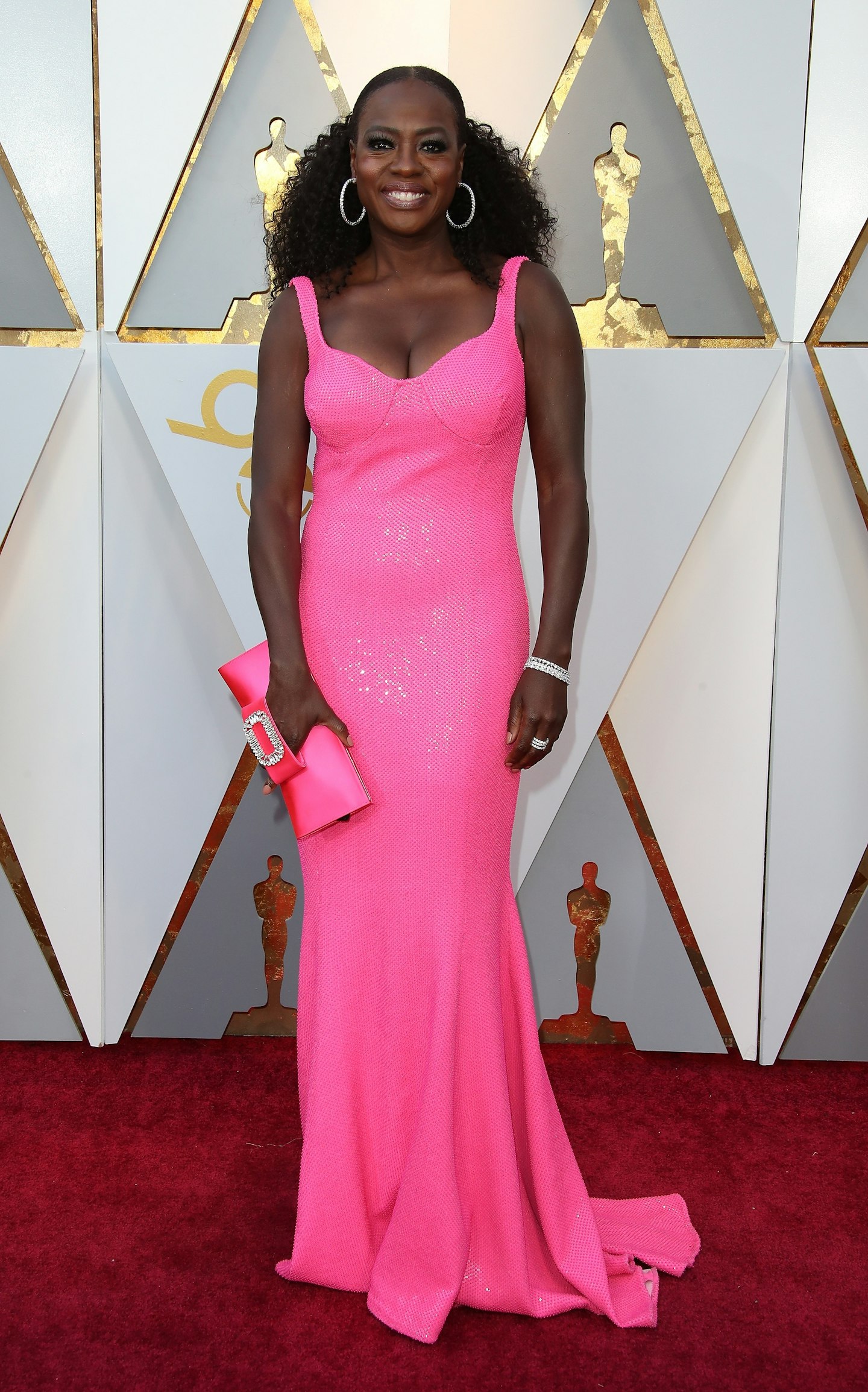 6 of 39
CREDIT: Getty
Viola Davis in Michael Kors, 2018
Viola Davis was a bolt from the blue in the hottest of hot pinks at 2018's Oscars.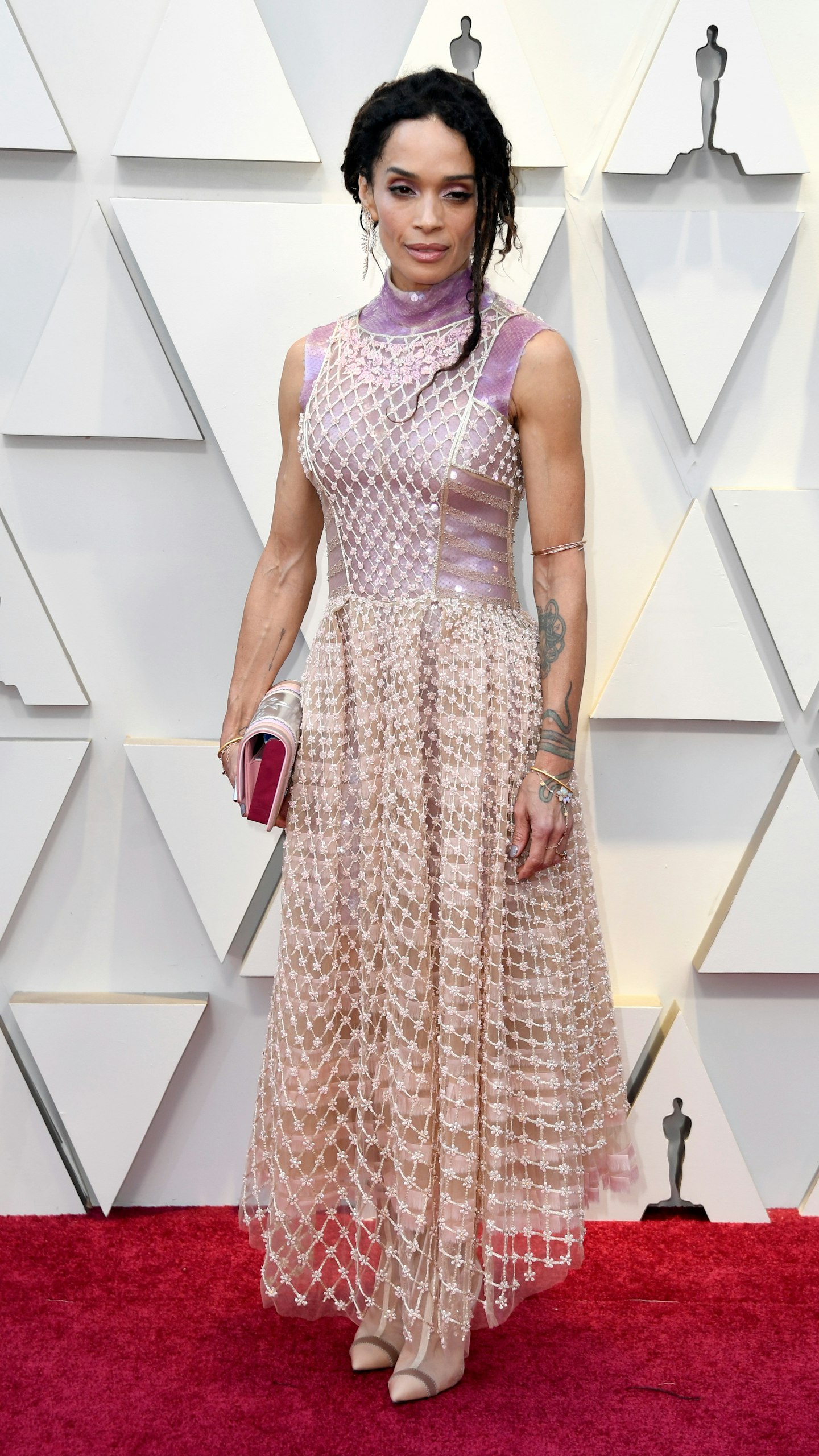 7 of 39
CREDIT: Getty
Lisa Bonet in Fendi, 2019
Lisa Bonet always serves up red-carpet gold, and managed to maintain her laid-back cool even while wearing this sequin-encrusted gown from Fendi.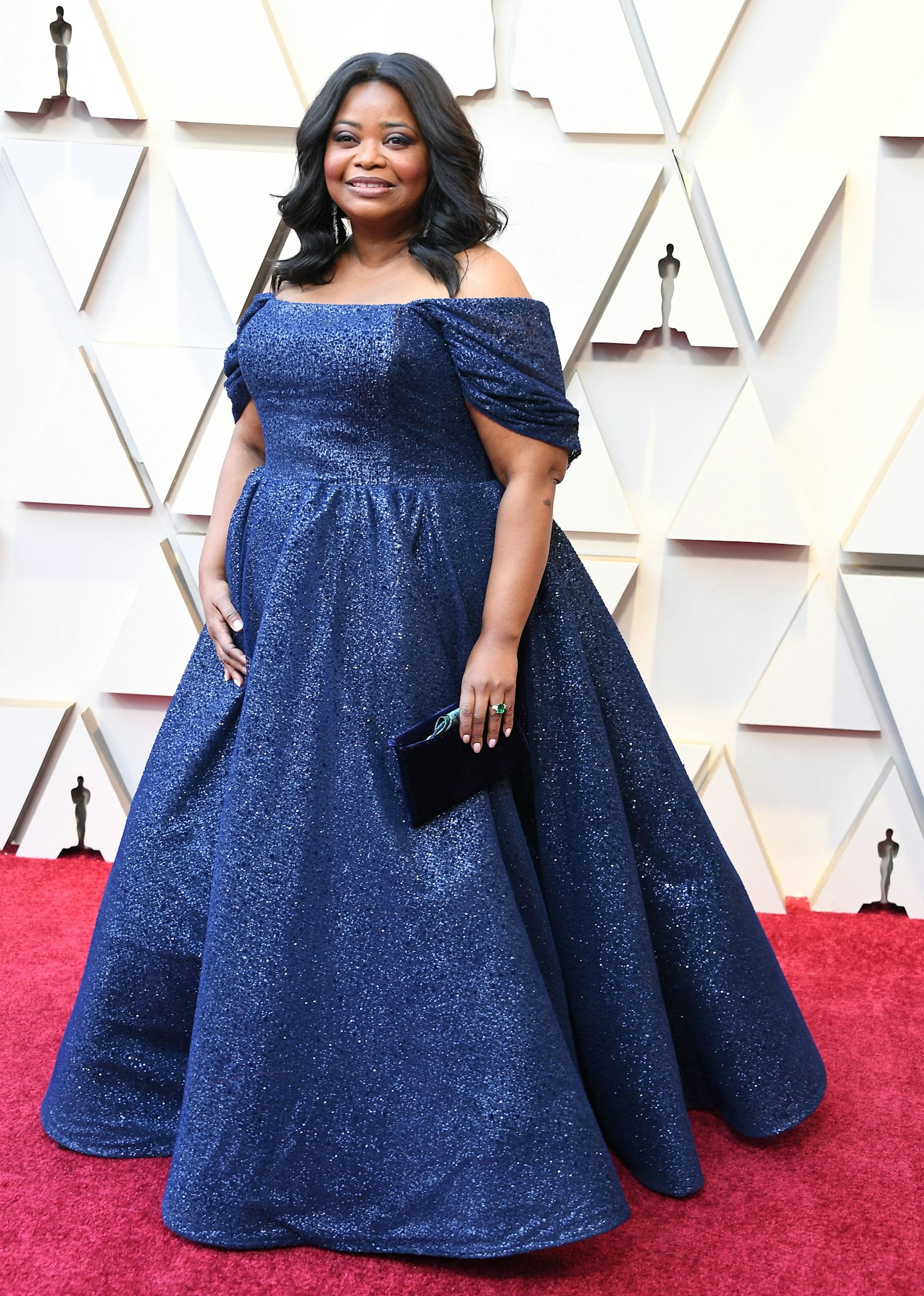 8 of 39
CREDIT: Getty
Octavia Spencer in Christian Siriano, 2019
Octavia Spencer had a swoon-worthy moment at 2019's Oscars, wearing off-the-shoulder and full-skirted Christian Siriano.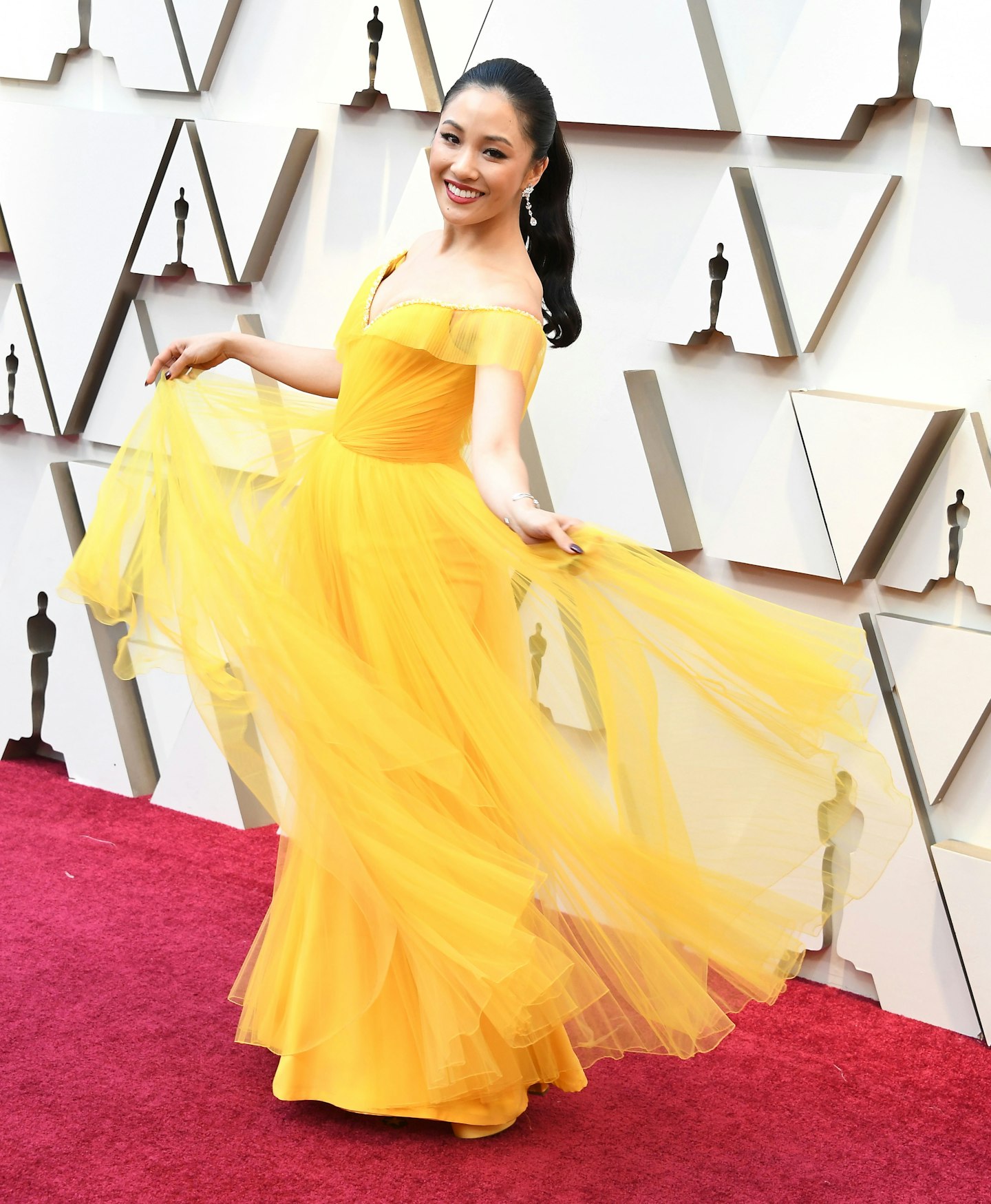 9 of 39
CREDIT: Getty
Constance Wu in Versace, 2019
Constance Wu, high off the fashion endorphins from Crazy Rich Asians, came out swinging in sunshine yellow Versace.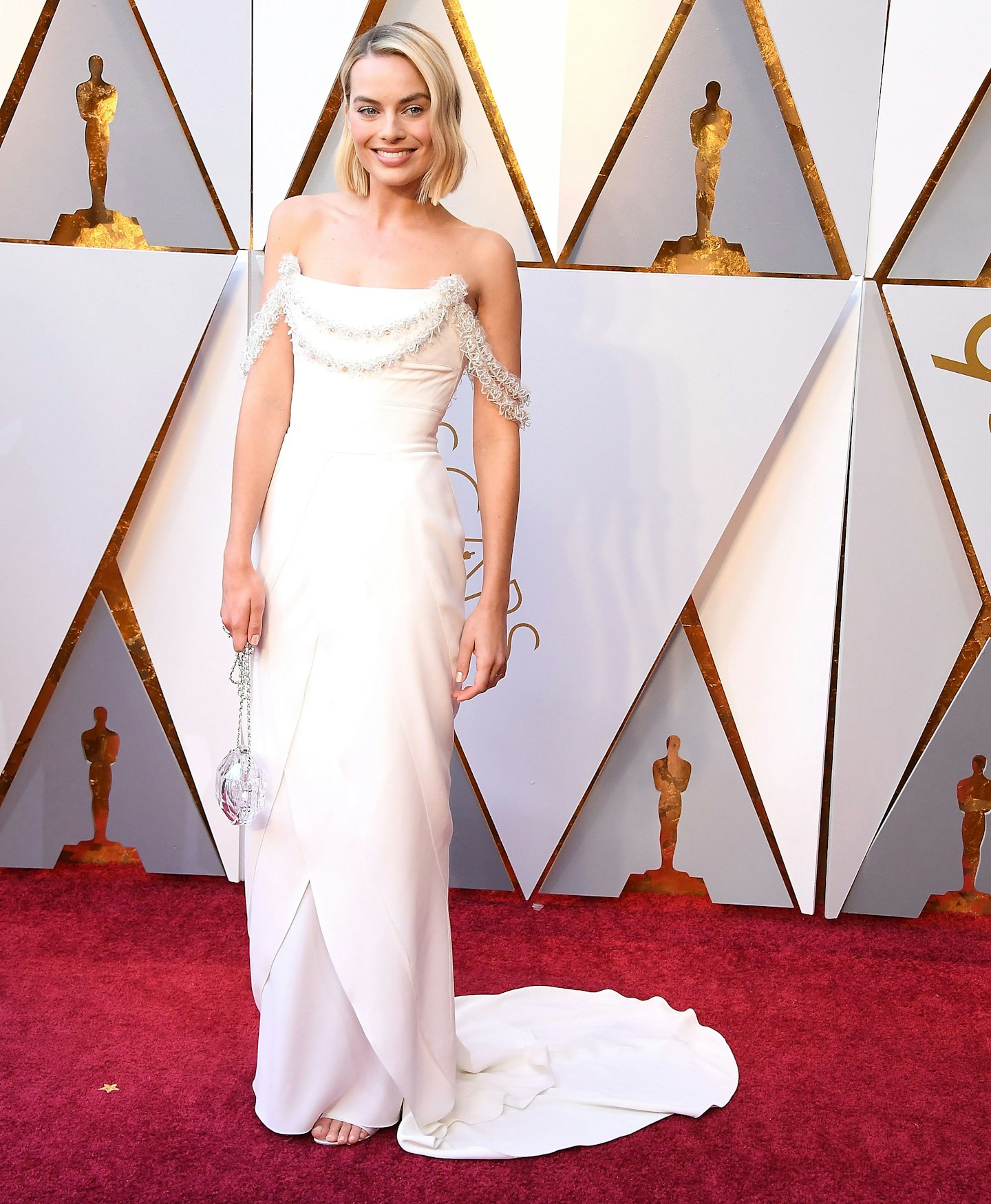 10 of 39
CREDIT: Getty
Margot Robbie in Chanel, 2018
My personal favourite (and not just because it's an oh-so bridal look from Chanel) - Margot Robbie at the 2018 Academy Awards.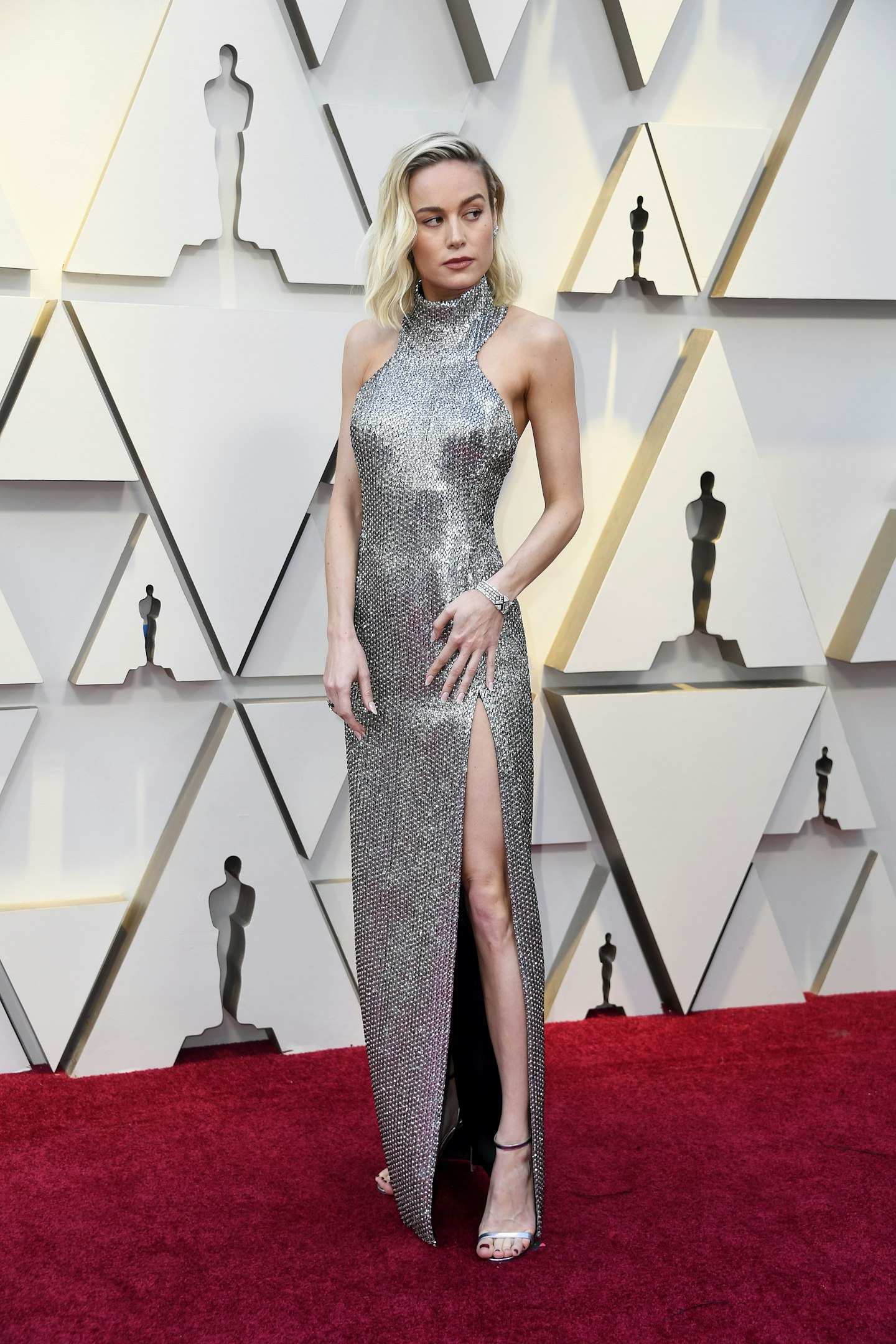 11 of 39
CREDIT: Getty
Brie Larson in Celine, 2019
Only Captain Marvel could wear skin-tight chainmail (by Celine, no less) and look this sensational.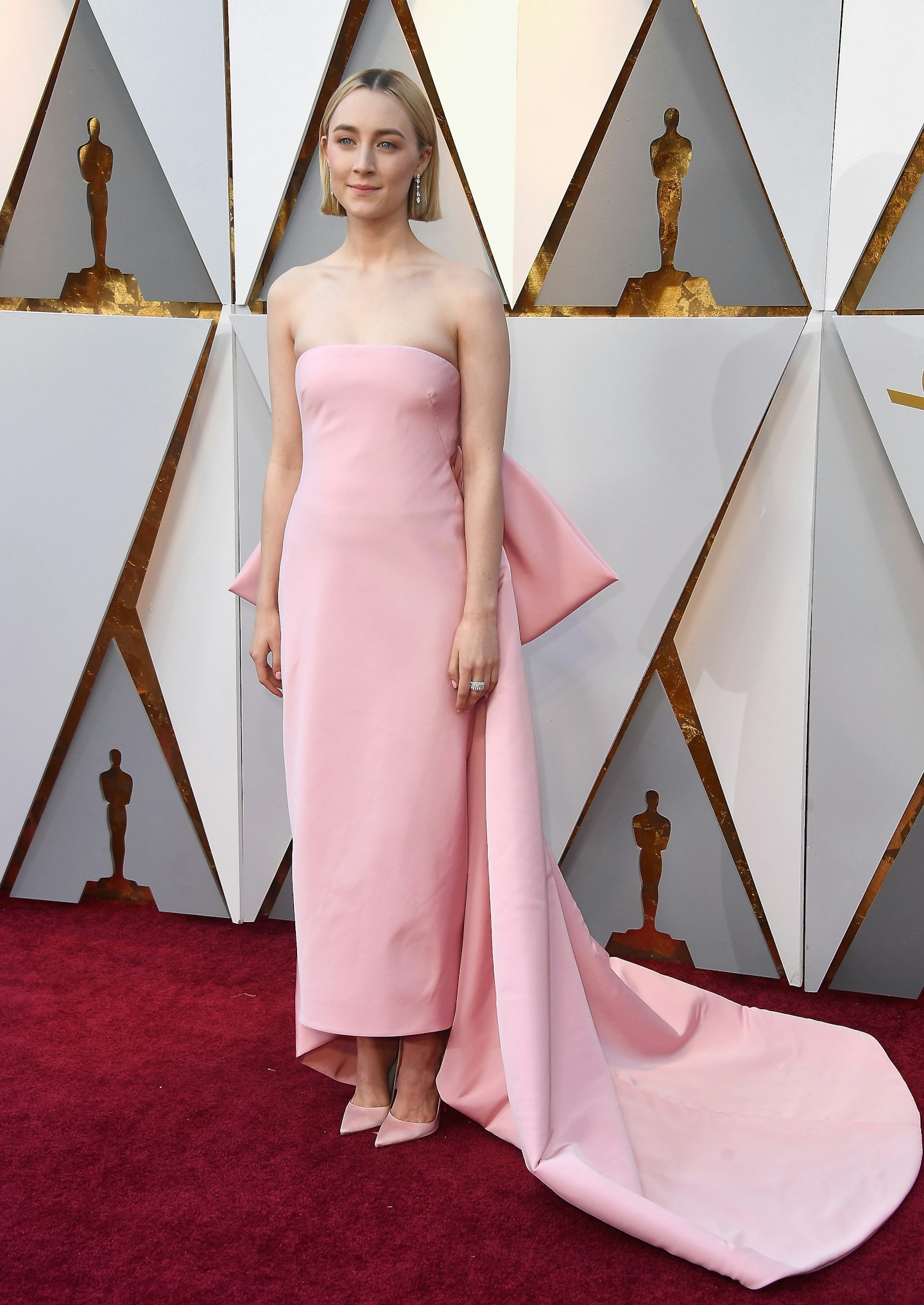 12 of 39
CREDIT: Getty
Saoirse Ronan in Calvin Klein, 2018
Saoirse Ronan in this satin pink Calvin Klein, complete with bow back, was the epitome of pared-back elegance. Teaching us a lesson in less is more, she teamed her statement dress with a blunt bob and minimal make-up. We, ahem, bow down to you, Miss Ronan.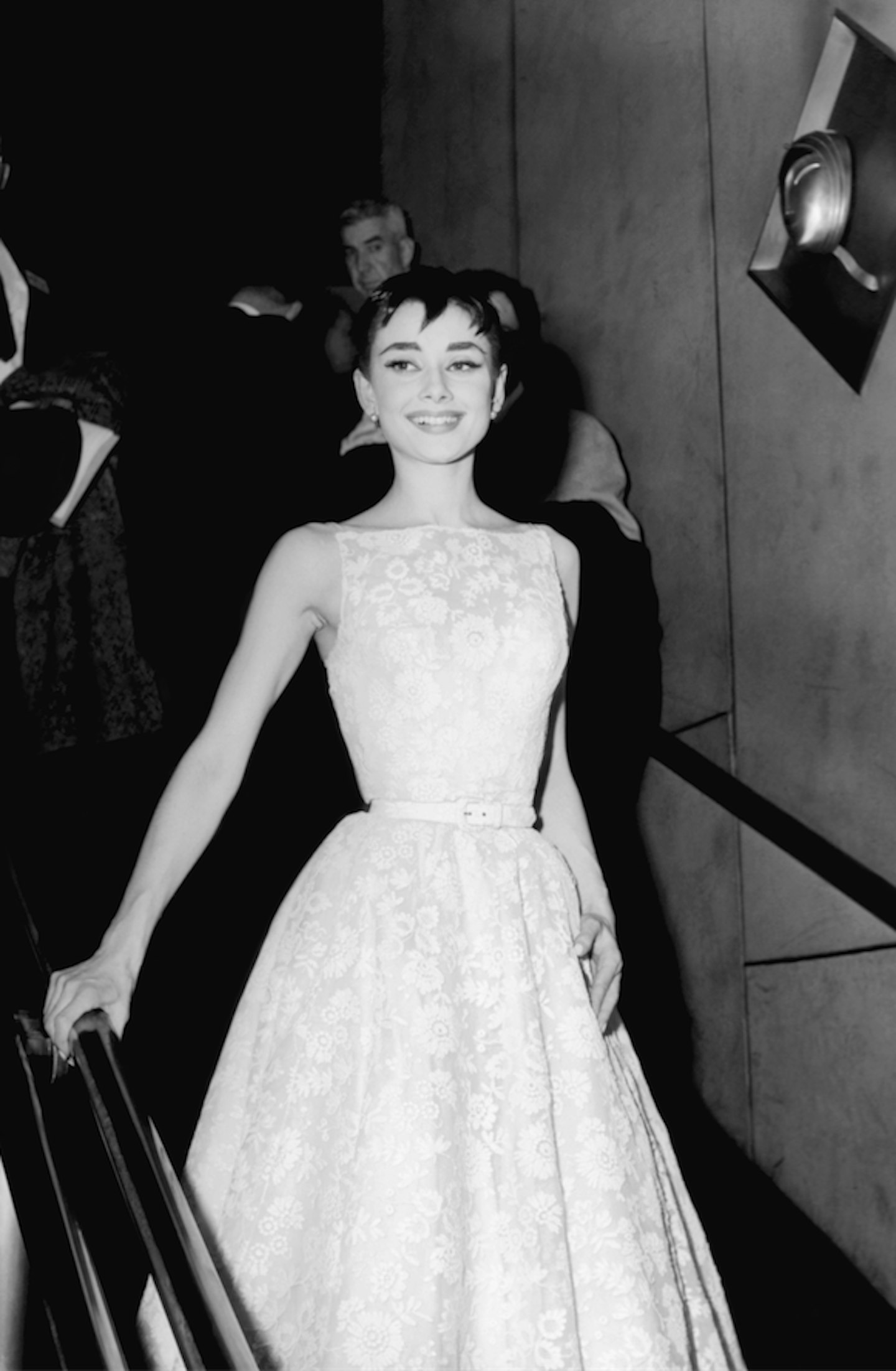 13 of 39
CREDIT: Getty
Audrey Hepburn in Givenchy, 1954
This belted dress with a subtly floral print and classically full skirt didn't just prove lucky for Hepburn, who went on to receive a statuette for her turn in Roman Holiday. The ceremony also marked the first time she wore a Hubert de Givenchy design to a Hollywood event. The designer had dressed her for Sabrina the previous year, marking the start of a sartorial partnership that would see Hepburn write Givenchy into her future film contracts. 'His are the only clothes in which I am myself,' she remarked in 1956.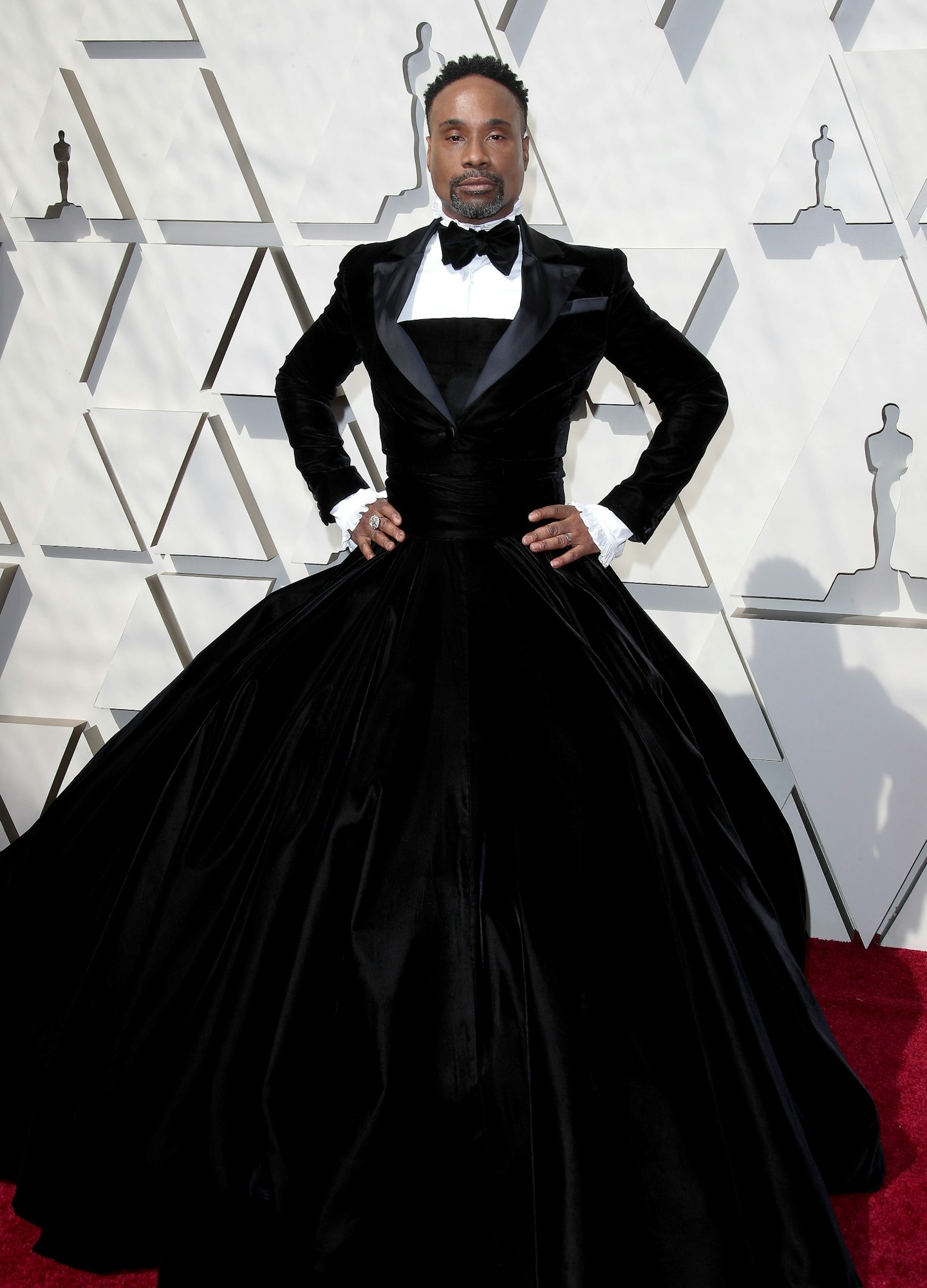 14 of 39
CREDIT: Getty
Billy Porter in Christian Siriano, 2019
Wearing a fabulous take on the traditional tuxedo, Billy Porter wowed in Christian Siriano at the 2019 Academy Awards.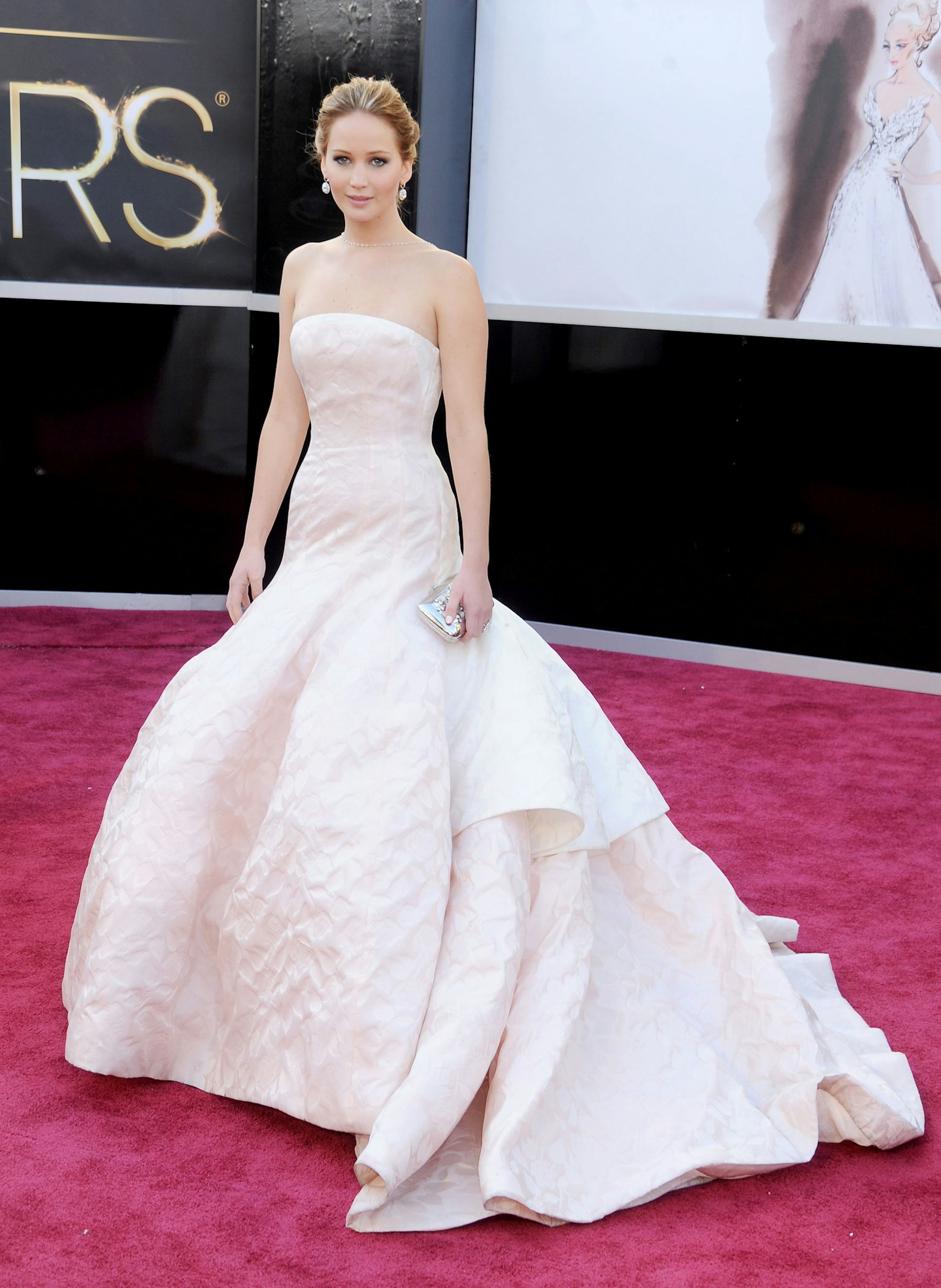 15 of 39
CREDIT: Getty
Jennifer Lawrence in Dior, 2013
'I think I just stepped on the fabric and they waved the stairs or something. What went through my mind? A bad word that I can't say.' J. Law's 2013 Oscars dress is worthy of your attention, and not just because it precipitated that memorable swoon up the stairs. A dramatic pale pink confection by Raf Simons that closed Dior's Haute Couture show in 2013, it proved that Lawrence can pull off Old Hollywood style like no one else (despite her persona being as far from the staid stars of the studio era as possible.)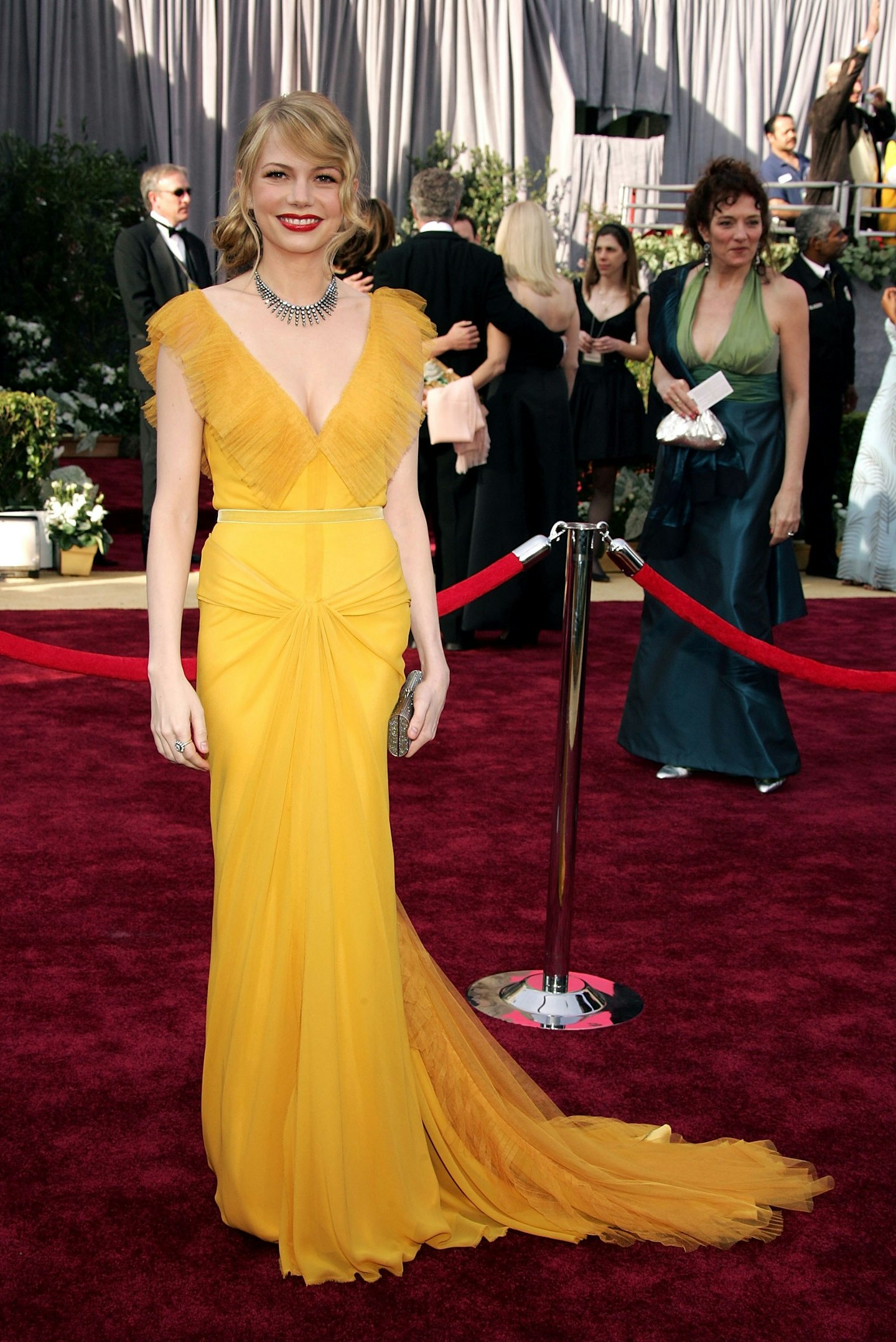 16 of 39
CREDIT: Getty
Michelle Williams in Vera Wang, 2006
An old style adage decrees that blondes shouldn't wear yellow. Michelle Williams put paid to that particular rule with her sunshine yellow gown from Vera Wang, arguably one of the most instantly memorable Oscars dresses of recent years. From the bold colour to the ruffled shoulder detailing, the draped skirt to Williams's swept up hair and bright red lips, this is modern Hollywood glamour at its best.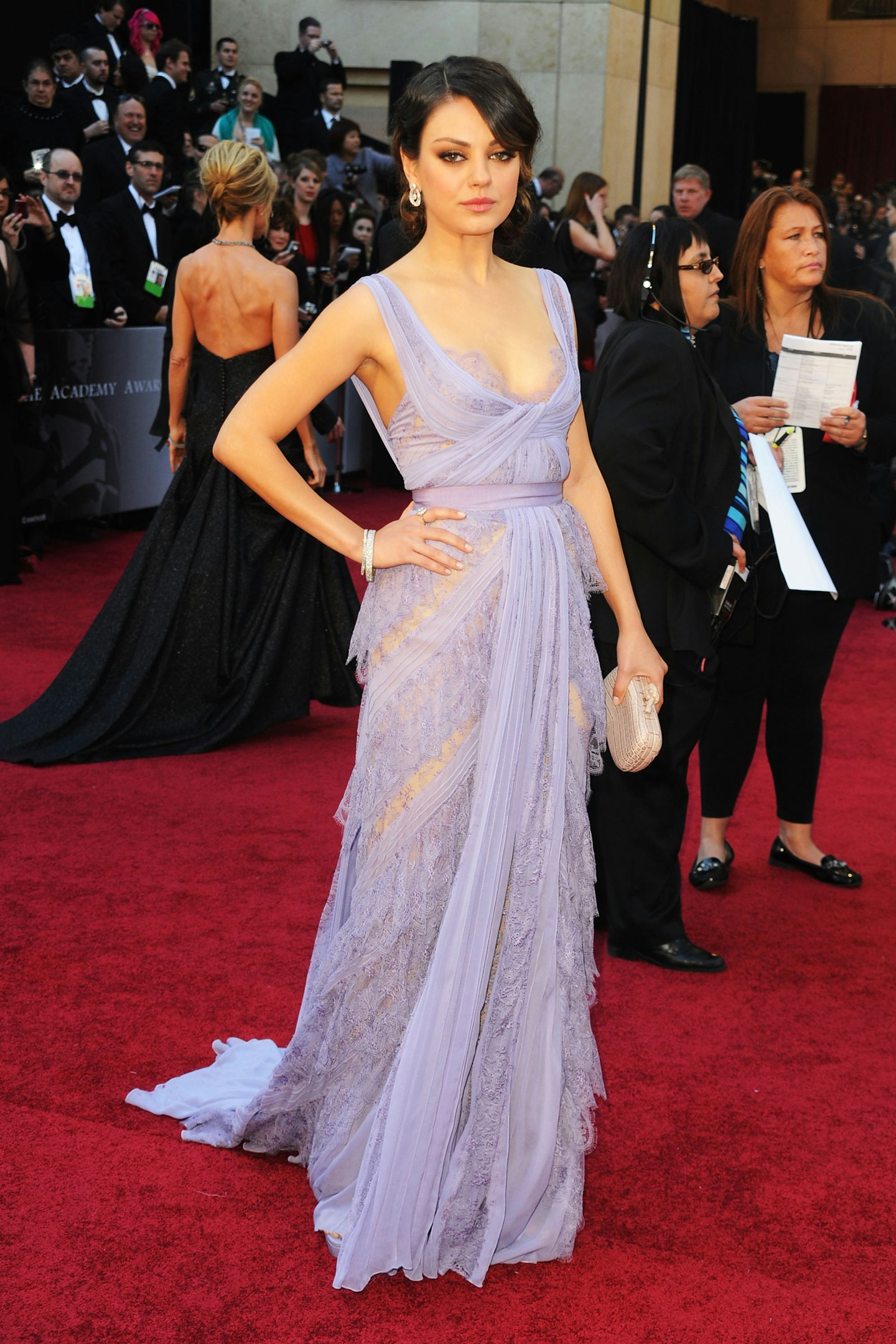 17 of 39
CREDIT: Getty
Mila Kunis in Elie Saab, 2011
Mila Kunis is yet another star who has chosen Lebanese couturier Elie Saab to dress them for the biggest night in the Hollywood calendar. For the 2011 Academy Awards, she chose this romantic lilac gown with a draped, almost Grecian-style plunging neckline and a tiered skirt fashioned from strips of lace.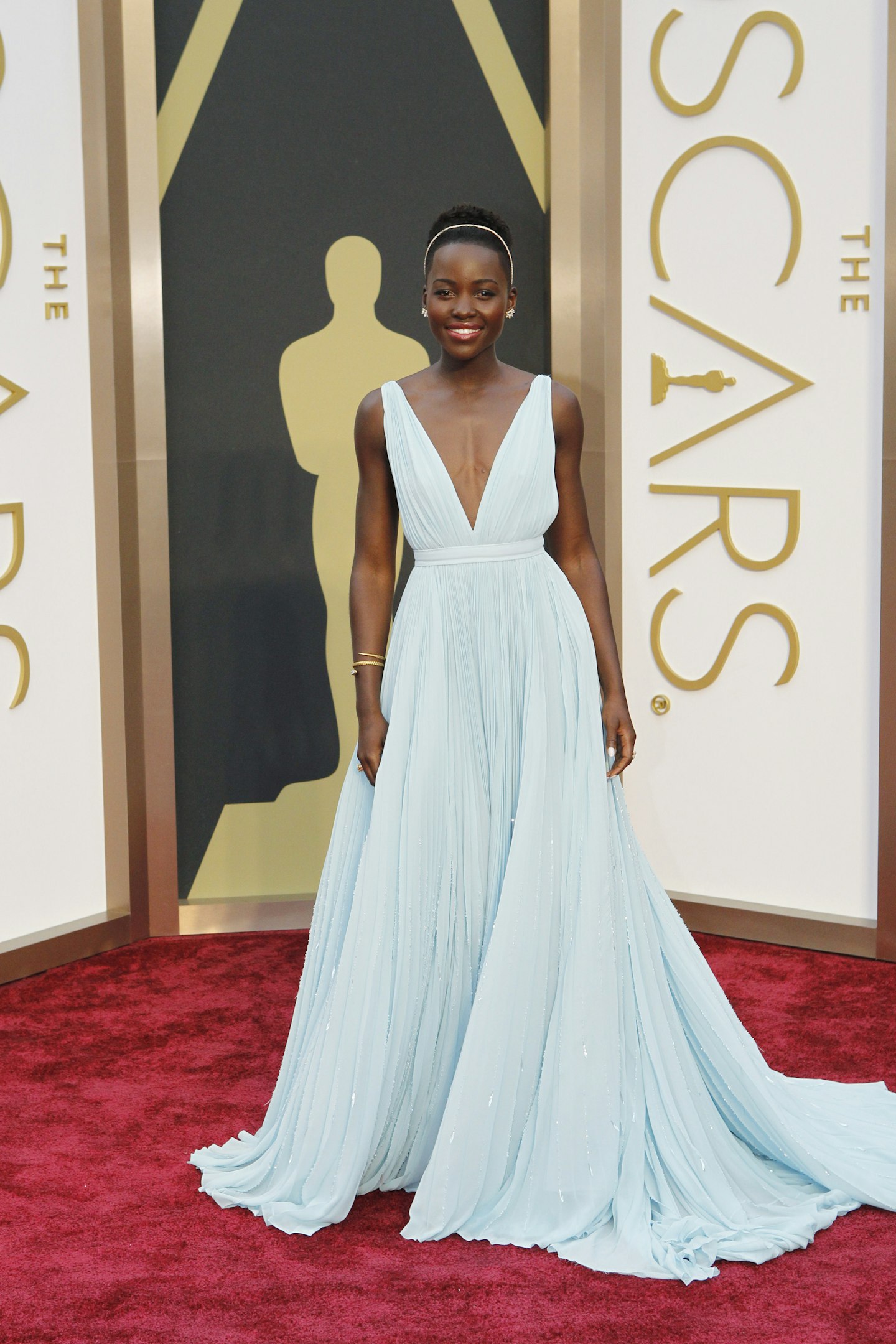 18 of 39
CREDIT: Getty
Lupita Nyong'o in Prada, 2014
It's hard to believe that the 2014 ceremony marked Lupita Nyong'o's first-ever Oscars, so assuredly has she cemented her reputation as both a fashion-forward red carpet presence and a major acting talent in the ensuing years. Winning the Best Supporting Actress award for 12 Years A Slave, Nyong'o wore a custom-made Prada design in a pale blue shade that reminded her of her home city, Nairobi.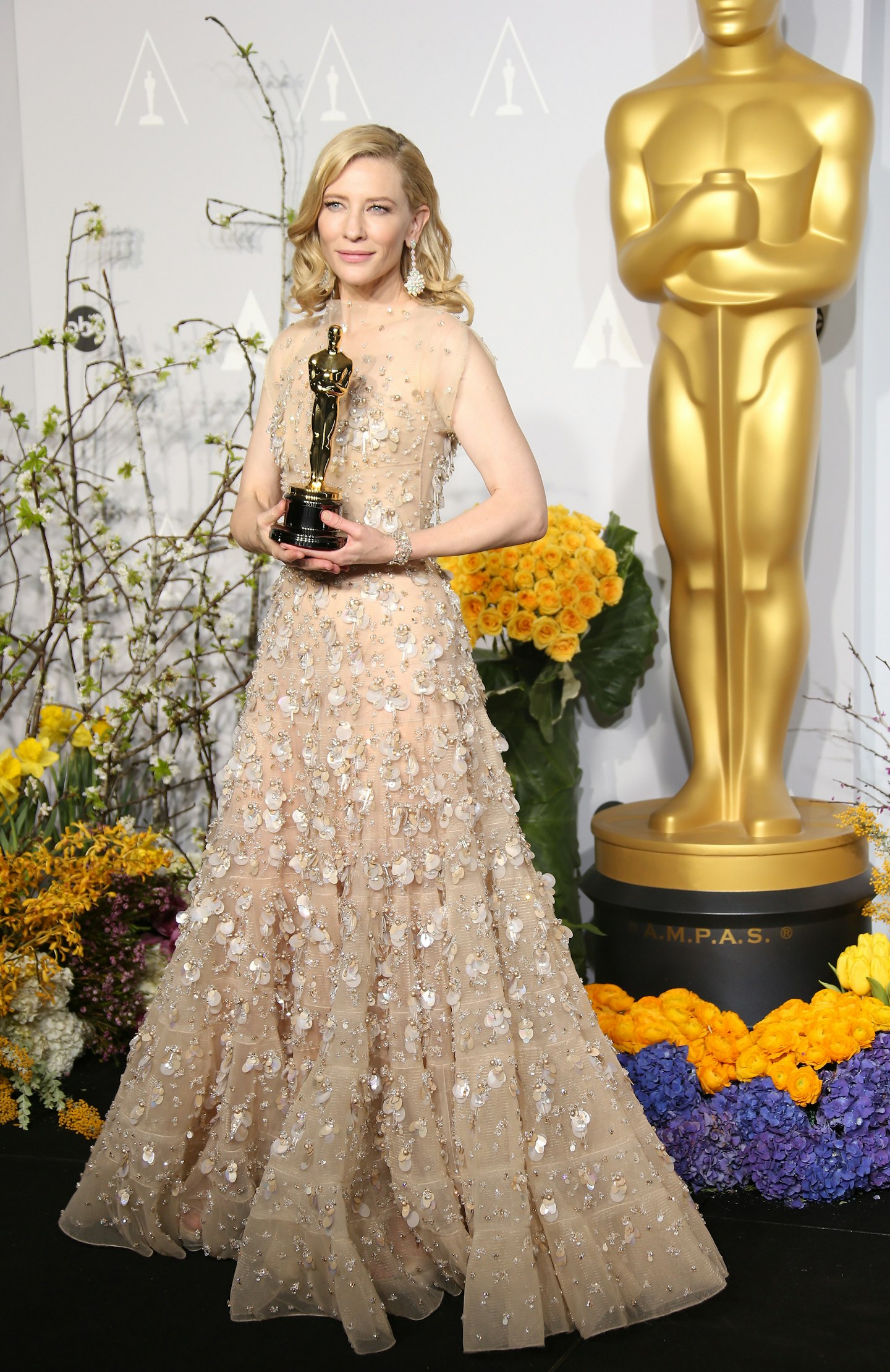 19 of 39
CREDIT: Getty
Cate Blanchett in Armani Privé, 2014
Many of Cate Blanchett's most memorable red carpet fashion moments have come courtesy of Mr Armani, and this is arguably one of – if not the - best. For the 2014 ceremony, which saw Blanchett take home the Best Actress statuette for Blue Jasmine, her ensemble was worth an estimated $18.1 million: $100,000 for this stunning embellished gown in pale blush, then a further $18 million for her Chopard earrings, bracelet and ring.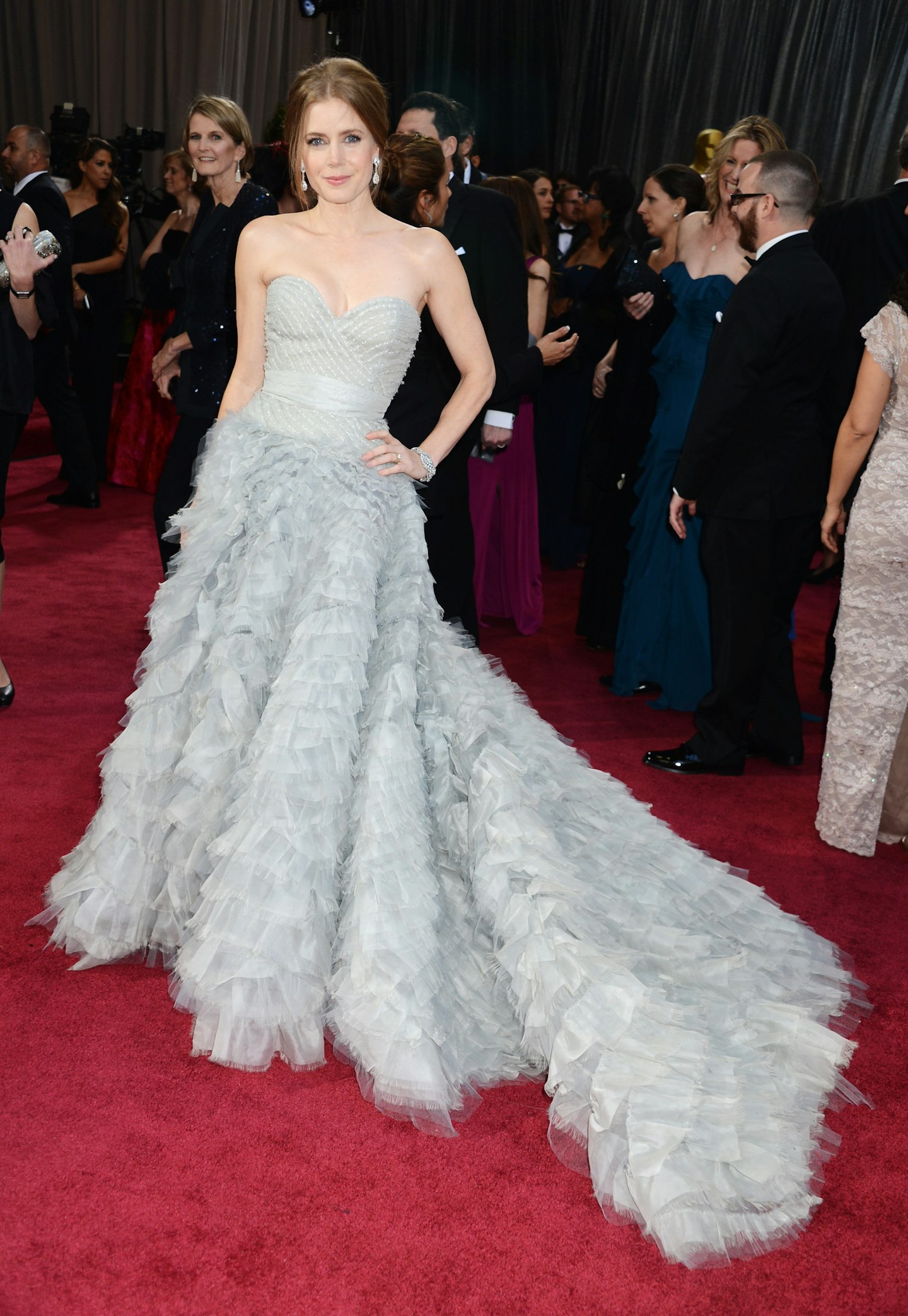 20 of 39
CREDIT: Getty
Amy Adams in Oscar de la Renta, 2013
Amy Adams worked in close collaboration with the late design legend Oscar de la Renta for her 2013 Academy Awards gown. The actress, who was nominated for her role in The Master, presented de la Renta with a selection of old black-and-white photos, before one in particular (a picture of a model walking into a doorway, her stylist Cristina Ehrlich told People) captured both their imaginations. The result was this ice blue beaded confection with a tiered tulle skirt.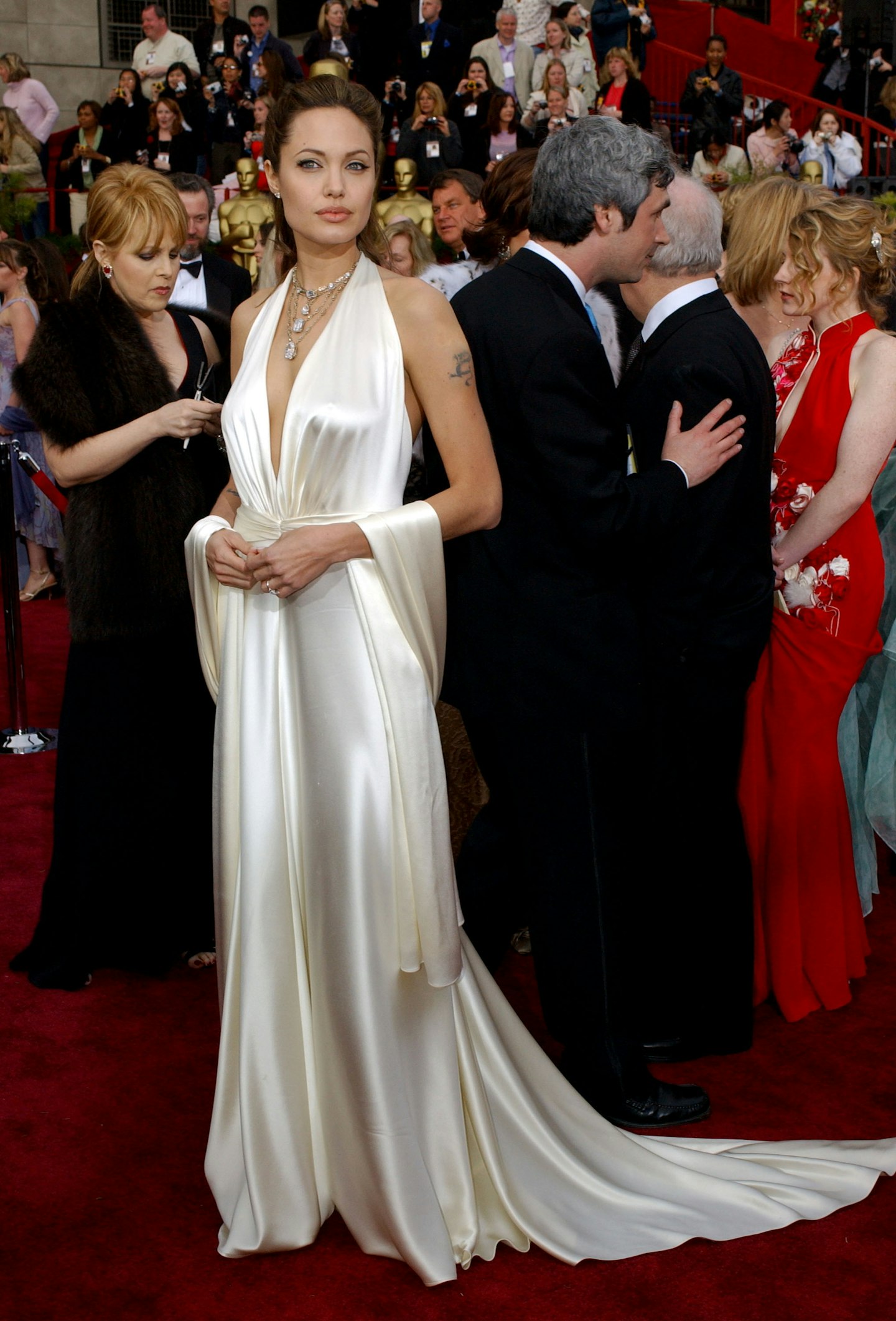 21 of 39
CREDIT: Getty
Angelina Jolie in Marc Bouwer, 2004
The thigh-high split of her black Atelier Versace gown may have launched a thousand memes when Angie attended the Oscars ceremony in 2012, but it's her 2004 dress that is arguably her best: a white satin gown by South African designer Marc Bouwer that immediately recalls the infamous halter-neck style worn by Marilyn Monroe in The Seven Year Itch, bringing Old Hollywood glamour into the twenty-first century.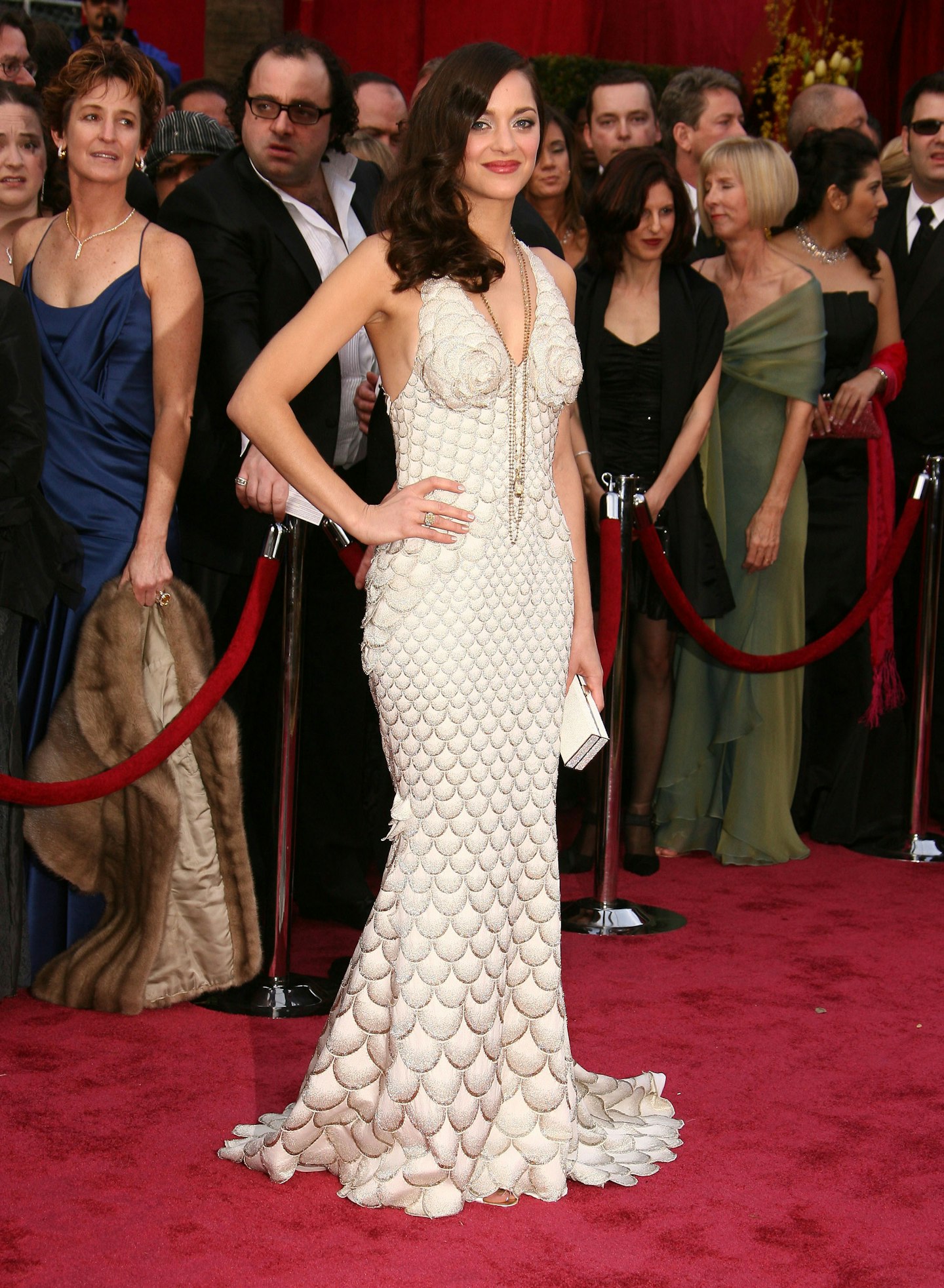 22 of 39
CREDIT: Getty
Marion Cotillard in Jean Paul Gaultier, 2008
Marion Cotillard took to her first Oscars red carpet like a fish to water (and yes, we are playing on the fact that her idiosyncratically beautiful Jean Paul Gaultier gown was covered in hundreds of mermaid-esque scales). She went on to pick up the Best Actress statuette for her portrayal of Edith Piaf in La Vie En Rose: not bad for a first-timer.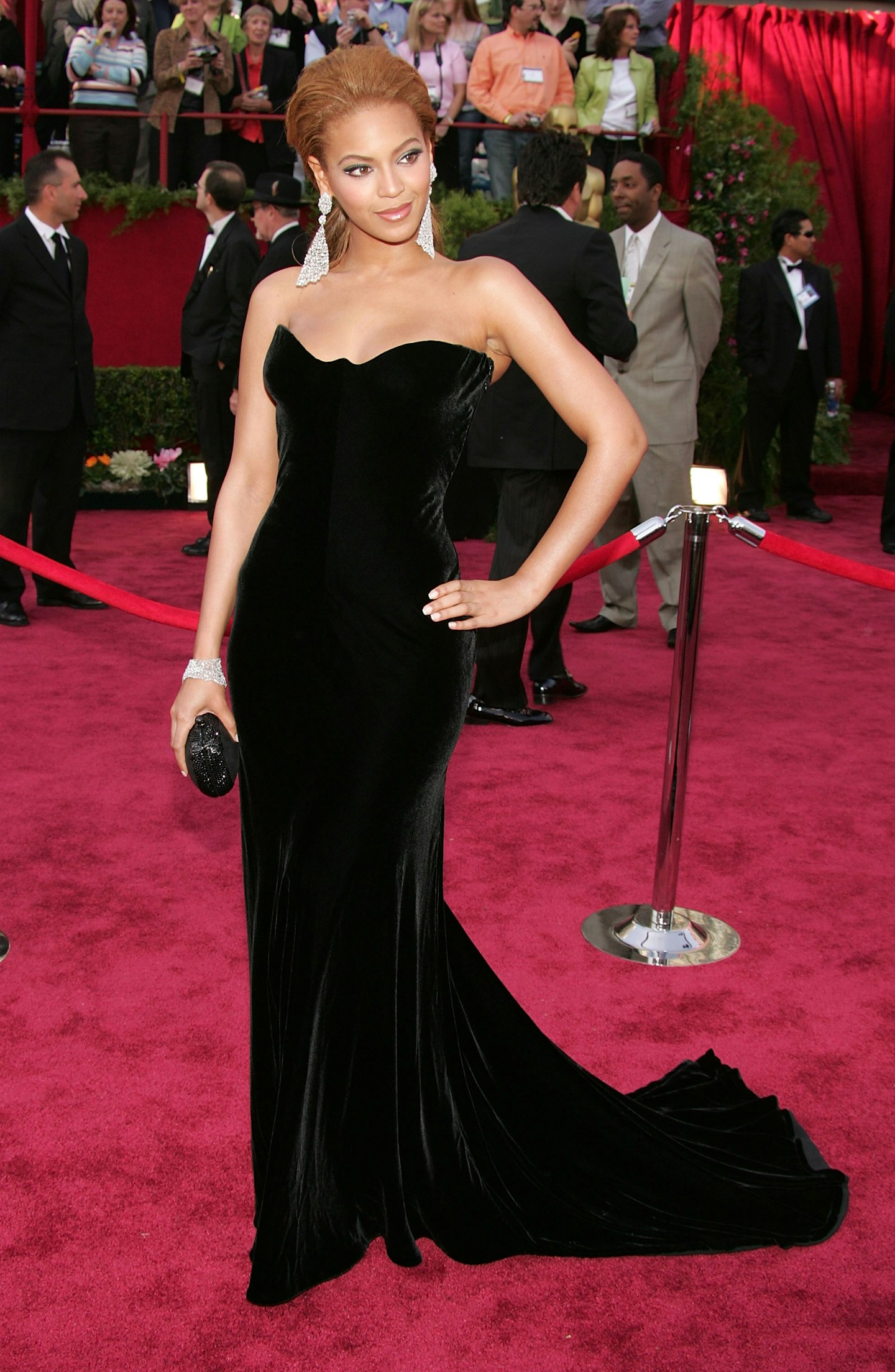 23 of 39
CREDIT: Getty
Beyoncé in Atelier Versace, 2005
For her Academy Awards debut in 2005 (promoting Dreamgirls) Beyoncé chose a vintage strapless gown in black velvet by Atelier Versace. She paired the simple dress with some serious hardware: chandelier earrings and a diamond bracelet by A-list jeweller Lorraine Schwartz (who also designed Bey's 18-carat diamond engagement ring).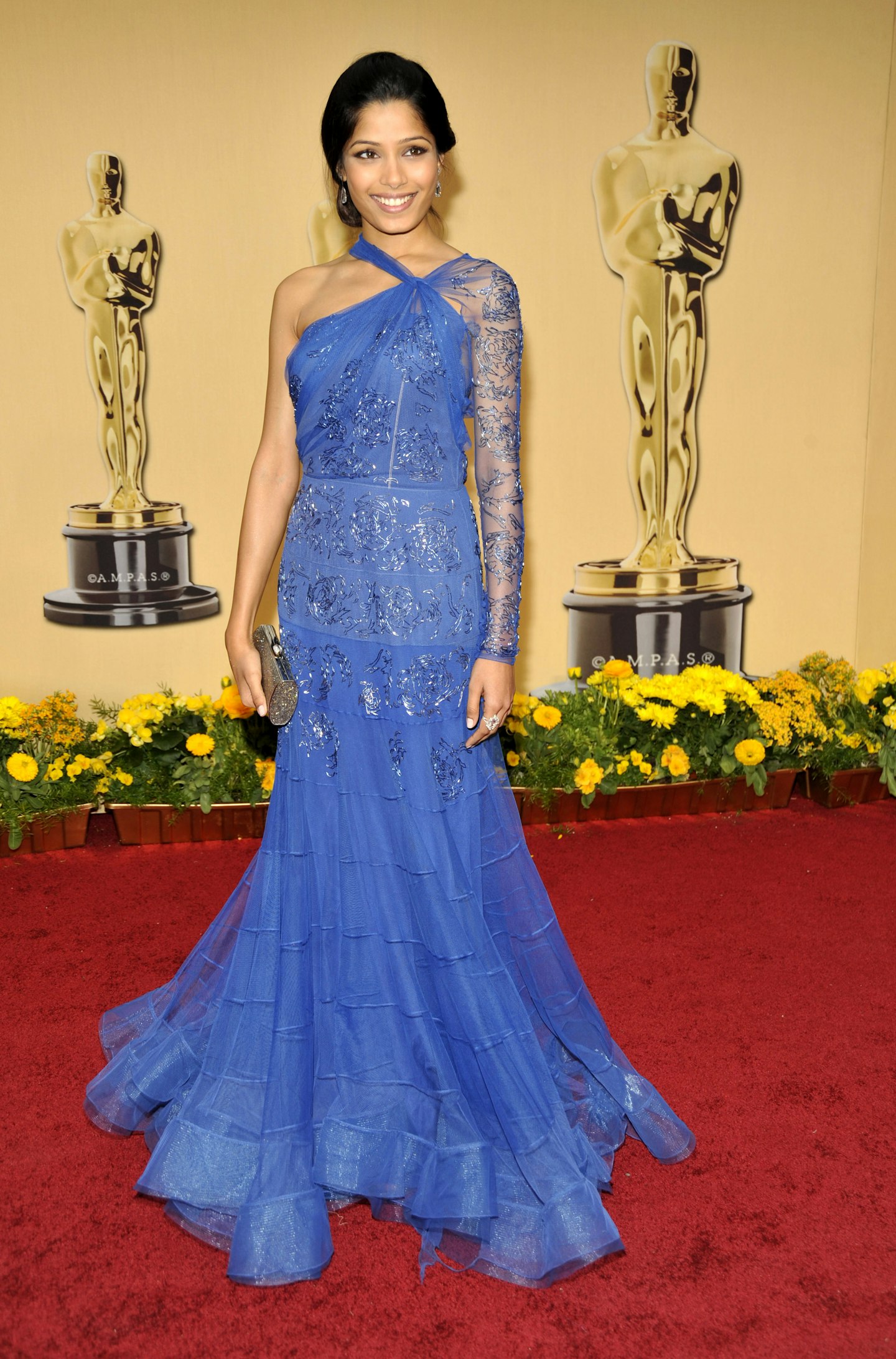 24 of 39
CREDIT: Getty
Freida Pinto in John Galliano, 2009
Freida Pinto's sapphire-blue dress, worn for her post-Slumdog Millionaire appearance at the 2009 ceremony, made its debut on the John Galliano catwalk just a few weeks prior to her red carpet moment. The actor wore the originally risqué (i.e. entirely transparent) style layered over a blue under-dress, a switch-up which allowed the intricate embellishment to do the talking.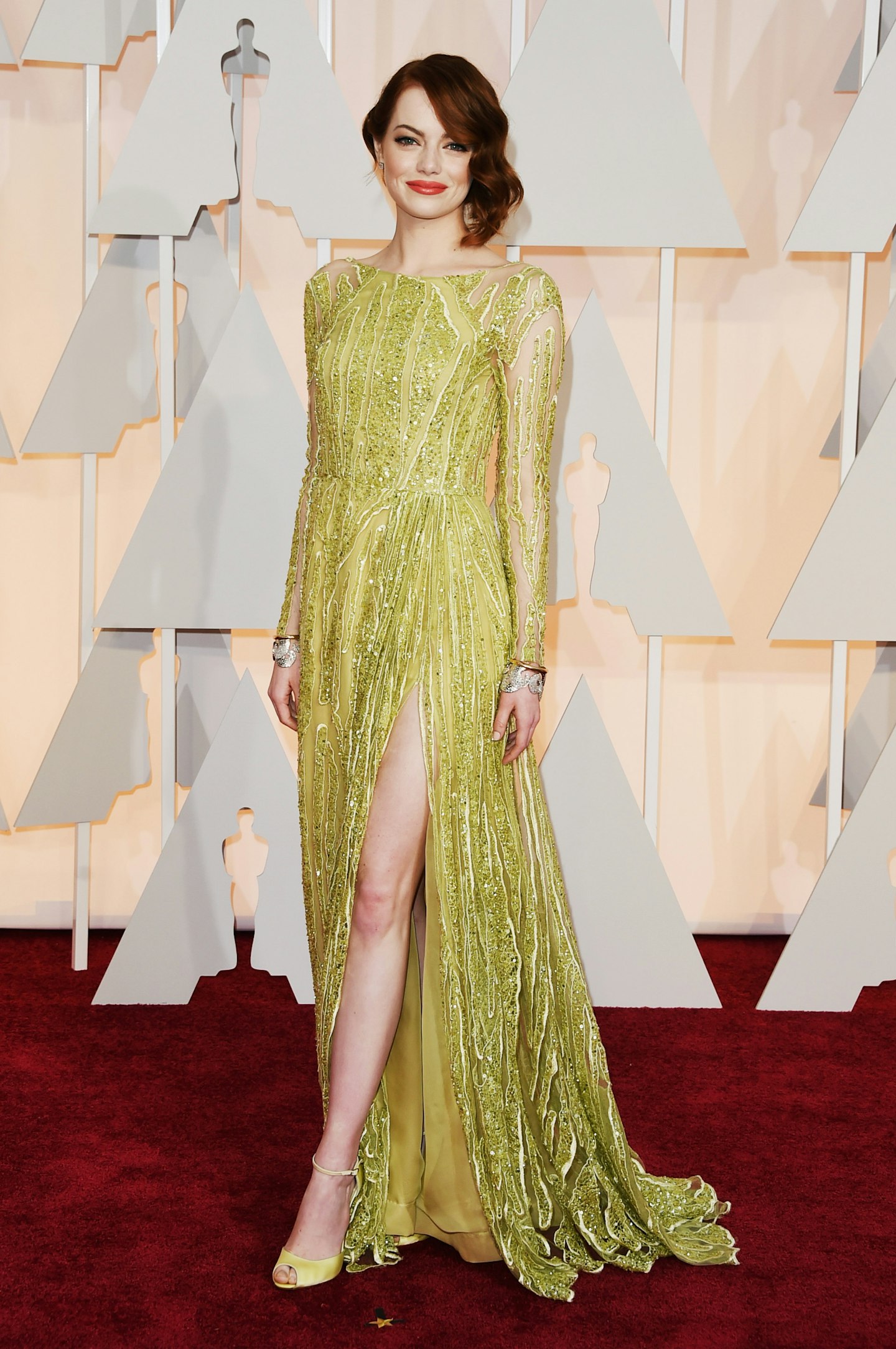 25 of 39
CREDIT: Getty
Emma Stone in Elie Saab, 2015
Emma Stone made it clear that she isn't afraid to take risks on the red carpet when she chose this beaded Elie Saab gown in a statement-making shade of chartreuse (that's fashion speak for 'yellow-green') that works unexpectedly well with her red hair.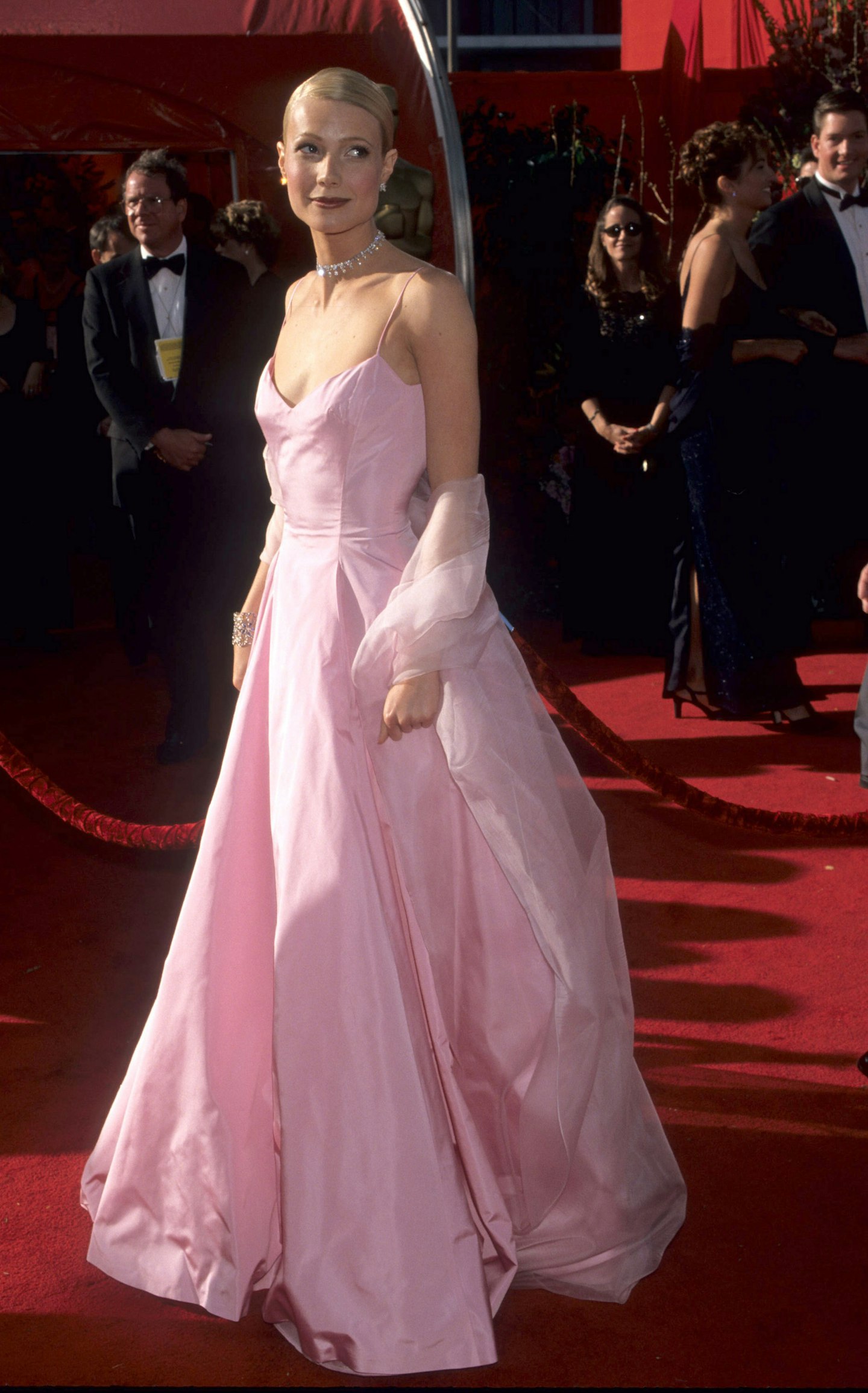 26 of 39
CREDIT: Getty
Gwyneth Paltrow in Ralph Lauren, 1999
Gwyneth's pale pink Ralph Lauren gown, with its spaghetti straps and full, Disney princess skirt, is arguably as famous as the tearful acceptance speech she made after winning Best Actress for Shakespeare In Love. The actress later revealed that she's kept all of her Oscar gowns for her daughter Apple, and hopes she'll wear the pink gown to her prom. 'Maybe she'll wear it to prom and do a Pretty in Pink thing and resew it and cut it up,' she mused to People, before backtracking with 'I don't know if I'd let her chop that one up.'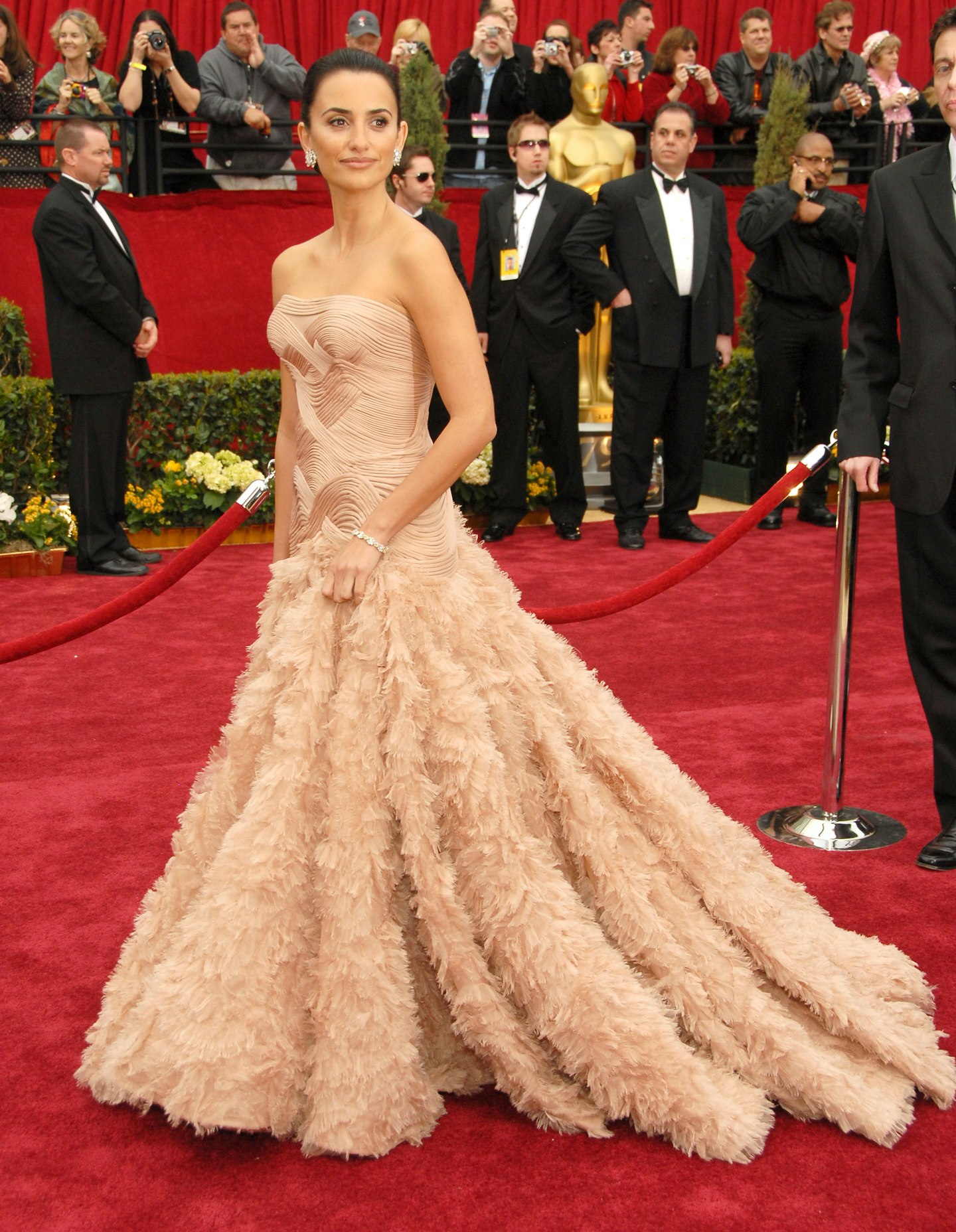 27 of 39
CREDIT: Getty
Penelope Cruz in Versace, 2007
She may have lost out to Queen Helen Mirren in the race to the Best Actress trophy at the 79th Academy Awards, but Penelope Cruz was a winner on the red carpet in this sweeping blush-coloured number. While pale pink princess gowns are a mainstay of classic Oscars style (see Gwyneth Paltrow, Jennifer Lawrence et al), the feathered skirt and sculptural bodice make this Atelier Versace number a showstopper in its own right.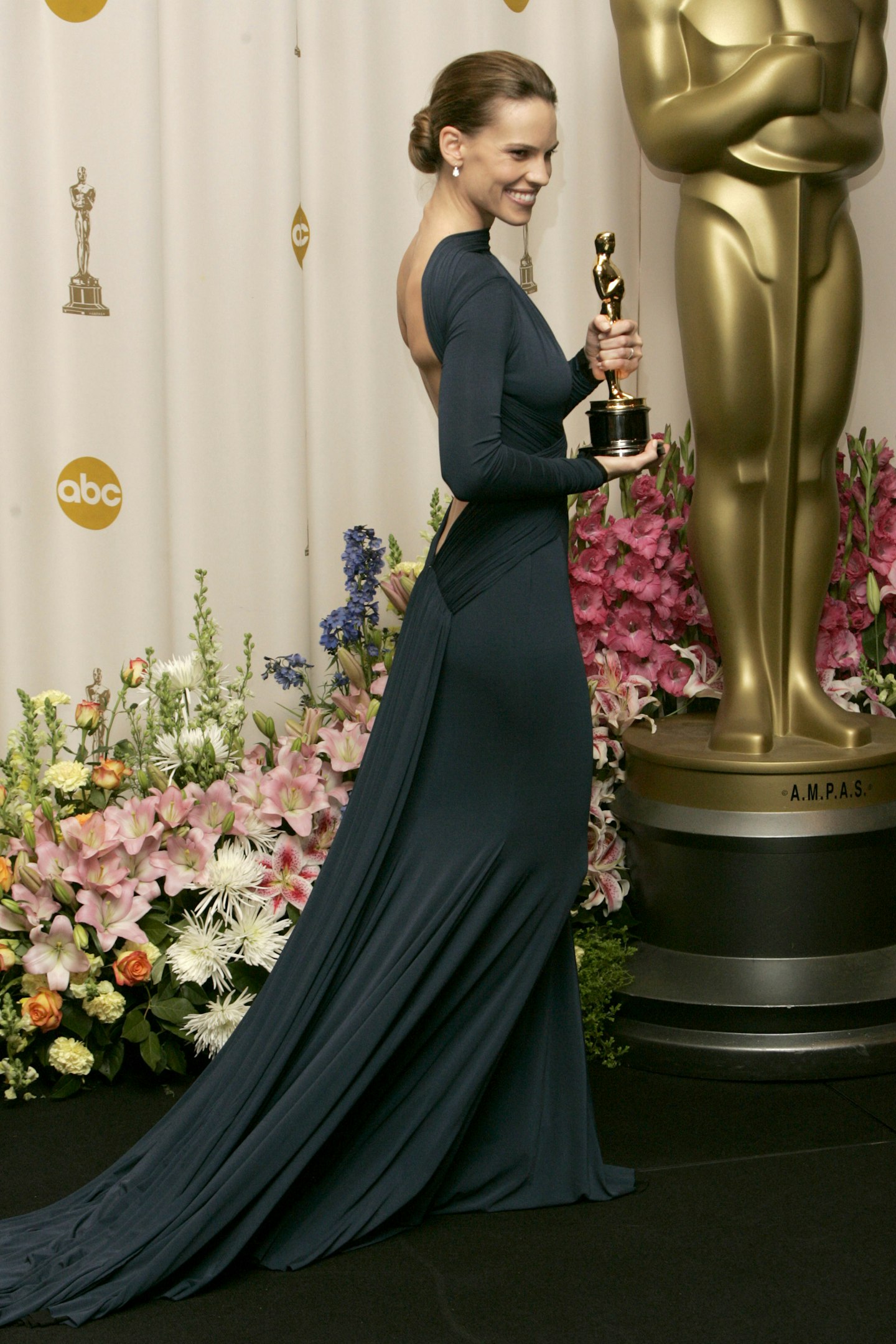 28 of 39
CREDIT: Getty
Hilary Swank in Guy Laroche, 2005
To collect her Best Actress Oscar for Million Dollar Baby in 2005, Hilary Swank opted for this deceptively simple gown by French designer Guy Laroche. With its long sleeves and high neckline, the navy-blue gown (fashioned from 27 yards of silk jersey) appeared sedate, even demure, from the front; the cut-away back and exquisite draping, however, made this dress unforgettable. Another lesson in 'less is more' style.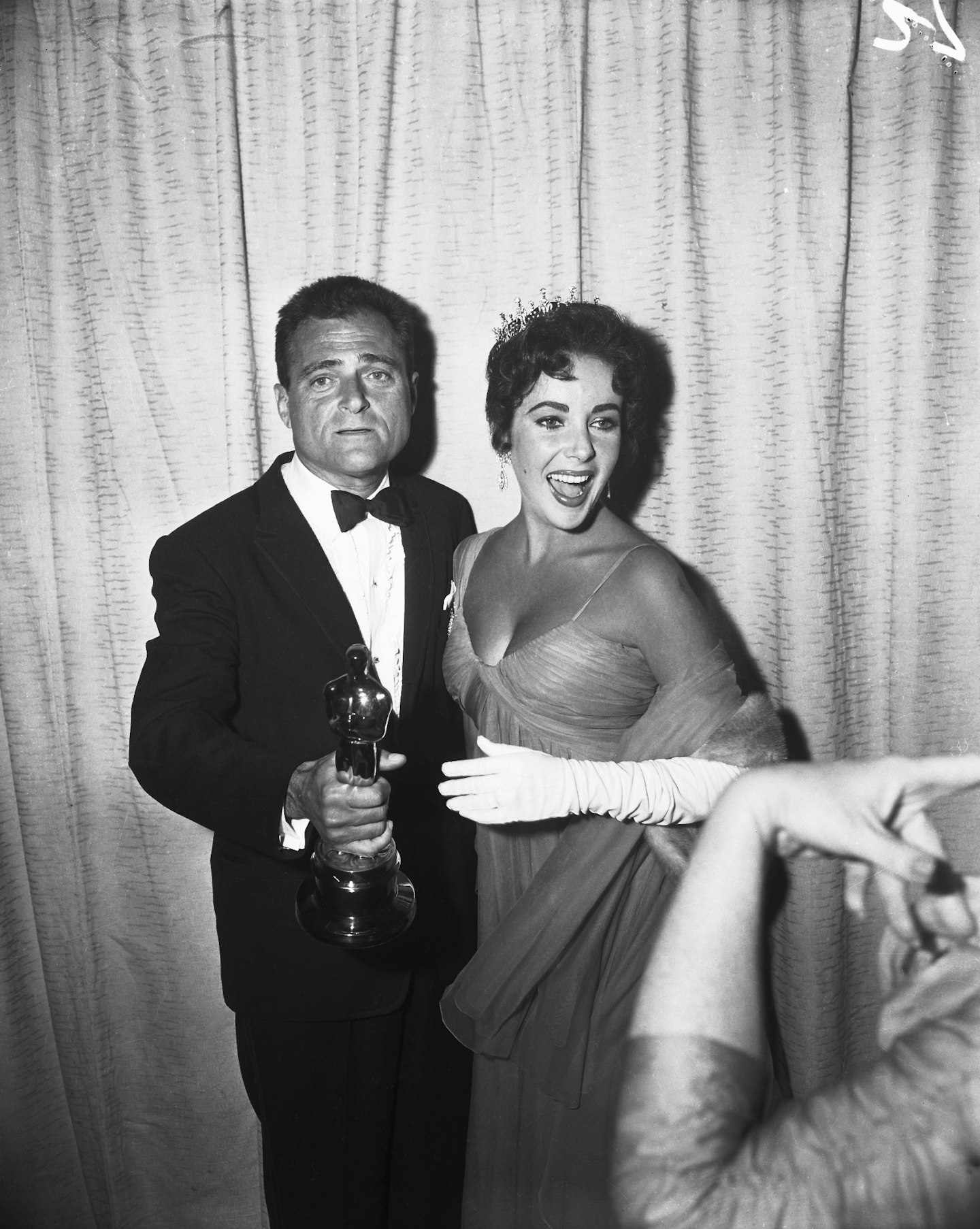 29 of 39
CREDIT: Getty
Elizabeth Taylor in Helen Rose, 1957
Elizabeth Taylor certainly knew how to make a statement, as exemplified by her casually pairing this simple draped gown (by MGM costumier Helen Rose, who designed Taylor's outfits for Cat on a Hot Tin Roof, as well as Grace Kelly's now-iconic wedding dress) with a fur stole, elbow-length gloves and a Cartier tiara, a gift from third husband Mike Todd. If ever an image could encapsulate Hollywood glamour, this might just be it.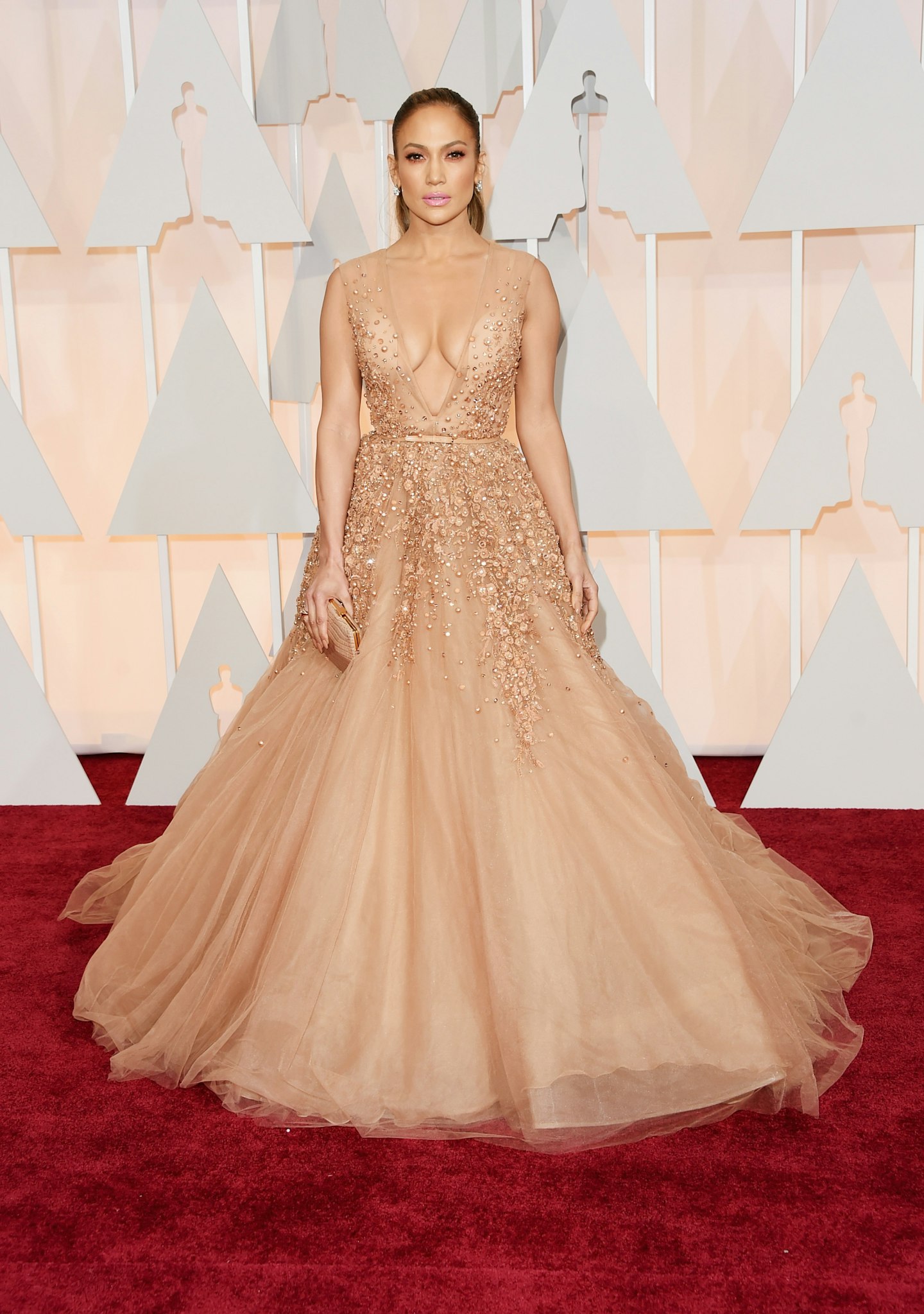 30 of 39
CREDIT: Getty
Jennifer Lopez in Elie Saab, 2015
Jennifer Lopez appeared to have danced straight out of a Disney fairytale in this embellished princess dress by red carpet fail-safe Elie Saab. A departure from her typical fashion formula, the couture gown's embellished overlay was decked out in pearls and sequins, while the extensive tulle train was a certified show-stopper.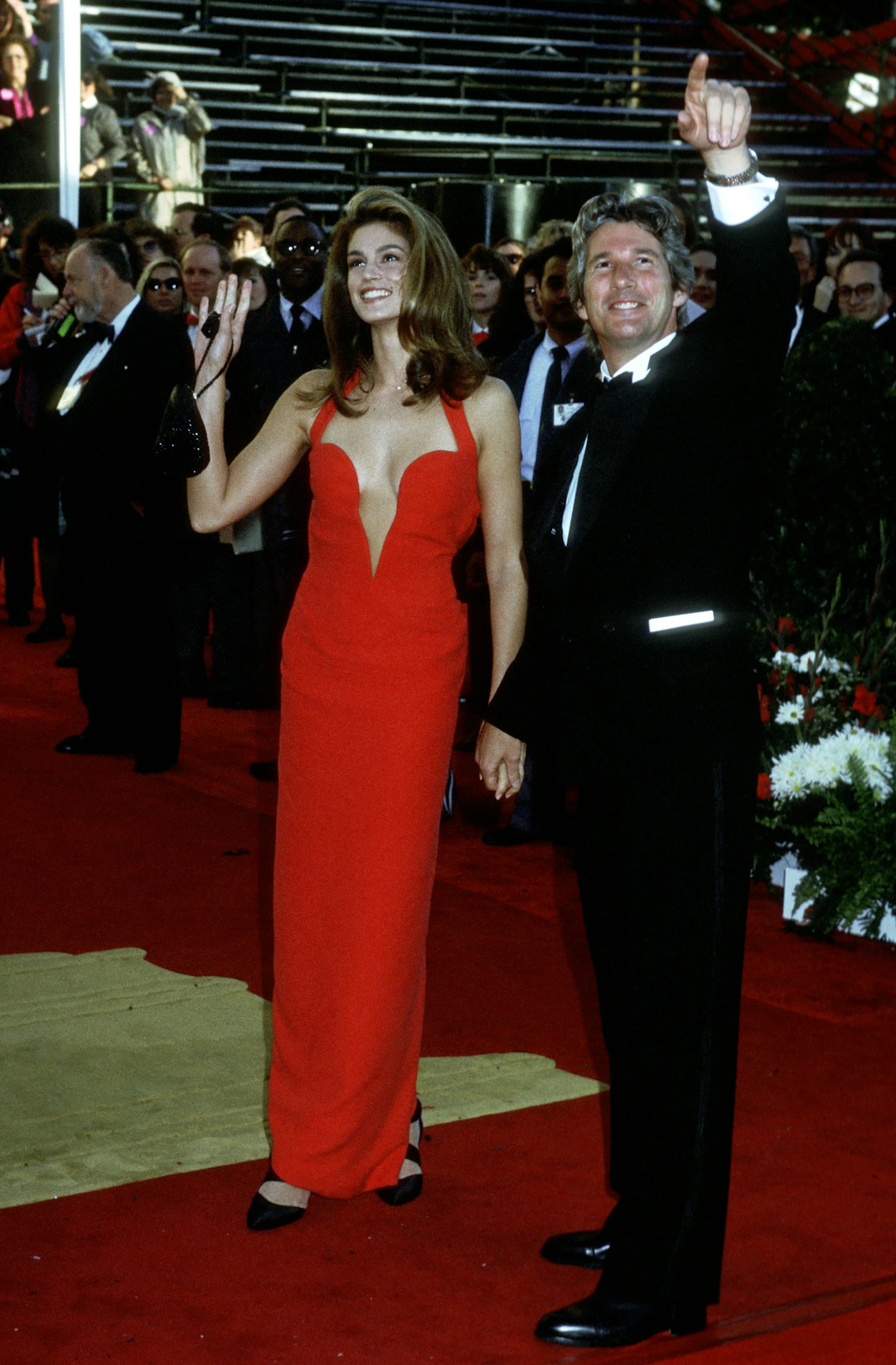 31 of 39
CREDIT: Getty
Cindy Crawford in Versace, 1991
Attending the Academy Awards in 1991 as one half of the ultimate Nineties power couple (with then-boyfriend Richard Gere), Cindy Crawford managed to steal the show in this simple yet iconic scarlet dress courtesy of Versace, the designer of choice for the supermodels. The plunging V-neck style wouldn't look out of place on the red carpet today.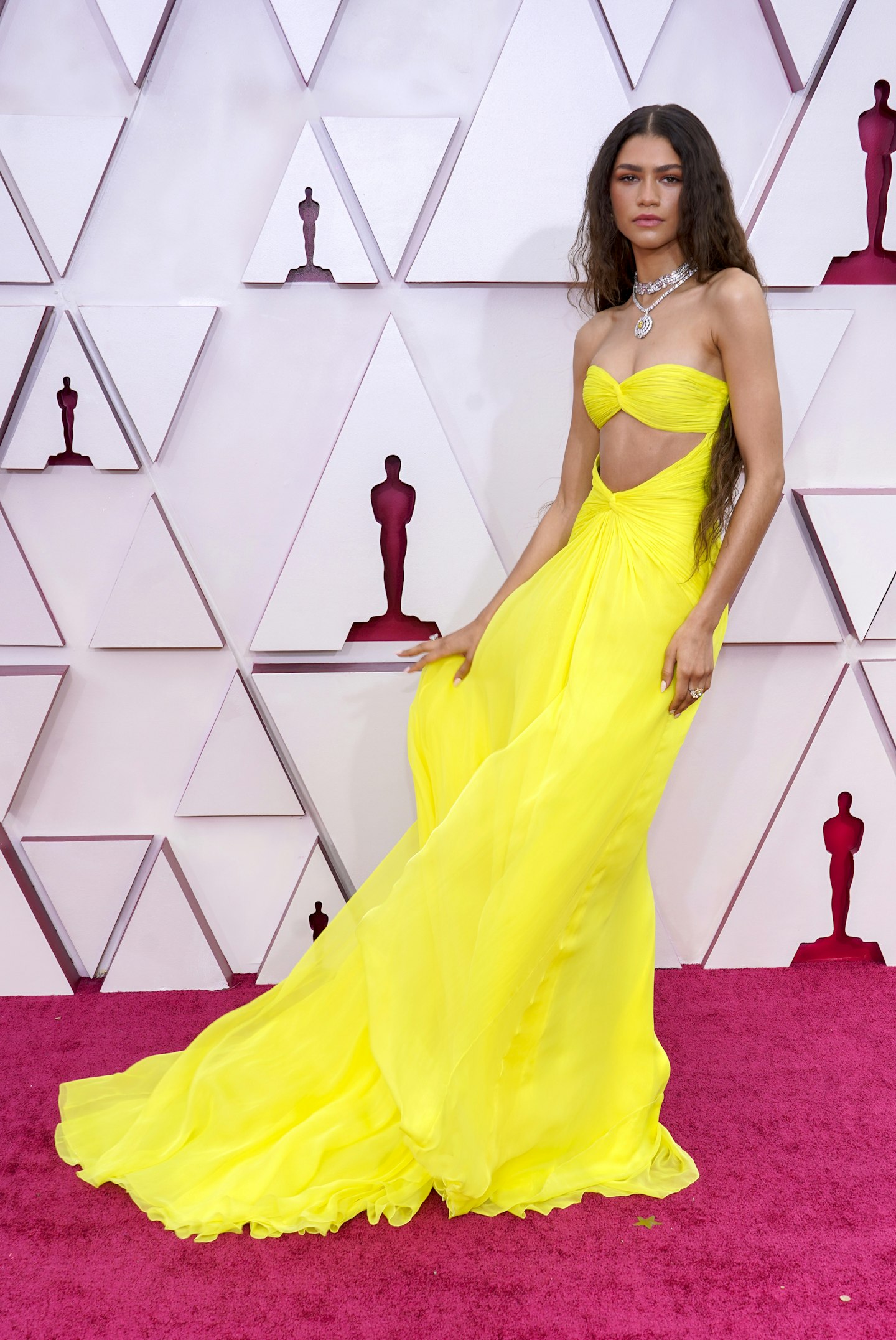 32 of 39
CREDIT: Getty
Zendaya in Valentino Haute Couture, 2021
Kapow! After a year of digital ceremonies, Zendaya wowed and then some on the red carpet at 2021's Oscars, arriving in sunshine-shaded Valentino Haute Couture.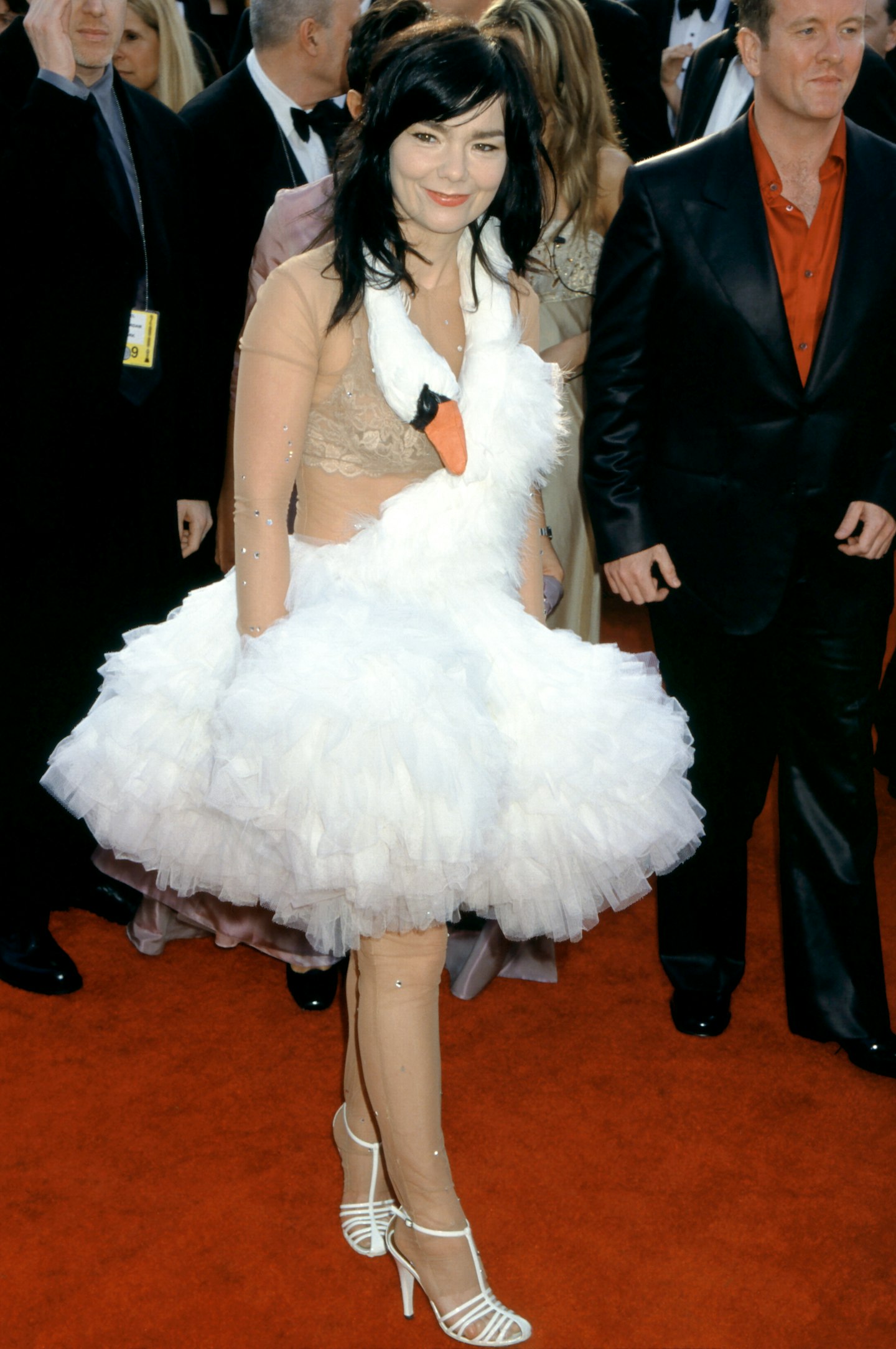 33 of 39
CREDIT: Getty
Bjork in Marjan Pejoski, 2001
The picture that sparked a thousand articles, debates and memes (a Debenhams poll published in The Daily Telegraph in 2008 voted it the ninth most iconic red-carpet dress of all time). Perhaps not the most 'fashion' in the traditional sense, but certainly the most memorable.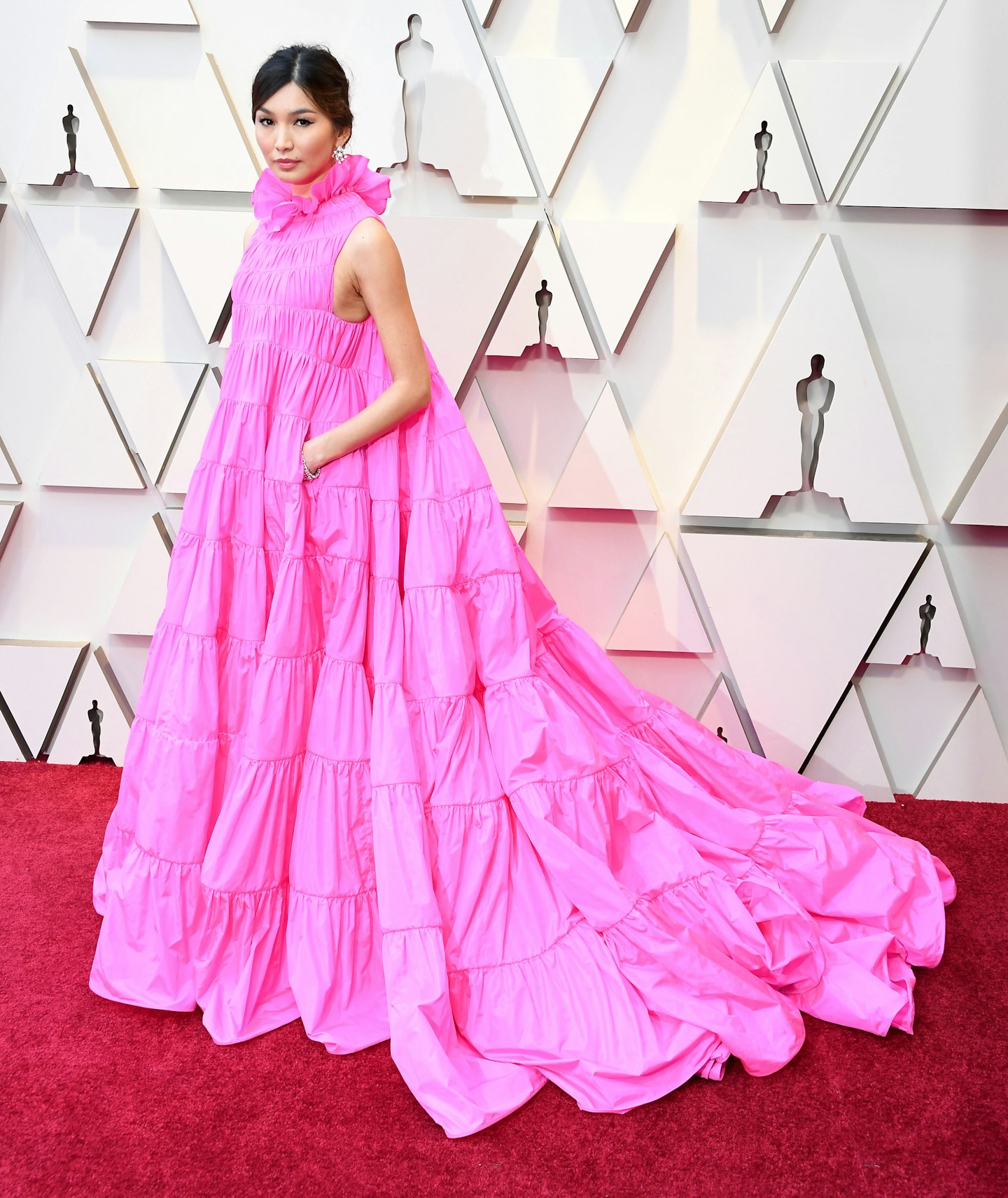 34 of 39
CREDIT: Getty
Gemma Chan in Valentino Haute Couture, 2019
Styled by the queen of red carpet dressing, Rebecca Corbin-Murray, Chan wore this billowing Valentino Haute Couture gown in 2019 and, to be honest, we're still dreaming about it now.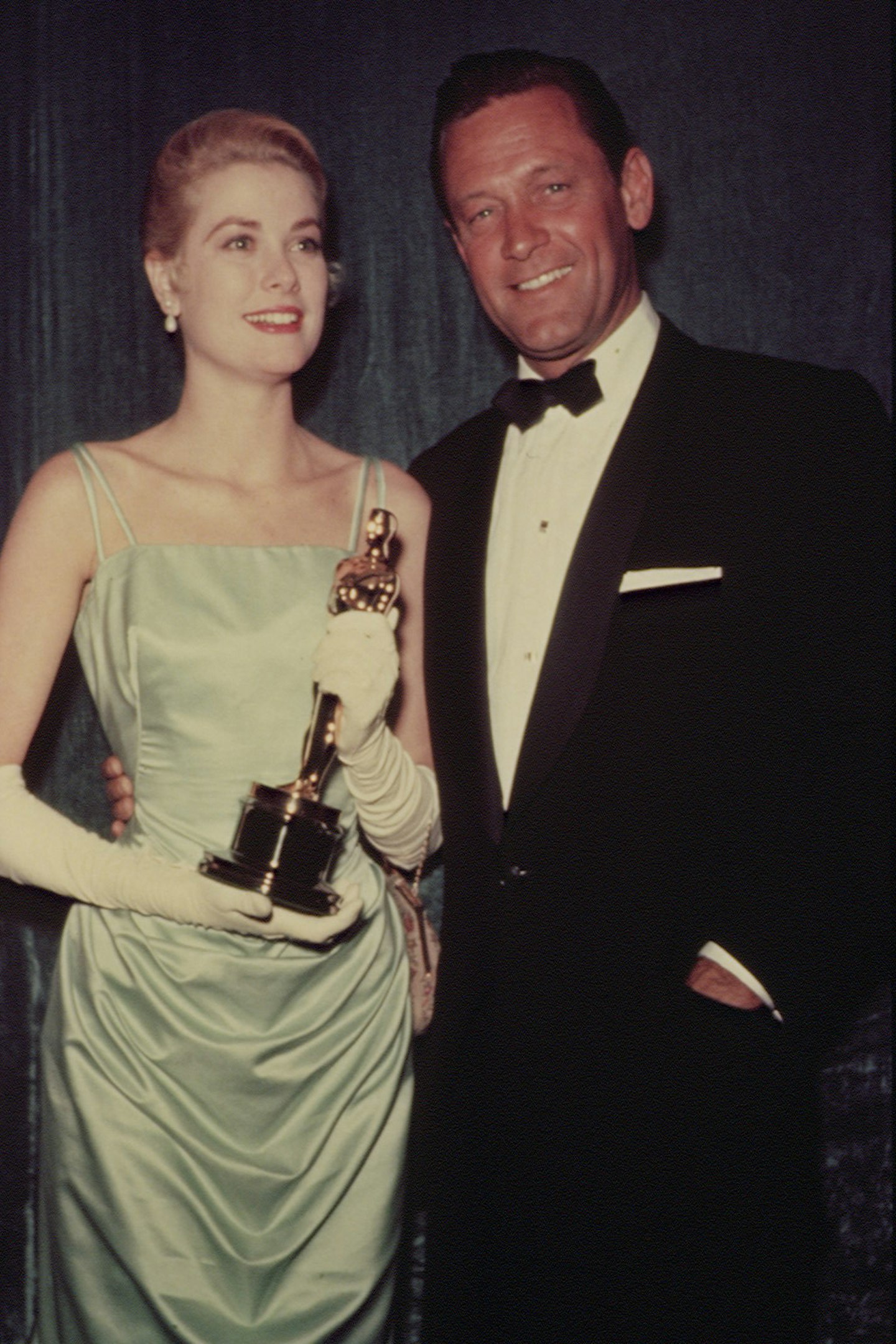 35 of 39
CREDIT: Getty
Grace Kelly in Edith Head, 1955
It's hard to imagine any of this year's Oscar contenders re-wearing a gown for their big night, however beloved. Grace Kelly, however, wore this pale blue-green gown, designed by costumier extraordinaire Edith Head, for the New York premiere of The Country Girl the previous year, choosing to recycle it when that film earned her an Academy Award nomination (and eventually, a win). She would go on to wear it a third time on the cover of Life magazine a few weeks later. Sixty years later, it remains one of her most iconic looks.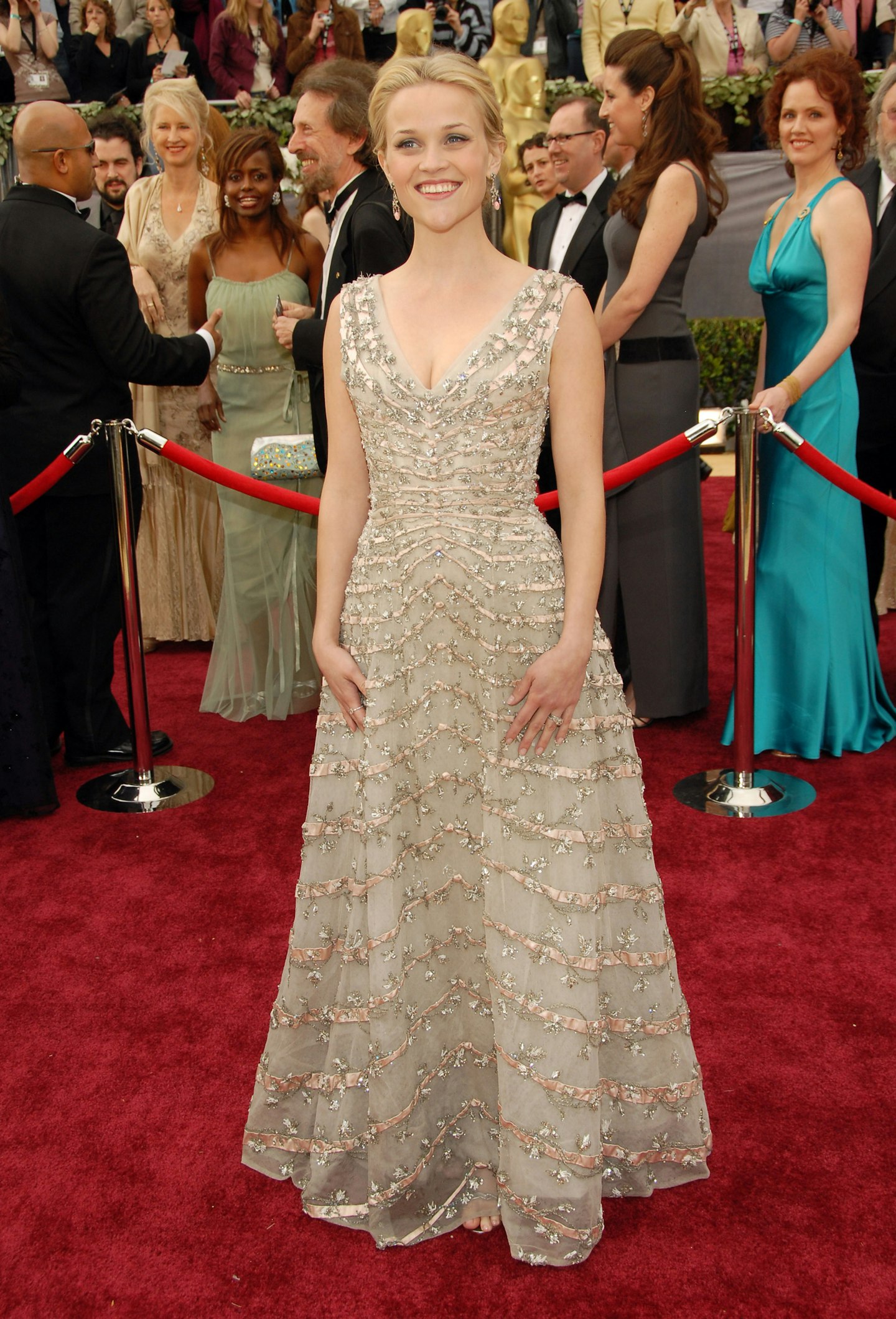 36 of 39
CREDIT: Getty
Reese Witherspoon in Dior, 2006
This vintage Dior gown dates from the '50s; appropriately, that's the decade Reese returned to for her Oscar-winning turn as June Carter-Cash in Walk The Line. Rumour has it that the actor had to fight for this piece of fashion history, which was reportedly originally designed for royalty, after finding it in a Paris boutique. Just like Elle Woods, her perseverance paid off: the intricate beading, muted colours and classic V-shaped neckline couldn't look better.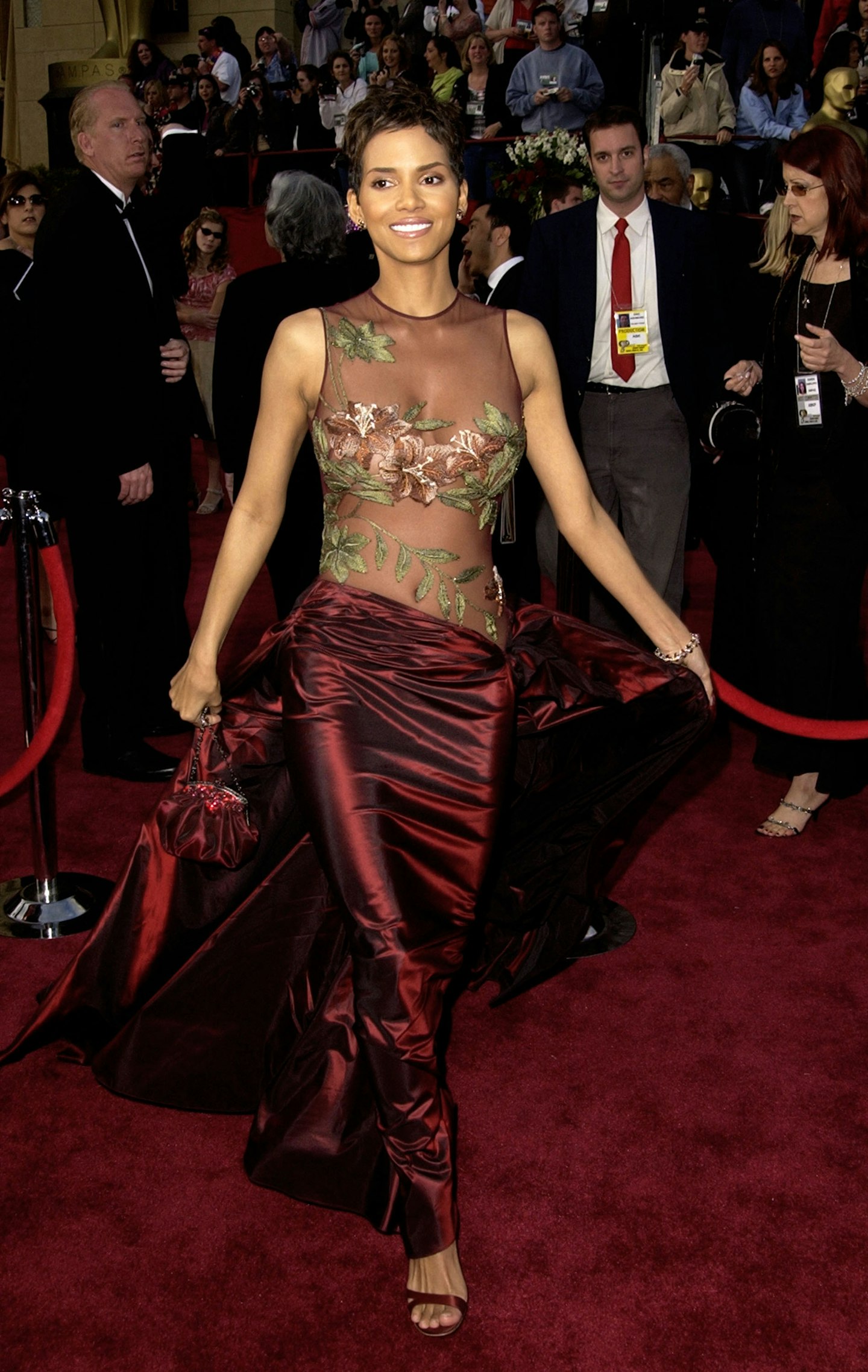 37 of 39
CREDIT: Getty
Halle Berry in Elie Saab, 2003
Elie Saab gowns have become a mainstay of red carpet style, with Halle Berry among the label's legion of famous fans. The actor memorably wore a Saab creation with a sheer bodice when she made history as the first Black woman to win the Best Actress award in 2002 - and chose a simpler style by the same designer for the next year's ceremony, wowing in layers of embellished gold tulle.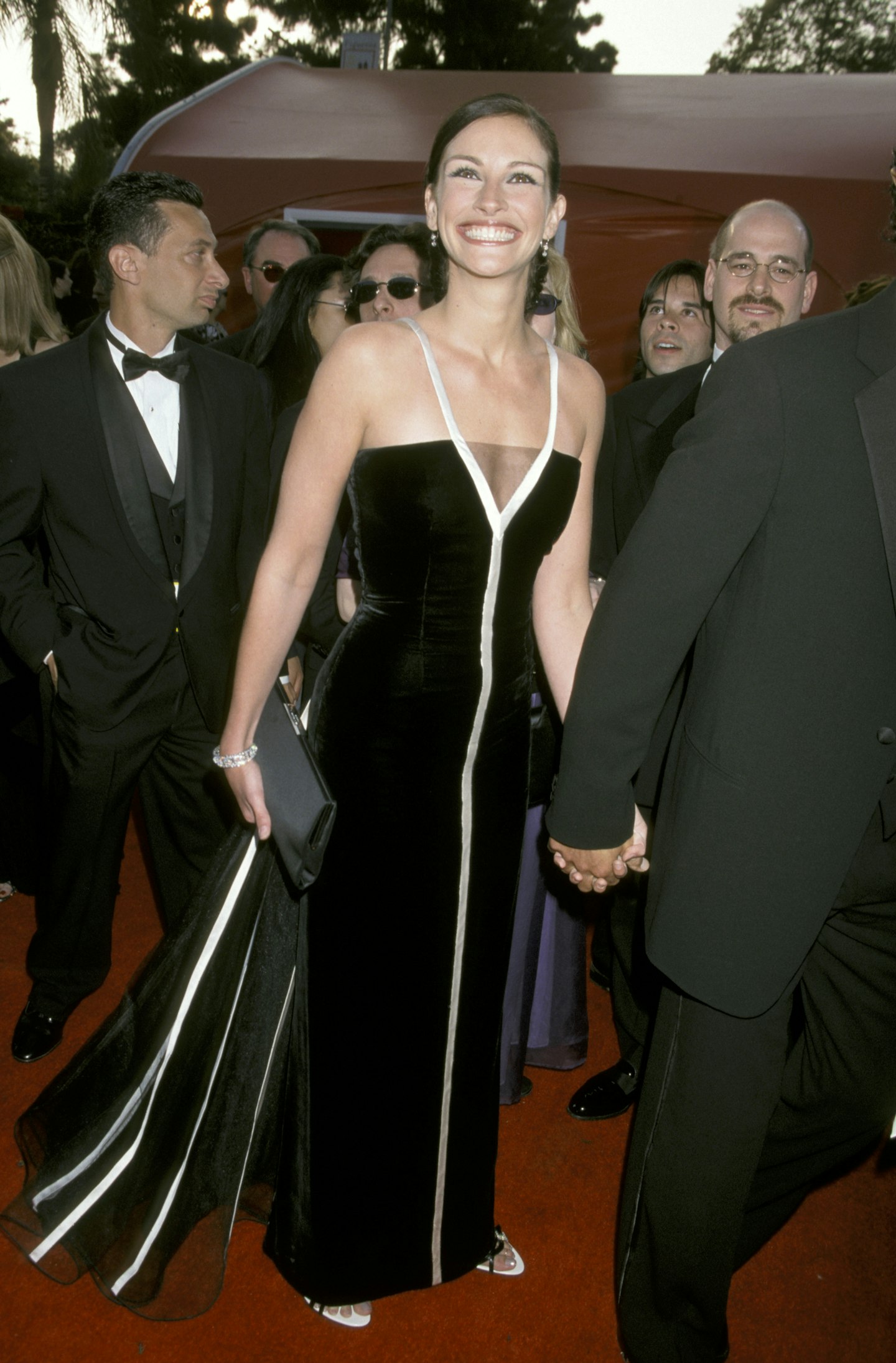 38 of 39
CREDIT: Getty
Julia Roberts in Valentino, 2001
The 2001 Academy Awards was one of the biggest nights in Julia Roberts' career: she was nominated for – and went on to win - Best Actress for her role in Erin Brockovich. To find the perfect dress, she looked back through Valentino's archives, eventually choosing to keep things simple in this classic black and white style from 1984. Appropriately enough, the designer said he had been inspired by the allure of movie stars when working on the collection nearly twenty years before Roberts's Oscar moment.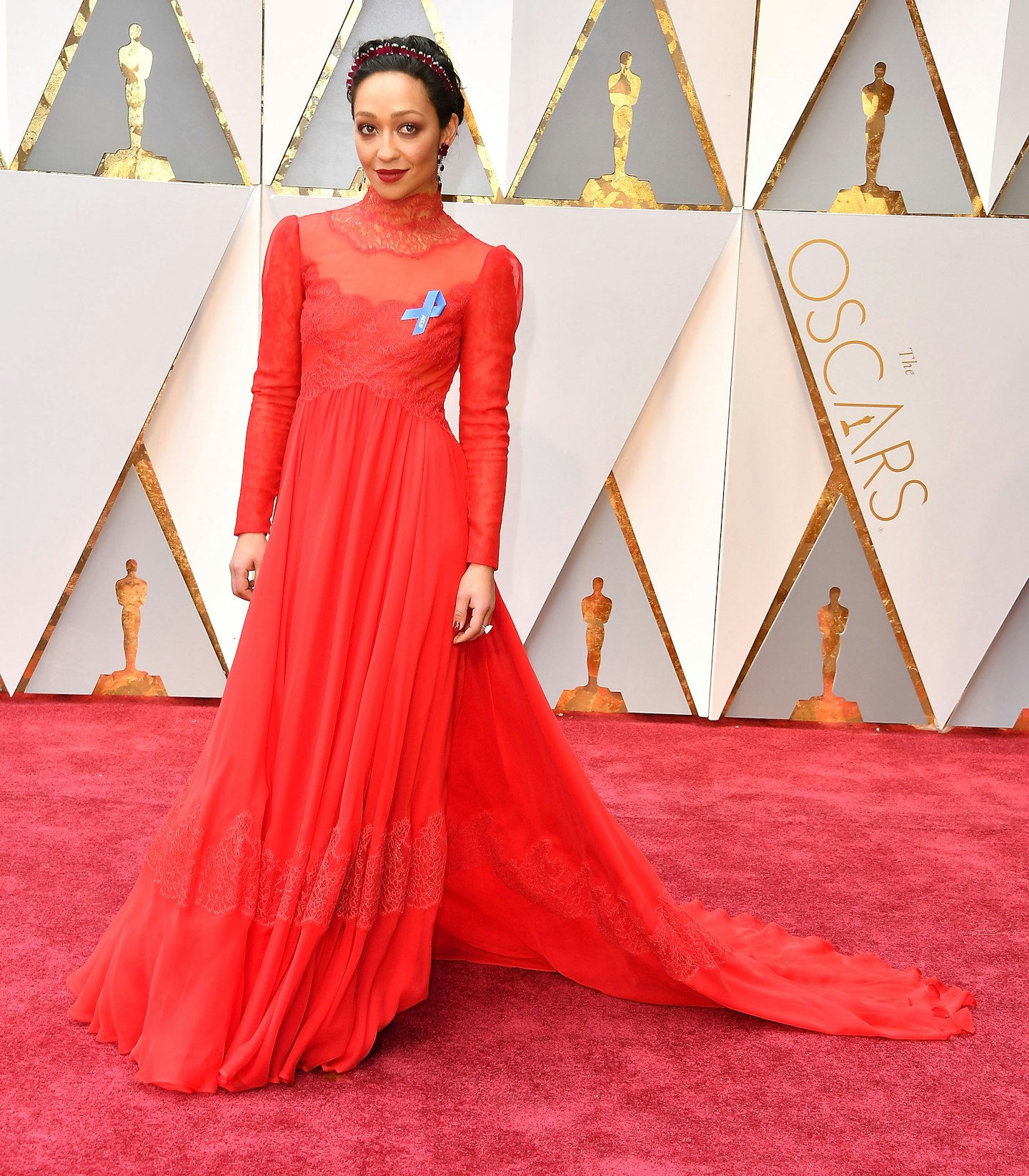 39 of 39
CREDIT: Getty
Ruth Negga in Valentino, 2017
Ruth Negga's bold red Valentino gown is at once subtle and statement-making, and confirmed her status as an exciting new red carpet star. It's all in the details: the high neckline, the lace panel detail on the dramatic full skirt, the slightly capped sleeves and the almost empire-line waist, not forgetting the unmissable sky blue of her ACLU pin.
READ MORE: What Makes A Winning Oscar Dress? See What Every Winning Actress Wore