It's been twelve years since Barack Obama was elected President of the United States and after four years of Donald Trump, it's never been clearer what an important position he left to fill. After a tense night waiting for the 2020 US election, some are even Googling 'could Barack Obama be president again?'.
For many, his presidency symbolised the last feeling of true hope for systemic change, but it wasn't just his policies that were important but his personality too.
From Barack's rapping capabilities to the countless times he and Michelle have re-established our belief in true love - it's certain that the White House will never be the same as when the Obama's moved in.
So in celebration of Barack's legendary time in office, we chart every single time we wished he was our dad…
When his rendition of 'Jingle Bells' filled us with festive cheer
What better way for the president to celebrate his final White House Christmas (sob) that with a rousing rendition of that yuletide classic, 'Jingle Bells'?
Joined on stage by the likes of Eva Longoria, Kelly Clarkson, James Taylor, Chance the Rapper and Santa himself, Barack managed to out-sing them all.
Barack Obama: The Christmas Album, anyone?
When he debuted his dad dancing on the Ellen Show
Before the election, nobody quite knew what to expect from Barack Obama. But his debut entrance on The Ellen Show back in 2007 sure made an impact.
Strutting out to no other than Destiny's Child's Crazy In Love, Barack made a great first impression with hip thrusts and dad dancing in abundance.
When Barack and Michelle first gave us #relationshipgoals
No matter how many times we re-watch Michelle and Obama's first dance as the president and First Lady, we cannot hold back the tears. It's pretty much up there with Titanic's soul-destroying final scene. Pass the tissues...
When he was nicknamed the 'baby whisperer'…
It seems Barack has the magic touch. Michelle was left speechless after a crying baby stopped wailing after being put in the arms of the President. We feel you.
When he slow jammed the news
All it took was 'hello' and Barack was met with a resounding cheer from the audience as he walked out on The Tonight Show With Jimmy Fallon. Cue smooth music, a rather soulful Obama and a whole new nickname - 'Baracki with the good hair.'
When he understood that he comes second best to Beyoncé
Anyone else would have been a little disheartened to learn that children were hoping for Queen B on your arrival. But not Barack.
He completely understood this schoolgirl's disappointment when she discovered that Beyoncé wasn't the surprise guest. Realising she risked hurting his feelings the young girl took back her words but he simply laughed and said: "I appreciate you saying that in front of the press but I know it's not really true. But that's okay."
When he approved of our future husband
We have never been so interested in the environment. Two of our favourite people on earth met to discuss climate change for Leonardo DiCaprio's documentary, Before The Flood. And we have never been so grateful.
When he danced to Drake with Usher
Talk about name dropping. Known to hang out with A-listers such as Beyoncé, Jay Z and Kanye West, Barack certainly has an enviable squad. And when a video surfaced of him letting loose in the club with no other than Usher, the internet couldn't handle it.
The clip shows the president dancing to Drake's Hotline Bling tieless and with his shirt unbuttoned. Talk about letting loose in his last few months of Presidency.
When he couldn't cope with this kid's Halloween costume
Barack was notably in hysterics when he spotted one child in particular's award-worthy Halloween costume.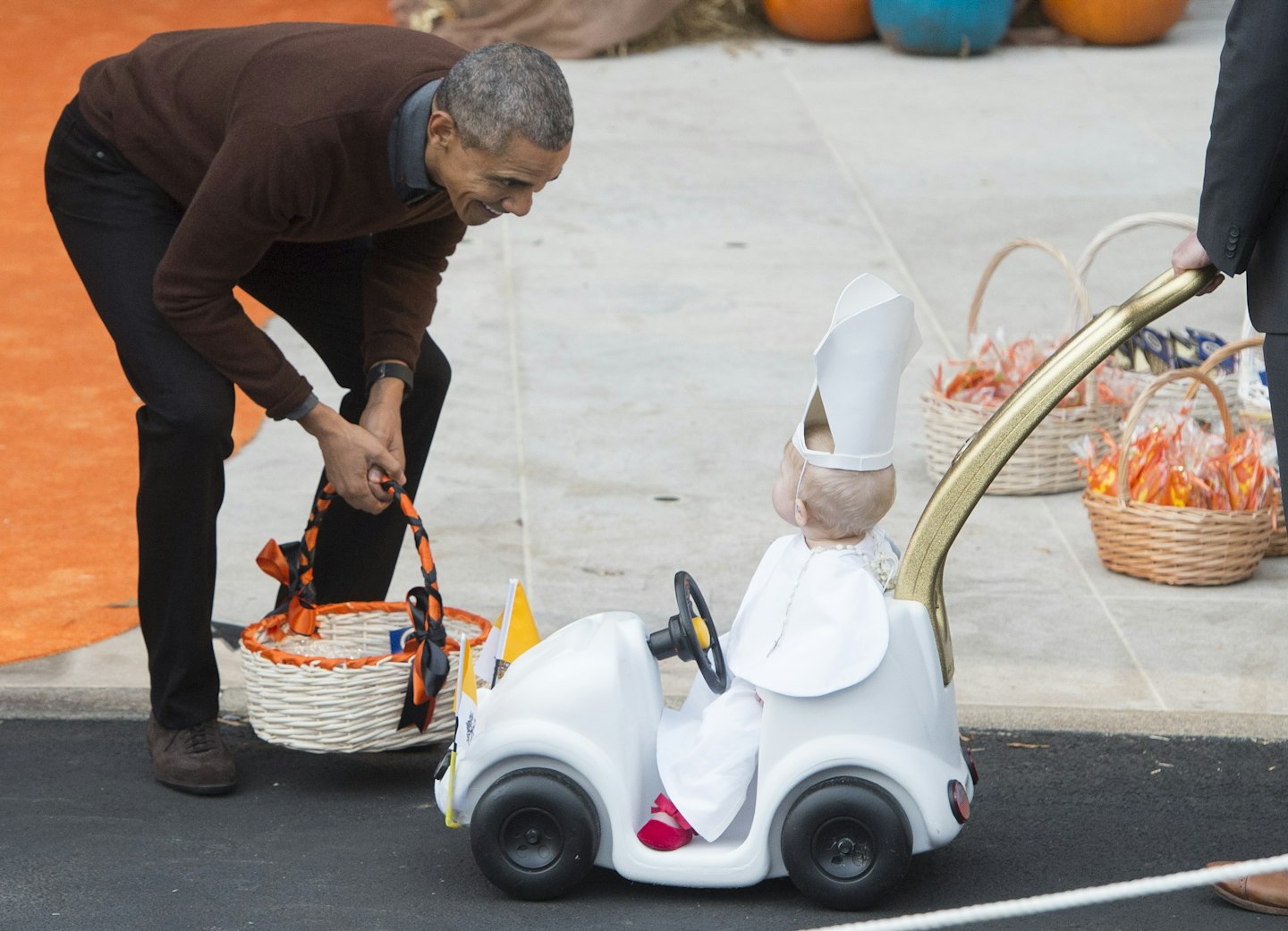 After holding a party in celebration of the spooky holiday at the White House, Barack was left with tears of laughter after spotting a miniature Pope.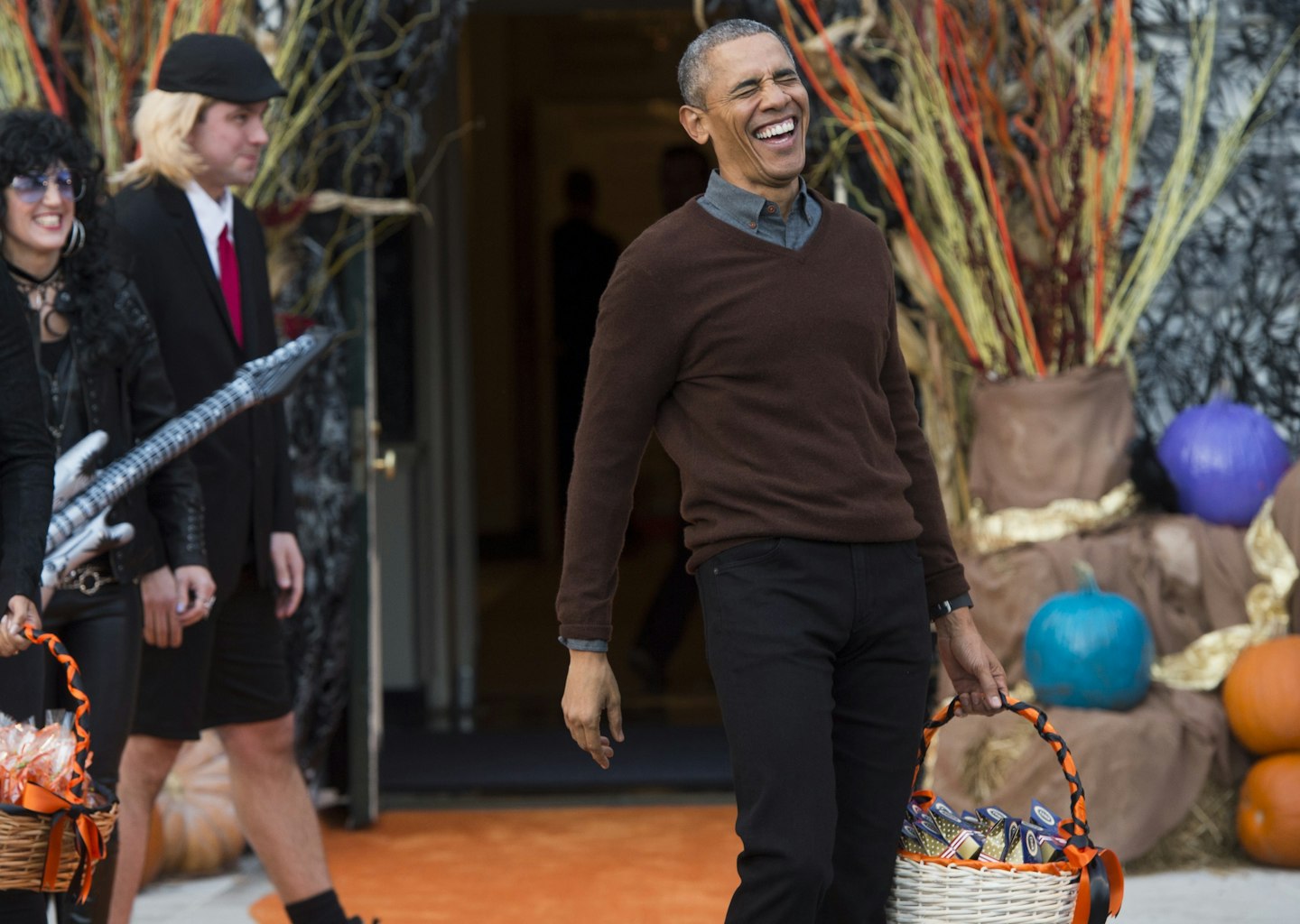 He gave a thumbs up before showcasing the kid's costume to his wife Michelle. The White House even gave a special shout out to the 'Lil' Pope.'
When he was star struck meeting Usain Bolt
When Barack visited Jamaica for the first time it was only fitting that he met the country's iconic sporting figure - Usain Bolt. The world's fastest sprinter posed for a photograph with the President but it seemed it was in fact Barack who was bowled over in awe.
The president asked him to demonstrate the legendary 'lightning bolt' stance for a picture (one we reckon he has hanging in the White House).
When he took a selfie with Bear Grylls
And made him smores. British adventurer Bear Grylls took the President on a trip through the Alaskan wilderness in a special edition of his cult television series. Barack managed to snap a selfie with Bear atop a mountain but not on his own mobile (as he's not allowed one for security reasons).
'Obama out'
At his eighth and final White House Correspondants' Dinner, Barack made sure to go out with a bang. Referencing basketball legend Kobe Bryant at his final NBE performance, Obama ended his speech with a mic drop and the iconic words, 'Obama out'.
READ MORE: Michelle Obama Makes A Surpise Appearance In The Gilmore Girls Reboot