Her life may be going 100 miles an hour, but Perrie Edwards is keeping up with it all. Over the past few years, a lot has changed for the star. In between Little Mix's hiatus and final tour, she's been busy working on her fashion label Disora, becoming a mum, getting engaged, and plugging away behind the scenes with her solo career.
And now, with the latest Disora collection dropping this Friday, Perrie says she's learnt a lot about making your mark as an entrepreneur.
'I think from the first drop to now, we feel a little more settled and know the direction a bit more. We have a drop coming really soon and a few more regular drops to follow, so we're kind of in a rhythm with things now,' she shares.
Disora – described as 'Effortless, everyday wear' – wasn't an overnight project. First teasing the brand in late 2020, Perrie worked away behind the scenes to finally launch her passion project in October 2021. Years in the making, the luxury fashion range has covered everything from super-soft joggers to stylish activewear.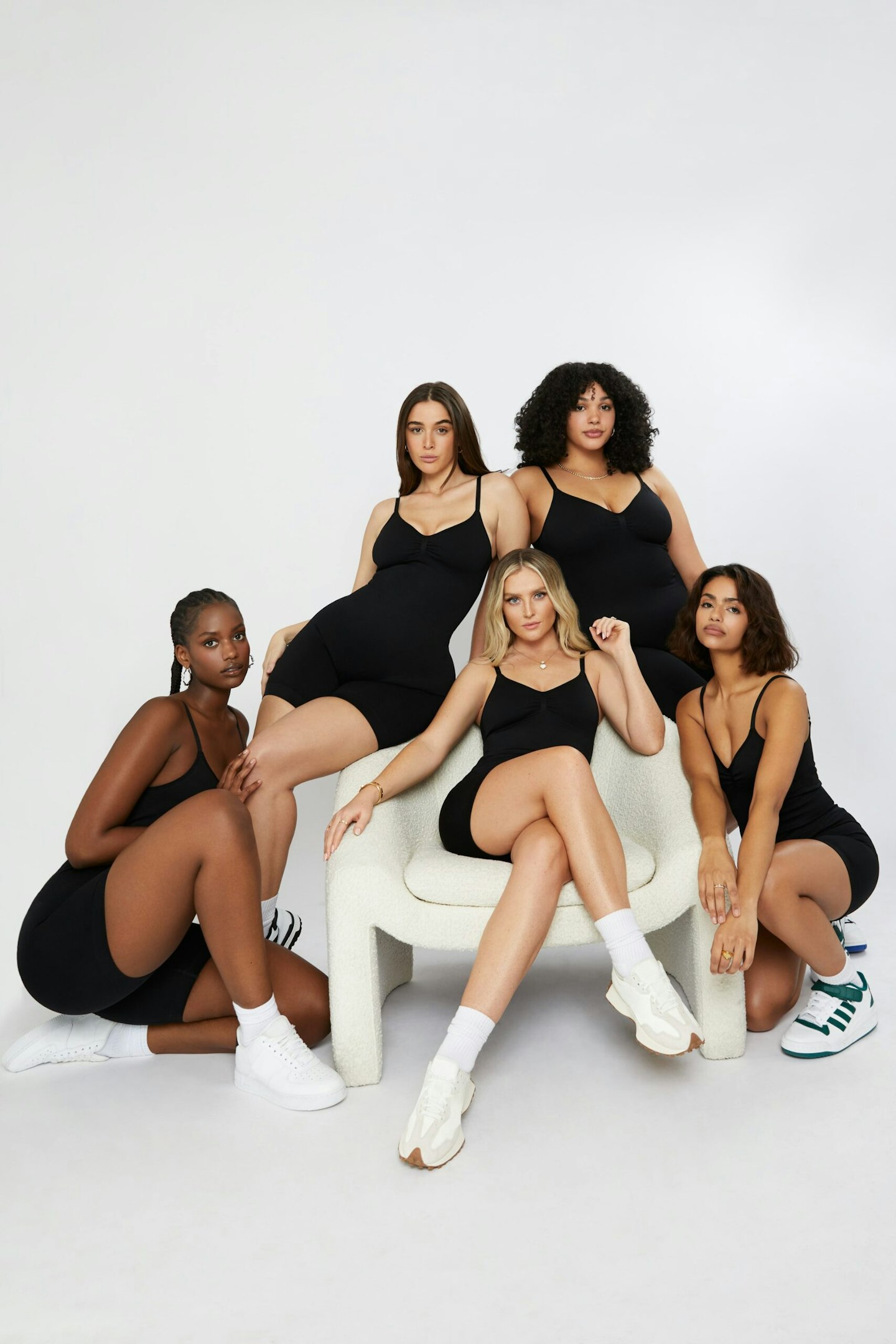 'We're kind of running with the whole activewear, shapewear vibe with the collections at the moment,' says Perrie. 'The last drop we did was activewear, and it just worked – I loved it. The thing is, I'm not necessarily a gym girl. I don't work out a lot, I don't even want to go to the gym necessarily, but I just love wearing activewear.'
'I can wear it to run errands, I can go shopping in it, I can work out in it, I can take Axel out in the pram. And of course, you can dress it up! You can pair the leggings with a top, a long heavy-duty coat, a cool little pair of trainers and some socks coming up a bit. I just feel really slick and cool.'
Fashion advice from the icon herself? You're welcome.
And with this second drop, there's a familiar face in the campaign work – with Perrie herself appearing alongside her Disora models.
'When we first dropped the brand, I didn't want to be in the campaign work,' she explains, adding 'I just kind of wanted Disora to be a side thing I was doing. Something totally separate from me and my music. As we've kind of developed, I just thought 'You know what? I'm going to be in this campaign.'
'Plus, a lot of the girls were asking to keep some bits,' she adds excitedly, laughing 'You always know it's good if you're on set and want to keep it.'
As Perrie mentions more than once, Disora's next drop is coming 'really, really soon' – this Friday to be exact. And if the brand's previous success is anything to go by, the products won't be hanging around for very long.
After all, Disora's first collection, DS001, sold out within 48 hours.
'It was nuts,' Perrie says, reflecting on her 2021 launch. 'It was so wild because we spent years developing and getting everything ready. We hit so many hurdles, and it just wasn't the exact vision I had when I first imagined Disora. I was like, "Why is this so damn difficult? Why can't we make it happen?"'
'When we finally went live, I was shit scared. I want people to love it. I want people to feel comfortable and incredible in the Disora pieces that they purchase. That is really important to me. The tags, the packaging, the pieces – they have to be perfect,' she shares.
And as she admits she's been 'learning on the job,' Perrie says there have been some big reality checks over what it really takes to be a businesswoman. 'Starting a business, I wasn't expecting it to be anything like this,' she laughs. 'I thought it would be easy! It's difficult, but we're kind of getting in the groove now. Mistakes might happen, and you kind of just deal with it.'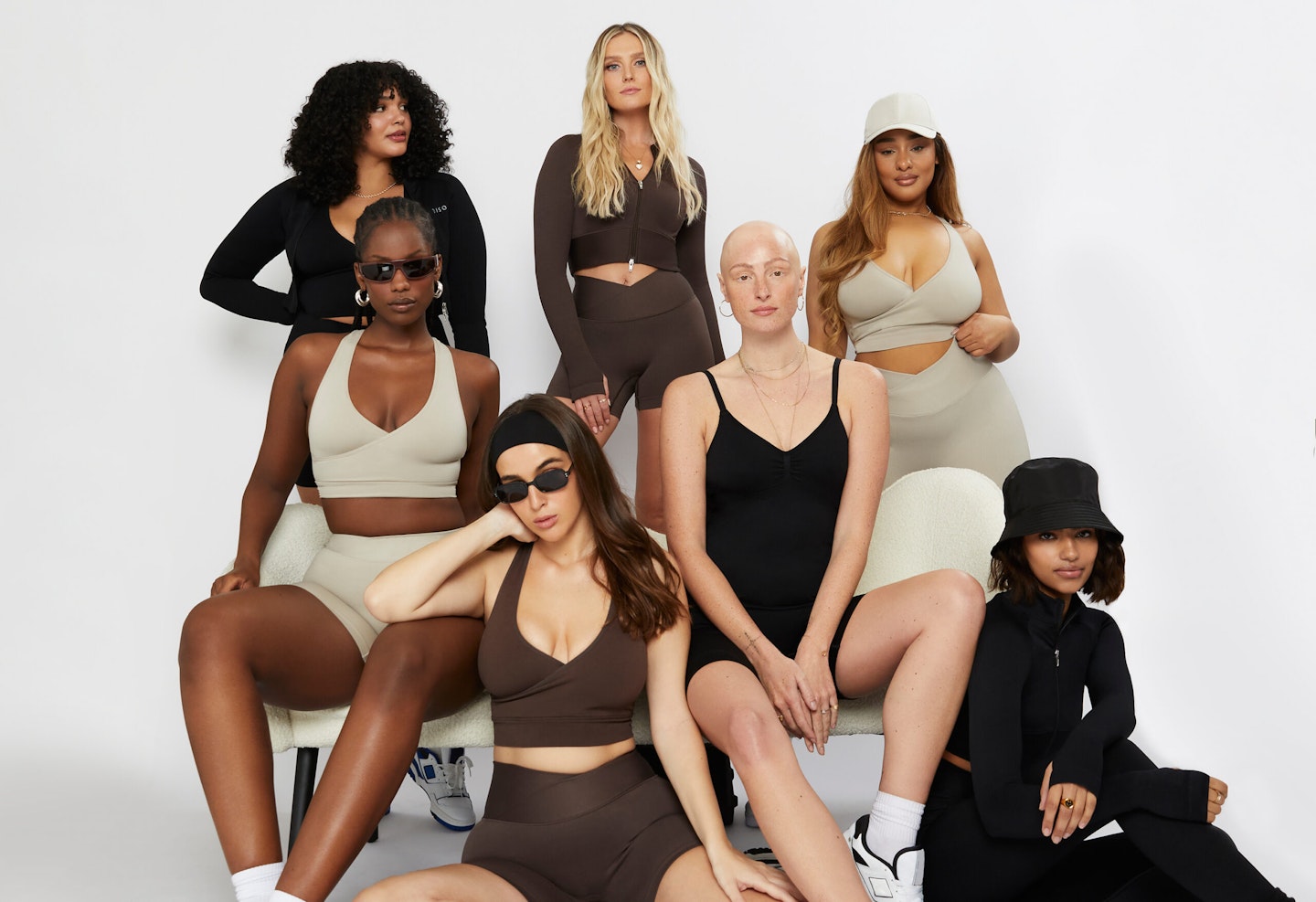 The first launch – and indeed, the collections since – have all sold out, with Perrie sharing that their customer service team had 'never worked with a brand who's had so many amazing comments.' But despite the clear support, there was one let-down…
Some fans were left disappointed at the brand's lack of size inclusivity. Hidden amongst the praise were comments calling for the brand to 'fix the sizing issue' and bring 'more representation.'
And Perrie heard them all.
'The only things people were critiquing online was about the size inclusivity issues, and that's why I was getting so upset,' says Perrie. 'This vision I had for Disora was to be as inclusive as possible, and it got to the stage where I said this isn't what I wanted for my brand. This isn't what I was expecting.'
'I didn't know about the business side of things. I just knew my love for fashion and what I wanted to create myself,' she explains. 'I didn't know that most factories don't go above a size 18 or 20. I kept asking what we could do to change this, because with the following that I have and the women and people buying into Disora, I wanted them all to be a part of this! I was getting really frustrated. It's hard to be in between your business and personal head.'
But in a testament to her absolute belief in Disora – and no doubt her love for her fans – Perrie did indeed create those changes. Perrie and her team have found factories and connections 'all around the world' who can bring a more inclusive Disora to life – 'because from the get-go, that's all I wanted.' The brand is now inclusive for all sizes, making Perrie one of only 6% of brands that sell a size 18 and above.
"Everyone was criticising me, and that made me criticise myself."

Perrie Edwards
Posting to her 17.4M Instagram followers, the star is a walking embodiment of Disora's message of self love. But Perrie says confidence wasn't always so easy…
'When I was younger, I was a little bit insecure,' she shares. 'I hated my freckles, I was always quite poorly and anaemic so I had dark circles under my eyes, I was really malnourished and skinny, and I had a big scar on my stomach from surgeries. I just hated everything. People used to bully me, and I think it was something that I internalised. Everyone was criticising me, and that made me criticise myself.'
Now, it's a different story, despite once wishing she could change her quirks. 'I asked my mum if I could have an acid peel to get rid of my freckles,' she reveals. Perrie now aims to champion herself every day. 'I think confidence and self-empowerment comes with age, you learn not to care about what other people think.'
One-third of pop culture's biggest girl band, the South-Shields born star hit instant success after winning The X Factor back in 2011.
In December 2021, after a decade of wins and tears, Little Mix took a much-needed hiatus – but you simply can't keep Perrie, Leigh-Anne Pinnock, and Jade Thirlwall apart.
Appearing all over social media, the love between the three is as clear as day. And turns out, having your BFF create a clothing brand comes in quite handy for your wardrobe…
'I learned the hard way to give the girls first pick of the clothing bits,' Perrie laughs. 'I was really silly when I launched the first drop, and I didn't keep any stock for friends and family. I remember Leigh-Anne and Jade were like "When are we getting our Disora?" I was like, how do I tell them that it's sold out and I didn't hold anything back? Now I keep a stash for family and friends.'
Looking back at everything Perrie has achieved over the last year, it's easy to get exhausted simply at the thought of it. Touring the world, kickstarting a solo career and launching her fashion brand, all whilst becoming a mum to her one year old son, Axel, and getting engaged to footballer Alex Oxlade-Chamberlain.
Juggling it all at once doesn't sound like as easy feat. But to Perrie, it's been a challenge she's grabbed with both hands.
'It was a lot, but it was really enjoyable,' she insists. 'We've had hurdles and it can be frustrating not getting exactly what you wanted at times… But it's been nice for me to be able to do Disora behind the scenes. I've got a great team and incredible business partners who know exactly what I want. I think when you're  so passionate about something, it doesn't feel like work.'
And the hustle doesn't stop here. In fact, far from it.
Among her plans for future Disora lines – with a future children's range a floating possibility, as Perrie laughs 'that would be so fun! I would love that' – there's music in the works.
With teasing snapshots shared with her fans, Perrie's making no secret that she's back in the studio. With all three of the Little Mix girls turning a page to focus on their solo careers, some new music is most certainly heading our way.
"In Little Mix, our life was mapped out three years in advance. Now, it's much more freeing"

Perrie Edwards
But when it comes to when music is arriving, Perrie doesn't know, and frankly, she doesn't mind.
'I don't have a set timeline,' she explains, adding 'My label have told me to just go with the flow and enjoy discovering what my sound is going to be. The fact there's no deadline in my life just makes me the happiest person. I feel so lucky to just be having fun.'
Her newfound freedom is a vast change from the past decade. 'In Little Mix, our life was mapped out about three years in advance sometimes. Now, it's so much more freeing for all of us. We're doing exactly what makes us happy and working to our own timelines. It's really refreshing' Perrie explains.
And whilst 2023 will be bringing some more Disora drops and solo singles, it might just be bringing some wedding bells too.
'There's so much going on right now' she gushes. 'I'm in the studio, whilst also having my fiancée being like, "When are we going to start planning the wedding?" Again, it's like starting the business! Where do you even start with a wedding? It's a lot. We spoke about it whilst we were on holiday, and I've got a really good idea of what I want now.'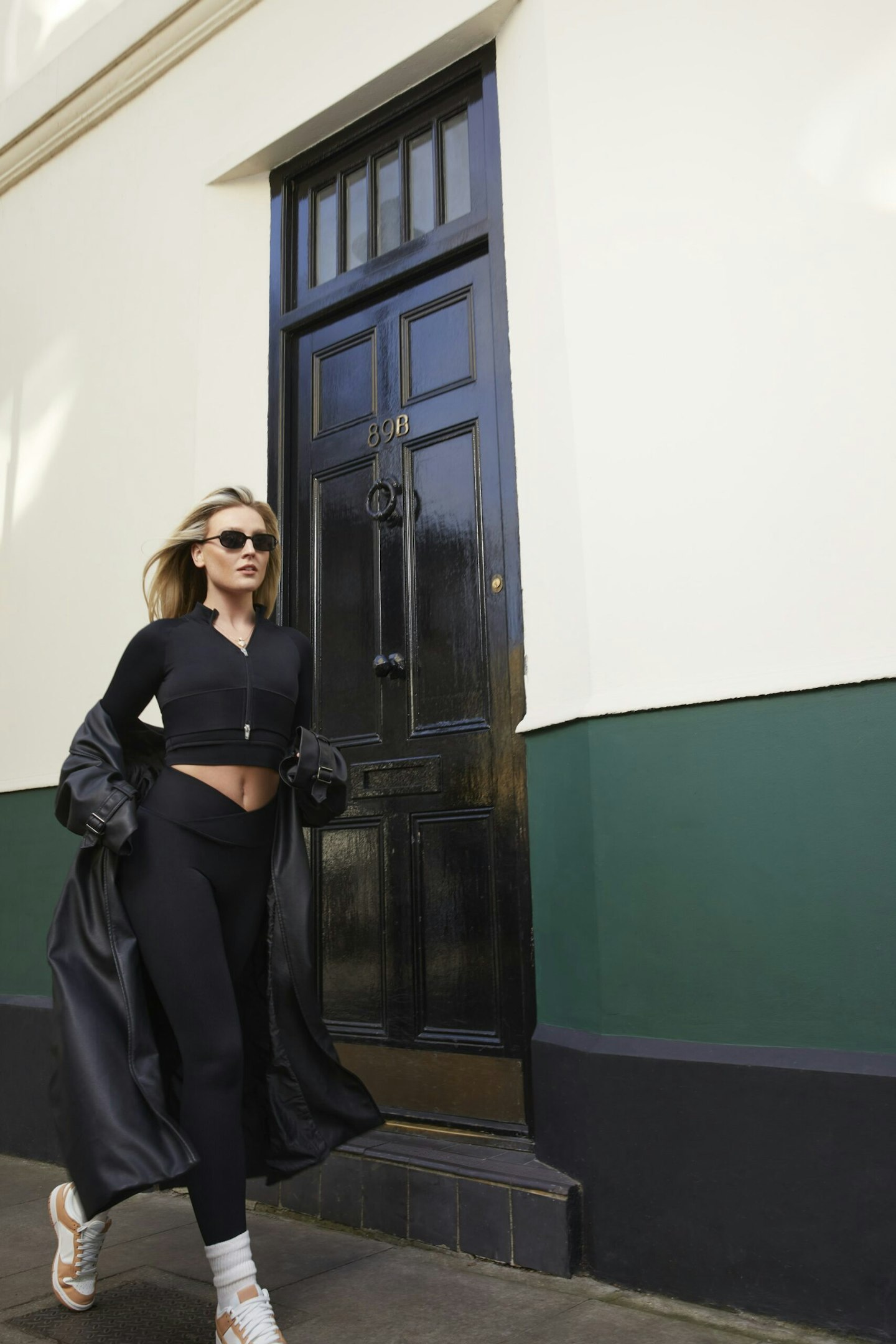 When asked about who she'd totally fangirl over seeing wear her brand, Perrie says 'Probably the likes of Beyonce. Beyonce would be the queen. But she had her own clothing brand she's promoting, so she might not.'
A Disora and Ivy Park collab? Go ahead and take our money, we say, as Perrie laughs, 'Could you imagine?'
But for now, Disora's taking centre stage (with a little bit of Perrie dabbled in for good measure.)
'I want to branch out and start doing different things,' she smiles, "We're  just kind of seeing how it goes and building on it.'
Campaign imagery: Photographer- Katherine Boyle; Creative Director & Stylist- Emma Gold; Ad Agency- Noise Medial Video- Elliot Stephens; Photography assistant- Cam Smith; Styling Assistant- Jessie Stein; Retouch- Anna Galimova; Perrie's Makeup- Cassie Lomas; Perrie's Hair- Ryan Steedman; Hair & Makeup Team- Kate Gately, Vanessa Elles, Chantelle Brennan ; Models- Davina Nkusi, Elena Forrest, Rae Vitan, Amber Jean Rowan, Simone Vissolela, Sabrina @IMM