Sometimes, when Lily Allen is out in New York City with her husband, the Stranger Things actor David Harbour, a breathless fan will dart over and ask, 'Can you take a picture?' To clarify, what they mean is: can you take a picture of me – with your husband? 'They don't even notice me. I'm just the photographer,' she says, laughing. 'No one knows who I am.' She quite likes it. 'Growing up with the attention that I had in my twenties can lead to, sort of, narcissistic feelings. It's nice to be in a relationship where somebody else gets all of that attention. It's good for my ego.'
Allen, 38, came of age in the glare of paparazzi flashbulbs, navigating unimagined success – and sometimes frightening harassment – from her early twenties. Anonymity must feel like a weight lifted. 'I can hide here,' she says, when we meet in mid- October. 'I can live, in a true sense of the word – like live, without judgement.' Occasionally, she says, she might catch someone taking a photograph of her on the subway, but, 'Generally, people are too cool to come up to you. I'm left to my own devices.'
For all of its moments of novel normality, 2023 has also been a big career year for Allen, who has recently turned her attention to acting. In April, she starred in Dreamland, the Sharon Horgan-executive produced TV drama about a dysfunctional family in Margate; this summer she led in Martin McDonagh's brutal, bloody play The Pillowman, in London.
Now back home in New York, she has enrolled in drama school. She loves it – it's the first time she has studied since leaving school without qualifications at 15 – though she is keenly aware she's at a different life stage to most of her young classmates. Weekend rehearsals are tricky, if you're 'going home to come up with a weekend full of activities for two children'. On her class WhatsApp group, 'It's like: who wants to come to this clowning show tonight? And I'm like, if you give me a month's notice then maybe.'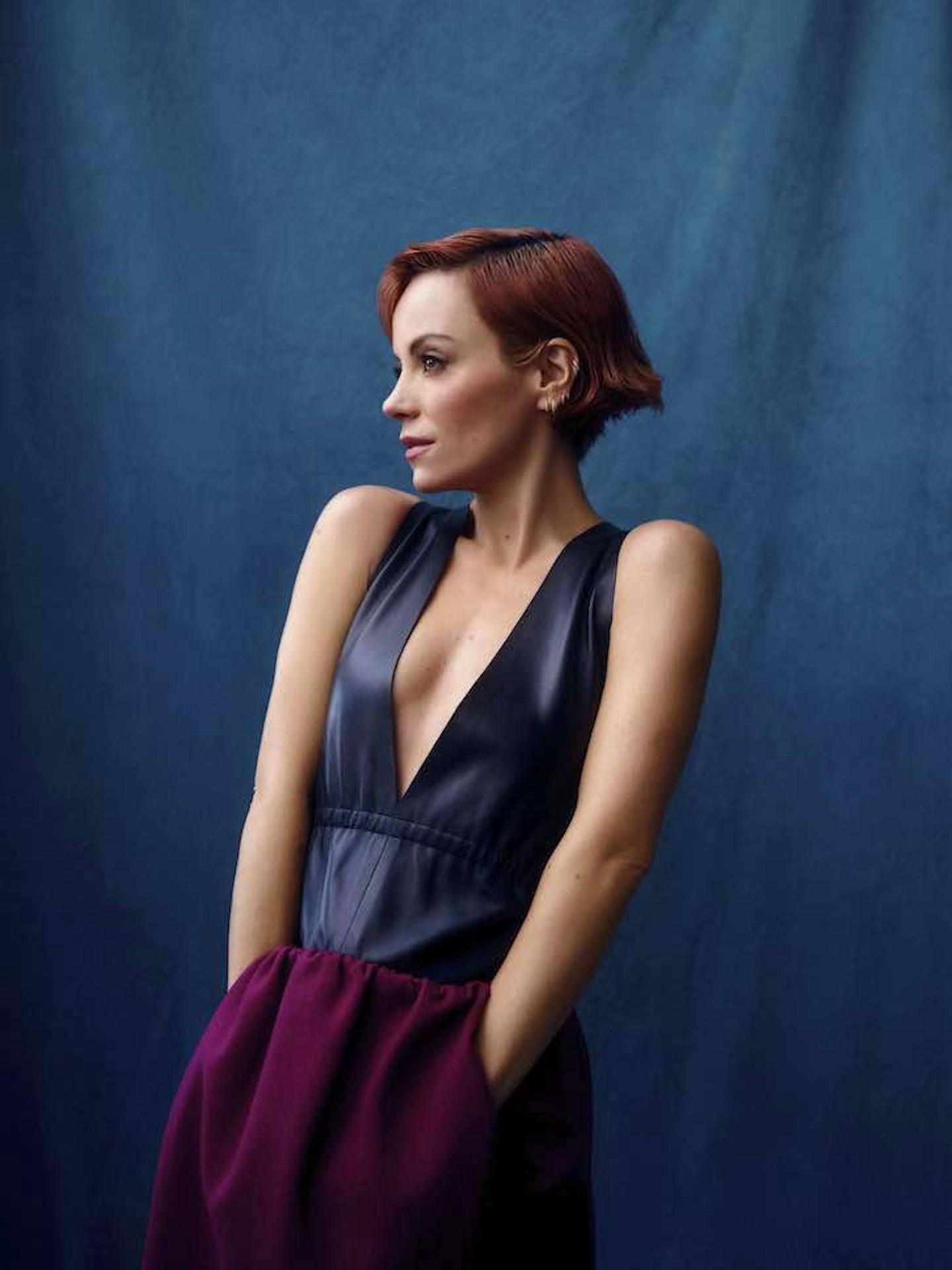 Live theatre is 'utterly terrifying; I don't think I've ever been more scared than before the opening nights.' The fear of failure, she says, is worse than with music. 'Nobody can tell me that I'm being bad at being Lily Allen!' The Pillowman was particularly intense, with harrowing violence inflicted on Allen's character. She developed a very glamorous coping mechanism, changing into high wattage outfits (from pearl- encrusted Elie Saab to an orange Fendi slip dress with fuzzy sliders) after each show. That started a few weeks in, when it became apparent that the paparazzi – who she assumed would turn up for a few nights, then get bored – were going to be at the stage door every night. A friend, the stylist Kyle De'Volle, suggested she 'stopped dressing like a drowned rat... I was like: if you want to help me with that then fine.' The resulting fashion metamorphosis 'was a very helpful process in terms of, you know, shedding the trauma'.
Allen presents herself very differently today from the star you may remember – all cheeky grin and trademark glossy black fringe – in the noughties. Though she still laughs often, as she sips tea from a white china tea cup, held in perfectly manicured fingers over breakfast in a café in Manhattan, her style is demure. She wears a neat Fendi camel coat, chequered brown-and-cream Nanushka turtleneck, ladylike Ferragamo flats, and a Hermès Birkin. There are pop-star touches: her earscape is on point (she has at least five pairs of dazzling hoops in each ear); her hair is short, sleek and rose gold. She has a habit of fiddling with the ends, as though still unused to the air on her neck after her dramatic cut.
So much has changed. Professionally, she feels 'slightly confused as a creator, because the medium's evolved somewhere that I don't quite understand'. Getting an album out now, she says, seems to involve 'games I don't really want to play' of algorithms and content. 'Maybe that's why I gravitated towards the theatre.' She is also determined that her work fits around her kids: she tries to take on projects during the summer holidays, while her daughters, Ethel, 11, and Marnie, 10, are in the UK with their father, her ex-husband. 'I'm a mum, really – it sounds so tragic and sad,' she says. 'I sort of feel like I've had my career. I know I'm only 38,' she says. She has spoken movingly, in the past, about feeling she was 'away with the fairies', when her kids were very small, before she got sober. Now, she says, 'I want to be around my kids. I want to break a cycle in terms of, you know, showing up for my children.
'When I was younger, you were told that you could have it all. I believed that when I got pregnant, and then when I had my children, I realised that was a lie. You can't and you have to make sacrifices. It's usually the children that suffer as a result of those sacrifices – and I'm just not willing to do it to them,' she says. She points out now that she is in a luxurious financial position to be able to let her career take a back seat – but working less is, nevertheless, a decision. 'I really fucking loved having a full-throttle career, which I can't do any more.'
Sobriety has been revelatory for Allen, who is four years drink and drug free, and flourishing for it. She readily admits she used substances as a crutch. 'I think what I experienced in my twenties was unsustainable for somebody with a brain like mine, an upbringing like mine,' she says. 'People would always say, "Oh, you're so down to earth," but actually, I felt like I was drifting in a way that was not healthy.'
'You can't have it all, you have to make sacrifices'
Having been burnt by the toxic media landscape of the noughties, I wonder if Allen thinks culture has evolved. She says she knows, looking back, that attitudes were bad: there's a clip of her doing the rounds 'where I was on a chat show with Russell Brand and Noel Fielding and Jonathan Ross. And there are comments, I think, about me being raped or something. And I laugh along with it. In retrospect, that's really horrendous. It makes me uncomfortable, but I don't think I felt that at the time, because it was the culture.'
She is circumspect about how much has really changed. She agrees that some women may experience, say, fewer micro-aggressions at work, but it terms of women's safety and abuse, she says, are victims 'more likely now to get justice? No, I don't agree – and I don't really know if the two things are interlinked.' As for tabloid-style meanness, 'The medium has changed – I think, in the noughties, it used to be the press that did the monstering, and now I think social media does that.'
For all the evils of social media, the internet seemed rarely united in goodwill when Allen and Harbour shared photos of their surprise Las Vegas wedding in 2020, and again when Architectural Digest photographed their exuberantly decorated Brooklyn house – complete with windowless 'bedwomb' and opinion-dividing carpeted bathroom – earlier this year.
Neither is dazzled by the other's fame, she says, though Harbour knew who she was before they met. ('He is quite into, like, annoying female singers! So I think he knew my songs,' she jokes.) 'David came into extreme fame at such a late stage, compared to when it happened to me. It was useful for him to have somebody that had been there and done that by his side. I'm not unimpressed, because I am impressed, and I think what he's achieved is amazing. But he could have ended up with somebody that was struck by all of that and it would have possibly not been helpful for him.'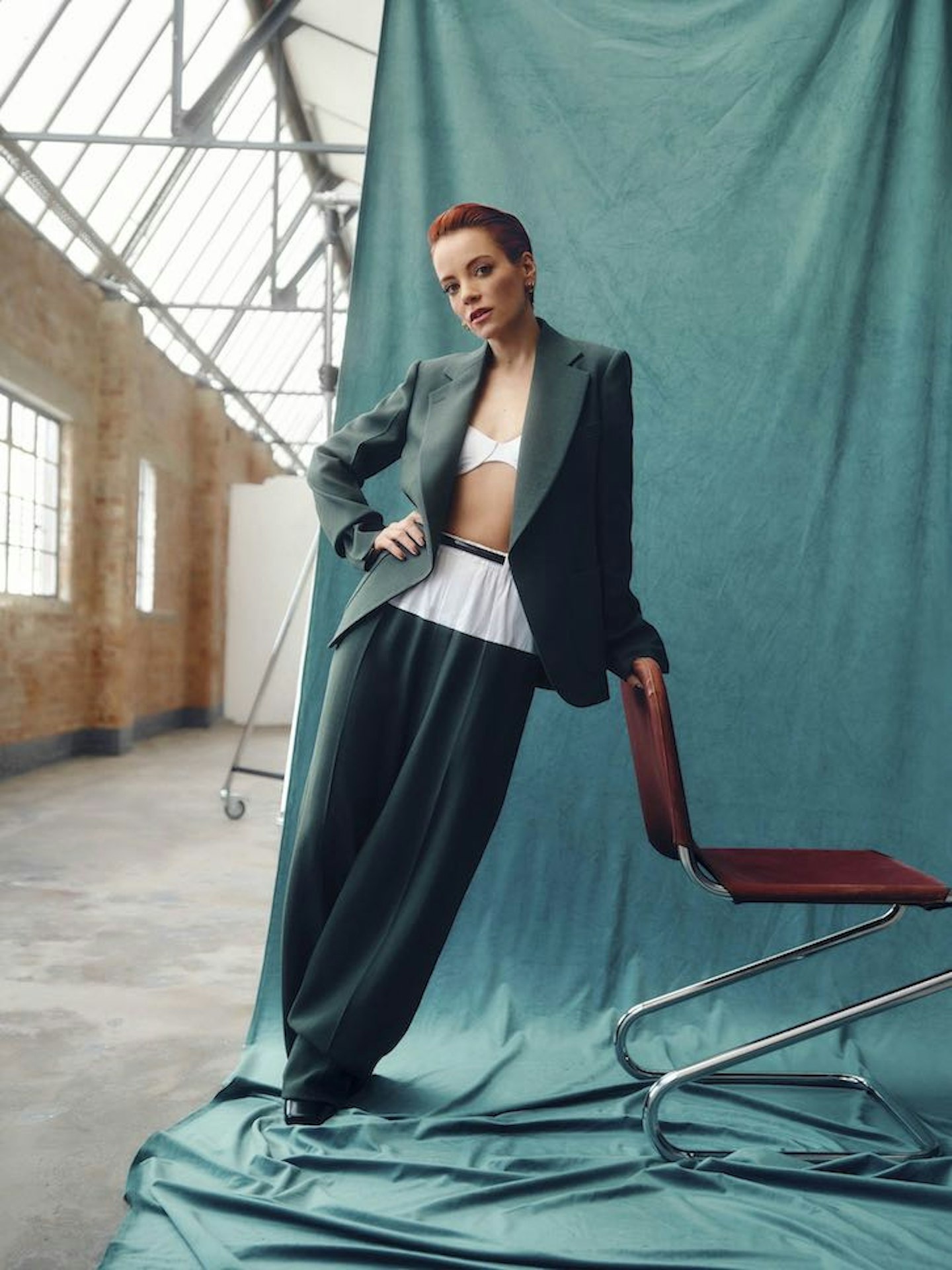 Professionally, as well as acting, she recently said that she is working on music, and she tells me she has just applied to do a creative writing course. 'I'm doing lots of things,' she says. 'There's not an end game.' Still, you get the sense that she is also someone who will always need to create – and whose next step will always have an audience. She did The Artist's Way – the 12-week self-help programme, which aims to provide 'creative recovery' – before her first West End play in 2021, 2:22 A Ghost Story, for which she was Olivier- nominated. It made a big impact. 'I think it made me believe in myself as an artist. I don't think I ever really had done up to that point.'
She'll do The Artist's Way again this autumn, she says, which means getting up at five o'clock to write three pages of free-form notes before the children wake up, after which her days will be low-key: drama school, the gym, the supermarket, then home to cook for the kids. And with that, she's off to school – were it not for the big Fendi coat, she could be just another drama student.
Lily wears the FENDI Winter 2023-24 Collection curated with Stefano Pilati
Photographs: Amanda Fordyce; Style direction: Molly Haylor; Make-up: Mary Greenwell at Premier Hair and Makeup; Hair: Gareth Bromell using Hair Rituals by Sisley at WSM; Nails: Michelle Humphrey at LMC Worldwide using Essie; Booking & Production: Jessica Evans; Director of Photography: Martin Roach; Video Producer: Drew Smith; Digital: Matthew Aland; Photographer's First Assistant: Nick Bannehr; Photographer's Second Assistant: Sasha Vanner; Make-up Assistant: Isabel Concetta; Stylist's Assistants: Gavi Weiss, Scarlett Richards; Props: Annie Alvin, Mia Leech; Tailor: Eleri Humberstone.