Working on a new album, with a new manager Scooter Braun (yes, the same man behind that Taylorscandal), following a year of focusing on her health, looking happy and healthy, Demi Lovato is back. And last Sunday, the musician was pictured as she was going for a walk, smiling in workout gear.
So far, so normal. Yet, because she is a woman in the public eye, the sight of Demi, in gym clothes, meant some people felt entitled to comment on her appearance. Someone reposted one of the images, with the message, 'hey demi dm me so we can discuss a diet plan for you @ddlovato.'
Thankfully, Demi wasn't here for it. The Sorry Not Sorry singer replied, 'I actually am choosing not to diet and fall back into unhealthy behaviors at the risk of losing my sanity or mental health but thank you for the offer! Super sweet.' (A far too dignified response for such an abhorrent comment, if you ask us.). Last night, the singer then announced on Instagram stories that she was taking a break from the platform for a while, imploring her fans to 'be kind.'
In any context, the comment is not only intrusive and rude, but also painfully perpetuates the expectations placed on female bodies. However, it's particularly vile when aimed at a woman who has been unflinchingly open about her past struggles withbulimia. As well as her brave transparency about bipolar, self-harm, depression, and her struggles with addiction, Demi has been candid about her battle with the disorder. In her documentary, Simply Complicated, she spoke about the hold the eating disorder has over her life.
'Food is still the biggest challenge in my life and it controls - I don't want to give it the power to say it controls my every thought, but it's something that I'm constantly thinking about,' she admitted. 'Body image, what I'm going to eat next, what I wish I could be eating, what I wish I didn't eat. It's just constant. Like I get envious toward people that don't struggle with an eating disorder just because I feel like my life would be so much easier.'
In 2017, Demi shared a side-by-side before and after photo to her Instagram story, which was created by a fan, praising her for her recovery. But it seems that sympathy and understanding doesn't always last.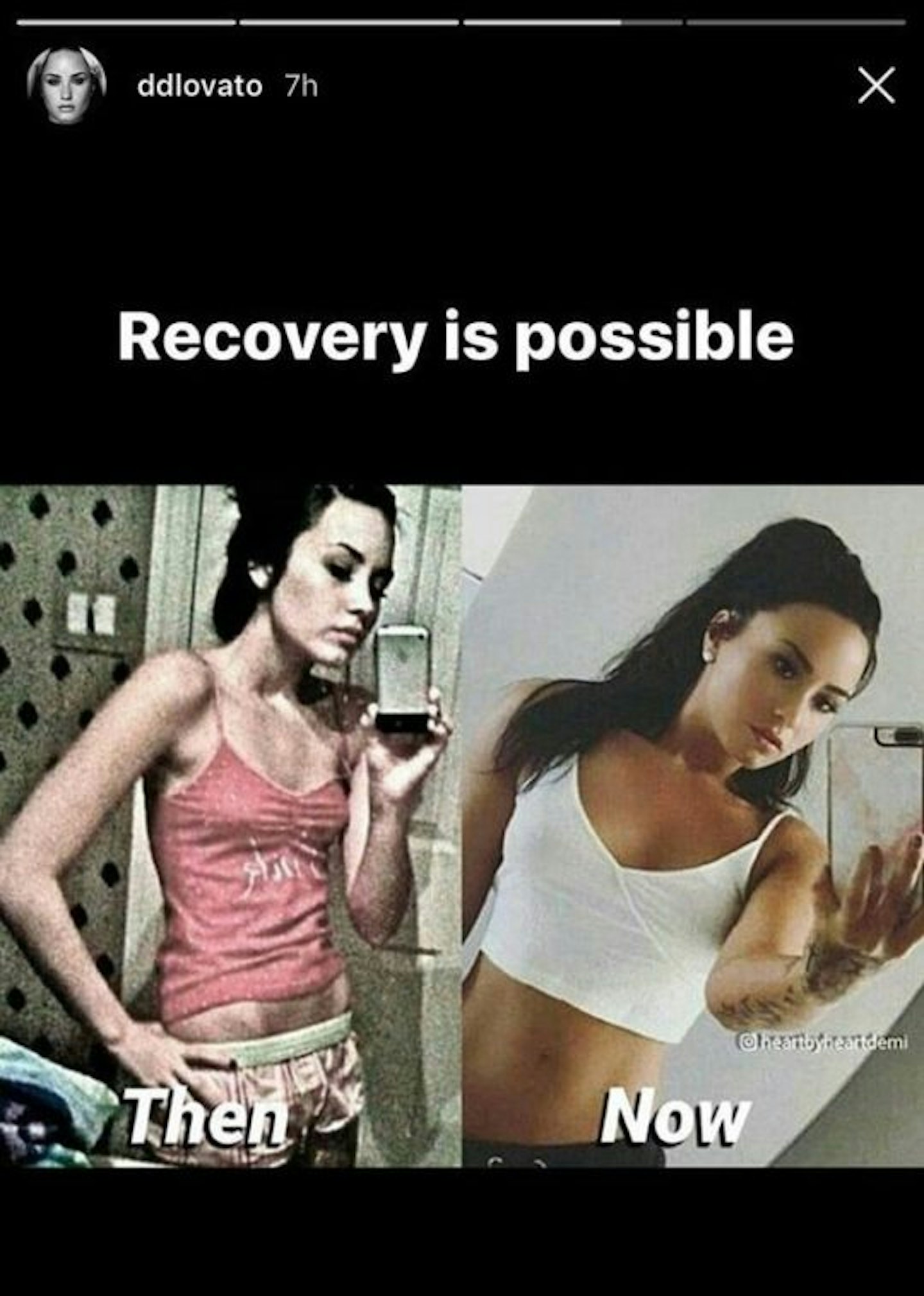 It should. Eating disorders are not phases, and recovery is far from linear. Relapses are incredibly easy to succumb to - Demi herself relapsed after the breakdown of a relationship - which makes comments about weight even more dangerous. In supporting sufferers of eating disorders, this understanding is key.
Even now, while I am open about my own eating disorder, I still prefer to refer it passively - because, while I haven't purged for a while, I still feel ashamed to admit that I still stumble and struggle with my body image, especially as I'm starting to gain weight. For sufferers, no matter how much you want to recover from an eating disorder, one of the hurdles to overcome is accepting that your body will, probably, gain weight.
And, of course, that's okay. In reality, recovery looks like a few extra pounds and yet, it's weird - still, by some outsiders, weight gain is seen as a failure. Perverse, yes, but to some having a fuller figure is more repulsive than the thought of someone vomiting up their food, risking not only their physical, but mental, health. Thankfully, I now know I'd rather choose weight gain over dieting (which would very likely trigger my ED) or vomiting, and crying, until I feel faint. But obviously it hasn't always been that way.
The frustrating thing is that we have not seemed to evolve from past mistakes; we still haven't implemented the lessons we learned about treating women struggling in the public eye with more kindness. Just look at Amy Winehouse, a woman whose figure was constantly torn apart – whether that was for being skinny, or having a bloated stomach after bingeing. As discussed in a 2015 Pitchfork article, We Need to Talk About Amy Winehouse's Eating Disorder And Its Role In Her Death, while the cause of her death was officially documented as alcohol poisoning, a doctor said in the documentary Amy that the weakening of her body could have also been partly to blame.
Another – Florence Welch, of Florence and the Machine. She recently penned an essay for Vogue, in which she wrote beautifully about overcoming her eating disorder. Though she says she doesn't think about food obsessively anymore, she admits she still struggles with self-image. 'But the judgement choir never stopped singing,' she wrote. 'It still sings now, though not as loudly or as often, and when it does, I try not to self-medicate with straight vodka or starvation.'
The singer also admitted that social media and 'unflattering paparazzi pictures' are 'a handy tool for digging your own personalised shame hole'.
Women should not have to answer to anyone about their weight or diet, whether they have an eating disorder or not. But as approximately 1.25 million people in the UK suffer from an ED (the number is likely to be to be a lot higher), you never know the impact flippant comments can have on someone. Demi Lovato's weight should be the least of anyone's worries, let alone hers. Telling an ED sufferer to go on a diet is not only cruel, but an incredibly dangerous game - whatever you think about their body.